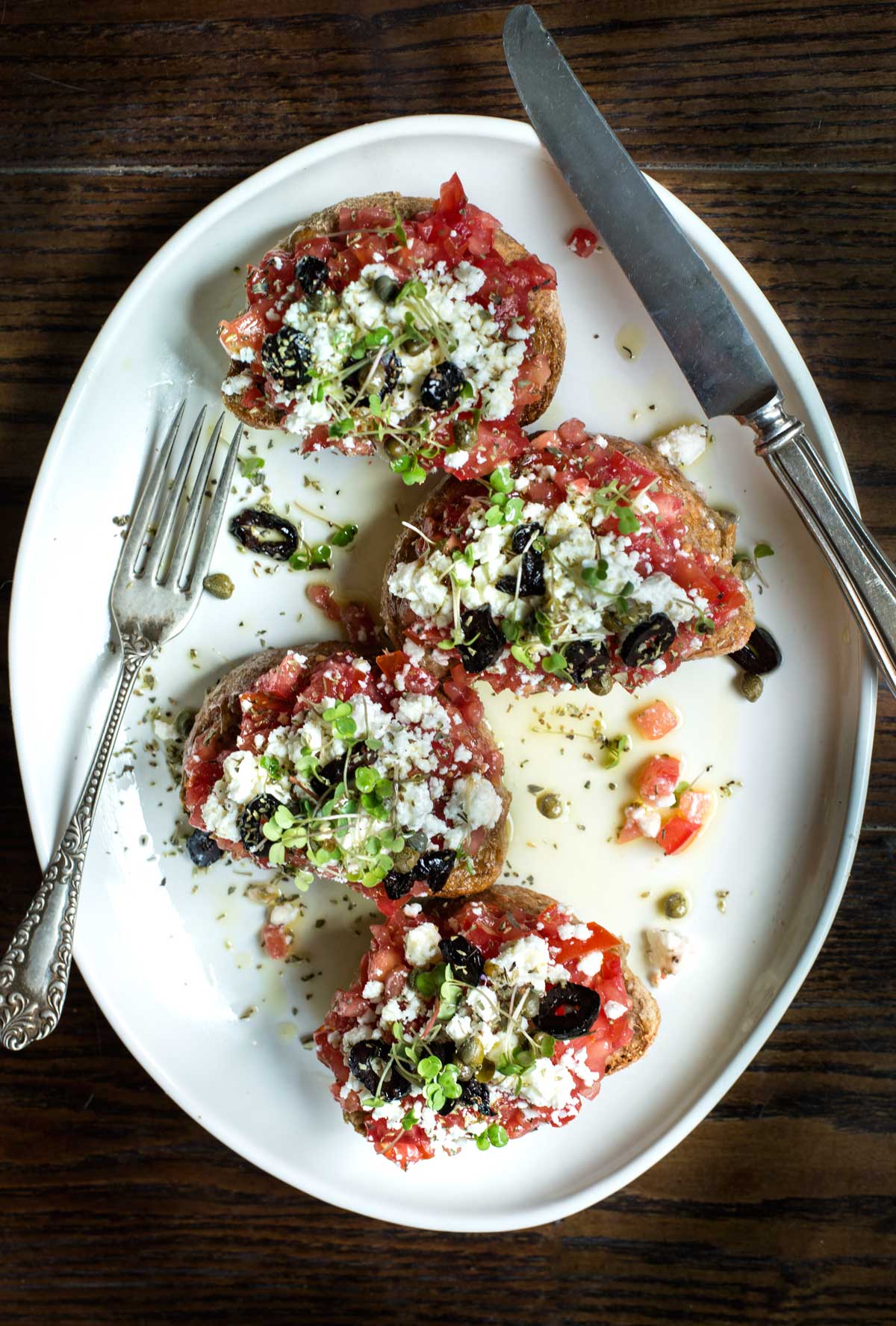 Today, Monday June 20th, is officially the first day of summer; the Summer Solstice, the longest day of the year. Happy first day of summer! My first recipe of the 2016 summer season is a homage to the humble tomato. There are few things more satisfying than a really great summer tomato.
Did you know that there are more than 10,000 varieties of tomatoes world-wide? That's a lot of tomatoes. And, lots of ways to enjoy them. Today I prepared a simple and quick dish — called dakos or ntakos –that utilizes tomatoes at their best; a bit of salad meets crostini or Greek-style bruschetta. Tomatoes get better and better as the season goes on, and I may have jumped the gun a bit (as tomatoes are just coming into season in these parts), but most definitely a dish that you can enjoy for several months to come.
It's always fun to bring a bit of travel home with you. For me, this typically includes a suitcase full of pottery and fond food memories (and no shortage of photos; no doubt, many related to food and dishes enjoyed along the way). I first came to learn about dakos on my first trip to Crete (back in 2005).
Just about every Greek restaurant has some type of salad (otherwise known as horiatiki salata) on their menu. While you can't go wrong with a good horiatiki salata, there's more to explore. In order to mix it up, change up the usual routine, we would often order another Greek staple, dakos (in addition to several orders of horta (e.g., stamnagathi), boiled wild mountain greens, that we noticed our fellow diners eating). A good rule of thumb, if the locals are eating it or it's a local delicacy, then try it (there's not a whole lot I won't try, at least once).
Dakos is a Greek meze or starter consisting of an oven-dried bread (traditionally barley rusks), topped with juicy, vine-ripened tomatoes, plenty of cheese — feta (and/or Mizithra, a traditional Greek fresh goat and/or sheep cheese) — Greek oregano, sometimes olives or capers, and always finished with a healthy drizzle of Greek (Cretan) extra virgin olive oil.
As far as the main course, if there is grilled octopus, fresh grilled sardines, or a whole grilled fish on a menu (in Greece), that's all I need to be happy. You can't go wrong with any type of freshly caught seafood or fish, prepared simply and divinely on the grill.
I vividly recall one restaurant (Pan y Theo, on the island of Paxos), where the owner commented, 'if we ordered the whole grilled fish and it wasn't the best whole grilled fish we ever had, then the meal was on him'. Pretty bold. But, I have to admit, that that was one damn good fish. It's the simple things in life, when done well, that are truly memorable.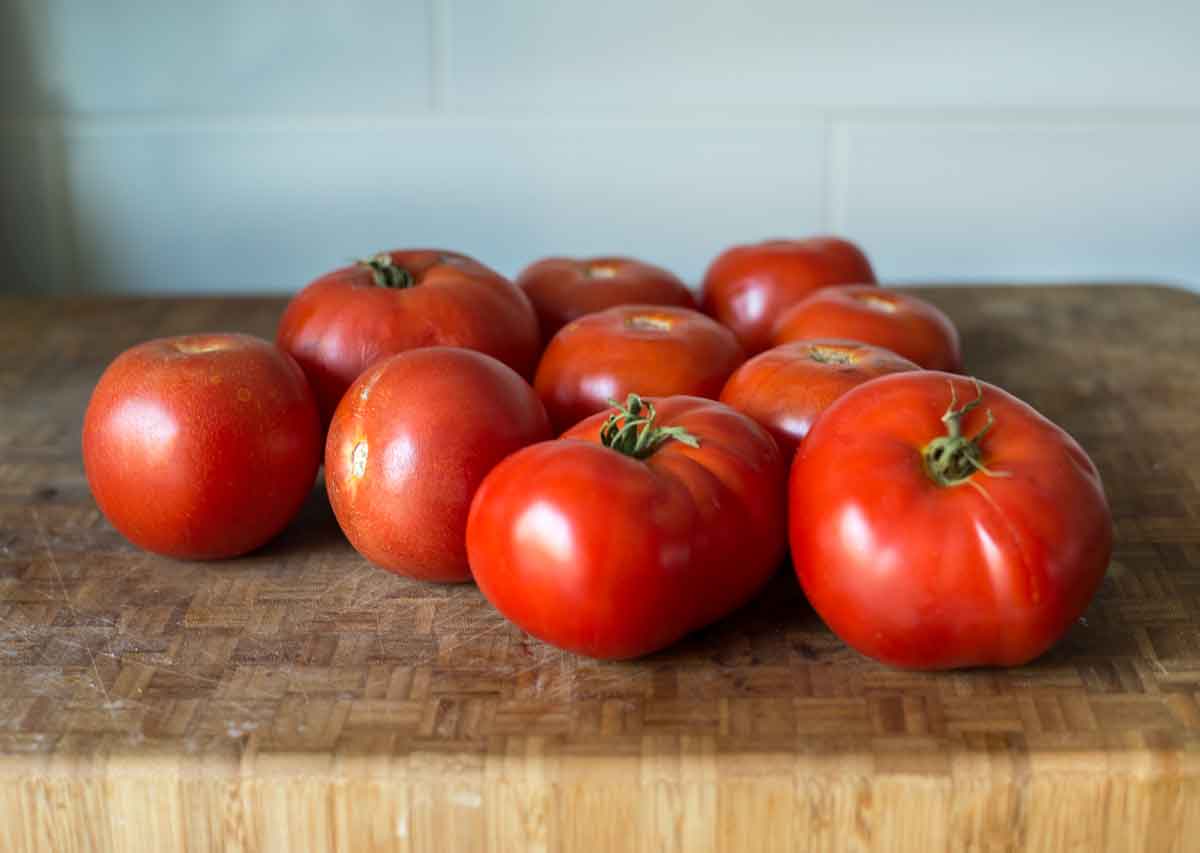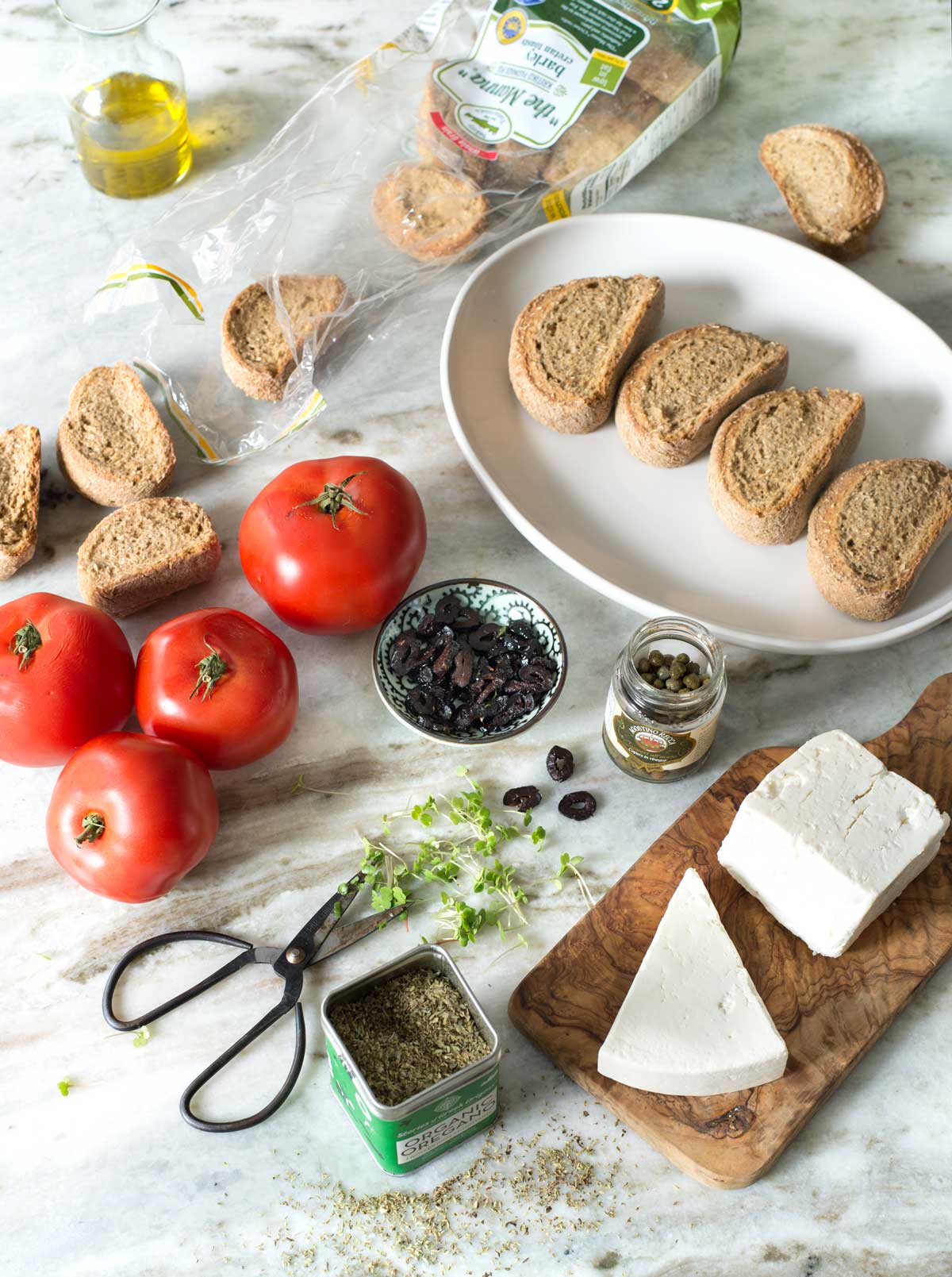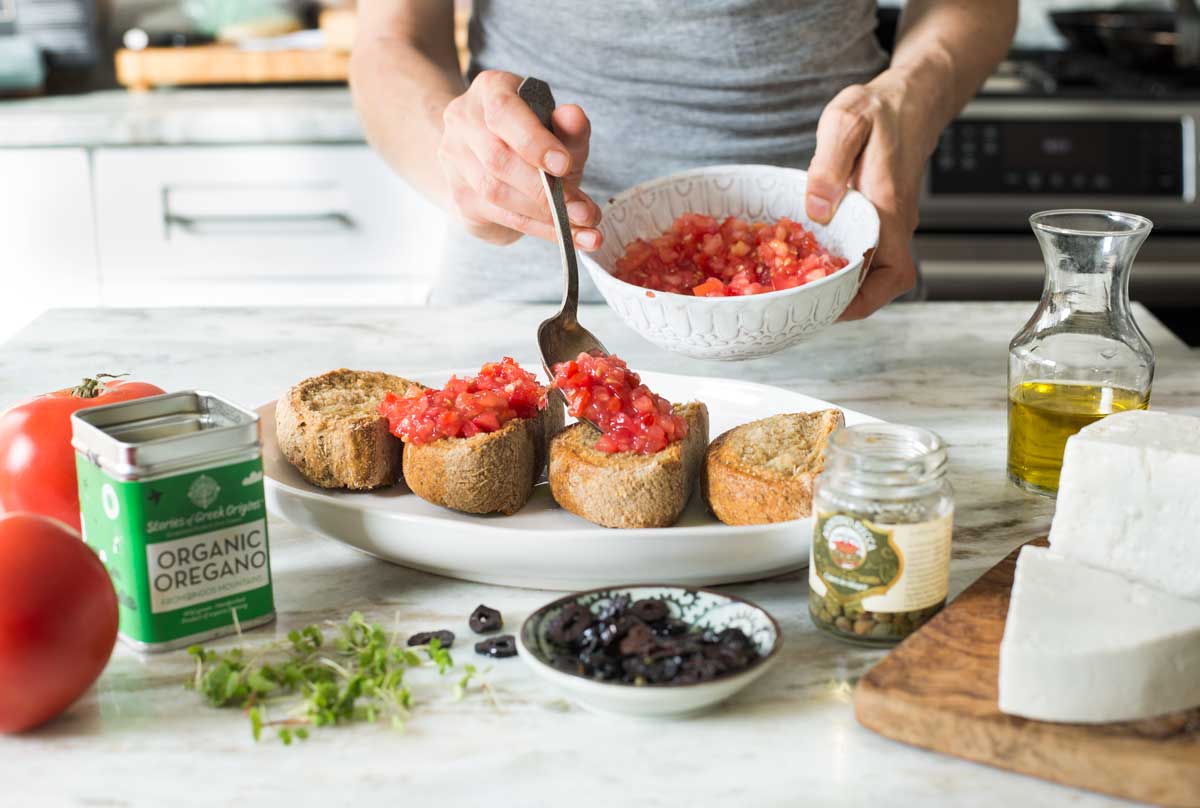 I picked up the barley rusks 
(here)
 on a recent trip to Brooklyn, where we also stopped by Octopus Garden to stock up on close to 10 pounds of frozen octopus 🙂 If you don't have access to a Greek grocery or can't find rusks, you could always substitute with toasted bread, as you would prepare for crostini, brushed with olive oil and then toasted in the oven until crispy. Different, but still tasty, as long as you find yourself some juicy tomatoes.
If you are able to find rusks, don't be alarmed if they appear hard or seem stale. They are in fact very dry (as they are oven-dried) and because of that will keep for ages. However, they will soften up when you moisten them with a little water and as they soak up juices from the tomatoes and olive oil.
Let the liquid gold flow…if you couldn't tell, I love olive oil.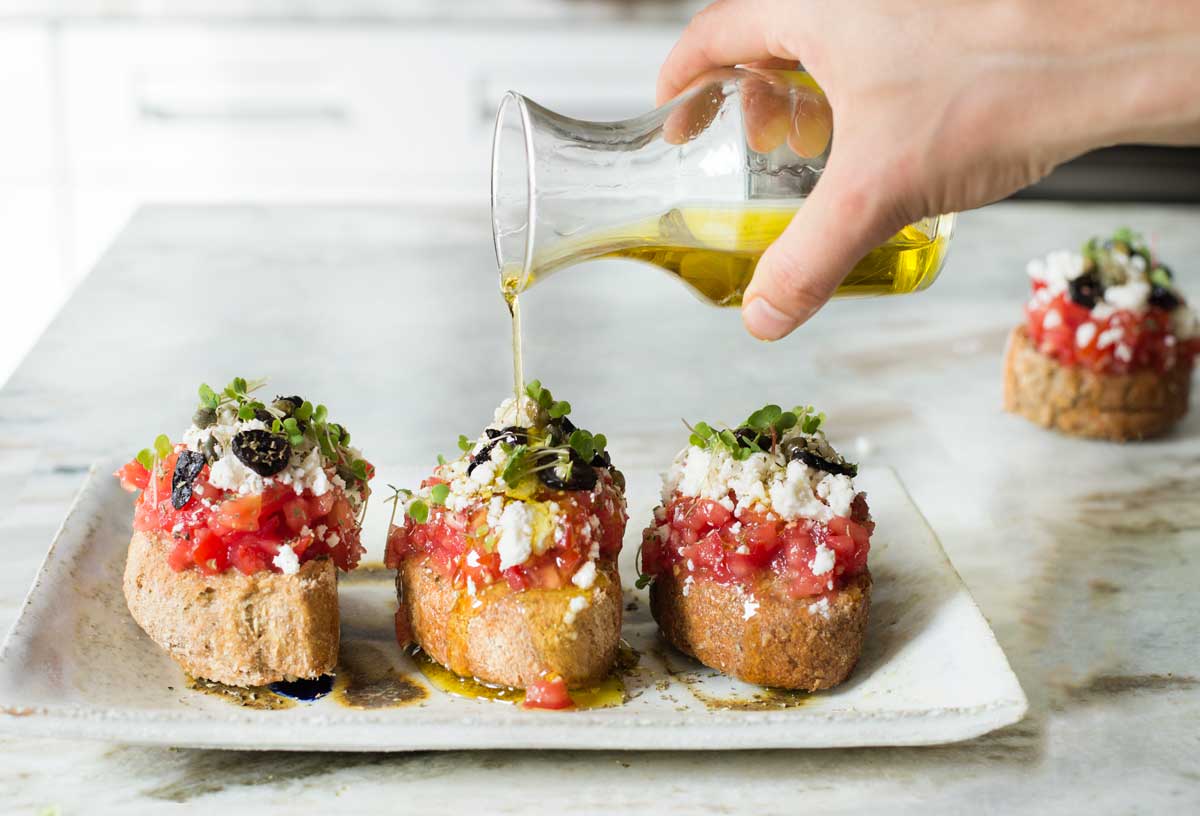 I've topped the dakos with some microgreens, I'm growing an assortment at the moment — radish, onion, broccoli rabe, red amaranth. These are broccoli rabe whick popped up the soonest and were ready to be harvested. Here's an old post I did on growing microgreens. It's fun and easy to do.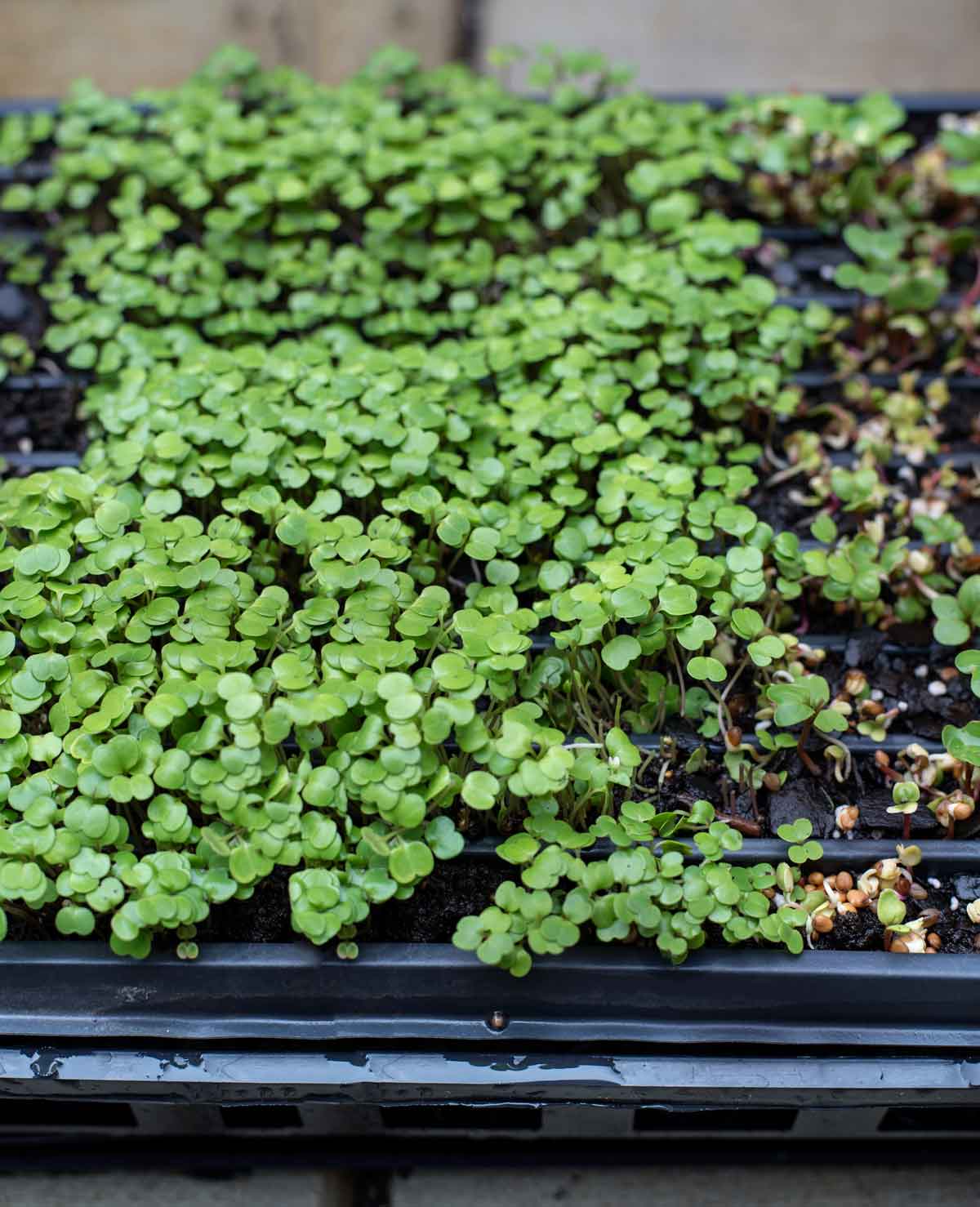 Kali Orexi!


Cretan Dakos
There's no need to measure anything out, just add ingredients to your taste and liking. Pile on the tomatoes and cheese (even more than what's in the photo if you like), and be sure to finish with plenty of extra virgin olive oil (Cretan food is all about the olive oil, really drizzle it on). 
Barley (or rye) *rusks
finely chopped tomatoes (any variety, as long as it is juicy and sweet)
crumbled feta (or combination of feta and mizithra (or ricotta salata if you can't find mizithra)
sliced black olives
capers
Greek oregano
plenty of extra virgin olive oil
microgreens (optional)
Moisten the rusks with a couple of tablespoons of water. Drizzle 1 tablespoon of olive oil over each rusk. Top with a generous amount of tomatoes and cheese. Top with black olives and capers. Sprinkle on some oregano. Drizzle with more olive oil. Top with microgreens if you like.
*Note: If you can't find barley rusks, then substitute with toasted bread, as you would prepare for crostini, brushed with olive oil and then toasted in the oven until crispy.