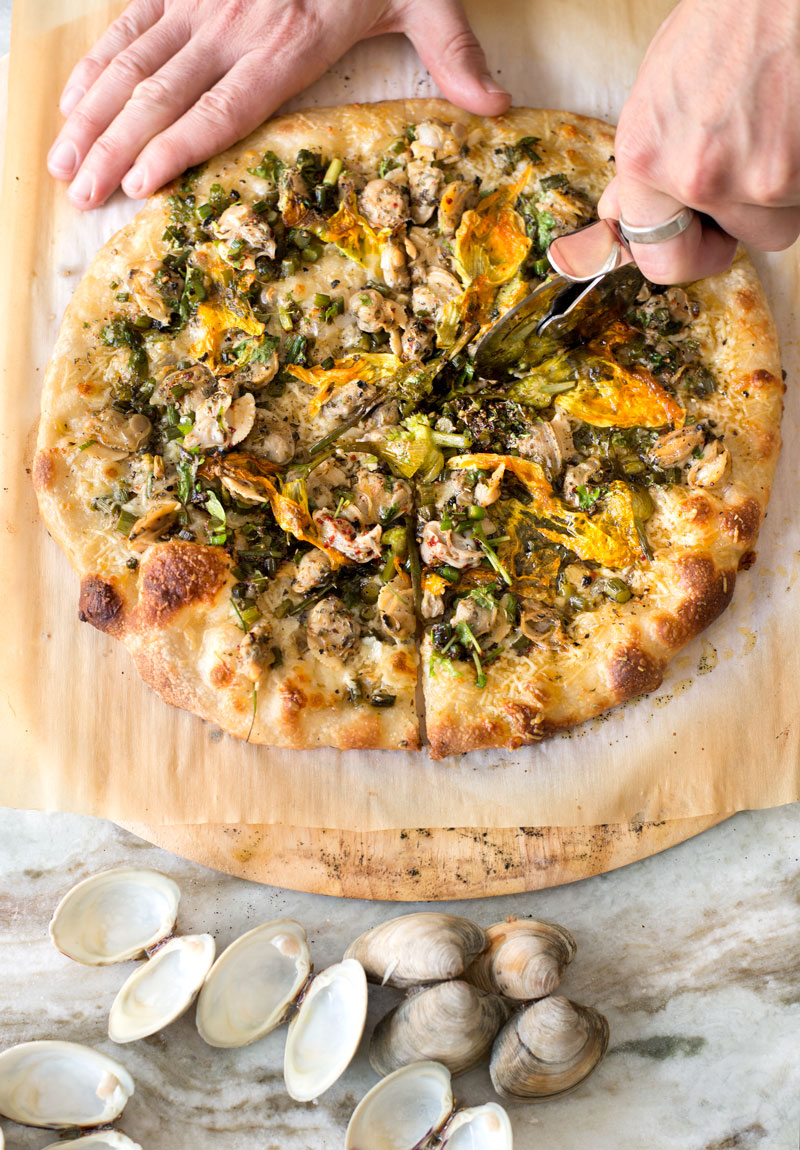 So, how does one continually find inspiration in the kitchen; in other words, what the heck should I make for dinner tonight? That age-old question.
Personally, there's typically an ingredient that is the catalyst; an ingredient that piques my interest. Sometimes it's an unusual ingredient (e.g., a new found love for lovage) that I'm excited to experiment with. Case in point: I have a small garden (my first outdoor space after many years of apartment living, so excited!!!). There is a squash plant in my garden that yielded a handful of squash blossoms. I wanted to utilize this colorful gift. What to do, what to do with squash blossoms? And so it begins…
Stuff and fry them? Perhaps. Squash blossom on a pizza? Hmm, what else shall go on my pizza? Prosciutto? Speck? Maybe. How about clams? Clams and green garlic (just bought some green garlic and garlic scapes)? What type of cheese? And so it goes…
For this pizza, think spaghetti alle vongole (spaghetti with clams), an Italian classic, in the form of a pizza — with plenty of garlic (in this case, green garlic and garlic scapes), olive oil, red pepper flakes, parsley, fresh lemon juice, dried oregano, black pepper, clams, and…squash blossoms.
I've made this pizza a few times now in the past week or two. While it's not your typical red sauce pizza, it's memorable. The first time I made it, I bought two dozen clams. That should be enough for one pizza, no? But it wasn't nearly clammy enough for my liking. The delectable, briny clam flavor got lost among the other ingredients. Definitely needed more clams. I used littleneck clams, which, true to their name, are on the small side — and well-suited for pizza.
So, back to the fish market. This time around, planned on upping the clam quotient to three dozen. However, a bag of 50 clams cost around the same as three dozen loose clams; thus, it became a 50-clam pizza (and it was perfect), plenty of clams in each bite.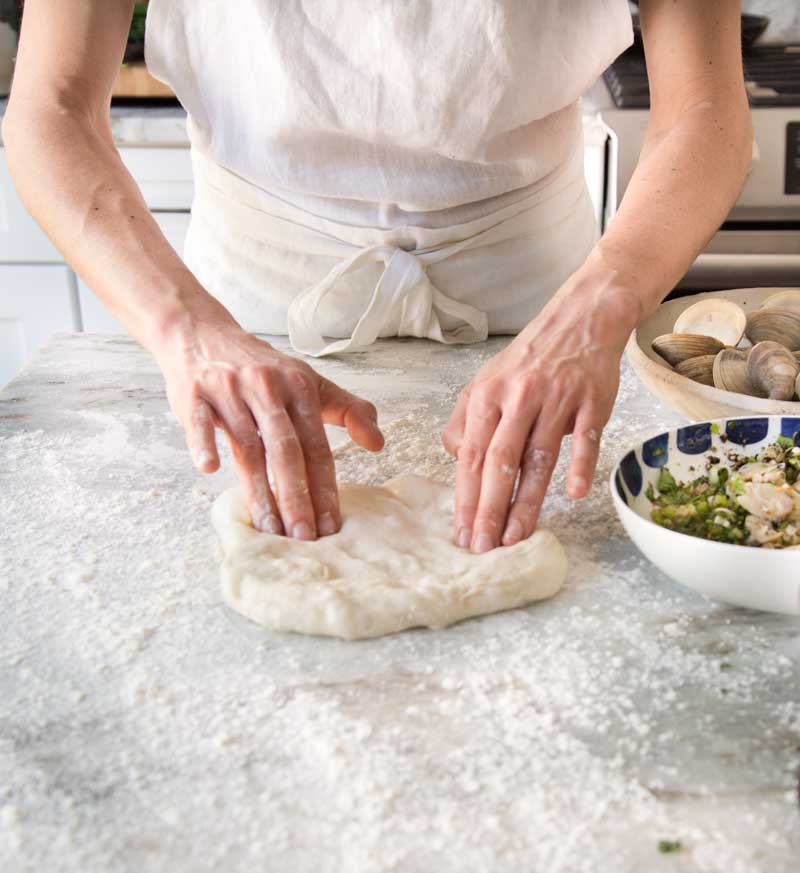 Stretching out the dough by hand…someday will master flipping it in the air.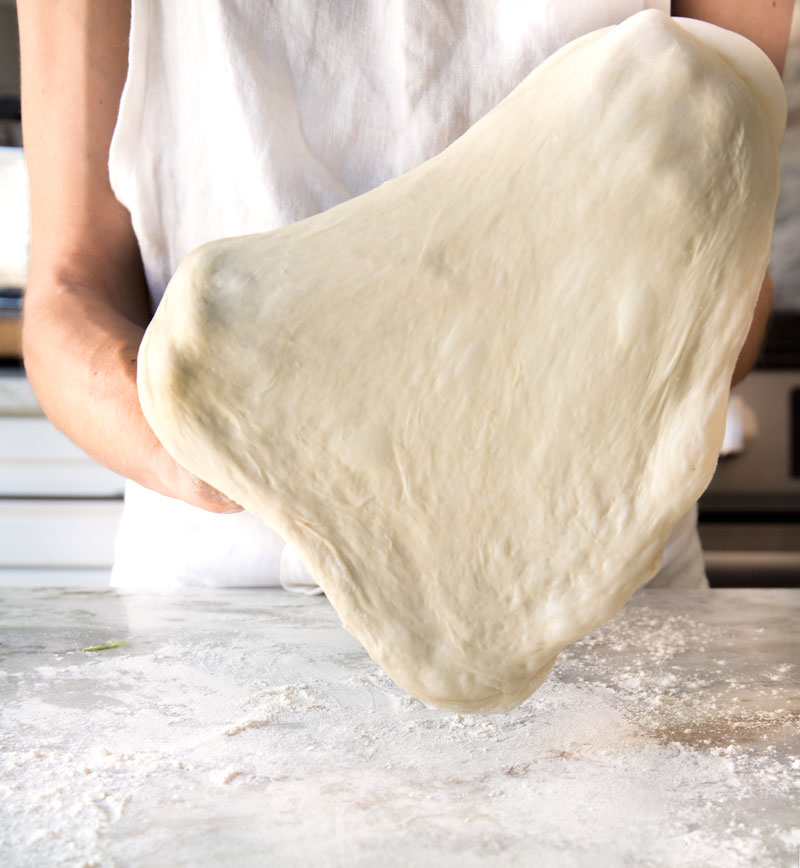 If you have squash blossoms, great, top your pizza with them for a little pizazz. If not, no big deal. Just make sure not to skimp on the clams.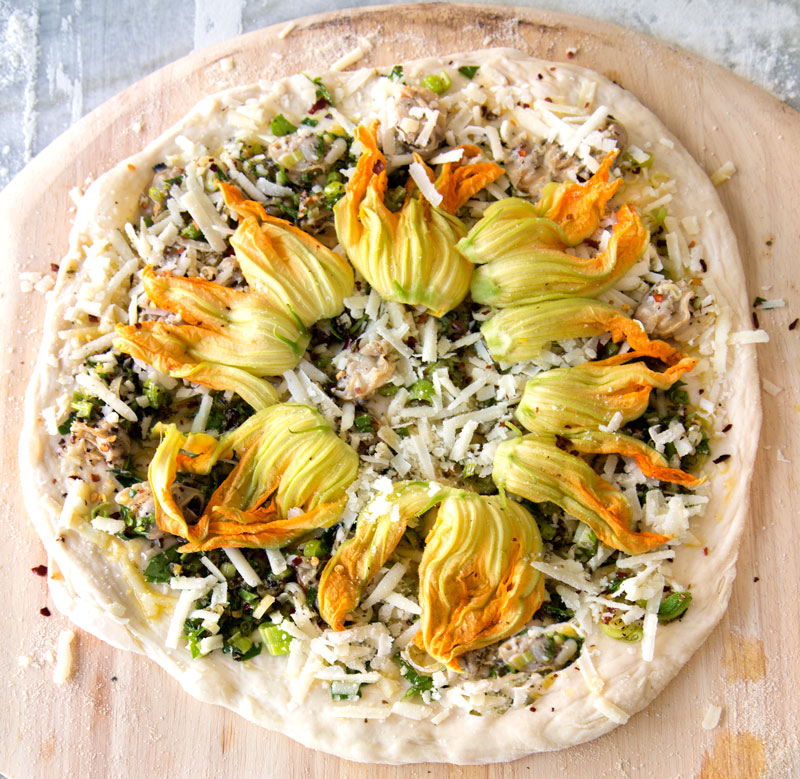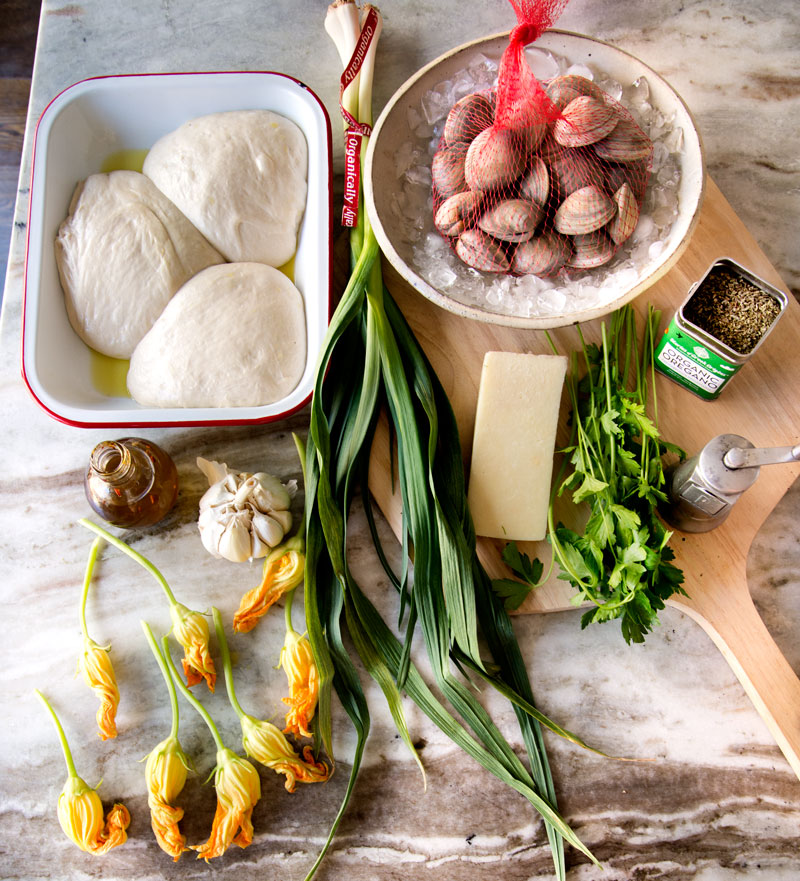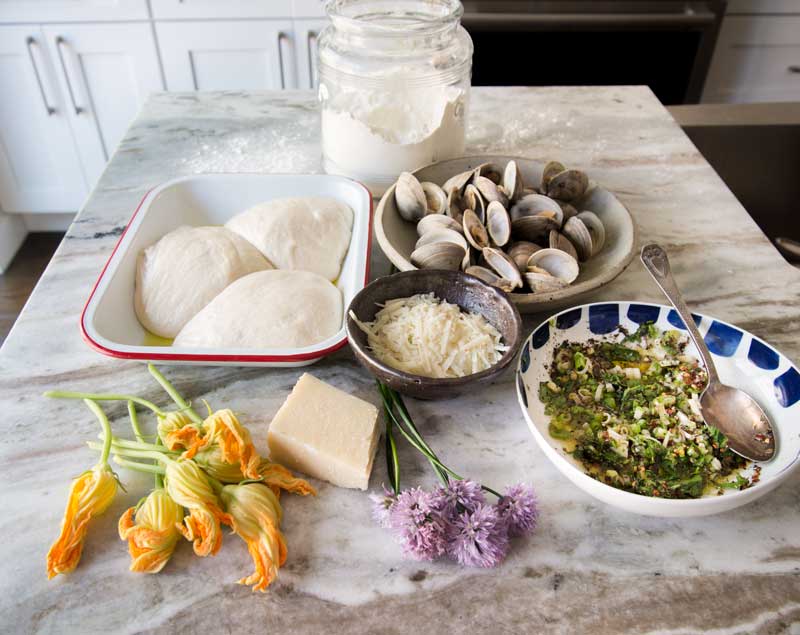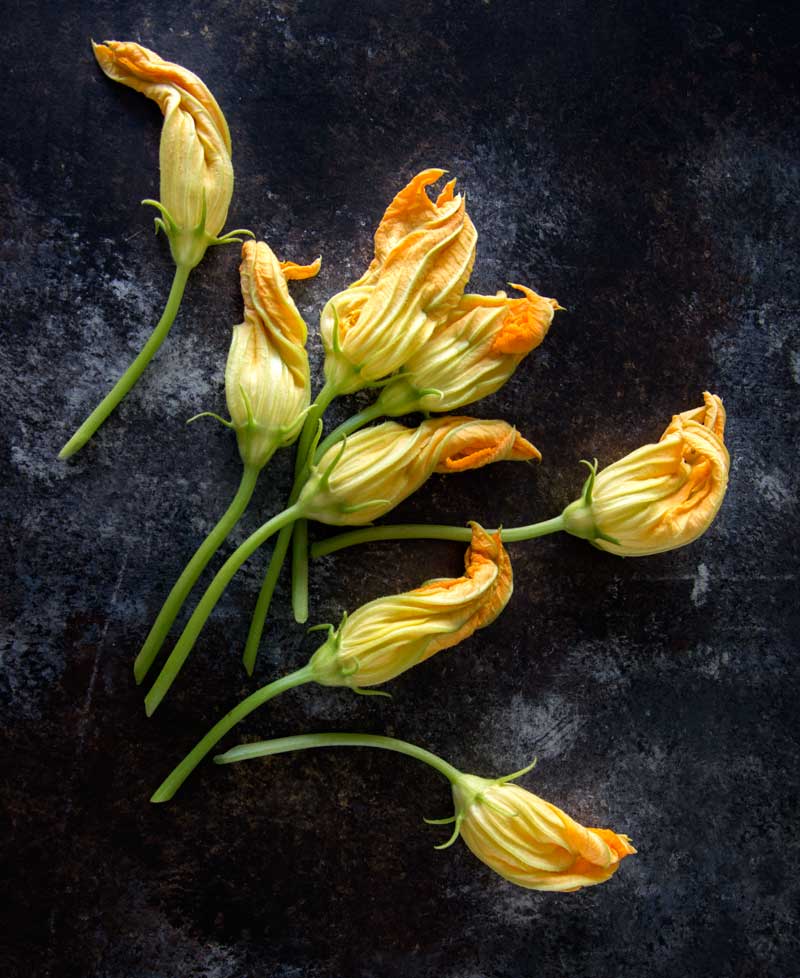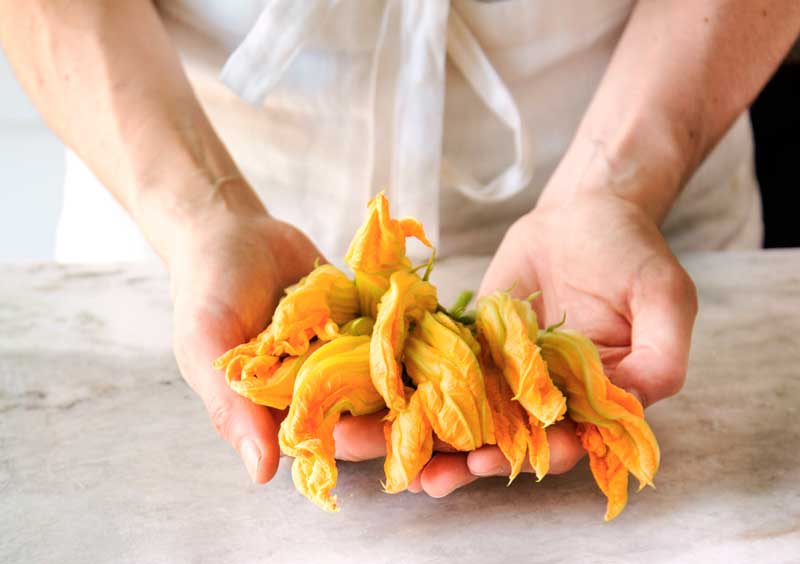 This time of year, garlic scapes — the stems of the hardneck [Rocombole] garlic — and green garlic — a young garlic plant — are plentiful. You might see them at your local farmers' market. The season for green garlic and garlic scapes is quite short (late-spring), so be sure to not pass them by.
You can use scapes and green garlic as you would hardneck garlic (closer to wild garlic with complex flavors) and softneck garlic (what you typically find in grocery stores, mild in flavor). Of note, green garlic and scapes are milder, sweeter, and more tender than softneck or hardneck garlic. I simply chopped and sauteed the scapes and green garlic in a little bit of olive oil before adding them to the pizza.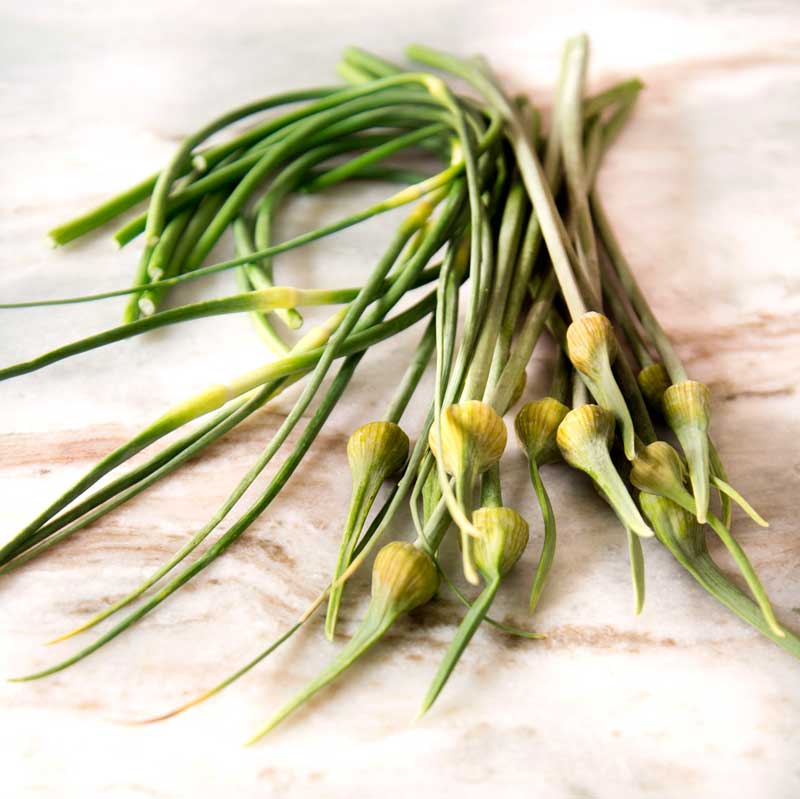 My bag of 50 clams. 50 clams may sound like a lot of clams, but were the ideal quantity for this pie. Just throw them in a pot with a little water, cover, and let them steam until they pop open. Shouldn't take more than a few minutes.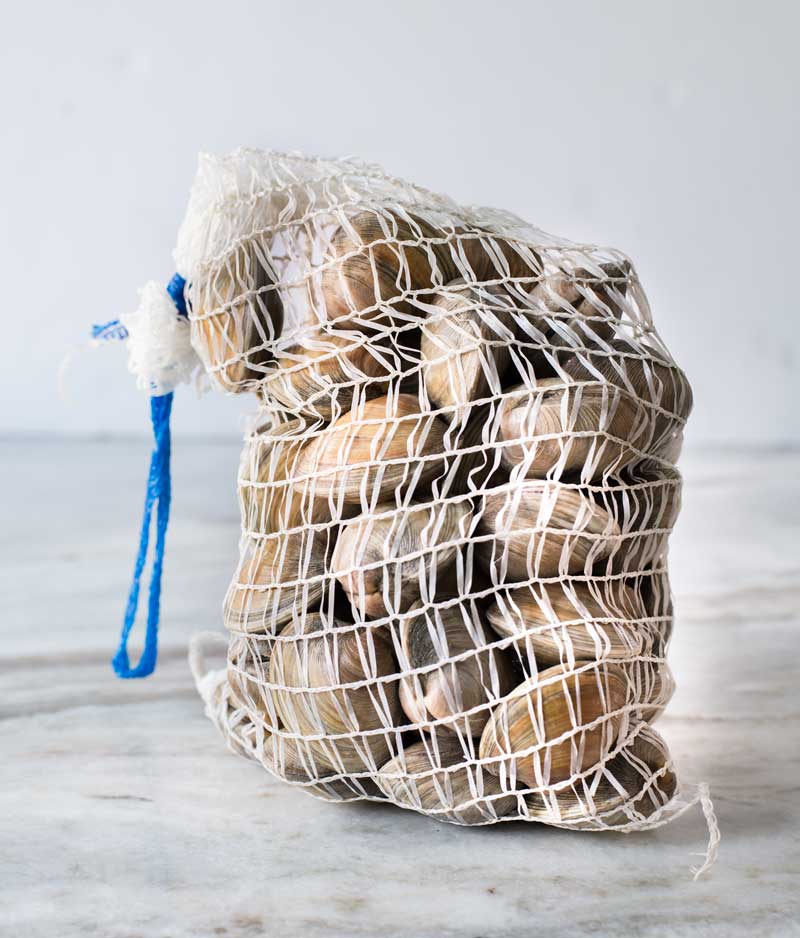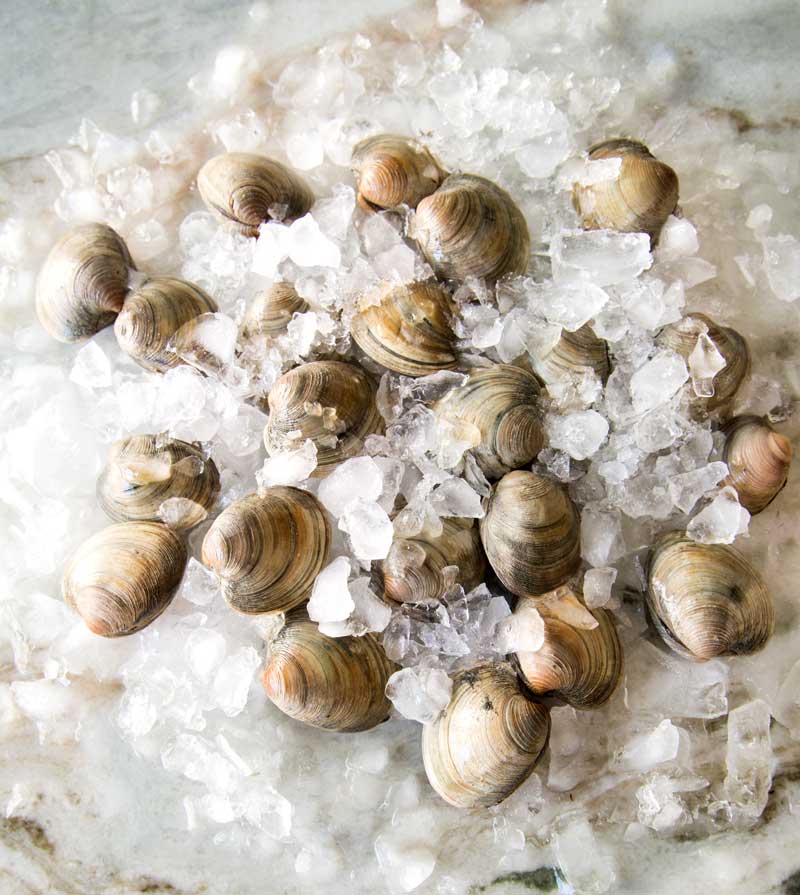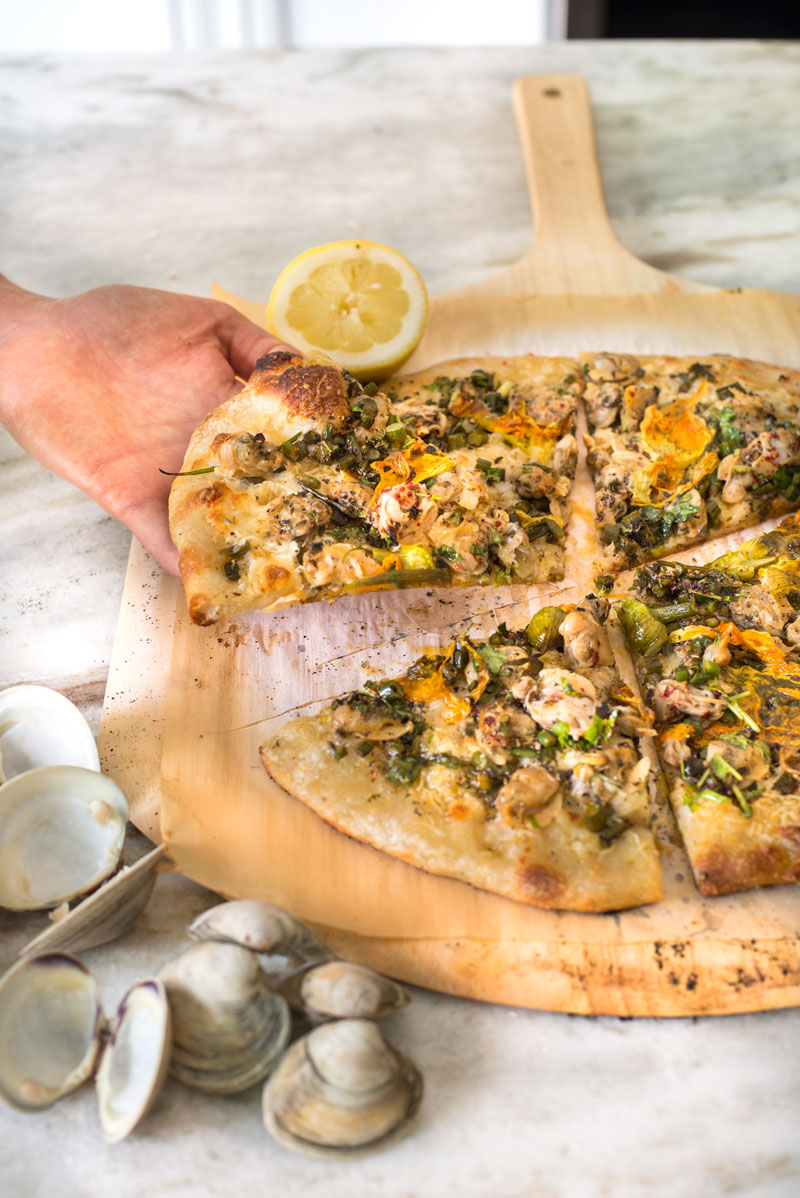 50-Clam [Squash Blossom] Pizza
makes 1 (10-inch) pie
250 grams (~ 9 ounces) store bought or homemade pizza dough
50 littleneck clams (at a minimum, three dozen clams)
1/4 cup plus one tablespoon olive oil
2 to 4 garlic cloves or ~ 1/4 cup garlic scapes or green garlic, thinly sliced
red pepper flakes
few grinds of freshly ground black pepper
2 tablespoons freshly chopped parsley
1 tablespoon dried oregano
1/2 cup freshly (finely) grated cheese (used combination of Pecorino and smoked mozzarella)
squash blossoms (optional); stamens removed
Preheat your oven to 500F with a pizza stone. Let the stone heat for 45 minutes to an hour.
Steam the clams: Fill a large pot with an inch or so of water. Bring to a boil. Add the clams, cover, and steam until the clams pop open, about 6 to 8 minutes. Use a slotted spoon to remove the clams. Discard any clams that don't open. Remove the clams from their shells.
Heat 1 tablespoon of oil in a skillet. Add the green garlic/garlic scapes and saute a few minutes until tender. Transfer to a bowl. Add the clams, 1/4 cup olive oil, red pepper flakes, black pepper, chopped parsley, and oregano.
Roll out your dough to about 10-inches in diameter. Add the clam/herb mixture. Layer on the cheese. Top with squash blossoms if using. Using a pizza peel, slide your pizza into the oven. Cook until the crust is nice and browned and the cheese is melted, about 7 to 8 minutes.