I like to eat what the season has to offer. Am by no means strict or obsessive about it, but simply try my best to incorporate what's local and seasonal. This time of year, what's most abundant — roots and more roots. Root vegetables are not usually something I get overly excited about. I might toss them in olive oil, season them with salt and pepper (or other herbs and spices) and roast them in the oven. Decidedly good, though perhaps not thrilling or "blog worthy."

I want to do a better job when it comes to preparing root vegetables in more interesting ways.

Today, I'm tackling beets. Beets, well, have never been my favorite. Mostly I like them prepared pretty traditionally, that is, roasted in the oven, served with a sharp and tangy chevre (goat's milk cheese) and a balsamic vinaigrette. A classic pairing. Beyond that, not sure what to do with beets?

A while back, I had a smoked beet salad at Cellar Door Provisions in Chicago. The smoky beets made a lasting impression. Couldn't get them out of my mind.

Obviously you'll need a smoker to pull this off (I have this one). I boiled the beets for 30 minutes and then tossed them in a little olive oil and seasoned with salt and pepper. From there, into the smoker (along with an assortment of other stuff — including the fish [trout and arctic char] pictured below) for around two hours at a low temp — 200F low and slow. The beets took on a pleasant amount of smoke. Not too smoky. All in all, different enough to gratify my everlasting search for new-ish flavors.

After beets come out of the smoker, I like to take them one step further and char them in a hot skillet. Paired the smoked beets with a toasty guajillo dressing over a bed of farro, charred kale, feta cheese and toasted pumpkin seeds for a little crunch. I think the smoked beets would also be nice simply over some labneh, with a drizzle of balsamic and sprinkling of dukkah (an Egyptian nut and spice blend). Not too out of the box, but tasty and fitting for this time of year.

Do you have a favorite way to prepare root vegetables??

Happy cooking this fall!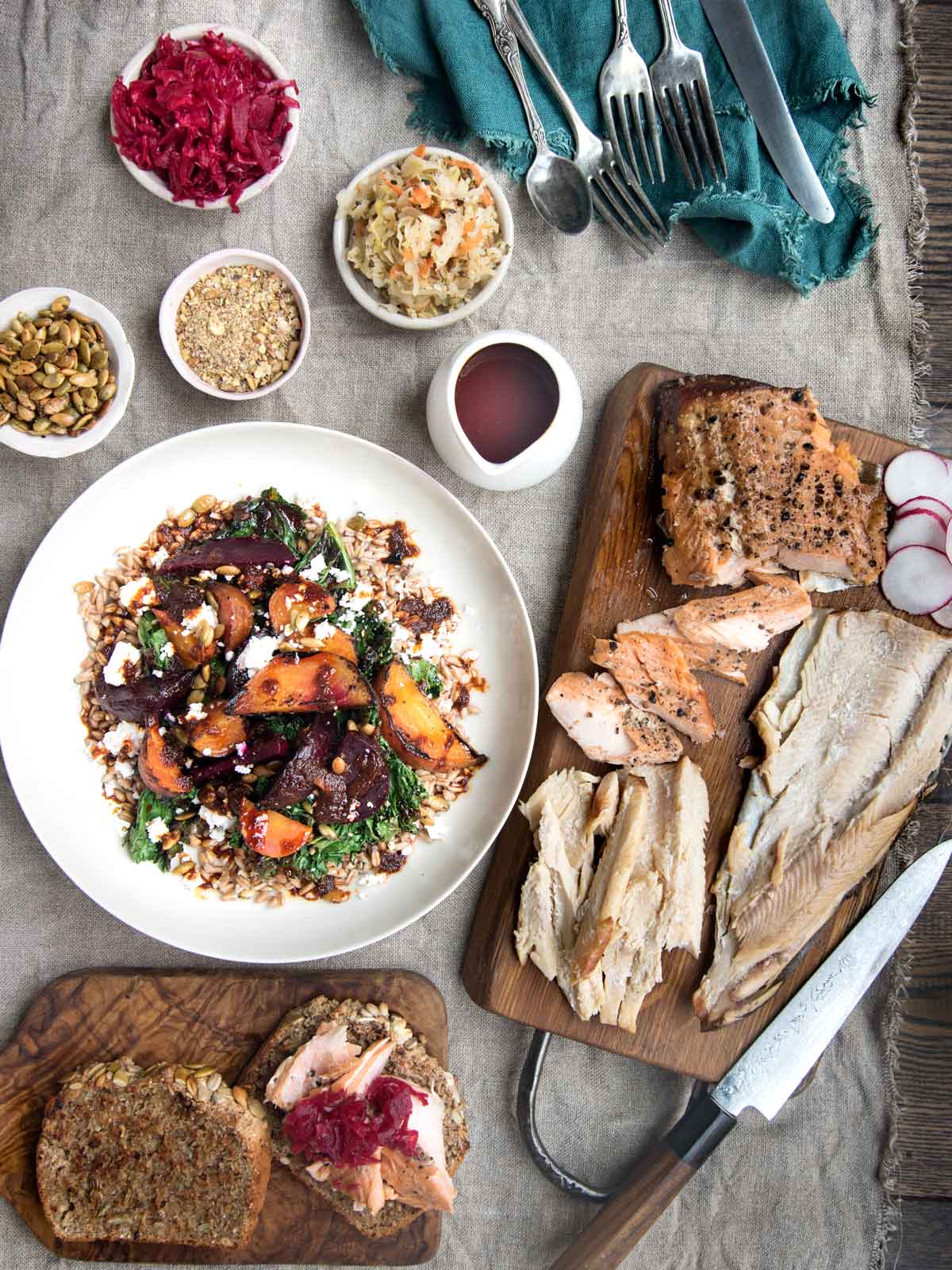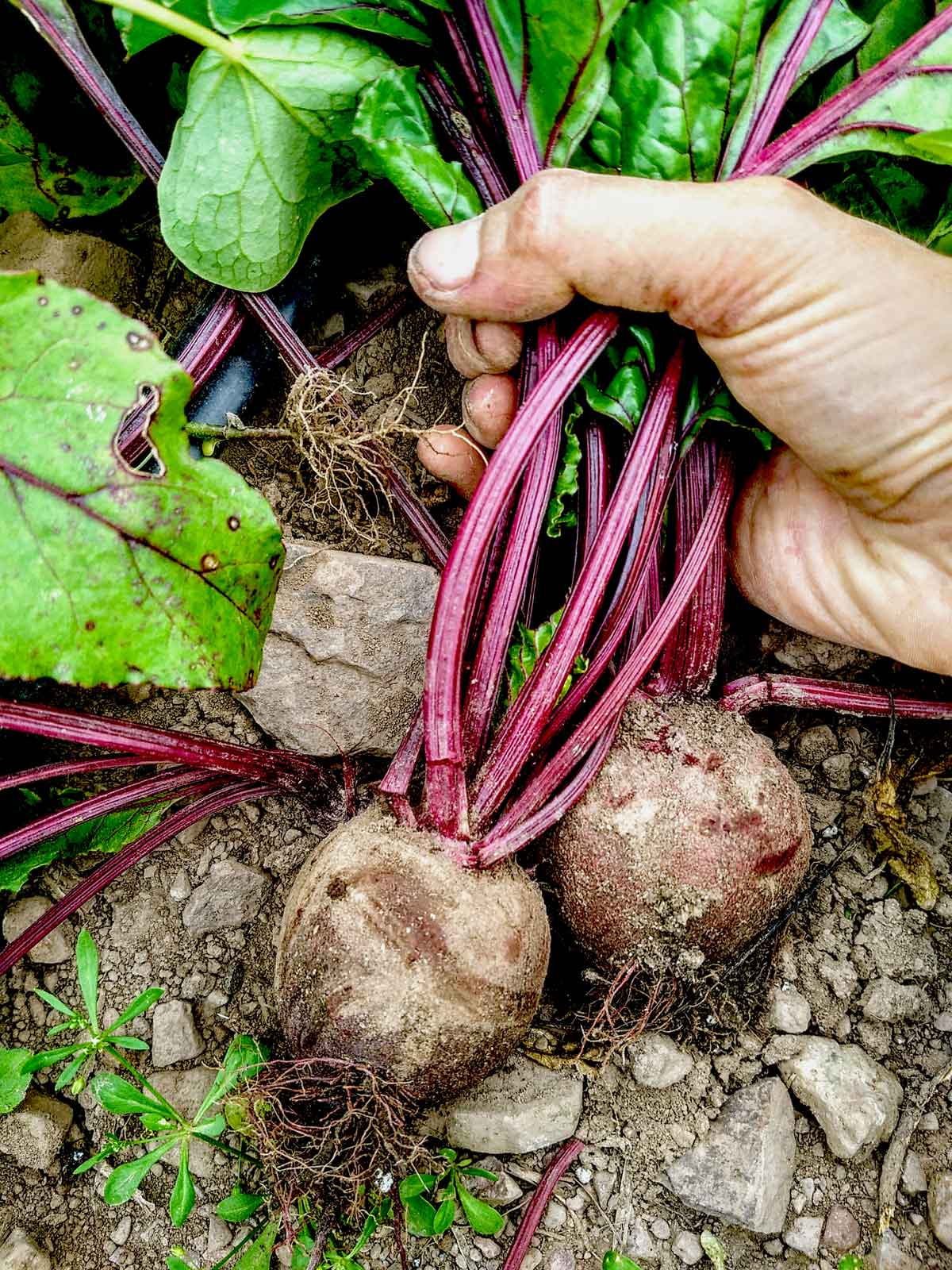 The beet harvest a few weeks back…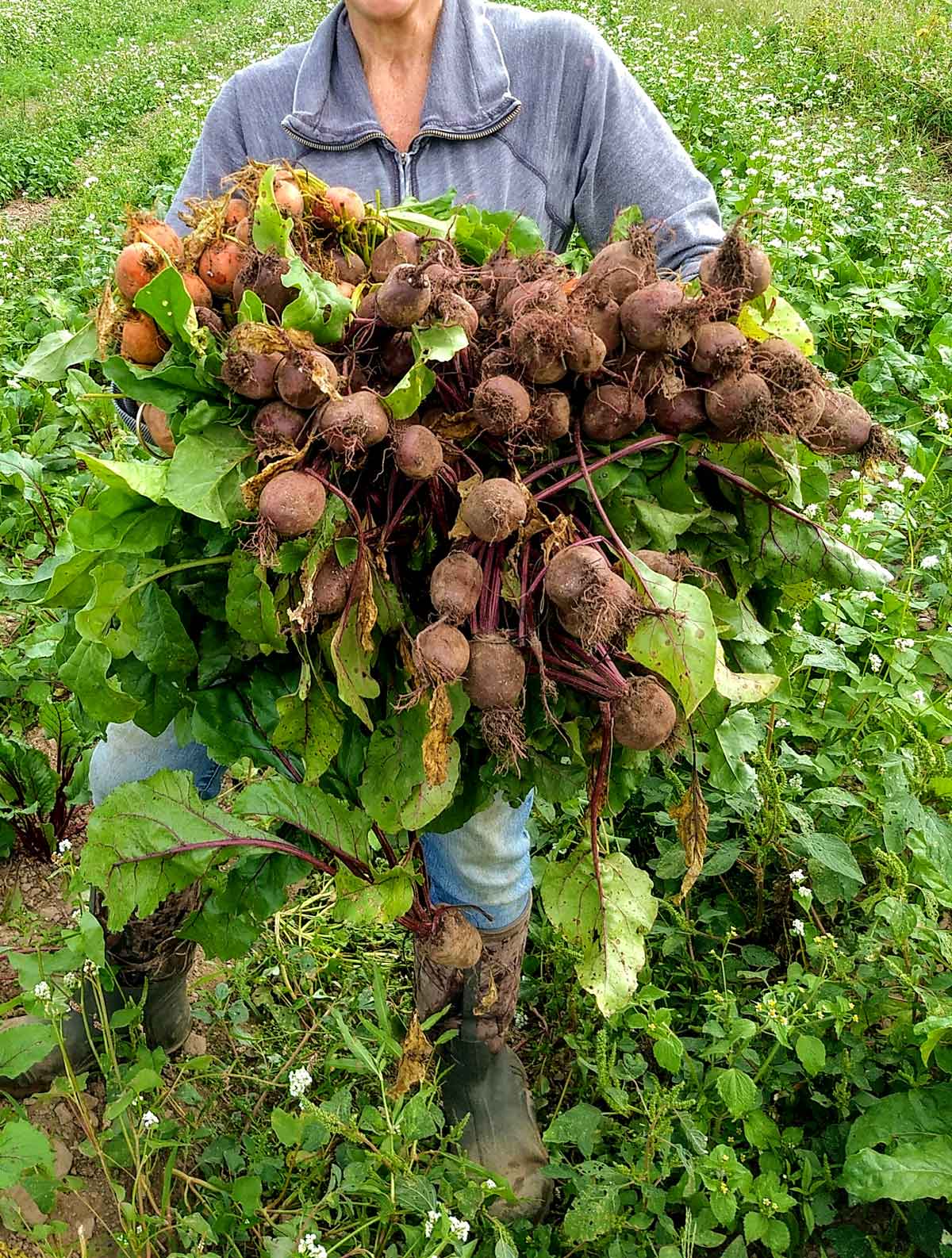 Guajillo is a type of dried Mexican chile. When toasted in a hot skillet, it takes on a rich, toasty-roasty flavor, with just a hint of heat. Not too spicy, between 5,000 to 15,000 on the Scoville scale.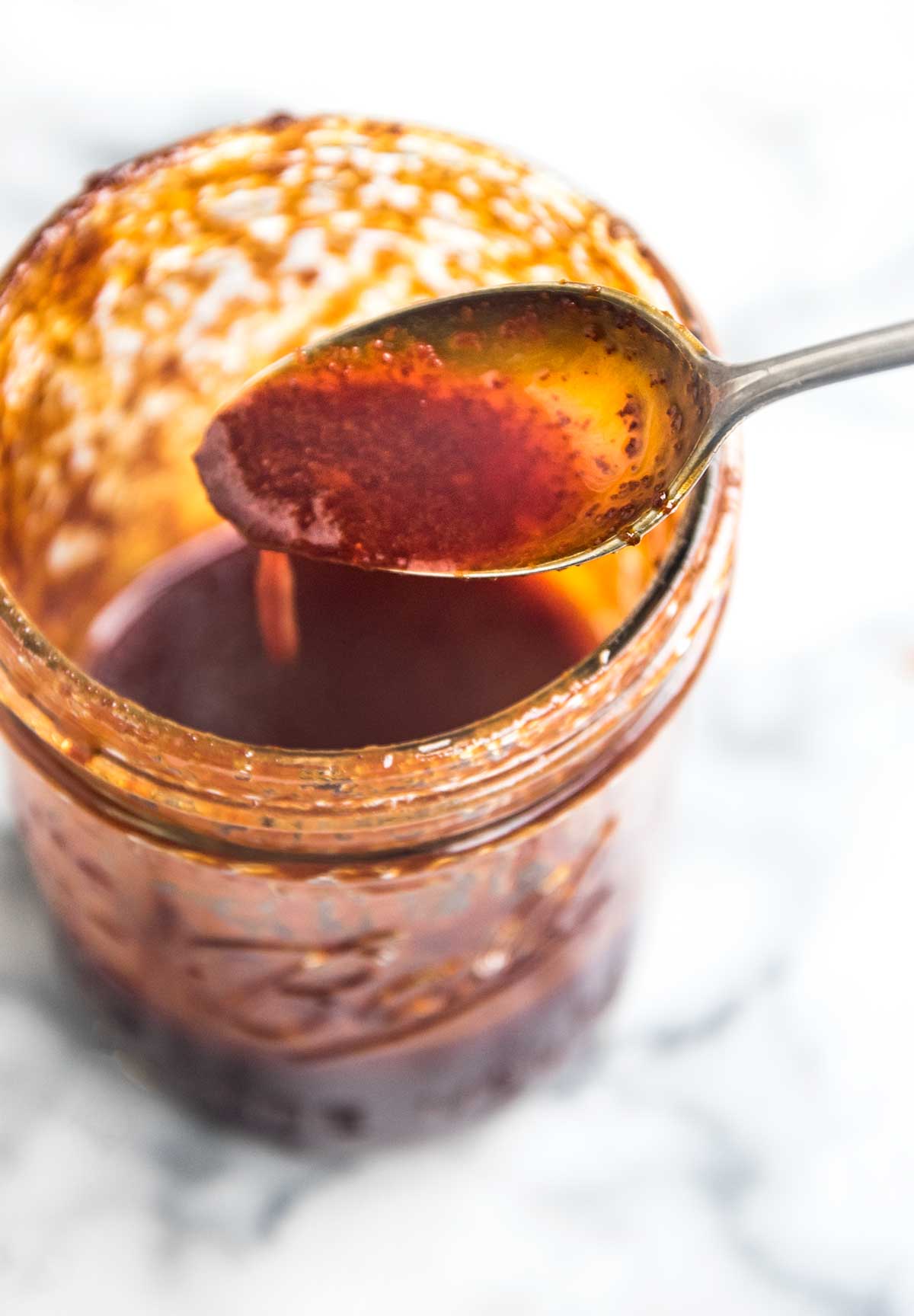 Served my beet salad with home-smoked trout and arctic char, with homemade Irish soda bread, topped with some red cabbage sauerkraut.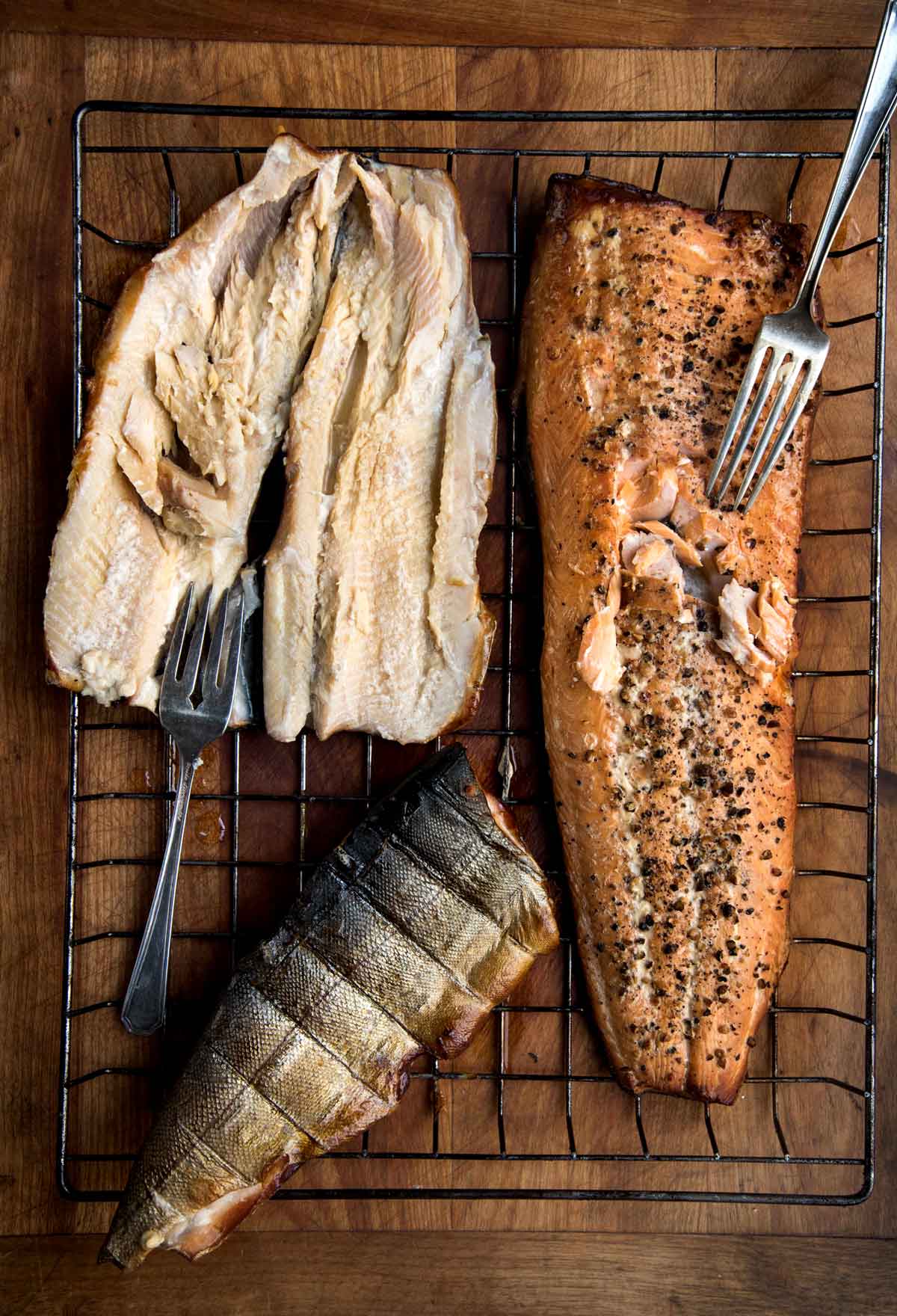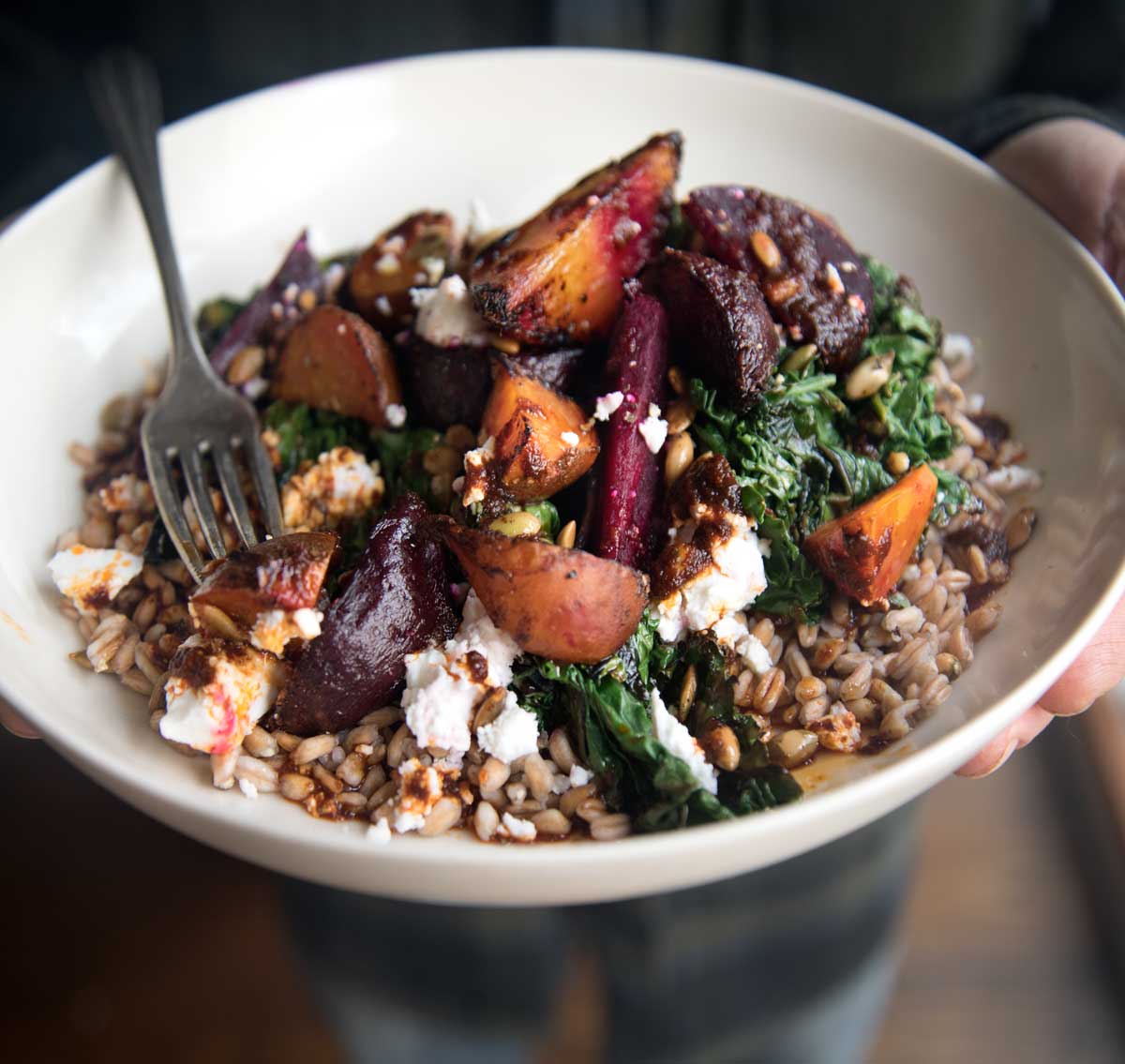 Smoked Beet Salad with Guajillo Dressing
1 large bunch curly kale, stems removed (make sure the kale if very dry)
Olive oil (or *shallot oil)
Salt and pepper
1 cup cooked farro
Smoked beets (recipe below)
Goat's cheese, such as feta or fresh chèvre, crumbled
Guajillo Dressing (recipe below)
Toasted pumpkin seeds

To prepare the kale: Heat a skillet. Add the olive oil. When hot, add the kale leaves. Season with salt and pepper. Cook until the kale gets nice and charred in spots, stirring from time to time. I like curly kale for this, as the uneven edges crisp up nicely.

To assemble the salad: Spoon some cooked farro, about 1/4 cup, at the bottom of each bowl. Add some kale. Add some smoked beet wedges. Top with cheese. Drizzle dressing over top. Season with a little more salt and pepper. Top with toasted pumpkin seeds.

*Note: I had some leftover shallot oil (oil that I fried shallots in). I cooked the kale in the shallot oil, which gave it a yummy, subtle onion-y flavor.
Smoked Beets
1 dozen beets, greens removed and reserved
Olive oil
Salt and pepper

Bring a large pot of salted water to a boil. Add the beets, bring back to a boil, then turn down heat and simmer until fork tender, 30 to 40 minutes, depending on size of the beets. Drain and pat dry.

Preheat smoker to 200F (used a pecan wood). Toss beets with a little olive oil and season with salt and pepper. Place beets in smoker and cook until pleasantly smoky, about 1 1/2 to 2 hours, depending on desired level of smokiness. Slice the beets into large wedges.

Note: Beets can be smoked in advance. If you like, you can char the beets in a hot skillet. Let the pan and oil get nice and hot and smoking and then place the cut side of the beets in a single layer and cook until charred in spots, 5 to 7 minutes per side.

Note: Don't toss the beet greens. You can sauté the beet greens as you would other greens in a skillet with olive oil, minced garlic and salt and pepper.
Guajillo Dressing
Adapted from here [via Rick Bayless]
2 medium guajillo chiles (about 1/2 ounce)
3/4 cup olive oil (or other neutral oil)
2 garlic cloves, peeled and quartered
1/4 cup Sherry vinegar
Salt to taste
1/4 teaspoon ground chipotle

Tear off the stems from the chiles and split them open. Shake out and discard the seeds.

Heat the oil in a small deep-sided skillet. Add the garlic. While the garlic is sizzling vigorously in the oil, lay the chiles flat in the oil and toast for about 30 seconds, until they smell "toasty" and and insides have turned lighter in color. Watch closely to make sure the chiles don't burn, otherwise the sauce will be bitter. Remove the pan from the heat.

Carefully transfer the chiles to a blender or small food processor and add the vinegar plus a teaspoon of salt. Blend or process for 30 seconds. Once the oil has cooled somewhat (at least 5 minutes) add it along with the garlic and ground chipotle (not in original recipe, but I wanted a bit more kick) then blend until smooth and emulsified. It may take a minute or more.