As a big fan of sea vegetables, I'm quite excited about the latest addition to my cookbook collection — Ocean Greens: Explore the World of Edible Seaweed and Sea Vegetables (published in October 2016). I've thumbed through it and bookmarked several recipes that piqued my interest — among others, a tiramisu thickened with agar agar (a type of seaweed) and a dulse spread (along the lines of a romesco) — but this is the first recipe I've made thus far, Sea Chowder with Shitake Bacon. 
The 'sea' part of the sea chowder comes from kombu, which is a type of kelp. There are approximately 300 types of kelp, a species of brown algae belonging to the order of Laminariales. Kombu is the most well-known brown algae and is often referred to as the king of the sea, well, perhaps as far as sea vegetables go. Because of its high glutamate content, a building block of MSG, kombu imparts a deep umami flavor. Kombu is also rich in various minerals, including calcium, potassium, magnesium, iron, manganese, zinc, iodine, chrome, and copper.
While kombu is traditionally utilized in Japanese cooking to make dashi, a stock (that also includes katsuobushi/dried bonito flakes), it can also be used to deepen the flavor of other types of soups (e.g., vegetable soup) or add extra savoriness to tomato/pasta sauce (in lieu of a cured anchovy or two).
This soup is accompanied by a mushroom bacon of sorts. The 'bacon' is achieved by adding soy sauce/tamari, smoked Spanish paprika, and honey to the mushrooms after they are crisped up in a pan so that the mushrooms are a bit smoky, salty, maple-ly, and bacon-y in flavor. I used a combination of gray oysters and shiitakes. It just so happens that Kennett Square, PA, which is not too far from my home in Philadelphia, is often referred to as the mushroom capital of the world. Hence, I always have a healthy supply of mushrooms on hand.
As summer sadly draws to a close (say it ain't so), today's chowder gave me an excuse to incorporate perhaps the last of summer's bountiful corn. This is a simple, one-pot, savory corn chowder with a subtle pop of heat from the chile pepper. The chowder has a smooth and creamy texture, sans cream, which can mask the other flavors in a soup. Lastly, finished with a sprinkling of fresh herbs (of your choosing) and mushroom bacon. Another thought that came to mind was to finish the soup with a handful of applewood-smoked dulse, which also has a bacon-like flavor when toasted (and is a new favorite discovery).
Can't wait to try some more seaweed recipes soon. There's a world of sea vegetables out there to be explored!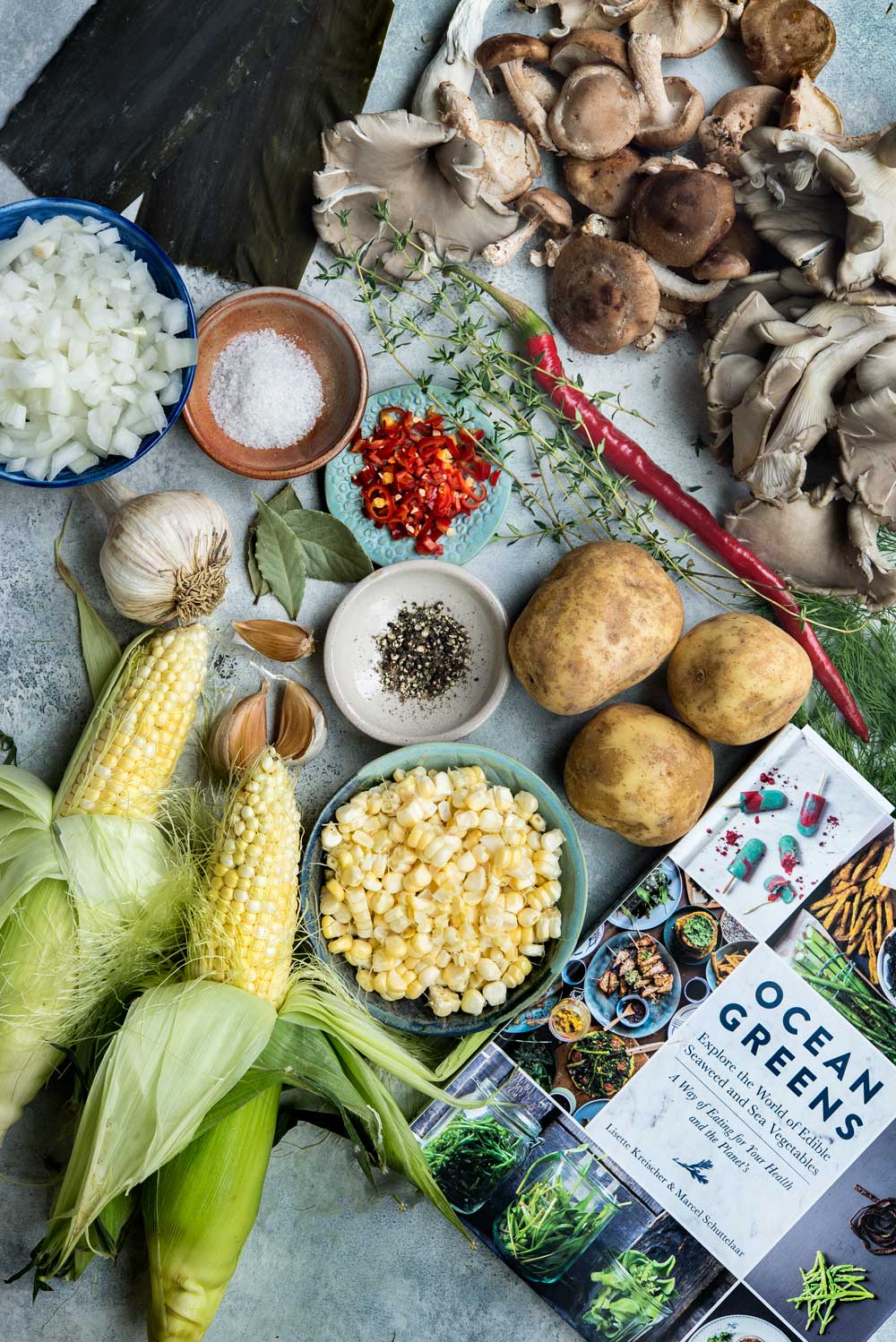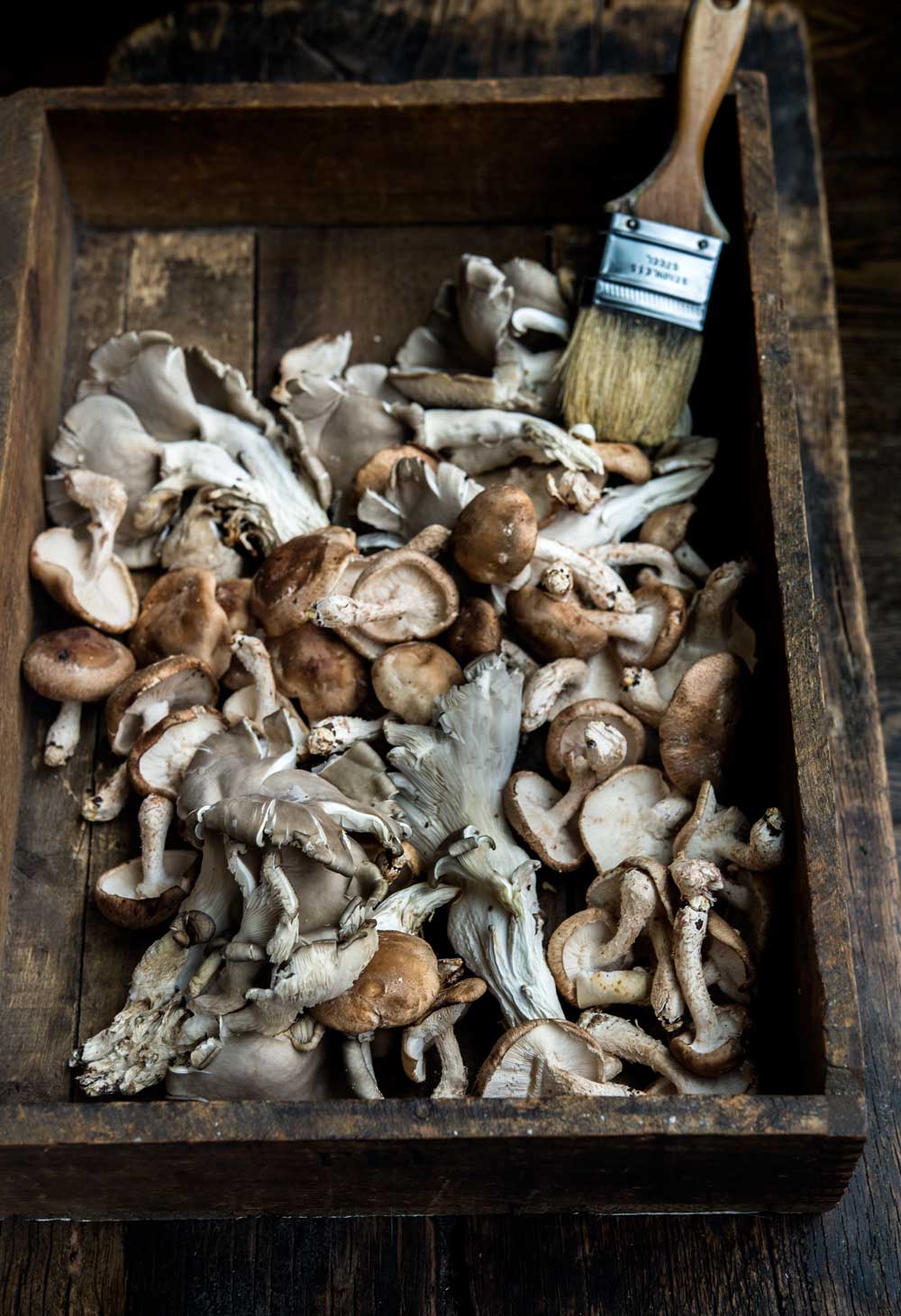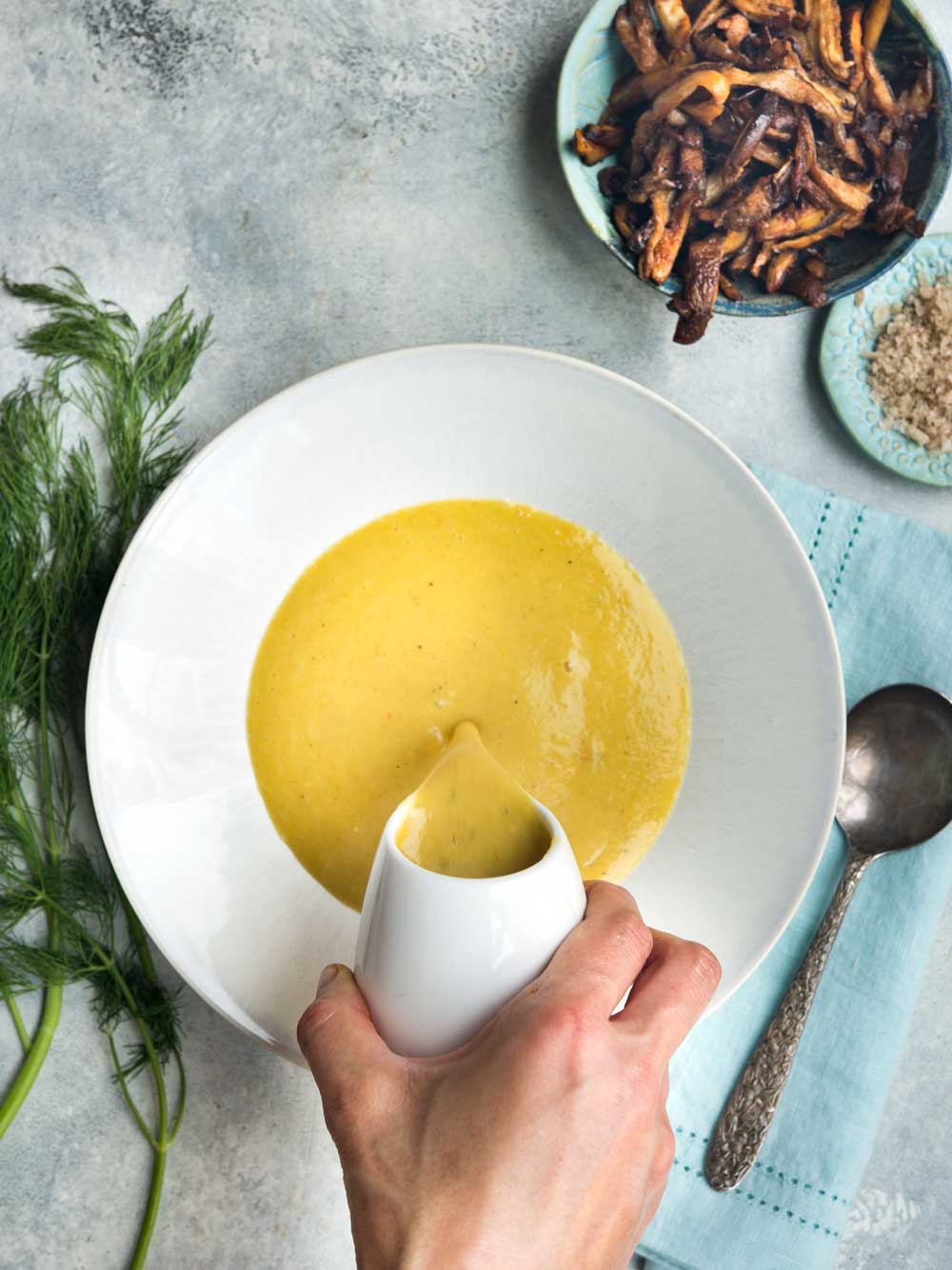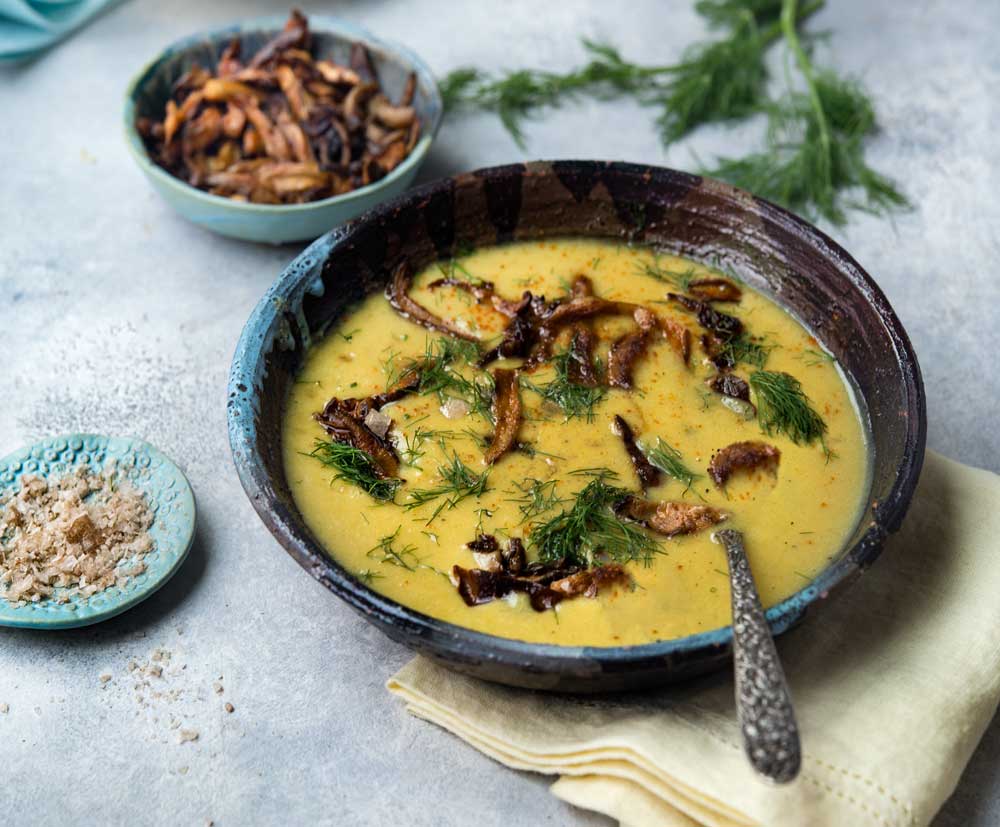 Sea [Vegetable] Chowder with Mushroom 'Bacon'
Serves 4
Adapted from Ocean Greens: Explore the World of Edible Seaweed and Sea Vegetables
1 tablespoon olive oil
1 large onion, chopped
3 garlic cloves, minced
1 small red chile, seeded and minced
2 1/2 cups fresh corn kernels, from three cobs of corn
3 medium potatoes, cubed
1 teaspoon fresh thyme
2 bay leaves
1/2 teaspoon ground cumin
1/4 teaspoon turmeric
5 1/2 cups water
.25 ounce dried kombu (roughly a 4-inch piece)
Sea salt and freshly ground black pepper
Mushroom bacon (recipe below)
Fresh herbs for garnish (such as dill, parsley, cilantro)
Heat the oil in a large soup pot or Dutch oven. Add the onions and saute until golden, about 5 minutes. Add the garlic and chile, and saute another 2 to 3 minutes. Add the corn, potatoes, thyme, bay leaves, cumin, and turmeric and saute another couple of minutes. Add the water and kombu and bring to a boil. Reduce heat to a simmer, partially cover, and cook for 20 minutes. Remove the kombu and bay leaves, season with salt and pepper, uncover and simmer another 5 minutes.
Ladle into bowls. Top with mushroom bacon and fresh herbs. Serve hot.
Mushroom Bacon
Splash of olive oil
8-ounces shiitake (or other types of mushroom), thinly sliced
1 tablespoon soy sauce or tamari, more or less to taste
1 heaping teaspoon hot smoked Spanish paprika
1 to 2 teaspoons maple syrup, more or less to taste
Heat the olive oil in a large skillet over medium-high heat. Add the mushroom and saute until golden brown. Add the soy sauce and cook another minute. Add the paprika and maple syrup and continue to stir until caramelized. Remove from the heat.