A short post today…
Quick, weeknight dinners need not be dull and boring. Meet larb, it may be just what you're looking for.
Larb (also spelled laap, larp, lahb or laab) is a salad of Laotian and Northern Thai origin. Larb can be made with various proteins, from chicken to pork to duck. The meat is minced or chopped and then cooked in a spicy, chile-lime-fish sauce-based dressing so that it has all the hallmarks of a Thai salad — spicy, sour and salty with a rounded, subtle sweetness. The lamb is finished with sliced shallots and plenty of fresh herbs, typically, coriander, long leaf or sawtooth coriander, and mint. It's served with a plate of raw vegetables, such as wedges of white cabbage or lettuce, or salad leaves, batons of green beans and sliced cucumber.
This might look and sound like a lot of ingredients, but in reality it's a dish that you can pull together in minutes. The time-consuming step — toasting and grinding the glutinous rice — can be accomplished several days in advance. In fact, once you make a batch, which is enough for several servings of larb, the rice will keep for a good month or so in an air-tight container, which allows you to make the dish at your convenience.
The roasted, ground rice lends texture and flavor to the larb. To roast the rice, just dry-fry (i.e., no oil or butter) white sticky rice in a wok or skillet over low heat until golden and nutty in aroma. I added a few slices of galangal, lemongrass and kaffir lime leaves, which impart a delicate citrusy, floral aroma/taste.
From there it's a quick, tasty dinner — no more than 10 to 15 minutes from wok/skillet to plate.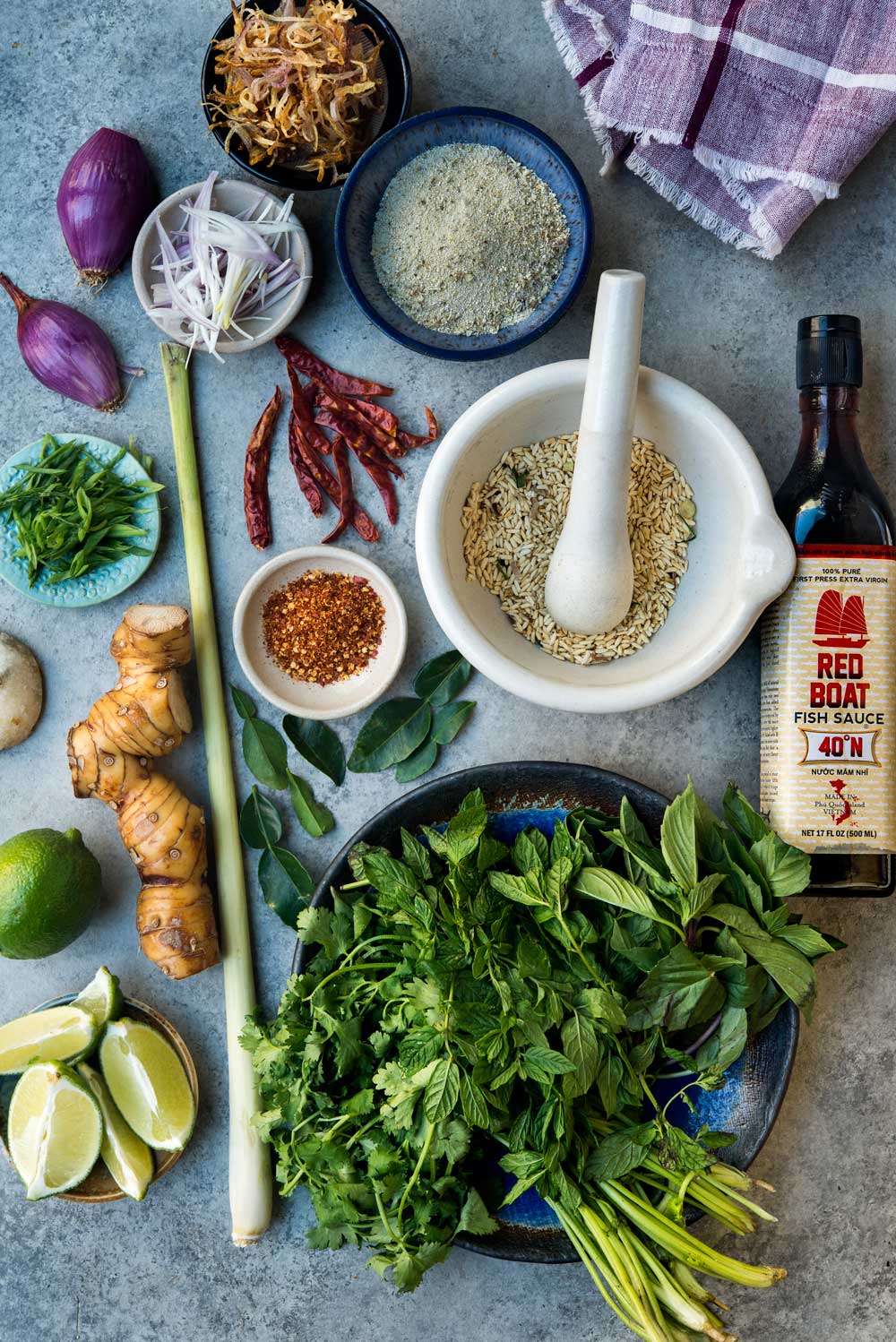 You can certainly pound and grind the toasted rice with a mortar and pestle, though a spice grinder handles the job with ease — just a few pulses until the rice  is at a medium to fine grind.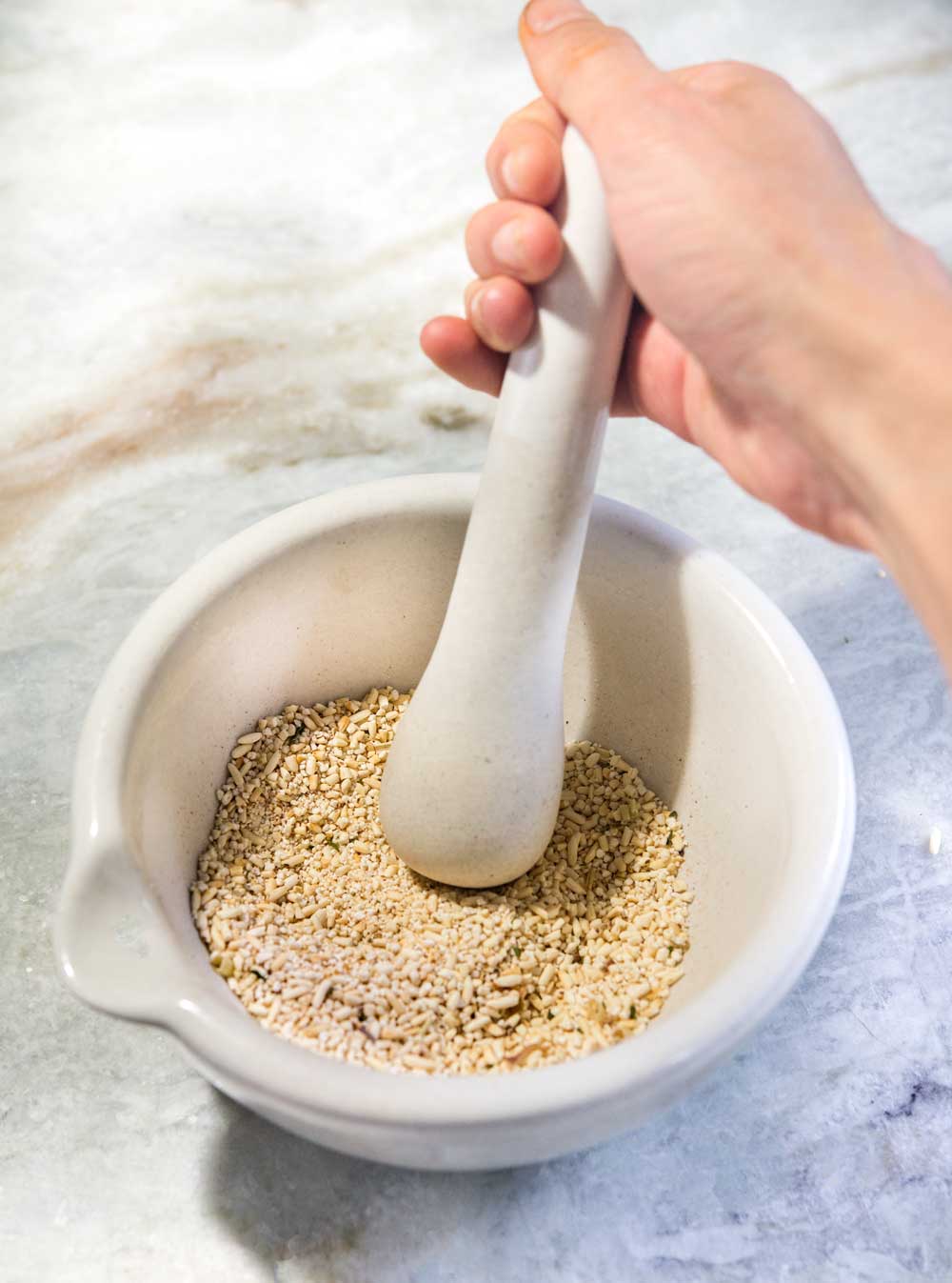 Chicken Larb
3/4 cup Thai glutinous rice
4 to 5 thin slices of galangal
2 kaffir lime leaves, sliced into strips
1 lemongrass stalk, thinly sliced
3/4 pound chicken thigh meat
1/4 cup chicken stock
Large pinch ground toasted small red chilli, plus extra whole to serve (more or less to taste)
1/2 tbsp crushed palm sugar (or brown sugar)
2 tbsp fish sauce
1/4 cup lime juice, plus extra wedges, to serve
2 tbsp thinly sliced Thai red shallots
2 tbsp sliced spring onions/scallions
1/4 cup coriander leaves, plus extra for serving
1/4 cup torn mint, plus extra for serving
1/4 cup Thai basil, plus extra for serving
To serve: wedges of white cabbage or lettuce, or salad leaves, batons of green beans and sliced telegraph cucumber, store-bought pork crackling and sticky rice
 Dry-roast the glutinous rice in a frying pan or wok over low-medium heat, tossing or stirring, until it's evenly pale gold in color, about 10 to 12 minutes.
Add galangal slices, lime leaves and lemongrass and continue cooking, keeping the mixture moving in the pan, until evenly golden brown and fragrant, 2 to 3 minutes. Cool completely, then grind in a spice grinder (2 to 3 pulses) or with a mortar and pestle (it should be ground but still a bit coarse, not powdery).
Note: This will make more glutinous rice than you need, but it will keep in an airtight container for up to a month.
Use a large cleaver to mince the chicken thighs until roughly the size of sunflower seeds.
In a non-stick frying pan or wok over medium heat, bring the chicken stock to a soft boil, add the minced chicken and toss so it cooks evenly, 3 to 4 minutes. Once chicken is cooked through, remove from heat.
Drain off some of the cooking liquid, reserving enough so it just covers the chicken (the liquid keeps the chicken moist). Transfer chicken to a bowl and while still warm add 1 tbsp of the ground glutinous rice and toasted chile. Stir to combine. Add palm sugar, fish sauce and lime juice to taste. Stir to combine.
To finish, add shallot, spring onion/scallions and all the soft herbs and toss gently until evenly distributed. Taste and adjust seasoning; it should have all the hallmarks of a Thai salad: spicy, sour and salty with a rounded sweetness, which should not dominate. Top with extra chiles and serve with cabbage, beans, cucumber, extra herbs, lime wedges, and sticky rice.