I love octopus. You name it, I love it (grilled, boiled, braised, etc.).
Any octopus fans out there? Yes, you say. Have a favorite preparation? If so, please share.
Braised polipetti (baby octopus) is one of my hands down, all-time favorite dishes. As the octopi stew, they release much of their water content, which melds with the tomatoes and red wine to yield a slightly briny, rich and thick sauce that is nothing short of lick-the-bowl-clean delicious.
Octopus can be tricky to prepare. Cook it too short, octopus will be rubbery and give your jaw an unpleasant workout; cook octopus too long, it loses its al dente chew. A slow, gentle braise of octopus on the stove-top strikes that sweet spot. Essentially a one-pot stew that simmers low and slow for about forty minutes until the octopi are perfectly tender. Sometimes, I'll add a handful of baby spinach to the sauce towards the end of cooking.
I have a secret source for octopus (maybe in Brooklyn, hush, hush). Whenever I make a day trip from Philly to NYC, I pack a cooler and load up on my favorite cephalopod. If you can't find baby octopus, this recipe also works wonderfully with squid, which is much easier to come by.
I served my braised octopus with squid ink spaghetti that I made using a chitarra (details to follow at a later date). As welll, you can serve the braised octopus with store-bought spaghetti, couscous, or, my preference, fregola (fregula), the latter being a Sardinian pasta made from semolina flour that is formed into small spheres and toasted in the oven until nutty. I like to finish the dish with a sprinkling of homemade breadcrumbs for added texture and chopped parsley.
A little bit of Italy right here at home. Perfect!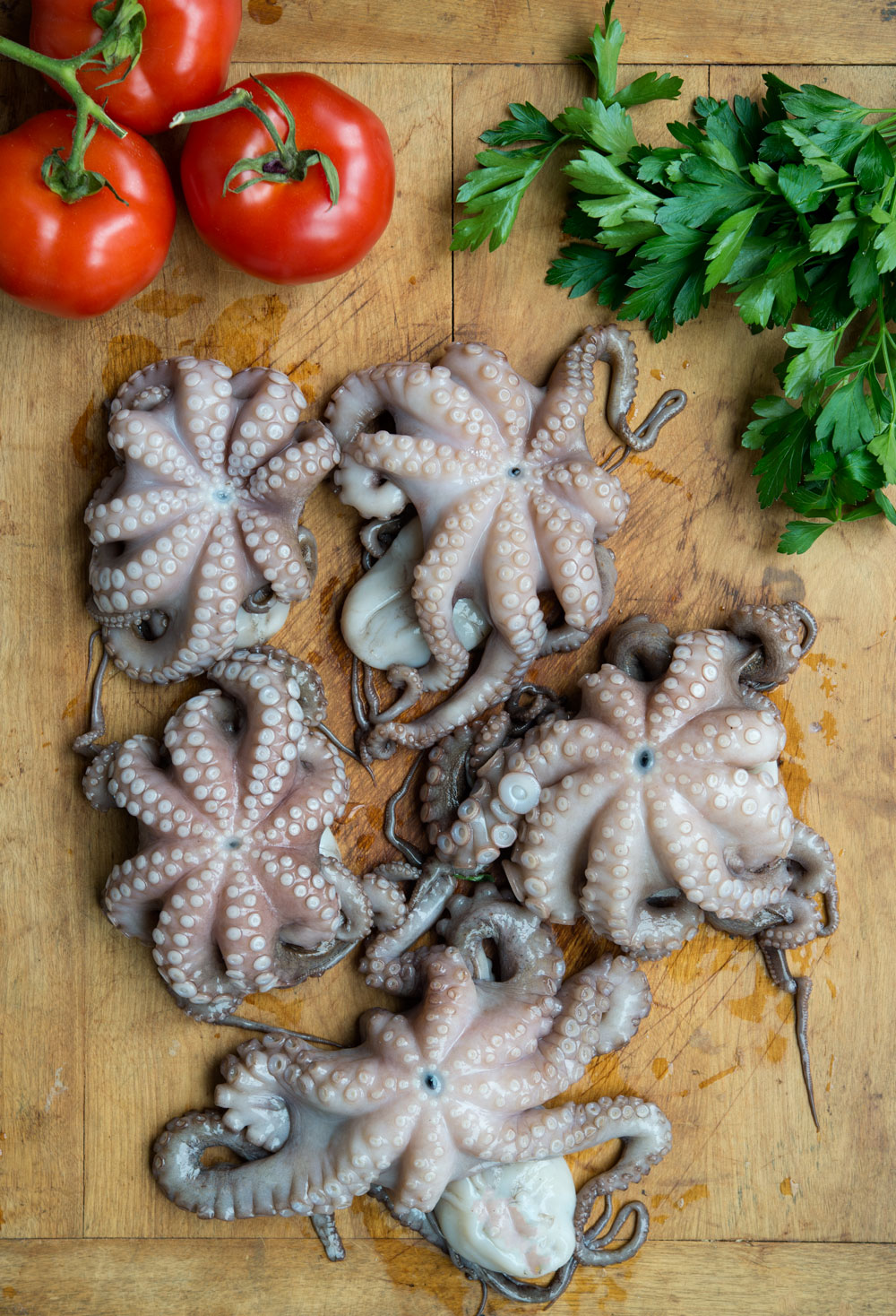 Squid ink pasta alla chitarra…the instrument below is a chitarra. Chitarra, which literally translates to 'guitar', has strings like a guitar and sings to you as you roll out the pasta. Of course, you don't need a chitarra to make homemade spaghetti, but it's a fun process nonetheless.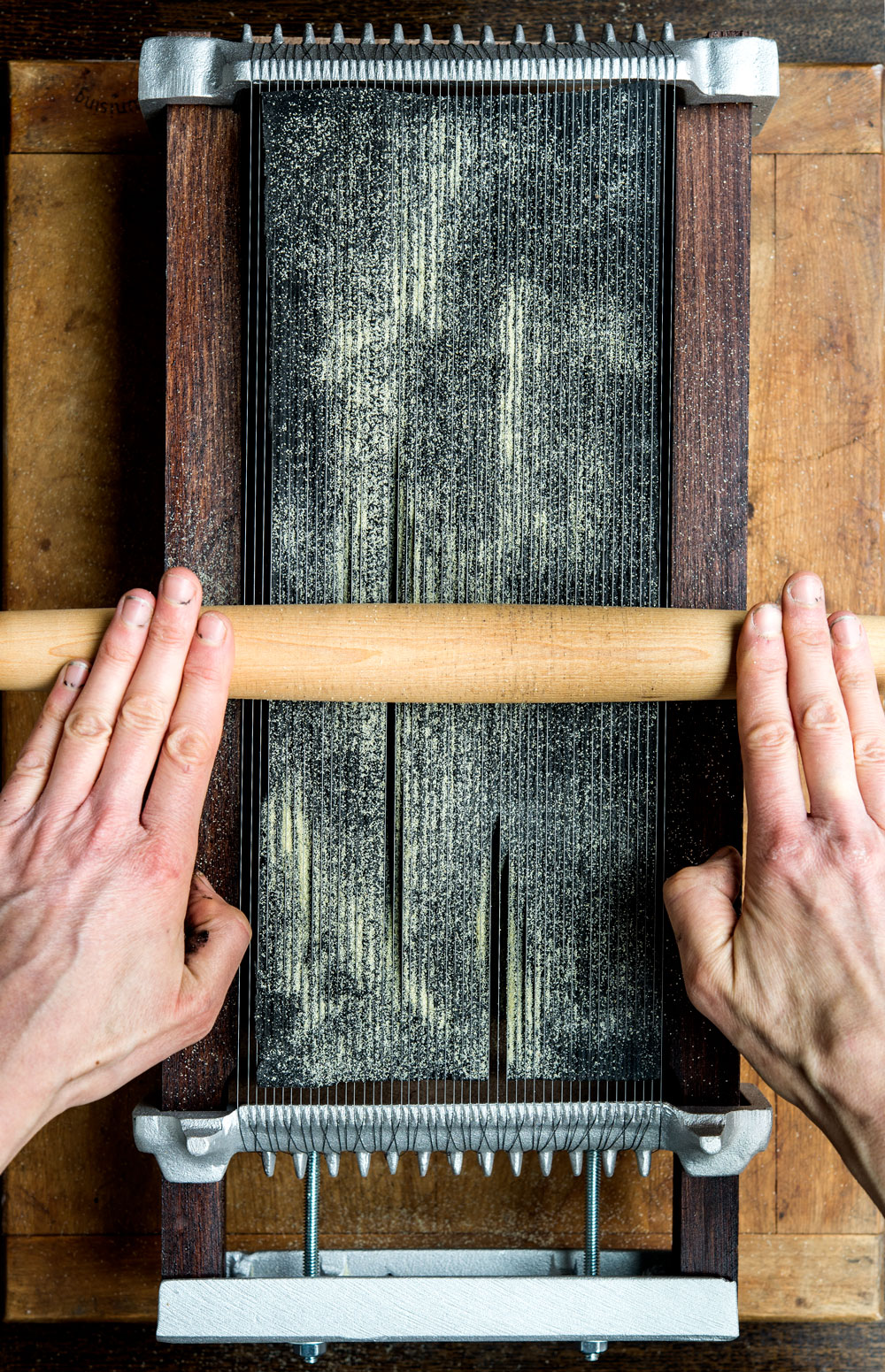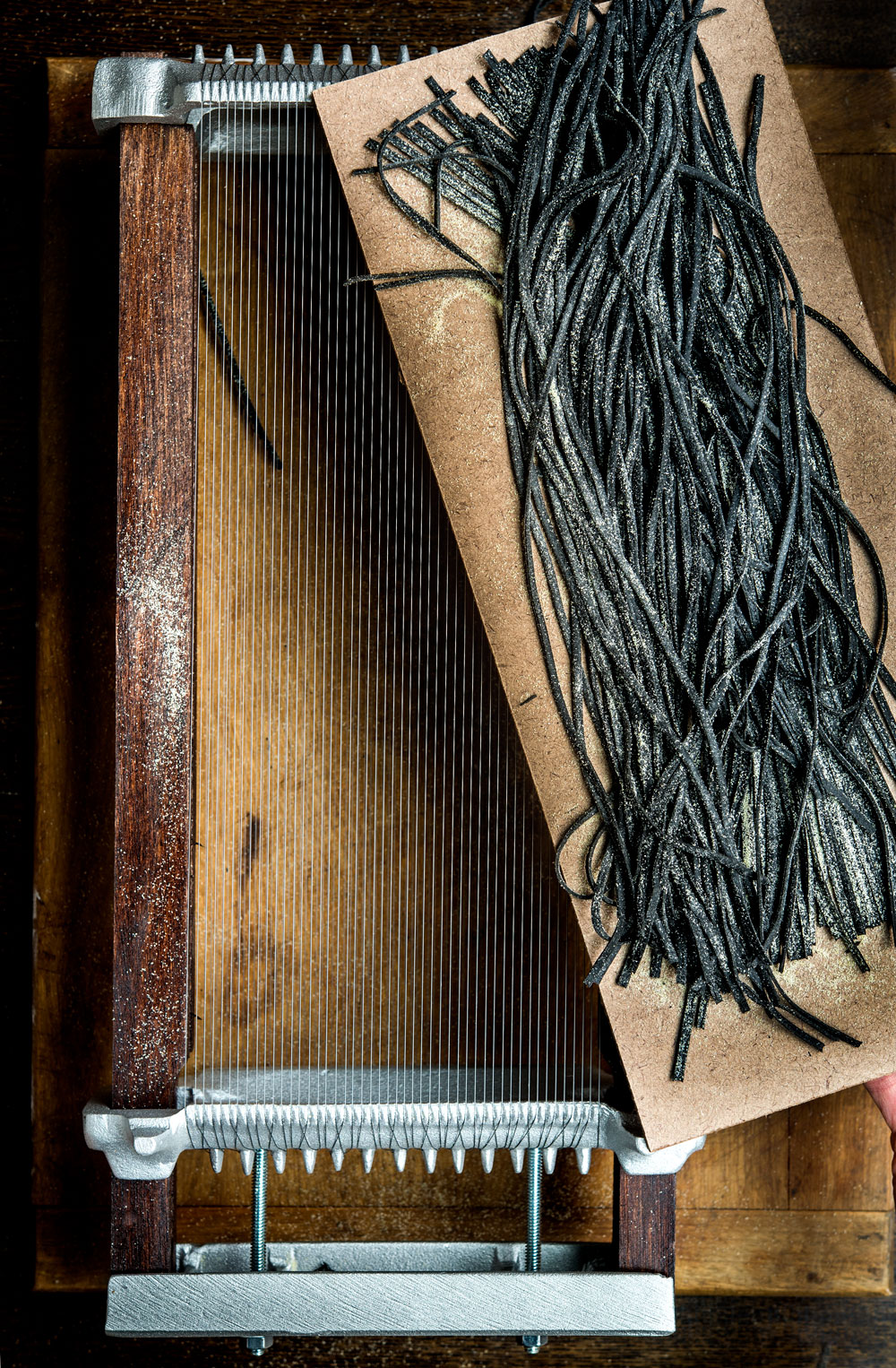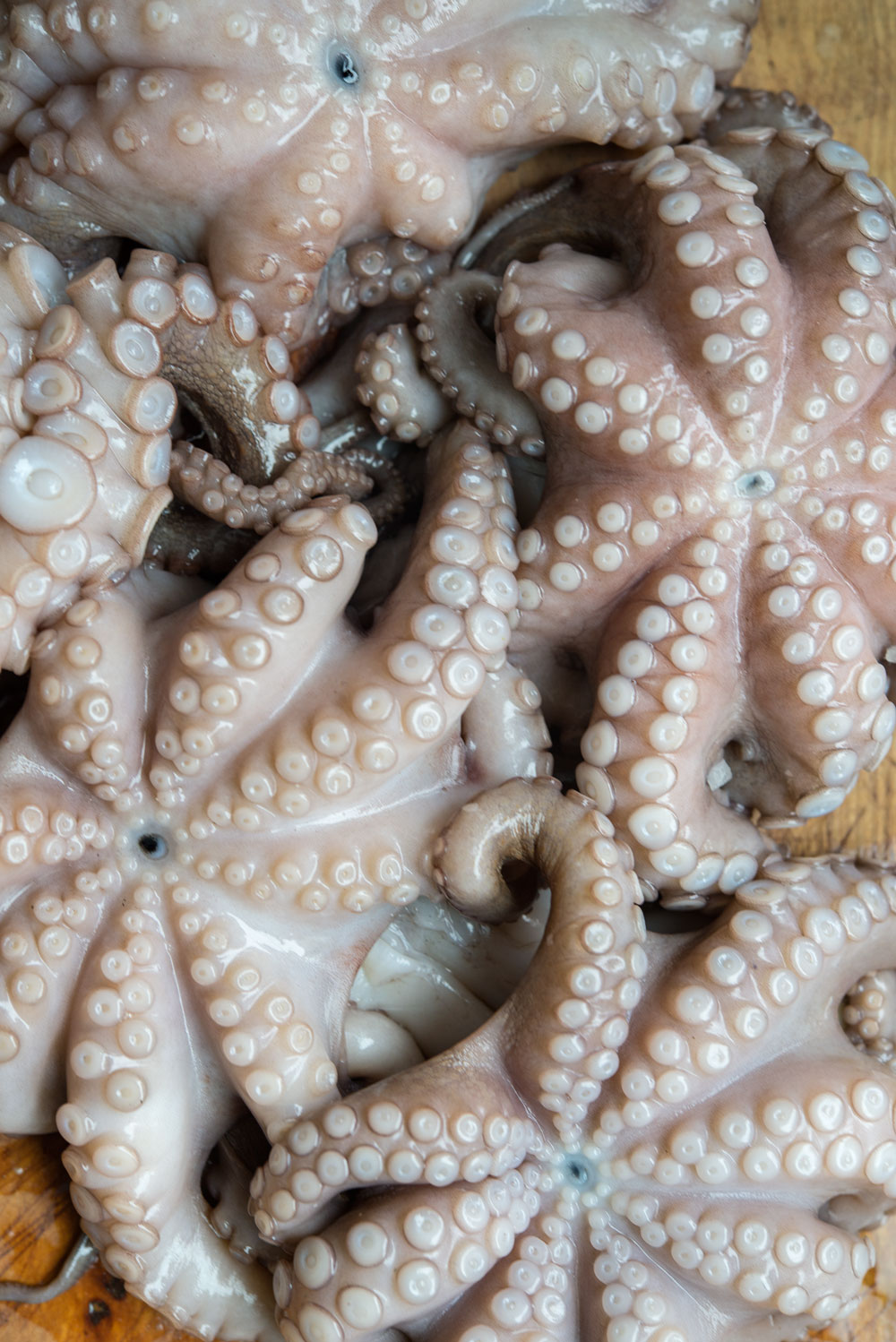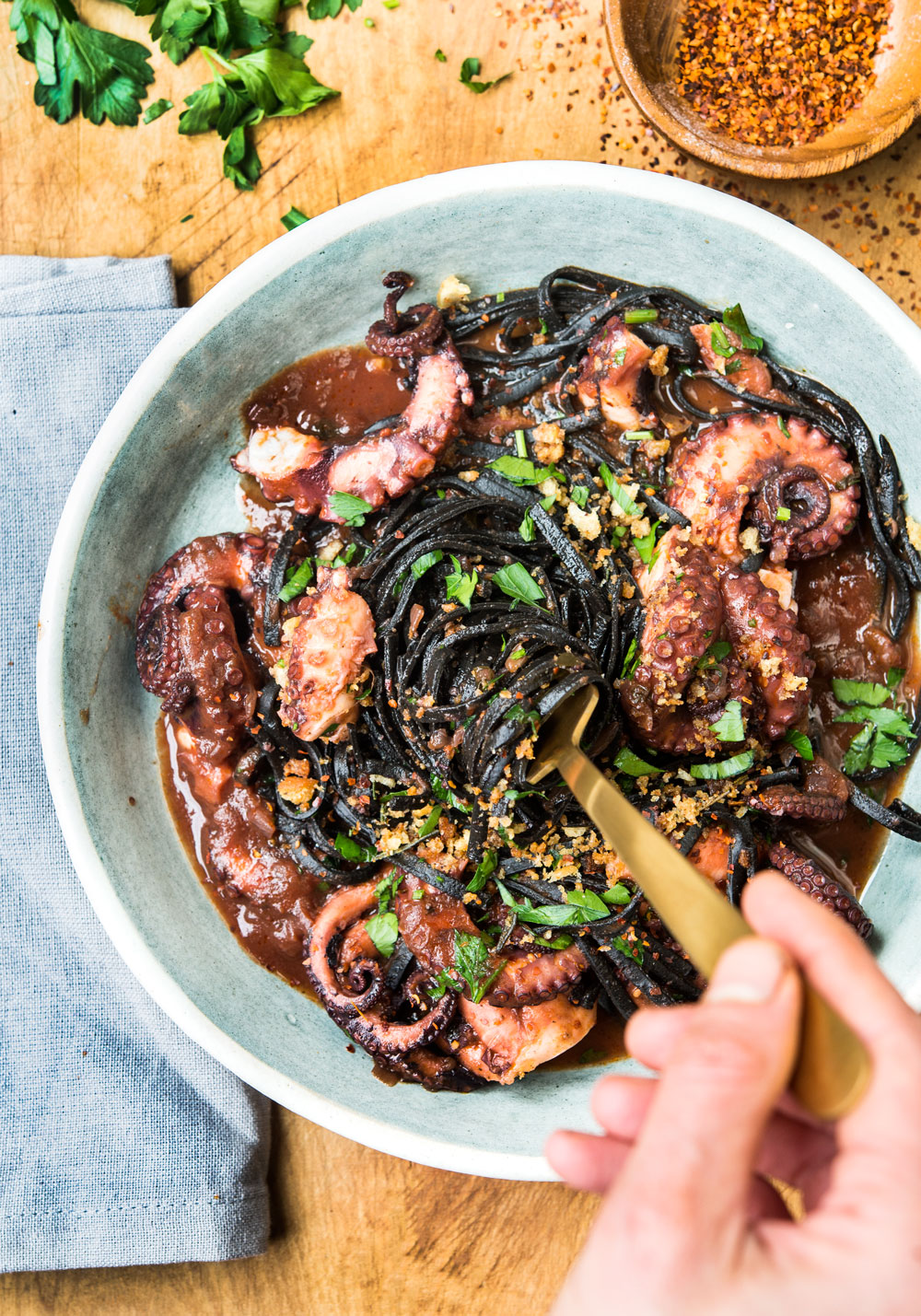 Braised Baby Octopus
serves 4
2 lbs. baby octopus
1/4 cup extra virgin olive oil
1 medium white onion, small dice
4 cloves garlic, smashed
4 tablespoons parsley, chopped, divided
1/4 cup dry red wine
1 cup tomato passata (such as this)
pinch of chile flakes
Sea salt
Fregola, pasta, or couscous
Toasted breadcrumbs for serving
In a deep sauté pan or Dutch oven, heat the olive oil over medium-low heat. Add the onion, smashed garlic, and half of the parsley. Cook until the onion is translucent, about 5-7 minutes. Increase the heat to high, add the wine. Cook until the wine has evaporated. Lower the heat and add the octopus. Let the octopus simmer for 5-7 minutes.
Add the tomato passata and chili flakes, and cover the pan with a lid. Simmer over medium-low heat for 35-40 minutes or until the octopus is fork-tender. Taste  and season with salt as needed. Sprinkle with the rest of the chopped parsley.
Serve with fregola (or pasta or couscous). Sprinkle with toasted breadcrumbs if desired.