I recently contributed a piece on Indian Dal (dal = Indian legumes) to another site. This gave me an excuse to head to my favorite Indian grocer, Patel Brothers, and stock up on an assortment of dal — toor dal, chana dal, mung (moong) dal, urad dal, masoor dal…into the cart they went, all in the name of 'culinary research.' That's the type of shopping I enjoy.
Now, I'm slowly cooking and eating my way through dal, lots and lots of dal. I've made several Indian dal dishes that I find oh so satisfying and homey. The variation in regional Indian dal dishes is vast such that you could make a different dal dish every day and not repeat for months. Beyond soups/stews, dal can also be used in chutneys, pancakes, salads, and desserts, as well as sprouted and/or ground into flour — the options are seemingly endless.
Of course, lentils/dal/beans are also a staple in other cuisines.
Thus, in my every growing search for legume-related dishes, I stumbled upon a pancake that utilizes skinned and split mung beans. It's Korean in origin and referred to as bindaetteok.
These pancakes are easy enough to make. The only difficult part is remembering to soak the skinned/split mung beans and (glutinous) rice the night before. From there it's just a matter of pureeing the soaked beans and rice in the food processor until smooth, which forms the foundation of the pancake. Ground or chopped pork is commonly added to the batter, but I decided to forgo the meat and make them vegetarian. Totally up to you.
Next, vegetables are folded into the batter, typically kimchi [always good to have on hand :-)], mung bean sprouts, and, often, gosari (a type of bracken fern). I omitted the fern (because they're not readily available) and forgot to pick up bean sprouts (although, I've included them in the recipe below). Was feeling highly unmotivated to trek back to the store for bean sprouts, so I substituted thinly sliced scallions and julienned carrots, which I had on hand.
Mung bean pancakes are best eaten right away, when hot and crispy, and are served with a simple soy dipping sauce. This recipe made five rather large (6-inch) pancakes. Or, you can always make smaller ones. Either way, they're delicious and satisfying. And I'm craving another one as we speak!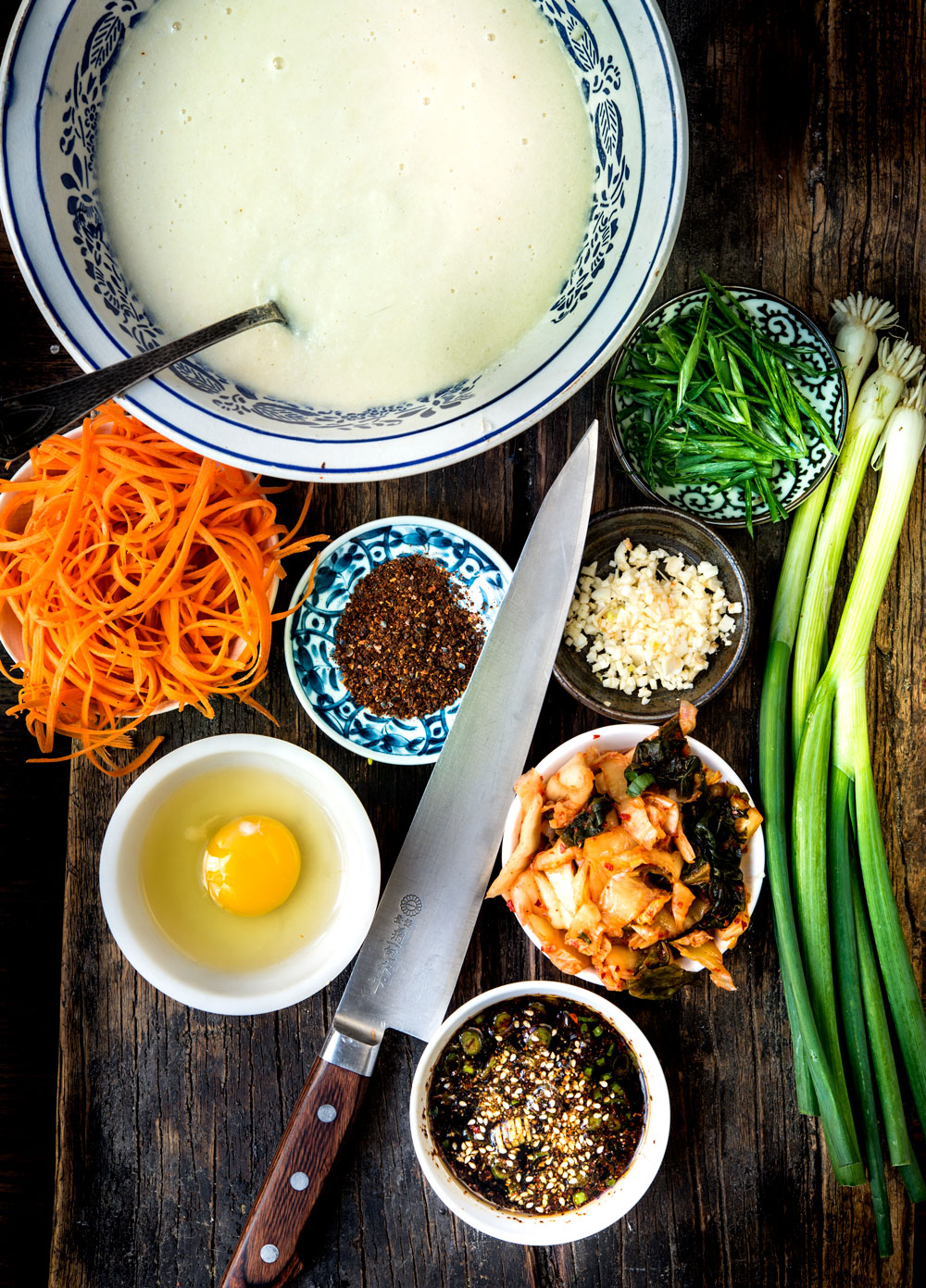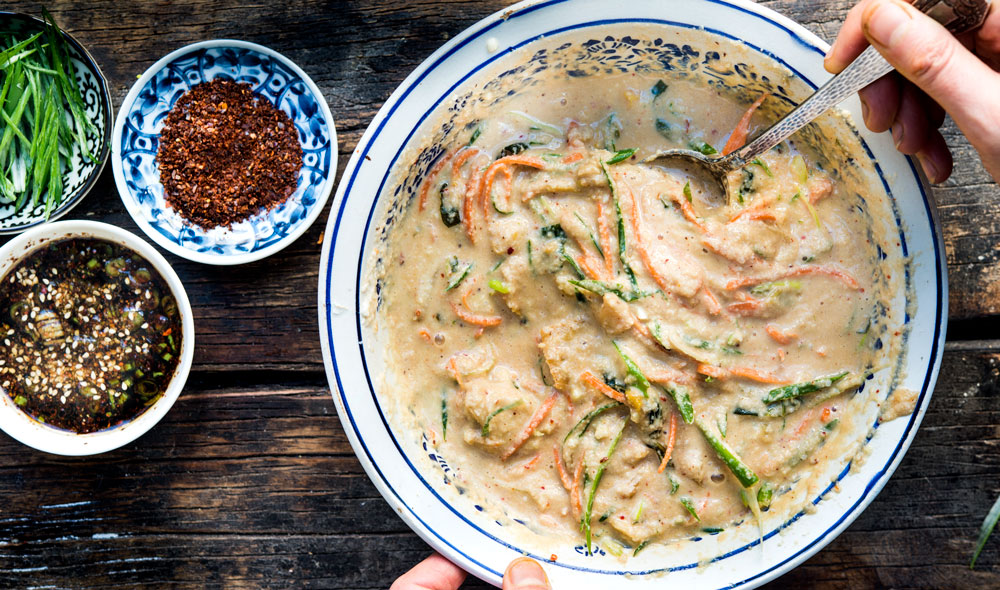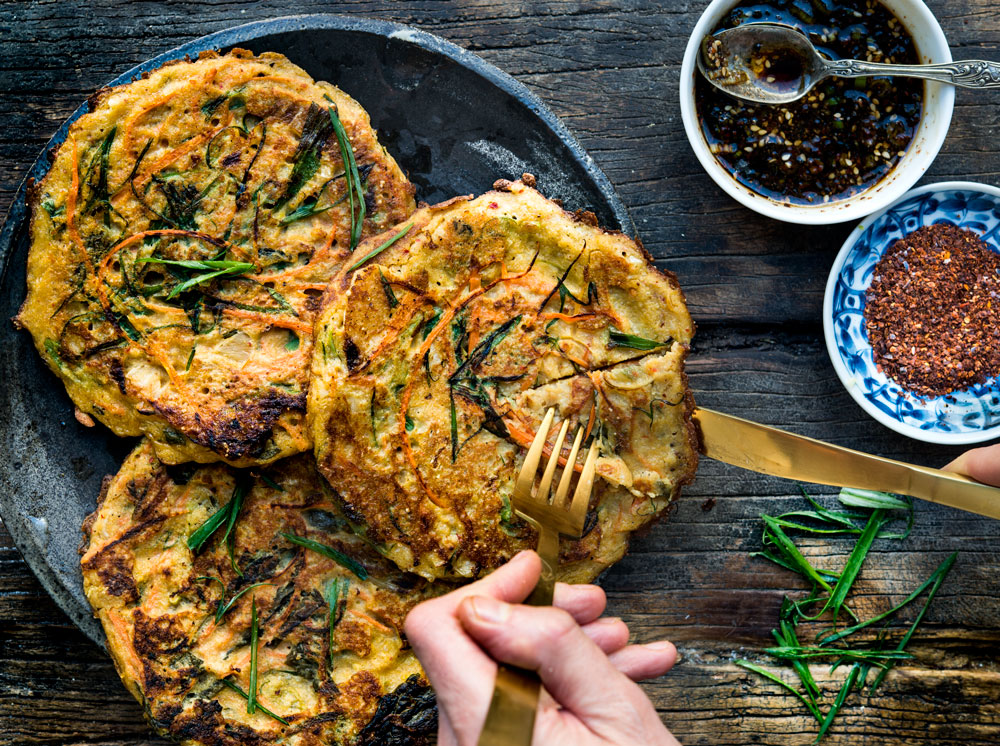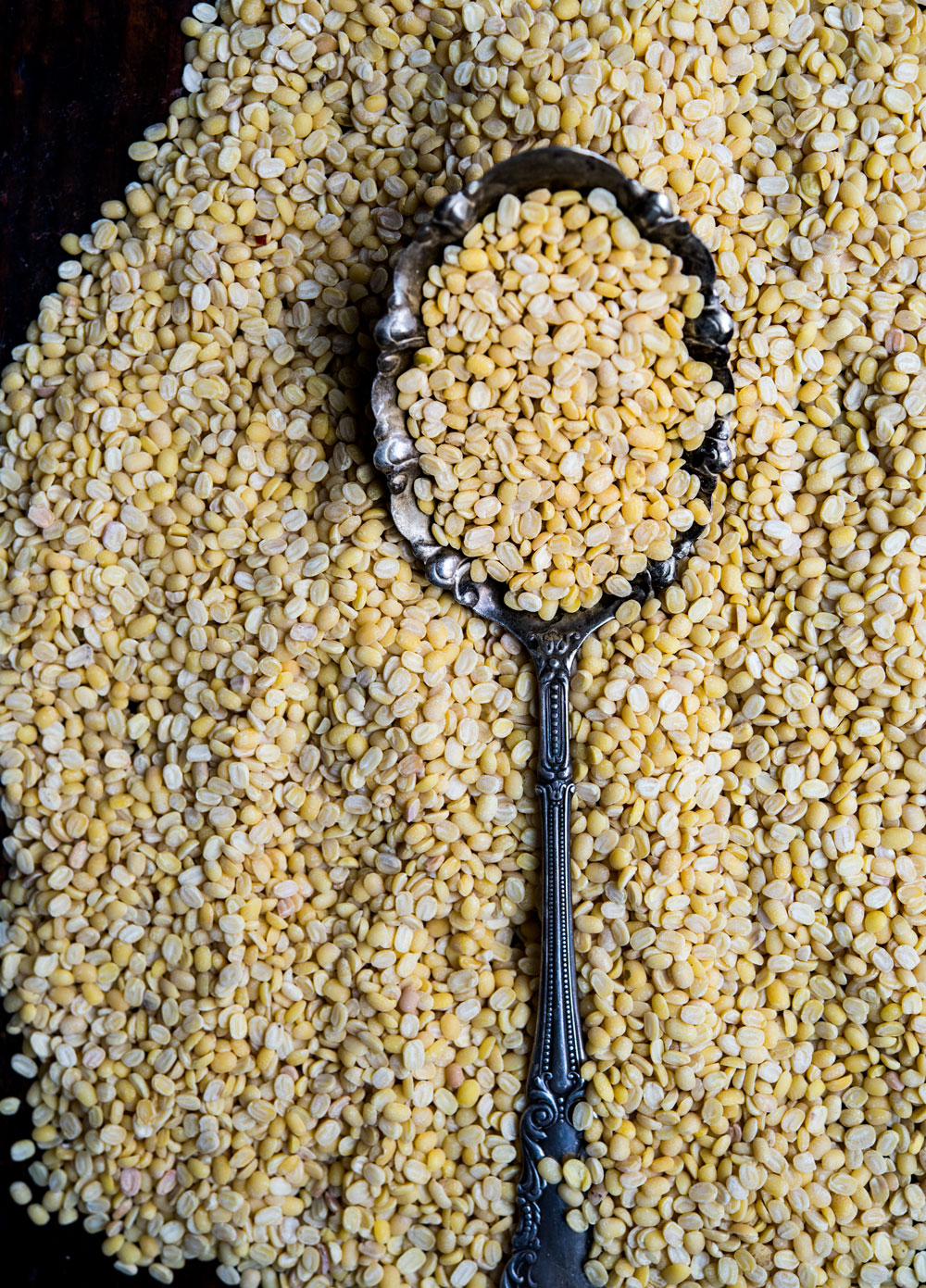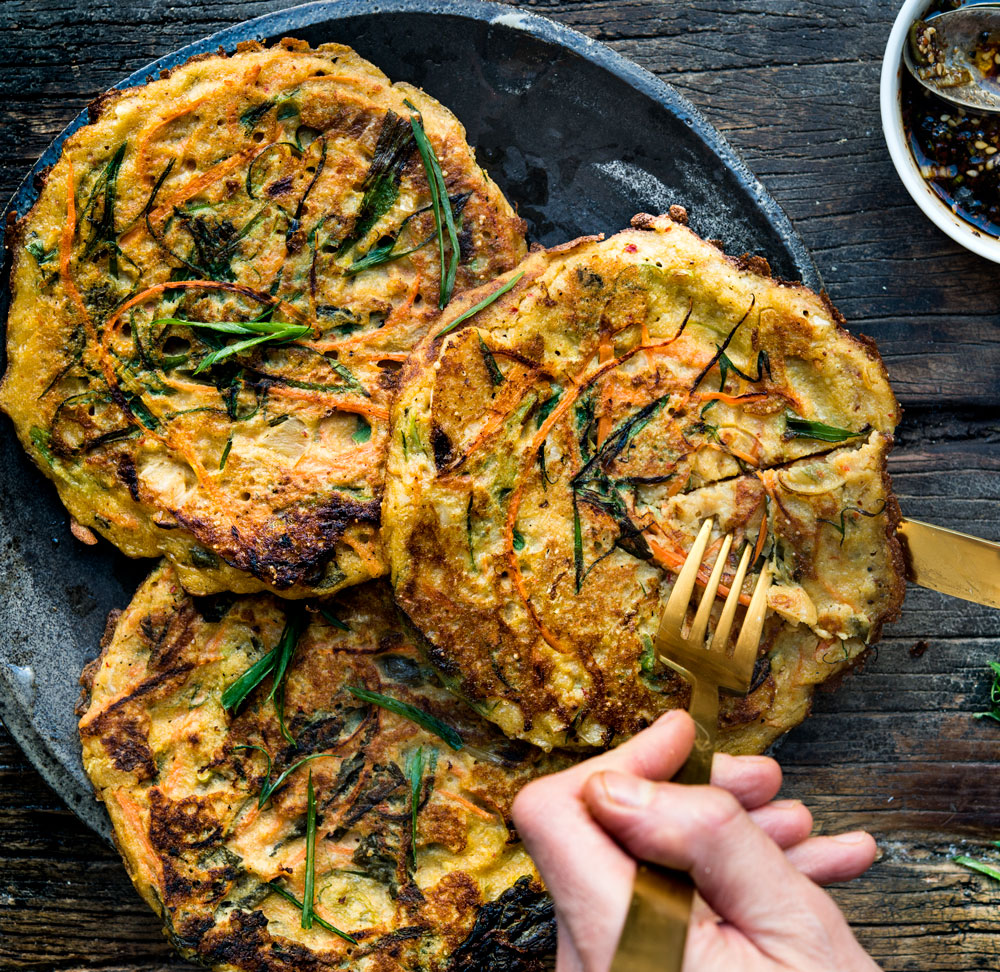 Mung Bean Pancakes
makes 5 (6-inch) pancakes
1 cup dried skinned and split mung beans
1/4 cup sweet glutinous rice
2 tablespoons tamari or soy sauce
1 tablespoon rice wine vinegar
3/4 cup kimchi roughly chopped
1 large egg
4 scallions, thinly sliced on a bias
2 carrots, julienned
1 cup mung bean sprouts
1/2 teaspoon salt
1/4 teaspoon black pepper
2 teaspoon sesame oil
oil for pan frying the pancakes
Soy dipping sauce for serving (recipe below)
Rinse the mung beans and rice under cold water. Place in a bowl and cover with water. Soak 8 hours or overnight. Drain.
Place the soaked mung beans and rice in the bowl of a food processor with 2 3/4 cup water. Process until very smooth. Place in a large mixing bowl. Add the tamari/soy, vinegar, kimchi, egg, scallions, carrots, bean sprouts, salt and pepper, and sesame oil. Stir to combine.
Heat a skillet with a tablespoon oil. Add a heaped 1/2 cup of batter and spread with a spoon to make a 6-inch pancake. Cook 2 to 3 minutes until browned and crispy on the underside. Flip and cook another 2 minutes. Flip once more and cook another minute or two. Repeat with the remaining batter. Serve with soy dipping sauce.
Soy Dipping Sauce
2 tablespoon tamari or soy sauce
1 1/2 teaspoons sesame oil
1 1/2 teaspoons rice wine vinegar
1/2 teaspoon Korean chile flakes
1 scallion, thinly sliced
Mix all ingredients in a bowl. Stir to combine.