This is what I've been waiting for…this is what I love soooo much about summer — tomatillos and tomatoes, tomatoes, tomatoes.
Add some cilantro, a chile or two, some onion and garlic, and you've got yourself the makings of some decidedly tasty salsa.
Threw this together for brunch last Sunday, eggs with two salsas — otherwise known as huevos divorciados (divorced eggs). The tomatillos serve as the base for the salsa verde, with the tomatoes providing the foundation for the salsa rojo.
I've spent years trying to replicate versions of salsa(s) from my favorite taquerias. A work in progress. The one thing I recently deduced is that tomatillo salsa tastes way  better when you boil the tomatillos rather than roasting them. To my palate, tomatillo salsa becomes too sweet when you roast the tomatillos.
As for the red salsa, its inspiration hails from one of my favorite Chicago taquerias. The owner was kind enough to tell me what goes into his salsa (hmm, did he really reveal all of the ingredients?). And while I have the ingredients, I don't know the quantities. Normally, I'm pretty good at figuring out recipes by taste/trial and error, but for whatever reason this salsa rojo has been a tricky one — too much heat (from chile de arbol) in one batch, too tomato-y in the next…but I think I'm getting close. The kicker, perhaps, is the addition of toasted sesame seeds, which lend a subtle and appealing nutty profile to the the salsa.
From there, all you need to do is heat up some corn tortillas, fry up some eggs and spoon over the warm salsas. Serve with black beans and sliced avocado if you like and enjoy the summery deliciousness!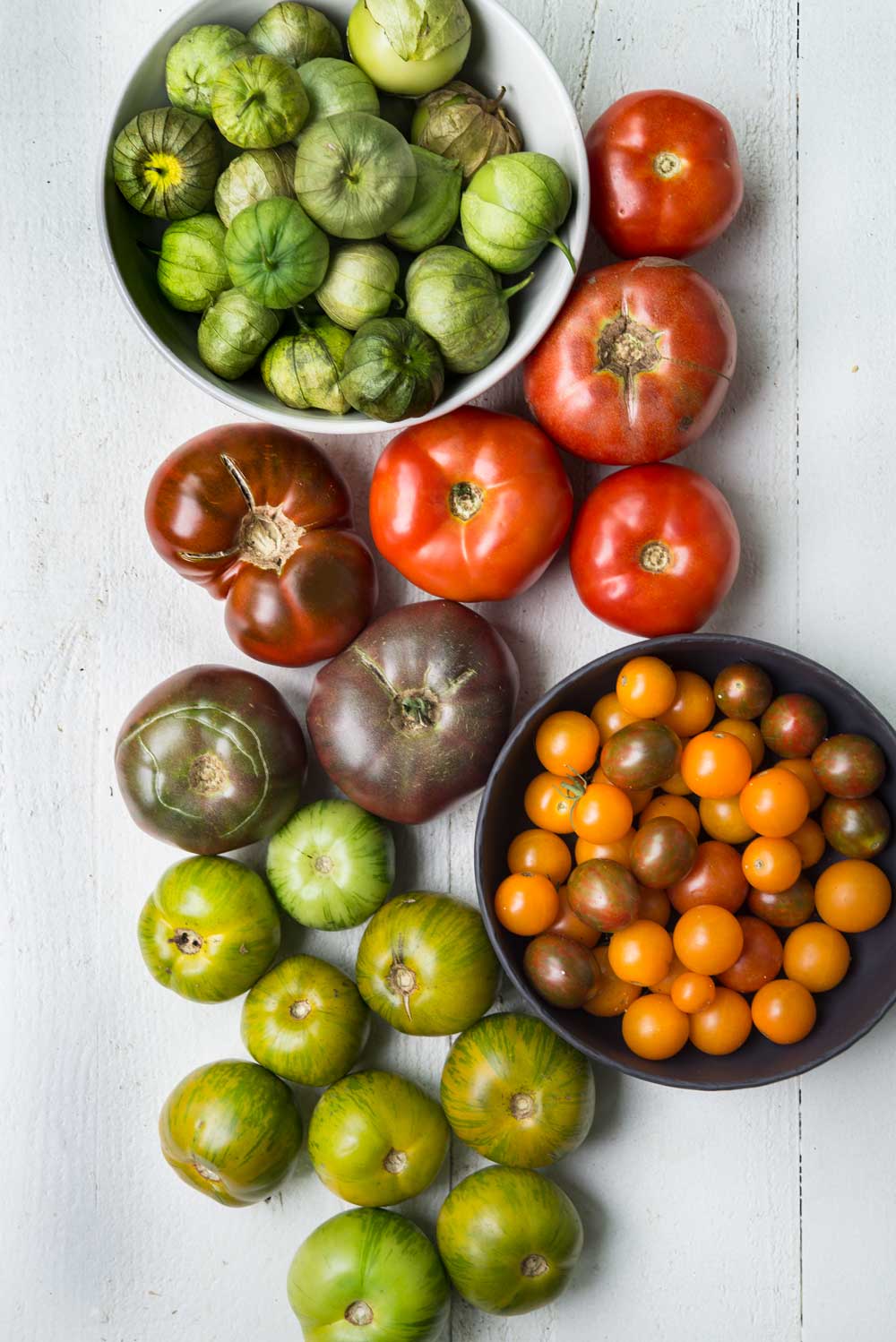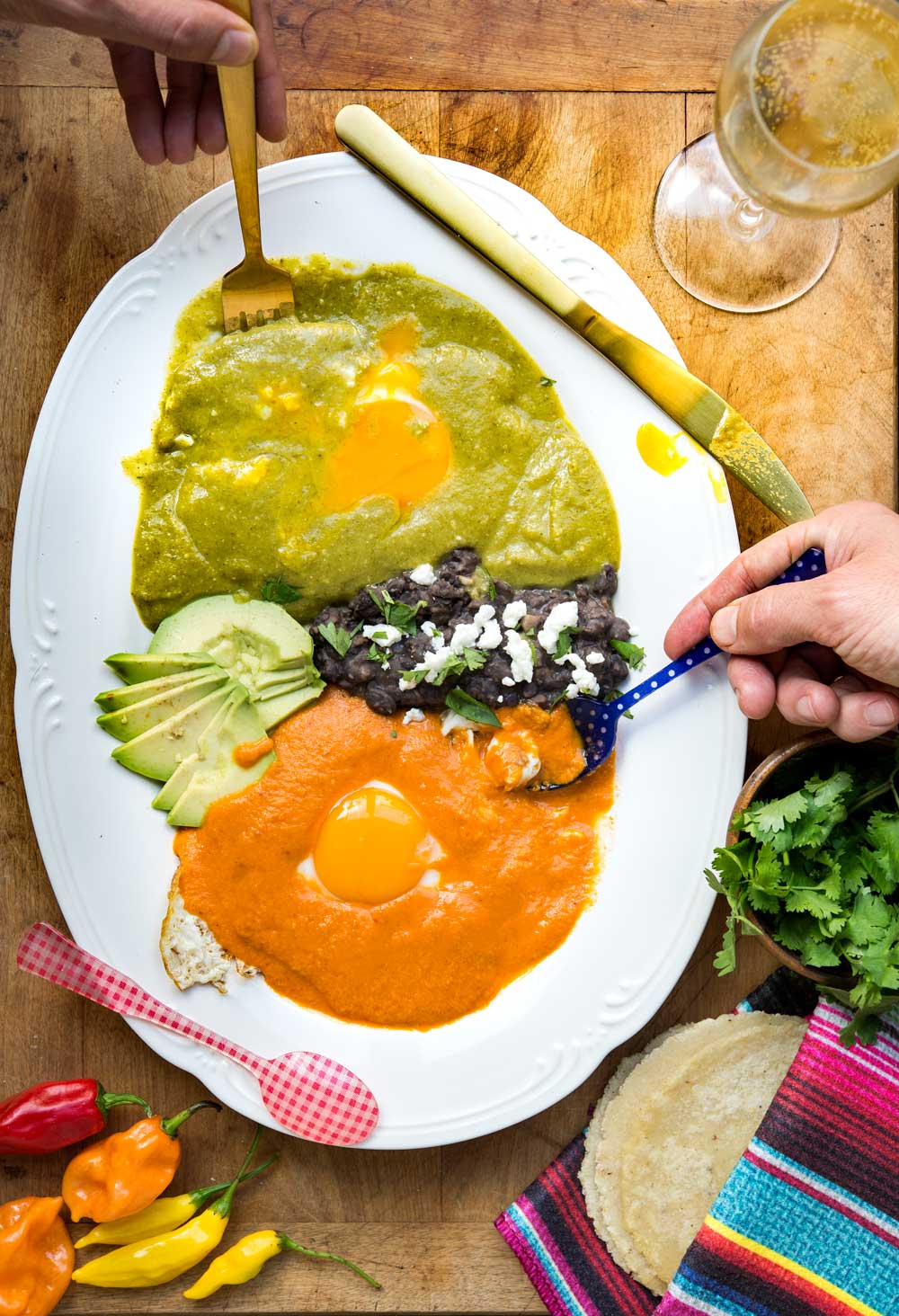 Went a bit chile crazy at the market…habaneros, jalapeños, bird's beaks (biquinho peppers), Padrons (pimientos de Padron), lemon drops, espelette and aji crystal. Some of which, I'll be making into hot sauce.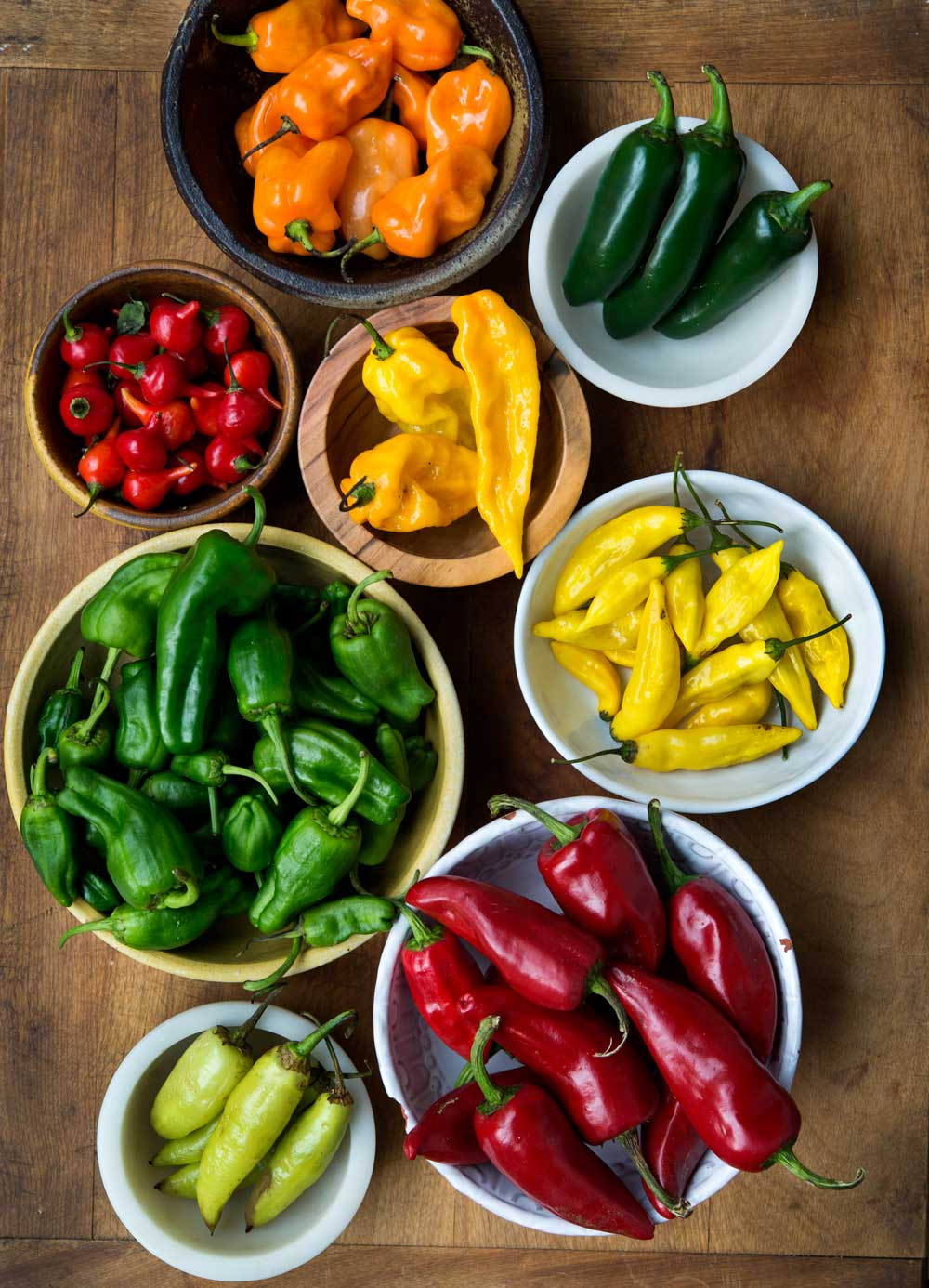 Divorced Eggs
1/4 cup salsa rojo (recipe below)
1/4 cup salsa verde (recipe below)
2 large eggs
2 corn tortillas (I like to heat my tortillas over an open flame on the stovetop; personally I like my tortillas when they get a little charred around the edges)
chopped cilantro, for garnish
Queso chichuahua, queso fresco, or other dry crumbly cheese, for garnish
Black beans for serving (optional)
Avocado for serving (optional)
Warm the salsa rojo and salsa verde over low heat. Fry the eggs. Place the warmed tortillas on a serving plate. Add a fried egg on top of each tortilla. Spoon the red salsa over one egg and the green over the other egg. Serve with black beans, cheese and sliced avocado if you desire.
Salsa Rojo
10 ounces tomatoes
10 to 12 chile de arbol, seeded (warning: these are quite hot and results in a fiery salsa)
4 cloves of garlic, skins on
2 tablespoons toasted sesame seeds
1/4 cup warm chicken stock
Sea salt
1 tablespoon vegetable oil
Roast the tomatoes under the broiler until soft and charred in spots. Place in a blender jar.
Toast the seeded chile de arbol in a dry skillet, about 1 minute. Remove from the heat and transfer to the blender jar with the tomatoes.
Toast the whole garlic in a dry skillet over low heat, until soft, about 15 minutes. Remove the skins from the garlic cloves and place the garlic cloves in the blender jar. Add the sesame seeds and chicken stock to the blender. Season with salt. Blend until smooth.
Heat the oil in a medium  saucepan. Add the blended salsa and cook, stirring often, until just thickens, about 5 minutes. Keep warm.
Salsa Verde
1 pound tomatillos
2 garlic cloves
2 jalapeno or serrano chiles
1/3 cup coarsely chopped white onion
1 cup cilantro
Sea salt
2 tablespoons oil
Add the tomatillos, garlic and chiles to a medium saucepan. Cover with water and simmer for 10 minutes, until the tomatillos turn pale green and soften. Transfer to a blender and blend, along with the onion and cilantro. Season with salt. Blend until smooth.
Heat the oil in a medium saucepan. Add the blended salsa and cook, stirring often, until just thickens, about 5 to 7 minutes. Keep warm.