I recently saw a cartoon in which a couple was at an Italian restaurant. They asked their server, "We don't eat pasta, what should we order?" to which the server responded, "a taxi." 🙂
Busiate is a corkscrew shaped pasta typical to the Province of Trapani in western Sicily. The word busiate is of Arabic origin. The pasta was traditionally formed  by wrapping a piece of dough around the "bus", a thin reed of a grass, to form its spiral shape. The dough is made from durum wheat flour and water — no eggs. In Sicily, you can also find busiate made from ancient grains (grano antico) such as tumminia (too-mi-nee-a) or russello. I just so happened to bring a few bags of ancient grain pasta back with me from Sicily in my carry-on bag.
Busiate alla Trapanese — essentially, pasta with a pesto made from almonds, ripe tomatoes, and garlic — is ubiquitous on menus in Trapani.
Today's pasta is a take on Busiate alla Trapanese. This dish was inspired by a memorable bowl of pasta I had during a few idyllic days in the tiny village of Scopello, in the northwest corner of Sicily between the fishing and resort town of Castellemmare del Golfo and the Zingaro nature reserve.
This version features swordfish, Sicilian eggplant, and mint — in addition to tomatoes, almonds, and garlic. The ingredients reflect the strong Arabic influence on Sicilian cuisine. It's a summery (alas, summer is not over just yet), not too heavy pasta with layers of flavor.
If you can't find busiate, substitute with a different pasta shape. If you're feeling ambitious, you can always make your own busiate.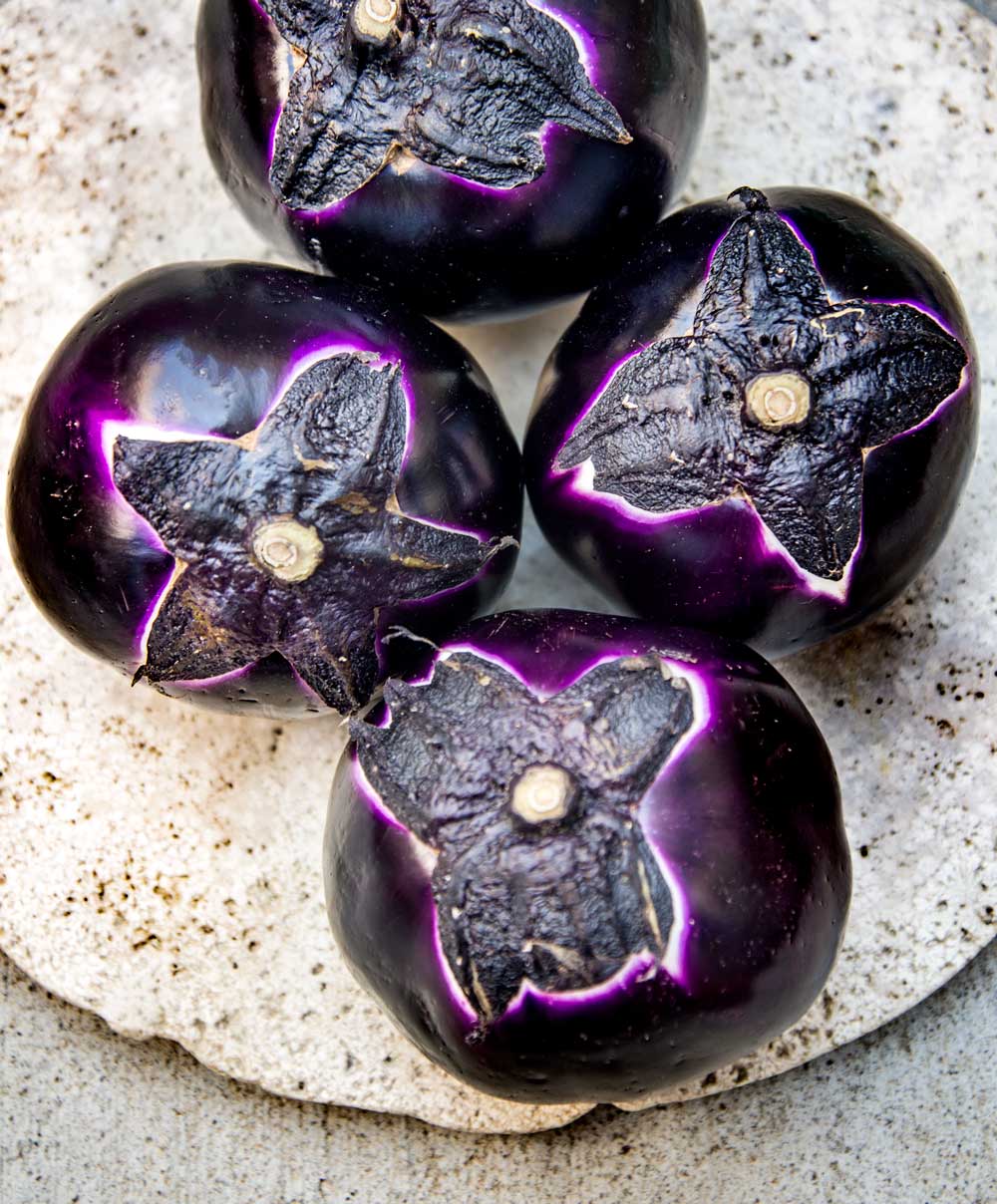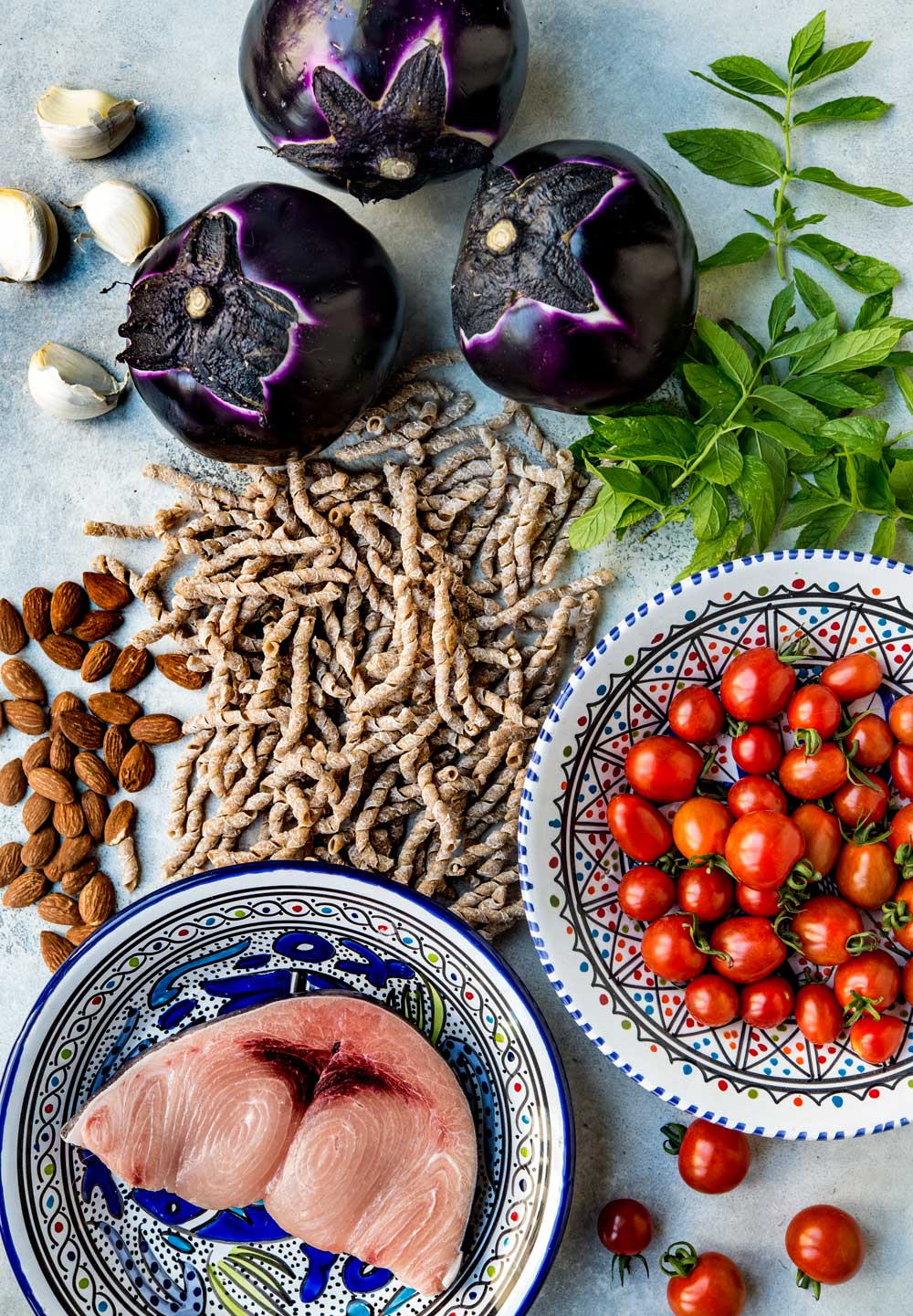 Pasta with Swordfish, Eggplant, Tomatoes, Almond and Mint
Olive oil
1 pound of Sicilian eggplant, cut into 1-inch cubes
Sea salt
4 cloves of garlic, minced
1 pound cherry tomatoes, halved
3/4 to 1 pound of swordfish, cut into 1-inch cubes
10 ounces busiata pasta (or other pasta shape)
1/4 cup plus 2 tablespoons chopped toasted almonds
Black pepper
Mint leaves for garnish
Heat 1/2-inch of oil in a deep-sided pan. When hot, fry the eggplant in batches until golden brown on all sides. With a slotted spoon, transfer to paper towels to drain. Season with salt. Repeat, adding more oil as needed. Set aside.
Bring a pot of salted water to a boil. Drop in the pasta and cook until about 80% cooked through. Drain, reserving 1 cup of pasta water.
Fry the garlic over low heat until tender, but not browned. Add the cherry tomatoes, increase the heat to medium, and cook until they begin to soften, about 3 minutes. Add the swordfish and cook until cooked through, about 5 minutes. Add the pasta, reserved pasta water, 1/4 cup of chopped almonds, and reserved eggplant. Season with salt and pepper. Cook until warmed through and the pasta is al dente.
Top with remaining chopped almonds. Garnish with mint and serve.