I happily consumed a fair amount of caponata while recently exploring Sicily. You'll find it on just about every menu. Essentially, caponata is sweet and sour eggplant (agrodolce). Agro=sour and dolce=sweet.
At its core, caponata is a combination of eggplant, onions, celery, tomatoes, vinegar, capers, and olives, sweetened with a bit of sugar. Some versions incorporate bell peppers, pine nuts, and/or raisins. Every version of caponata is a bit different. I enjoy caponata best when it possesses that elusive balance of sweet (not too sweet) to sour (provided by the addition of vinegar) to salty (from the capers and olives), with just the right amount of olive oil, but not swimming in it.
While Sicily is technically part of Italy, it's been conquered by many civilizations over the years…Phoenicians, followed by the Greeks, followed by the Romans. After the Romans came the Muslims, followed by the Normans, Muslims, Normans, Spanish. And even though Sicily is now politically part of Italy, many Sicilians consider themselves, well, Sicilian, rather than Italian. As a result of all these influences, Sicily's food culture is unique and eclectic. At its heart, the Sicilian table features lots of vegetables, legumes, herbs, fruits, nuts, pasta, cheese, bread, olive oil and, to a somewhat lesser extent, meat and fish.
At the height of summer, eggplant is plentiful. Which is perfect given that eggplant is the foundation of caponata. If you can find the round, deep purple, Sicilian eggplants (pictured below), they would be my first choice. They're less seedy and not as bitter as the typical Italian globe eggplant.
Then there is the dilemma of salting versus not salting the eggplant. I salted my eggplant overnight to draw out moisture (though I'm still on the fence as to whether this makes a big difference or not?). Next decision, should the eggplant be baked or fried? I pan-fried my eggplant, in olive oil, in a cast-iron skillet. I prefer the flavor and texture of fried eggplant to baked eggplant. In any case, you want the exterior of the eggplant to be golden brown with a sweet and tender interior. If eggplant is not cooked through, it will be unpleasantly bitter and spongy.
On a side note, while you will traditionally find olives in caponata, I'm just not a fan (I've attempted to embrace olives, but have not quite come around to them). So, I omitted olives from today's recipe; I feel as though the capers give the caponata enough of that salty balance. Feel free to add some chopped green olives (at the same step as when you add the capers) to your caponata as you see fit.
Make a big batch of caponata. It tastes even better the next day, and the day after that.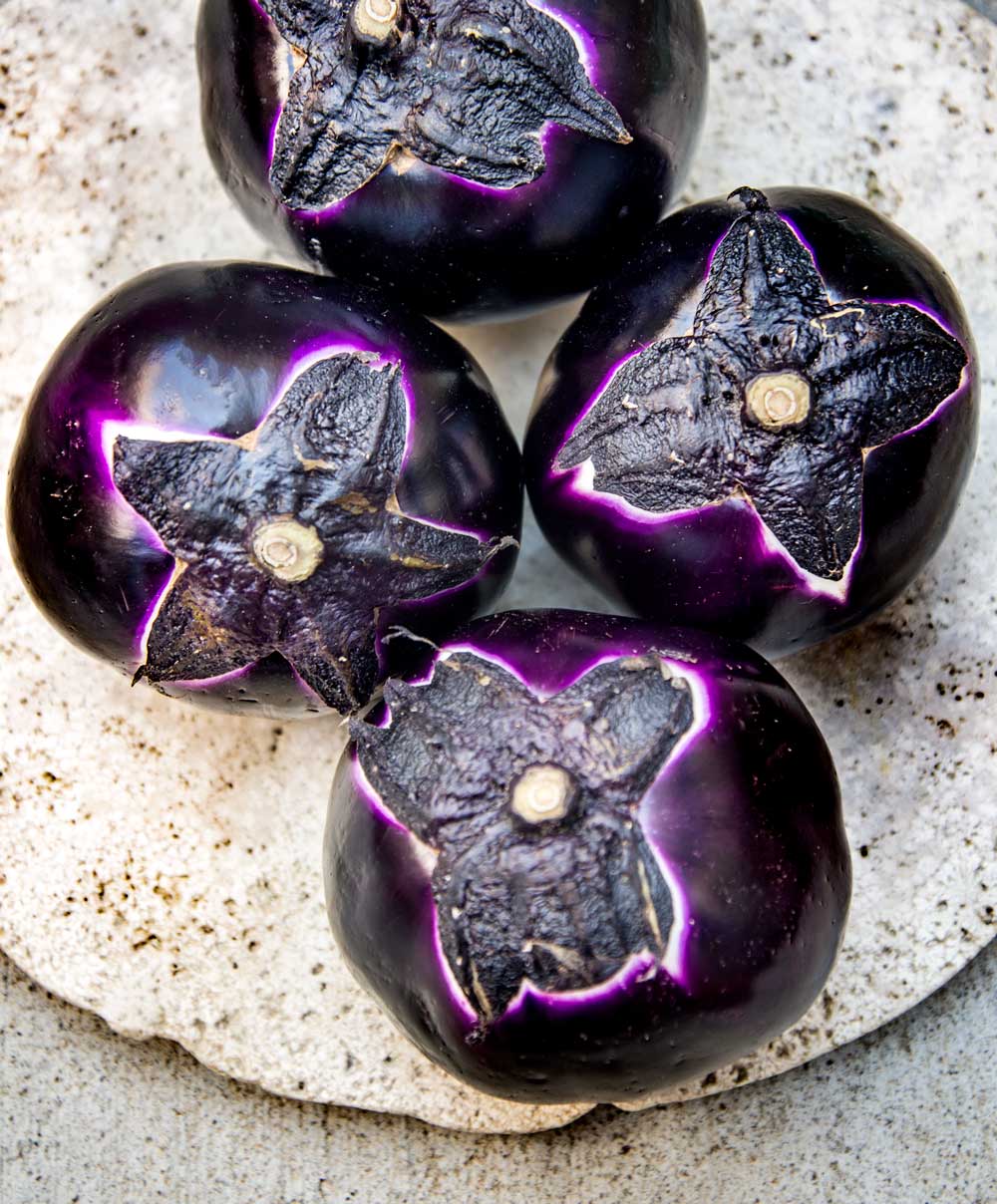 The eggplant cubed, pan-fried, and draining on paper towel…

Caponata (Agrodolce [Sweet and Sour] Eggplant)
3 medium (Sicilian) eggplants, cut into 1-inch cubes
Salt
Olive oil
1 cup celery, thinly sliced
1 large onion, halved and thinly sliced
400 ml (13.5 ounces) canned whole tomatoes with its juices
6 tablespoons red wine vinegar
3/4 tablespoon sugar
4 to 6 tablespoons capers, rinsed
Pinch of red pepper flakes
Chopped parsley (or basil leaves) for garnish
Salt the eggplant and place in a colander, weighted down to extract juices, at least 1 hour, preferably overnight. Pat dry.
Heat 1/2-inch of oil in large deep-sided pan. When hot, fry the eggplant in batches until golden brown on all sides. Drain on a drying rack (or a plate lined with paper towel). Repeat with remaining eggplant.
Fry the onion in same oil until golden, about 5 minutes. Add the celery and fry another 5 minutes. Add the tomatoes and their juices, sugar, capers, red pepper flakes and reserved eggplant. Let simmer for 20 minutes.
Transfer to a bowl. Refrigerate, letting flavors marinate several hours or overnight. Serve chilled or at room temperature, garnished with chopped parsley (or basil).