Popularity. Trendiness. Those aren't my angles. And I'm not sure this post will garner any new friends, though all are welcome here. I would rather that food unite rather than divide us, but fully understand that people have strong feelings about eating certain foods, including rabbit. But…
I'm a curious person and an adventurous eater. This site is all about celebrating delicious food. And rabbit is indeed delicious. One of my favorite rabbit recipes, which I first tasted in a tiny Parisian wine bar many years ago, is a French bistro classic: rabbit in mustard sauce (or lapin à la moutarde).
Rabbit is one of the healthiest, leanest and most environmentally friendly meats you can eat. Compared to beef, pork, lamb, turkey, veal, and chicken, rabbit has the highest percentage of protein, the lowest percentage of fat, and the fewest calories per pound. These alfalfa-loving herbivores are foragers (which means they don't rely on energy-intensive soy or corn for food) and grow and reproduce quickly. According to Slow Food USA, "rabbit can produce six pounds of meat on the same amount of feed and water it takes a cow to produce just one pound."
Does rabbit taste like chicken (as the saying goes)? Kinda does, kinda doesn't. Rabbit has a slightly stronger, meatier and earthier flavor compared to its feathered friend. Rabbit can be prepared similarly to chicken. For example, you can sauté it in oil or butter with a sauce made by deglazing the pan or in the style of a fricassee — partially in fat and then simmered in a braising liquid.
That being said, if you are vehemently opposed to rabbit (or can't find one), I definitely think chicken would work very well with this recipe (and I plan to reproduce it with chicken very soon). After all, it's the sauce, the rich and oh so flavorful sauce, that really makes this dish shine. A combination of white wine, chicken stock, fresh herbs (sage, thyme and chives), capers, crème fraîche and, of course, mustard simmer and meld and make my taste buds very happy.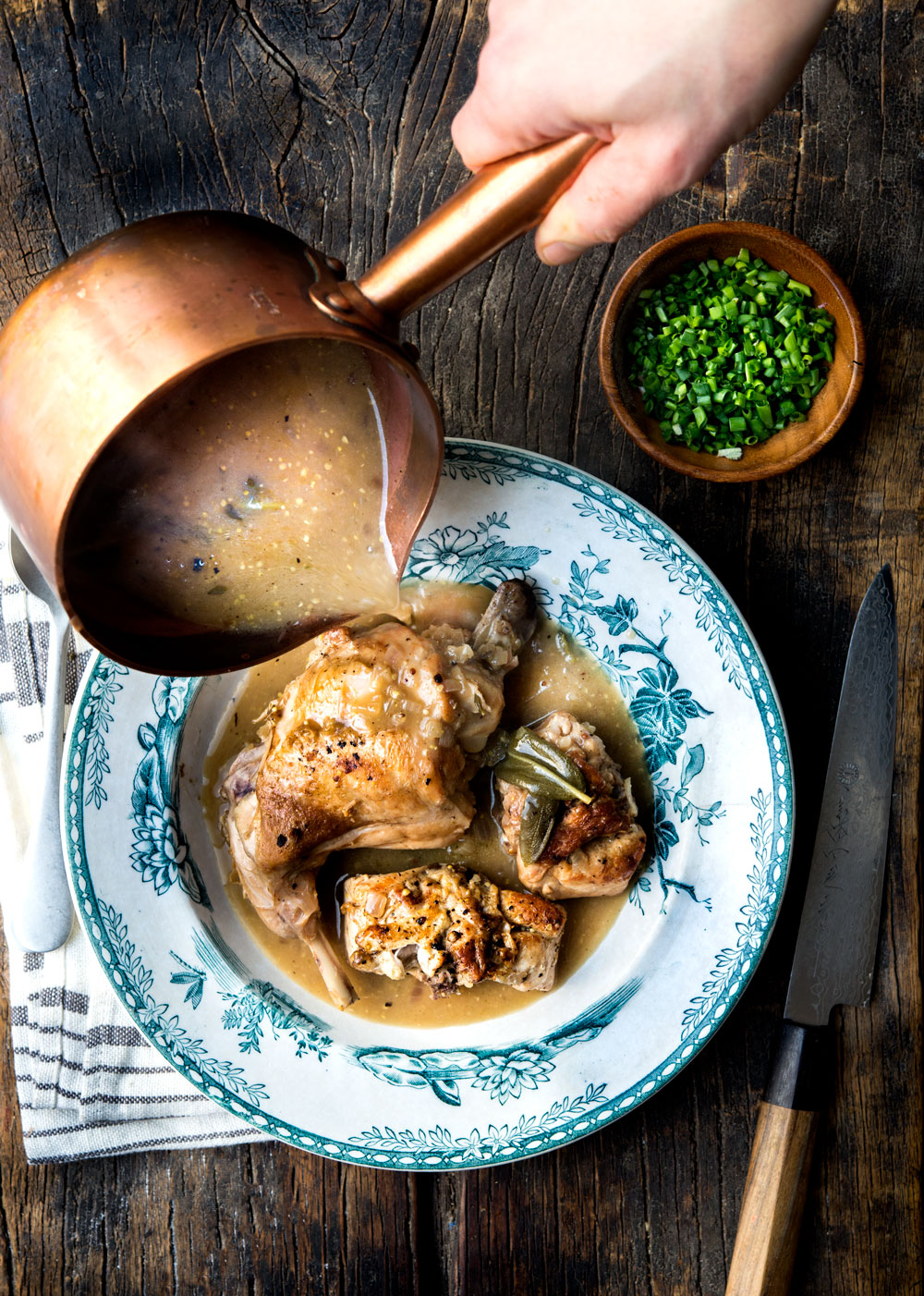 Where does one buy rabbit? That's a good question. I don't find rabbit all that often. When I lived in Washington, D.C., I bought it from A & H Seafood Market in Bethesda, MD (they sell lots of interesting products beyond seafood, including rabbit and many specialty products from Spain).
Took a day-trip to NYC last weekend and made the rounds to some of my favorite culinary spots (Union Square farmers' market, Kalustyan's, Sahadi's, and Marlow & Daughters, the latter being a specialty butcher where I spotted the rabbit). I debated over the rabbit (and its inflated Brooklyn price), but in the end, couldn't resist.
I'm no expert in butchering a rabbit, but did my best…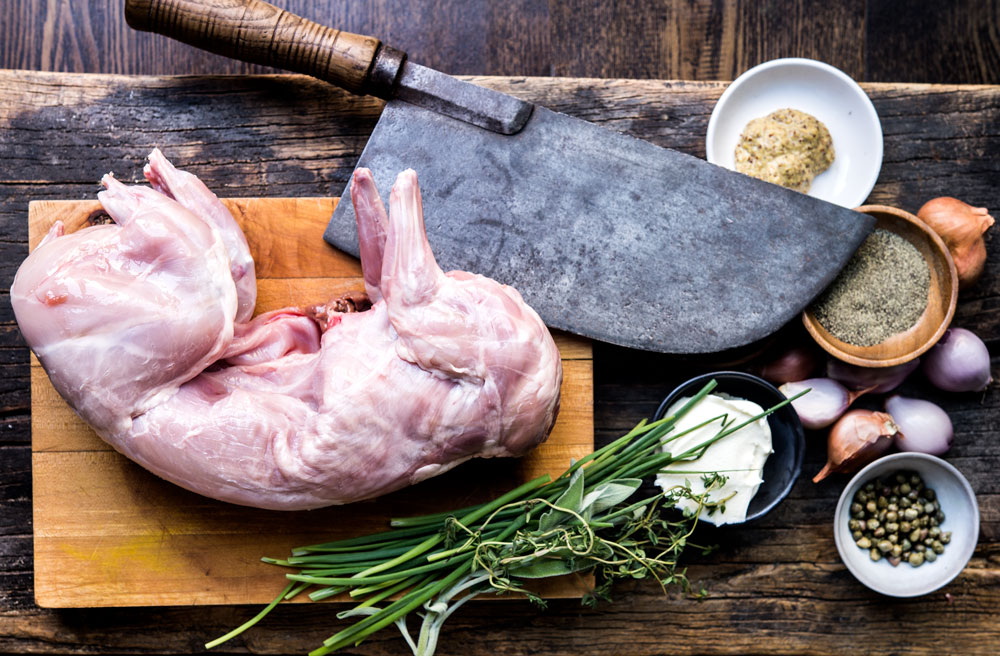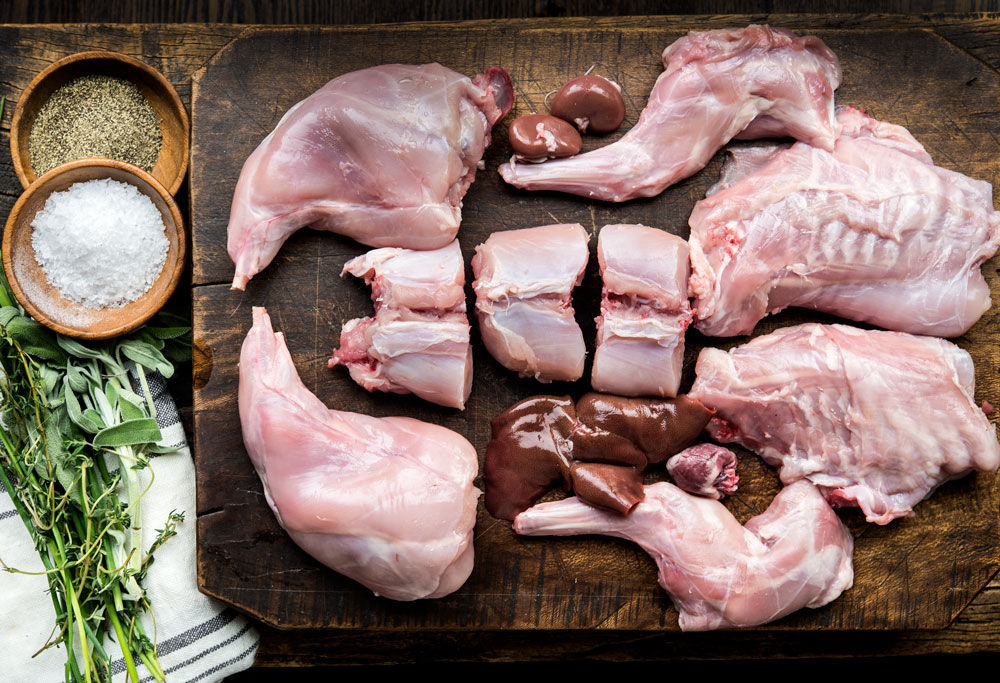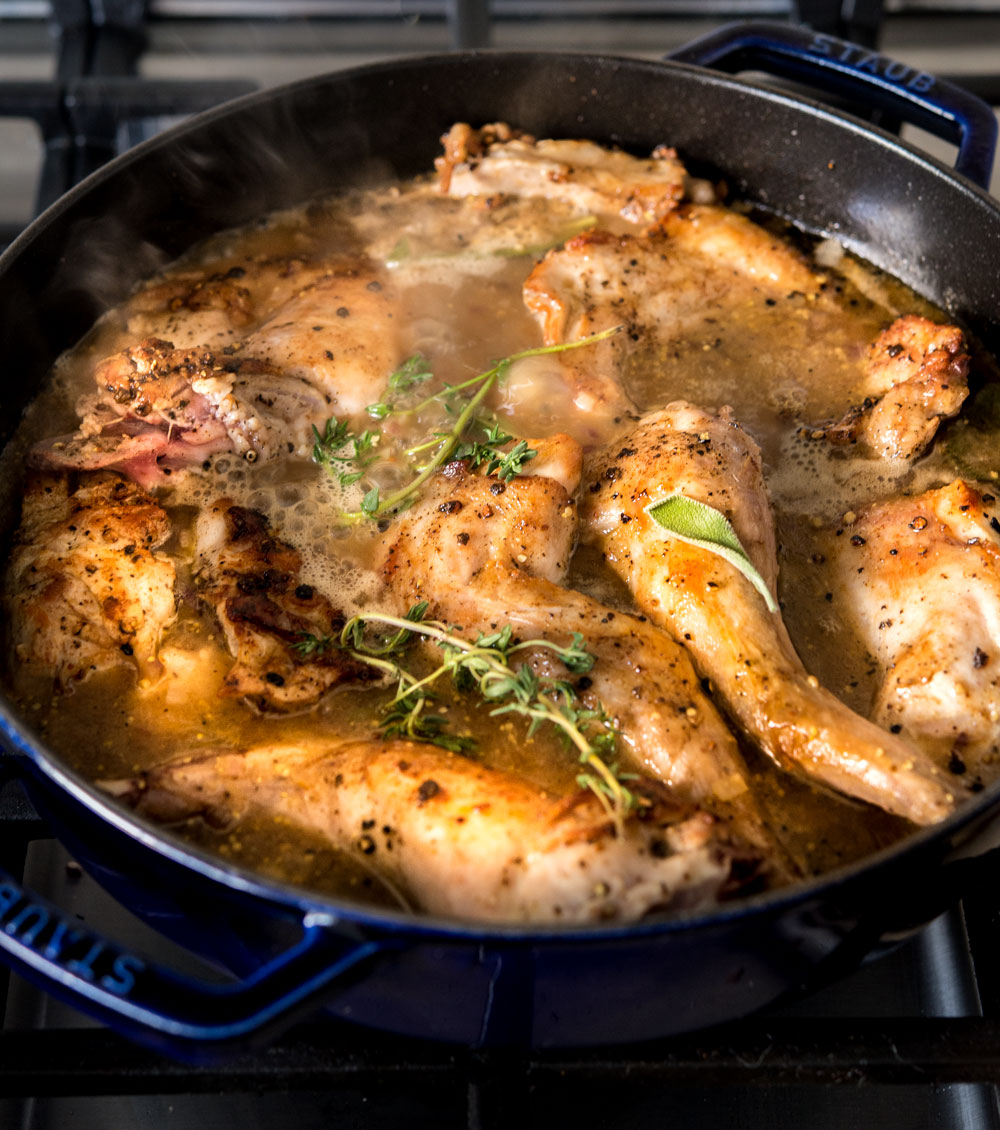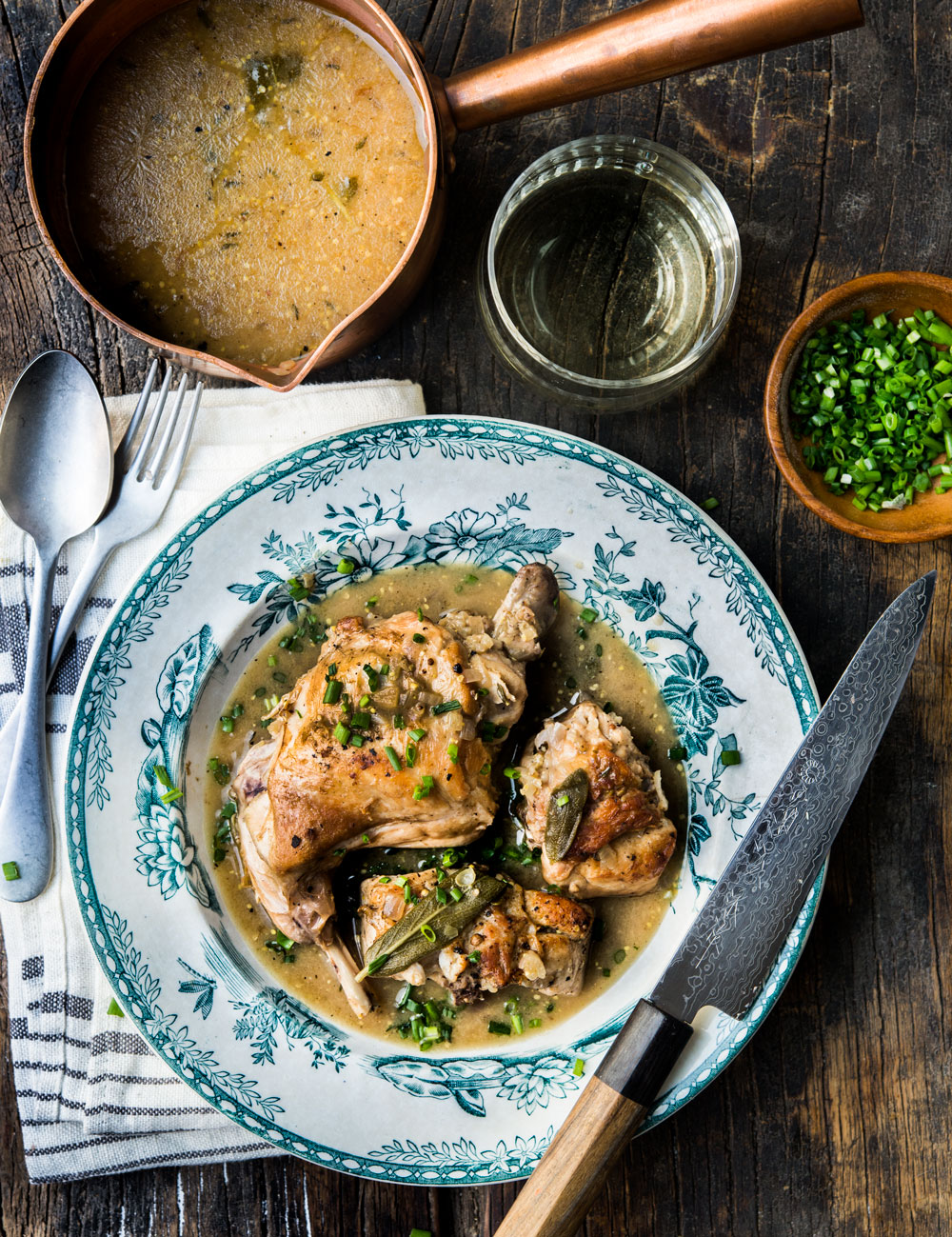 Rabbit in Mustard Sauce
1 (3 to 4-pound) rabbit, cut into 6 to 8 pieces
Salt and pepper
1 ½ tablespoons butter
1 ½ tablespoons oil
1 heaped cup diced onion and/or shallot (used a combination)
2 tablespoon all-purpose flour
1 cup dry white wine
2 ½ cups chicken broth
2 tablespoons whole-grain mustard
with sprigs of thyme
12 sage leaves
½ cup crème fraîche
1 teaspoon chopped capers
Sliced chives for garnish
Season the rabbit with salt and pepper.
Heat a Dutch oven or large deep, heavy pan over medium-high heat. Add the butter and oil. When sizzling hot, working in batches, sear the rabbit, about 3 to 4 minutes on each side, until nicely browned. Remove browned rabbit from pan and set aside.
Add the diced onion/shallot and sauté until softened and lightly browned, stirring occasionally, about 5 to 6 minutes. Season with salt and pepper.
Sprinkle onions with flour and stir until well incorporated, then cook for a minute or so, until mixture starts to smell toasty. Add wine and 1 cup broth, whisking as the sauce thickens. Whisk in remaining broth and 1 tablespoon of mustard and bring to a simmer. Taste for salt and adjust.
Return browned rabbit pieces to the sauce. Add thyme and sage. Cover pot and bake until meat is fork tender, about 45 to 50 minutes.
Using tongs, remove rabbit pieces from sauce, set aside, and keep warm. Put saucepan over medium heat and bring contents to a simmer. Whisk in crème fraîche, 1 tablespoon of mustard and capers and simmer until somewhat thickened, about 5 minutes. Taste sauce and adjust.
Transfer rabbit to a warmed serving bowl and ladle the sauce over. Sprinkle with chives.