As the temperatures gradually begin to rise, our thoughts turn to alfresco dining and outdoor grilling. Come spring, I also like to dust off the smoker that's been standing by idly in my basement all winter long. Nothing hardcore, just an electric smoker, but it does the job. I love its ease of use: turn on the smoker, add wood chips, set the temperature (for today's chicken, 250F — low and slow), and into the smoker the chicken (and whatever else you want to smoke) goes. The smoker imparts a subtle smokiness that is by no means over the top. As well, the finished bird emerges nice and moist. Last summer, I smoked a whole leg of lamb (and it came out super moist and delicious).
The only other thing to decide is what type of rub for the chicken? I went with a combination of spices that are often found in Middle Eastern cooking — cumin, coriander, cardamom, clove, cinnamon — with a little help from garlic powder, paprika, turmeric, cayenne, allspice, salt and pepper…perhaps I went a little overboard in the spice department.
Of course, you could use this spice mixture to season a chicken before roasting it (or perhaps get a little crafty and create a stove top smoker).
Accompanying this whole smoked chicken are sides/condiments that complement the Middle Eastern flavors in the rub…
Tabbouleh: I went with a Lebanese version, heavy on the herbs (parsley and mint) with just a bit of bulgur.
Zhoug: Green, herbaceous, spicy condiment with Yemeni roots. I added a couple Thai bird's eye chiles for heat along with plenty of parsley, cilantro, and spices.
Tahini sauce: Creamy, nutty, slightly garlicky dipping sauce.
Some flatbread with za'atar (a spice blend of sesame seeds, thyme, oregano, and sumac) oil for dipping.
Olives, lemons, and radishes on the side.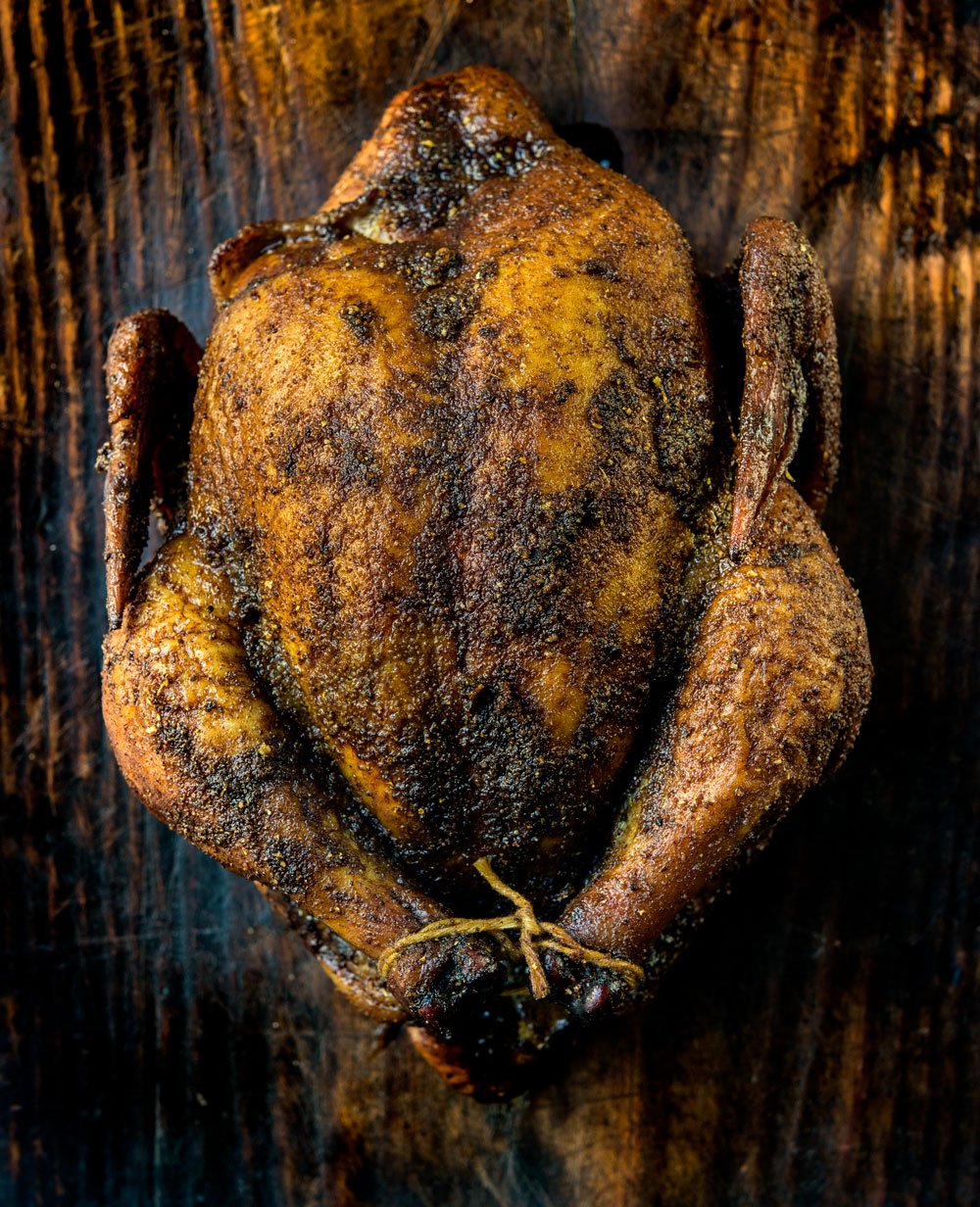 I made my own spice rub utilizing a combination of cumin, coriander, clove, garlic powder, paprika, turmeric, cinnamon, clove, cayenne, allspice, cardamom, salt and pepper…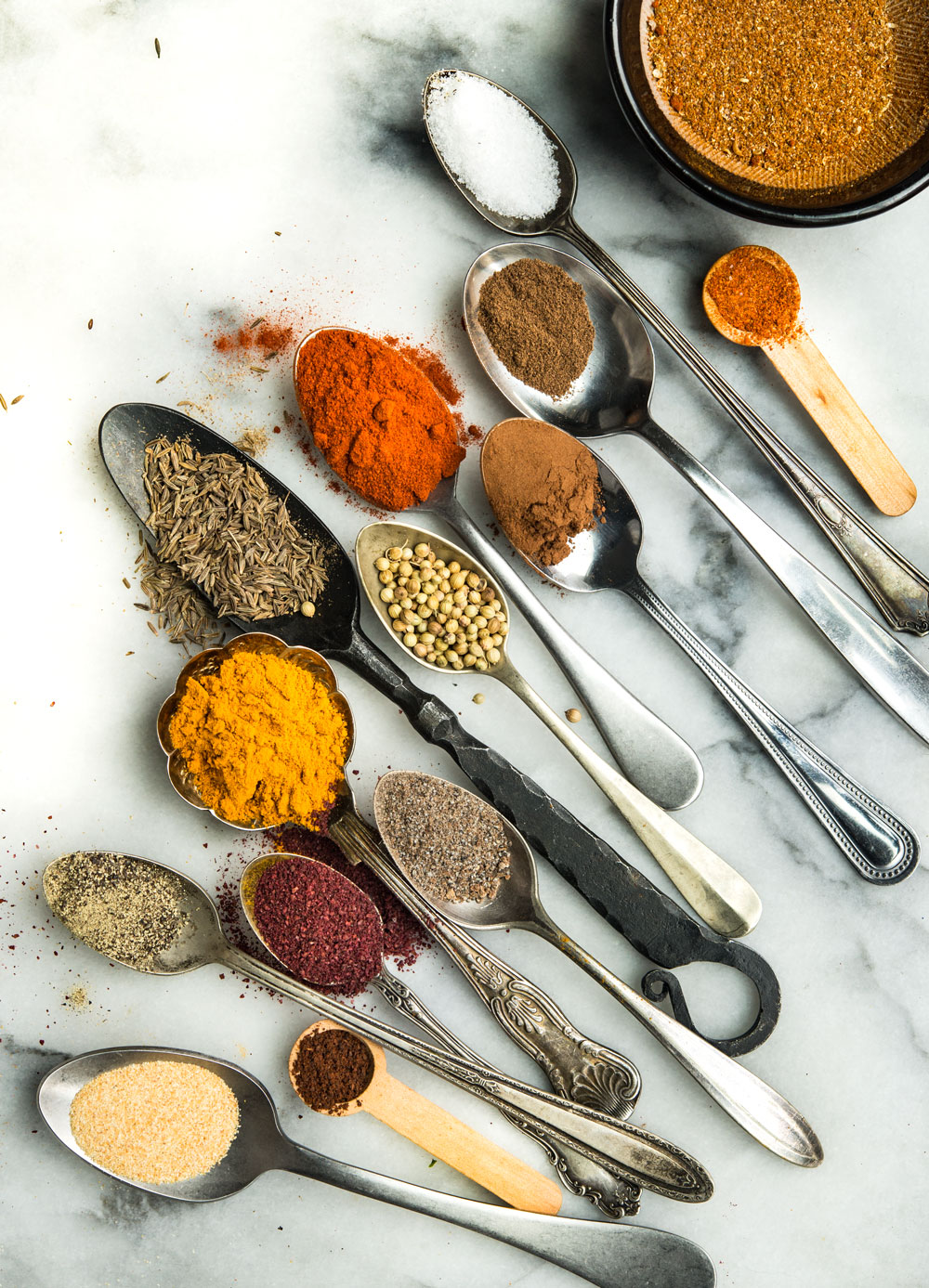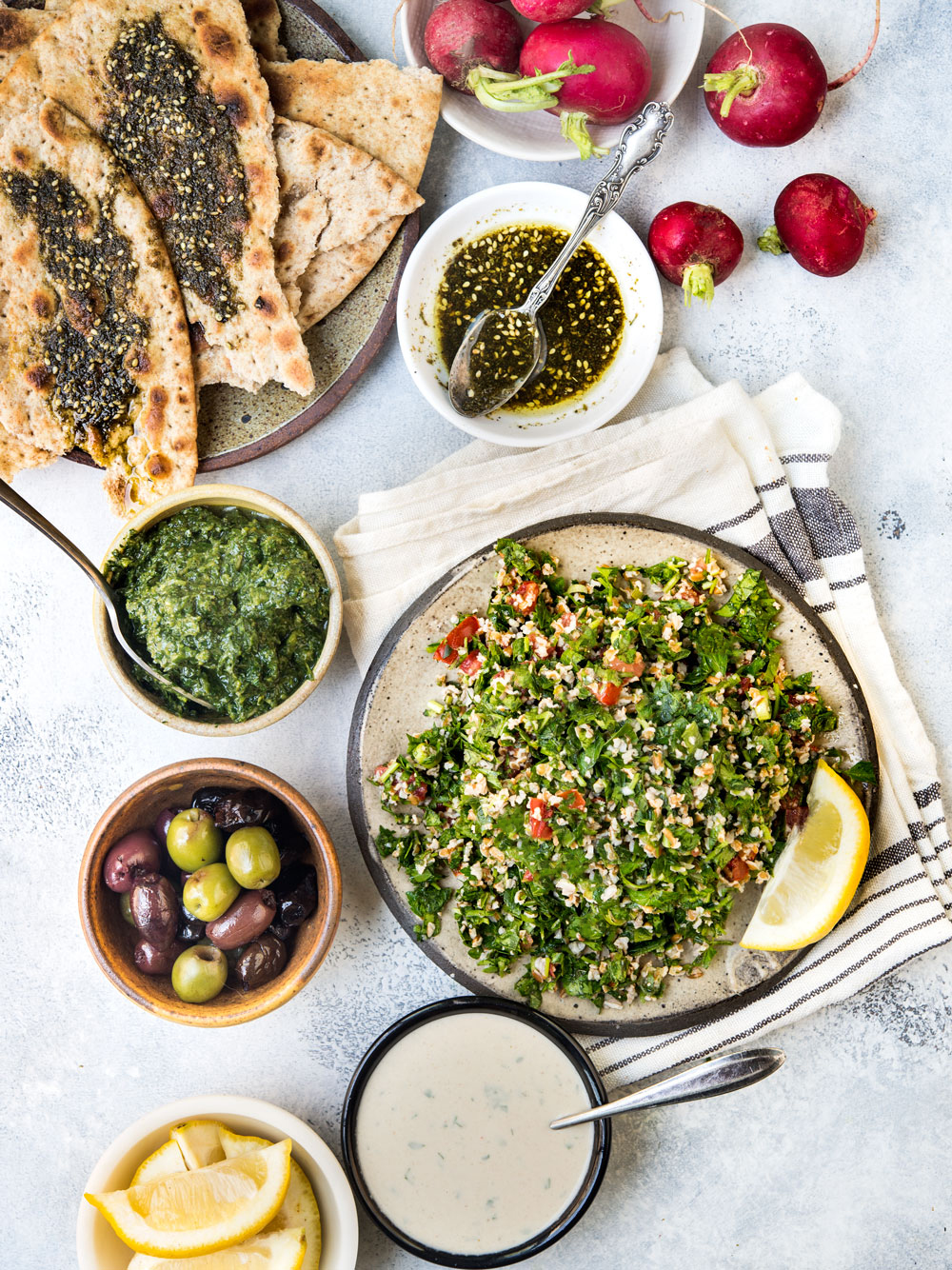 A feast awaits…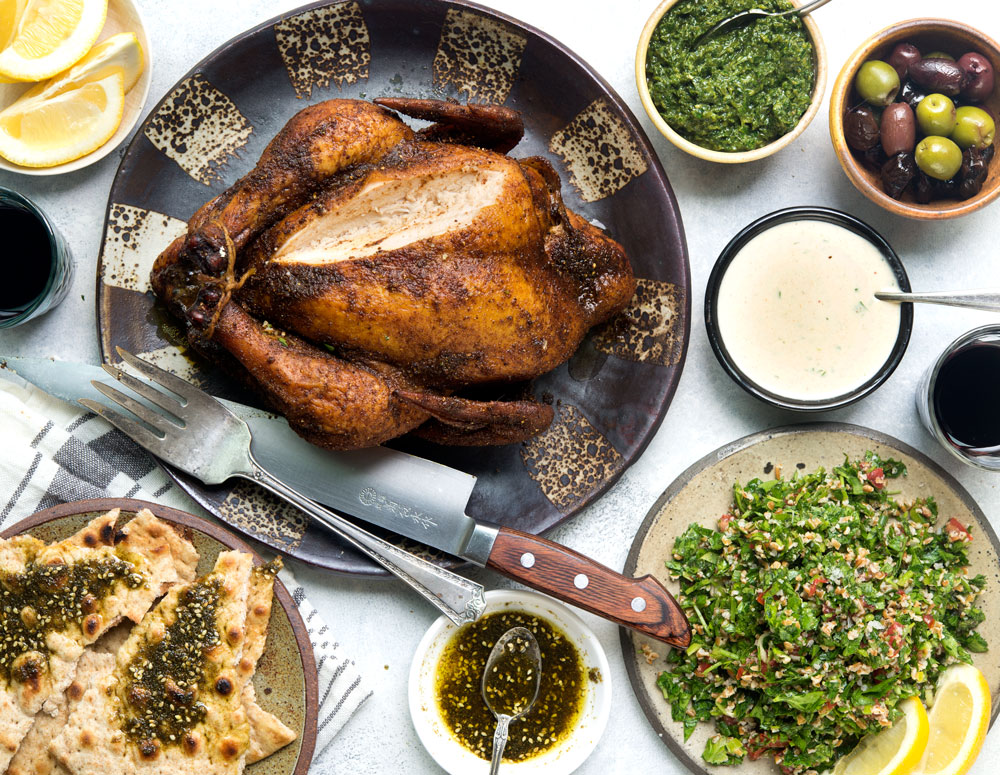 Smoked Chicken with Middle-Eastern Spices
1 (3 1/2 to 4 pound) whole chicken (preferably from your local farmer)
Olive oil
Spice Blend
Pat the chicken dry with paper towels. Rub or brush the chicken all over generously with olive oil and then the spice blend (you won't need all of it). Place on a plate and let air chill in the refrigerator, uncovered, for 24 to 48 hours.
Preheat the smoker to 250F with your favorite wood chips (used pecan and apple). Smoke until the chicken registers 165F, rotating half-way through. I ended up smoking my chicken for 2 1/2 hours (next time I might give it 15 minutes less; it's all a bit of experimentation).
Spice Blend
You won't need all of it for the chicken; use the leftover to liven up poultry, red meat, or seafood.
1 tablespoon ground cumin
1 tablespoon ground coriander
1 tablespoon ground garlic
1/2 tablespoon paprika
2 teaspoons kosher salt
1 teaspoon black pepper
1 teaspoon turmeric
1/2 teaspoon ground clove
1/2 teaspoon cinnamon
1/2 teaspoon sumac
1/4 teaspoon ground cardamom
1/4 teaspoon allspice
Combine all spices in a bowl.
Tabbouleh
1/2 cup bulgur (used Bob's Red Mill Wholegrain Red Bulgur)
3 cups chopped parsley
1/4 cup chopped mint
1/4 cup chopped scallions
2 medium ripe tomatoes, seeds removed, diced
1 small garlic clove, minced (optional)
juice of 2 lemons
Sea salt and black pepper
3 to 4 tablespoons extra virgin olive oil
Combine bulgur and 1 cup boiling water and soak for 1 hour. Drain, squeezing out any excess moisture. Place the bulgur in a bowl with the remaining ingredients with the exception of the olive oil. Toss well. Place in the fridge and let chill for 1 to 3 hours so the bulgur can absorb the liquid, which will cause it to swell.
Add the olive oil and stir to combine. Taste and adjust seasoning. Serve.
Zhoug
1 cup cilantro
1/2 cup parsley
2 to 3 jalapeno or serrano chiles or 1 to 2 Thai bird's eye chiles
2 garlic cloves
2 tablespoons water
1/2 teaspoon cumin
1/4 teaspoon cardamom
Sea salt
3 tablespoons olive oil
Squeeze of lemon.
Place the cilantro, parsley, chiles, garlic, water, cumin, cardamom, and salt in the bowl of a food processor. Pulse until well combined. Add the olive oil in a steady stream and continue to pulse until smooth, but a bit chunky. Add lemon juice to taste.
Tahini Sauce
1/2 cup tahini
6 tablespoons lukewarm water
1 to 2 small garlic cloves, grated
3 to 4 tablespoons lemon juice
1 teaspoon finely chopped parsley
1 teaspoon ground cumin
Pinch salt
Pinch of cayenne
Combine all ingredients in a bowl. Stir until well combined.