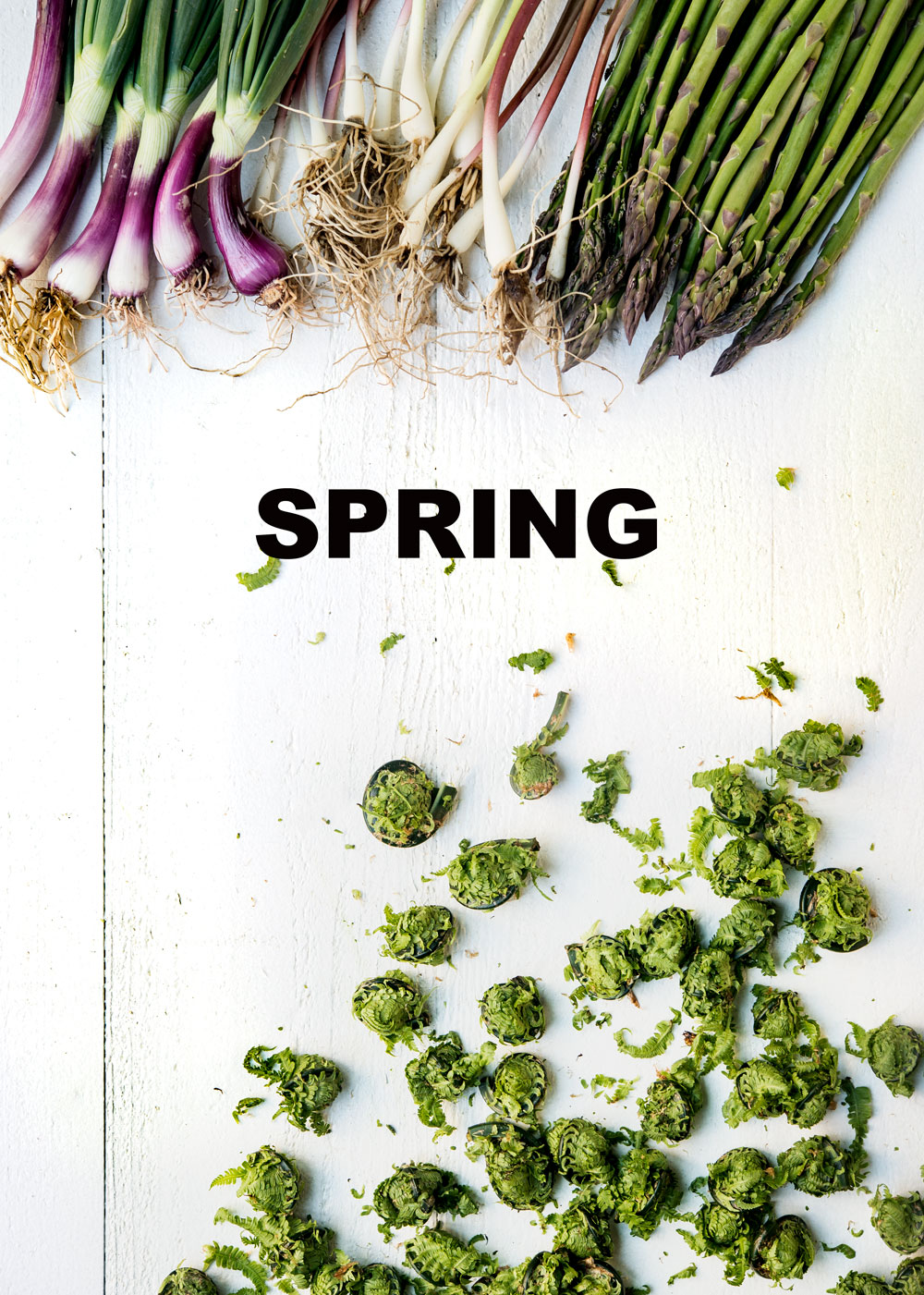 I love spring. It's my favorite time of the year. Spring brings with it new beginnings and new growth. This includes many of my favorite vegetables: stinging nettle, asparagus, fiddlehead ferns, green garlic, chive blossoms, strawberries (ok, and one fruit), and, of course, ramps — signs that spring and all her glory are in full swing.
If only spring lasted 12 months; of course if that were the case, spring might lose some of its inherent appeal. Similarly, if I could procure spring's beloved bounty (locally) year round I wouldn't feel so strongly about it. But because the above items are only available for a fleeting period, I, like many of you, cherish their annual appearance.
Ramps (aka rampsons or wild leeks) are one of the earliest wild edibles to emerge each spring. And each and every spring, cooks swoon over them. Ramps have a mild, subtle oniony-garlicky flavor. There's just something about them.
I love ramps simply sautéed in a little olive oil, salt, and pepper. Pretty perfect just like that. But ramps also make for a nice pesto. And so today I have a ramp pesto pasta that is ideal for any night of the week. The ramp leaves are quickly blanched and then transformed into a pesto. The stems and bulbs are crisped up in a skillet and added to the pasta. And because I often relish a kick of heat, I drizzled the finished dish with some Calabrian chile oil.
Happy spring and good eating!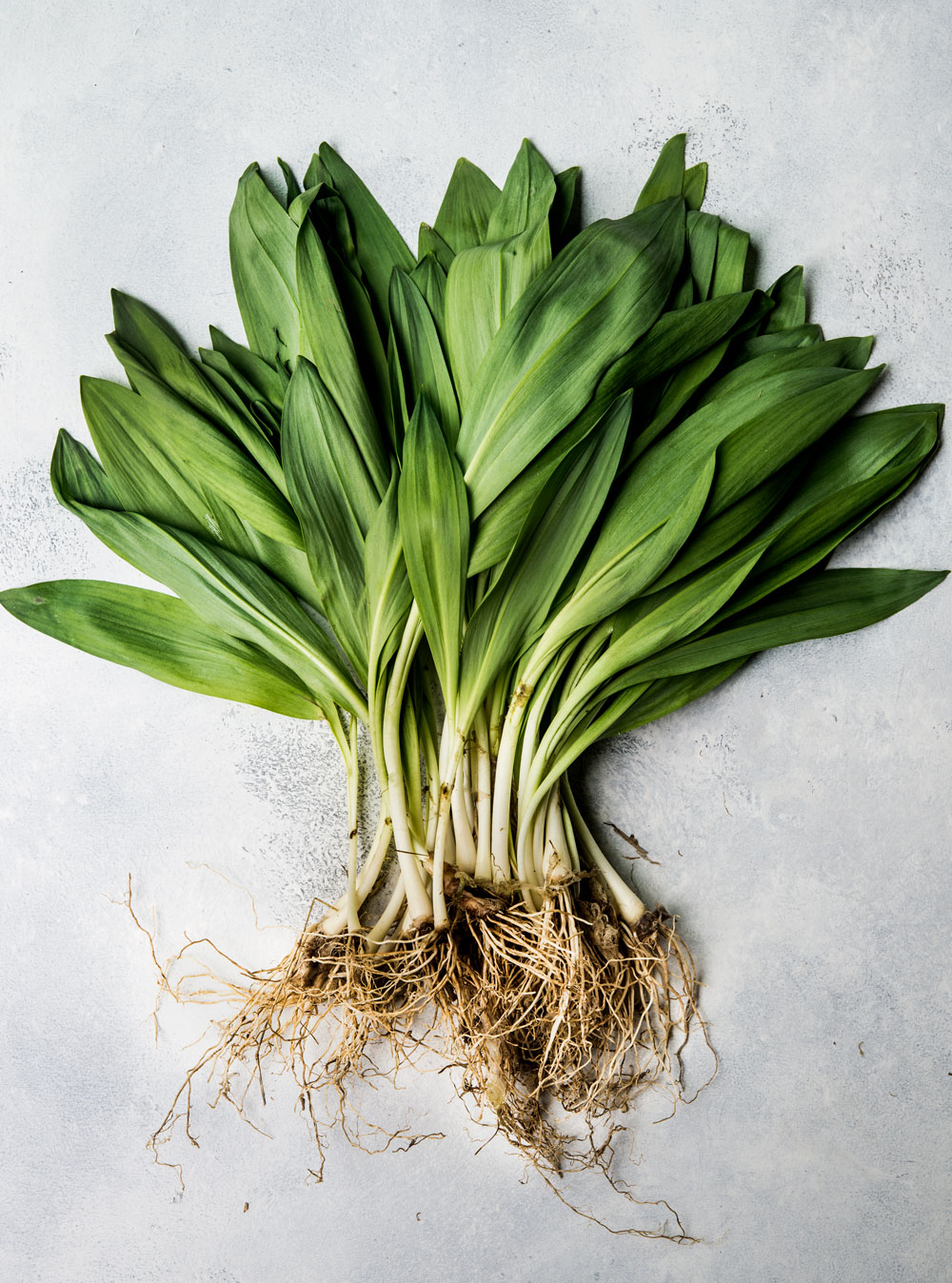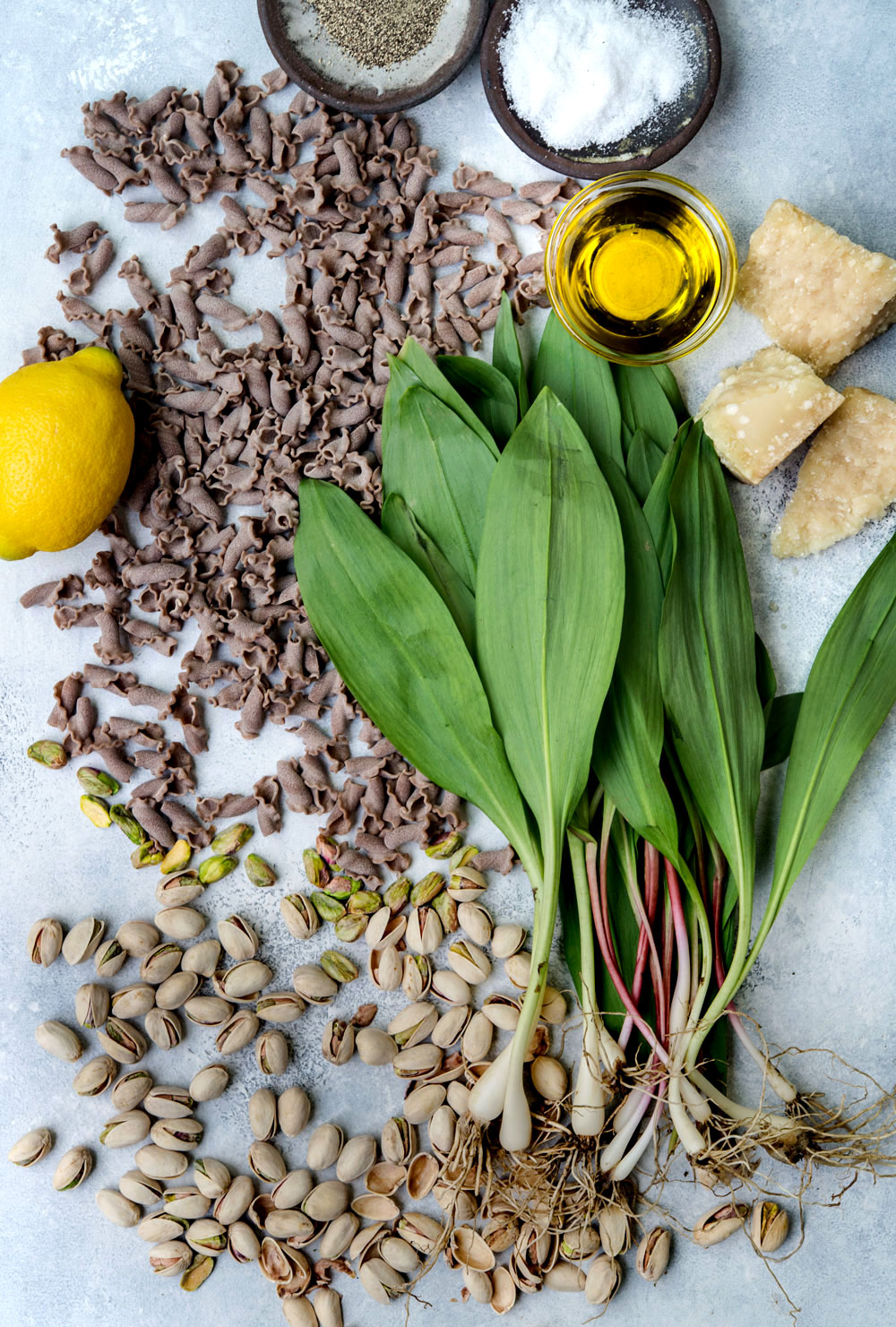 I prefer pistachios in my pesto rather than Italian pine nuts (pignolias), which are expensive and can be difficult to find.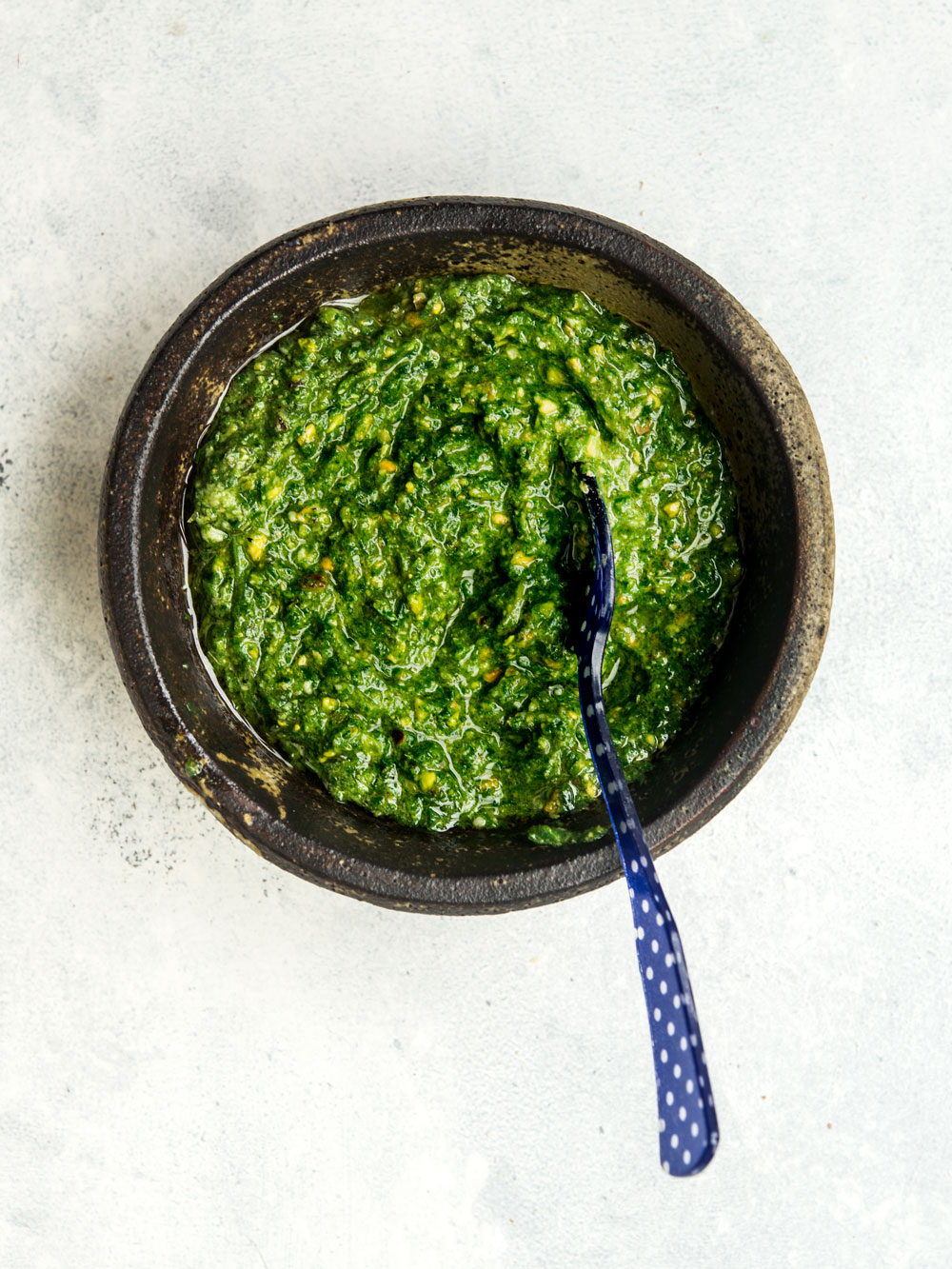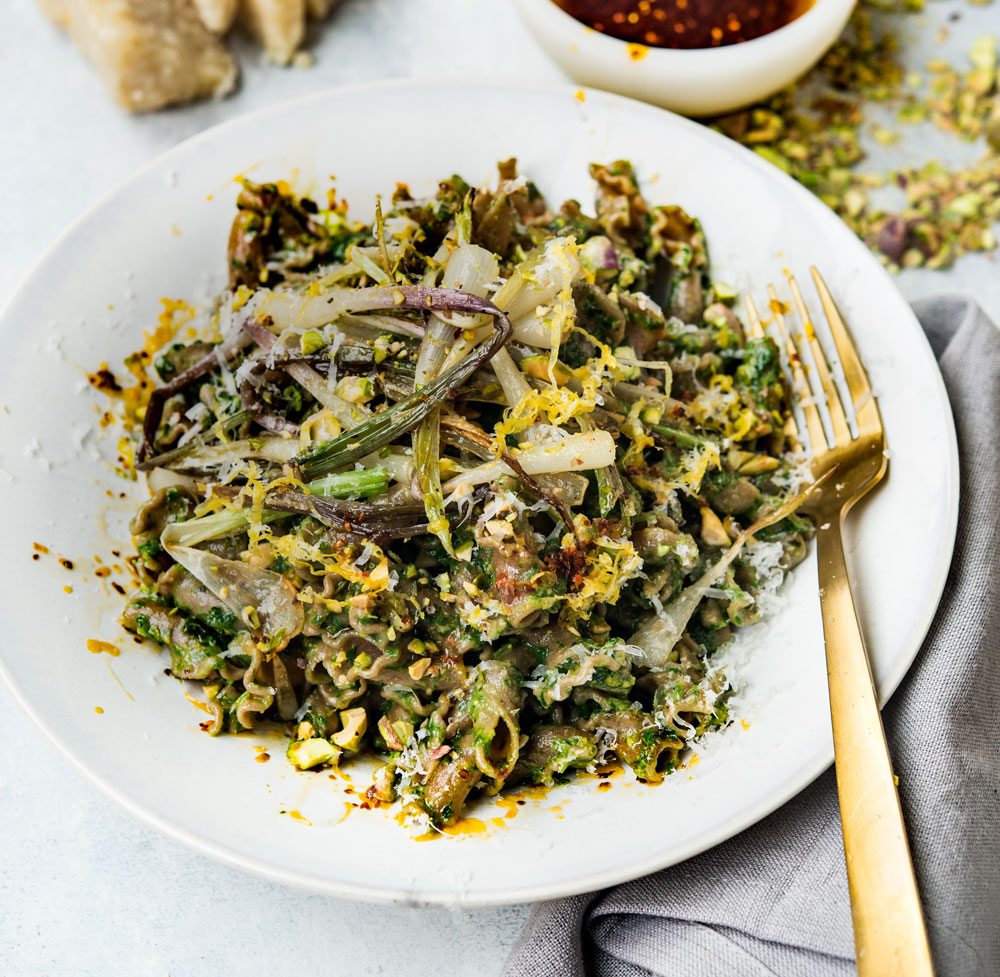 Ramp Pesto Pasta
2 teaspoons olive oil
Stems and bulbs from 5 to 6 ounces ramps (leaves reserved for the ramp pesto)
8 ounces pasta
Ramp pesto (recipe below)
Chopped pistachios for topping
Grated Parmesan for topping
Zest of 1 lemon
Chile flakes or chile oil
Heat the olive oil in a skillet. When hot, add the ramp stems and bulbs. Saute until golden brown. Set aside.
Bring a pot of salted water to a boil. Drop in the pasta and cook until al dente. Drain, reserving some of the pasta water.
Heat a skillet. When hot, add the pesto and a couple tablespoons pasta water. Add the pasta and stir to combine. Transfer to a serving plate. Top with chopped pistachios, grated Parmesan, lemon zest, and chile flakes or chile oil.
Ramp Pesto
5 to 6 ounces ramps, leaves and stems/bulbs separated
1/4 cup loosely packed Parmesan
2 to 3 tablespoons pistachios
Salt and pepper
1/3 to 1/2 cup olive oil
Prepare an ice water bath. Bring a pot of salted water to a boil. Drop in the ramp leaves and boil for 10 seconds. Immediately plunge into the ice water bath. Drain and squeeze out any excess moisture.
Combine the blanched ramp leaves, Parmesan, and pistachios in a food processor. Season with salt and pepper. Pulse to combine. With the motor running, drizzle in the olive oil. Blend until combined.