On a trip to Sicily many moons ago, I first became acquainted with squid ink. Rather, I fell in love with squid ink over a plate of homemade pasta in a thick squid ink sauce in Marzamemi, a picturesque fishing village on the southeast tip of Sicily. It was like nothing I had ever tasted or remotely encountered before. Its flavor made an indelible impression; one of those food memories that will forever be ingrained in my mind.
Just the thought of where squid ink comes from may seem a bit bizarre. As its name implies, squid ink comes from the ink-filled sac that squid use as a protective mechanism to defend against enemies. How anyone ever figured out that squid ink is edible is a mystery, but I'm glad to be the recipient of that culinary discovery. Squid ink adds a distinct brininess and salinity to a dish. It makes a dish taste like the ocean (in a good way, not like you accidently swallowed a mouthful of sea water) with a brininess along the lines of oysters and sea urchin.
Where does one find squid ink? If you have access to extremely fresh (whole) squid, you can harvest the ink yourself. You can find its tiny ink-filled sac (between its gills) and collect the ink. If you're thinking, 'nope, not going to happen,' I have good news. You can often find jars of squid ink (or, more commonly, cuttlefish ink) or individual packets at your local fish market and at some specialty food stores.
Squid ink is versatile and can be used to color and flavor sauces (for example, a Spanish dish known as chipirones en su tinta [squid in its ink]), fresh pasta, and, interestingly enough, breads and crackers. One of my favorite preparations is a Spanish rice dish (of Catalan and Valencian origin) known as arroz negro (squid with rice cooked in squid ink).
Arroz negro is prepared similarly to the way you would paella (although it is not technically paella), that is, in a large shallow pan over an open flame until the rice absorbs all of the inky-colored liquid. Add a few whole shrimp (preferably, heads-on shrimp given all that extra flavor in the head) for a festive presentation and serve with a garlicky saffron aioli (to be swirled into the rice).
While I consider arroz negro to be a special-occasion dish, perhaps because it evokes fond memories of backpacking through Italy and Spain, it is easy to prepare for everyday cooking. Fair warning, squid ink is messy and will stain anything and everything it comes in contact with, including your teeth, black — but don't worry, it's only temporary.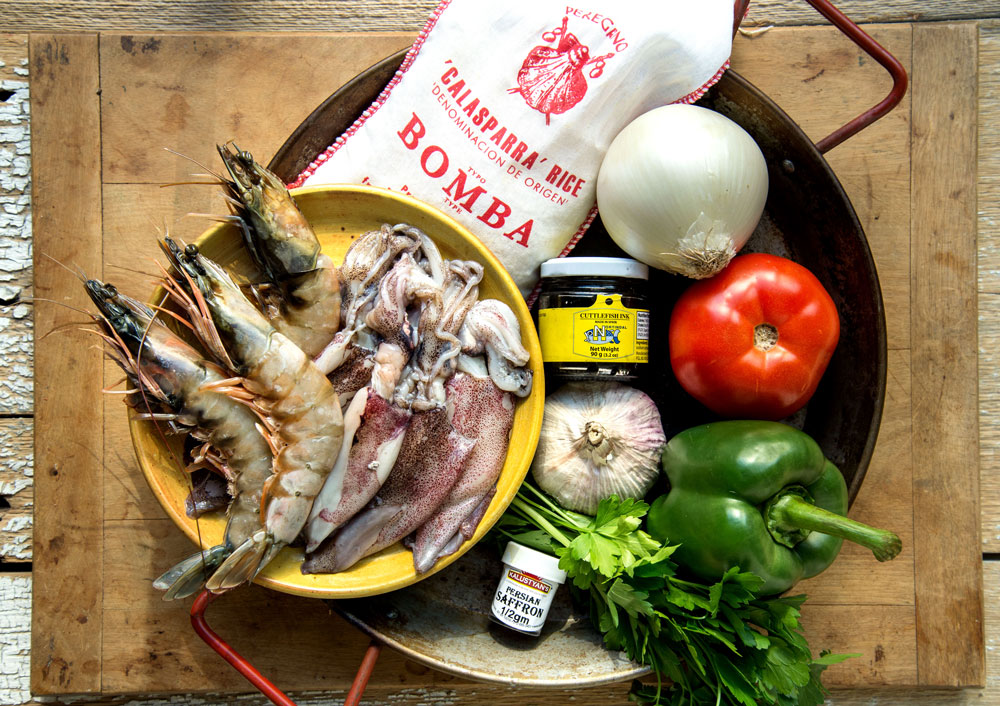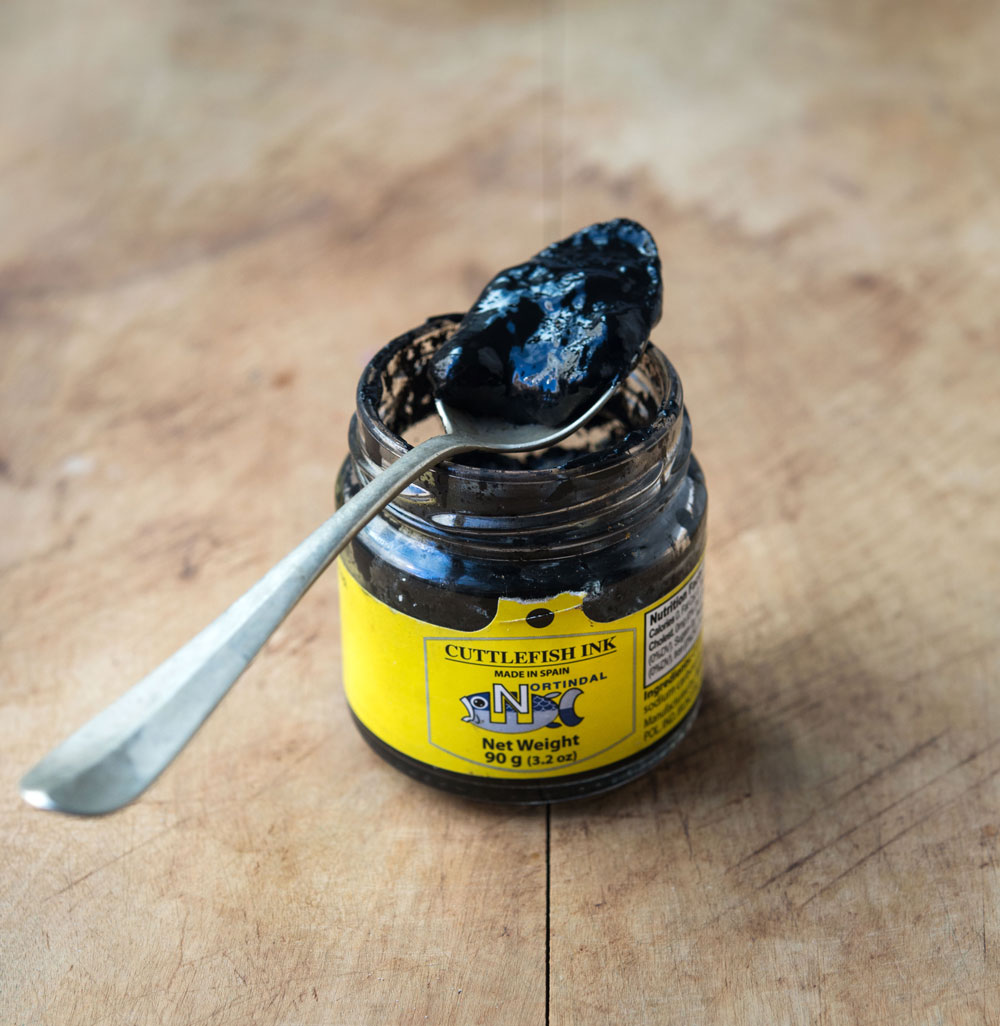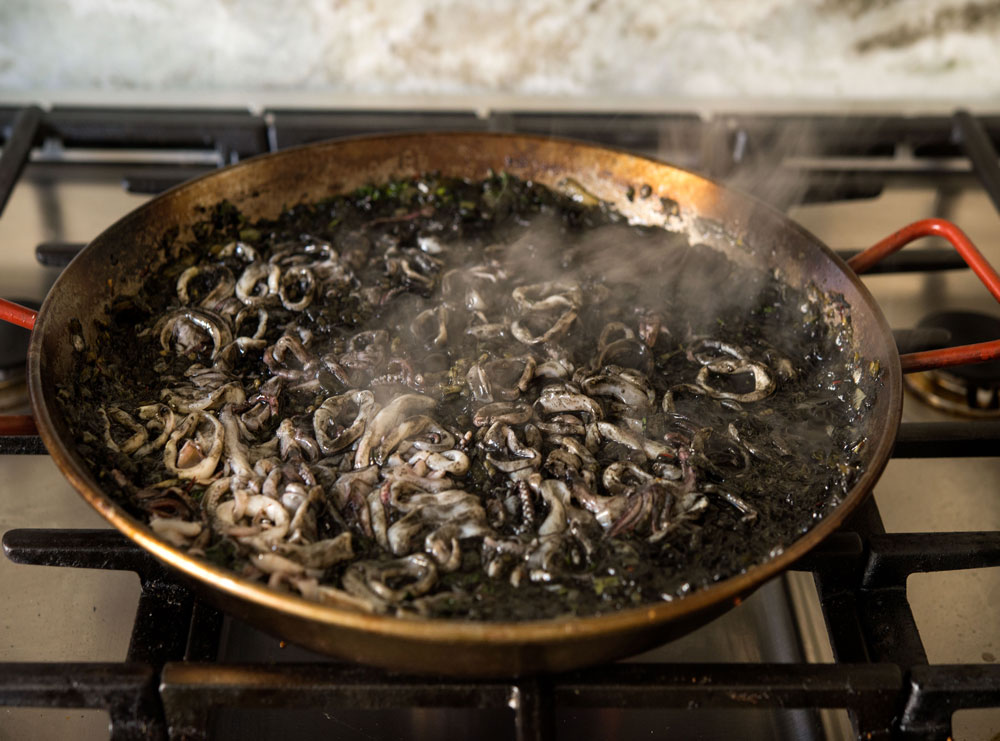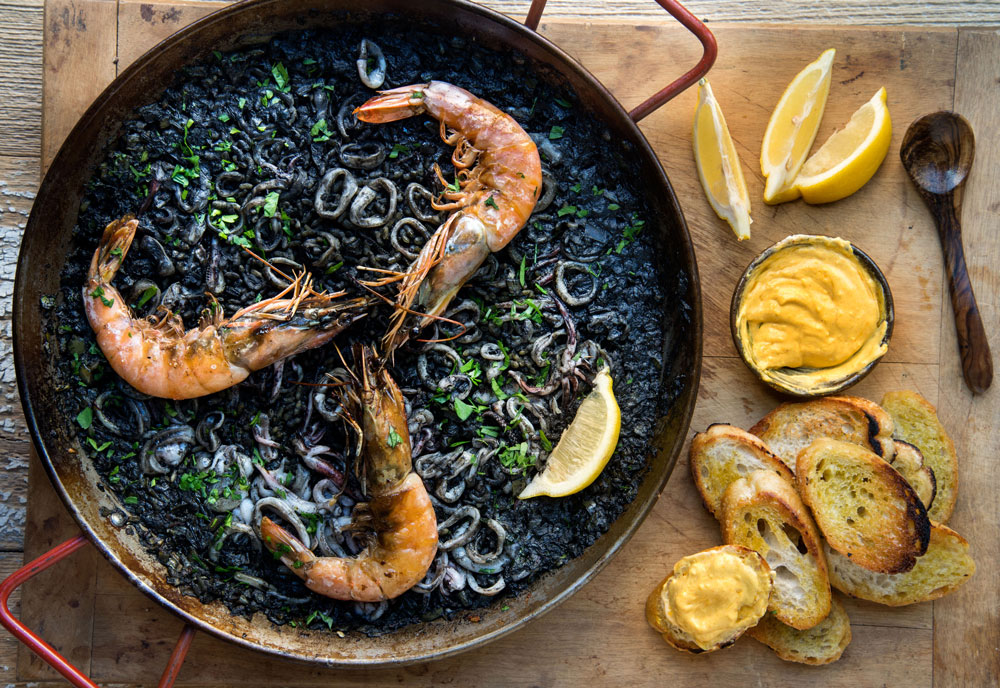 Arroz Negro
Arroz negro is a traditional Spanish dish made with squid, a short-grained Spanish rice known as Calasparra, and stained a striking black color with the addition of squid ink. In addition to coloring the rice, squid ink adds a briny, umami quality to the dish with a deep, smooth, unctuousness. It makes for an impressive, festive presentation, especially with a few whole shrimp scattered on top and served with a garlicky saffron aioli to mix in with the rice.
1 pound of squid, cleaned
salt
4 cups hot fish or shrimp stock
6 tablespoons olive oil, divided
1 large white onion, finely chopped
1 large green bell pepper, finely chopped
1 large tomato, grated on a box grater, skins discarded
3 garlic cloves, peeled, finely chopped
1 cup Spanish Calasparra rice
1/4 cup dry white wine
2 to 3 tablespoons squid or cuttlefish ink, more or less depending on how 'inky' you like it
2 tablespoons chopped parsley, plus extra for garnish
lemon wedges for serving
Slice the body of the squid into thin rings. Slice the tentacles in half. Season with salt.
Bring the fish or shrimp stock to a boil in a medium saucepan. Reduce the heat to low and maintain a simmer.
Heat a 13-inch (paella) pan over medium heat. Add 2 tablespoons of oil. Add the squid and sauté for 30 seconds. Remove the squid and set aside. Add the rest of the oil to the pan. Add the onion and green pepper, and sauté until soft and tender, about 15 minutes, reducing the heat if the onion starts to burn. Add the tomato and garlic, and sauté another 10 more minutes, stirring regularly.
Add the rice to the pan and cook, stirring frequently for 1 minute. Add the wine, simmer another minute. Add the hot stock and the squid ink, and stir to combine. Add the chopped parsley. Simmer over medium heat (do not stir the rice at this point), about 10 to 12 minutes. Taste the rice. It should be tender at this point and most of the liquid should be absorbed. Scatter the reserved squid over top and cook another 4 to 5 minutes. Remove from the heat, cover, and let rest about 5 minutes.
Serve warm with lemon wedges, a garlicky saffron aioli to swirl into the rice, and a few cooked whole shrimp scattered on top.
FOR THE SHRIMP
3 to 4 large head on shrimp
olive oil
salt and pepper
Use kitchen shears to cut along the length of the back of each shrimp, just deep enough to expose the vein. Remove the vein. Toss the shrimp with olive oil. Season with salt and pepper. Heat a grill, grill pan, or sauté pan, and cook shrimp, turning occasionally, until shells are bright red and meat is cooked through, about 5 minutes. Once arroz negro is ready, top with cooked shrimp and serve.
FOR THE GARLICKY SAFFRON AIOLI
1 pinch saffron threads
1 teaspoon hot water
1 large egg yolk
1-2 garlic cloves, smashed to a paste
2 teaspoons fresh lemon juice
¾ cups extra-virgin olive oil
salt
1 pinch of hot smoked Spanish paprika (Pimentón)
In a small bowl, crumble the saffron into the water. Let steep for 10 minutes.
Whisk the egg yolk with the garlic and 1 teaspoon of lemon juice. Gradually add the olive oil, drop by drop, whisking all the time. Once it thickens, you can begin to add the oil more quickly, continuously whisking until all the oil has been added.
Stir in the remaining 1 teaspoon of lemon juice and the saffron water and season the aioli with salt and a pinch of smoked paprika.