As a born and bred New Yorker (Queens), I've eaten (and baked) a few babkas in my life. They were all reasonably good, some definitely better than others. But really, what's  not to like about the humble babka? I'm talking chocolate babka here. Is there any other? Basically, a sweet brioche-like pastry filled with chocolate (dark chocolate is my preference). Pecans are a must (at least in my book).
This one, Yotam Ottolenghi's chocolate babka (or chocolate Krantz cake as he calls it), is an unequivocal winner. Just google Ottolenghi Chocolate Krantz and you'll be inundated with page upon page of people singing its praises. Am not the first and certainly won't be the last to swoon over this cake.
Now I too can say that I've been privy to the Ottolenghi chocolate babka "experience." It's a bit of work, but worth every ounce of effort. Ottolenghi's babka will undoubtedly win you brownie (or rather, babka) points with anyone you decide to share it with (and stellar babka such as this should definitely be shared).
This babka is perfect as is. If I were to make any tweaks, I might add some cinnamon to the chocolate filling. Either way, you won't go wrong.
Short and sweet. That's a wrap.
Excuse me while I enjoy my freshly baked babka with a cup of coffee.
Wasn't planning on taking photos of the individual steps in the babka-making process, but could not resist (am a visual person)…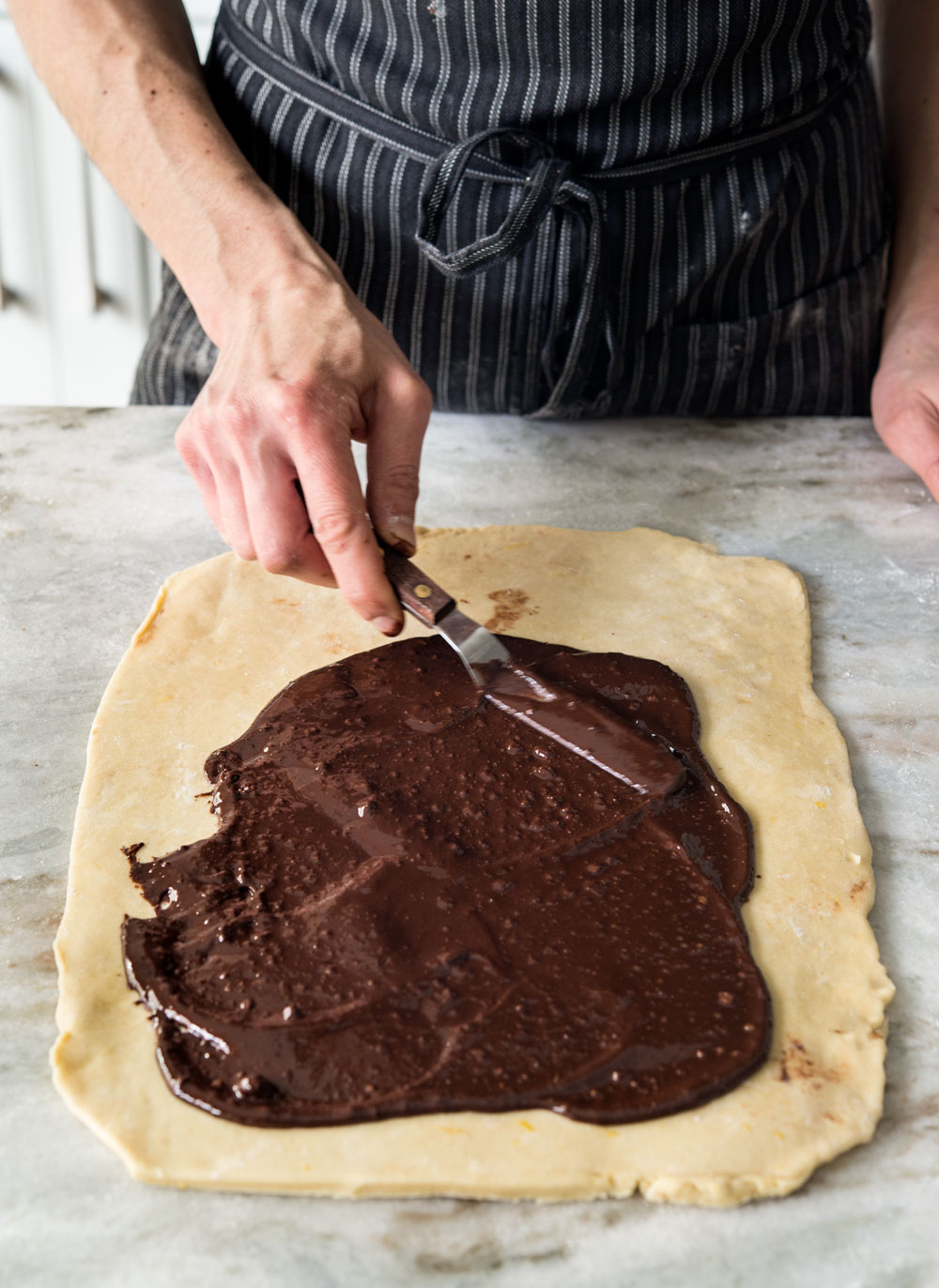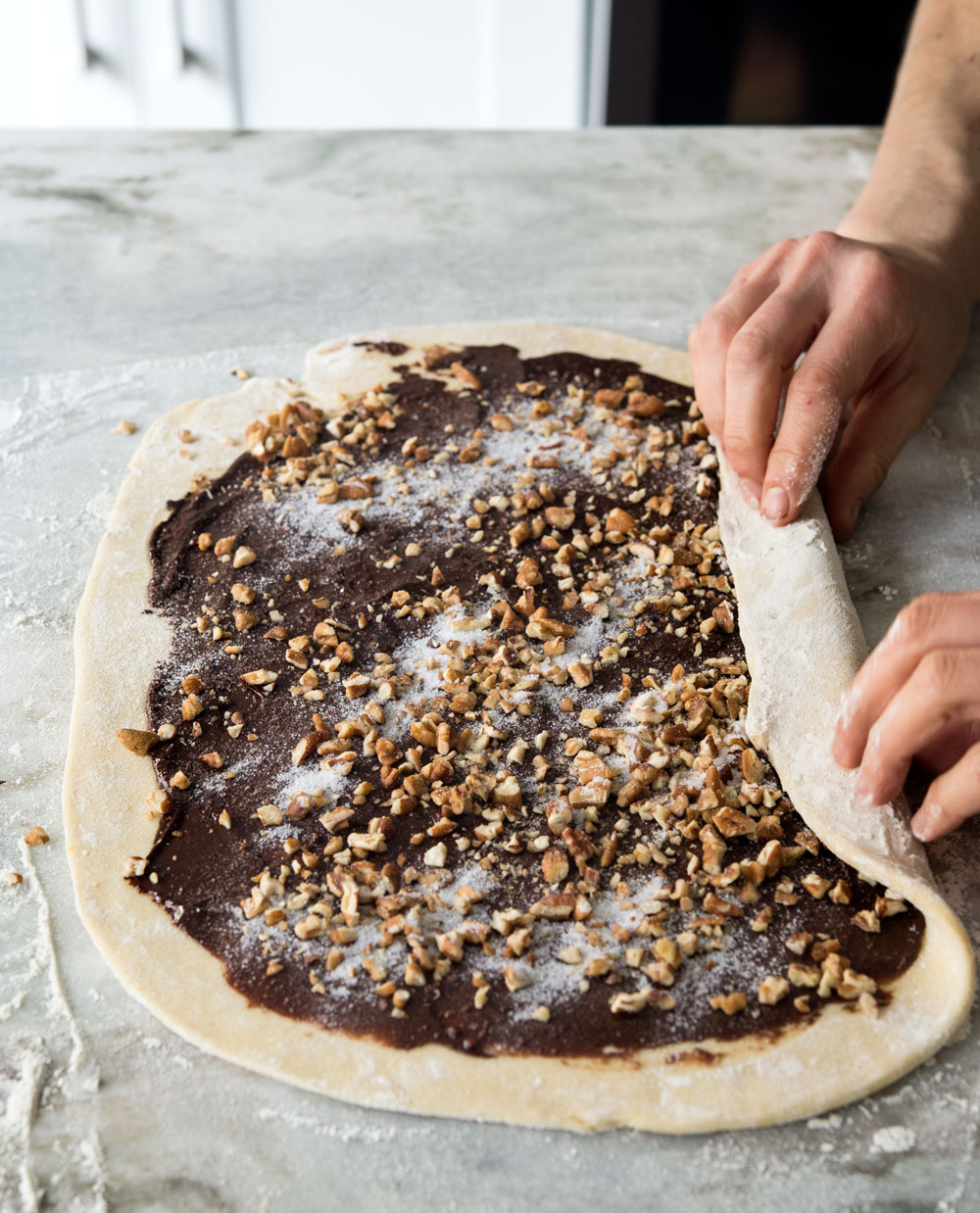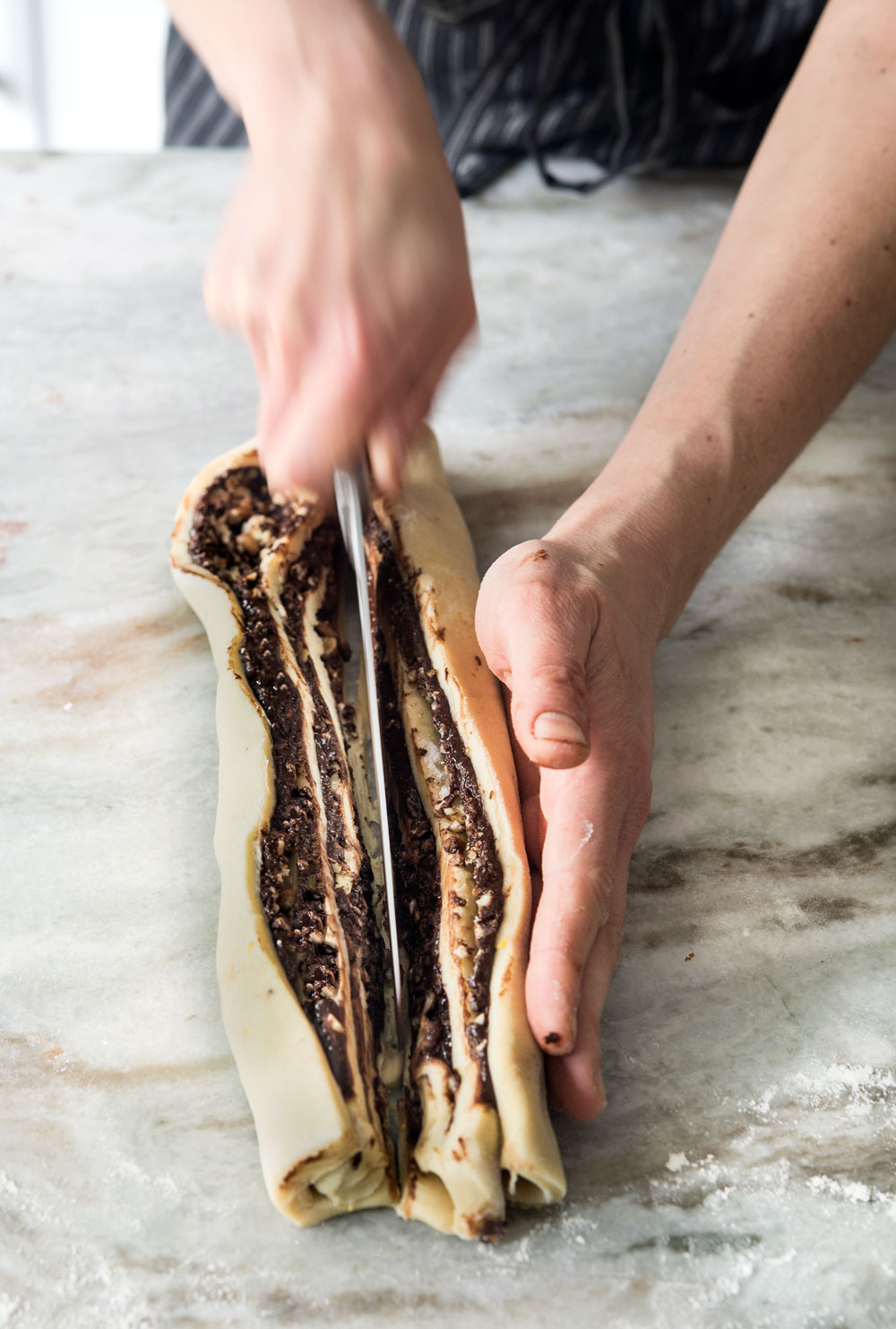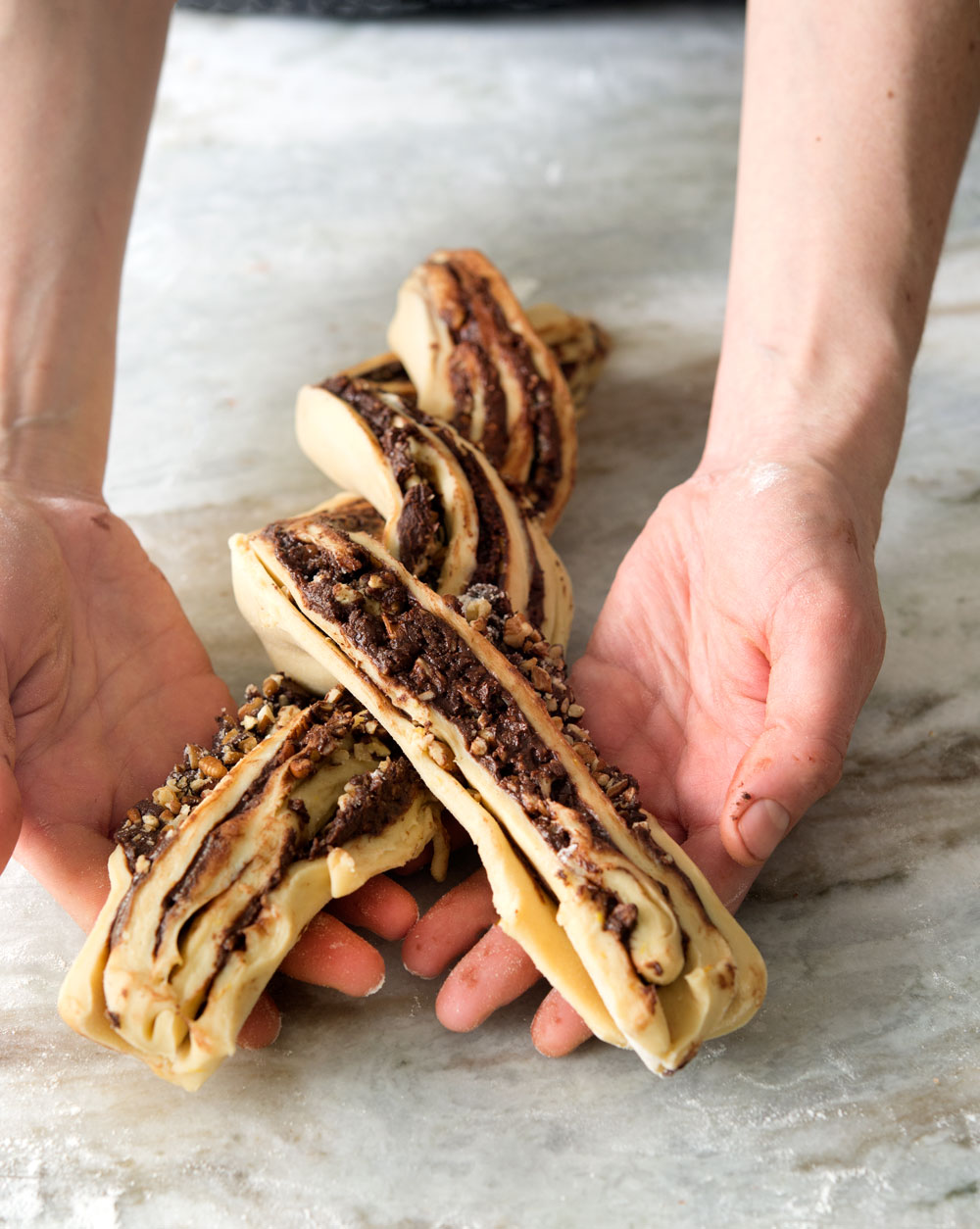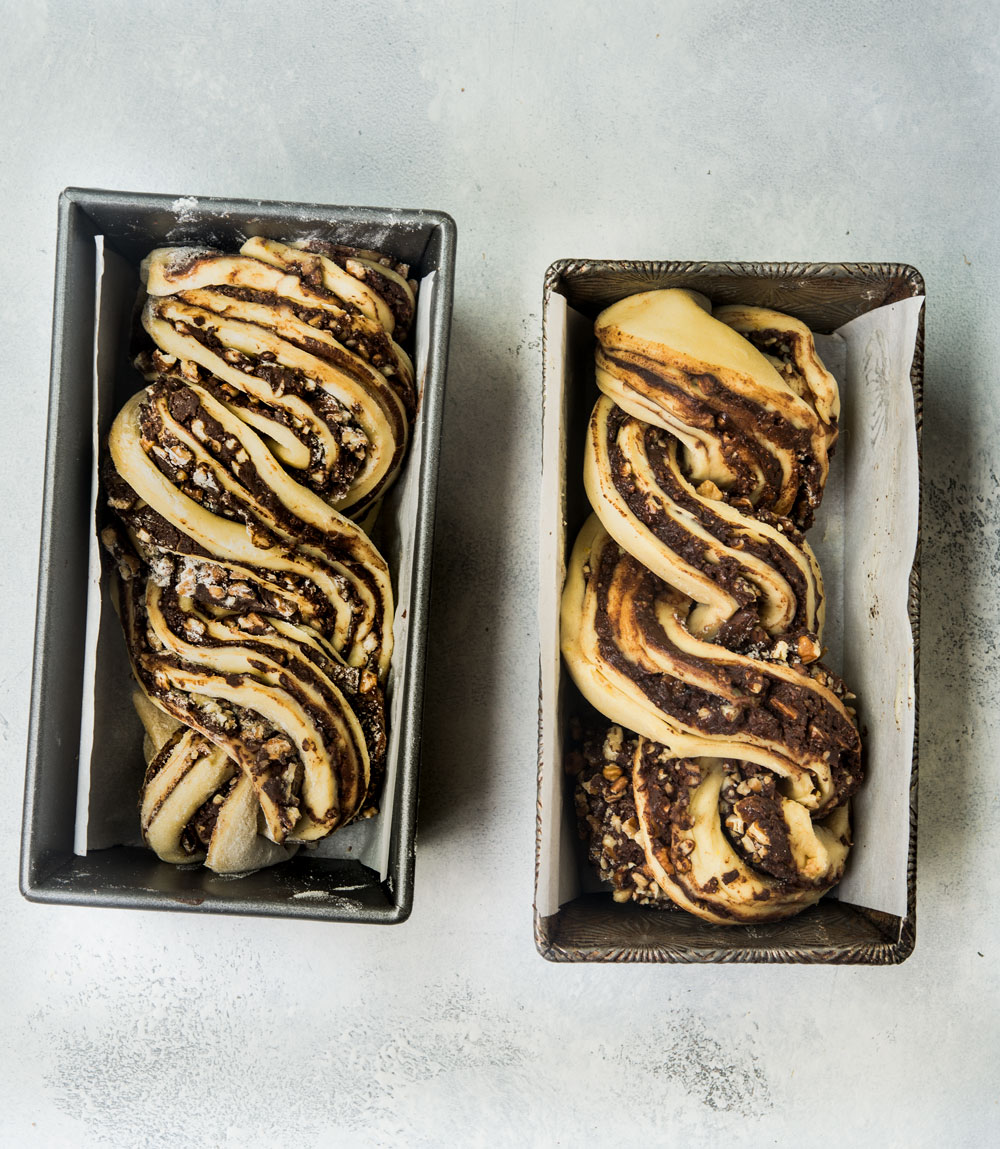 Even if you don't twist and fold the dough just right, the resulting babka still comes out looking pretty good and, more importantly, tasting heavenly…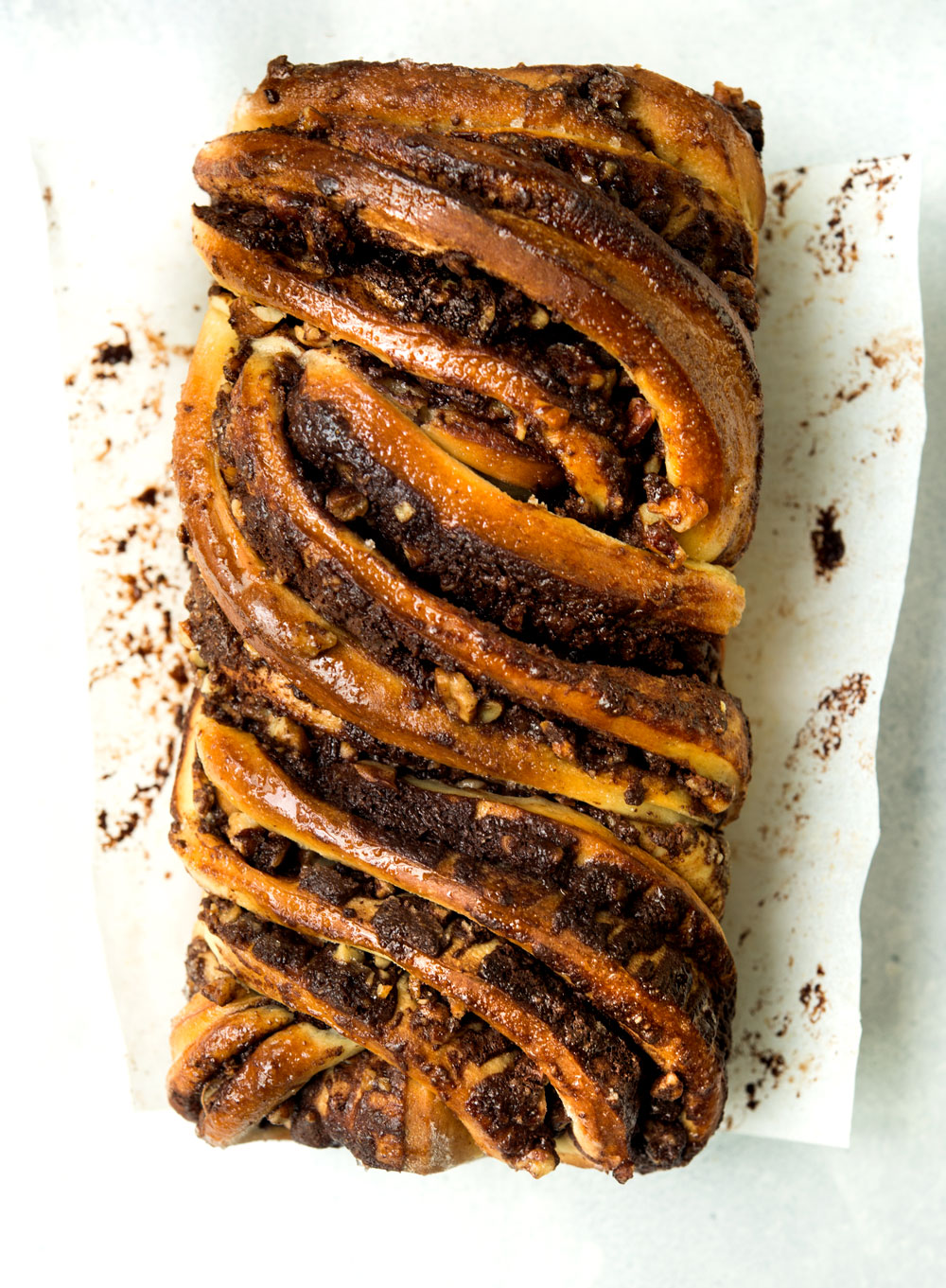 Yotam Ottolenghi's Chocolate Babka (aka Chocolate Krantz)
Makes 2 (extremely addictive and delicious) loaves
FOR THE DOUGH
4 cups (530 grams) all-purpose flour, plus extra for dusting
1/2 cups (100 g) sugar
2 teaspoons fast-rising active dry yeast
Grated zest of 1 small lemon
3 large free-range eggs
1/2 cup (120 milliliters) water
1/2 teaspoon salt
2/3 cup (150 grams) unsalted butter, at room temperature, cut into 3/4-inch cubes plus extra butter for greasing
FOR THE CHOCOLATE FILLING
Scant 1/2 cup (50 grams) confectioners' (powdered) sugar
1/3 cup (30 grams) good quality cocoa powder
4 ounces (130 grams) good quality dark chocolate (~72%), melted
1/2 cup (120 grams) unsalted butter, melted
1 cup (100 grams) pecans, coarsely chopped
2 tablespoons sugar
FOR THE SYRUP
130 grams sugar
180 milliliters water
Place the flour, sugar, yeast, and lemon zest in a stand mixer fitted with the dough hook. Add the eggs and water and mix on low speed for a few seconds, then increase the speed to medium and mix for 3 minutes, until the dough comes together.
Add the salt and then start adding the butter, a few cubes at a time, mixing until it is incorporated into the dough. Continue mixing for about 10 minutes on medium speed, until the dough is completely smooth, elastic, and shiny.
Place the dough in a large, lightly oiled bowl. Cover with plastic wrap and refrigerate overnight.
Grease two (2 1⁄4-pound) loaf pans (9 by 4 inches) with butter and line the bottom of each pan with parchment paper. Divide the dough in half and keep one-half covered in the fridge.
Make the filling by mixing together the confectioners' sugar, cocoa powder, melted chocolate, and melted butter.
Roll out the dough on a lightly floured surface into a rectangle measuring approximately 15 by 11 inches. Using an offset spatula, spread half the chocolate mixture over the rectangle, leaving a 3⁄4-inch border all around. Sprinkle half the pecans on top of the chocolate, then sprinkle with 1 tablespoon of sugar.
Brush a little bit of water along the long end farthest away from you. Use both hands to roll up the rectangle, starting from the long side that is closest to you and ending at the other long end. Press to seal the dampened end. Place seam side down.
With a serrated knife, trim about 3⁄4-inch of dough from both ends and discard. With the same knife, cut the roll into half lengthwise. Place each piece next to each other, cut side up. Intertwine the two pieces, by placing one piece on top of the other and repeating until you get to the end. Gently pinch each end to seal.
Carefully lift the cake into the prepared loaf pan. Cover the pan with a clean, damp tea towel. Repeat the whole process to make the second cake. Let rise in a warm place for 1 to 1 1⁄2 hours. The cakes will rise by 10 to 20 percent.
Preheat the oven to 375F.
Remove the tea towels, place the cakes on the middle rack of the oven, and bake for about 30 to 35 minutes, until a skewer inserted in the center comes out clean.
While the cakes are in the oven, make the syrup. Combine the water and sugar in a saucepan, place over medium heat, and bring to a boil. As soon as the sugar dissolves, remove from the heat and leave to cool down. As soon as the cakes come out of the oven, brush the syrup over the cakes.
Leave the cakes until they are just warm, then remove them from the pans and let cool completely before serving.