I have notebook upon notebook filled with handwritten recipes. Something about writing down the recipes appeals to me…the sequence of events, from cookbook/magazine/computer screen/or where ever else I find inspiration — to brain — to hand — to pen-and-paper, is quite relaxing. When I'm feeling especially creative (and nerdy), I might even get out my colored pencils and sketch out a few recipes. Getting lost in my thoughts in the kitchen or thinking about food is my escape.
Recently, I sat down and went through some of the recipes I had jotted down over the years — recipes that at some point intrigued me, but for whatever reason I never got around to making. This one, a Spinach Yogurt Curry (cheera moru curry), was on the list.
Cheera moru is a Southern Kerala-style Indian curry. Kerala is an Indian state on the south coast of India. I had never previously sampled a yogurt-based curry — it will definitely not be the last time. I particularly enjoyed the creamy tanginess of the yogurt in combination with the array of Indian herbs and spices, balanced by the just the right degree of heat. This curry is simple enough to make and comes together in a matter of minutes.
All ingredients are readily available, with the exception of the fresh curry leaves, which warranted a trip to a local Indian grocer (Patel Brothers). If possible, don't skip the curry leaves, they add a certain herb-y, aromatic quality to the dish. Fried in a little oil, they're highly addictive. That being said, I think this dish would still be tasty without them.
While I didn't include any this time around, I've seen versions of cheera moru that call for grated coconut. Will have to try that, as I will certainly be making this dish again. I've also seen versions using a red spinach (amaranth?) that resulted in a distinctive pink curry. Like anything else, there are variations. No hard-and-fast rules. Cook what you like.
Serve with rice, naan, or roti…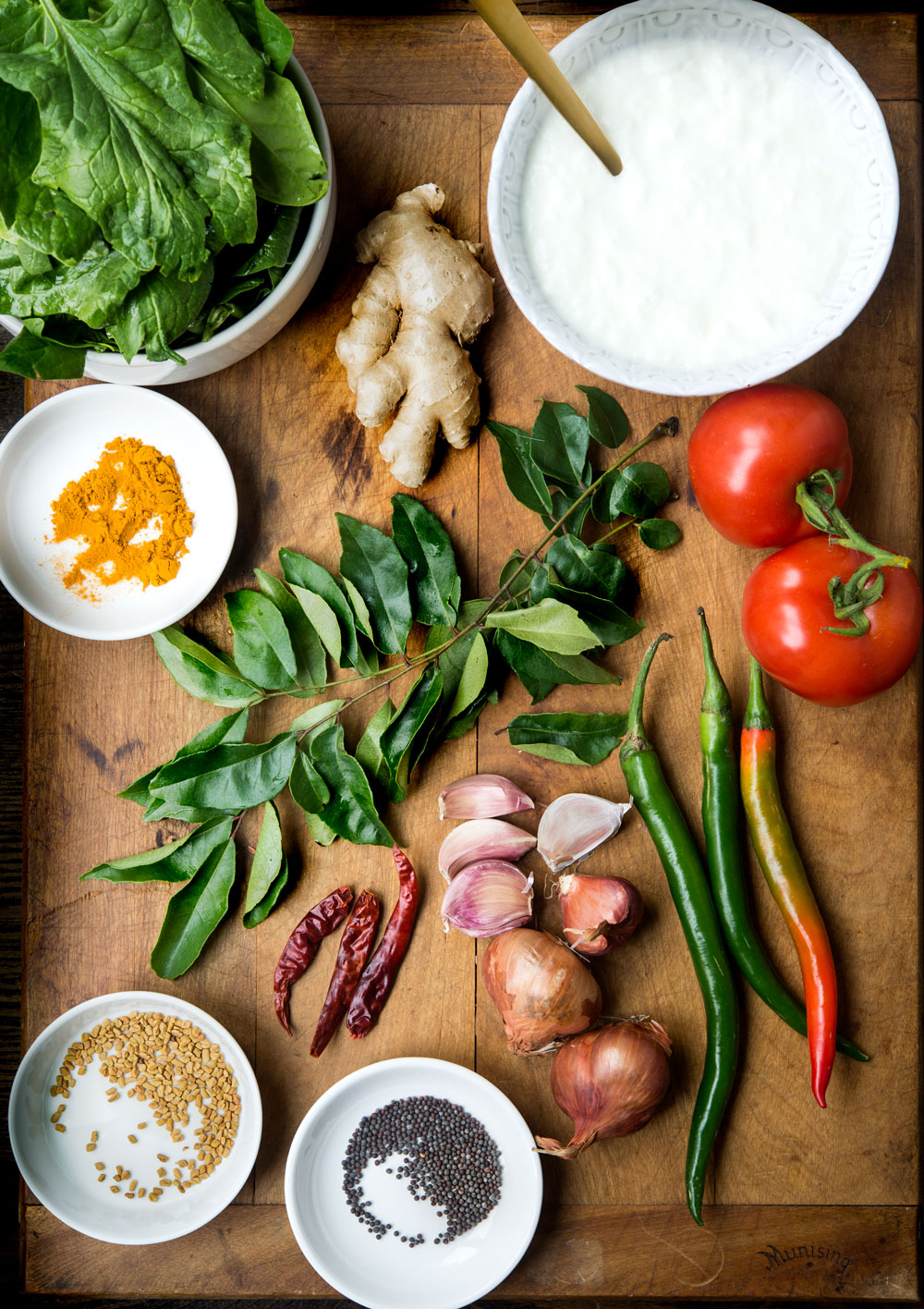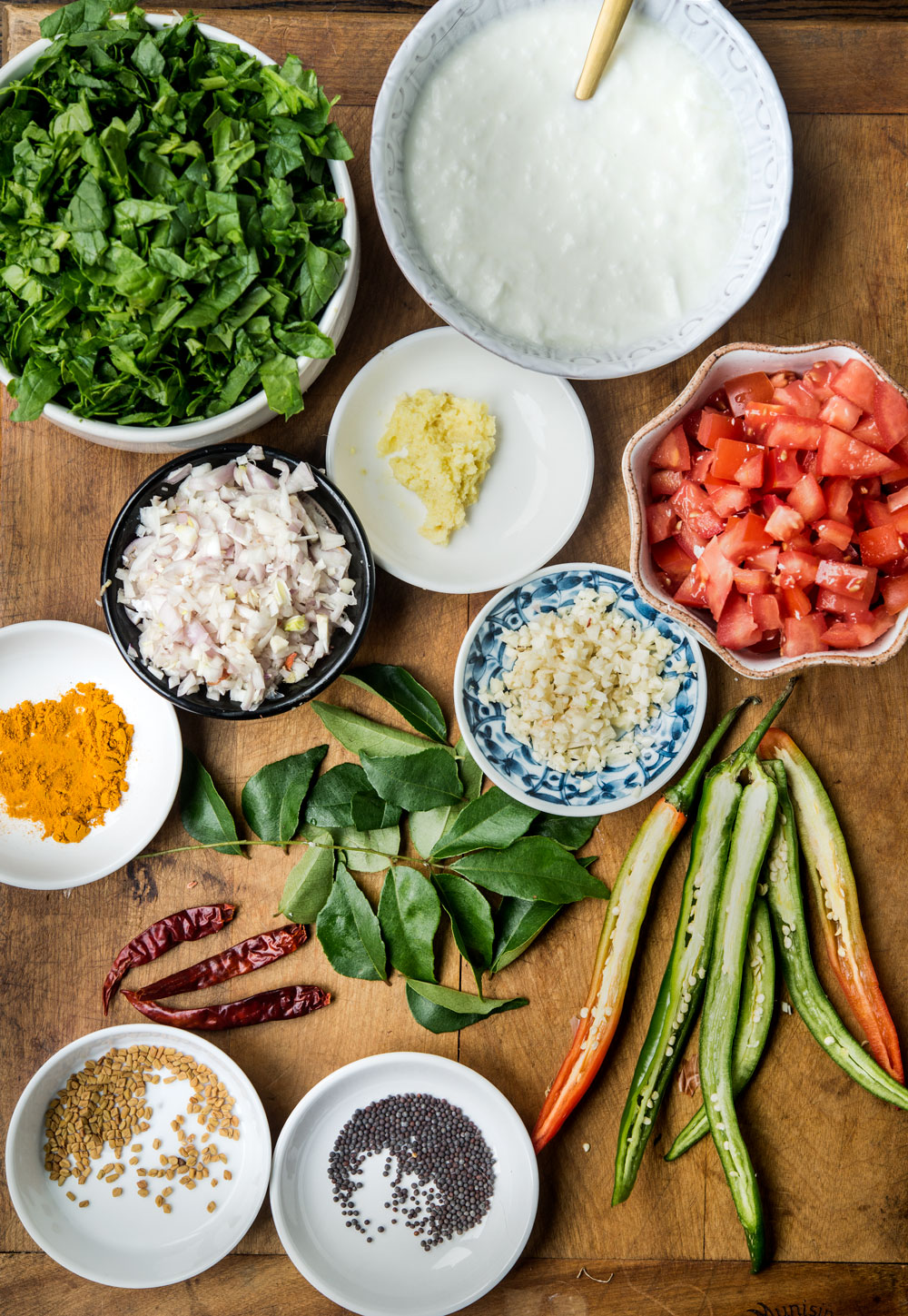 The turmeric stains the yogurt mixture a vibrant shade of yellow…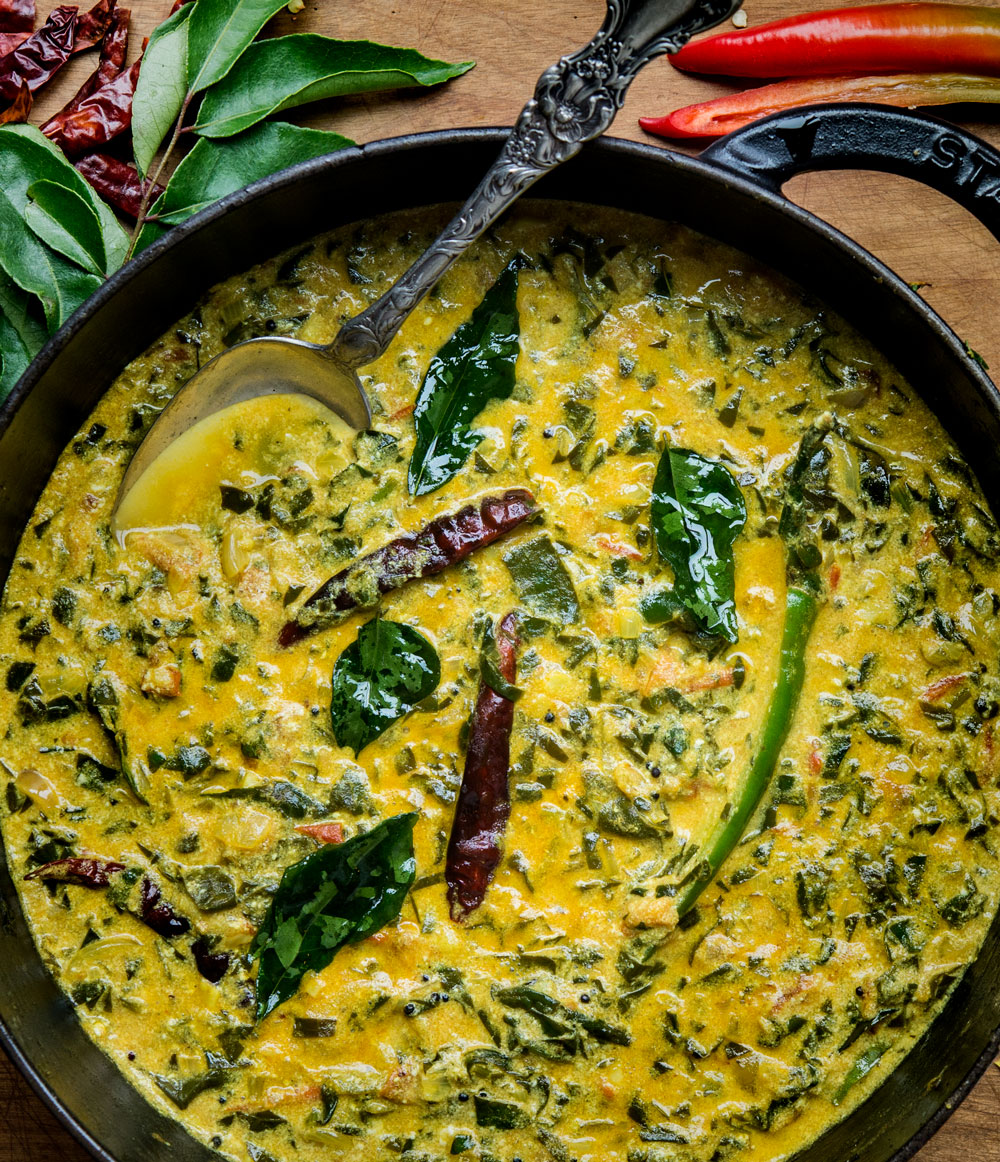 The fresh chiles are sliced in half, so that they impart some heat, but not overwhelmingly so. If you want more heat, you could mince the chiles and add to the curry…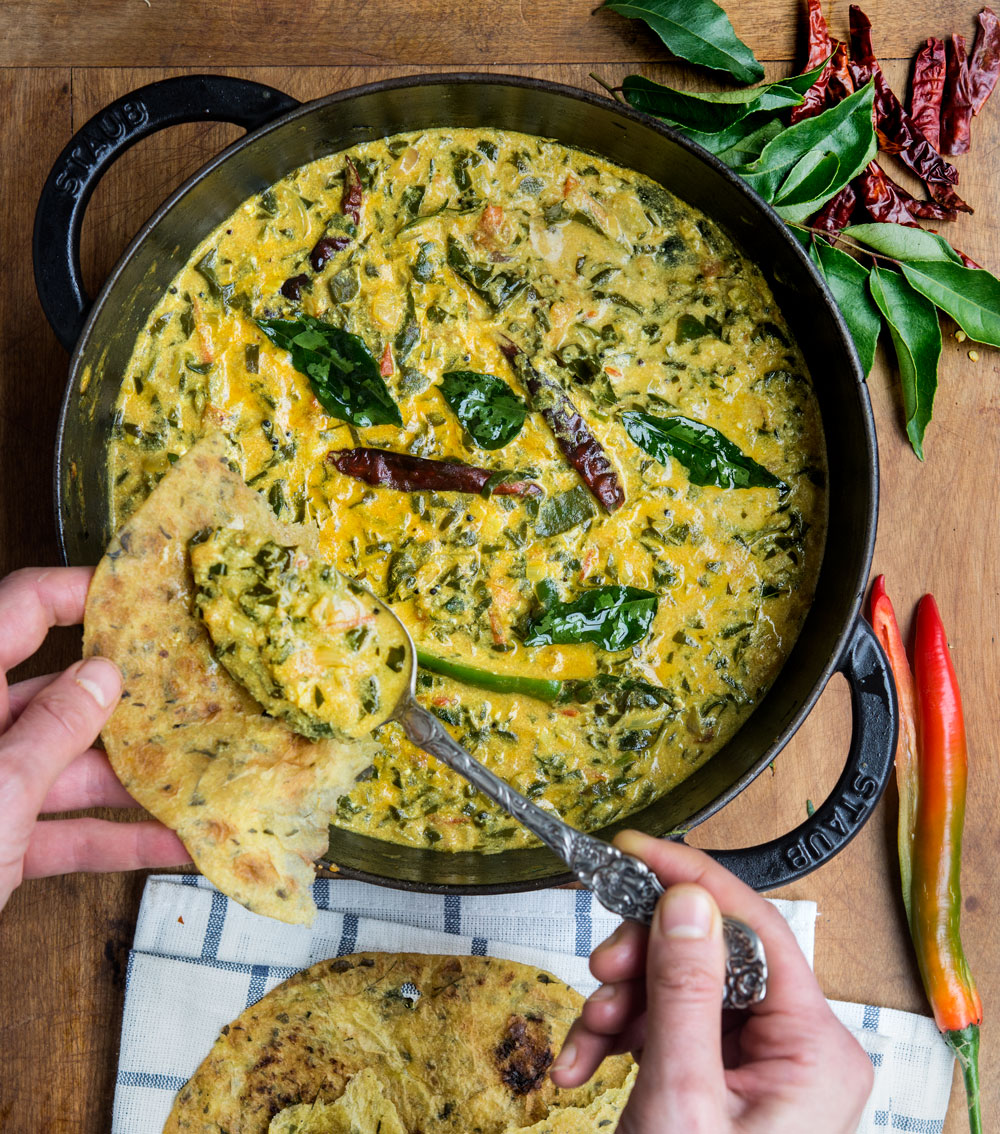 Yogurt Spinach Curry
Serves 4
Adapted from Curry Cuisine
2 tablespoons oil
½ teaspoon mustard seeds
½ teaspoon ground fenugreek
3 garlic cloves, minced
3 dried red chiles
10 curry leaves
3 to 4 shallots, finely chopped
2 to 3 fresh green chiles, sliced in half length-wise
1-inch piece ginger, peeled, grated
2 medium-sized tomatoes, diced
½ tsp ground turmeric
Salt
6 ounces fresh spinach, chopped
10 ounces yogurt
Heat the oil in a large saucepan. When hot, add the mustard seeds. As they begin to pop, add the ground fenugreek. Add the garlic, dried chiles, and curry leaves. Sauté 1 min. Add the shallots, green chiles, and ginger and cook another minute or two.
Add the tomatoes, turmeric, and salt to taste. Mix thoroughly and add the spinach and then cook for 5 mins, stirring occasionally.
Remove the pan from the heat and gradually add the yogurt, stirring slowly and constantly. Set the pan over low heat and warm gently for 3 mins, stirring constantly. Serve warm with rice, naan, or roti.