I have an affinity for big, bold flavors. This Indian-spiced roasted cauliflower checks both boxes and has been a mainstay in my kitchen for years. Herbs and spices are the keys to heightening flavor. Take cauliflower, it's rather bland on its own. Who likes raw cauliflower? Blah.
But add some herbs and spices, roast it in the oven, and you transform the rather mundane cauliflower into something memorable. For this preparation, I used Indian curry powder (any type you like or happen to have on hand will suffice — sometimes I add Vadouvan, a French-ified curry blend), coriander, cumin, chili powder, turmeric, a serrano chile, fresh cilantro, curry leaves, salt and pepper. All drizzled with a good amount of olive oil and roasted along with wedges of red onion until browned and tender. A key step is to finish with a splash of red wine vinegar when the roasted cauliflower comes out of the oven. The vinegar adds just a touch of needed acidity. Lastly, garnish with chopped cilantro.
Today, I decided to take it one step, actually, two steps, further. First, I toasted some sliced almonds in a dry skillet until nice and toasty, and then sprinkled them over the roasted cauliflower. Second, I whipped up a yogurt, curry leaf, and mustard seed chutney. I dig the savory, cooling yogurt with the Indian-spiced cauliflower.
A word about curry leaves…
What I love most about cooking (and eating) is discovering new flavors and dishes. Curry leaves are one of those intriguing ingredients that I stumbled upon somewhere along the way.
Curry leaves are incredibly aromatic. They have a taste and aroma all their own. Can't quite put my finger on the flavor profile of curry leaves other than to say their flavor is quite distinct. Upon reading that curry leaves are a member of the citrus family, I wasn't entirely surprised. They have a subtle, citrus quality to them.
Curry leaves are common in South Indian cooking, though are completely unrelated to your traditional curry spice blend. Typically, curry leaves are quickly sizzled in hot ghee or oil along with spices and other aromatics. Toasting the leaves heightens their aroma and infuses flavor into a dish. Toasted curry leaves can be incorporated into salads, rice, lentils/dals, chutneys, seafood, chicken. Unlike a bay leaf, which is used solely to add flavor to a dish, toasted curry leaves are completely edible. Fresh curry leaves (very important to buy them fresh given that they lose their flavor when dried) are readily available at Indian grocery stores (I buy mine at Patel Brothers; they have multiple locations scattered throughout the United States).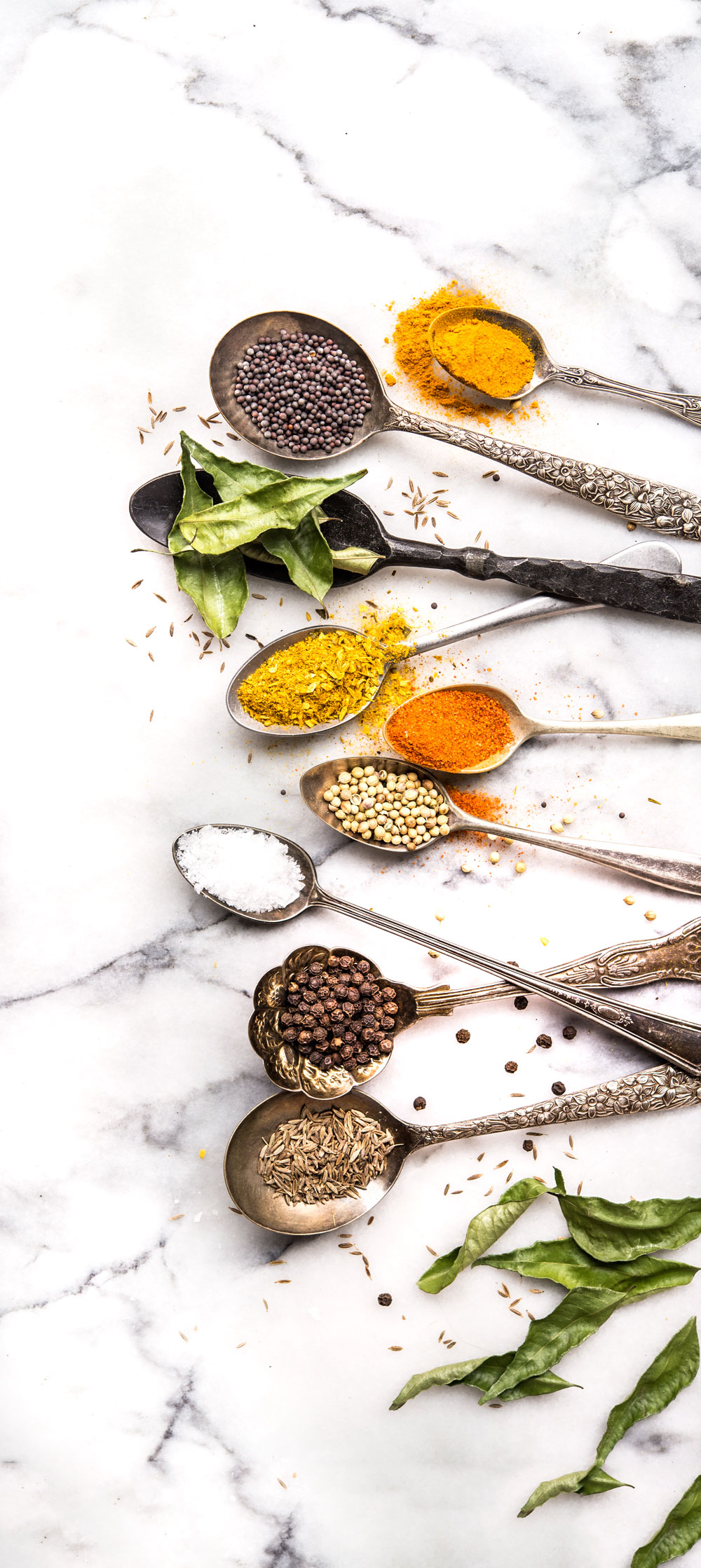 To bring out the flavor of whole spices, it's best to toast them in a dry skillet until lightly toasted and aromatic, and then grind them into a powder.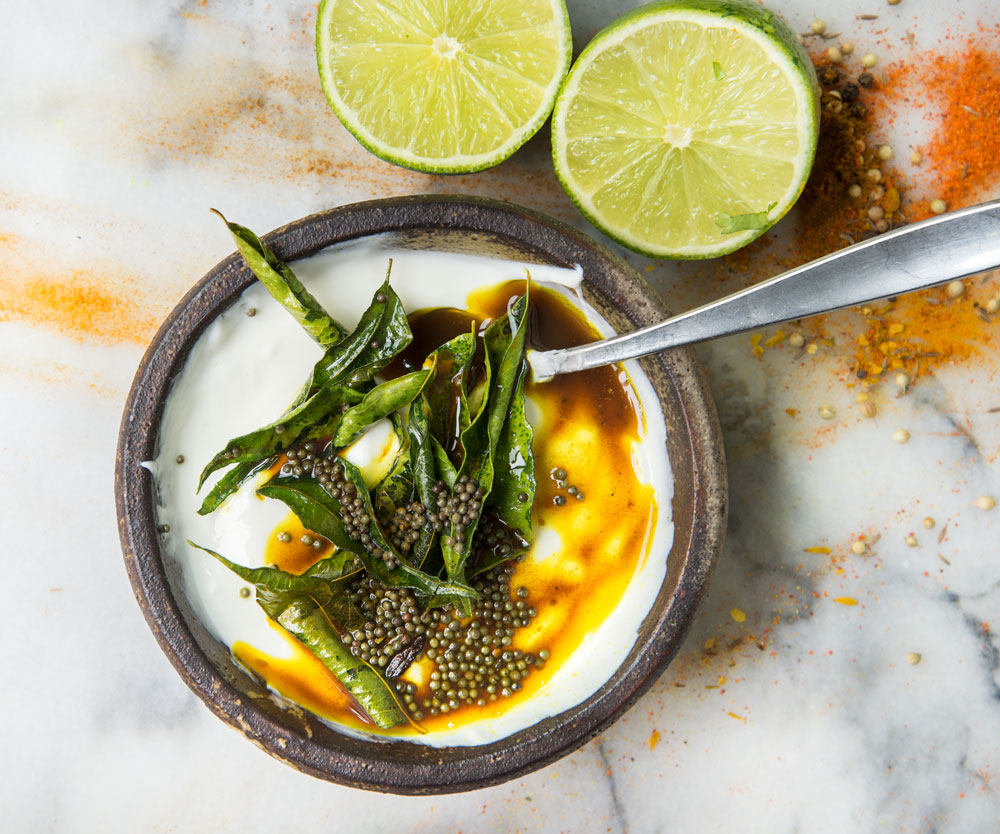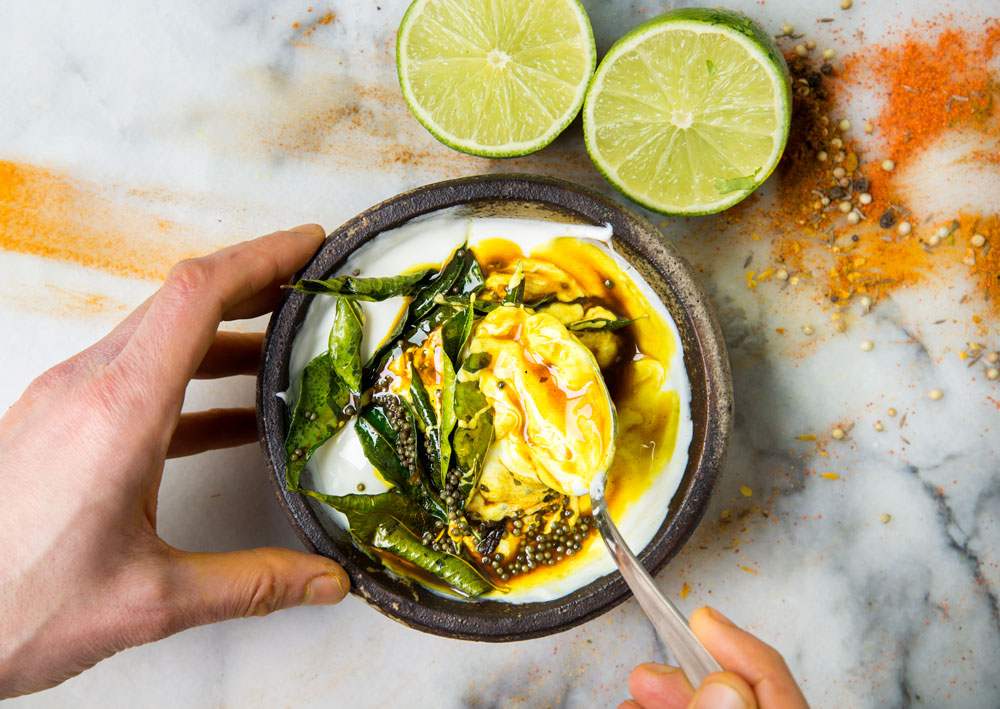 I love the combination of the cooling yogurt-curry leaf-mustard seed chutney with the warm, spiced, roasted cauliflower….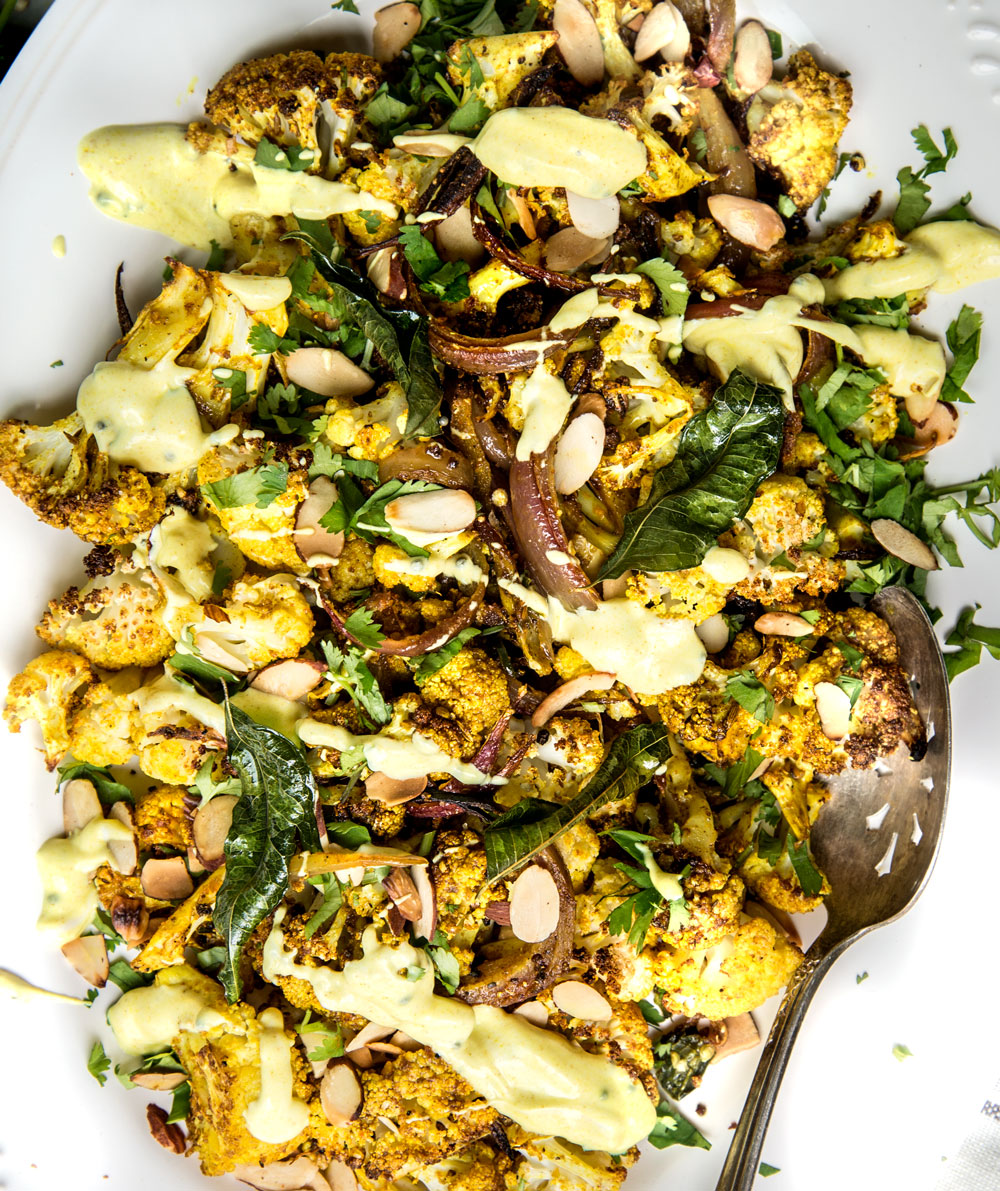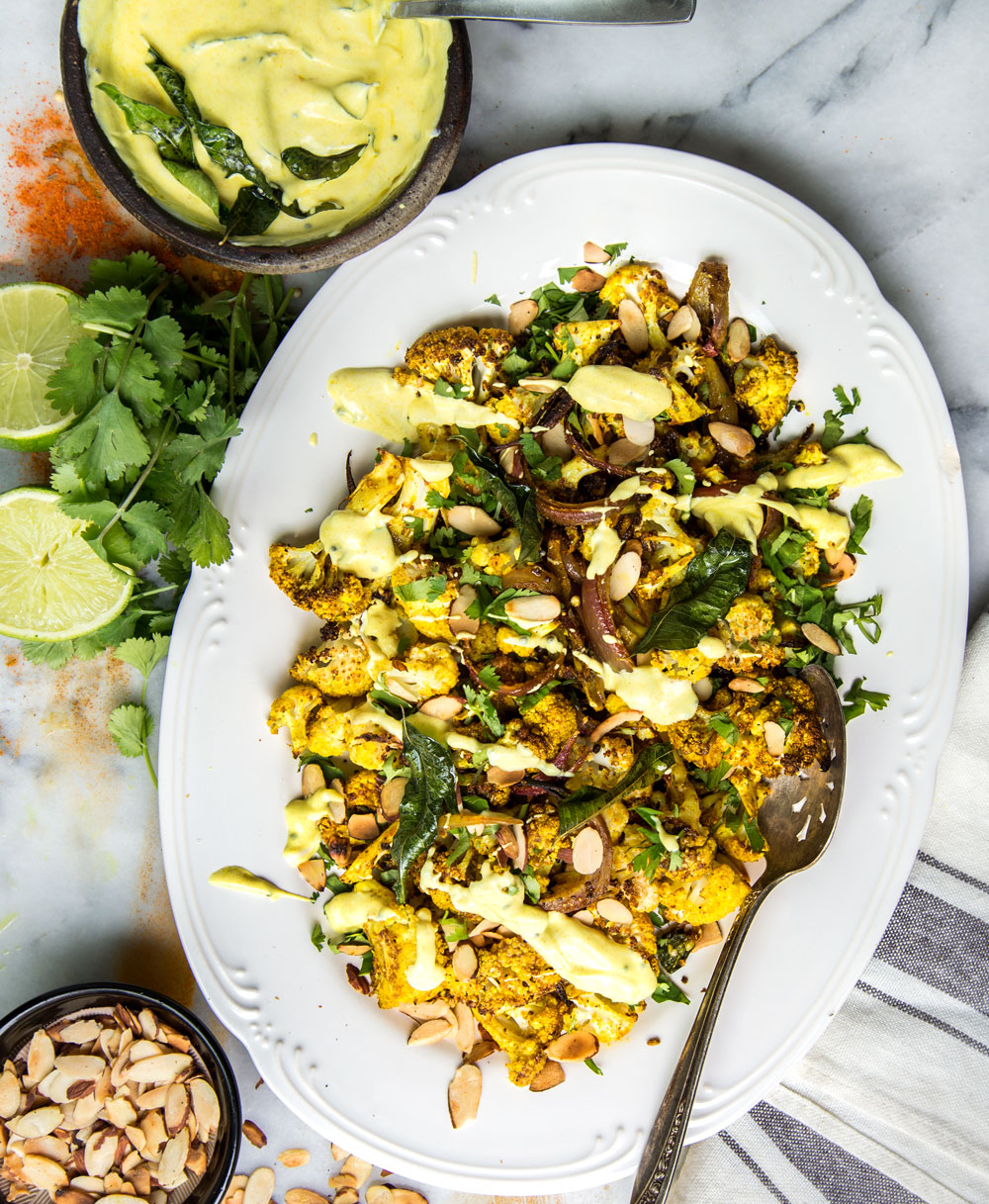 Indian-Spiced Roasted Cauliflower
1 large head of cauliflower, chopped into bite-sized florets
1 medium red onion, sliced into thin wedges
1 serrano chile, minced (optional)
1 tablespoon Indian curry powder
1 teaspoon coriander seeds, *toasted and ground (see note below on toasting seeds)
1 teaspoon cumin seeds, *toasted and ground (see note below on toasting seeds)
1 teaspoon ground turmeric
1/2 teaspoon Indian chile powder, such as deggi mirch
salt and pepper
1/4 cup olive oil, more or less as needed to coat the cauliflower
Splash of red wine vinegar
chopped cilantro for garnish
sliced raw almonds, **toasted, for garnish (see note below on toasting almonds)
yogurt-curry leaf-mustard seed chutney (recipe below)
Preheat the oven to 425F.
In a large bowl, combine the cauliflower florets, onion, chile, and spices. Season with salt and pepper. Drizzle with olive oil and toss to coat. Spread the cauliflower on a large baking sheet. Roast for about 45 minutes, until the cauliflower is tender and browned in spots.
Remove from the oven and add a splash of red wine vinegar. Place in a large serving bowl. Garnish with cilantro and toasted almonds. Serve with the yogurt-curry leaf-mustard seed chutney.
*To toast whole spices: Heat a dry small pan over medium heat. When the pan is warm, add the whole spices. Shake the pan around to prevent the spices from burning. Toss until they smell fragrant and toasty (watch closely making sure they don't burn). Remove the spices from the pan. When cool, grind in a spice grinder or with a mortar and pestle.
** To toast sliced almonds: Heat a dry pan over medium heat. When the pan is warm, add the sliced almonds. Shake the pan to prevent the almonds from burning. Toss until they take on a slightly golden hue and smell toasty. Toasting the almonds intensifies their nutty flavor. Transfer the almonds to a bowl to cool.
Yogurt, Curry Leaf, Mustard Seed Chutney
1 tablespoon olive oil
1 teaspoon black mustard seeds
9-12 curry leaves
1/2 teaspoon ground turmeric
1 cup (full-fat) Greek yogurt
lime juice to taste
sea salt
Heat the olive oil in a skillet. Add the mustard seeds and cook until they begin to pop. Add the curry leaves and turmeric, and cook until the curry leaves are crispy, a minute or so (watch closely making sure the leaves don't burn). Add the spice-curry leaf mixture to the yogurt. Season with lime juice and salt. Stir to combine.