I am a big fan of Naomi Duguid's cookbook Burma: Rivers of Flavor. When I think about the types of food I most enjoy, those featured in her book immediately come to mind. Humble and fresh at their base, with layer upon layer of flavor.
Today, I've prepared two salads from Duguid's book (both slightly altered to my taste). Some of the flavors overlap, yet the two dishes are different enough.
The first salad: shredded duck (took a shortcut and bought a roasted duck from Chinatown; although, leftover shredded chicken would work too) with raw and crispy shallots, roasted chickpea flour, mint, and cilantro in a lime-shallot oil-chile dressing. I crisped up the duck skin and added it to the salad (why not?).
The second salad: sautéed greens with raw and crispy shallots, crispy fried garlic, red chile, roasted chickpea flour, roasted peanuts, and shrimp powder (from dried, ground shrimp) with a lime-fish sauce dressing. Duguid's recipe calls for briefly boiling the greens, but I decided to sauté them in some of the shallot-infused oil I prepared the previous day. While by no means indigenous to Burma, I used kale. Its hearty leaves stand up to the bold flavors in the dish, though any type of greens would work, perhaps spinach, mustard greens, collard greens, or Asian greens (such as gai lan/Chinese broccoli).
I love all the roasty and toasty flavors, as well as the crunchy and crispy textural elements, in these salads. There's nothing boring about these salads.
It's a bit of work to fry all the shallots, garlic, and the like, but definitely worth the effort. If you've never had fried shallots you're in for a treat. They're delicious and addictive. I prepared these ingredients a day in advance such that composing the salads took a matter of minutes.
On the other hand, photographing these salads took the better part of the morning (as I ponder 'why oh why do I continue to keep this food blog going?' ). A labor of love. If nothing else, my hope is that today's post will inspire you to embrace new flavors and get in the kitchen and cook (just as Naomi Duguid did for me). Thanks Naomi. You've transported me to a place that I hope to experience first-hand one day.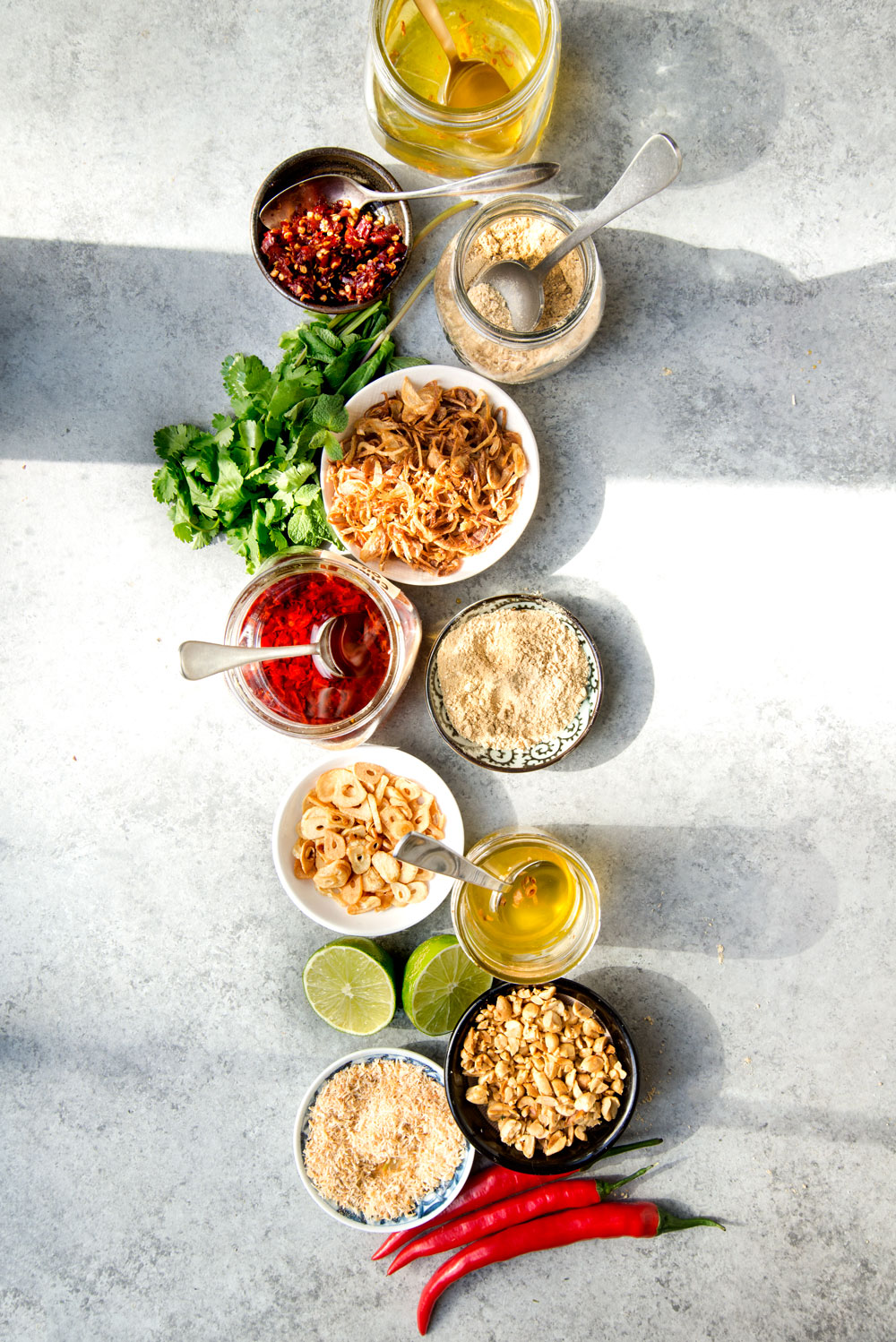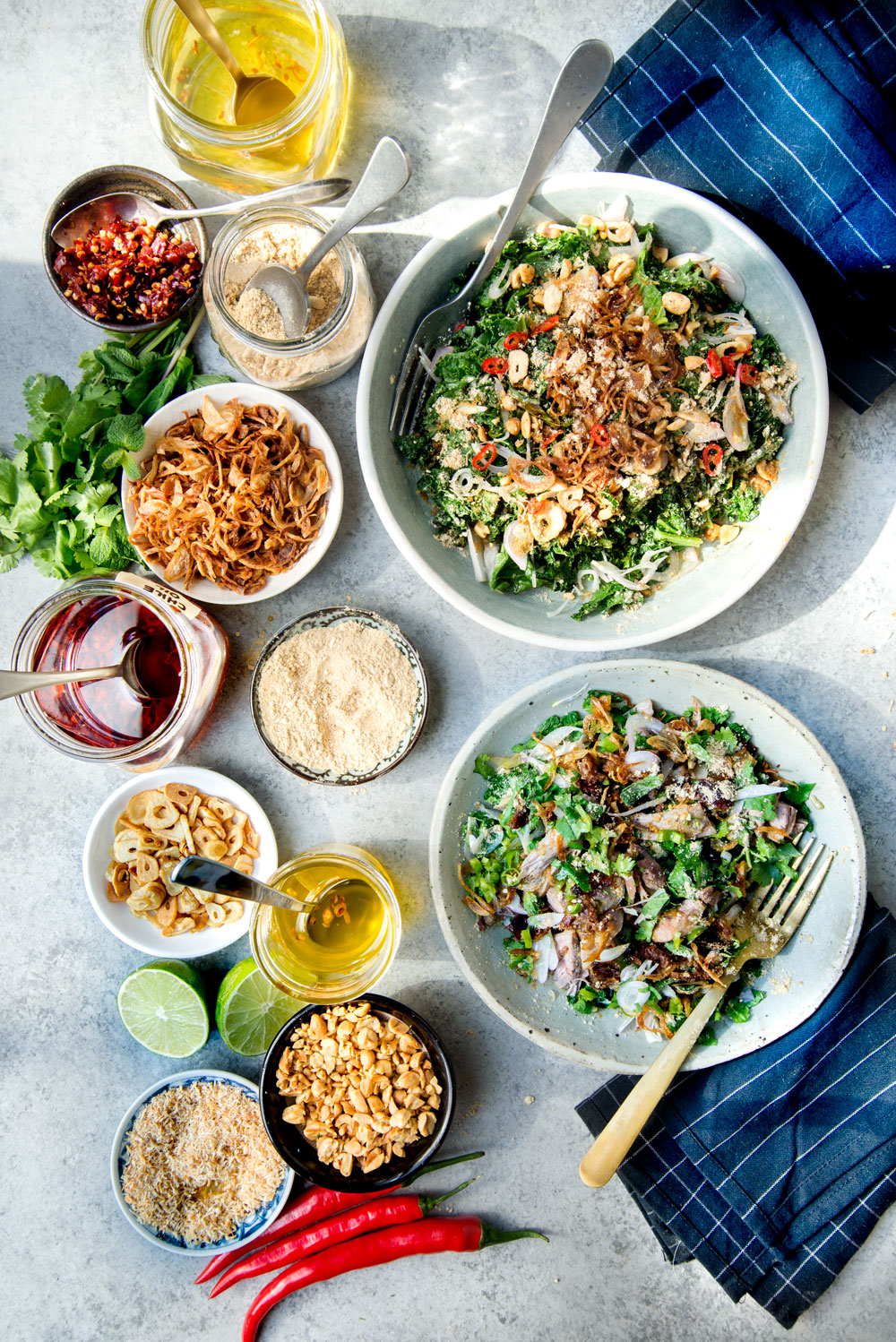 I served the two salads with brown rice accompanied by plenty of extra toppings, fresh chopped herbs (cilantro and mint), and the infused-oils (shallot, chile, and garlic. I like to spoon a little of this and a little of that into the rice…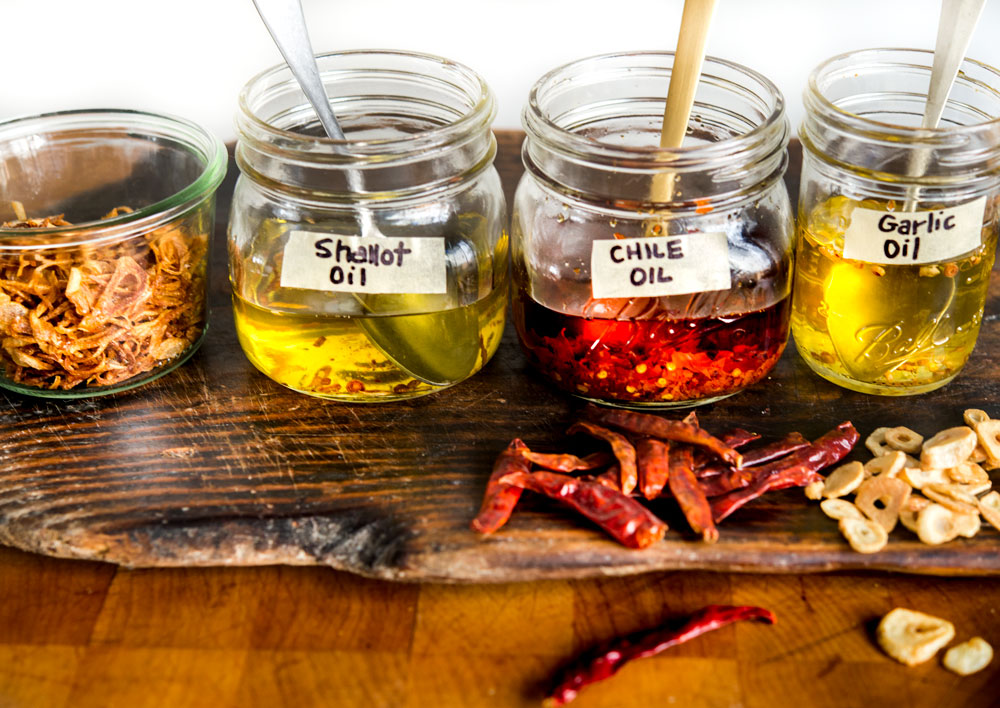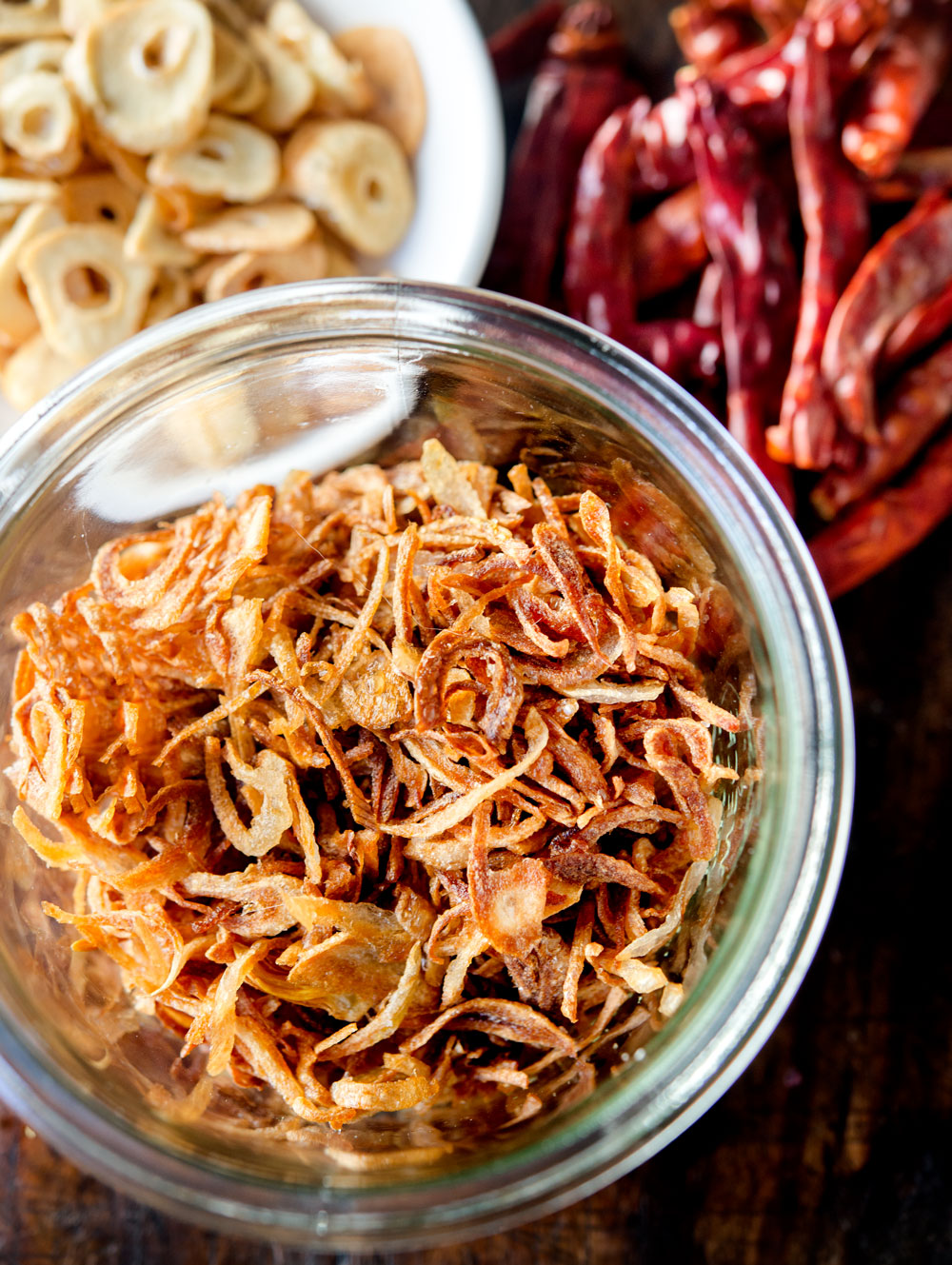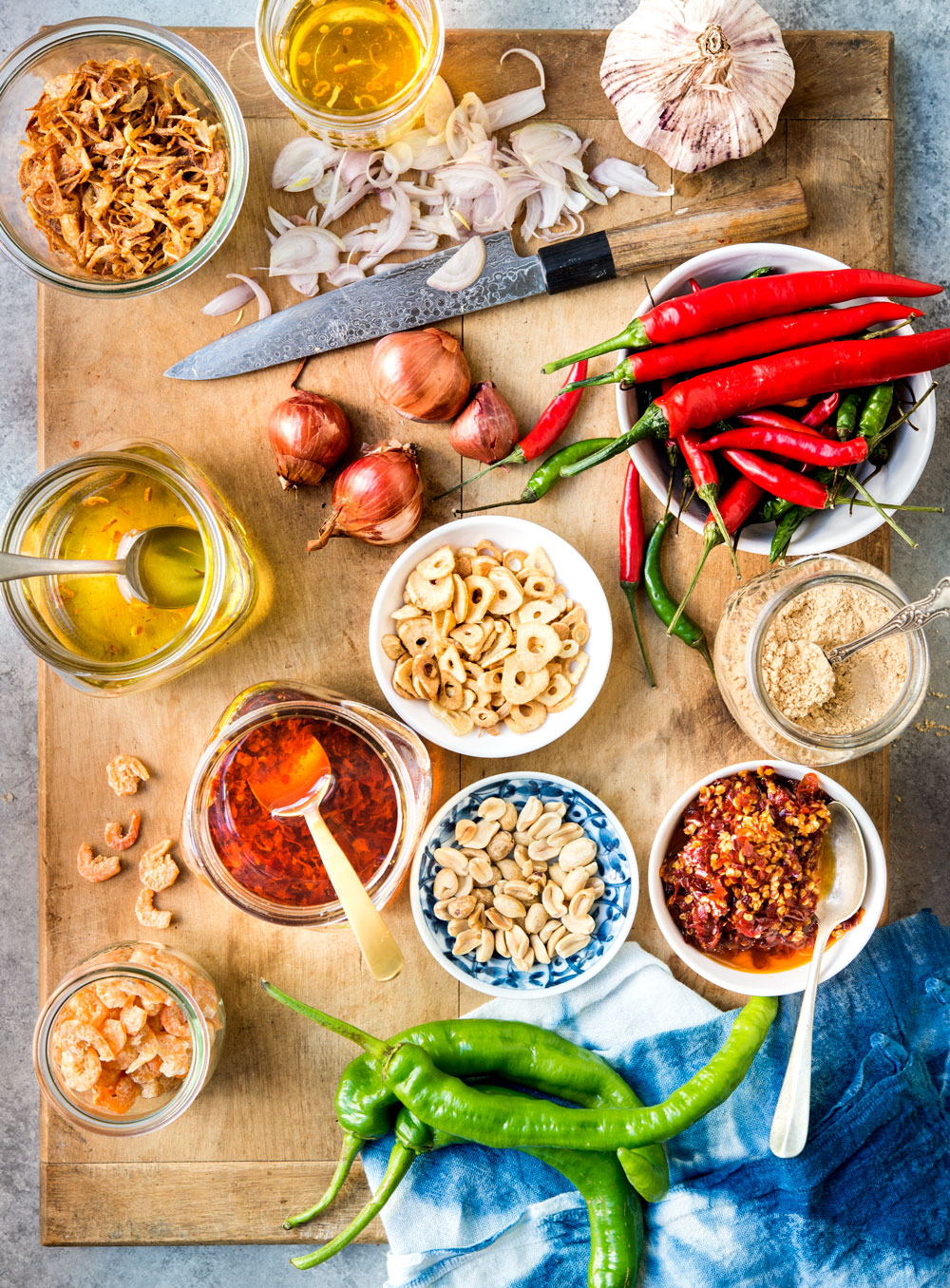 Burmese-inspired duck salad…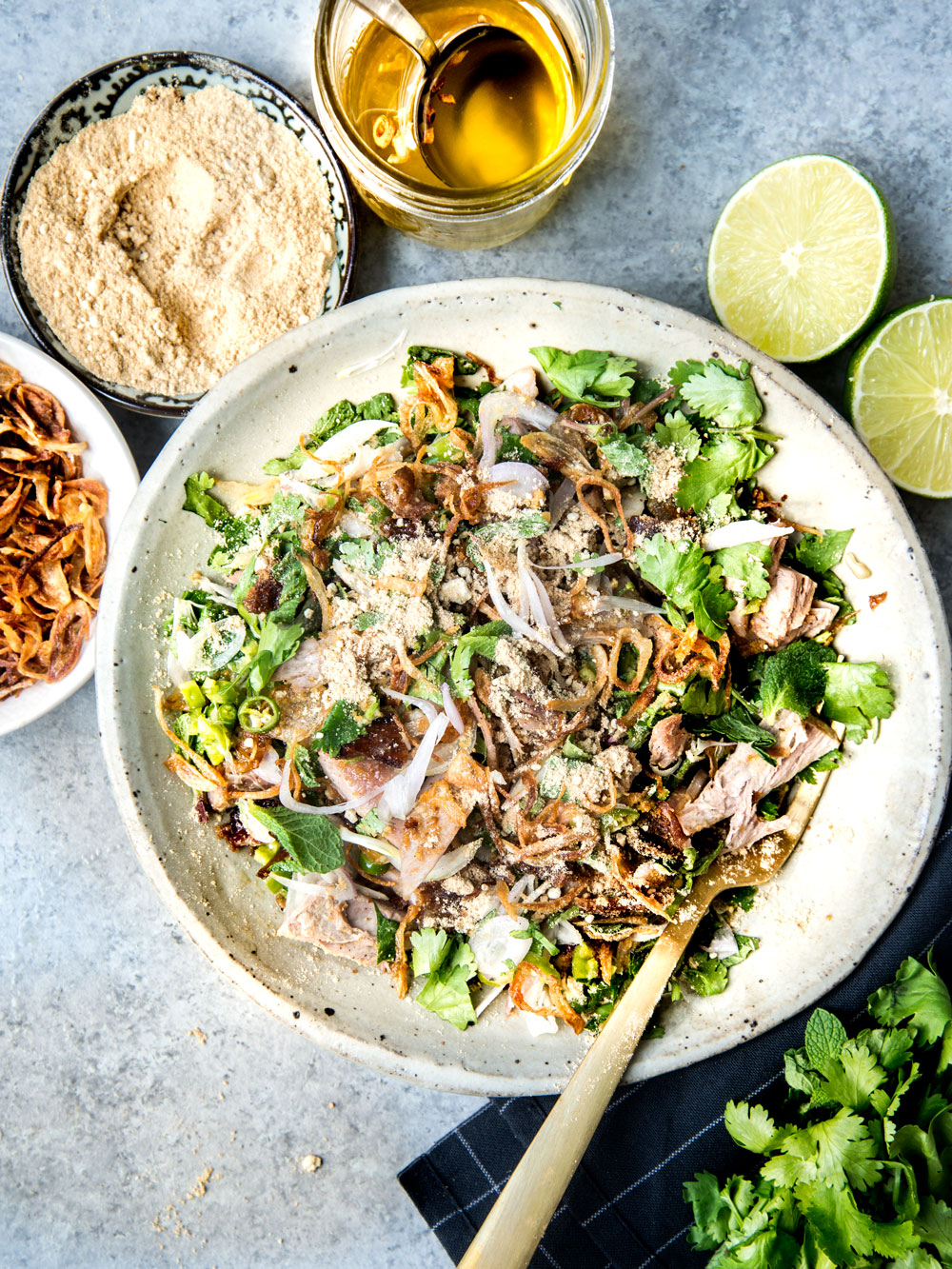 Burmese-inspired kale salad…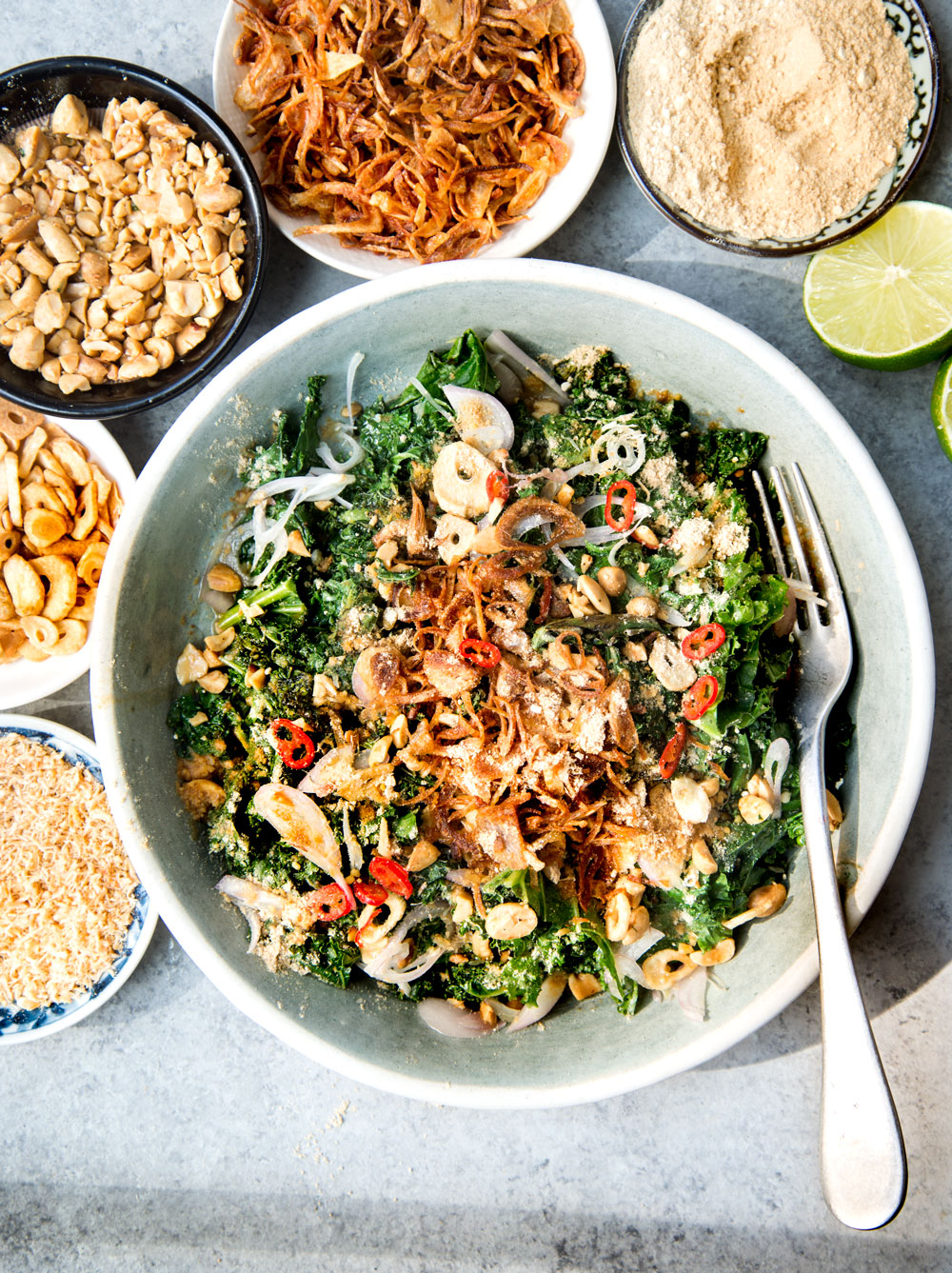 Burmese-Style Shredded Duck (or Chicken) Salad
2 tablespoons lime juice
2 teaspoons shallot oil (instructions below)
2 teaspoons minced green chiles, such as cayenne, Serrano, Jalapeño, or Thai
1/2 duck or chicken, shredded
1/3 cup thinly sliced shallots, soaked in cold water for 10 minutes, drained and dried (helps to remove its sharp bite)
1/4 cup chopped cilantro
1/4 cup chopped mint
1 tablespoon toasted chickpea flour (instructions below)
1 to 2 tablespoons fried shallot (instructions below)
Combine the lime juice, shallot oil, and green chile in a small bowl. Let sit for 10 minutes.
Combine the shredded duck, shallots, cilantro, and mint in a serving bowl. Add the lime-shallot dressing and toss to combine. Just before serving, sprinkle the chickpea flour over the salad and pile the fried shallot on top.
Burmese-Style Kale Salad with Crispy Shallots and Garlic Chips
2 tablespoon shallot oil, divided (instructions below)
1 large bunch of kale, stems removed, roughly chopped
salt
2 tablespoons thinly sliced shallots, soaked in cold water for 10 minutes, drained and dried (helps to remove its sharp bite)
2 tablespoons fried garlic (instructions below)
1 to 2 tablespoons dried shrimp powder
2 tablespoons chopped roasted peanuts
2 tablespoons lime juice
1 tablespoon fish sauce
2 tablespoons fried shallots (instructions below)
Heat 1 tablespoon shallot oil over medium heat. When hot, add the kale, season with salt, and saute until tender.
Combine the cooked kale, shallots, fried garlic, shrimp powder, and roasted peanuts in a bowl. Add the remaining tablespoon of shallot oil, lime juice, and fish sauce. Toss to combine. Mound the fried shallots on top and serve.
Fried Shallots and Shallot Oil
1 cup of oil, such as grape seed or peanut
2 cups of thinly sliced shallots, sliced length-wise
Heat a heavy wide deep skillet or wok over medium-high heat. Add the oil. Add a slice of shallot. When the oil is hot and the shallot sizzles, add the rest of the sliced shallots and decrease the heat to medium. Keep a very close eye on the shallots. Continue to cook until the shallots turn golden brown, about 10 to 13 minutes, decreasing the heat if the shallots begin to take on too much color. With a slotted spoon or spider, transfer the shallots onto paper towels laid over a drying rack to drain. Store in an air-tight container, in a cool, dark place.
Fried Garlic and Garlic Oil
1/3 cup garlic, sliced about 1/4-inch thick (you want to slice the garlic a bit on the thicker side, since it cooks faster and has a tendency to burn)
1/2 cup oil, such as grape seed or peanut
Use the same method as the shallot oil, though the entire process should take only 5 minutes or so.
Toasted Chickpea Flour
1 cup chickpea flour
Place a cast-iron or heavy skillet over medium-high heat. Add the flour and with a wooden spoon, stir until the flour starts to toast. Lower the heat to medium if it starts to brown too quickly, keeping a close eye on the flour. Continue stirring. After 6 to 7 minutes the flour will start to change color. Lower the heat a little if it takes on too much color and continue to stir until golden brown and aromatic. Remove from the heat and stir for another minute in the pan to cool. Transfer to a bowl to cool. Store in an air-tight container.