Within the past few days, I've cleaned out my local grocer of their supply of blood oranges. I can't get enough of them. Wasn't planning on doing anything in particular with them, save for enjoying them. Not everything needs to be blogged about, right? Well, that was a short-lived notion.
When I sliced open the blood oranges, I couldn't help but to reach for my camera and snap a few photos. They're innate beauty (i.e., their striking purplish-red color) makes them naturally photogenic. But then I needed other citrus for my photo, so I went back to the store and came home with cava cava oranges, mandarin oranges, and something called a minneola tangelo (which is apparently a cross between a tangerine and grapefruit/pomelo). Also picked up a bag of Meyer lemons for future plans. Coming soon: a Japanese condiment called yuzu kosho, which is made from yuzu [a Japanese citrus] yest) and chiles, but instead of yuzu zest, which is nearly impossible to find, at least here in the States, I used the zest of Meyer lemons and mandarin orange.
With a plethora of citrus on hand, why not make something? And if I'm going to make something, why not write about it? And so it goes…
I used some of the blood orange for this tasty salad/grain bowl along with quinoa (that I crisp up in a skillet), thinly shaved raw and pan-roasted fennel, kale, radicchio, red onions, toasted walnuts, and toasted applewood smoked dulse (also crisped up in a skillet with a little olive oil). All dressed with a miso-soy dressing. By the way, dulse is a new discovery of mine. It's a type of seaweed, which gets crispy and takes on a faint bacon-y flavor when pan-fried.
As for the leftover blood orange I juiced and made granita (a semi-frozen Italian ice dessert). Last week, when I had the idea for granita, it was 60F such that it seemed appropriate. The following day, it snowed and was frigid, go figure. Nonetheless, tasty and refreshing.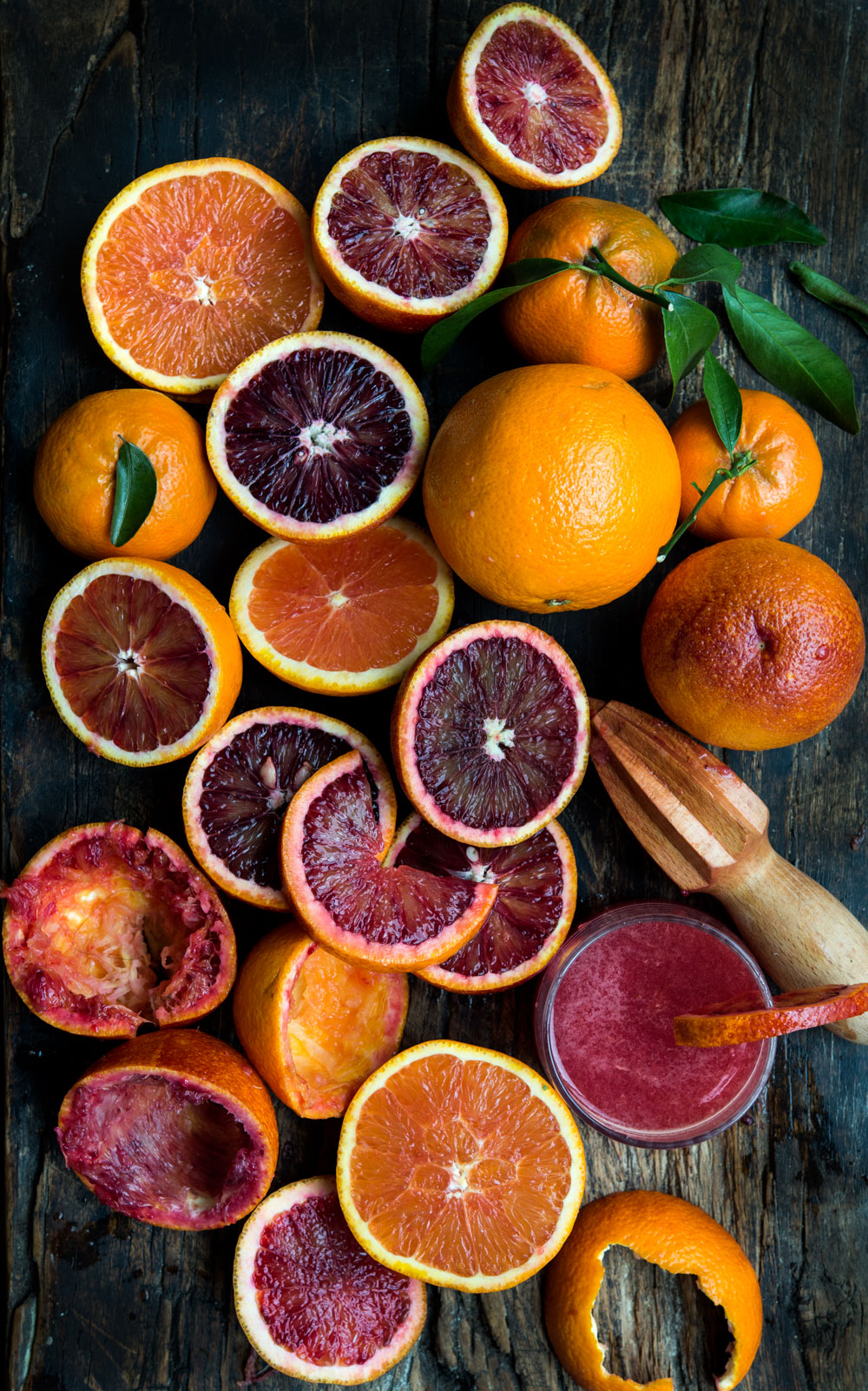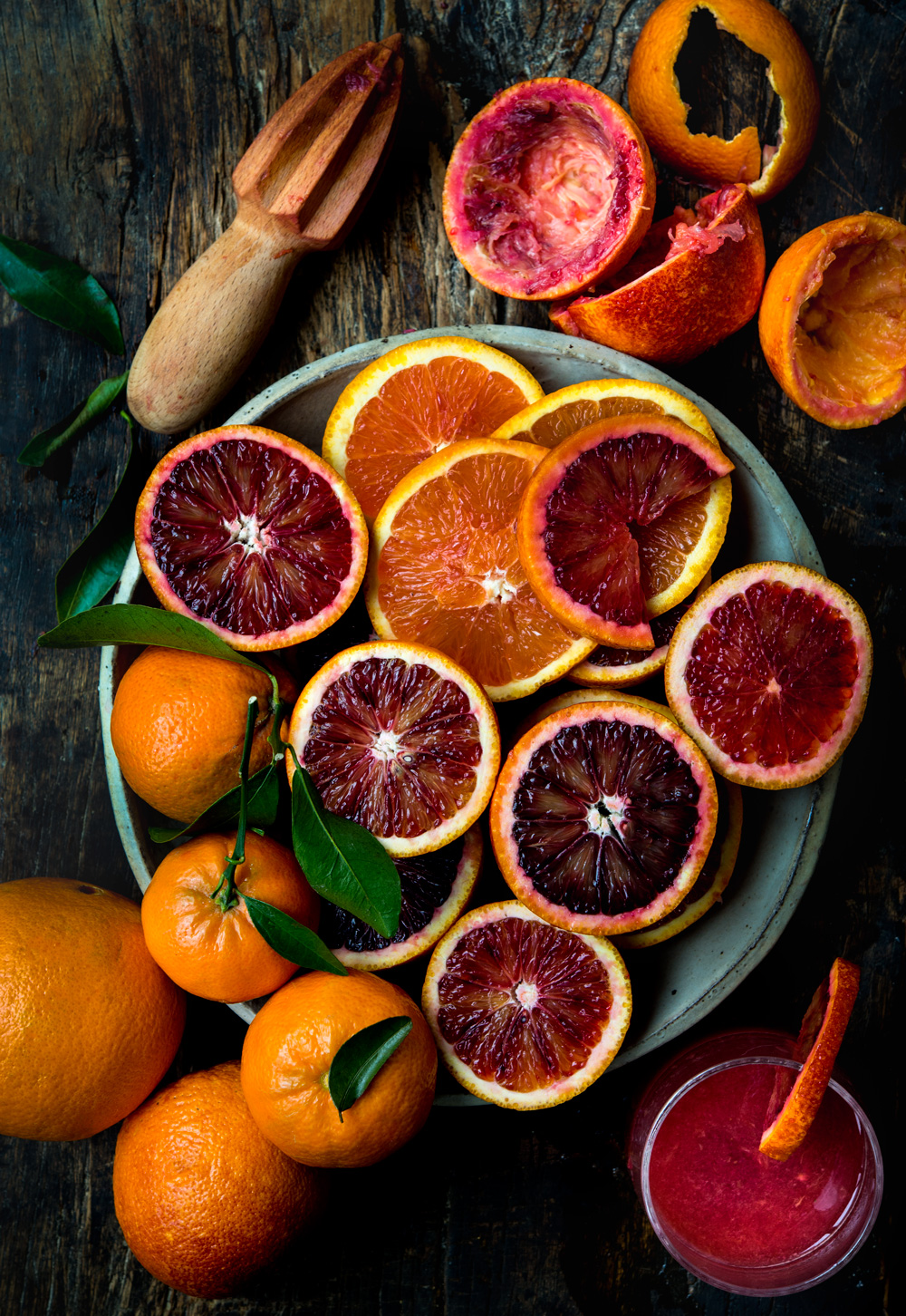 Blood Orange, Fennel, Quinoa Salad with Crispy Dulse and Toasted Walnuts with a Miso Dressing…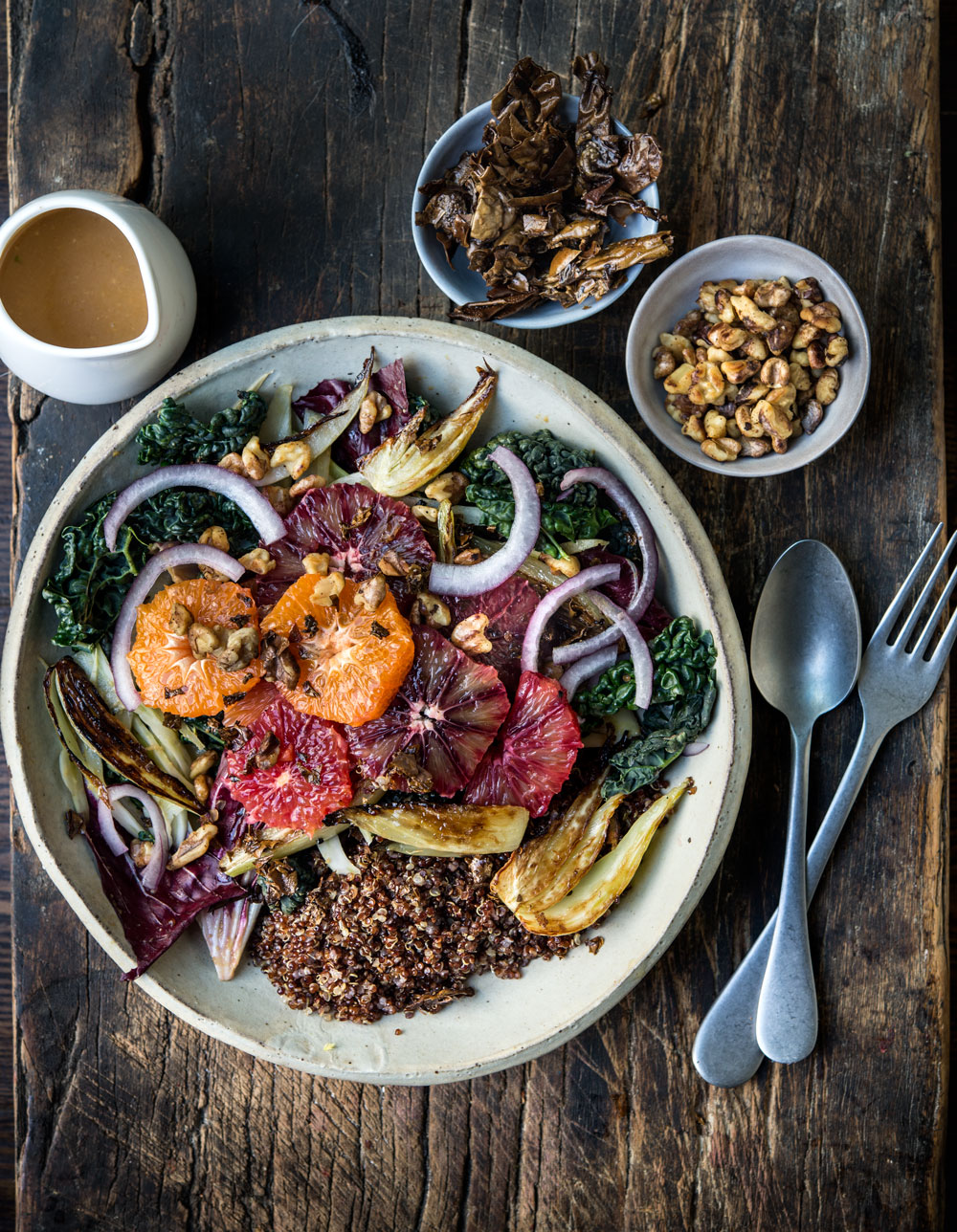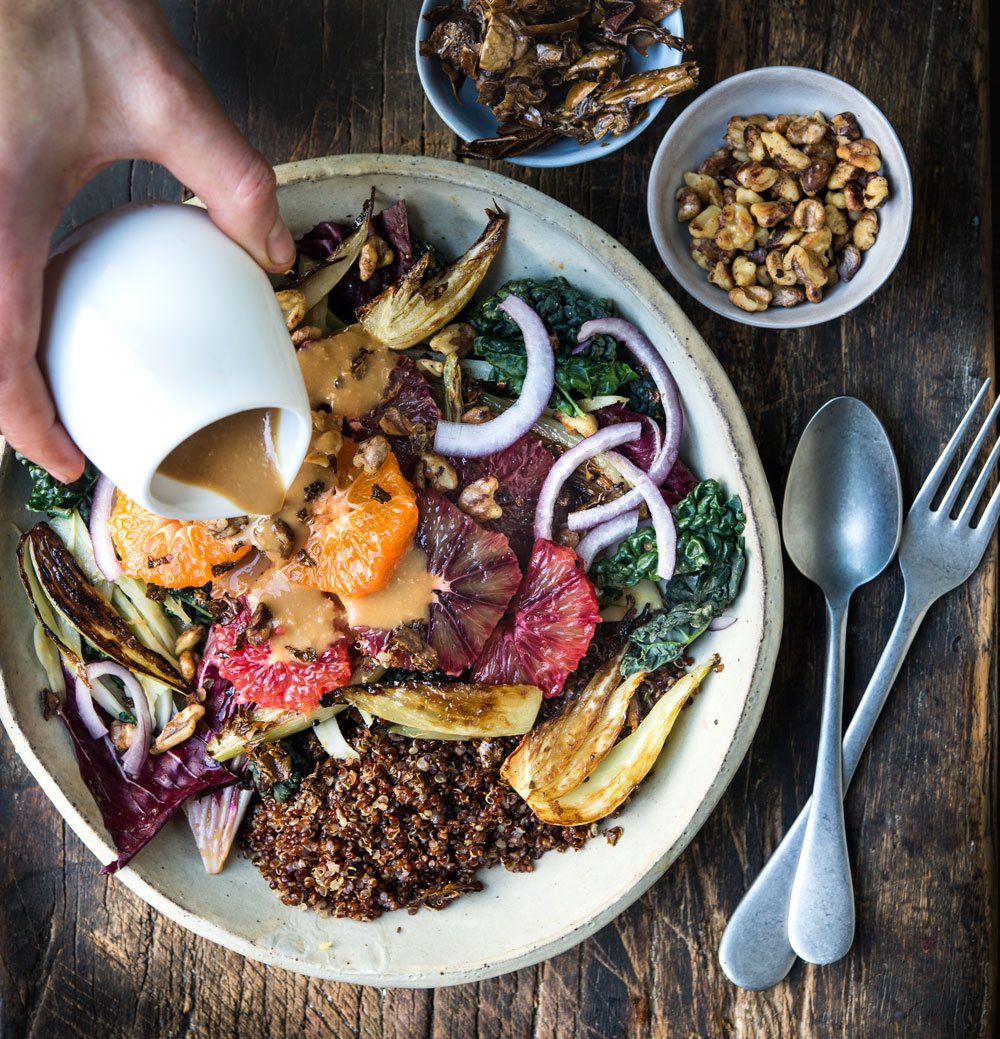 Blood orange granita, sweetened with a little maple syrup, with a pinch of sea salt…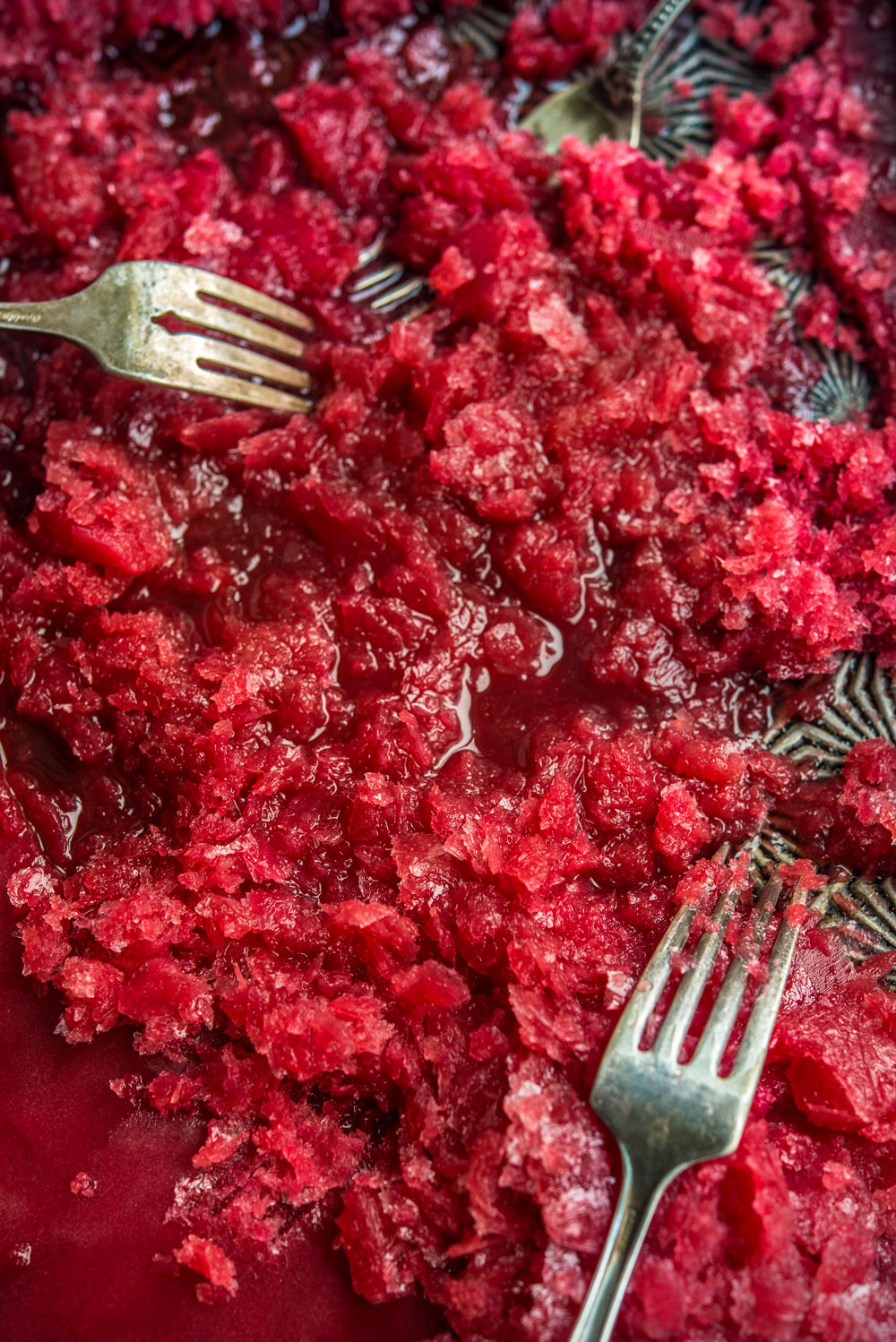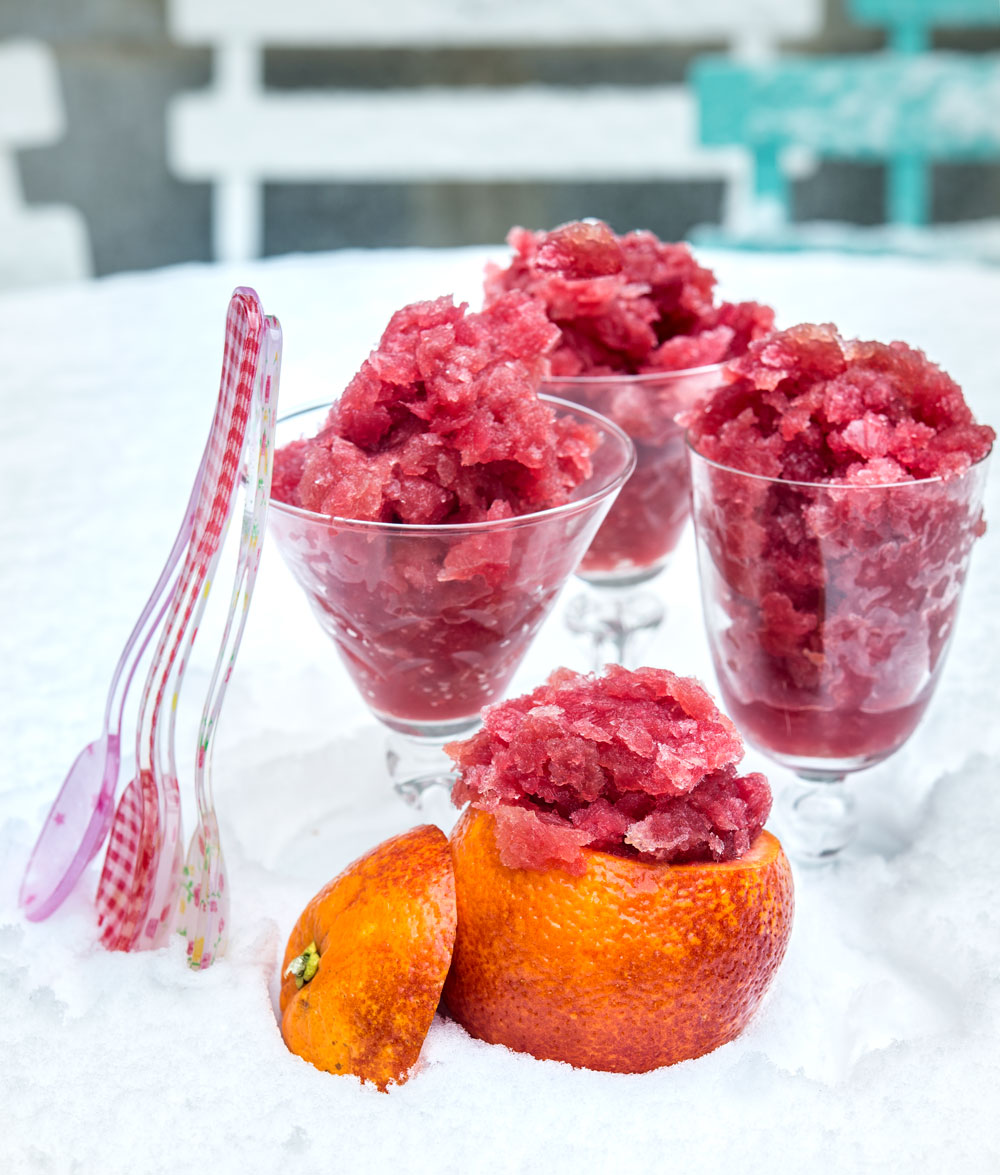 Blood Orange, Fennel, Quinoa Salad
3 tablespoons olive oil, divided
1 cup *cooked quinoa (note: 1 cup dried quinoa yields about 3 cups cooked; refer to instructions below on how to cook quinoa)
toasted applewood smoked dulse
1 head of fennel, halved lengthwise
sea salt
1 small bunch kale, stems removed, roughly chopped
1 head radicchio, roughly chopped
1/2 small red onion, thinly sliced (I like to rinse raw onion under cold water to take out its sharp bite)
miso dressing (recipe below)
blood orange (cava cava orange, and/or mandarin orange), sliced cross-wise into 1/4-inch rounds, peels removed
toasted walnuts
Heat 1 tablespoon of olive oil over medium-high heat in a large skillet. When hot, add the cooked quinoa and saute for about 3 to 5 minutes until dry and crisp. Set aside to cool.
To toast the pulse. Heat 1 tablespoon of olive oil in a skillet. When hot, add a handful of dulse and saute until crisp, about 1 to 2 minutes. Set aside to cool.
For the fennel, slice one-half very thin and set aside. Slice the other half into thin wedges. Heat 1 tablespoon of olive oil in a skillet. When hot, add the fennel wedges, season with salt, and cook until browned and caramelized. Turn and cook until the other side is browned and caramelized. Set aside to cool.
Combine the kale, radicchio, onion, raw and roasted fennel in a bowl. Toss with enough dressing to coat leaves.
Place a scoop of crispy quinoa in each bowl. Layer dressed vegetables in bowl. Add a few slices of orange. Drizzle a little more dressing on top as needed. Top with toasted pulse and walnuts.
*How to cook quiona: Rinse quinoa with a fine-mesh sieve under cool water. This removes quinoa's natural coating, called saponins, that can impart a bitter or soapy taste. Drain and transfer to a medium pot. Add water (you want a 2:1 ratio of water to quinoa), salt (1/4 teaspoon per cup of quinoa), and bring to a boil. Cover and reduce heat to low. Simmer for 15 minutes. Remove the pot from the heat and let stand covered for 5 minutes (no peeking). Fluff with a fork and enjoy!
Miso Ginger Soy Dressing
2 tablespoons red and/or white miso (used 1 tablespoon white and I tablespoon red)
2 tablespoons rice wine vinegar
1 tablespoon tamari or soy sauce
1 teaspoon ginger, grated
1 small garlic, grated
1 ½ teaspoons sesame oil
1 teaspoon mirin
Add all ingredients to a bowl, along with 2 tablespoons water. Whisk until well combined.
Blood Orange Granita
2 cups blood orange juice
1/3 cup maple syrup
pinch of flaky sea salt
Combine the blood orange juice, maple syrup, and salt in a bowl. Stir to combine. Pour the mixture into a 9 x 13 baking dish. Place in the freezer for 30 minutes.
Stir the mixture very thoroughly with a fork and allow it to freeze for another 30 minutes. Repeat this process every 30 minutes, scraping the edges and breaking up any ice chunks, until the mixture resembles fluffy shaved ice, about 3 to 4 hours.