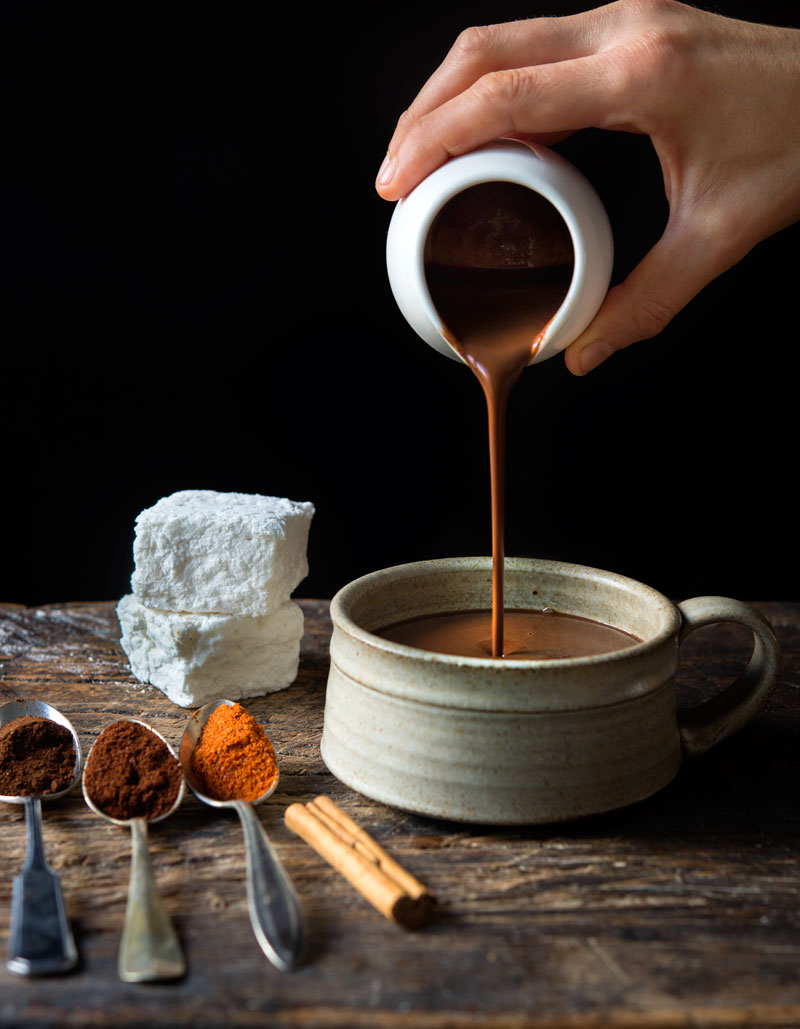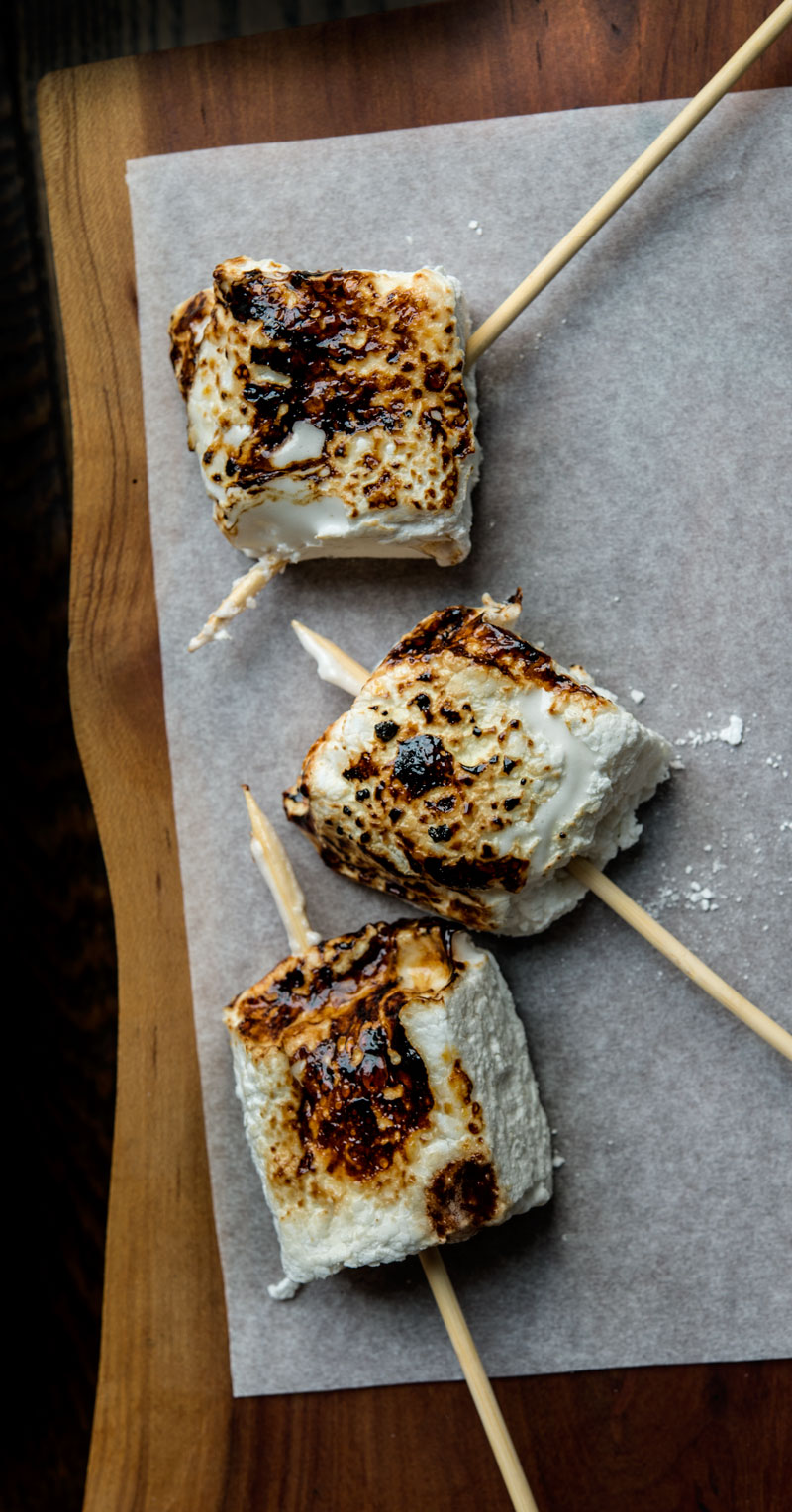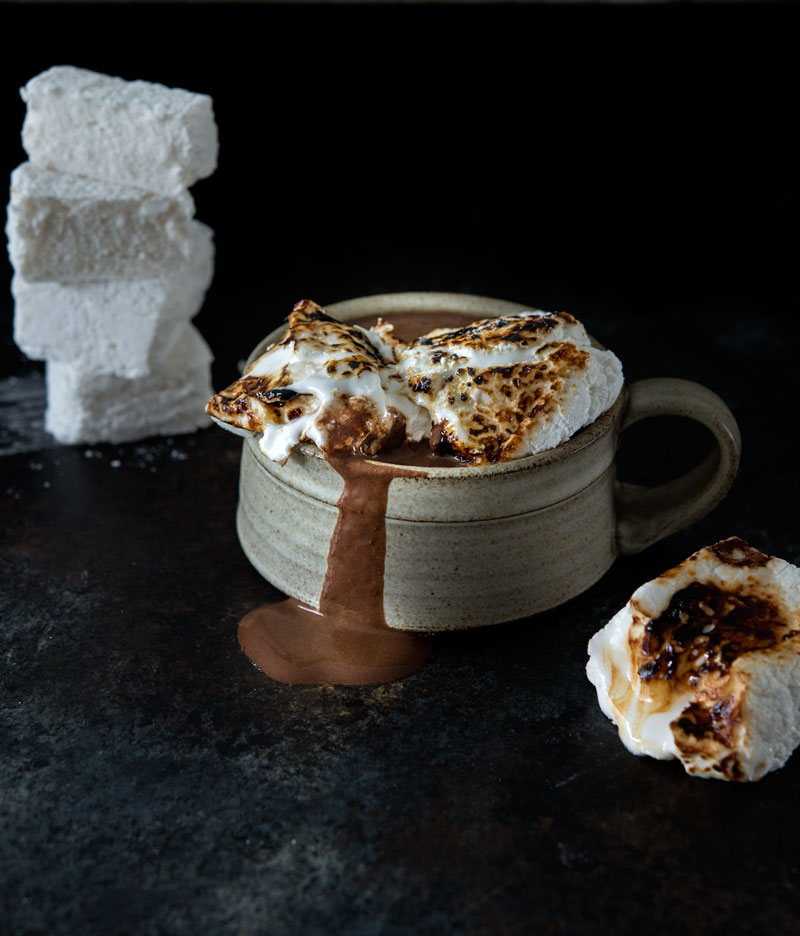 Even though it's been hovering around 80 degrees in Philadelphia the past couple of days (in mid-October), can we pretend for just a moment that it's a brisk fall/wintry day. Let's set the mood — brrr it's cold, perhaps a flurry or two, and you're sitting in front of the fireplace (if you have one, which I do not), with a good book (I'm about 60 pages into this book, but have to say, thus far, it's not captured my interest like the previous three; perhaps I just need to give it more time?). And, a mug of hot chocolate in hand.
Growing up, hot chocolate in our house was Swiss Miss with freeze dried marshmallows. And I loved it. But times change. When I had my first sip of thick, hot chocolate in Barcelona, Spain, everything I knew about hot chocolate went out the window. This was not the hot chocolate of my youth. Oh, no. This hot chocolate is ultra chocolate-y (chocolate is the first ingredient). And decadent (read: chocolate coma). And irresistible. I was hooked.
This hot chocolate is made with dark (85% cacao) Valrhona chocolate, honey, a dash of pure vanilla extract, a pinch of cinnamon, and water. If you like, you can spice it up with the addition of ground chile pepper (such as ancho, chipotle, or guajillo, or a combination of the three).
The marshmallows might be overkill, but I couldn't resist. Who doesn't like marshmallows in their hot chocolate? Even better if you toast them over an open flame.
Or, skip the marshmallow and add a dollop of whipped cream.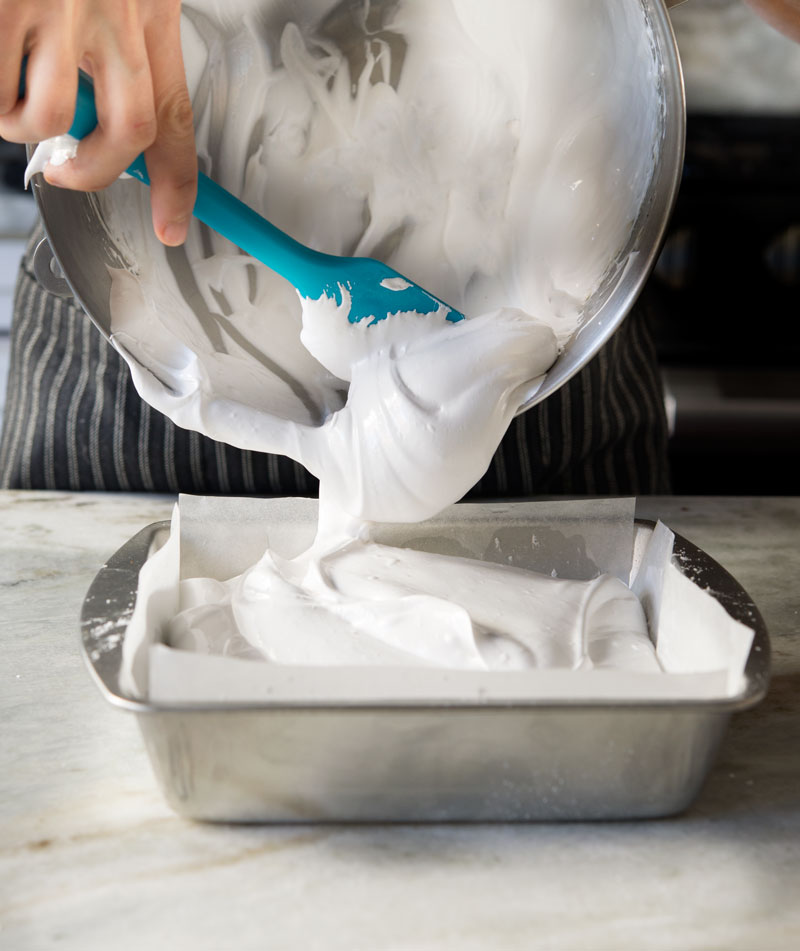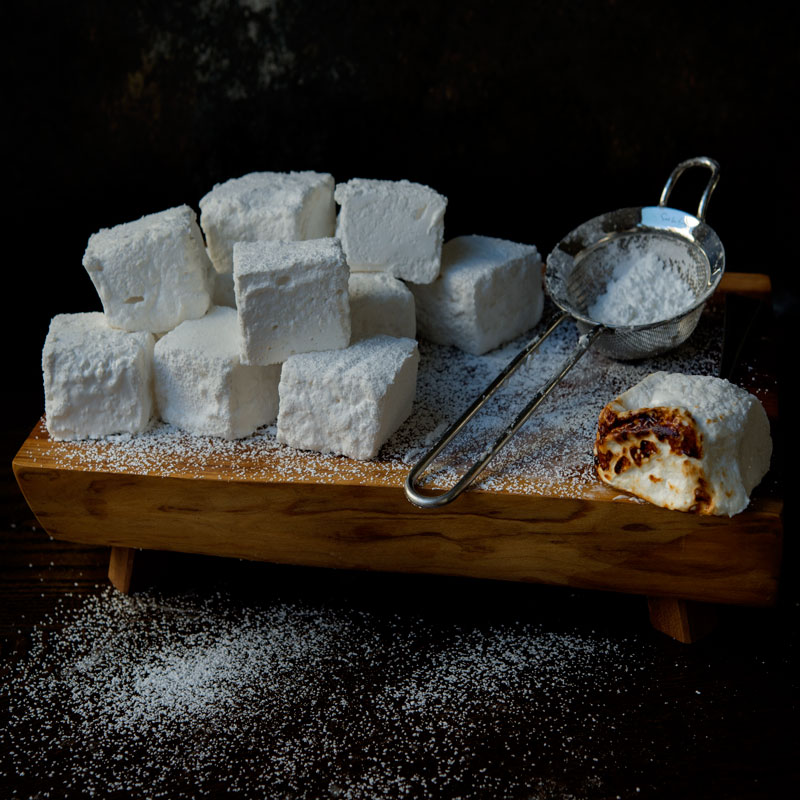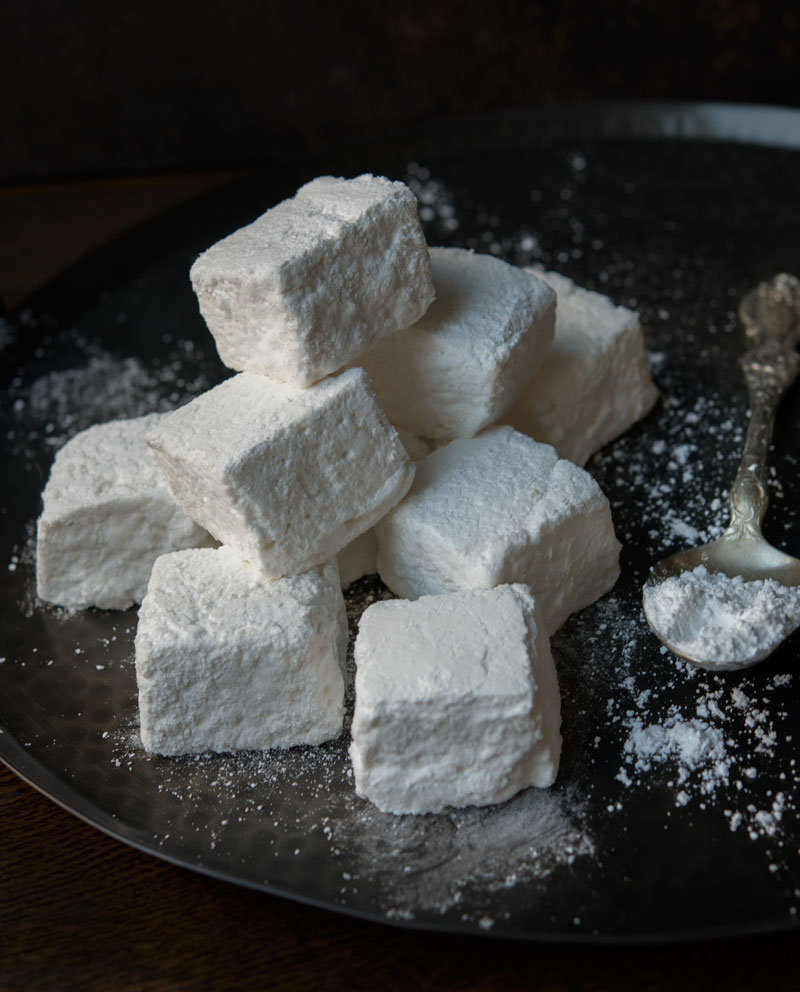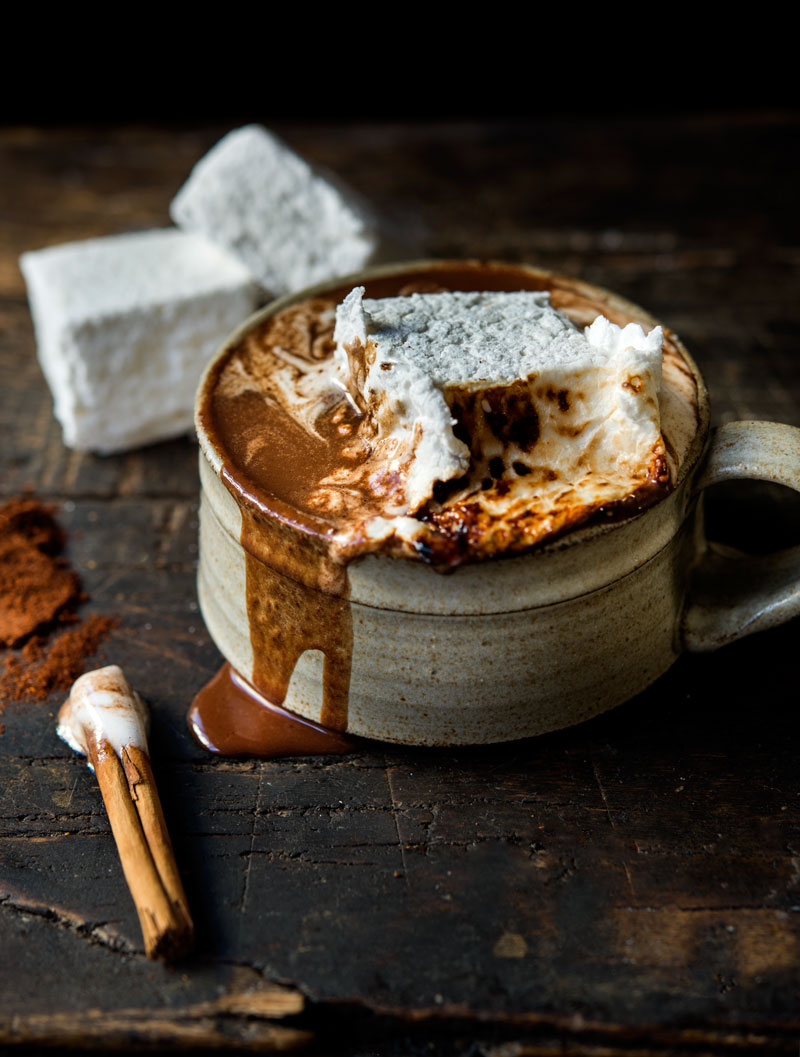 Thick Dark Hot Chocolate
3.5 ounces dark chocolate (used 85% cacao), finely chopped
2 tablespoons honey
1/4 teaspoon pure vanilla extract
pinch of cinnamon
In a small saucepan or pot, bring 1 cup of water to a boil. Remove from the heat and add the chocolate, vanilla extract, and cinnamon. Whisk to combine. Place back on the heat and cook until just warmed through (do not let come to a boil).
Note: For spicy hot chocolate, I added 1/2 teaspoon ground ancho chile powder, 1/2 teaspoon ground chipotle powder, and a pinch of cayenne pepper.
Homemade Marshmallows
yields 16 marshmallows
4 tablespoons powdered sugar
1 tablespoon cornstarch
2 tablespoons gelatin (powder)
2 cups granulated sugar
2 teaspoons pure vanilla extract
1/4 teaspoon salt
Mix the powdered sugar and cornstarch in bowl. Line an 8×8-inch pan with parchment paper. Sprinkle a little bit of the powdered sugar-cornstarch mixture in the pan.
Mix the gelatin with 1/2 cup cold water. Set aside.
Combine the granulated sugar and 1/2 cup cold water in a saucepan. Cook, stirring over medium heat until the sugar is dissolved. Add the gelatin and bring to a boil. Reduce the heat and simmer for 10 minutes. Remove from the heat and let stand until it partially cools. Add the vanilla and salt.
Beat with an electric mixer on high speed until light and fluffy and doubles in volume, 10 to 15 minutes. It will look like marshmallow fluff. With a lightly oiled spatula, transfer the marshmallow mixture to the prepared pan. Let set (about 6 hours). With a lightly oiled knife, cut into 16 squares. Roll the marshmallows in the powdered sugar mixture.
Store in an air-tight container up to one week.