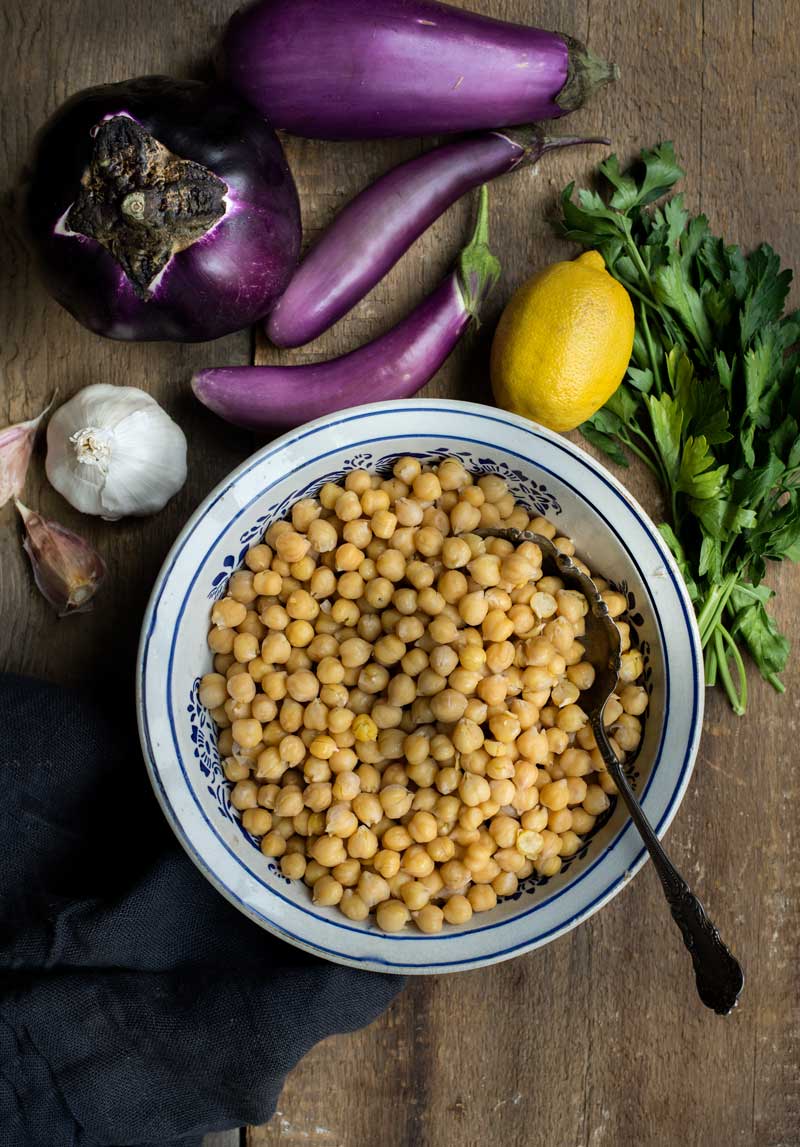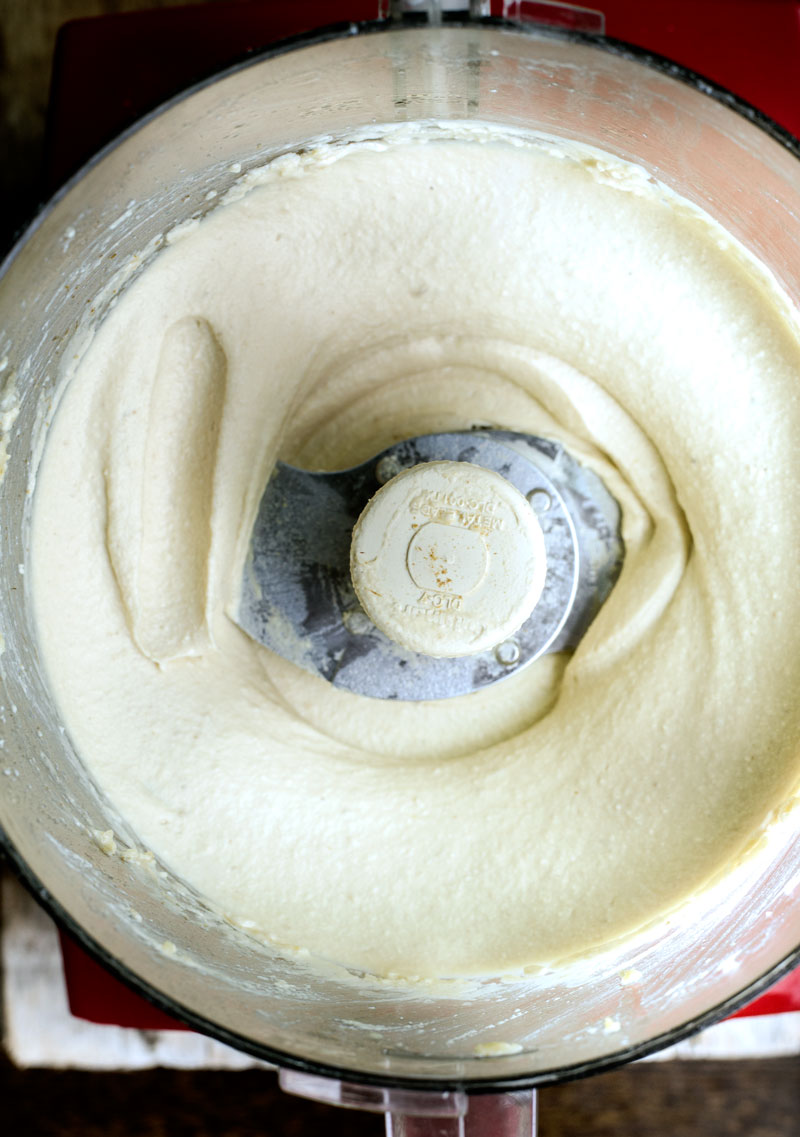 There's hummus (or at least what we're accustomed to here in the United States) and then there's msabbaha. To be honest, I hadn't heard of msabbaha until recently. Actually, my husband came across a reference to msabbaha in a book he's reading — Day of Honey: A Memoir of Food, Love, and War. Whenever he discovers a dish or recipe that sounds interesting, he always says to me, "we should make this," which translates to 'you' (meaning me) should make this 🙂
So what exactly is msabbaha (aka mashawsha/musabbaha/mashausha/masabacha)? Msabbaha is a Middle Eastern dish (with Lebanese roots) of freshly cooked chickpeas bathed in a tahini sauce (spiced with crushed garlic, lemon juice, cumin, and salt). It's typically finished with a generous drizzle of extra virgin olive oil and served over a bed of hummus (although, I've seen versions with just chickpeas and tahini sauce). I added a sprinkling of Aleppo pepper and Urfa biber (and also did a version with smoky paprika) and chopped parsley. You could also add za'atar, chile sauce, chopped tomatoes, onions, etc. I read somewhere that "all msabbaha is hummus, but not all hummus is msabbaha." So, if you like hummus (and who doesn't?) and tahini, you're bound to enjoy msabbaha.
I've been trying to get my hummus to be as smooth as possible. So this time around I cooked the chickpeas (with baking soda, which helps to soften the chickpeas and loosen their skins). Thereafter, I removed the skins by hand (which isn't as laborious as you might think). From there it's just a balance of tahini, lemon juice, garlic, spices and salt, and enough ice-cold water to produce a super smooth hummus. Oh and let your food processor run for several minutes until your hummus is super smooth. It stands to reason that the freshness of the dried chickpeas and the quality of the tahini make a difference in terms of the taste and smoothness of your hummus; notwithstanding, I just went with what I could readily find at a local grocery store.
Always like to bring a few other friends to the party, so I also topped another batch of hummus with cubed lamb shoulder spiced with baharat/Lebanese seven-spice (that I cooked in a skillet for a few minutes); Urfa biber-spiced roasted eggplant topped with yogurt; charred lemons; and a simple tomato-cucumber salad dressed with extra virgin olive oil, a sprinkling of sumac, salt, and pepper. Serve with pita, flatbread, or crusty bread. Quite the feast!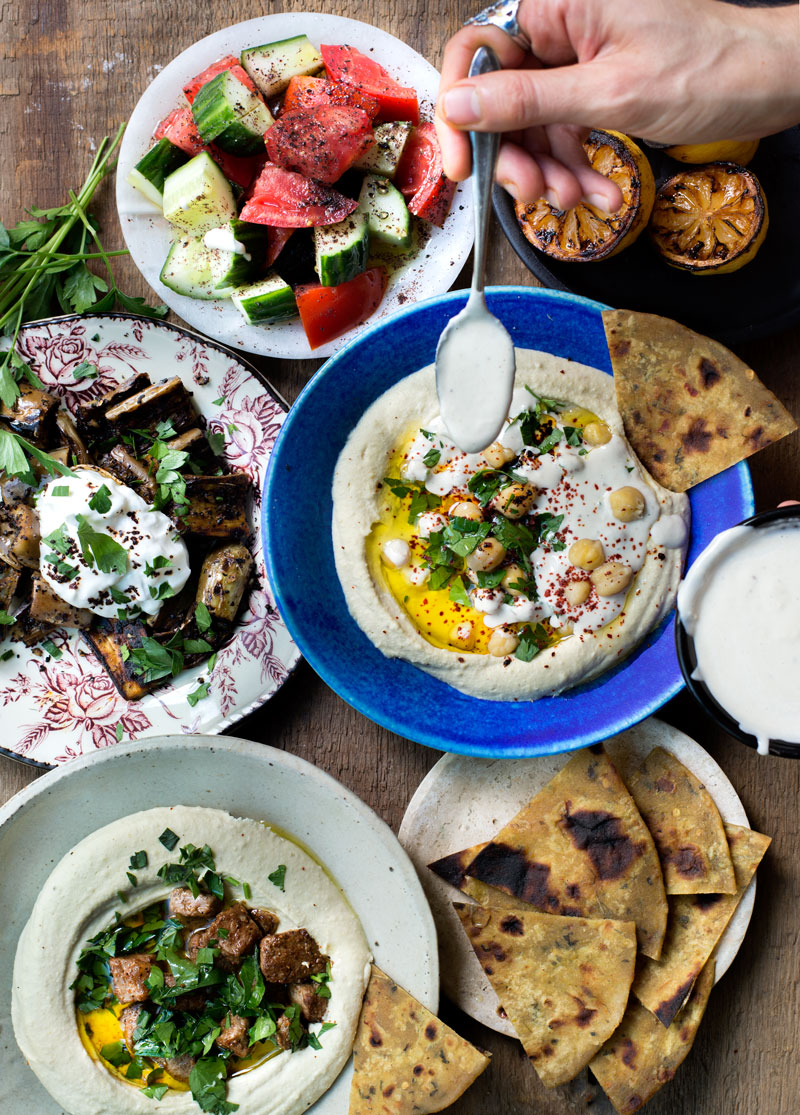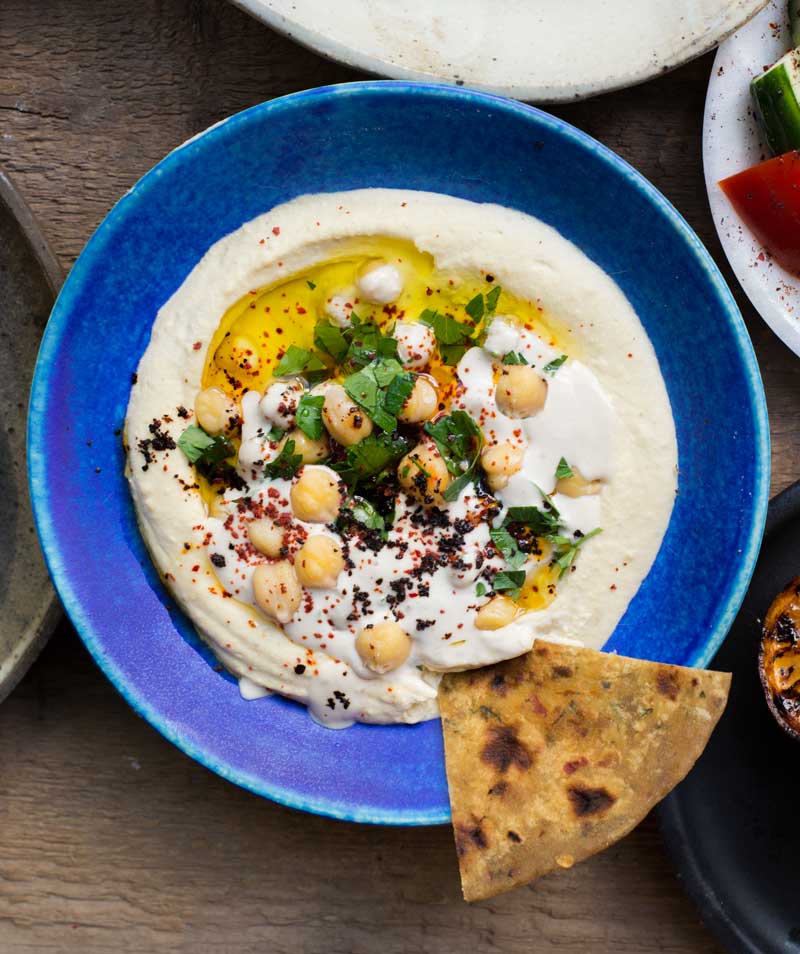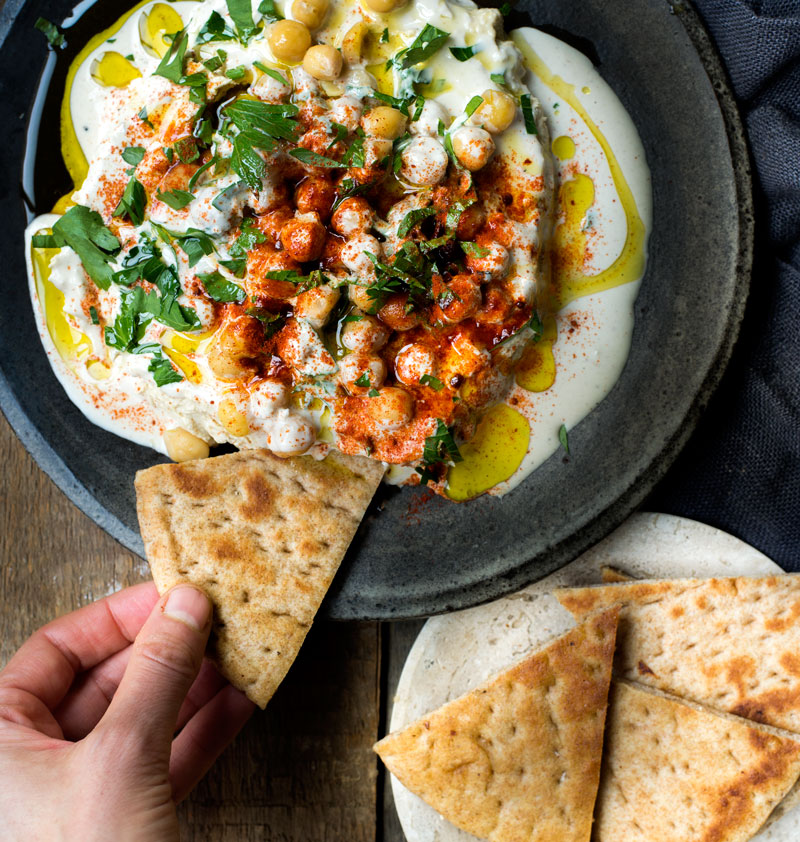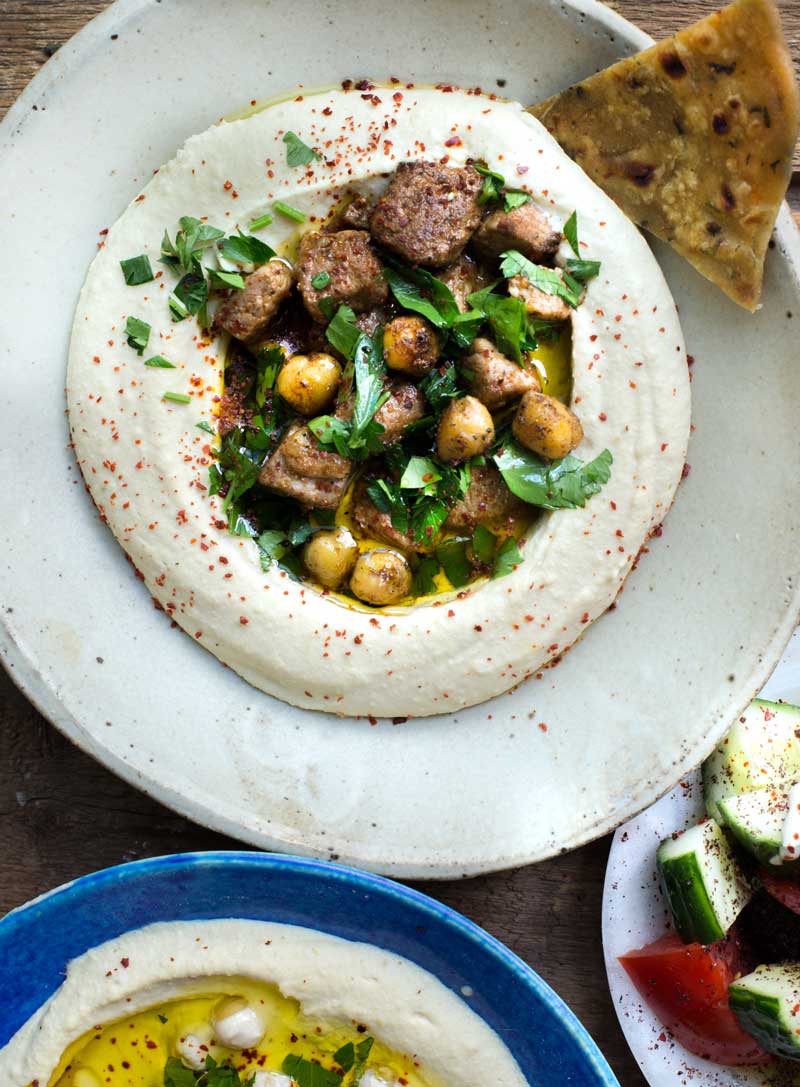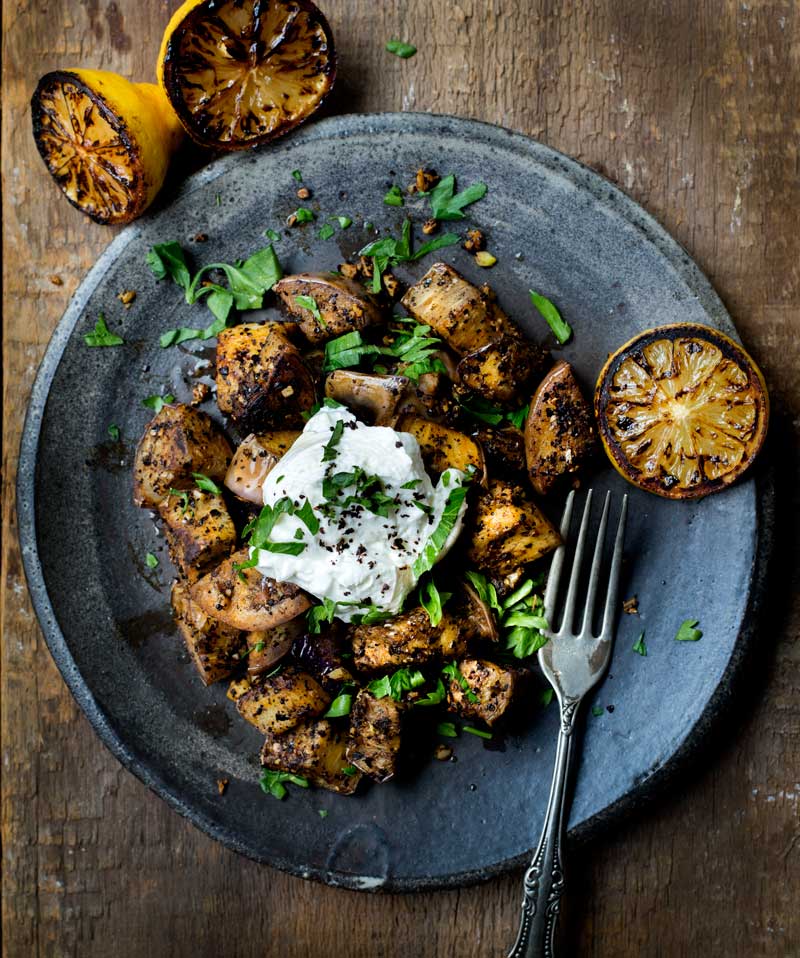 Msabbaha: A Different Take on Hummus
Cooked chickpeas
Hummus (recipe below)
Tahini sauce (recipe below)
Extra virgin olive oil
Chile pepper (such as Aleppo, Urfa biber) or Smoked paprika
Chopped parsley
To cook the chickpeas: Place the dried chickpeas (1 cup dried chickpeas will yield about 3 cups cooked chickpeas) and 1 teaspoon baking soda in a large bowl or pot, cover with cold water by two inches. Soak for 8-12 hours. Drain. Place the soaked chickpeas in a large pot with 1 teaspoon baking soda. Simmer for 45-50 minutes until very tender (but not falling apart), skimming off any foam that floats to the surface. Drain (reserving the cooking liquid).
Just before serving, reheat the cooked chickpeas (either in reserved cooking liquid or fresh water) until just warmed through.
Spread some hummus (a cup or so) on a plate or small bowl (forming a shallow well in the middle). Top with a good amount of cooked chickpeas (1/2 cup or so). Drizzle the tahini sauce on top. Sprinkle with Aleppo pepper, Urfa biber, or smoked paprika. Drizzle with extra virgin olive oil. Top with chopped parsley.
Hummus
makes about 2 cups
2 cups cooked chickpeas, skins removed
1 garlic clove, minced
1/2 cup tahini
juice of 1 lemon
1/2 teaspoon salt
1/2 teaspoon ground cumin
iced-cold water
Place the cooked chickpeas and garlic in a food processor and puree until you have a thick paste. With the machine running, add the tahini, lemon juice, cumin, and salt. Slowly add ice-cold water, a tablespoon at a time (about 1/4 to 1/3 cup total), until the hummus is very smooth and light but still thick (let the food processor run for several minutes). Taste and adjust with salt and lemon juice as needed.
Tahini Sauce
1/3 cup tahini
1 to 2 small garlic clove, grated/crushed
juice of 1 lemon
1/4 teaspoon ground cumin
salt and pepper
Mix the tahini with equal parts water (or reserved cooking water). Add the garlic, lemon juice, and cumin. Season with salt and pepper. Whisk to combine. You want a thin consistency but not watery (If too thin, add a little more tahini; if too thick, add a little more water). Taste, adding more salt or lemon juice as needed.