After recently moving from Brooklyn to Philadelphia (wow, nearly five months, has it been that long?) there are definitely things I miss about NYC. Pizza, of course (head to Brooklyn for that), and the seemingly endless number of specialty and ethnic food shops scattered across the five boroughs; Greek, Middle Eastern, Indian, Italian, African, etc., whatever ingredient you want, you can most likely find it in the Big Apple. And if you're looking for just about any spice under the sun, head straight to Kalustyan's in Manhattan. That's where I found the Urfa Biber (aka Isot Biber).
Urba biber — Turkish, smoky, fruity, raisin-like, earthy (some have described it as having hints of chocolate or coffee) chile flakes with just a hint of heat. Sanliurfa (or Urfa for short) is the name of the Turkish city from which this nifty chile pepper hails. Biber is the word for pepper in Turkish. The peppers are dried in the sun, but not completely such that they retain some of their moisture and natural oils. If you're a chile lover, you're bound to love Urfa biber.
Now that I have sung the praises of Urfa biber, you don't necessarily need it to make this dish — Turkish-style poached eggs (referred to as Çılbır). But, if you just so happen to come across Urfa biber, I highly encourage you to snatch some up (or order online). In lieu of Urfa, you could substitute with Spanish hot or sweet smoked paprika (pimenton) or another type of dried chile flakes.
At its most basic, Çılbır refers to poached eggs with yogurt. In this version, the yogurt is spiced with fresh dill, grated garlic, salt and pepper. You can finish the dish with a sprinkling of fresh herbs or, perhaps, consider taking it one step further with this easy-to-prepare herb sauce (fresh cilantro, parsley, and basil; toasted and ground coriander and cumin; charred scallions; and a couple of jalapenos for heat). The herbs and jalapenos came from my tiny urban garden 🙂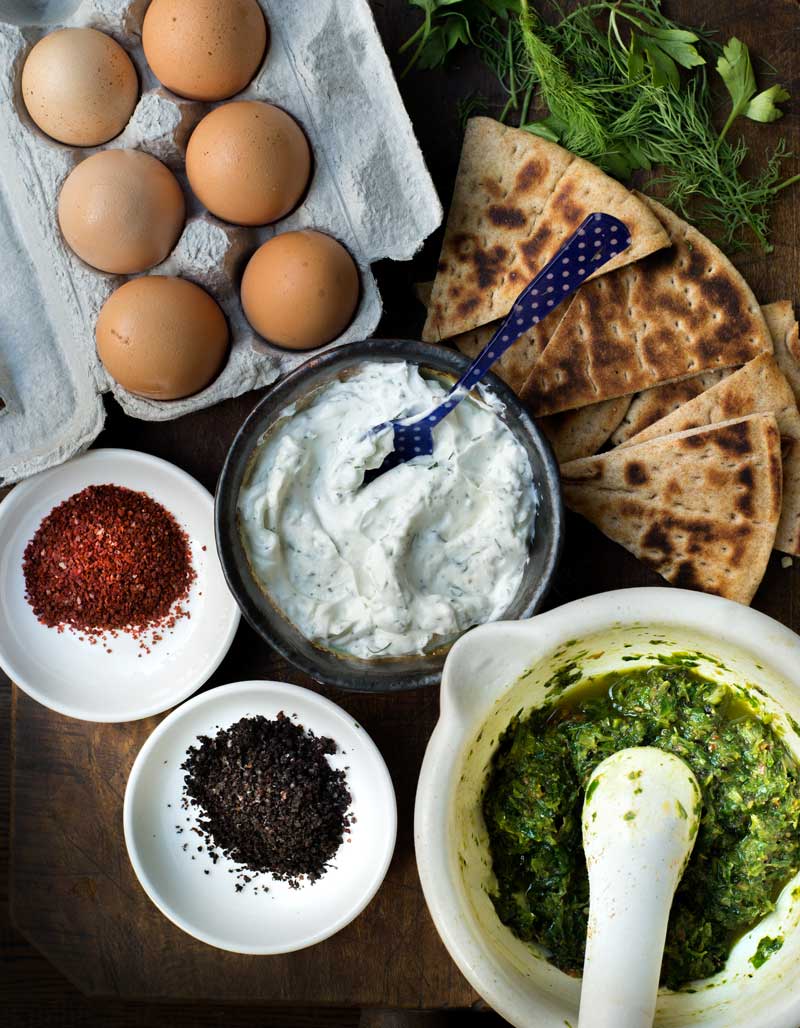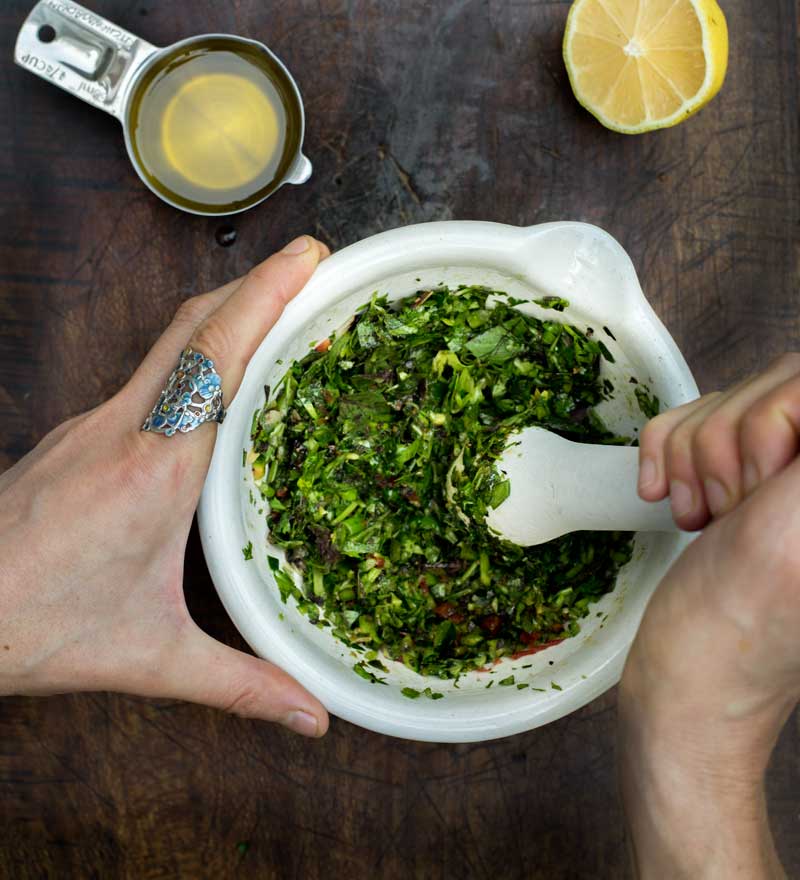 Serve with toasty bread or pita for scooping up the delicious mess that occurs when the egg yolks meet the yogurt meets the chile butter.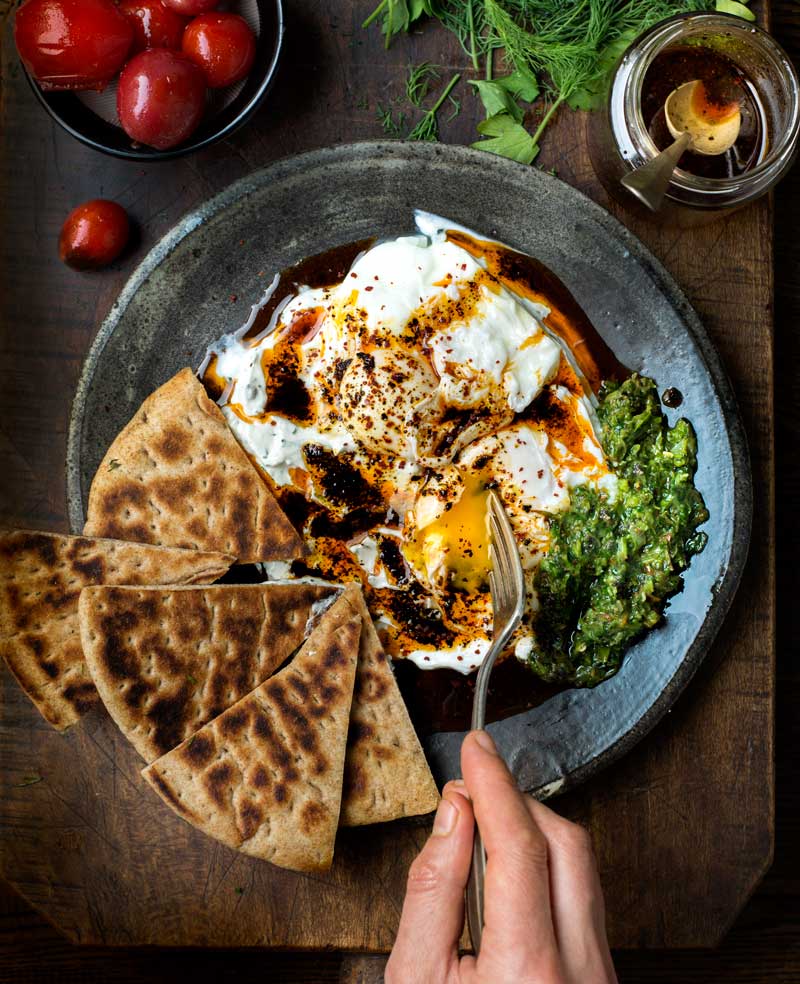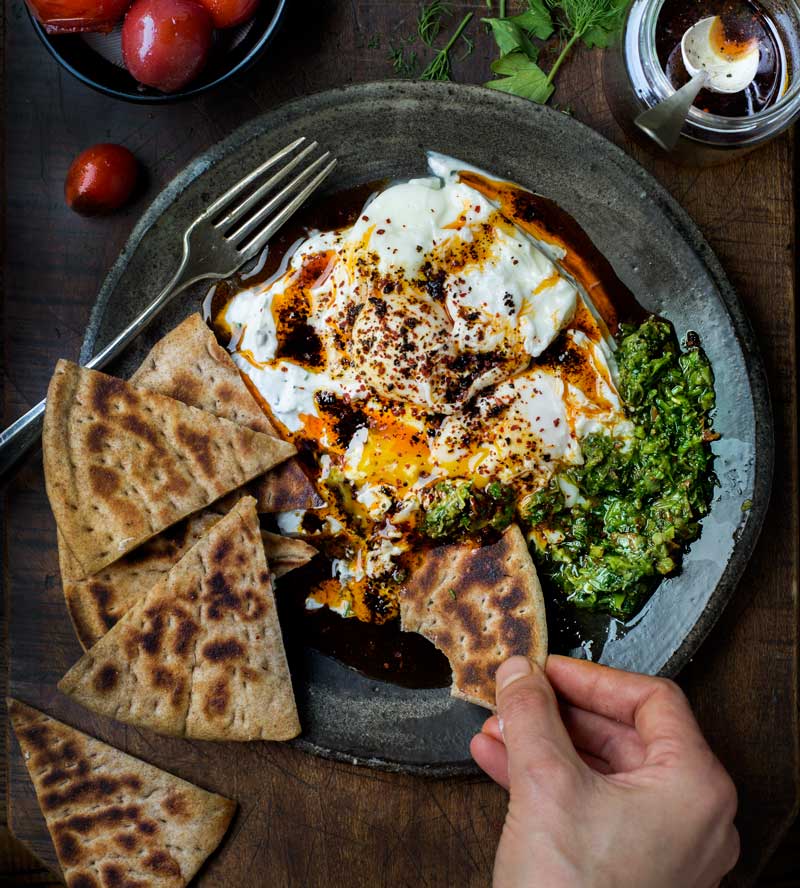 Turkish-Style Poached Eggs with Urfa Biber
Serves 2
1 cup Greek yogurt
1 garlic clove, grated
1 tablespoon chopped fresh dill
salt and pepper
4 poached eggs
3 tablespoons butter
1 tablespoon *Urfa biber
**herb sauce (recipe below)
crusty bread or pita
Place yogurt in a bowl. Mix in the garlic and dill. Season with salt and pepper. Stir to combine.
Divide the yogurt between two plates. Top the yogurt with two poached eggs per plate.
Place the Urfa biber in a small heat-proof bowl. Heat the butter in a small skillet. When the butter is melted and nutty brown, pour over the chile flakes. Stir to combine. Drizzle the hot oil over the poached eggs. Serve with herb sauce, crusty bread or pita.
*You'll need to alter the amount of chile flakes depending on the type you use and its heat level (I'd start with a teaspoon of pimentón or paprika if using and add more to taste)
**In place of the herb sauce you can simply top the eggs with chopped parsley.
Herb Sauce
1/2 teaspoon cumin seeds
1/2 teaspoon coriander seeds
2 scallions (green onions)
2 small jalapeno chiles, seeded and minced
1/2 cup cilantro leaves
1/4 cup parsley leaves
1/4 cup basil
1/4 cup extra virgin olive oil
squeeze of lemon
sea salt and black pepper
Toast the cumin and coriander seeds in a dry skillet over medium heat. Shake the pan to prevent the seeds from burning. Cook 2 to 3 minutes until the seeds darken in color and give off a nutty aroma (watch carefully to ensure they don't burn, otherwise they'll be bitter). Grind in a spice grinder or mortar and pestle.
Toss scallions with a little olive oil. Season with salt and pepper. Prepare a charcoal or a gas grill to medium-high heat and grill the scallions, turning frequently, until they begin to char and soften. Alternatively, cook the scallions indoor on a grill pan or cast iron skillet (I did them in a skillet). Chop the scallions.
Add the ground cumin and coriander to a food processor (or mortar and pestle) along with the scallions and herbs. Slowly add the olive oil and pulse until smooth, but still a little chunky. Season with salt and pepper and a squeeze of lemon to taste.