I can't believe it's the end of August beginning of September. Where did the summer go? Way too short. I made it to the beach only once and it was just for the day 🙁
Hopefully I'll find my way back to the Shore (I'm in Philly now, so it's the Jersey Shore) and when that day comes, I will definitely be packing one of these…
Pan bagnat ('bathed bread'), a classic Provencal, fully-loaded tuna sandwich. This version — tuna, hard-boiled eggs, olives, capers, cucumber, sun-dried red peppers, tomatoes, onions, basil, anchovies, sea salt and freshly ground black pepper — bathed in a simple dressing of olive oil, red wine vinegar, Dijon mustard, and freshly grated garlic.
I used Bela brand skipjack tuna in organic extra virgin olive oil with a piri piri chile (for a hint of heat). Bela is my favorite brand of canned fish products that I can readily find in the United States (full disclosure, I work for Bela. But they have quality products and that's why I work for them. Just spreading the love…).
Lastly, you need a French baguette or some other type of country-style bread on which to pile all your ingredients.
The sandwich is even better when it sits for a few hours. Thus, it makes the perfect picnic or beach sandwich (summer's not over just yet). As it sits, the flavors meld and the bread soaks up the dressing and all those other good tastes.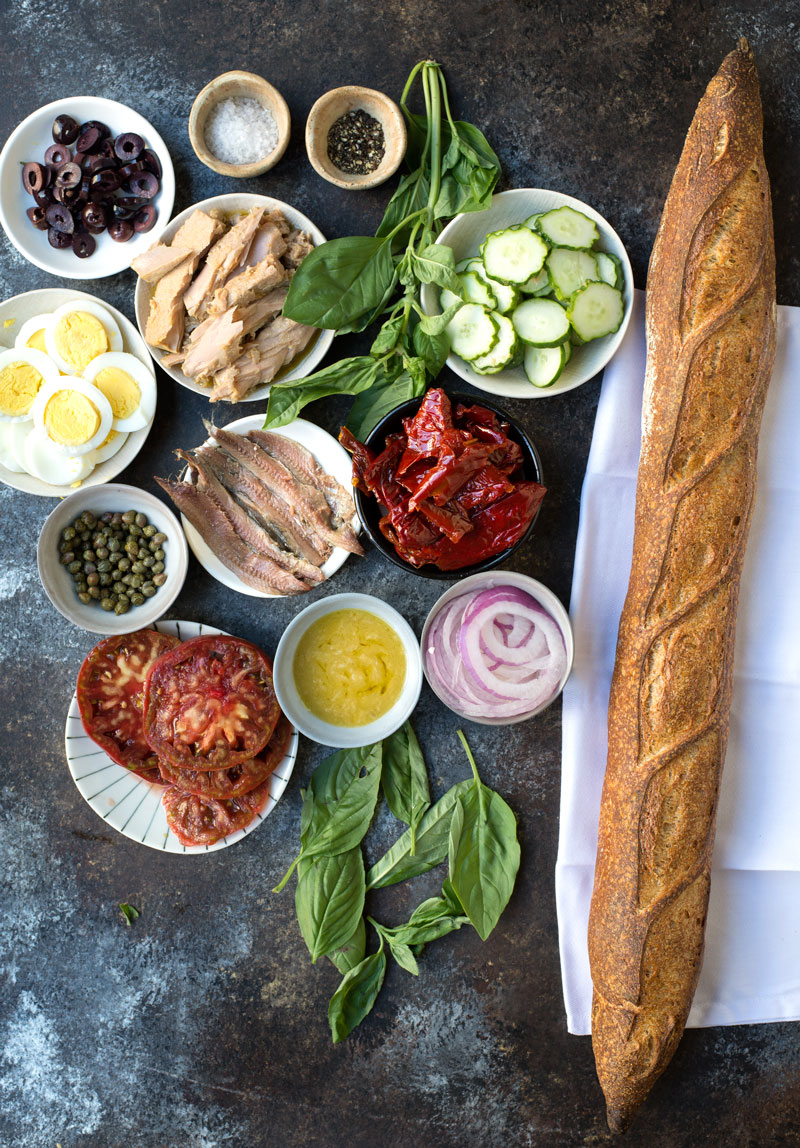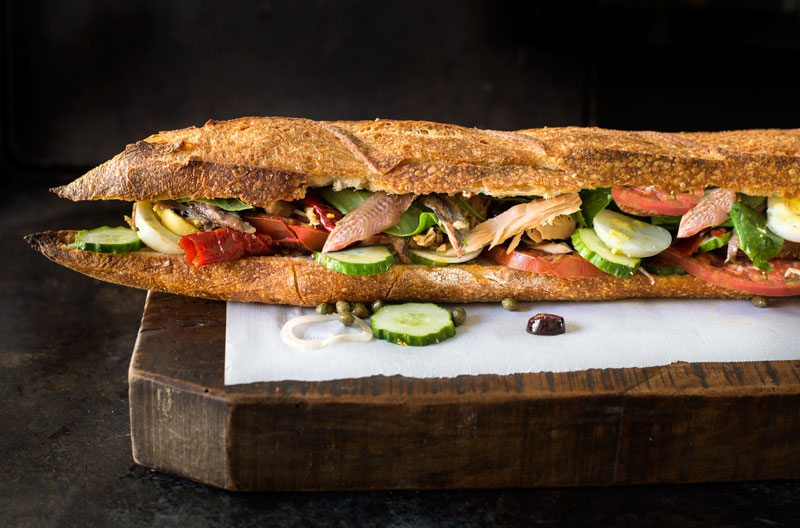 Pan bagnat is sold in the streets of Nice.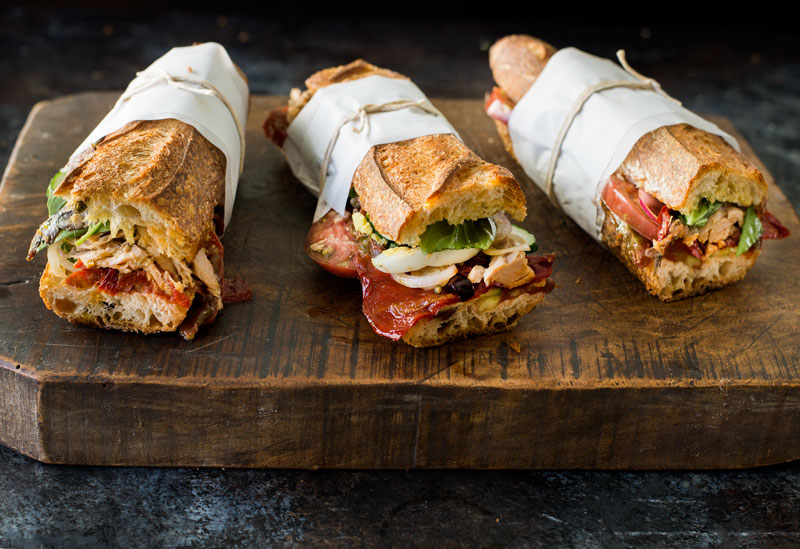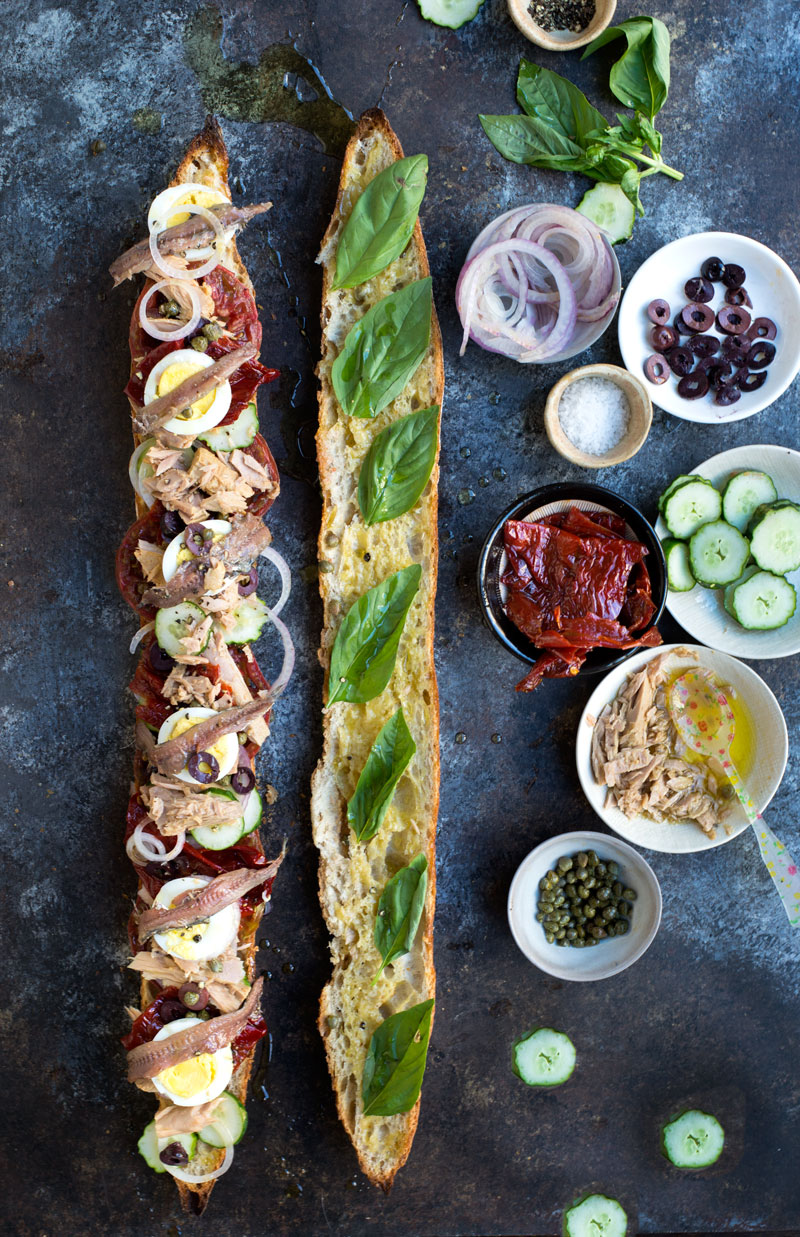 Pan Bagnat
Below is a rough guide; add more or less of each ingredient as you see fit.
1 French baguette
6.7 ounce can/jar tuna, packed in olive oil (used Bela Skip Jack tuna with piri piri)
3 to 4 hard-boiled eggs, sliced
handful of black olives, sliced
handful capers
1/2 large cucumber, thinly sliced
sun-dried red peppers or roasted bell peppers
1 tomato, thinly sliced
1/2 small red onion, thin sliced
handful of basil leaves
6 to 8 anchovies, rinsed, whole or chopped
sea salt and freshly ground black pepper
vinaigrette (see below)
If you're bread is thick, remove some of the spongy interior. Layer on the rest of the ingredients. Drizzle the vinaigrette over the vegetables. Top with the second piece of bread. Wrap and press down the sandwich (you can use a cast iron skillet if you like). Let sit a couple of hours before eating.
Vinaigrette
3 tablespoons olive oil
1 1/2  teaspoon red wine vinegar
3/4 teaspoon Dijon mustard
1 clove of garlic, grated
sea salt
Mix all the ingredients in a bowl. Whisk until well combined.