I'm not a huge carnivore, but every so often I find myself craving a piece of meat. On such occasions, I'll take lamb or duck over beef any day of the week.
While a whole duck can surely be a challenge to cook, a duck breast is much more straightforward and forgiving. The key is to start cooking the duck breast (skin side down) in a cold, dry skillet and allow it to continue cooking (skin side down) for the majority of the cooking time until the skin is crispy and most of the fat has been rendered out. Then flip and cook briefly on the other side until medium-rare. Drain and save the rendered fat for another day (hello duck fat roasted potatoes, yum!).
My plan was to make some type of berry (blackberry or blueberry) sauce or reduction to pair with the duck breast in an attempt to embrace the end of the summer berry season (today is the autumnal equinox; so long summer, I already miss you). But somehow I veered off course. Not sure how that happened? I went to the store for berries and came home with something entirely different. Sometimes that happens.
So, I went for an Asian preparation today using a ginger-scallion sauce. This dish is quick and easy to pull together. Once the duck is resting, combine the remaining ingredients. The sauce itself is light and bright, and pairs nicely with the Chinese five-spice seared duck breast. The finished dish is decidedly flavorful for something that comes together in all of 20 minutes. Can't beat that.
Finished the dish with fresh herbs and, given my preference for a little something spicy, fresh julienned red jalapeno (or try out this recipe for fermented sriracha).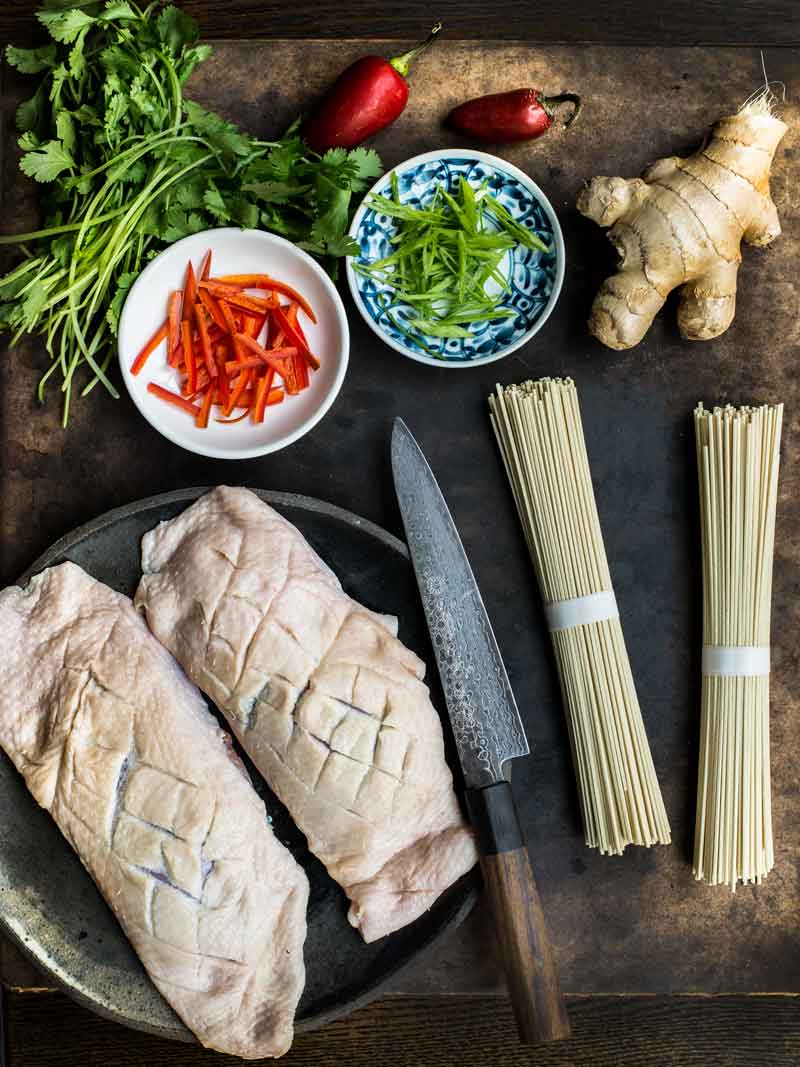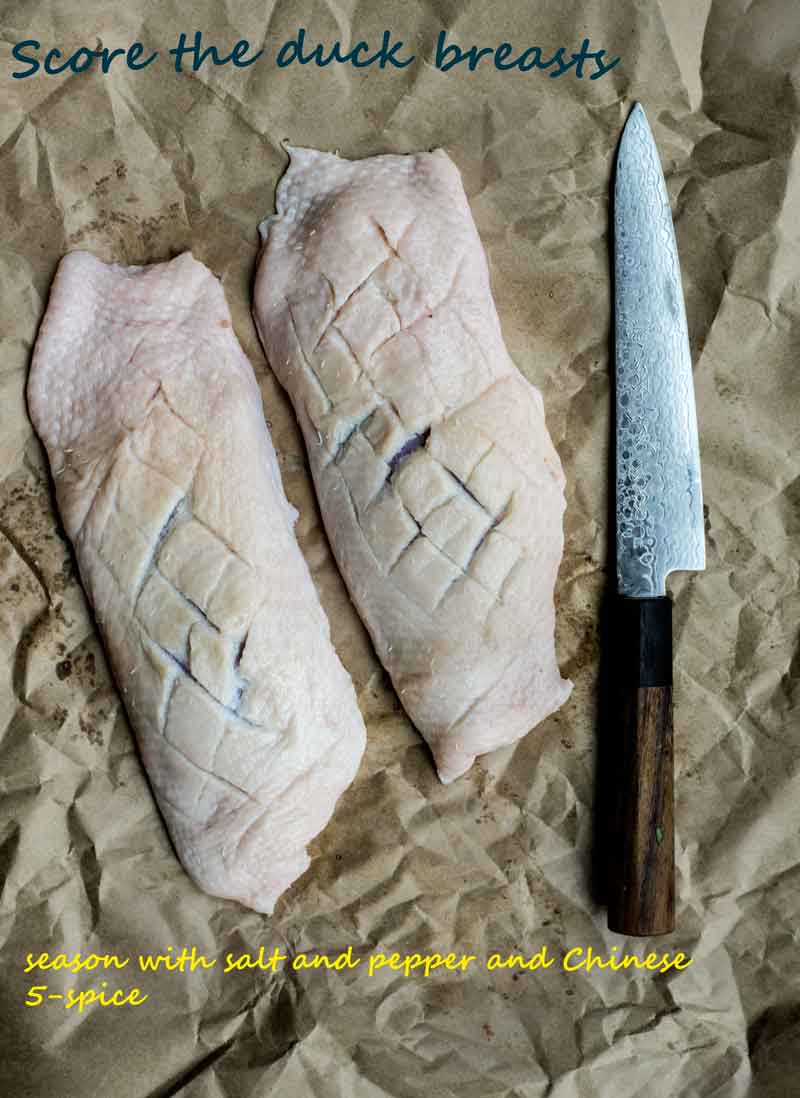 To make the ginger-scallion sauce, I chopped up a bunch of ginger and scallion, and tossed them with a few other ingredients. Next, I heated up some oil and poured the hot oil over the vegetables (be careful not to burn yourself in the process)…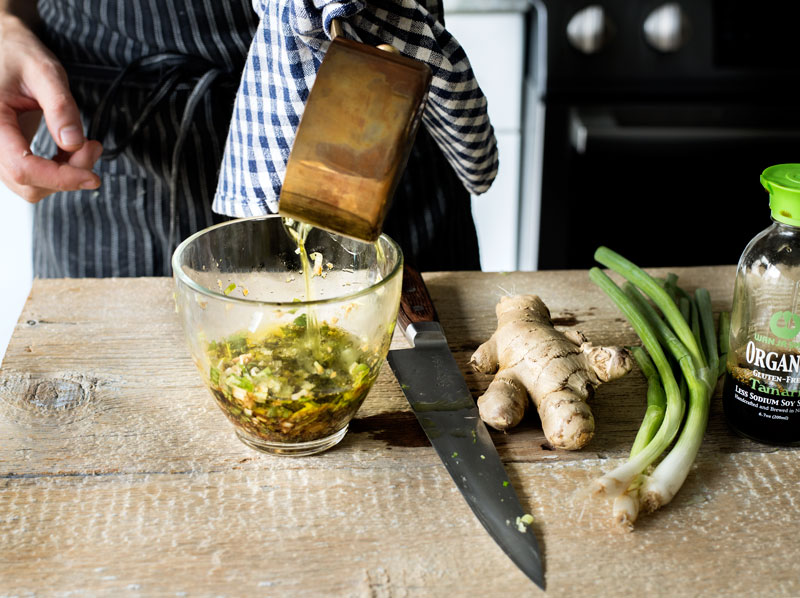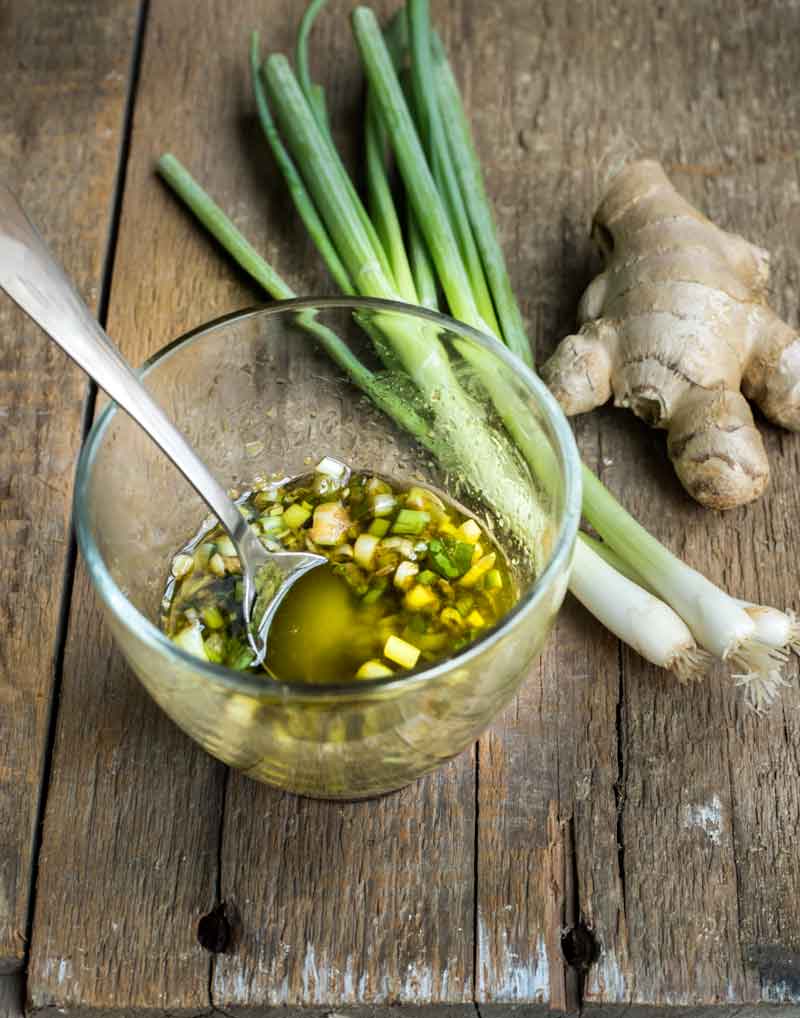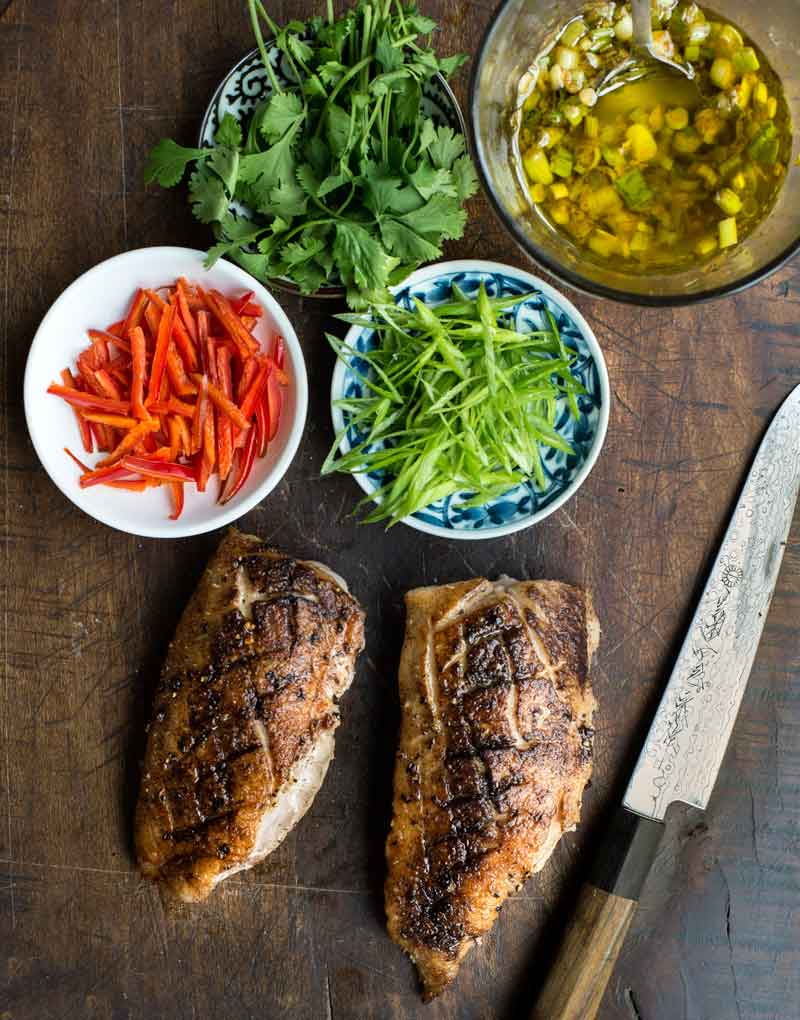 Grab a pair of chopsticks and dig in…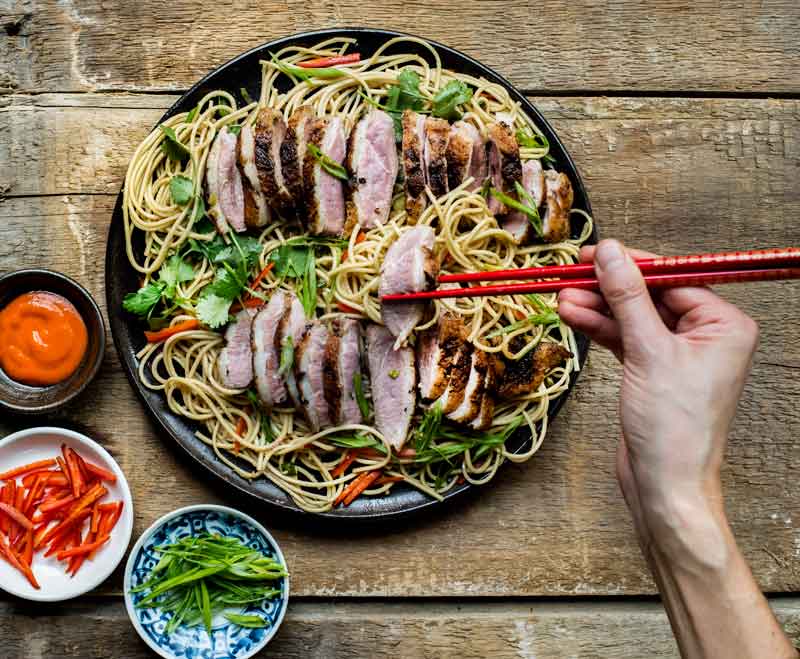 Ginger Scallion Noodles with Pan-Seared Duck Breast
Serves 2 to 4
1 cup of chopped scallions, whites and green parts
2 tablespoons grated ginger
2 tablespoons tamari or soy sauce
1 tablespoon sherry or rice wine vinegar
1/4 cup vegetable oil
6 ounces ramen noodles
For serving:
green parts of scallion, sliced thinly on a bias
cilantro leaves
red jalapeno, seeded and juilienned (optional)
sriracha (optional)
Combine the chopped scallions, grated ginger, tamari, and vinegar in a heat proof bowl. Warm the oil until it begins to simmer. Pour the hot oil over the scallion-ginger mixture. Let sit 20 minutes. Taste, adding a splash of tamari or vinegar to taste.
Heat a pot with salted water. Drop the noodles in the water and cook until just al dente. Drain. Spoon ginger-scallion sauce over noodles.
Serve the duck breast over the ginger-scallion noodles. Garnish with sliced scallions, cilantro leaves, and jalapeno. Serve with a side of sriracha.
Pan-Seared Duck Breast
2 (1/2-pound) duck breasts, room temperature
1/4 teaspoon Chinese 5-spice
salt and pepper
Score the skin on the duck breasts. Season with Chinese five-spice, salt, and pepper. Place the duck breasts in a cold dry skillet, skin side down. Turn the heat to medium-low. Cook the duck breasts until the fat is rendered, about 7 minutes. Flip and cook another 3 minutes. Take off the heat and let rest for 10 minutes. Slice.
*Cooking time will vary depending on the size and thickness of the duck breasts.