I have a chile pepper addiction. The common name for this condition is chile head (aka heat seeker). I have designated a large amount of real estate in my tiny urban garden to growing chiles…jalapenos, habaneros, and Padron peppers. Out of all the plants in my little vegetable patch, the chiles, by far, have been the most productive (plus the squirrels don't seem very interested in them). So, when you have a chile pepper addiction and an abundance of chiles, why not make hot sauce?
Most of you are probably familiar with the ubiquitous Huy Fong Foods (aka Red Rooster) sriraha sauce. It's become as popular as ketchup and mustard, selling over 20 million bottles per year.
So why make sriracha when you can buy it? Well, as with any comestible, when you make it yourself you have control over the ingredients and final product. Personally, I find Huy Fong's sriracha to be too sweet. Did I mention that sriracha is super easy to make.
First you need chiles. I used a combination of red jalapeno and red serrano chiles. Finding red jalapenos and serranos in most mainstream grocery stores can be difficult (it takes more time for green jalapenos and green serranos to turn red (i.e, ripen); alas, time is money), but they're readily available at farmers' markets this time of year ($1.99 per pound here in Philly). I also added a habanero to the mix for added heat and fruitiness, but that's totally up to you. If you want a more subdued sriracha, you can always swap out some of the jalapenos for Fresno chiles, the latter which are quite tame by comparison. Also, as the sriracha sits for a bit in the fridge, it will mellow out quite a bit. Other than that, you'll need fresh garlic, a hint of sugar (used coconut/palm sugar), distilled white wine vinegar, and salt (and/or fish sauce).
This version of sriracha is also fermented. I let it ferment for 3 to 4 days at room temperature until small bubbles began to form.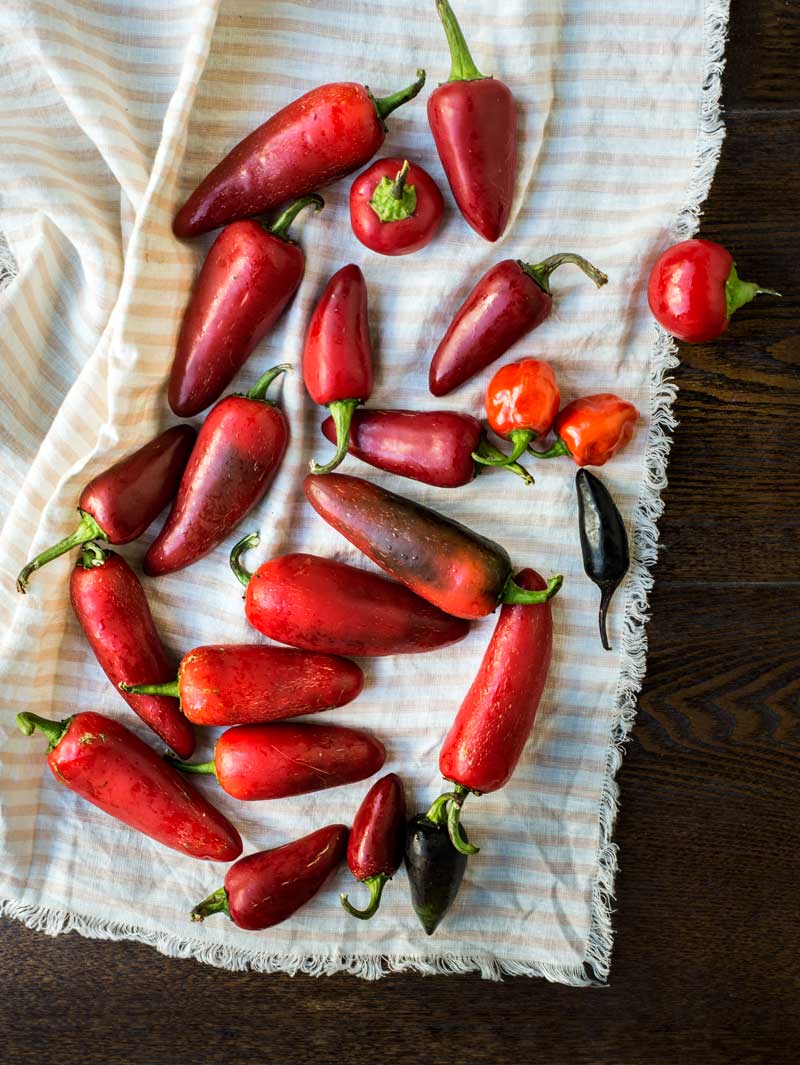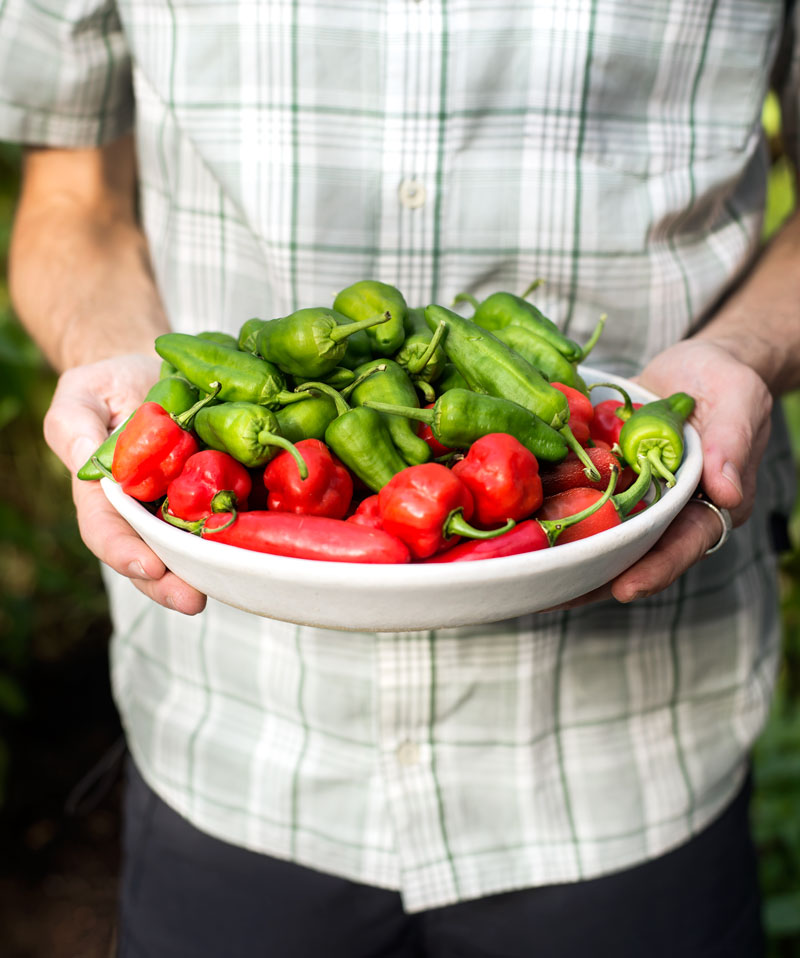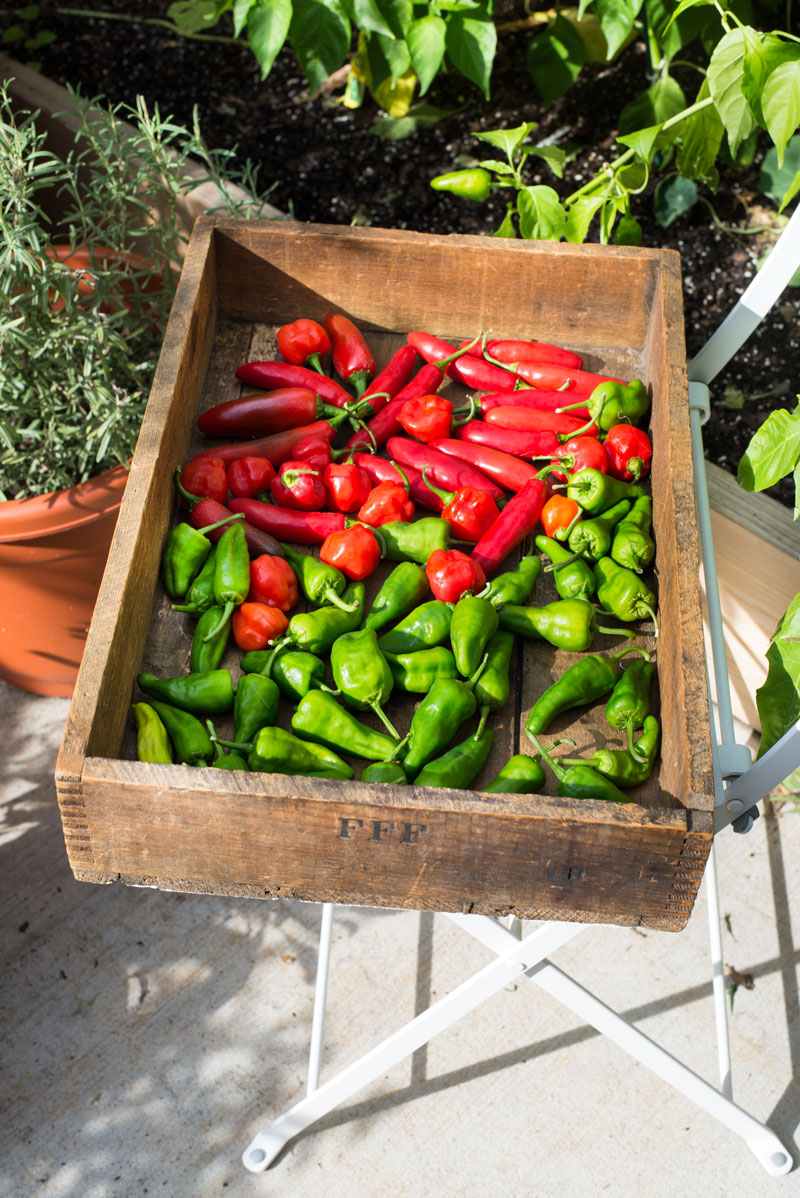 It took a while, but my green jalapenos are finally beginning to turn red.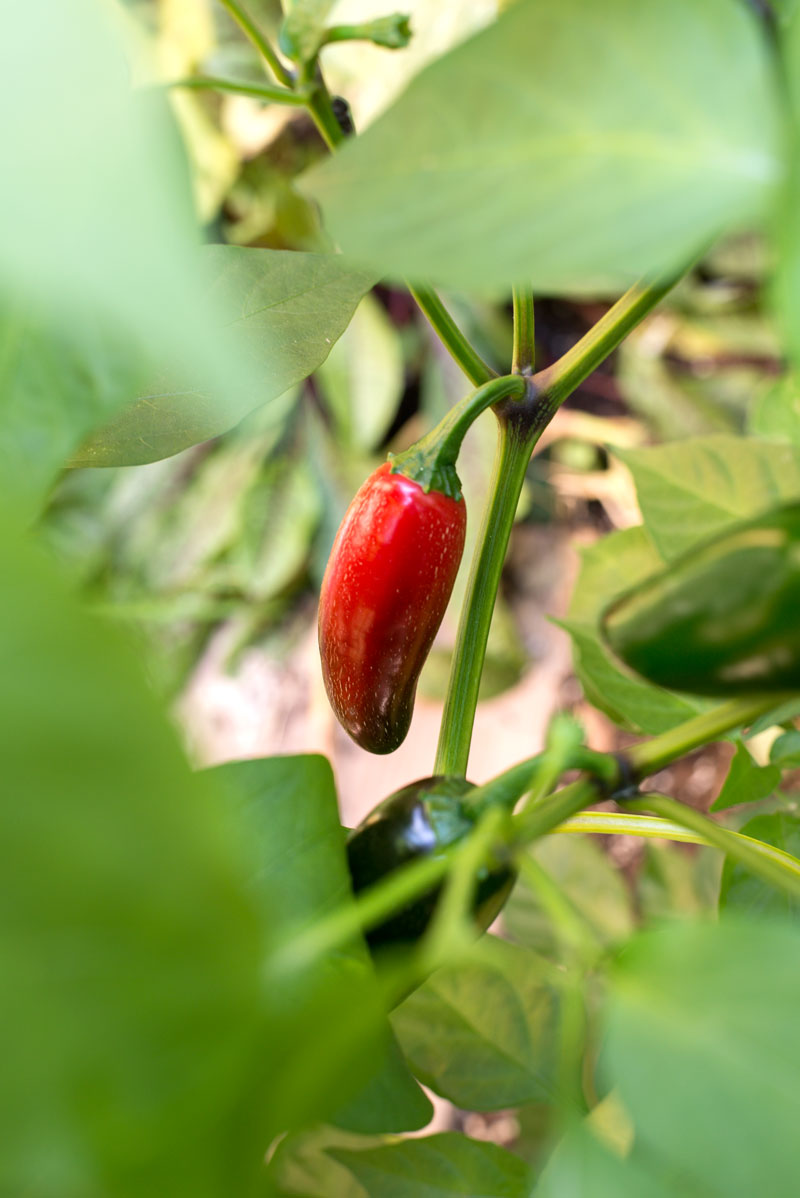 Let the sriracha sit at room temperature until you start to see small bubbles. The small bubbles are a natural product/process of fermentation. Allowing the sriracha to ferment results in a more complex flavor profile.
From there the possibilities are endless. I whipped up some sriracha-mayo for this decadent lamb bacon (BLT) — even better with a fried egg on top…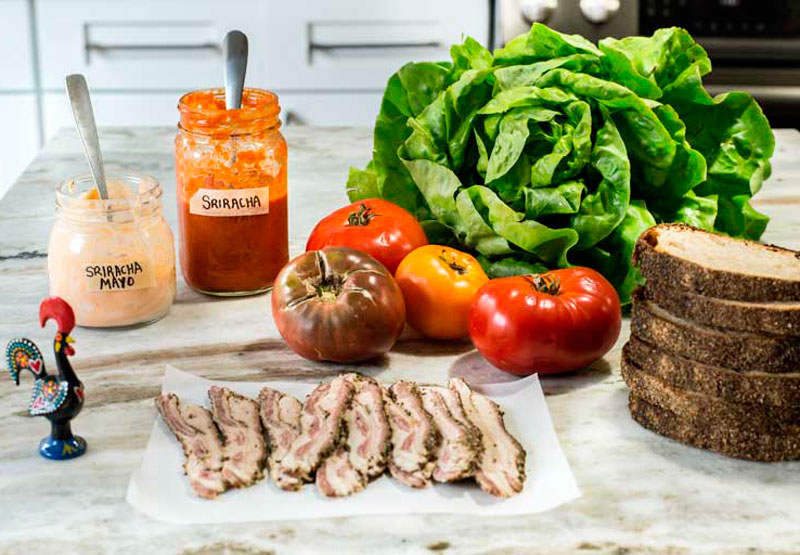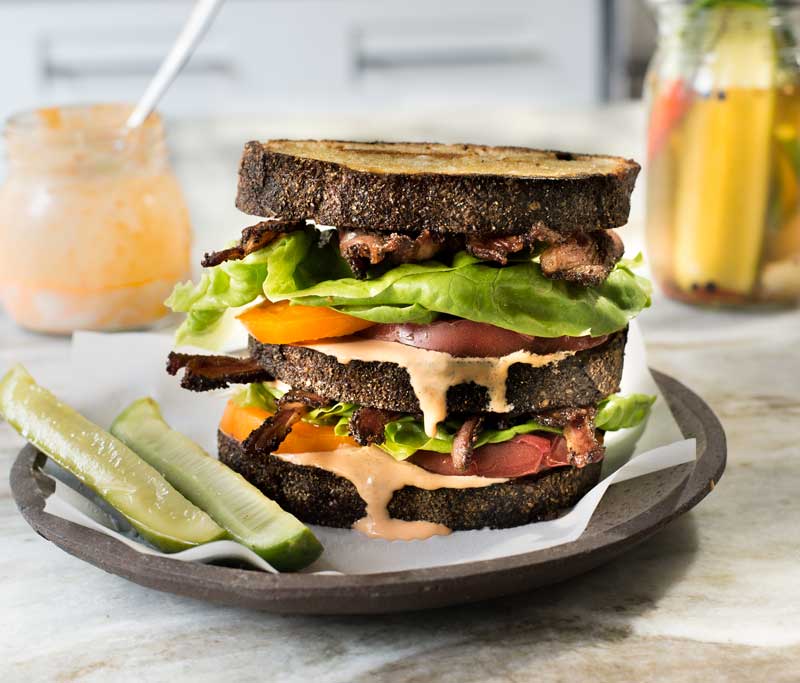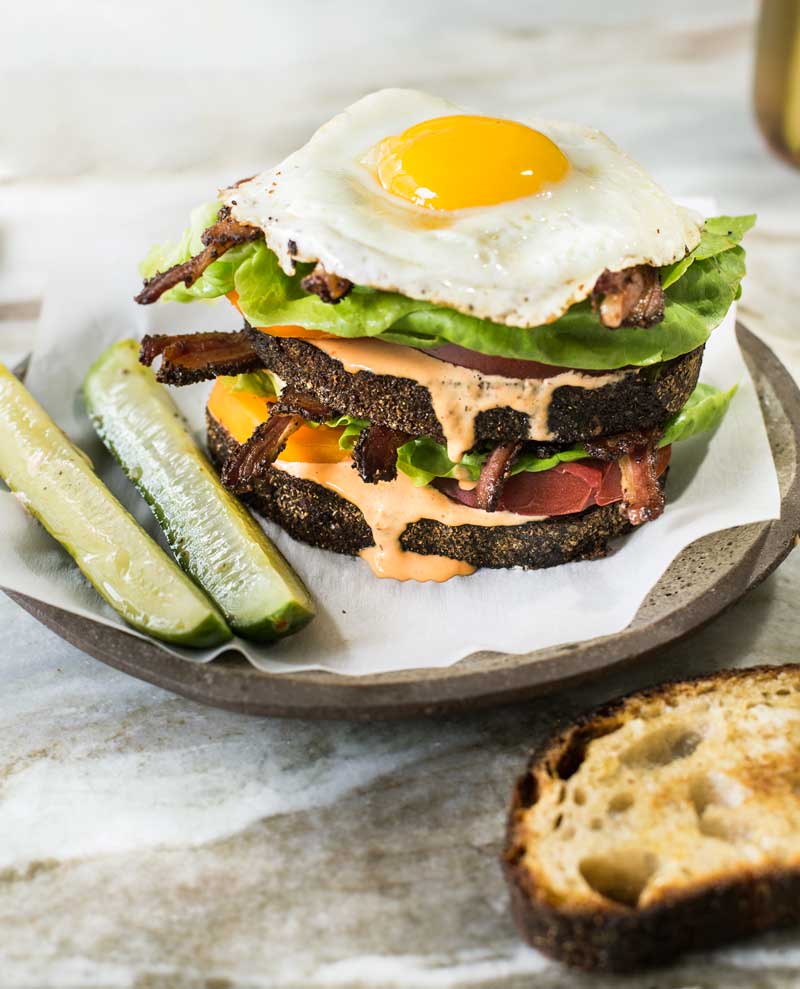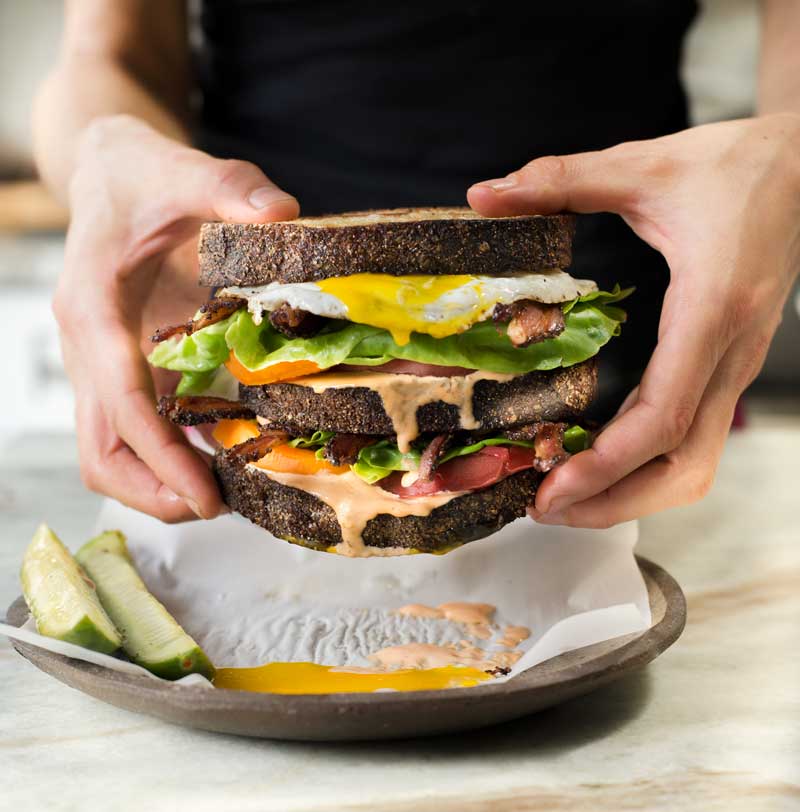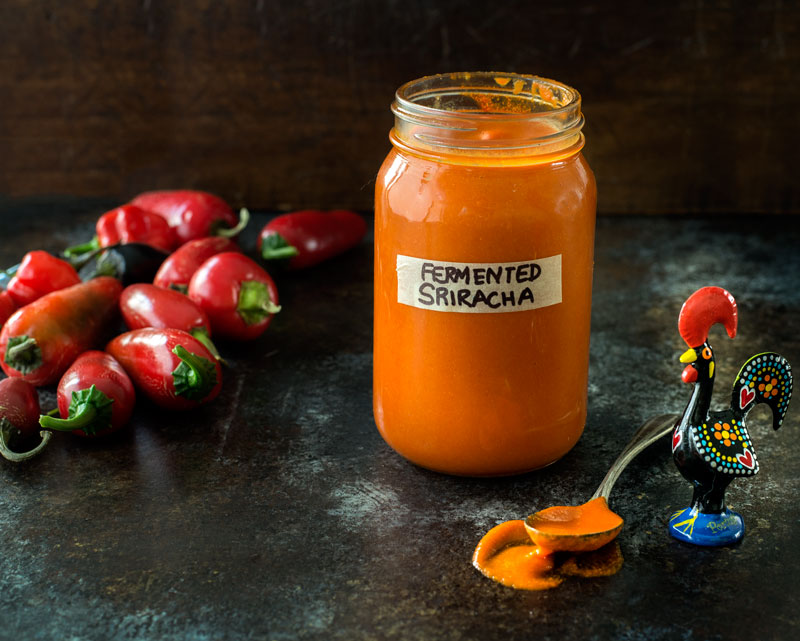 Fermented Sriracha
makes 2 cups
1 1/2 pounds red jalapenos (and/or serranos, Fresno) chiles, stemmed
1 habanero chile (optional), stemmed
4 garlic cloves
1 1/2 teaspoons *sea salt
4 to 4 1/2 tablespoons coconut sugar (or brown sugar), more or less to taste
1/2 cup distilled vinegar
Roughly chop the chiles (you might want to wear gloves to prevent the oil from the chiles from getting on your fingers).
Combine the chiles, garlic, salt, and sugar in a food processor. Finely chop. Place in a glass bowl or jar and cover with plastic wrap. Let ferment at room temperature until small bubbles form, 3 to 4 days. Give it a stir each day.
Pour the fermented mixture, along with the vinegar, into a small saucepan. Bring to a boil, then lower the heat, and simmer for 5 minutes. Cool.
Blend until very smooth, about 3 minutes (be careful not to inhale the chile fumes). Strain the mixture through a fine mesh strainer. Taste, adding more salt, sugar, or vinegar to suit your palate. Store in an air-tight container and refrigerate.
*In place of some of the sea salt, you could add some fish sauce.