Now that it's officially autumn, I think it's appropriate to start talking about soups and stews. I love soup (and stews) and could eat it any time of year.
I find that a big pot of soup on the stove top or a stew that's been braising for hours makes the colder months all the more tolerable. I love when you make a big pot of something and it tastes even better the next day and the day after that. I love to cook, but I don't necessarily love to cook everyday. I'm all for reheating in the name of time and convenience.
This is a vegetarian Persian/Iranian-inspired legume and noodle soup with layers of flavor. It's hearty and satisfying and will be sure to keep you warm and toasty all fall and winter long. I used chickpeas and lentils, but you could also include kidney, white beans, and/or yellow split peas. Loads of herbs — cilantro, dill, dried mint, green onions (add parsley if you like) — make the soup fresh and light. And finally topped with a big dollop of yogurt, caramelized onions, and more fresh herbs. I like a squeeze of lime too for a touch of acidic brightness.
Traditionally, this soup is made with kashk, which is fermented yogurt, milk, or whey and is a common ingredient in Iranian cooking. Kashk is used to thicken soups and stews and to deepen their flavor. At some point I'll have to track down kashk, but for today I substituted with rich and creamy Greek (strained) yogurt from the farmers' market (you could also try sour cream or creme fraiche). So, just to put it out there, this preparation is not entirely 'authentic'. I know, I know. But I think cooking is also about using the best ingredients that you can find in reasonable proximity to where you live. Just my two cents.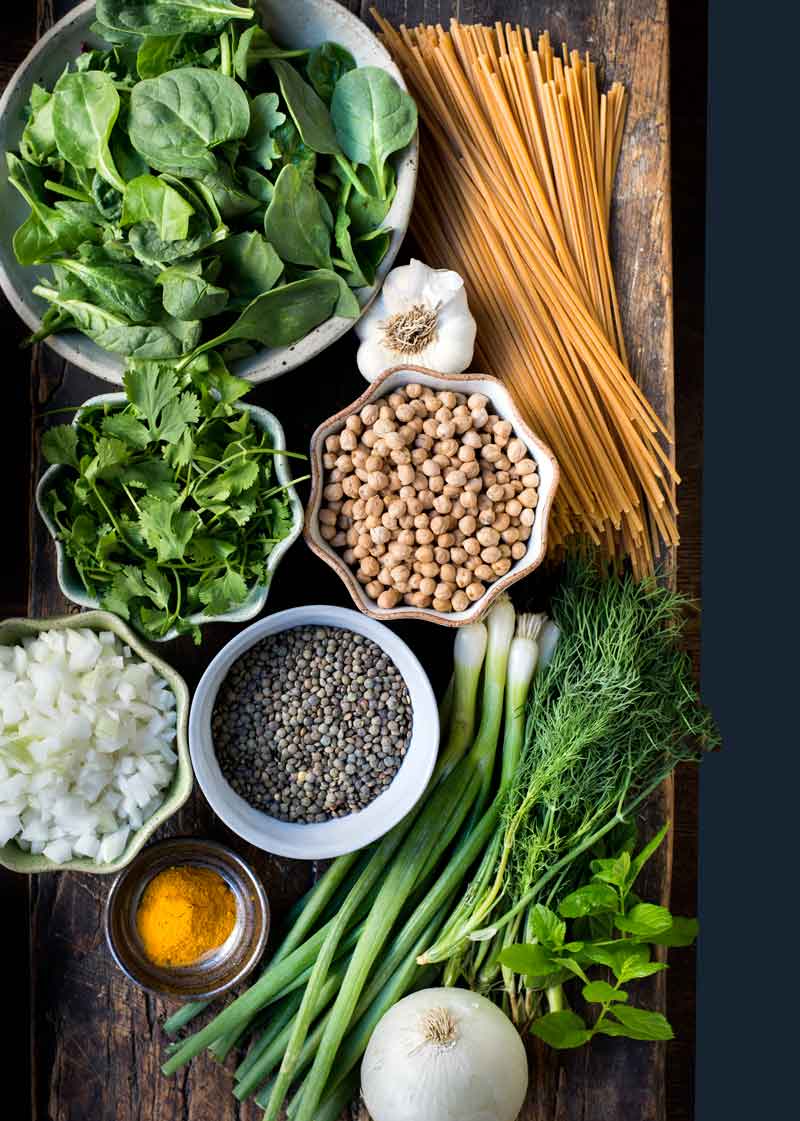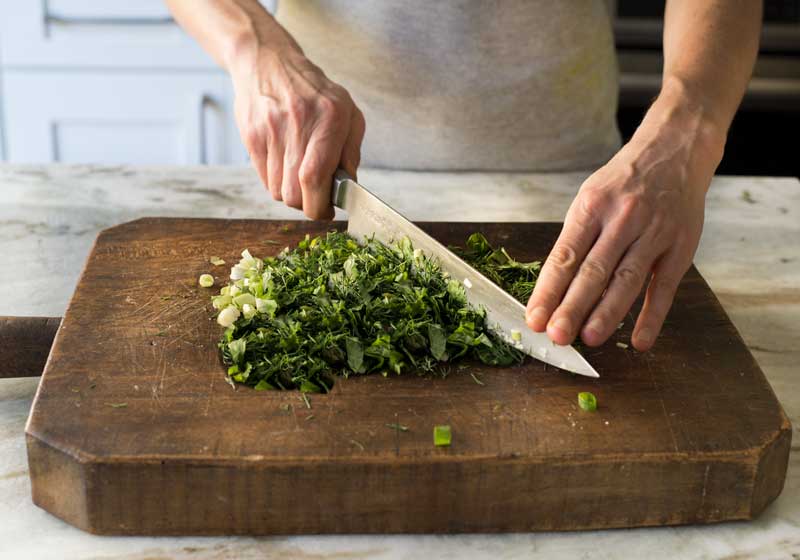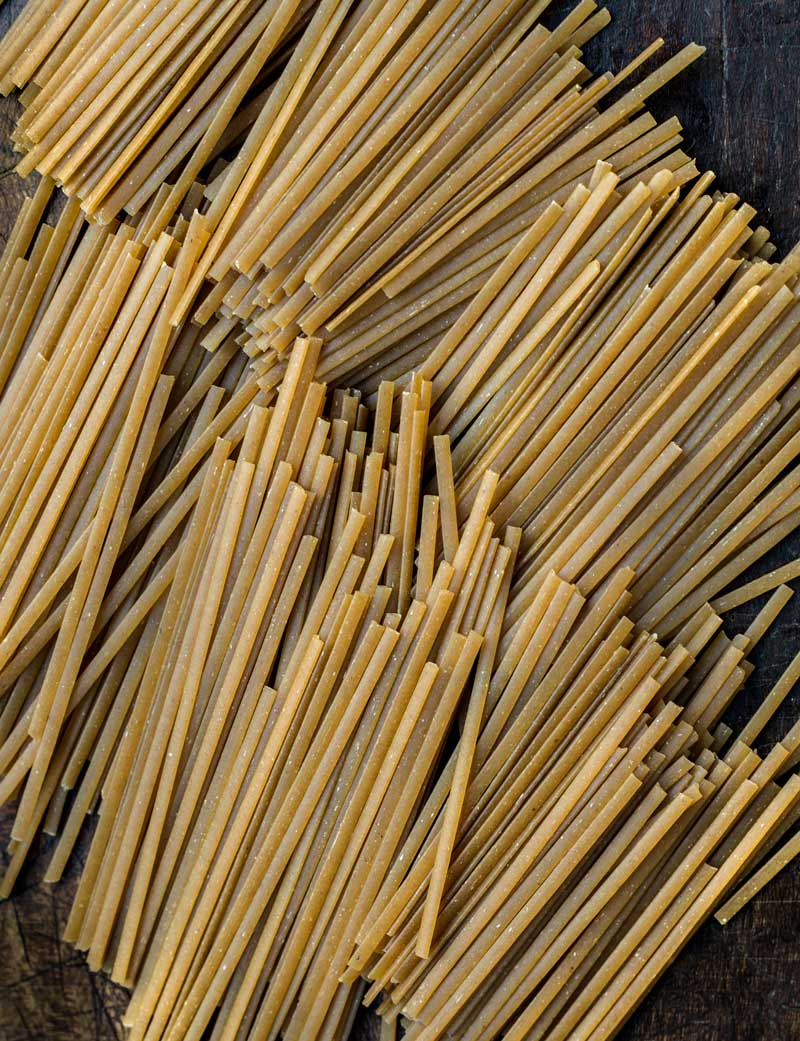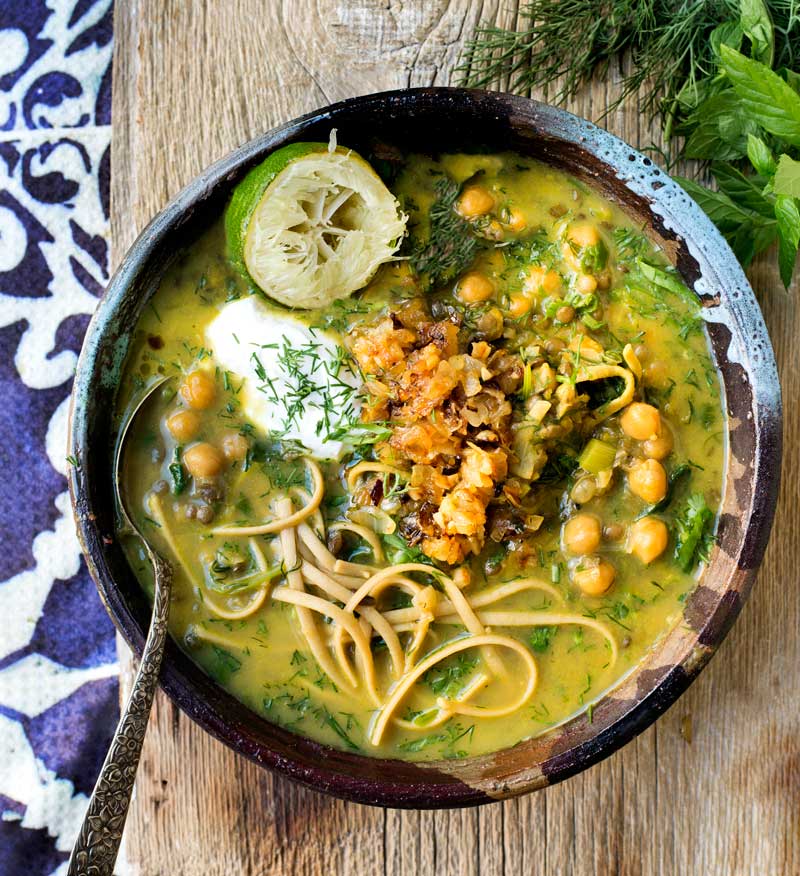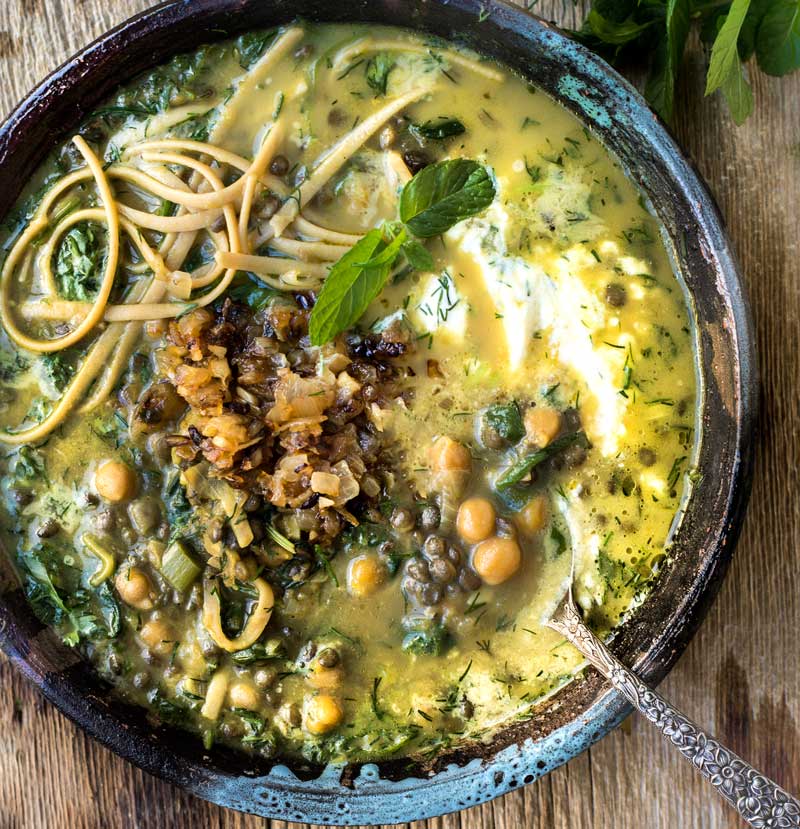 Persian/Iranian-Inspired Noodle Soup
Serves 4
3 tablespoons extra-virgin olive oil (or clarified butter)
1 pound onions (1 very large or 2 medium), chopped
6 large garlic cloves, chopped
2/3 cup dried chickpeas (garbanzo beans), soaked overnight
2 cups vegetable broth
1/3 cup green or French lentils, sorted and rinsed
1/2 teaspoon turmeric
Salt and freshly ground pepper
4 ounces linguine, whole wheat or white, broken in 3-inch pieces (about 1½ cups)
1/3 cup chopped dill plus extra for garnish
1/2 cup chopped cilantro plus extra for garnish
1/3 cup chopped green onions plus extra for garnish
5-ounces baby spinach
1 teaspoon dried mint
1/2 cup Greek yogurt, crème fraiche, sour cream, or kashk, plus extra for serving
lime, for serving
Heat the oil (or clarified butter) in a large pot or Dutch oven over medium heat. Add the onion and cook, stirring occasionally, until soft and deep golden brown, about 25 minutes; as the onion starts to brown, reduce the heat and stir more often. Add the garlic and cook over medium-low heat, stirring for a minute or two. Transfer about 1/3 of the onion mixture to a small bowl. Reserve it for garnish.
Add the chickpeas, broth, and 2 cups water to the pot. Stir well to combine with the onion mixture. Bring to a boil. Cover, lower the heat, and simmer for 1½ hours or until the chickpeas are tender. Add the lentils, turmeric, salt, pepper, and 2 cups of water. Return to a boil. Cover and simmer over low heat until the lentils are tender, about 15 to 20 minutes.
Bring a large pot of salted water to a boil.  Add the linguine and cook until just al dente, checking about 2 minutes before the recommended cooking time on the package. Drain the linguine, reserving the cooking liquid.
Mix the dill, cilantro, and green onions. Add half of the herb mixture and half of the spinach to the pot. Add 1/2 cup of the pasta cooking liquid and cook until the spinach is very tender, about 10 minutes (if the soup is too thick, add 1/4 cup pasta cooking liquid).
When ready to serve, stir in the remaining spinach and add the cooked pasta. Cook uncovered until the spinach just wilts, about 1 minute, adding more pasta liquid by tablespoon if the soup is too thick. Stir in the second part of the herb mixture. Taste and adjust seasoning. Stir in the yogurt (or kashk).
Reheat the onion and garlic mixture reserved for garnish in a small skillet over medium heat until sizzling. Add the dried mint, stir, and remove from the heat.
Ladle the soup into bowls. Garnish each serving with a spoonful of yogurt (or kashk), the caramelized onion and garlic mixture, fresh herbs and green onion, and squeeze of lime. Serve hot.