Hello pollinator. This busy bee wanted to be part of the photo…
On a different, but most important note, Maryland recently became the first state to ban bee-killing pesticides thanks to the Pollinator Protection Act. Hopefully other states will follow suit. What are you waiting for?? I'm sure many of you have seen these photos.
"Our honey bees are in serious trouble, and if we lose our bees, and other pollinators, one-third of our food supply is in danger (Baltimore Sun)." Scary thought.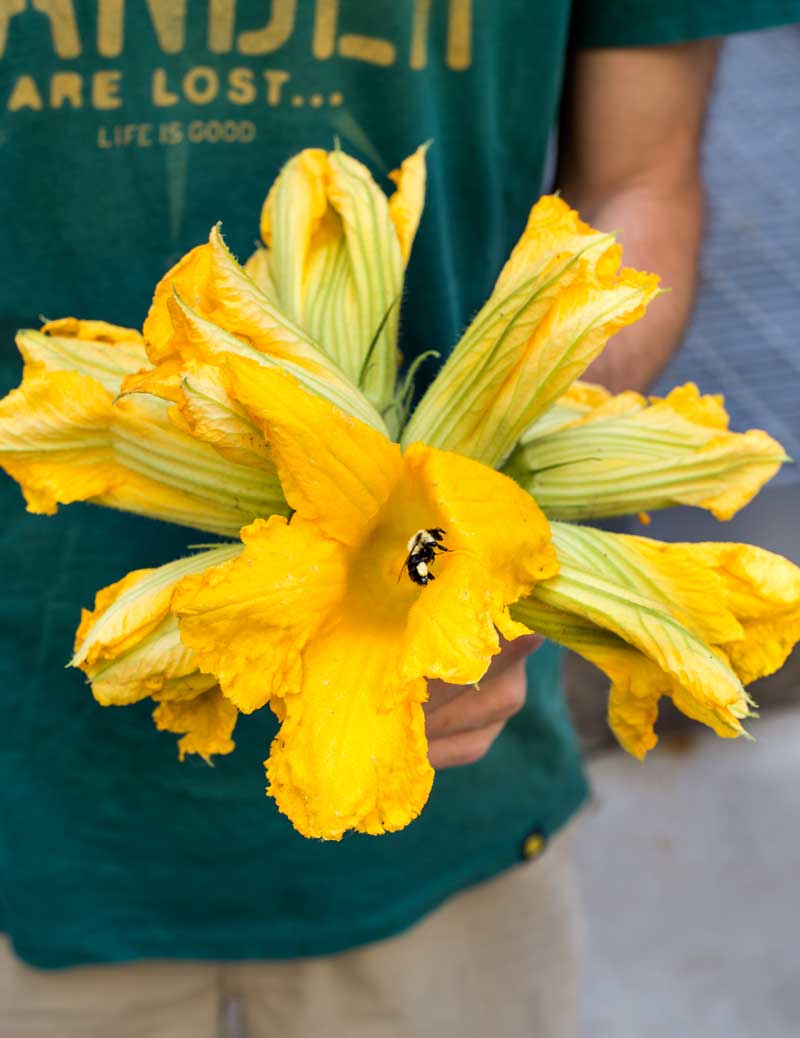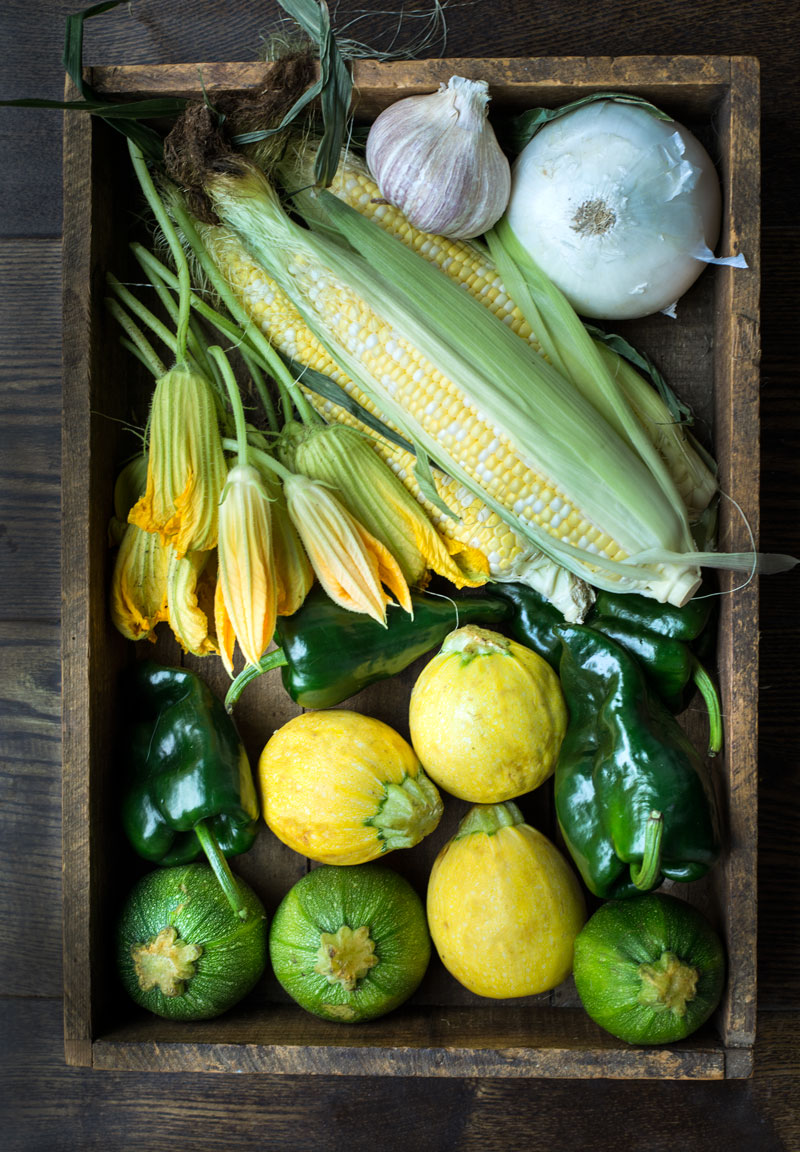 Shall we combine Meatless Monday — a global movement with a simple message, once a week cut the meat — and Taco Tuesday — a promotion (by no doubt, a Mexican food chain) that dates back to 1982 — and start a new trend…Meatless Taco Wednesday? Or perhaps not. Meatless Taco Wednesday doesn't exactly roll of the tongue.
Nonetheless, I happen to love a mean vegetarian taco, and don't need any incentive to make it part of my cooking repertoire. Plus, right about now, you might be up to your ears in summer squash (and, if you have a squash plant or two, plenty of squash blossoms).
Your frame of reference for squash blossoms may be those that have been stuffed with cheese and deep fried. They are decidedly good when prepared in this manner. However, there are other ways to utilize this summer treat. I've added squash blossoms to pizza, to soup, to salad, and now they've found their way into tacos.
No worries if you don't have any squash blossoms, you can still make these tacos. This summery vegetarian medley also includes squash, roasted poblano peppers, onion, garlic, and corn. Plenty going on, with (added bonus) or without the squash blossoms. To give the tacos another layer of flavor, the vegetables are finished with creme fraiche. Finally, I added a sprinkling of feta cheese and microgreens, and served the tacos with my favorite homemade (habanero) hot sauce for a fruity, kick of heat.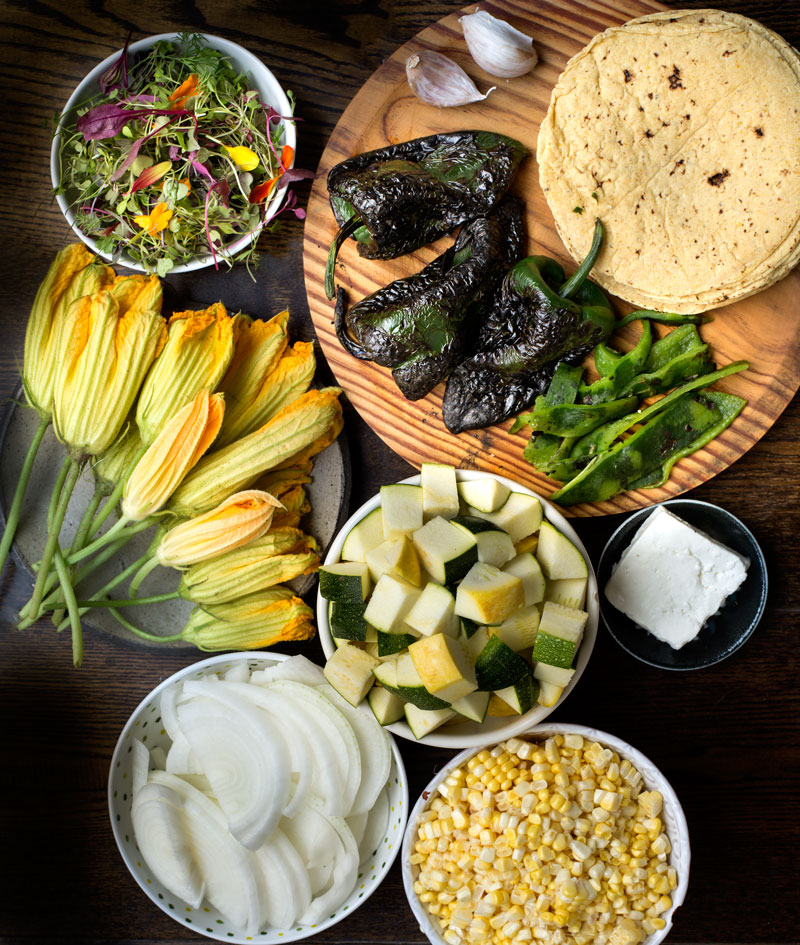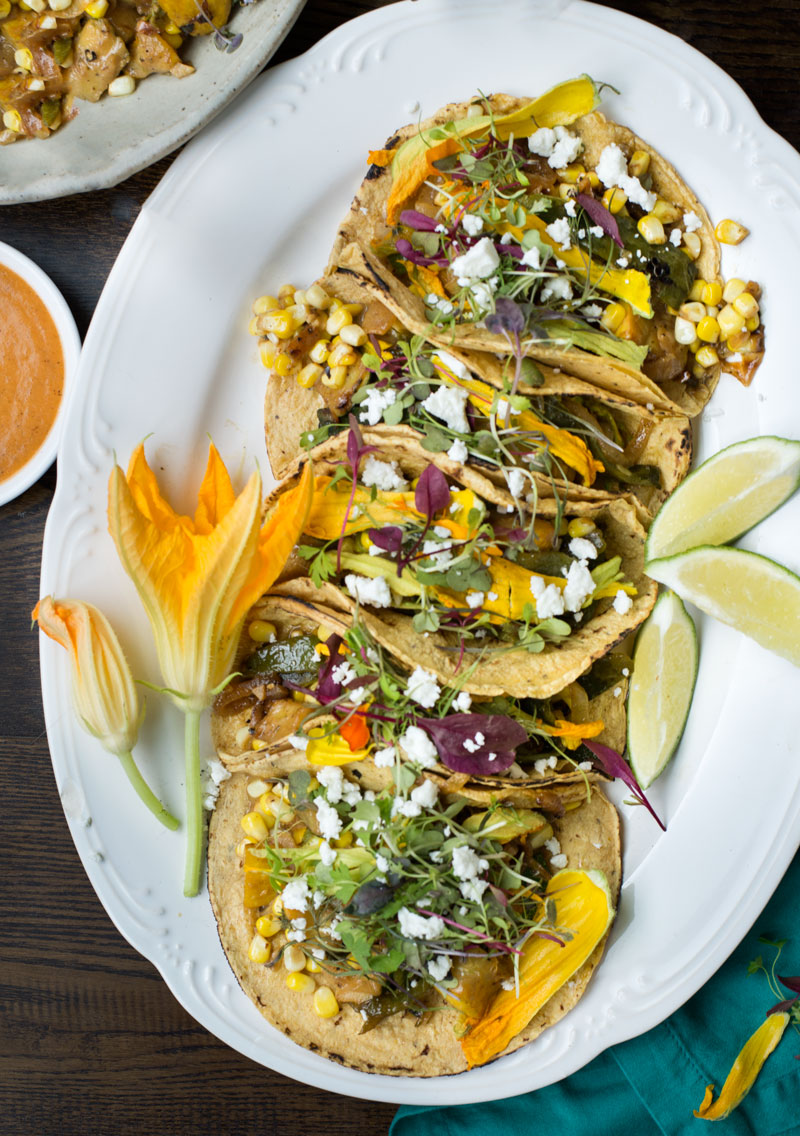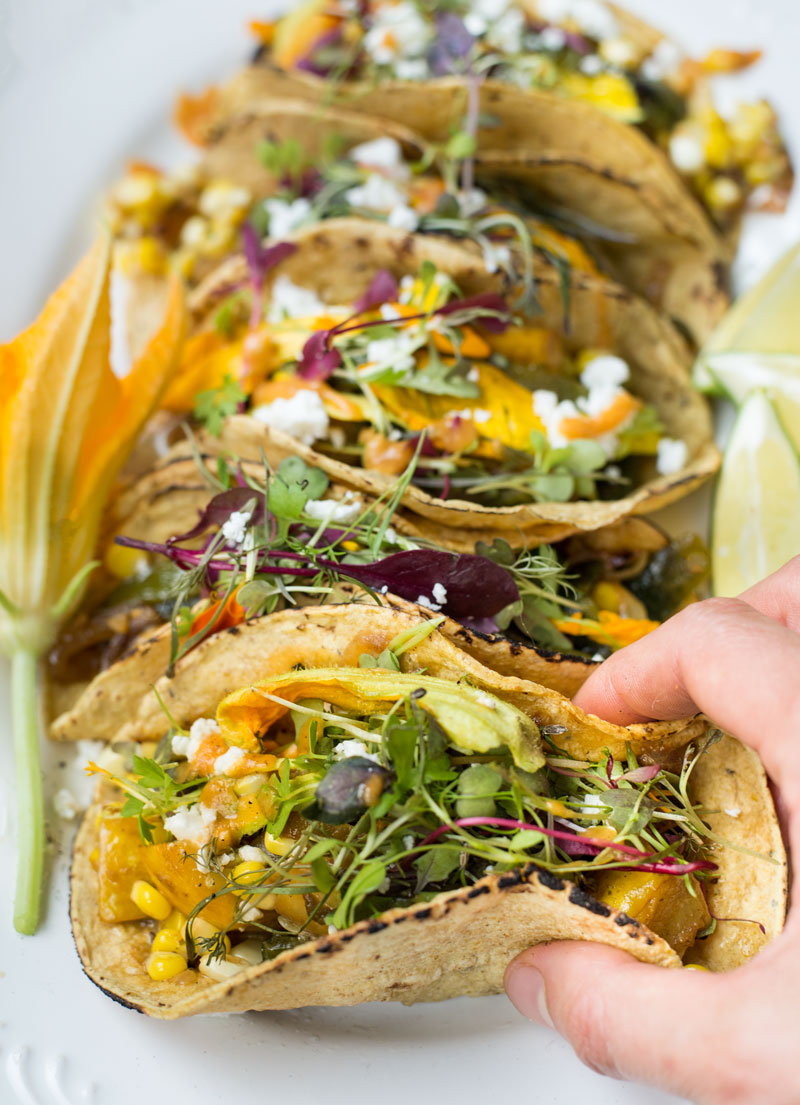 Squash, Corn, Roasted Poblano & Squash Blossom Tacos
Adapted from Rick Bayless
4 poblano chiles, roasted
3 tablespoons olive oil, divided
1 large white onion, sliced 1/4-inch thick
sea salt
2 to 3 garlic cloves, minced
1/2 teaspoon dried oregano
1 pound squash, cubed 1/2-inch thick
12 squash blossoms, stamens and stems removed, sliced into strips
1 cup fresh corn
1/2 to 3/4 cup creme fraiche or Mexican crema (more or less to taste)
12 corn tortillas
feta (or other crumbly hard cheese) for garnish
microgreens (optional) for garnish
lime wedges and hot sauce (made a habanero hot sauce) for serving
Char the poblano peppers: Place the whole peppers over the gas range of your stovetop, turning the peppers every few minutes until charred on all sides (if you don't have a gas range, you can roast them under the broiler). Place the peppers in a paper bag for 5 to 10 minutes to help loosen the skins. The skins should slide right off. Slice the peppers open, remove the seeds, slice into thin strips.
Heat 2 tablespoons of olive oil in a large skillet over medium-high heat. Add the onion, season with salt, and saute until browned about 10 minutes. Add the garlic and oregano, and saute another minute or two. Remove from the pan and set aside.
Add another tablespoon of oil to the pan over medium-high heat. When hot, add the squash and saute, turning the pieces frequently until nicely browned. Add the poblano strips, squash blossom strips, corn, and reserved onions. Add the creme fraiche and stir to combine. Continue to cook another couple of minutes, stirring constantly. Taste and season with salt. Add more creme fraiche if you like.
Heat the tortillas (I like to do this over a flame on the gas stovetop). Scoop the vegetable mixture into the warm tortillas. Top with crumbled feta and microgreens (if you like), and serve with lime wedges and hot sauce.
Habanero Hot Sauce
8 habanero chiles
2 garlic cloves, unpeeled
1/4 cup plus 2 tablespoons freshly squeezed lime juice
1/4 teaspoon salt
Place the habaneros and garlic cloves in a dry skillet over medium heat, turning regularly until softened and blackened in spots, about 10 to 15 minutes. Peel the garlic.
Place the chiles, garlic, lime juice, and salt in a high-speed blender. Blend until completely smooth. You can add a little bit of water if too thick. Strain through a mesh strainer. This hot sauce will keep several weeks in an air-tight container in the refrigerator.
Note: depending on your habaneros, this sauce can be quite fiery. What I particularly love about habaneros are their fruitiness. However, the sauce will mellow out after a few weeks in the refrigerator. Nonetheless, use sparingly!!!  A few drops is all you need.