The Italian market spanning several blocks on 9th street in South Philly is lined with old-time butcher shops, bakeries, grocers, eateries, and a stellar kitchen supply store. Can't go there without at least poking my head into Di Bruno Brothers and sampling some of their excellent cheese and charcuterie, and then wandering around Fante's Kitchen Shop. That's where I found the corzetti stamp. Wasn't really looking for it, it just happened to find me. I couldn't resist taking one home with me.
Corzetti are a pasta shape from Liguria (northwest Italy). They're decorative coin shaped pasta with a design on both sides; this one is stamped with the fleur-de-lis.
Yes, pasta making demands a bit of time and patience. However, once I (crank up the music) get into my pasta making groove, I lose all sense of time. I've made corzetti a few times in the past week and now have a freezer filled with them (portioned out in zip lock bags). Perfect for a quick weeknight meal. All you need to do is bring a pot of salted water to a boil, drop in the corzetti, and cook until perfectly al dente — less than two minutes. Toss them in the sauce of your choice and dinner is served. That's the type of 'fast' food I want to eat.
Due to their large surface area, corzetti are an ideal vehicle for sauce. Today, I made a basil pesto and a pistachio pesto. Light and delicate in keeping with the summer. The dish, slightly adapted from a recipe out of one of my favorite pasta books, Flour and Water.  
For a change of pace, I've also made corzetti with fresh tomatoes, basil, sausage ('nduja: a spicy, spreadable, Calabrian pork sausage), and anchovy. Good stuff.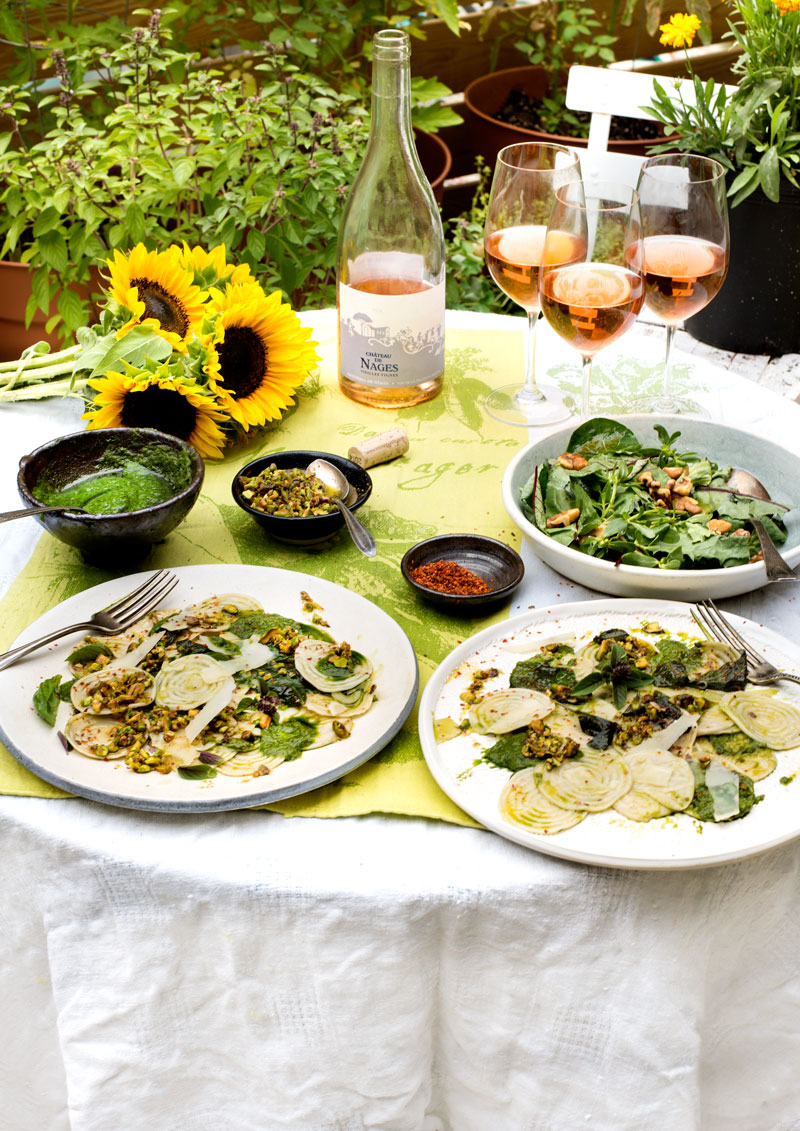 For corzetti, it's common to add wine to the pasta dough. From what I've read, it gives the dough a more chewy and elastic feel when cooked.
You want to roll the corzetti to just larger than 1/16th of an inch (the 4th setting on my Kitchen Aid pasta attachment).
The hardest part I found in making corzetti was that they would occasionally stick to the stamp. So, make sure to lightly flour the stamp/mold on a frequent basis.
Place the corzetti on sheets lined with semolina and let them dry for an hour or two so they hold their imprint. From there, you can use right away or freeze for a later date.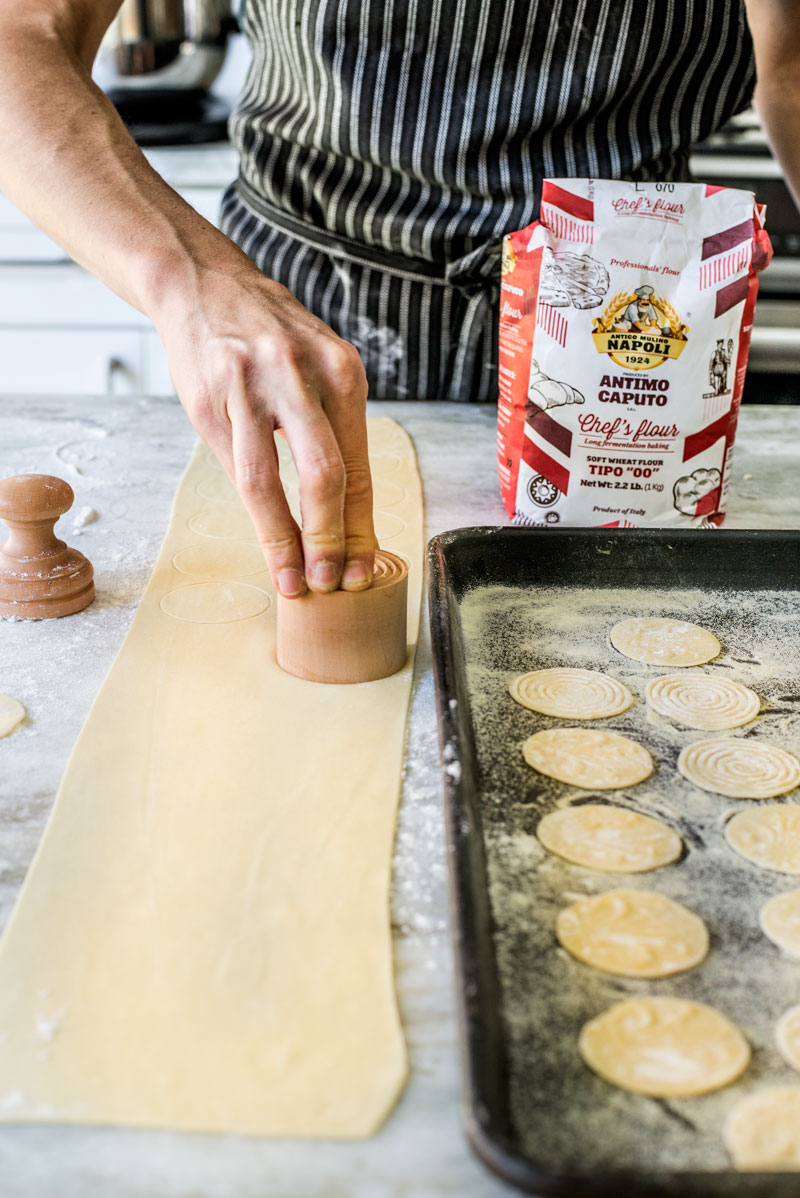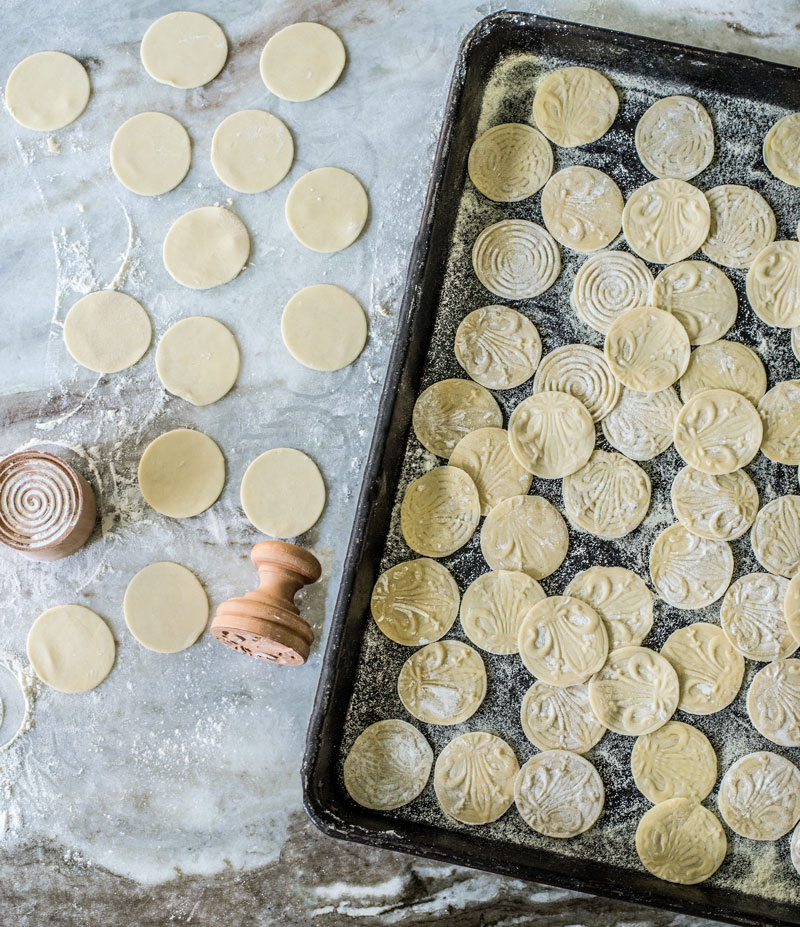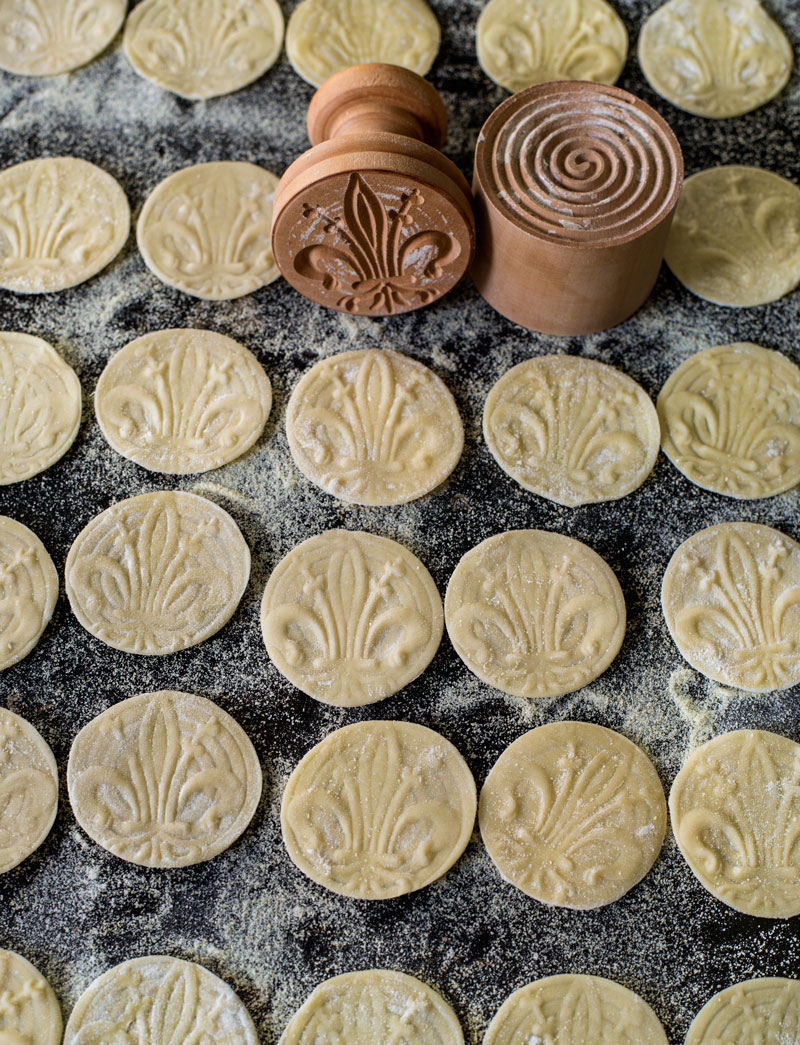 Even better served with a glass of rose or white wine as part of backyard alfresco summer dining. Can't beat that.
No reservation needed. Guests are always welcome.
Buon Appetito!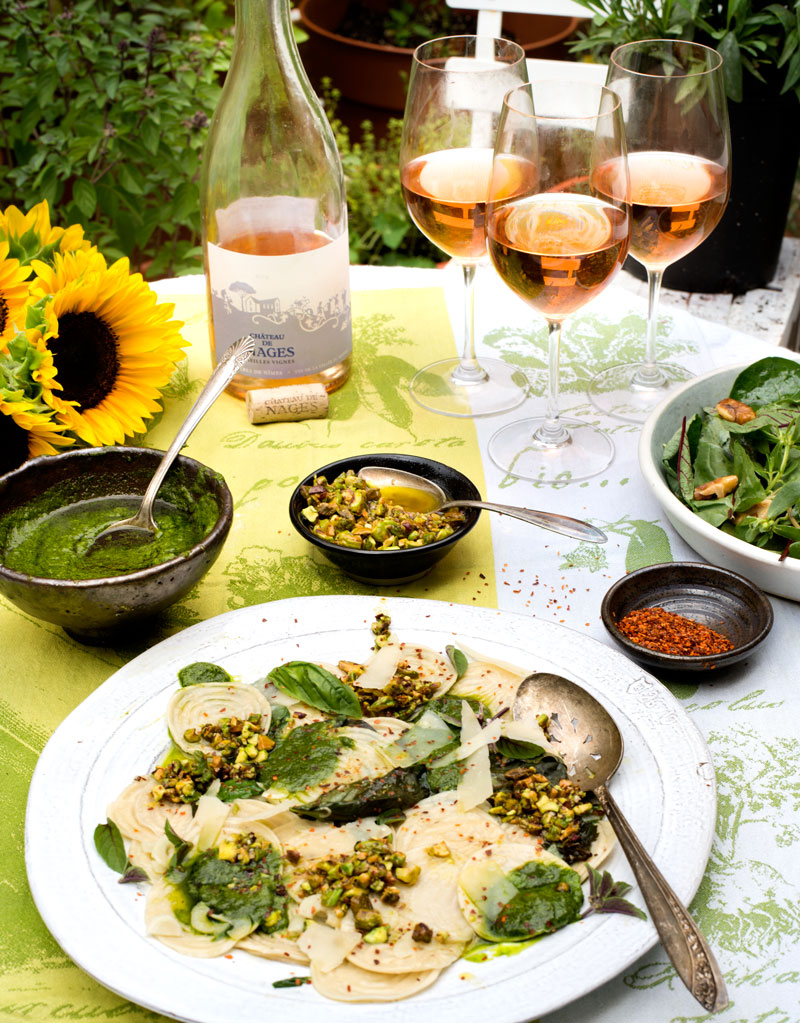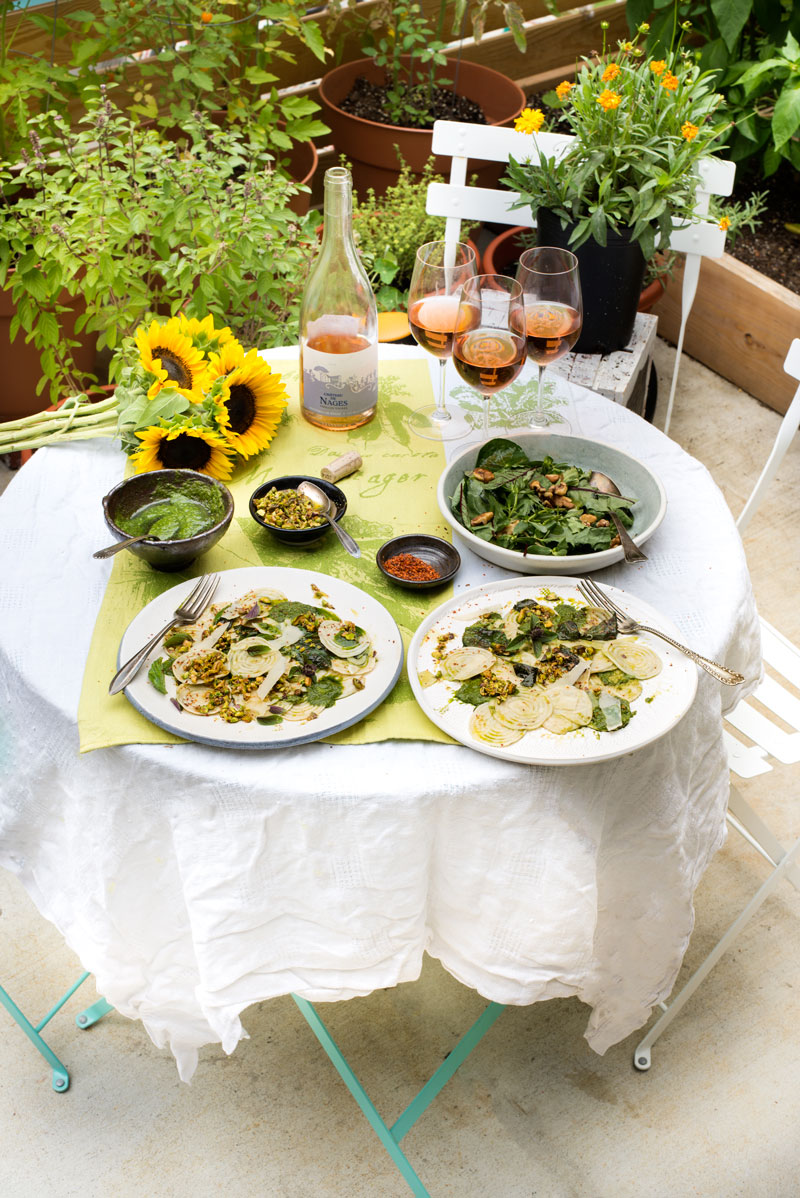 Corzetti with Basil Pesto and Pistachio Pesto
Adapted slightly from Flour and Water
Corzetti
makes ~ 100 corzetti
semolina flour, for dusting baking sheets
1 large egg
1/2 cup white wine (118 ml)
1 1/2 cups (360 grams) 00 flour
Lightly dust two baking sheets with semolina flour.
Mix the egg and wine in a bowl. Place the 00 flour on a clean work space. Using the bottom of a measuring cup, make a well in the center. Slowly add the egg and wine mixture to the well. With a fork, carefully incorporate flour from the 'walls' into the egg mixture. Continue adding flour from the walls and then the base until you have a shaggy ball. At this point, with your hands, knead the dough, until smooth and elastic, about 10 minutes.
Wrap the dough tightly in plastic wrap and let rest for at least 30 minutes. Cut the dough into quarters. Remove one-quarter of the dough and keep the rest covered with plastic to prevent drying out. Flatten the dough with a rolling pin. Then, roll the dough through the largest setting of your pasta machine. Continue with the next thinnest setting until your pasta is just greater than 1/16th of an inch (setting #4 on my Kitchen Aid pasta attachment; settings will vary depending on your pasta machine).
Place the pasta sheet on a lightly floured work surface. With the bottom of your corzetti stamp (or 2 to 2 1/2-inch ring mold), cut out rounds. Stamp each round with your corzetti stamp (lightly flour the stamp if the pasta sticks). Place each round on the semolina dusted baking sheet to dry. Continue with the remaining dough.
Once the corzetti are completely dry, an hour or two, they are ready to use (or you can freeze for a later date). The corzetti can go straight from the freezer into a pot of salted boiling water.
Pistachio Pesto
1/2 cup unsalted pistachios
grated zest of 1/2 lemon
1/4 cup olive oil
sea salt to taste
Pound the pistachios using a mortar or pestle (alternatively, you can use a food processor or chop by hand with a knife). Crush the pistachios until coarsely ground but still chunky. Add the lemon zest and olive oil. Season with salt.
Basil Pesto
2 cups loosely packed basil leaves
1/2 cup olive oil
3 tablespoons freshly grated Parmesan
sea salt to taste
Bring a pot of salted water to a boil. Prepare an ice water bath. Drop the basil into the boiling water for 30 seconds. With a slotted spoon, transfer the basil to the ice water bath. When the basil is chilled, remove the leaves from the water and gently squeeze to remove excess water (but not too hard, you don't want to remove any of the basil's essential oils). Place the leaves on paper towels to dry.
Place the basil leaves and olive oil in a high-speed blender. Blend until completely smooth, about 90 seconds. Transfer to a bowl and fold in the Parmesan. Season with salt.
The pesto can be made a day or two in advance. Keep refrigerated in an air-tight container. Bring to room temperature before serving.
To Finish the Corzetti
salt
semolina flour
1 tablespoon olive oil
1 clove of garlic, thinly sliced
12 basil leaves
pistachio pesto (recipe above)
basil pesto (recipe above)
shaved Parmesan
extra virgin olive oil
Bring a large pot of water to a boil. Generously salt the water. Then add a sprinkling of semolina flour to the salted water. Drop the pasta into the boiling water and cook until about 90% cooked, about 1 1/2 to 2 minutes.
Immediately after you drop the pasta into the water, combine the olive oil and garlic in a large skillet. Turn the heat to medium-high and cook until the garlic is soft but not browned, a minute or two. At this point the pasta should be ready. With a slotted spoon, transfer the pasta to the skillet, along with ~ 1/4 cup of the pasta cooking water. Fold in the basil leaves and toss the pasta gently.
Divide the pasta among four plates (or serve family style). Spoon a little bit of each pesto on top. Finish with shaved Parmesan and a drizzle of fruity extra virgin olive oil.
Serve the rest of the basil and pistachio pesto on the side in case anyone wants to add more.