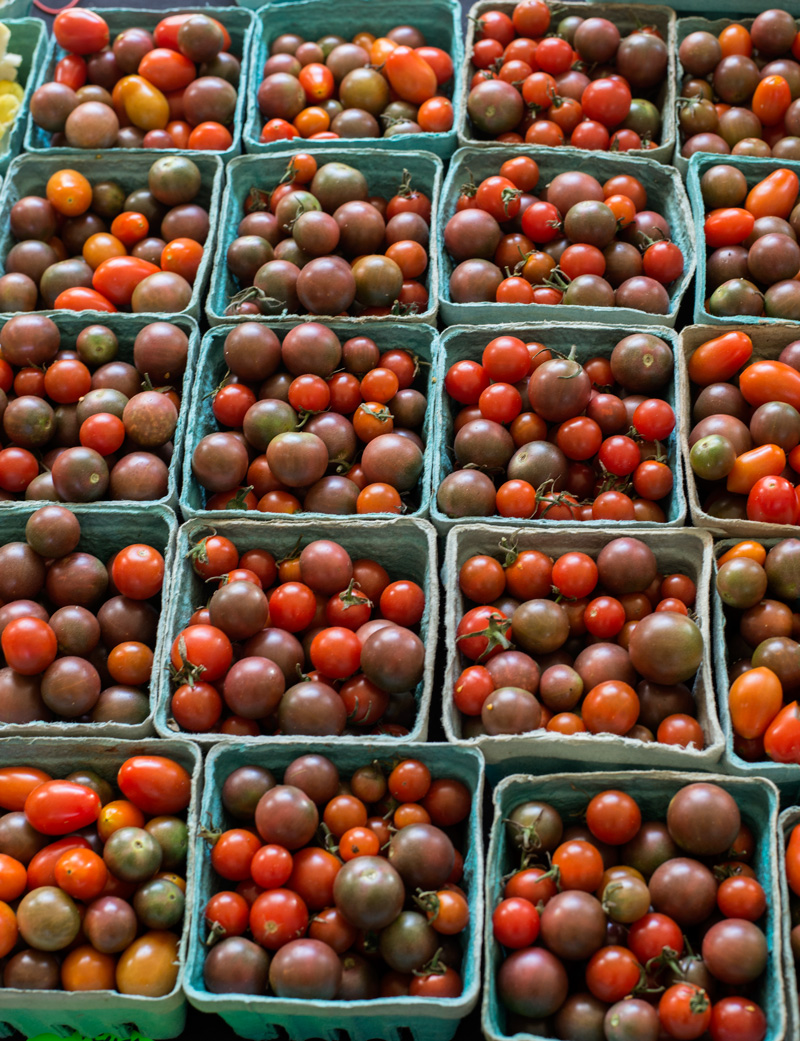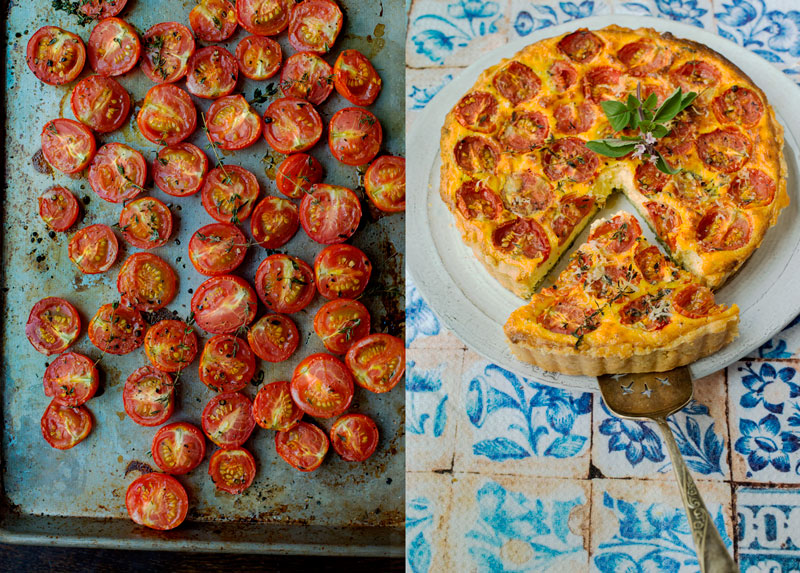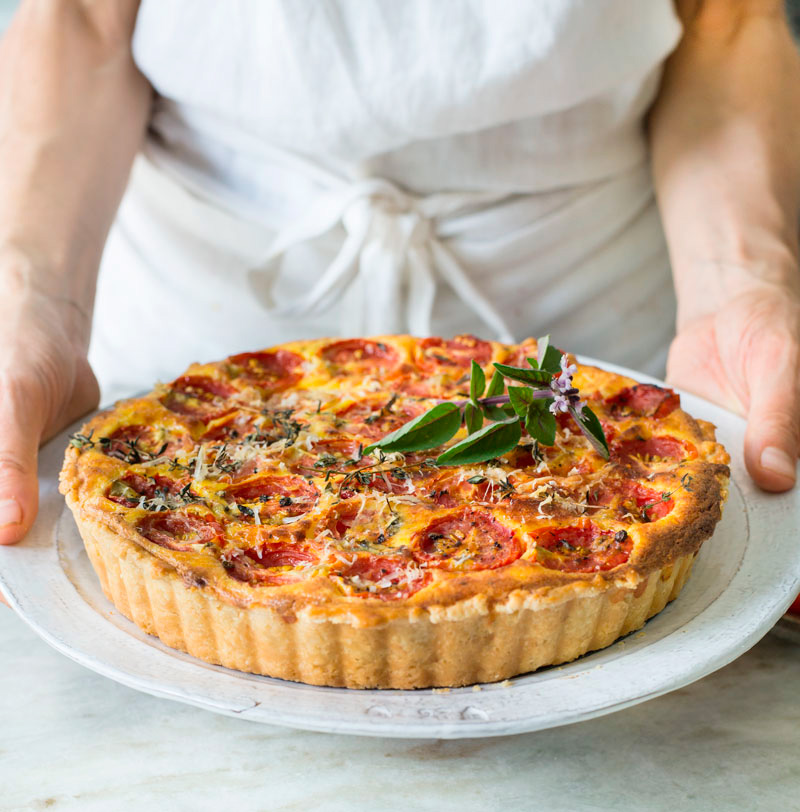 My recent move to Philadelphia came with a small, but very rewarding, first; that is, the first time I've ever had space to plant a garden. Enough room for a small raised bed plus an assortment of potted plants.
I have four tomato plants, a cucumber plant (which has gotten entirely out of hand and taken over the garden and, for some reason, my cat makes a bee line towards whenever I let him outside), several pepper plants (pimentos de Padron, habanero, and jalapeno), Japanese eggplant, squash, sorrel, chives, nasturtium, and several herbs. Not bad for a tiny urban garden.
I was concerned that there weren't any bees in our neighborhood to help pollinate my plants. However, as of late, I've seen a few bees (or maybe it's just the same bee) buzzing around. There are also some pesky squirrels that keep trying to bury peanuts (compliments of the women down the street who feeds them peanuts) in the garden. Fingers crossed for an abundant summer bounty.
The tomatoes are just beginning to ripen (with the exception of a few I've eaten straight off the vine). Perhaps a few more weeks for the rest. In the meantime, I've picked up a couple pints of tomatoes at the market.
If you like tomatoes and cheese (and who doesn't like cheese?) and a flaky buttery crust (ditto), then this is a tart for you. It's got layers of flavor. Perfect for tomato season.
I've made this tomato tart a few times now with a few tweaks along the way.
Most notably, I've made this tart with fresh tomatoes and again with oven-roasted tomatoes. The version with roasted tomatoes was the clear winner. The fresh tomatoes were too watery. Plus, oven roasting really helps to concentrate the flavor of the tomatoes.
Next, I whipped up a quick pesto — basil, garlic, olive oil, salt and pepper, and a handful of cashews (the only nuts I had on hand) — and added a layer to the bottom of the tart. Basil and tomatoes and cheese — a magical combination.
The custard is a mixture of eggs, cream, and three types of cheese — ricotta, Parmesan, and Pecorino. Parmesan is nutty; pecorino is salty; they make a nice combo.
The pastry itself is buttery and flaky.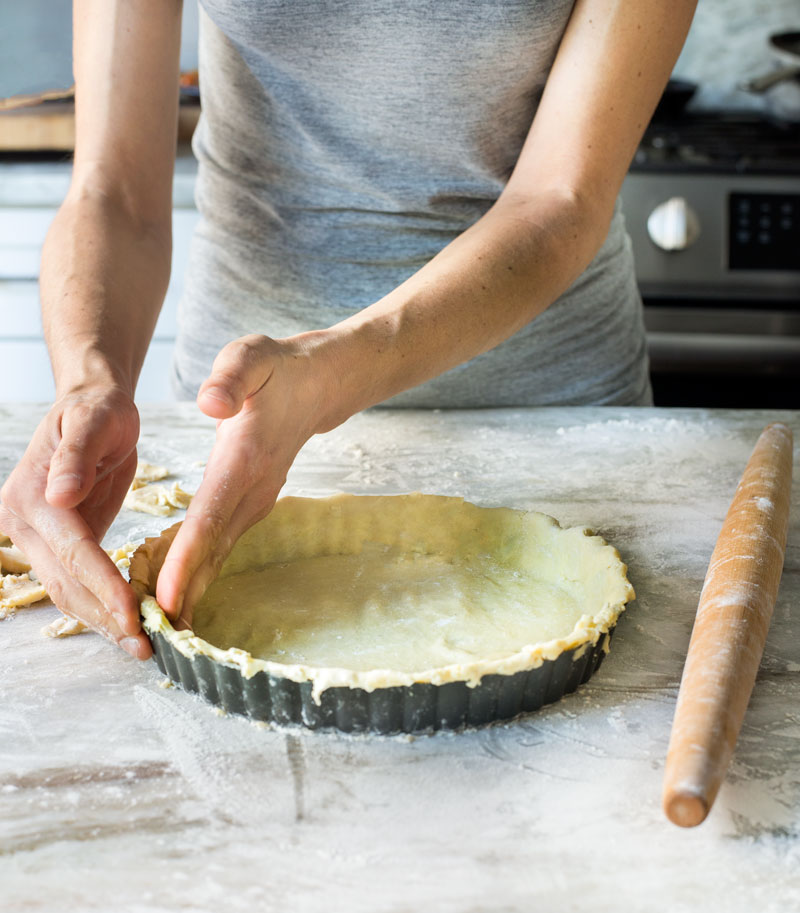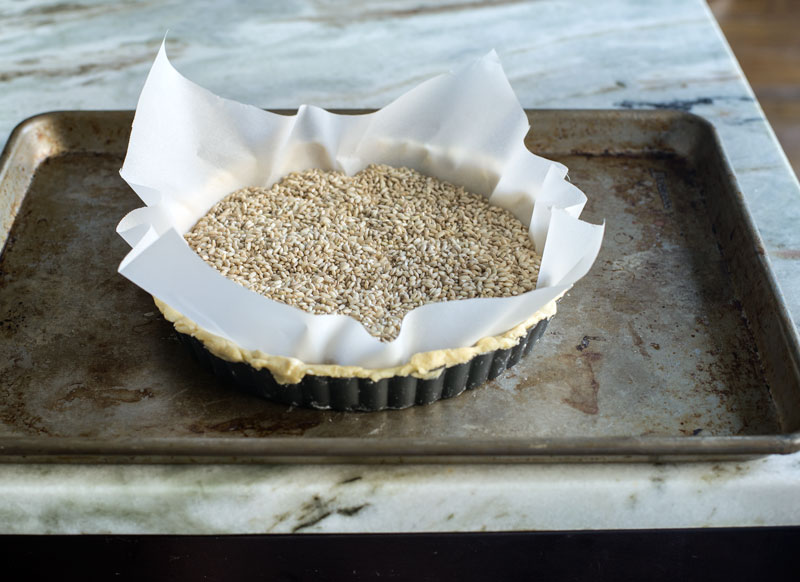 Add a layer of pesto.
Add the custard.
Add the oven-roasted tomatoes.
Then into the oven…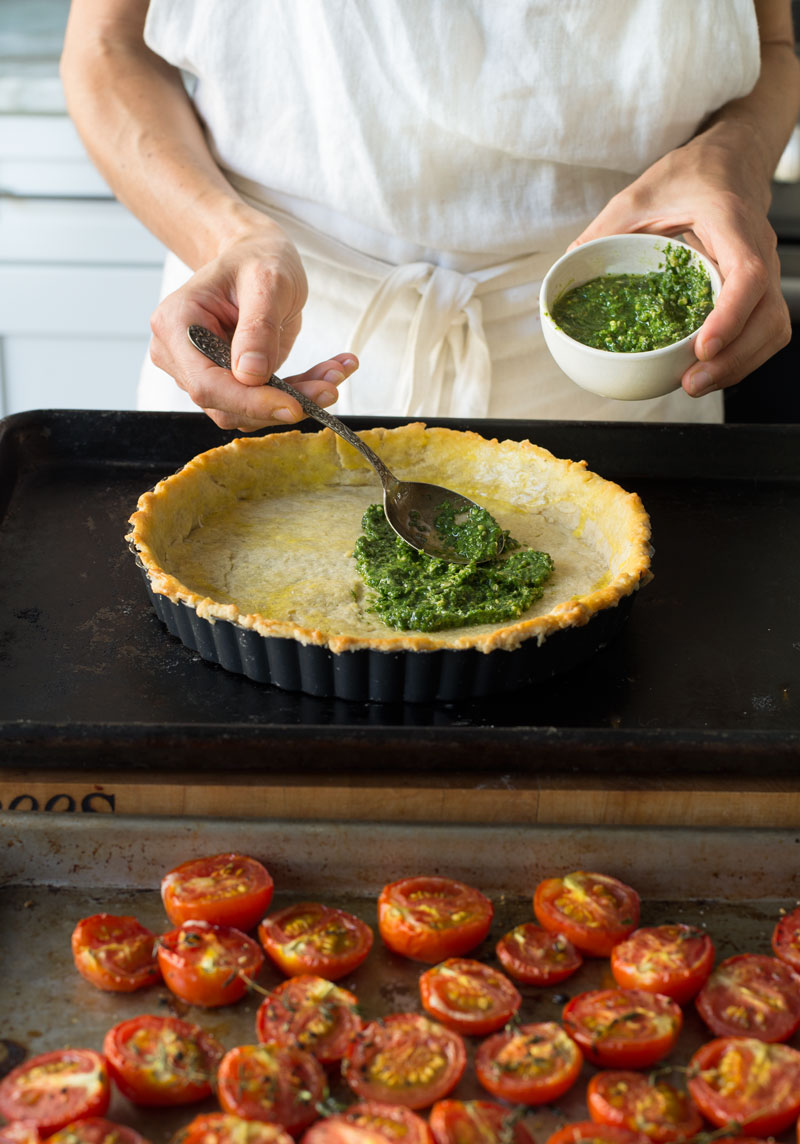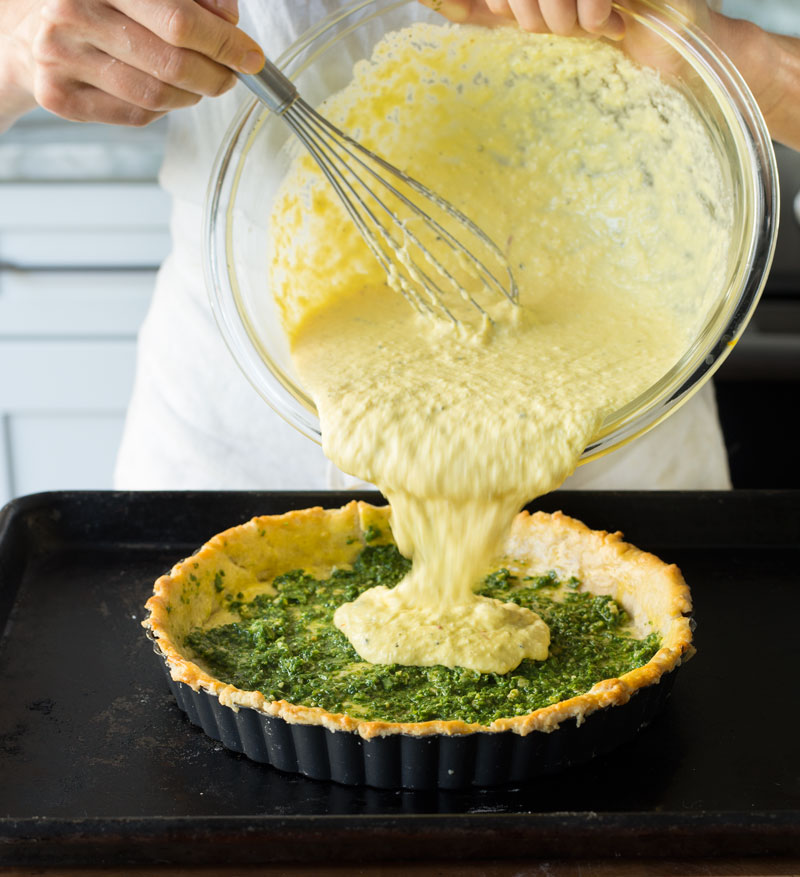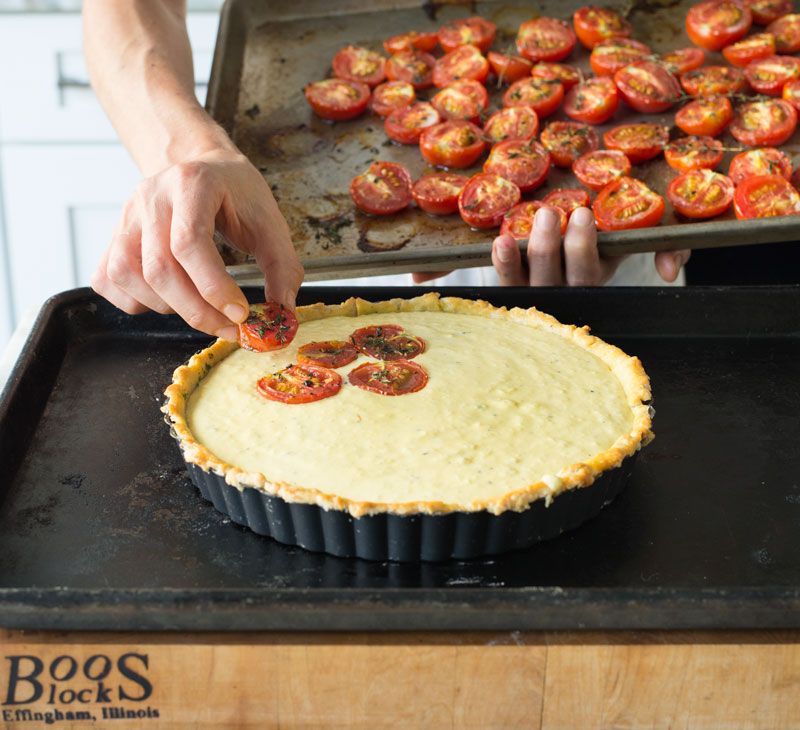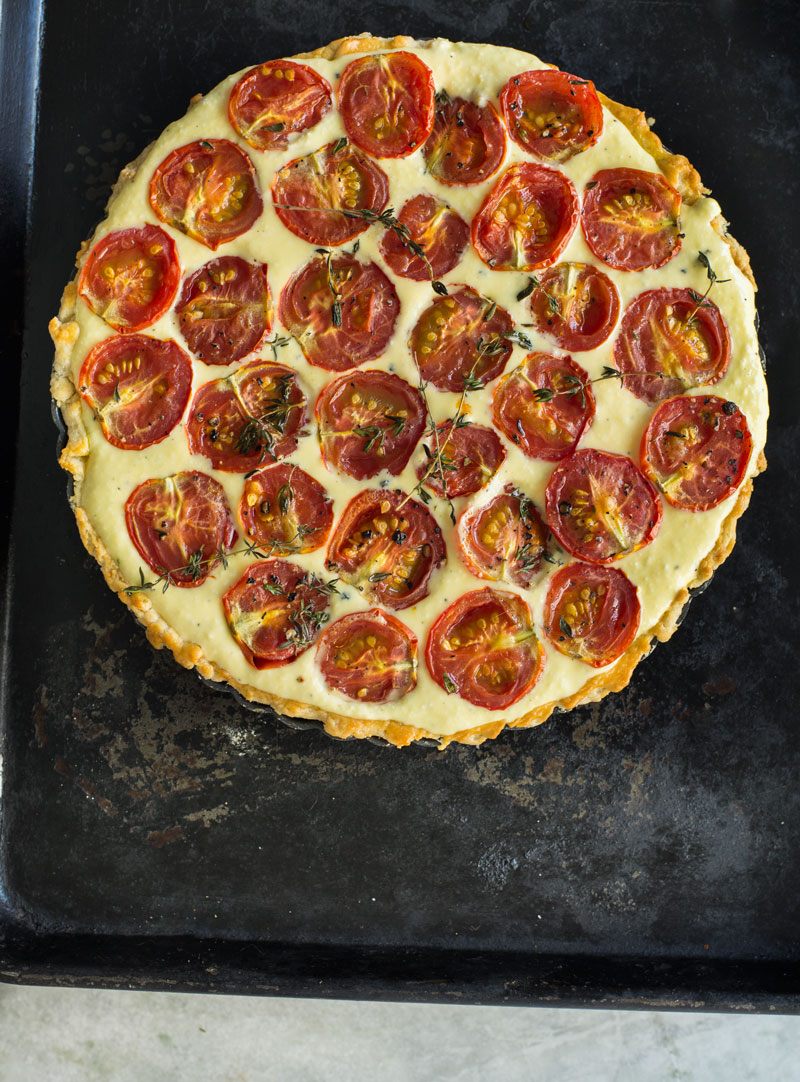 Let rest at least 10 minutes before digging in…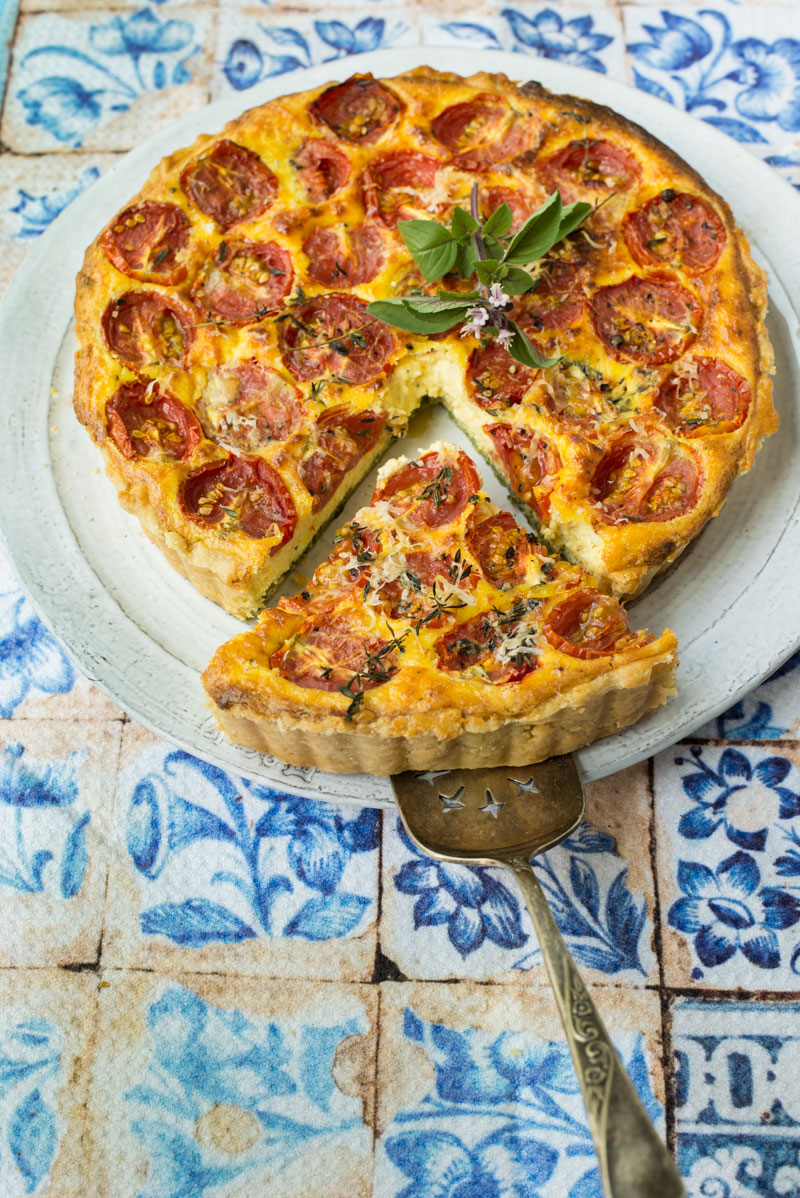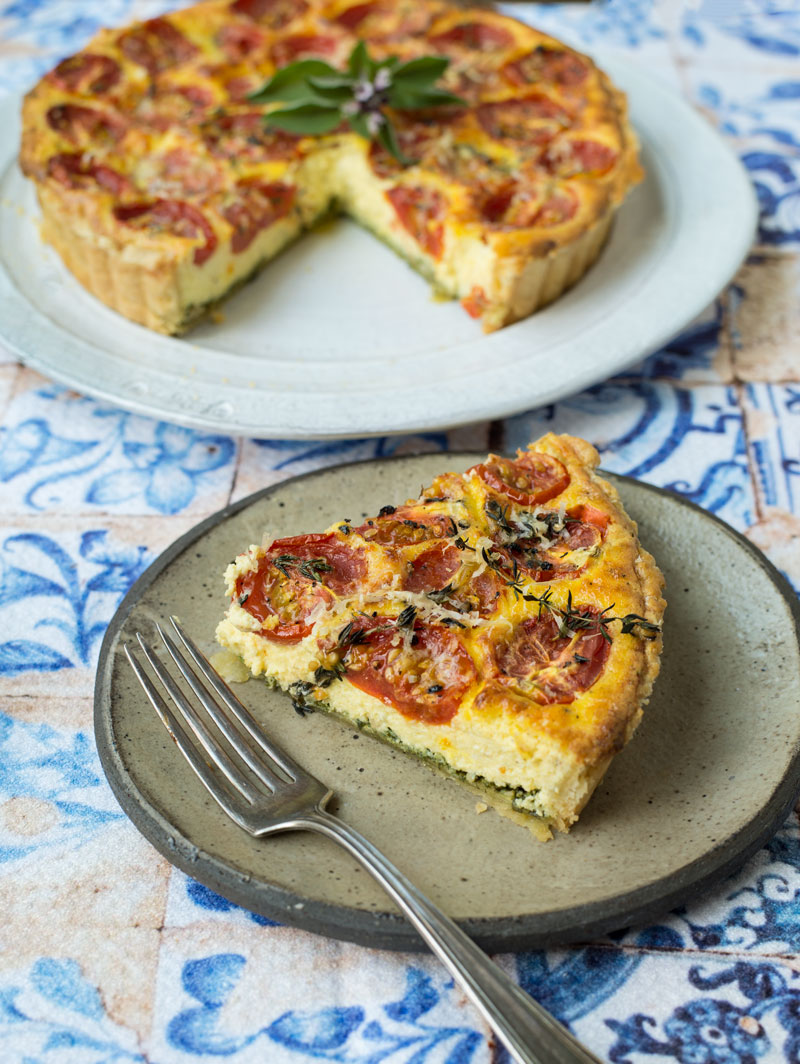 Roasted Tomato Tart
Pastry (recipe below)
Oven-roasted tomatoes (recipe below)
pinch of saffron
4 eggs, lightly beaten
3 1/2 ounces of cream
9 ounces (full-fat) ricotta cheese
2 1/2 ounces freshly grated Parmesan (or combination of Parmesan and Pecorino)
salt and pepper
2 tablespoons basil pesto
Preheat the oven to 350F.
Place the saffron in a bowl with 1 tablespoon of hot water. Let sit for a few minutes.
To make the custard: Combine the saffron (plus its soaking water), eggs, cream, ricotta, and cheese in a bowl (or food processor). Stir (or pulse a few times) until well combined. Season with salt and pepper.
Place the tart pan on a baking sheet. Spread a layer of pesto on the bottom of the tart. Pour the custard into the tart. Place the tomatoes cut side up into the custard (add the thyme as well).
Bake until the custard is completely set and golden brown, about 45 to 50 minutes. Remove from the oven and let cool for 10 minutes before slicing.
Pastry
makes 1 (9-inch) tart
5 1/2 ounces (about 1 cup plus 2 tablespoons) all-purpose flour
1 teaspoon salt
3 1/2 ounces unsalted chilled butter, cubed
1 1/2 ounces iced cold water
Add the flour and salt to a food processor. Add the butter and pulse a few times until you have a fine crumb texture. Add the water and give it a few pulses to just combine.
Transfer the dough to a lightly floured work surface and form the dough into a smooth ball. Press the ball gently to flatten. Wrap in plastic and refrigerate for at least one hour (up to a few days).
Remove the chilled dough from the refrigerator. Lightly flavor your work surface. Roll out the dough 1 1/2 inches larger than your tart pan. Use the rolling pin to transfer the dough to the pan. Press the pastry in using your finger tips. Trim any excess dough. Don't worry if the pastry cracks a little, you can fill in the cracks with extra pastry. Prick the bottom of the pastry all over with a fork. Place the dough back in the refrigerator for at least a half hour.
Blind bake the pastry:
Preheat the oven to 425F.
Place a sheet of parchment over the pastry. Fill with beans or rice to help weigh it down. Bake until the crust  is firm, about 15 minutes. Remove the parchment and beans. Brush with a little egg wash (egg + cream) and place back in the oven until the crust is golden brown, about 5 minutes.
Oven-Roasted Tomatoes
15 to 20 cherry tomatoes (depending on their size), sliced in half
drizzle of olive oil
salt and pepper
few sprigs of fresh thyme
Preheat the oven to 375F.
Place the tomatoes on a baking sheet cut side up. Drizzle with olive oil. Season with salt and pepper. Sprinkle a few sprigs of thyme on top. Roast until the tomatoes soften and begin to caramelize, about 30 to 35 minutes.