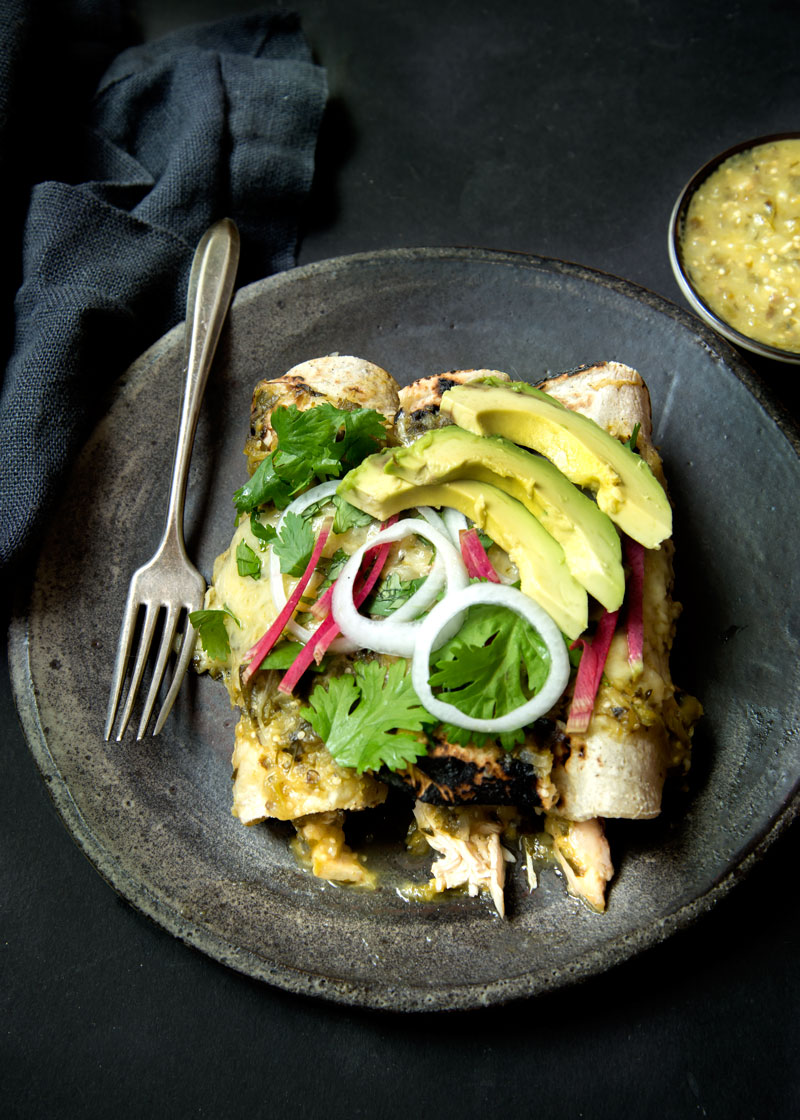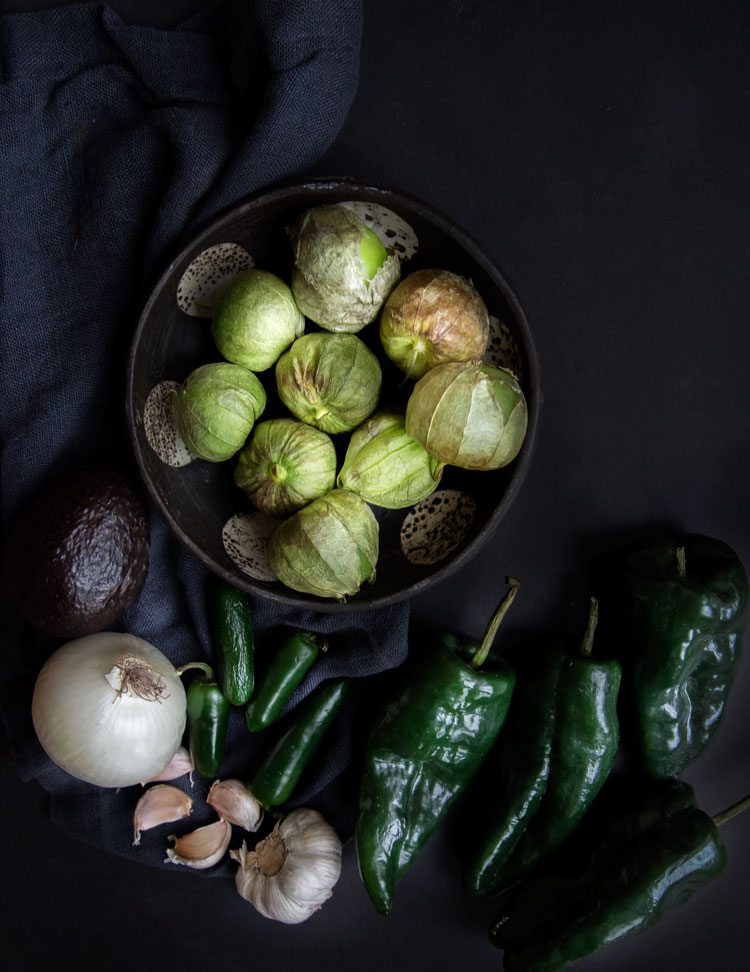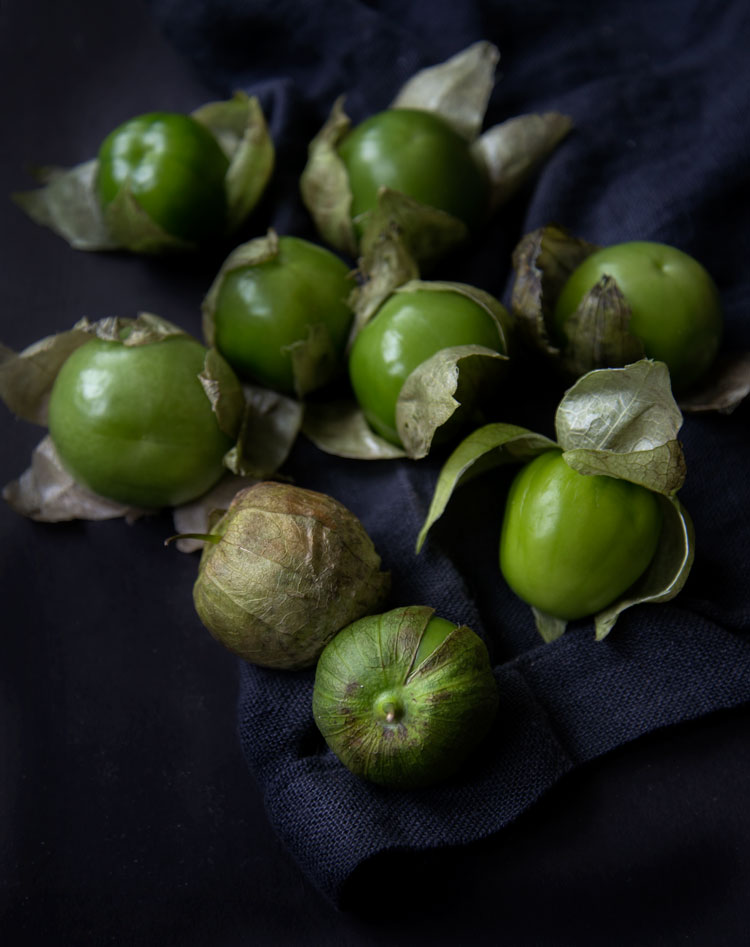 Typically, you find green tomatillos, but occasionally you may come across the yellow variety. Yellow tomatillos tend to be sweeter than green tomatillos. Personally, I prefer the green ones…
After roasting the tomatillos, onions, and peppers, pulse in a food processor until smooth…
This is my favorite way to roast peppers — over an open flame (in this case, a gas range) until the peppers are uniformly charred all over. After the peppers cool, their skins will slide right off. Seed and slice your peppers and they're ready to use.
Make sure all your ingredients are prepped and ready to go. This will make assembling the enchiladas a snap. You can prepare the poblanos, greens, and salsa ahead of time. As for the chicken, I took the easy route with a store-bought rotisserie chicken. One less step.
For the tortillas, I like a nice char on them. You can achieve this by placing the tortillas, one by one, on the open flame of your stovetop until charred in spots. Just be careful to keep an eye on them, as tortillas will burn quickly.
I always keep a big jar of pickled vegetables on hand…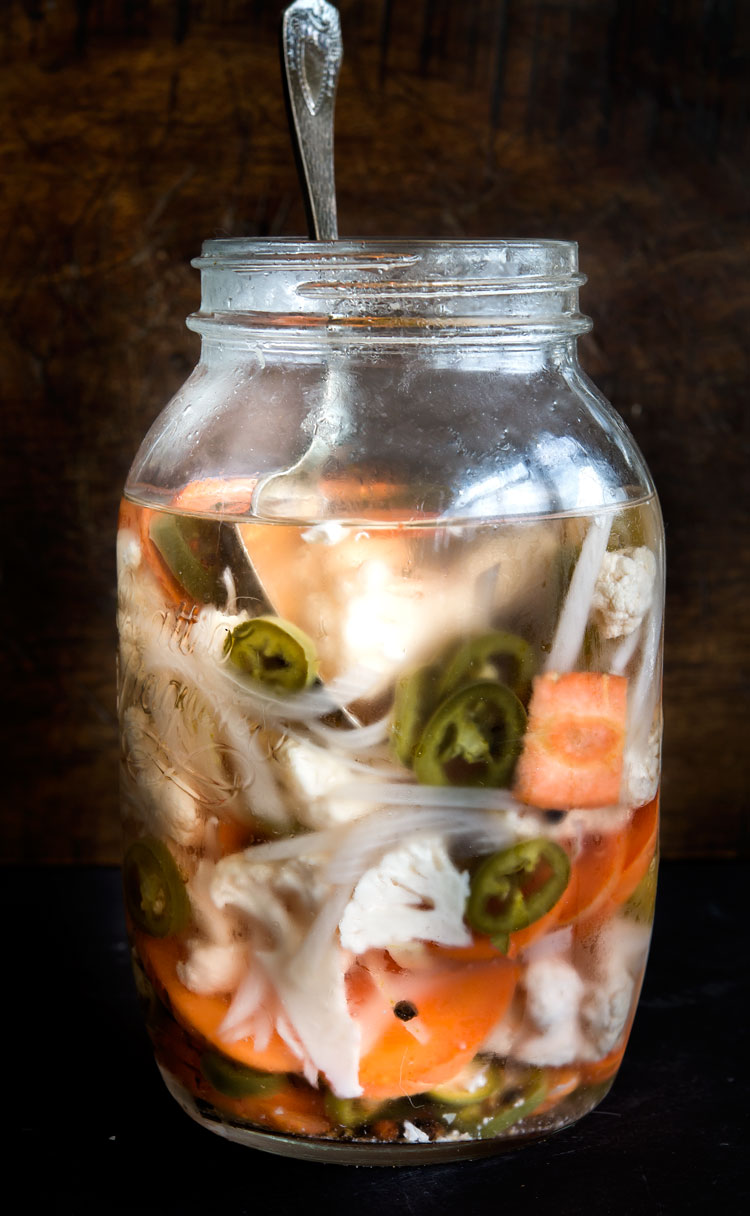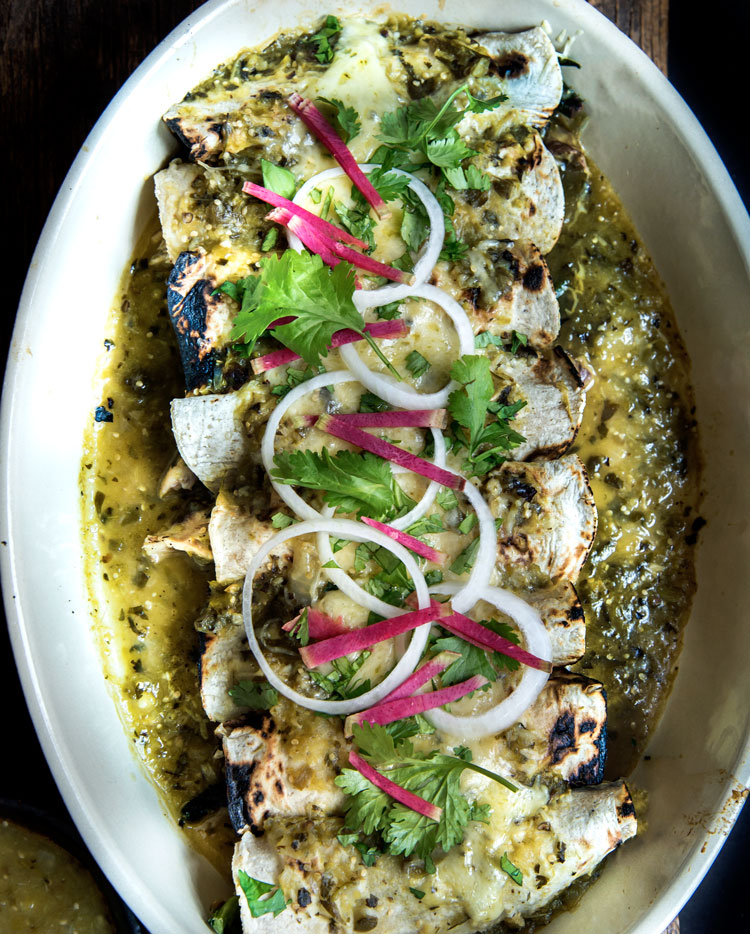 Enchiladas Verdes
serves 4
Tomatillo Salsa (recipe below)
3 tablespoons vegetable oil, divided
2 1/4 cups chicken or vegetable broth
1/2 scant cup loosely packed, cilantro, chopped
8 corn tortillas
Shredded melting cheese (such as queso chihuahua, mild cheddar, gruyere, asiago, fontina, etc.)
Filling
~3 cups cooked, coarsely shredded, chicken (used a store bought rotisserie chicken)
4 medium poblano peppers, roasted
12 ounces spinach
salt
shredded melting cheese
Garnishes
Mexican crema
thinly sliced onion
thinly sliced (watermelon) radish
sliced avocado
cilantro leaves
Preheat the oven to 400F.
Roast the poblanos on an open flame: Place a poblano pepper on an open flame on your stove top (medium heat). Cook turning every few minutes until completely charred on all sides. Place the peppers in a paper bag for 10-15 minutes to help loosen the skins. Scrape the charred skin (don't worry if a few charred bits stick). Remove the seeds and slice the peppers into strips.
Sauté the spinach: Heat 1 tablespoon of olive oil over medium heat. Add the spinach, season with salt, and cook until just wilted.
Heat 2 tablespoons of oil in a saucepan. When hot, add the roasted tomatillo salsa and let simmer until reduced and concentrated, stirring it frequently, for about 4 minutes. When thick, stir in the broth and cilantro. Reduce the heat down to medium­ low and let it simmer while you prepare the filling.
Place the shredded chicken in a bowl and spoon some of the hot salsa over the chicken to generously coat. Stir to combine.
Spoon a thin layer of tomatillo salsa on the bottom of a 9×13 baking dish (or equivalent oval dish).
Place a corn tortilla over medium heat on an open flame on your stovetop. When browned in spots, flip and brown on the second side. Be sure to keep a close eye on your tortillas.
Add some roasted poblano strips, spinach, shredded chicken, and cheese to the tortillas. Roll them up. Place seam side down in the baking dish. Continue with the rest of the tortillas. Spoon some more tomatillo salsa on top of the tortillas. Sprinkle the cheese on top. Bake in the oven until the cheese is melted and bubbly, about 5 minutes.
Garnish the enchiladas with the topping(s) of your choice: crema, cheese, white onion, radish, avocado slices, cilantro leaves, etc.
Serve with a side of the warm tomatillo salsa.
Tomatillo Salsa
Can be made several days in advance. Store in an airtight jar in the refrigerator.
1 1/2 pounds (about 12 medium) tomatillos, husked and rinsed
5 to 6 garlic cloves, unpeeled
1 to 3 fresh serrano or jalapneo chiles, depending how spicy you like it
1 medium white onion, sliced ½ inch thick plus a few slices for garnish
1 teaspoon salt
Place the tomatillos, garlic, serrano chiles, and white onion on a rimmed baking sheet. Place under the broiler. After 4 or 5 minutes, when everything is blotchy­ black and softening, turn the vegetables and roast the other side until the vegetables are soft and charred in places.
Remove from the broiler and cool. Slip off the skins of the garlic and pull the stem off the chiles. In a blender, combine the tomatillos (and any juice on the baking sheet), garlic, chiles, onion, and salt, and blend to a coarse puree.