Whenever I go out for Thai food, I start with the green papaya salad. Love it. It's raw. It's fresh. It's crunchy. It's spicy. It's salty. It's sweet. It's sour. It never disappoints. The green papaya salad looks deceptively simple, but there's far more to it than meets the eye.
While this salad is traditionally made with an unripe (green) papaya, I used kohlrabi (blasphemy, I know) in its place. Kohlrabi is more readily accessible and locally grown, which I much prefer.
Are you familiar with kohlrabi?
Kohlrabi in the brassica family, along with broccoli, cauliflower, cabbage, and kale. Kohlrabi has a nice crunch and is fairly mild in flavor, think broccoli stems with a just a hint of sweetness. And, it can be julienned to form 'noodles', which makes kohlrabi a worthy substitute for green papaya.
Look for kohlrabi at your local farmers' market. I've also seen it popping up in mainstream grocery stores. You might come across green or purple kohlrabi. They both have white flesh on the inside and taste identical. Just peel the tough outer skin and then use a tool like this one or this one (even better) to julienne it. Kohlrabi are freshest when the greens are still attached (you can chop and sauté the greens in a little olive oil with chopped garlic, salt, and pepper).
For this salad, you'll also need fish sauce and dried shrimp; two ingredients that you might not have on hand, but once you procure them they practically last forever (or at least for a very long time).
Nowadays, fish sauce is fairly mainstream — essentially fermented anchovies, water, and salt. It smells more pungent than it tastes. Just like salt-cured anchovies, it's that secret ingredient that livens up a dish (akin to adding an anchovy to an Italian red sauce). I keep a big jar of fish sauce with chopped Thai chiles on hand (great for spooning over rice). I just refill the jar with chopped chiles when I run out.
Procuring the dried shrimp will most likely require a trip to an Asian grocery store. Look for dried shrimp that are bright pink, coral-colored (avoid ones that are gray or brown in color) and whole, rather than broken pieces.
The great thing about this dish is that you can alter it to suit your taste. If you like things spicy, add more Thai chiles; more tart, add more lime juice; a bit sweeter, add more sugar.
Serve with a cold beer (if you so desire). The one above is a habanero IPA.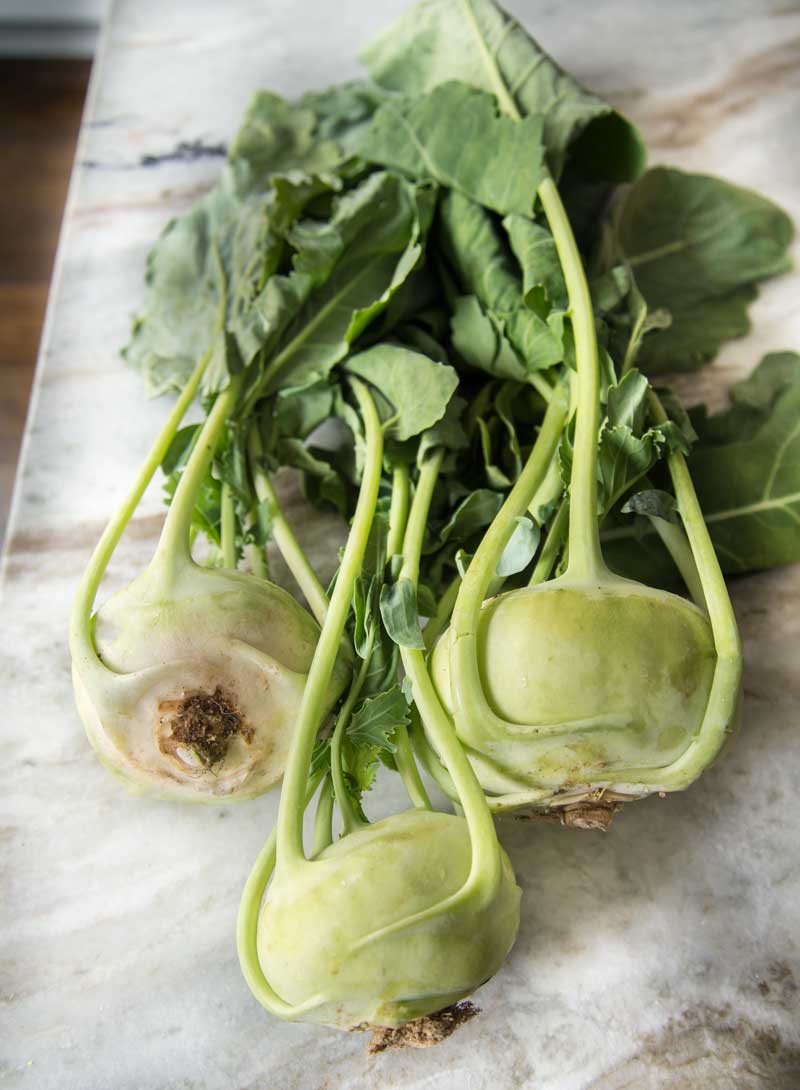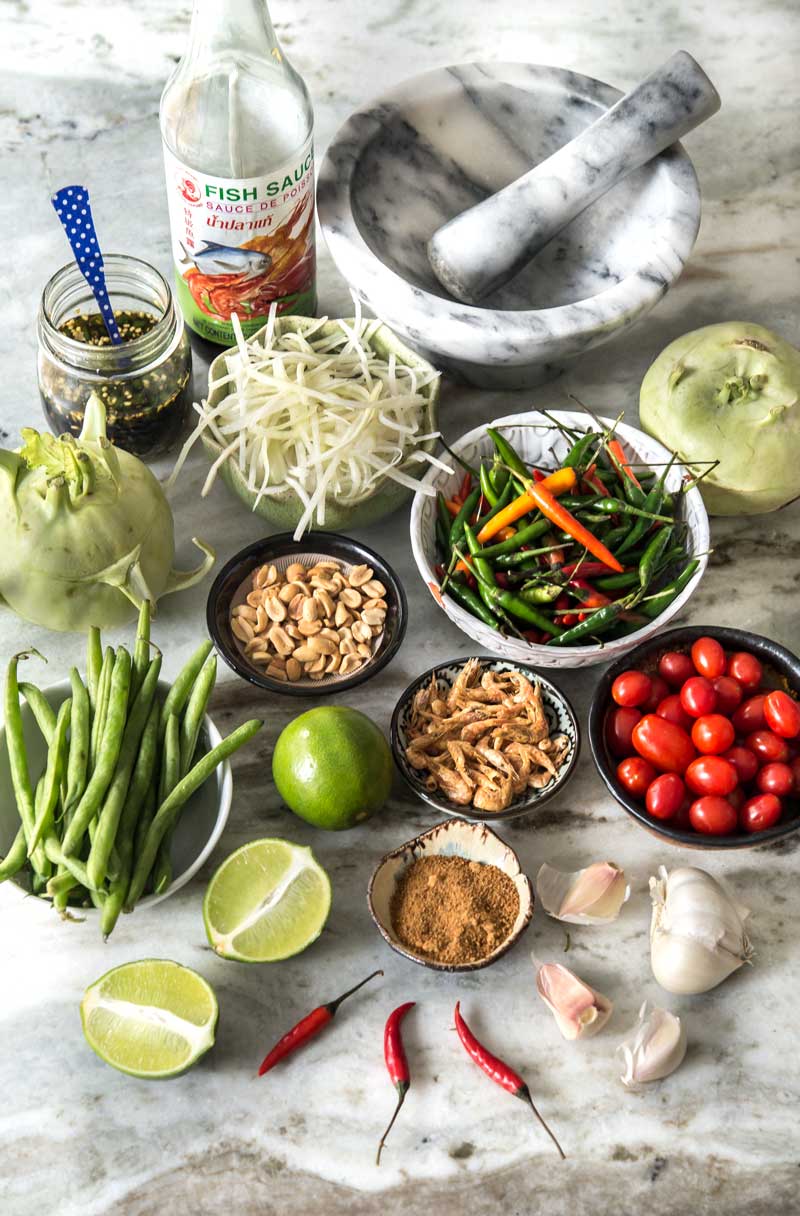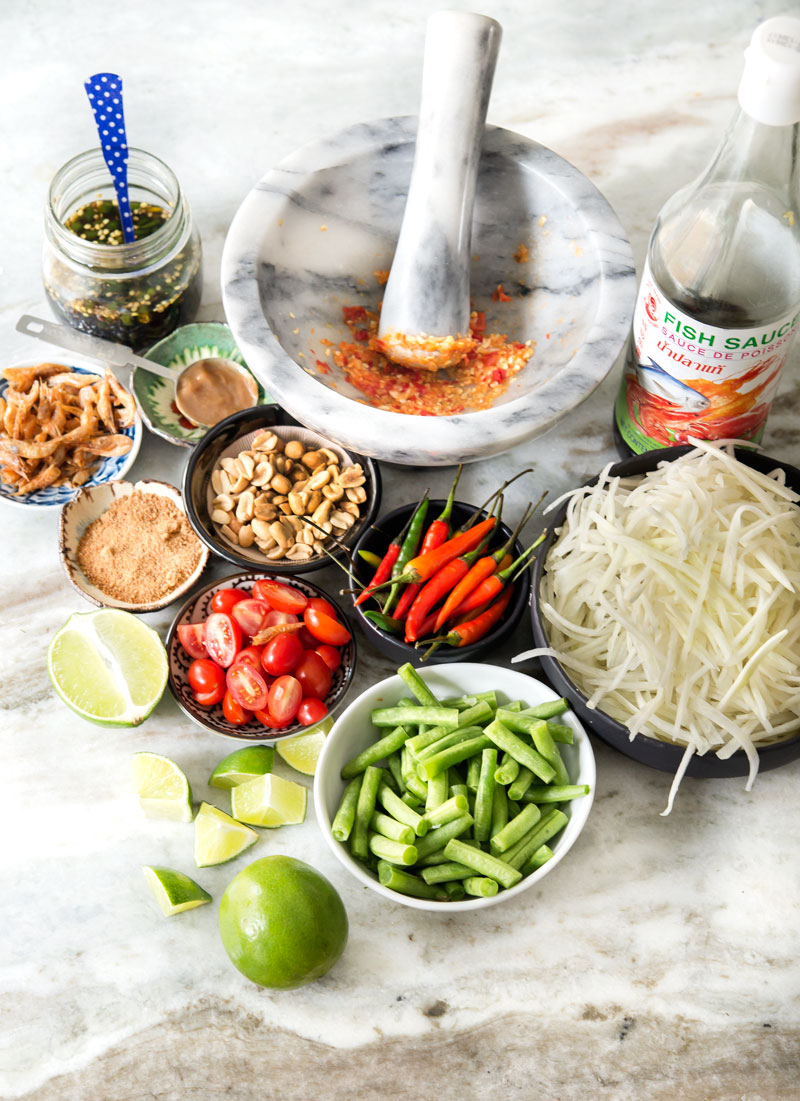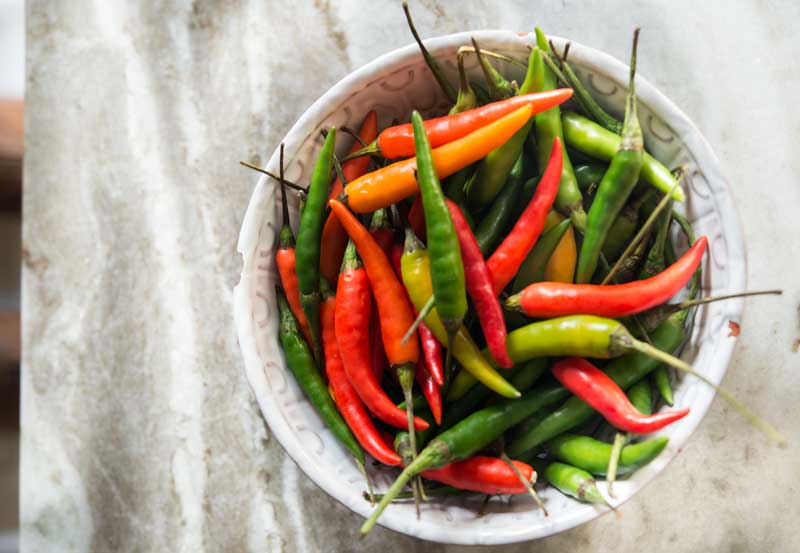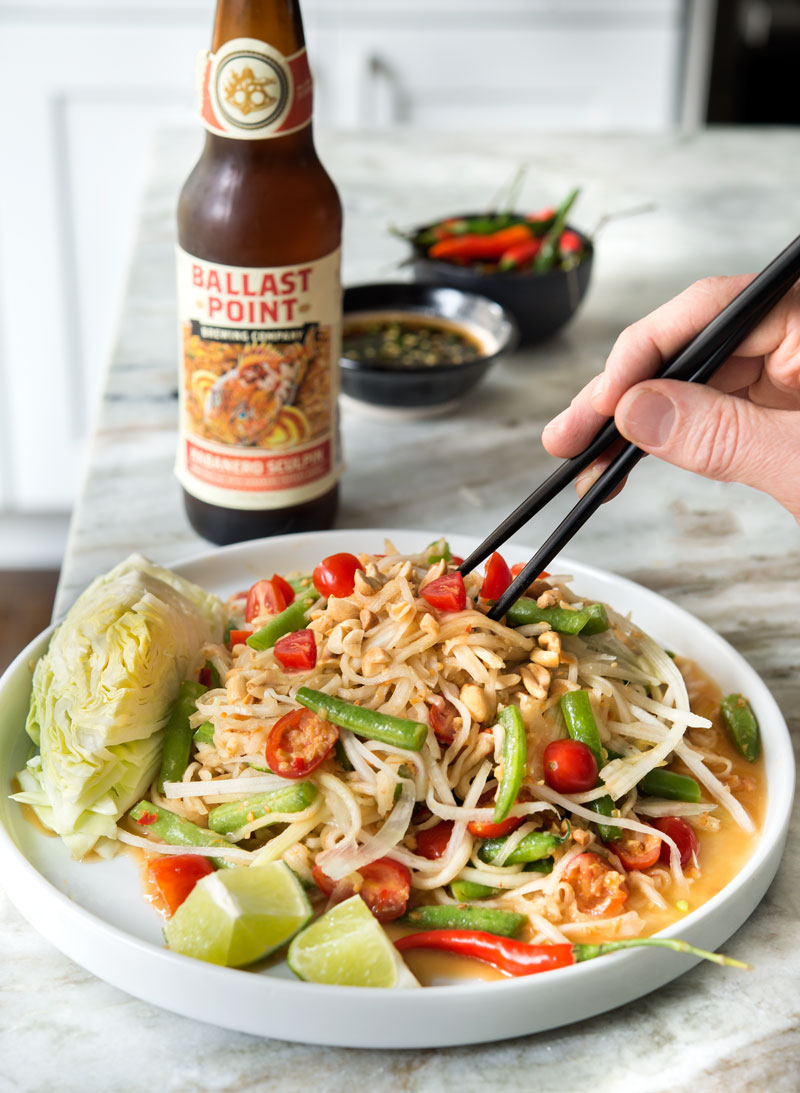 Thai Kohlrabi Salad
1 tablespoon dried shrimp
2 cloves of garlic, peeled
2 (medium) to 4 (spicy) Thai (bird's eye) chiles, stemmed, and chopped more or less depending on how hot you like it
pinch of coarse sea salt
1 heaped tablespoon dry roasted, unsalted peanuts plus extra for garnish
1 cup green beans (or snake beans), cut into 1 1/2 -inch pieces
12 cherry tomatoes, halved (quartered if large)
3 cups kohlrabi, peeled and julienned (from 2 large or 3 small)
2 tablespoons lime juice
1 to 2 tablespoons fish sauce, more or less to taste
1 to 2 tablespoons tamarind water, more or less to taste; optional (if you omit, add extra lime juice)
1 tablespoons palm (coconut) sugar, more or less to taste
Extras:
Optional: handful of chopped [Thai] basil and/or cilantro
Optional: wedge of cabbage for serving
Lime wedges, for serving
extra fish sauce with chopped Thai chiles for serving
Dry roast the dried shrimp in a wok over medium heat until toasted, about 5 minutes. Rinse under water and pat dry.
With a mortar and pestle, pound the garlic and chiles with a pinch of salt until you have a paste. Add the dried shrimp and peanuts to the mortar and continue to pound until incorporated into the paste.
Add the green beans and gently pound until lightly bruised. Add the cherry tomatoes and gently pound until lightly bruised. Add the julienned kohlrabi and gently pound until lightly bruised. Mix to incorporate.
Combine the lime juice, fish sauce, sugar, tamarind water, and sugar in a small bowl. Whisk well. Taste, adding more lime juice, fish sauce, tamarind water and/or sugar to your liking.
Pour the dressing over the salad. Add the fresh herb (if using). Toss to combine.
Transfer to a serving plate. Top with some roasted chopped peanuts. Serve with a wedge of cabbage, lime wedges, and some extra fish sauce with Thai chiles on the side.