A quick three-day trip to Dublin (fall 2015) and the forthcoming St. Patrick's Day got me thinking about Ireland (and Irish soda bread).
I absolutely loved my three-month stay in Ireland back in 2014 (definitely a trip I will never forget). Ireland is a beautiful country (the remote western side of the island is spectacular). More photos of Ireland here and here.
This photo was taken on the Sheep's Head Peninsula (West Cork), where, fittingly, sheep outnumber people.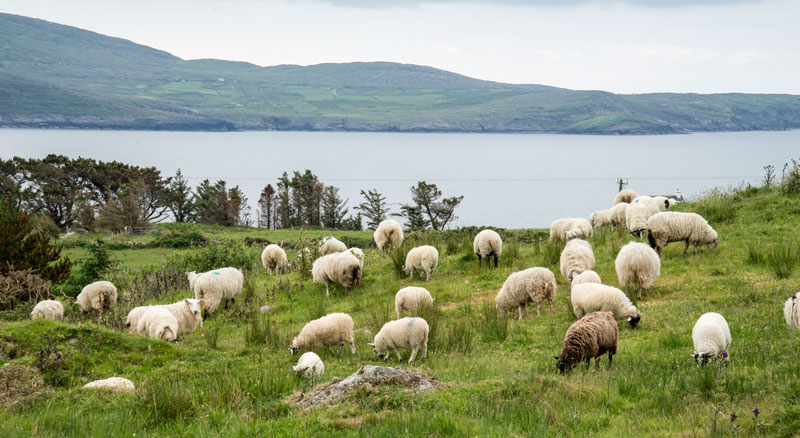 You might think that baking bread is a process, lots of kneading and proofing, a big commitment of time and effort. But not soda bread (aka Irish brown bread). It's so easy…
Measure ingredients. Mix ingredients. Bake. Cool. Slather with butter (preferably, Kerrygold). Enjoy.
There's no proofing (there's no yeast); instead, baking soda (bread soda, in Ireland) is used as a leavening agent, hence the name soda bread.
There's no kneading. You just add all the dry ingredients to a bowl and then slowly add the buttermilk, swirling it around by hand until it has a porridge-like consistency. The gentler you handle the mixture, the better.
This is not your typical American fluffy white bread, but rather a dense, hearty loaf, the way bread used to be. The buttermilk keeps the bread moist while lending it a subtle tang and rich mouthfeel.
At a minimum all you need to make soda bread is extra coarse whole wheat flour, bread soda (aka baking soda), buttermilk, and salt. While not traditional, I've added pumpkin and sunflower seeds, along with oats and wheat germ to the bread. This is the version I made countless times while at the Dublin Cookery School.
To get the right texture for soda bread, you'll need extra coarse, stone-ground whole meal flour (the key is extra coarse flour). I've yet to find any locally, so I've been ordering it online from here (after using up the four-pound sack of flour that I lugged back in my suitcase from Ireland). Ordering online is fine, though have been contemplating buying the dry grains container for my Vitamix so I can grind my own grains and get my weekly fix of brown bread.
I've tried making this bread with a less coarse stone-ground, whole wheat flour (that I find locally), but the texture is different than what I remember having in Ireland.
Next time, I'll share a Guinness (made with Guinness beer) brown bread…another favorite of mine.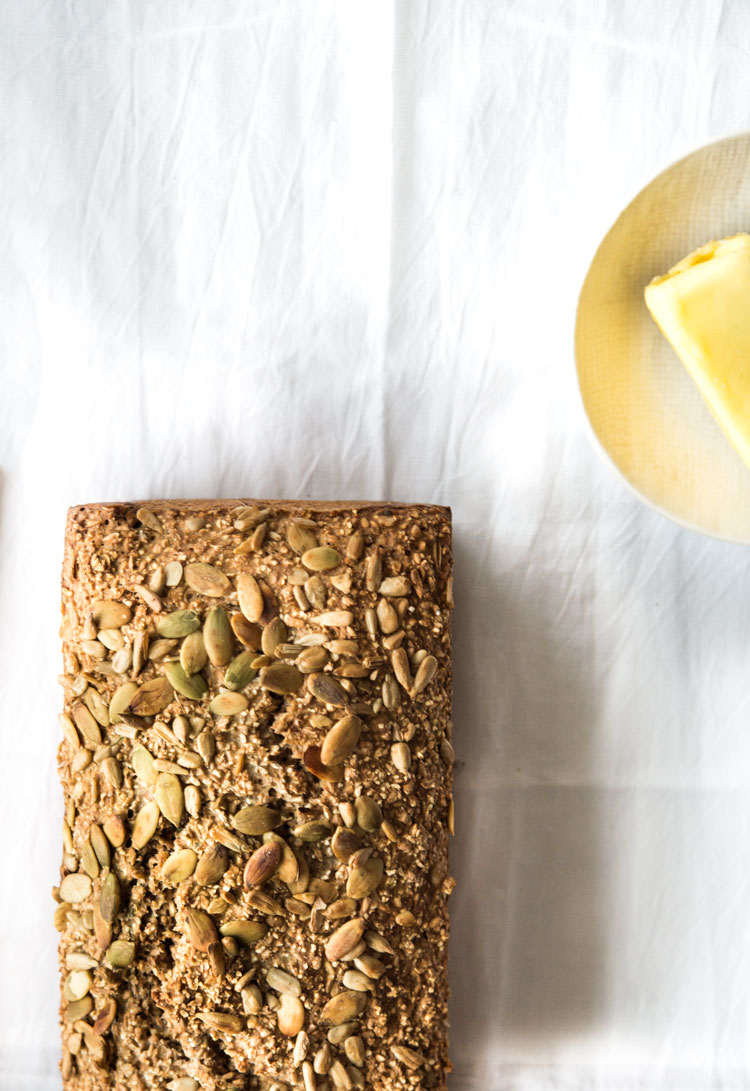 Add the buttermilk slowly and swirl around by hand until the mixture achieves a porridge-like consistency. Err on the side of adding a bit more buttermilk rather than less buttermilk.
After baking for 45 minutes (400F) the bread is nearly done. Just unmold (running a knife along the edges to release) and then invert the loaf and place back in the pan (I just let it rest on the side of the pan as pictured below) and bake for another 5 minutes to brown the bottom.
Next, place the bread on a baking rack and let it rest for 15 minutes. Confession: I can never wait that long to dig in.
Brown Bread + Smoked Fish = Fond memories of Ireland…
A quick stopover in Dublin…dropped off our bags, had lunch (smoked fish platter) at The Winding Stair, strolled on and around Grafton street, headed to dinner at Forest Avenue (thank you Chef John Wyer, dinner was superb), and finished off the night with a trad session at O'Donoghue's (with a pint of Guinness, of course). Back to The Winding Stair the following morning for a repeat of the smoked fish platter (plus seafood chowder). Pretty perfect.
Landing at the Dublin airport, nothing but green…
The fantastic fish platter at The Winding Stair (Dublin)…
Chef John Wyer at Forest Avenue (Dublin) busy at work…
Taking a stroll on Grafton street…
Stopping in for a pint and live music at O'Donoghue's…Sláinte.
Until next time….
Seeded Irish Brown Bread
Adapted from the Dublin Cookery School
Butter to grease the loaf pan
1 pound (450 grams) extra course (stone ground) whole wheat flour
3 ounces (75 grams) all-purpose flour
1 rounded tablespoon oats
1 rounded tablespoon wheat germ
1 rounded tablespoon sunflower seeds, plus extra for topping bread
1 rounded tablespoon pumpkin seeds, plus extra for topping bread
1 rounded teaspoon sugar (white or brown)
1 rounded teaspoon fine sea salt
1 teaspoon baking soda
2 1/4 to 2 1/2 cups buttermilk (full-fat/whole-fat, if you can find it)
Preheat the oven to 400F.
Lightly butter a 1-pound loaf pan.
In a large bowl, mix the flours, oats, wheat germ, sunflower and pumpkin seeds, sugar, salt, and baking soda. Mix to combine. Sprinkle some of the flour mixture into the greased loaf pan. Move the flour around to lightly coat. Shake out any excess flour.
Measure 2 cups of buttermilk. Slowly add the buttermilk to the flour mixture, swirling around with your hand until all the flour is absorbed. Add more buttermilk, a little bit at a time, until it achieves a porridge-like consistency. Scoop the mixture into the loaf pan.
Bake (middle oven shelf) for 45 minutes. Remove the bread by running a knife along the edges. Turn the bread upside down and angle in the pan upside down. Bake another 5 minutes.
Cool on a baking rack. Slice and slather with butter.
Note: To determine if the bread is done, tap on the bottom of the loaf — it should sound hollow.