I've teamed up with Castello Cheese, Folie à Deux Wines, and Honest Cooking. My task: to create a cheese board that inspires readers like yourselves to up your cheese board game during 2016. It was a fun task and I hope that I rose to the occasion. 

Castello's artisan cheesemakers have been hand crafting cheese since 1893. They currently make more than 40 different types of cheese, from tangy blue to complex aged Havarti. Their cheeses are deliciously balanced and come together to create a gourmet cheese board. 
Castello is also hosting a sweepstakes as part of the Cheese Board Challenge campaign. The prize is a trip for two a winery in Napa, California. 
So, head over to Castello and enter to win a trip for two to Napa Valley.
Enter here

.
How about you? Are you up to the challenge? What would you include on your cheese board?
My cheese board theme was 'Fresh — Think spring! Fruits and veggies, bright colors.' March 20th is the first day of spring, so we're almost there. Hoping for an early spring.

For my spring inspired cheese board, I've included:

Cheese — use an assortment of cheese (soft, semi-hard, hard, marinated)
Fruit/Vegetables/Nuts — don't be afraid to add some color
pickled fennel

pea pesto

pea tendrils

watermelon radish 

sliced apples

green and black olives

Marcona almonds with rosemary

Other suggestions: seasonal fruit (grapes, orange slices, berries, figs, etc.)
Meats — can't go wrong with cured meats (or even smoked fish)
pork pate with pistachios

hot soppressata

Other suggestions: thinly sliced prosciutto or country ham
Condiments — don't forget the honey (a little something sweet pairs well with cheese)
honey

Other suggestions: fruit preserves/jams/chutneys (see video below for a sweet and spicy carrot chutney)
Bread/Crackers 
homemade whole wheat crackers

grilled baguette
Wine 
Of course these are just suggestions, include all or some, or whatever suits your taste.
What else would you include on your spring-inspired cheese board?
This is a super easy pickled fennel that I added to my cheese board and something that you can put together in minutes. You can also use the same brine to pickle just about any type of vegetable. I added some toasted fennel seeds, coriander seeds, and red pepper flakes to the pickled fennel.
Lastly, you can't have cheese without wine. Wine is the perfect pairing with cheese. 

Folie à Deux translates into 'a passion shared by two' in French, for the two co-founders' love of wine. Their wines are grown in the world-class growing region of Sonoma County, California. 

I included a white (2014 Russian River Valley Chardonay) and a red (2012 Dry Creek Valley Zinfandel). Always good to have choices. 

The Chardonay is medium-bodied with bright acidity and notes of pear, apple, apricot, and vanilla.

The Zifandel has flavors of dark red fruit (think blackberry and black cherry) with notes of mocha, toffee, and vanilla.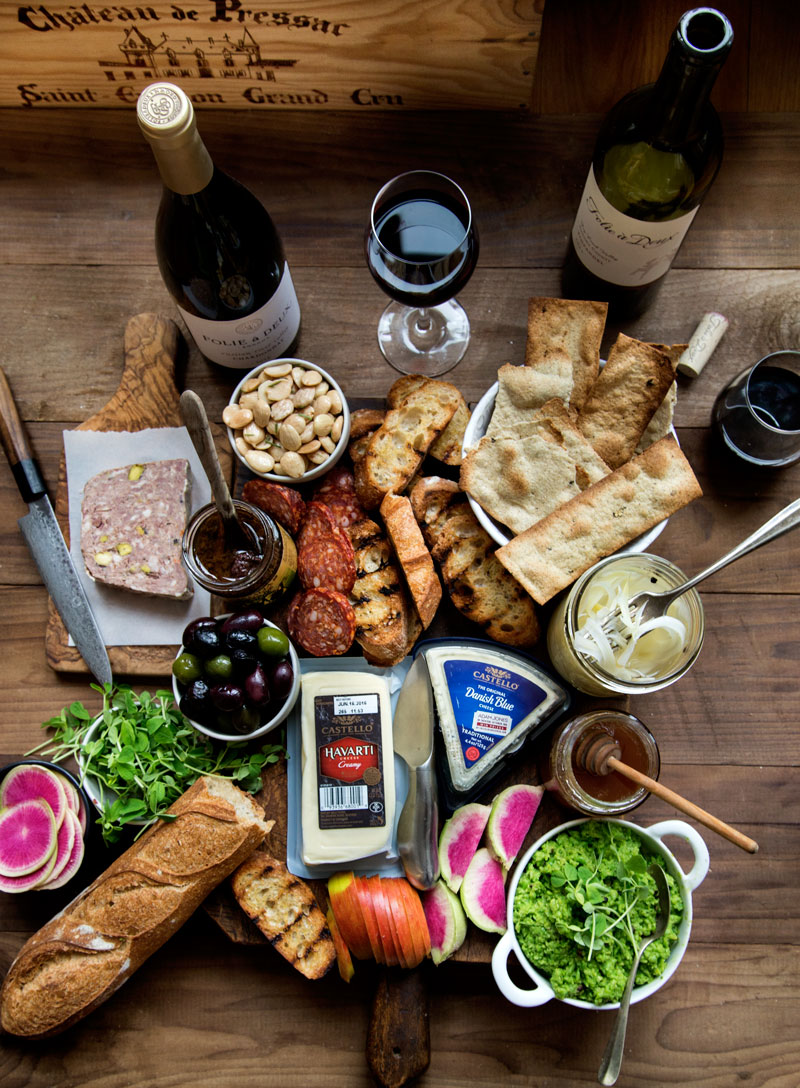 Quick Pickled Fennel
2 medium bulbs of fennel
1 cup white wine or champagne vinegar
1 cup water
2 tablespoons sugar
1 1/2 teaspoons salt
1/2 teaspoon fennel seed
1/2 teaspoon coriander seed
1/4 teaspoon red pepper flakes
Equipment: 2 (pint-size) sterile canning jars
Thinly slice the fennel lengthwise (a mandoline works well or you can slice by hand).
In a pot, bring the vinegar, water, sugar, and salt to a boil.
In a dry saute pan, toast the coriander, fennel seeds, and red pepper flakes. Divide the spices among the jars. Add the sliced fennel. Pour the brine over the fennel leaving about 1/2-inch space at the top.
Let the fennel cool to room temperature. Cover and refrigerate until ready to use. It's best to give the fennel at least a day to pickle.

Note: You can add orange and/or lemon peel to the jars.
Whole Wheat Crackers
3/4 cup semolina
1/2 cup whole wheat flour
1/4 cup rye flour
1/2 teaspoon salt
1/2 teaspoon ground black pepper
3 tablespoons olive oil
1/2 cup plus 1 tablespoon warm water
Preheat the oven with a pizza stone at 450F.
In a large bowl, mix the semolina, whole wheat and rye flours. Add the salt, pepper, and olive oil and mix. Slowly add the water, while mixing the dough. Once the dough comes together, transfer to a clean work surface and knead for about 5 minutes. Cover with plastic and rest 30 minutes.
Cut the dough into quarters. Take a piece of dough and run it through a pasta roller to the fourth setting (you can also roll by hand). You can slice the crackers into strips or you can keep them a bit misshapen and rustic looking.
I lined a pizza paddle with parchment for easy transport. Place the crackers on the parchment and transfer to the pizza stone (parchment and all). Bake until lightly browned and crispy, about 4 minutes. Remove from the oven and let cool. Repeat with the remaining dough.
Note: You can add fresh/dried herbs (e.g., thyme, rosemary) or other spices (e.g., red chile flakes) to the dough.