There's a time for slow-braised dishes (stews that take hours to develop flavor) and a time for quick and easy meals. There's room for both in your cooking repertoire.
Today's world is focused on quick and easy meals.  Nothing wrong with quick and easy, provided that flavor is not compromised in the name of convenience. En papillote satisfies all of these demands (and more). In the time it takes to microwave a frozen dinner, you can have take pride in having prepared a restaurant-quality dish. As an added bonus, everything is wrapped in paper, which makes clean-up a snap (as much as I love to cook, washing dishes is a pain).
En Papillote (pah-pee-YOHT), a French-cooking technique in which food is baked inside a wrapper, typically parchment paper. The steam keeps the meat, poultry, fish, and/or vegetables super moist. When food is sealed in paper, it cooks in its own juices. In this preparation, olive oil and a crisp white wine (along with fresh herbs — basil and thyme) were used to produce an aromatic, light and refreshing sauce. For a little more richness, you can add a pat of butter in lieu of or in addition to the olive oil.
Halibut's delicate, clean flavor and firm texture are a perfect canvas for the fresh herbs and spring vegetables. That being said, you can use just about any firm white fish (such as cod, snapper, sea bass) or even salmon. The variations are endless…
Use whatever vegetables are in season or readily available. Today — summer squash, asparagus, shallots, and cherry tomatoes. Ditto for the herbs.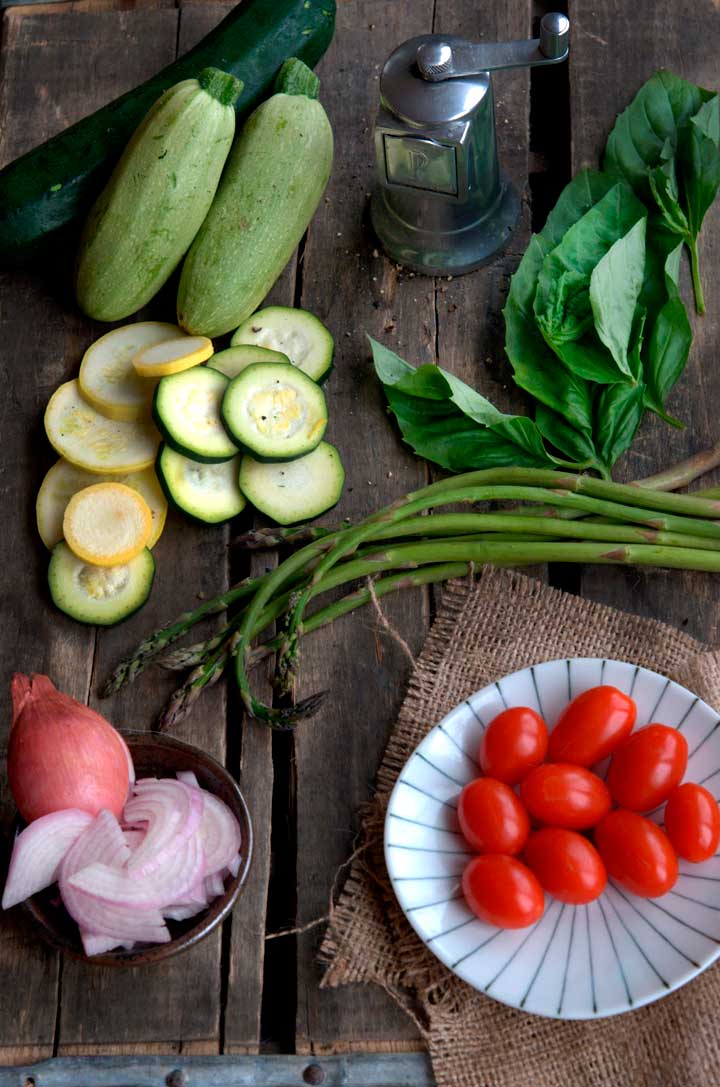 This technique is so simple: 1) slice vegetables thin and arrange on parchment paper, 2) drizzle with liquid (olive oil and wine), 3) place fish on top, 4) season with sea salt and black pepper, fresh herbs, and a little more liquid, 5) wrap in parchment, 5) place on baking sheet, and 6) bake in oven (12 to13 minutes).
Really, does it get much easier than this?
To accompany the fish, I roasted squash in the oven, about 35 to 40 minutes at 400 degrees, until browned. If you don't have the time, skip the roasted squash, and prepare a simple salad or quick saute of greens instead.
Had a bunch of left over basil, so I made a little basil oil to drizzle over the fish and roasted squash; ties it all together quite nicely.
 
Halibut in Parchment with Spring Vegetables
Adapted from Bon Appetit June 2012
6-ounce portion/person of halibut (or other firm white fish)
2-3 summer squash, thinly sliced
1 large shallot, thinly sliced
1 pint of cherry tomatoes, halved
Small bunch fresh basil leaves, roughly chopped
Small bunch of asparagus (preferably thinner stalks)
Fresh thyme, chopped
White wine (1 tablespoon per packet)
Extra virgin olive oil (1 tablespoon per packet)
Sea salt and fresh ground black pepper to taste
Basil oil (see recipe below)
Preheat the oven to 400 degrees.
You will need a 14 x 12 inch piece of parchment paper for each portion of halibut. Fold in half, making a crease down the middle. Using kitchen shears, cut the parchment into a heart shape. Open back up.
Divide the squash among the parchment, arranging on one side in thin layers. Layer some sliced shallots and basil leaves on top. Scatter tomato halves (10-12 per packet) on top. Place a few stalks of asparagus on top. Drizzle each packet with 1 tablespoon of white wine and 1/2 tablespoon of olive oil. Season with salt and pepper. Place halibut filet on top. Season with salt and pepper, fresh thyme, and 1/2 tablespoon of olive oil.
Fold the parchment over the fish and vegetables, crimping edges to create a sealed packet. Place sealed packets on a baking sheet. Bake 12 to 13 minutes or until fish is cooked through (a toothpick poked through the parchment will slide through the fish easily). Carefully open the packets, steam will escape.
Note: Can make 4 hours ahead, chill in the refrigerator. Let stand 15 minutes at room temperature before baking.
Basil Oil
1 cup packed basil leaves
1/2 cup olive oil
Sea salt and fresh ground black pepper to taste
Blanch basil in a small saucepan of boiling water for 10 seconds. Drain. Rinse under cold water. Pat basil dry with paper towels. Transfer to a blender. Add the oil and puree until smooth. Transfer to small bowl. Season with salt and pepper.
Note: Can be made a few days ahead. Cover and chill. Let stand at room temperature for 20 to 30 minutes before using.