I kept peeking in the oven as this bread was baking. Didn't want to interrupt the baking process, but couldn't overcome my curiosity. Just wanted to make sure it was progressing along, and didn't all of a sudden collapse in the oven. Each time I took a glimpse, the bread was looking good — nice and puffy, with a pleasing golden color. Just have to cross my fingers and hope that it tastes as good as it looks.
I had a potluck to attend and was banking on this bread being a success, as I had no back up plan.  Had it in my mind that this would be the perfect dish for a winter potluck, and there was no looking back. I didn't even have a chance to taste the bread, since it would look strange if a slice was missing from the loaf. A bit risky to make something new the day of without testing it before hand, but decided to go for it and hope for the best.
In retrospect, the flavors were very good, though needed a little tweaking. I remade the bread and upped the quantity of rosemary and olive oil; it's now even better, and am happy to share the recipe with you. A savory winter bread that incorporates flavors of the season, winter squash and rosemary, and, of course, it's always better with a little pancetta (or bacon) and feta. Hope you enjoy!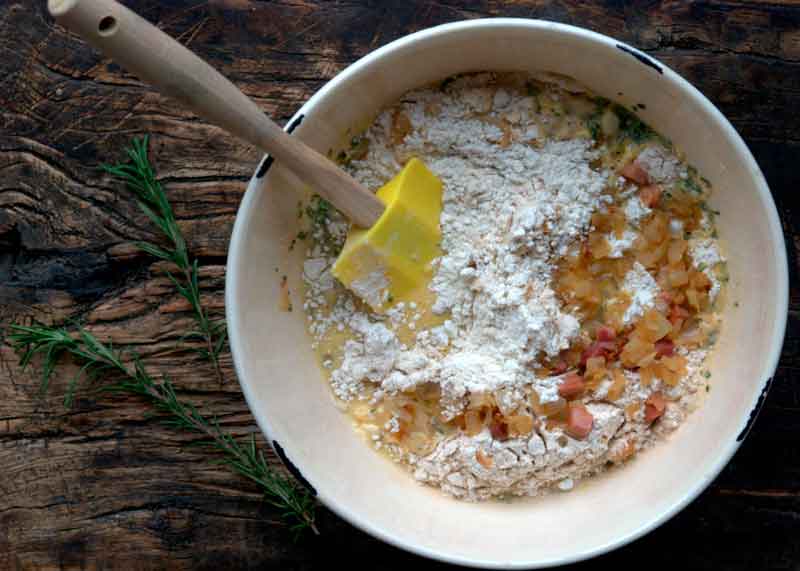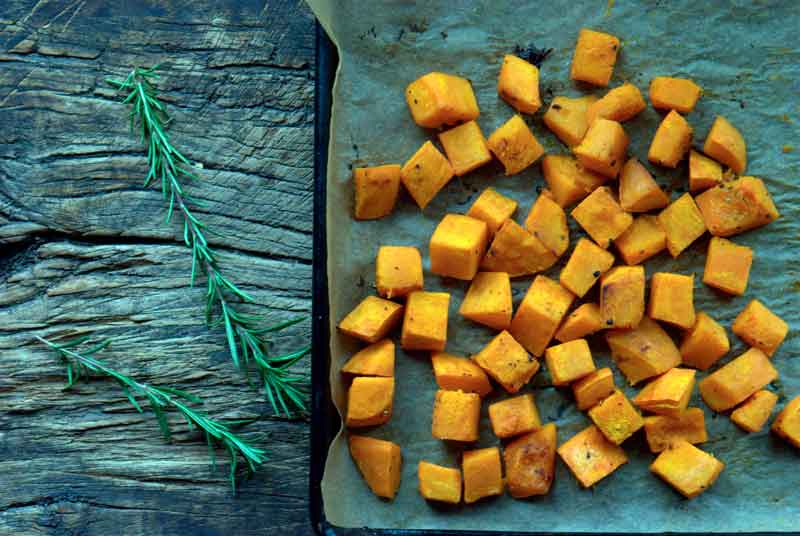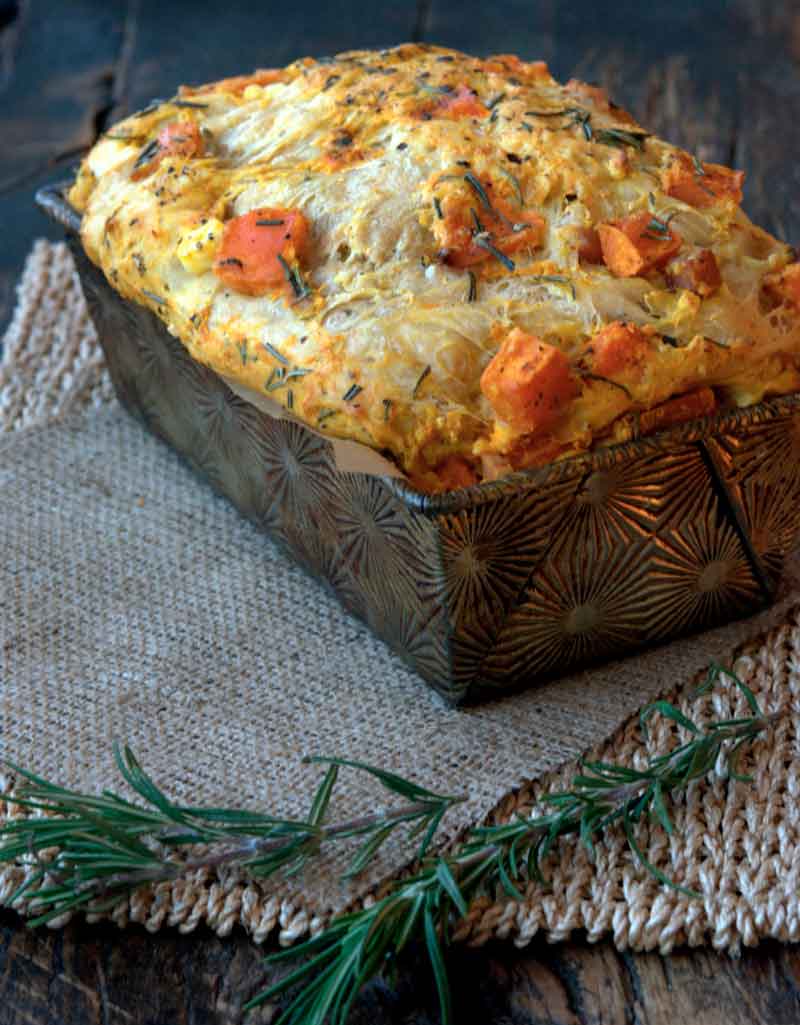 Kabocha Squash and Feta Bread with Pancetta
1 pound cubed pumpkin or winter squash (such as kabocha)
extra virgin olive oil
sea salt and cracked black pepper
1 packet active dry yeast
1/4 pound pancetta or bacon, diced
1 onion, peeled and diced
1/2 cup milk
2 eggs
2 tablespoons chopped rosemary plus more for topping
450 grams flour (about 2 cups) *used 300g all-purpose and 150 g white-wheat; can use all AP flour
200 grams (~3/4 cup) feta, crumbled
Preheat the oven to 400 degrees. Place the pumpkin in a bowl and toss with olive oil (~1 tablespoon), salt and pepper to coat. Roast on a baking sheet for about 35 to 40 minutes or until just tender.
Place the yeast and ½ cup warm water in a bowl.  Stir to combine and let sit in a warm place 10 minutes or until the mixture bubbles.
Heat a skillet over medium heat. Add the pancetta and cook, stirring occasionally until browned about 7 to 8 minutes. Remove the pancetta and set aside. In the same pan, add the onions (and a little olive oil if needed), and sauté until soft and translucent, about 5 minutes. Remove and let cool to room temperature.
Whisk the eggs and milk in a large bowl. Add the pancetta, onions, 2 tablespoons olive oil, rosemary, salt (about 2 teaspoons), and pepper to the bowl. Combine this mixture with the flour and yeast. Place in a lightly greased bowl, cover with plastic wrap, and let sit in a warm place 1 hour or until the dough has doubled in size. Fold the feta and roasted pumpkin into the dough.  Place the dough into a greased bread pan (used an 8 3/4″ x 4 3/4″ x 2 1/2″ pan). Sprinkle some chopped rosemary on top and a few grindings of black pepper. Bake at 325 degrees for one hour or until cooked when tested with a toothpick