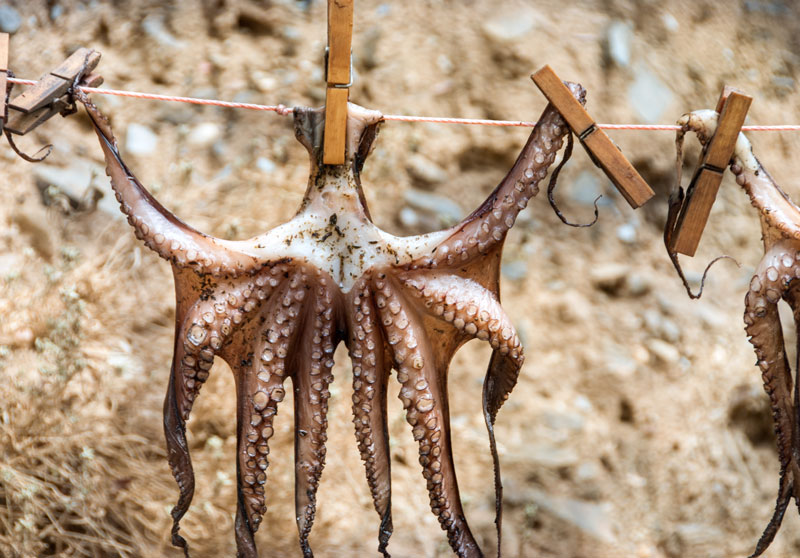 Pulpo a la Gallega (Octopus Cooked in the Galician Style)
I love pulpo (octopus), be it grilled, boiled, baked, or braised in tomato sauce (I'm not aware of any other preparations [fried is not an option] at present). This particular preparation, known as Pulpo a la Gallega — which is seasoned with sea salt, olive oil, and pimenton (smoked paprika) — is inspired by a recent trip to Spain. I ate this dish dozens of times as we drove across the northern coast of Spain, from San Sebastian to Galicia, and down Spain's western coast. In Spain, unlike Greece, octopus is typically served boiled instead of grilled. For those of you who have never had octopus, when cooked properly, it should be slightly chewy but very tender. If undercooked, the meat will be tough and will leave you with a tired jaw by the end of the meal.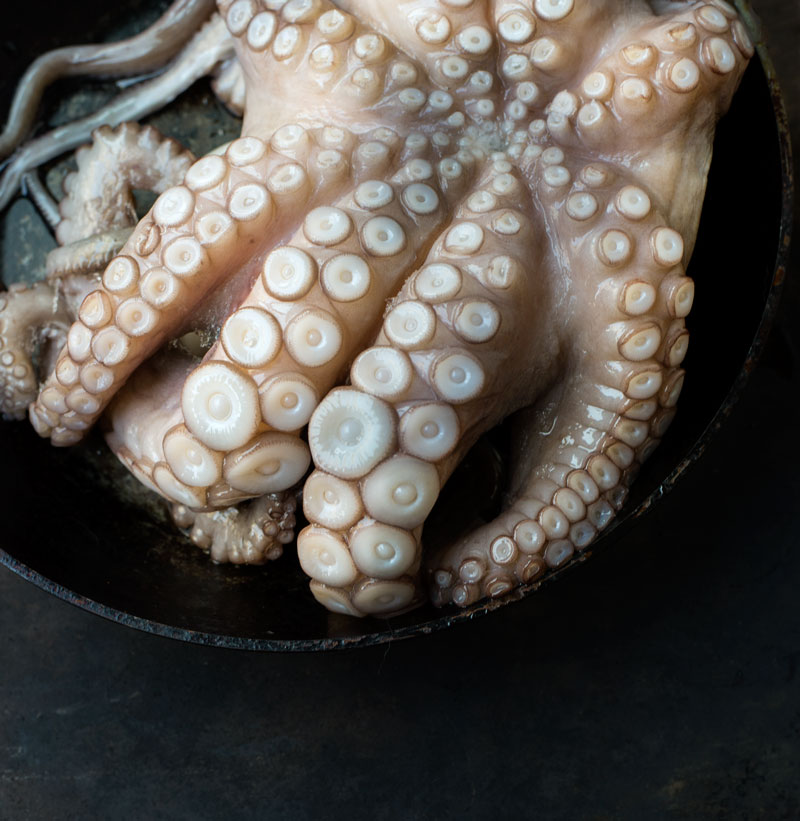 Cooking Octopus
All you have to do is boil or bake the octopus for about 45 minutes to 1 hour. I've tried boiling and baking the octopus with equal success. Most recipes I've seen say to boil the octopus in the following manner: Drop the octopus into boiling water for a minute or two, remove from the water and let cool, repeat two more times, then simmer for an hour.
However, according to my local fishmonger, the key to cooking octopus (and the way chefs cook octopus in Chicago's Greektown restaurants) is to bake it in the oven. So, the past few times, I have baked the octopus (covered with foil) in the oven at 375F. The resulting octopus is perfectly tender.
Alternatively, I have also cooked the octopus on the stovetop with equal success. Just place the octopus in a large pot or dutch oven, add about a tablespoon of olive oil, and cook covered, over low-medium heat, for about 1 hour for a larger 4-pound octopus and 45 minutes for a smaller 2-pound octopus.
Pulpo a la Gallega
If you order octopus anywhere in the Galician region (northwest part of Spain), it will be prepared — boiled, thinly sliced, with a good glug of olive oil, smoked paprika, and coarse sea salt (sometimes served over a bed of boiled potatoes).
After the octopus has been baked/boiled (refer to guidelines above) and is cool enough to handle: slice the tentacles. Lay the pieces on a plate (used a traditional wooden plate that I picked up in Santiago de Compostela). Finish the dish with a generous drizzle of extra virgin olive oil, pimento (hot smoked Spanish paprika), and course sea salt.
This dish is best enjoyed while still warm and with a glass of albariño.
Spicy Tako (Octopus) Spring Rolls
Had some octopus left over from my Pulpo a la Gallega, even after nibbling on it for the past few days (sometimes for breakfast). So, I decided to get creative and used the leftover octopus to make spicy tako spring rolls. I finely diced the octopus and tossed it with some homemade spicy ailoi with a dash of smoked, hot Spanish paprika.
These rolls are so simple to make. Take a spring roll wrapper and soak it in water until it becomes soft. Next, lay the wrapper on a flat work space and add some collard green leaves (stems removed). Add chopped cilantro and diced peppers (I used trinadad, but jalapeno would add a nice kick as well). Add a good amount of octopus on top of the collard greens. Fold in the right and left sides, and then roll up tightly. Use a little bit of water to seal the spring wrappers closed. Slice into approximately 1-inch pieces.