Ughh. Been under the weather this past week. Just a bad cold, but I'm finally getting my tastebuds (and strength) back.

Something kind of light and warming sounded like a good remedy. I've had an assortment of winter squash sitting on my counter for the past few weeks. I'm a little late to the annual everything pumpkin hoopla. Hope you're not tired of pumpkin/winter squash quite yet. But don't worry, you want find any pumpkin spice recipes here.

This is a really simple winter squash soup. It's restrained. Only a handful of ingredients, letting the pumpkin/squash flavor shine. I used kabocha squash, but you can alter up the variety to your liking.

I like that this soup has some texture to it, as most pumpkin soups I've come across are puréed smooth. Which I like equally, just looking for something a bit different.

The uniqueness of this soup comes from the addition of white miso (i.e., fermented soy bean paste). White miso is the mellow-ist of misos. It adds a sweet, salty, earthy, umami element to this soup. The miso is mixed with butter to make, you guessed it, miso-butter. The finished soup is topped with a dollop of miso butter, which slowly melts from the heat of the soup, adding another layer of flavor.

Stay warm!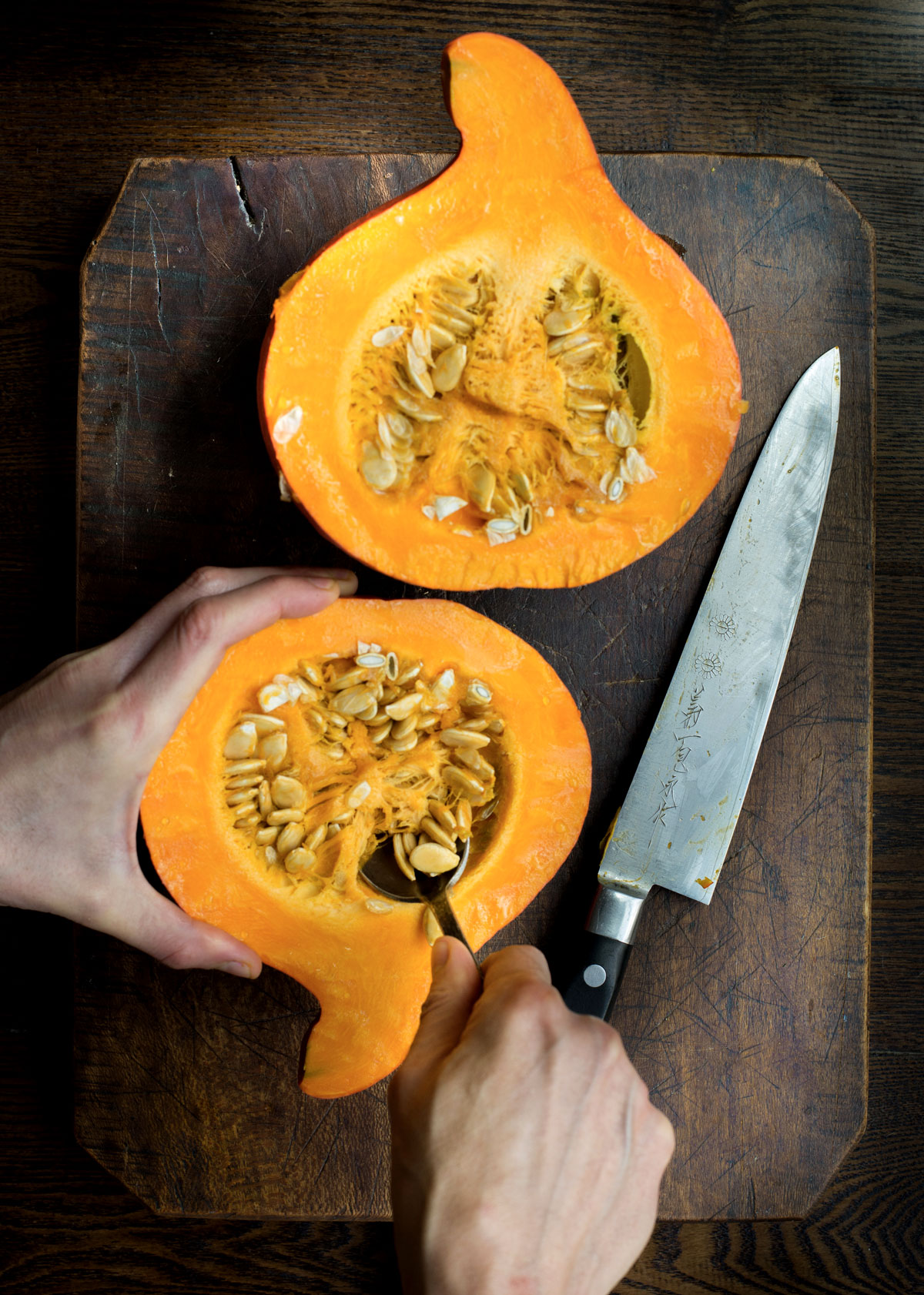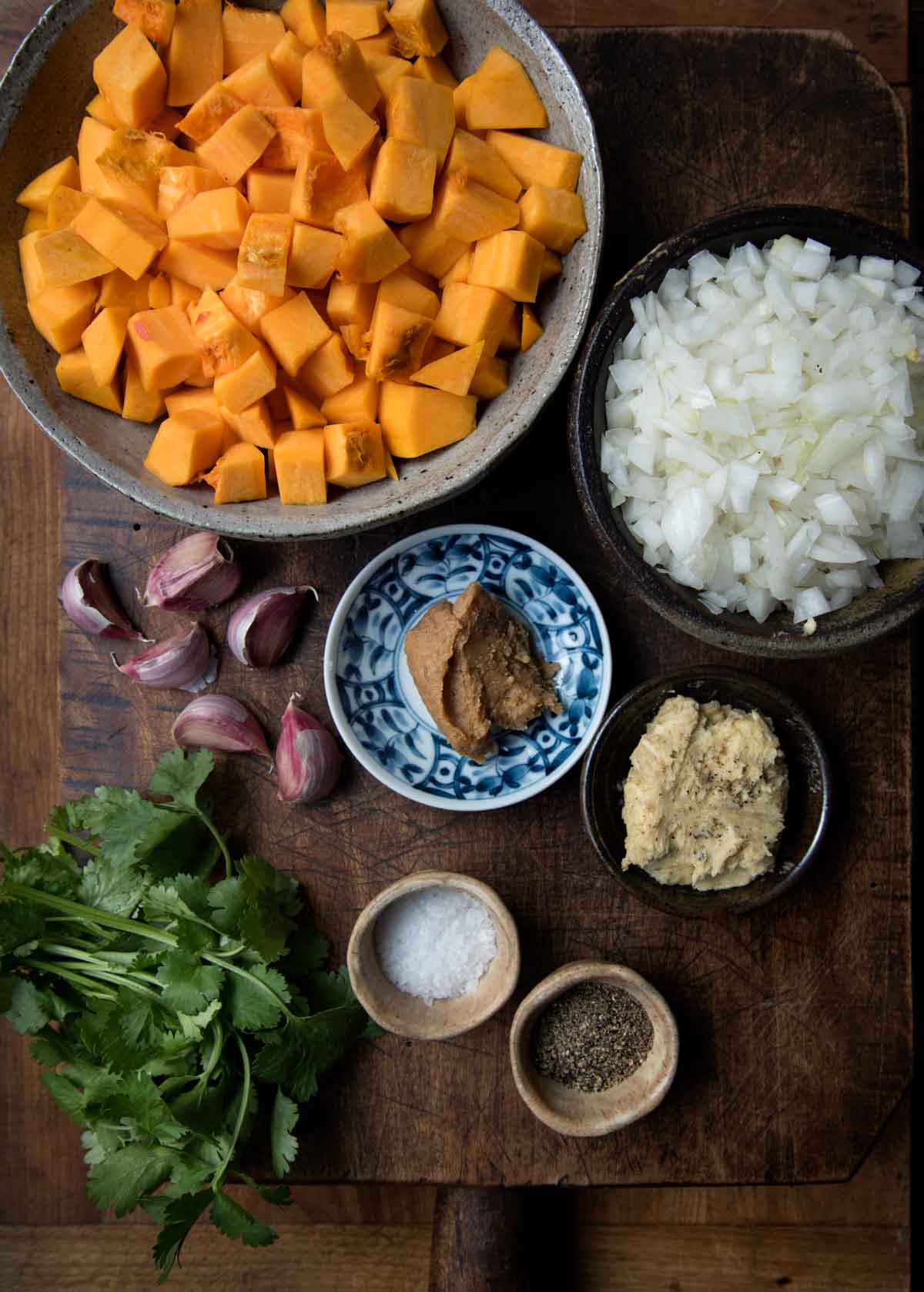 White Miso + Butter = Miso Butter

It's also good melted on fish, chicken or steak; mushrooms; vegetables, such as asparagus, broccoli or carrots; or drizzled on a baked sweet potato (or a regular baked potato).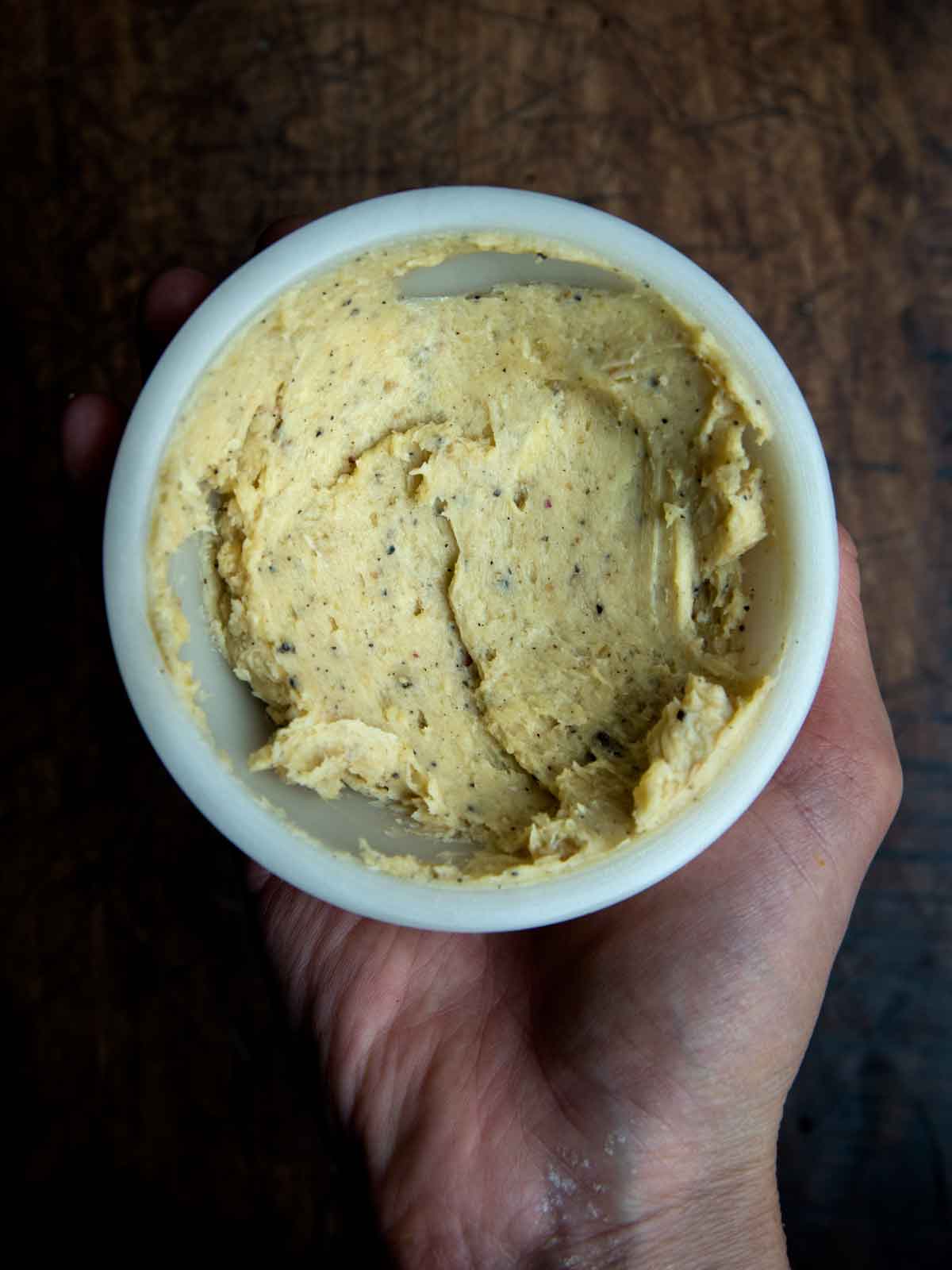 Miso-butter shiitake mushroom toast…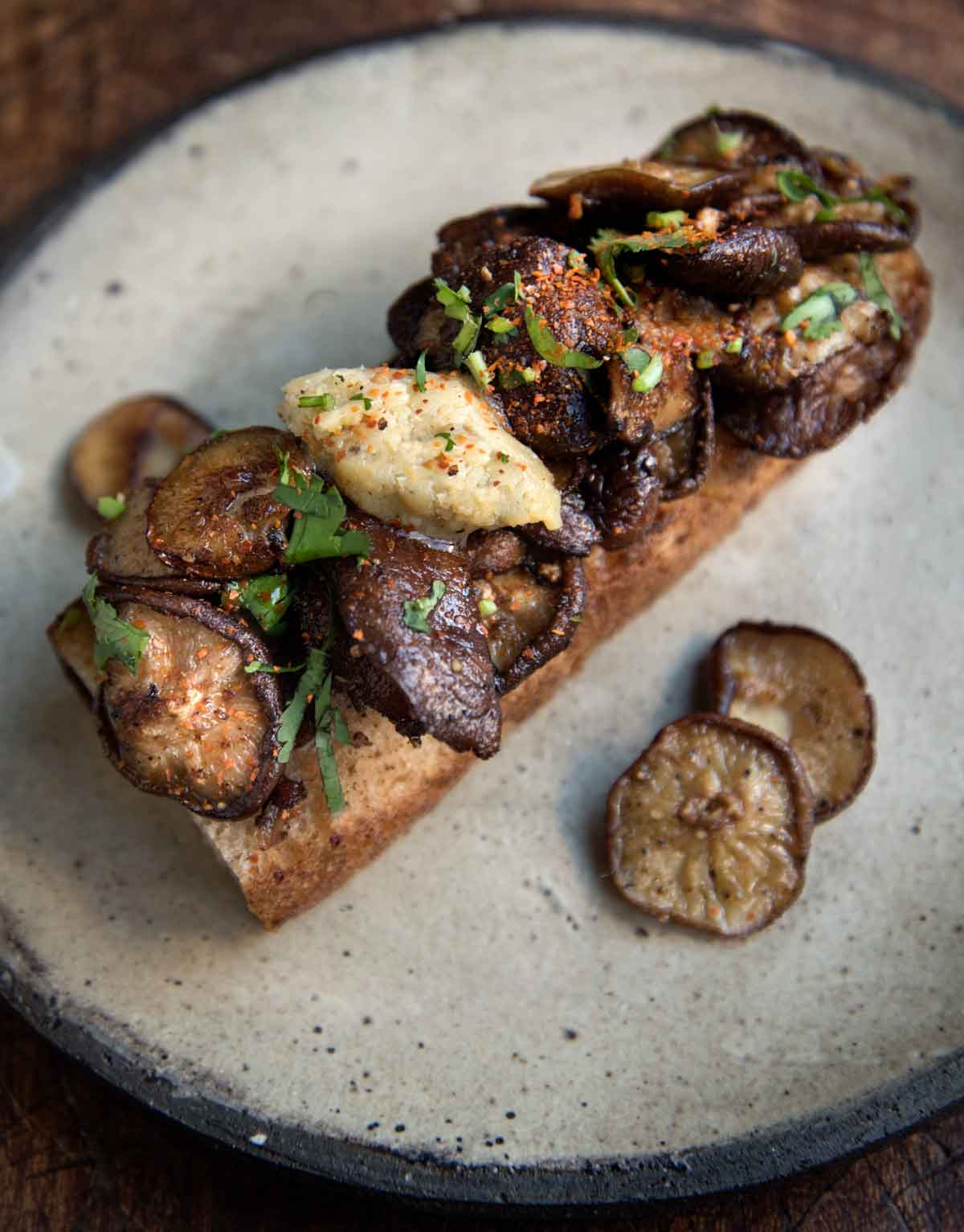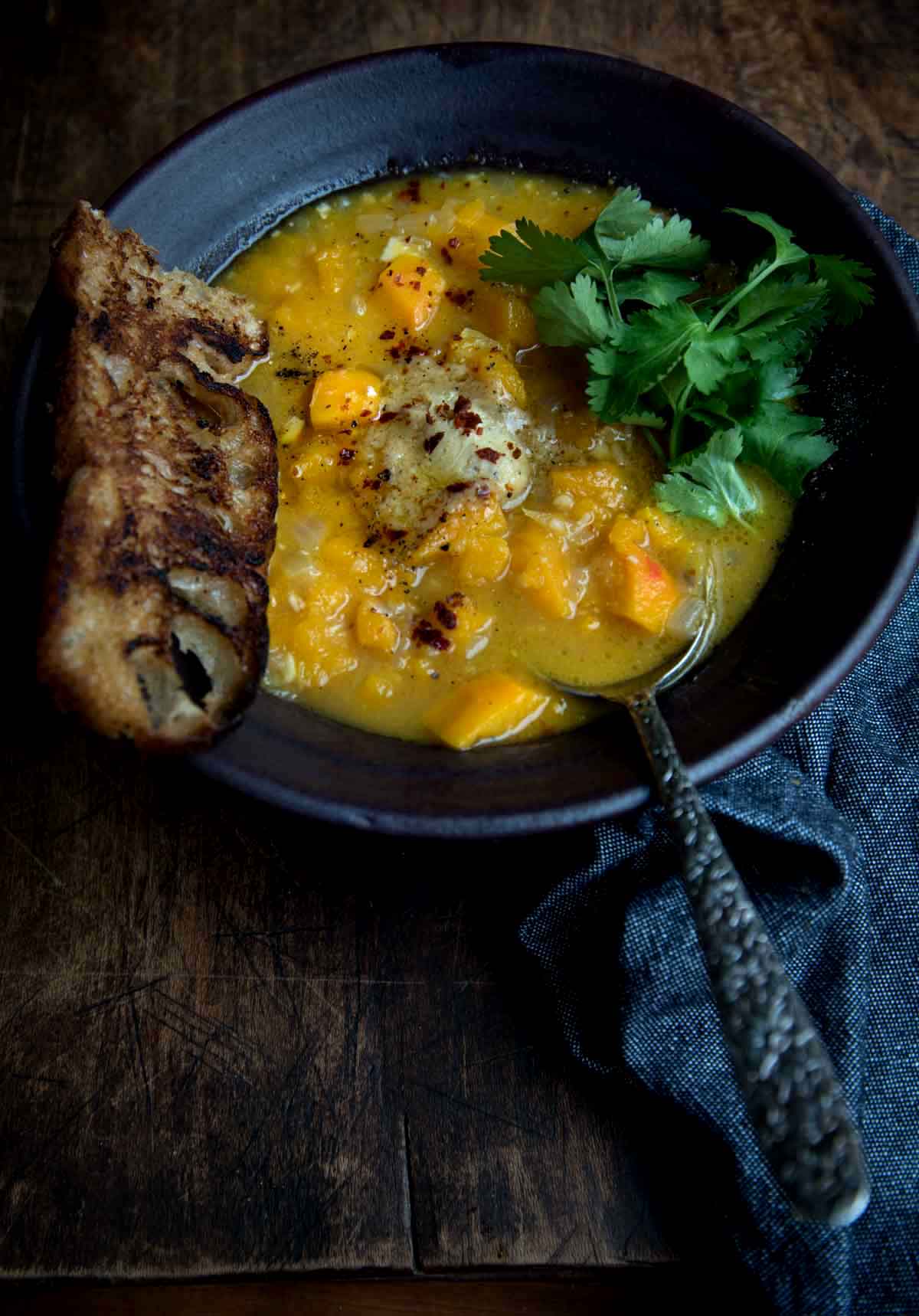 Kabocha Squash Miso Soup
Adapted from Great British Chefs
1 1/2 to 2 pound kabocha squash (or substitute your favorite winter squash variety)
1 tablespoon olive oil
4 tablespoons unsalted butter, room temperature, divided
1 medium onion, finely diced
4 garlic cloves, minced
2 cups vegetable or chicken stock stock
3 tablespoons white miso (used this one)
Pinch of salt
Freshly ground black pepper
Chopped cilantro
Sourdough bread, crusty, thickly sliced

Peel, deseed, and dice the butternut squash into small, roughly 1/2-inch cubes. You'll need about 2 1/2 cups.

Heat the olive oil along with 1 tablespoon of butter in a large heavy-based pot over medium heat. Add the chopped onions and garlic, frying till lightly browned and fragrant, about 5 to 7 minutes.

Add the chopped butternut squash, along with the stock. Bring to a boil, then lower the heat and simmer until the squash is very tender, about 15 minutes.

Meanwhile, in a bowl, stir 1 tablespoon of the miso and a generous grinding of black pepper into the remaining 3 tablespoons of butter, making sure to really beat the miso into the butter with a fork. Set aside.

When the butternut squash is cooked and tender, turn the heat off. Ladle a scoop of hot stock into a bowl and stir in the other 2 tablespoons of miso. Stir until well combined. Pour the miso solution back into the soup and stir well.

Mash the soup just a little with a wooden spoon to thicken the soup. Taste and adjust seasoning with salt and pepper.

Dish out into bowls and top with a dollop of miso butter, letting it melt from the heat of the soup. Finish with a fresh grinding of black pepper and a sprinkle of chopped cilantro.

Serve with thick slices of crusty sourdough bread.