I had been eyeing the pasta extruder attachment for my KitchenAid mixer for a long time. The thought of whether I really needed another gadget for the kitchen often crosses my mind. Clearly, do not. But let's be real, no one needs another gadget for the kitchen, rather, it's a matter of want. And, after a brief internal dialogue, I decided that, yes indeed, I wanted it. I love pasta.
The extruder comes with six pasta plates: one for rigatoni, large and small macaroni, bucatini, spaghetti, and fusilli. Thus far, I've only tried the extruded rigatoni. It's quite easy to use. You just drop small, walnut-sized balls of dough into the extruder and within seconds, voilà (or rather, presto), you have extruded pasta.
The challenging part is achieving that perfect ratio of flour to egg for your pasta. A slightly drier dough seems to work best with the extruder. The version I made using a slightly wetter dough yielded a pasta with a slightly gummy texture.
The great thing about fresh pasta is that it takes well to freezing. In fact, you can drop your pasta straight from the freezer into a pot of boiling, salted water and it will be ready within minutes. So, I make fresh pasta on the weeekend when I have the time and energy, and freeze it for easy weeknight dinners.
I whipped up a quick chicken liver and lamb ragú for the rigatoni. It's rich and earthy, and totally hits the spot on a cool and rainy Sunday afternoon.
Next up extruded macaroni….I've been dreaming about making macaroni and cheese in the smoker.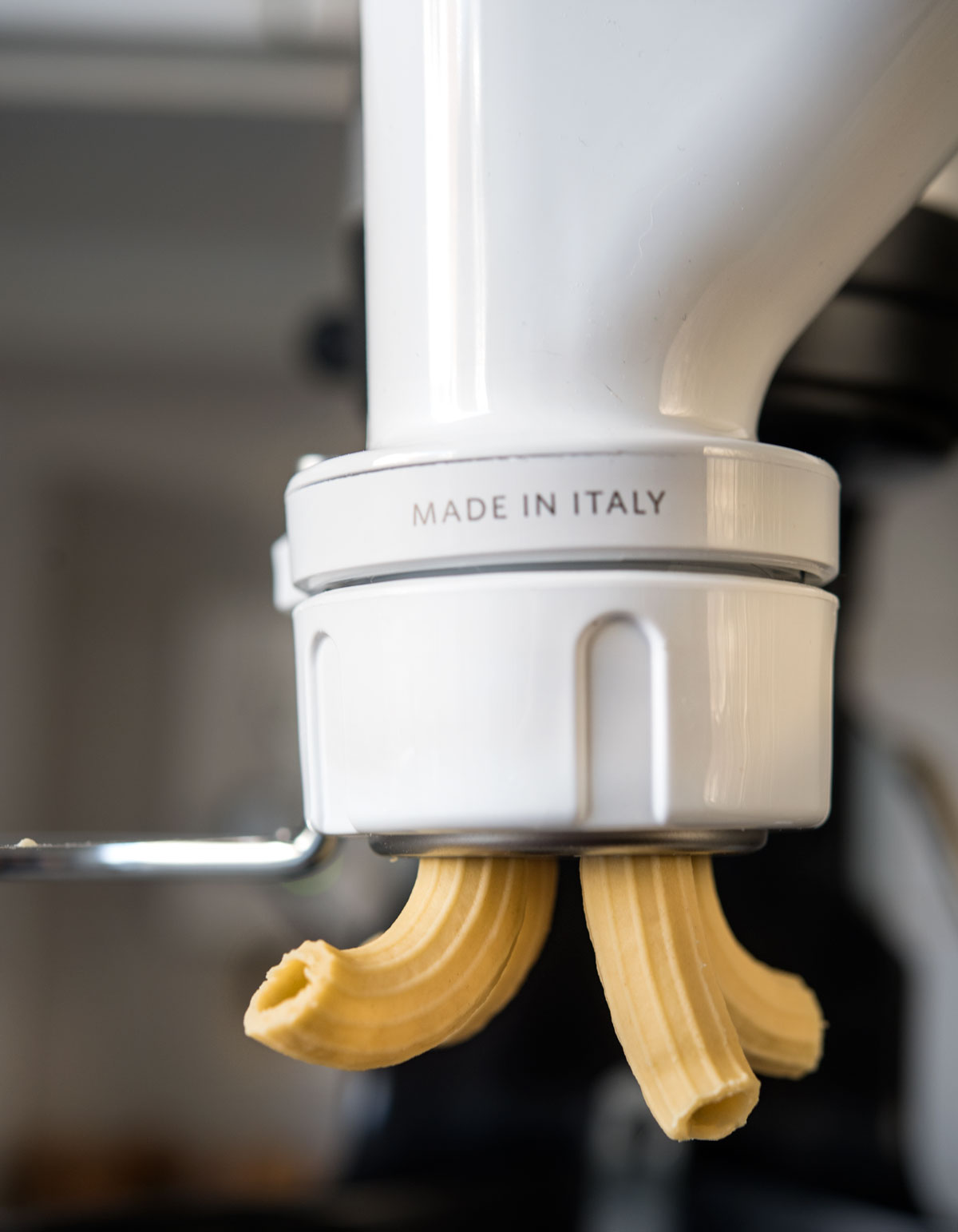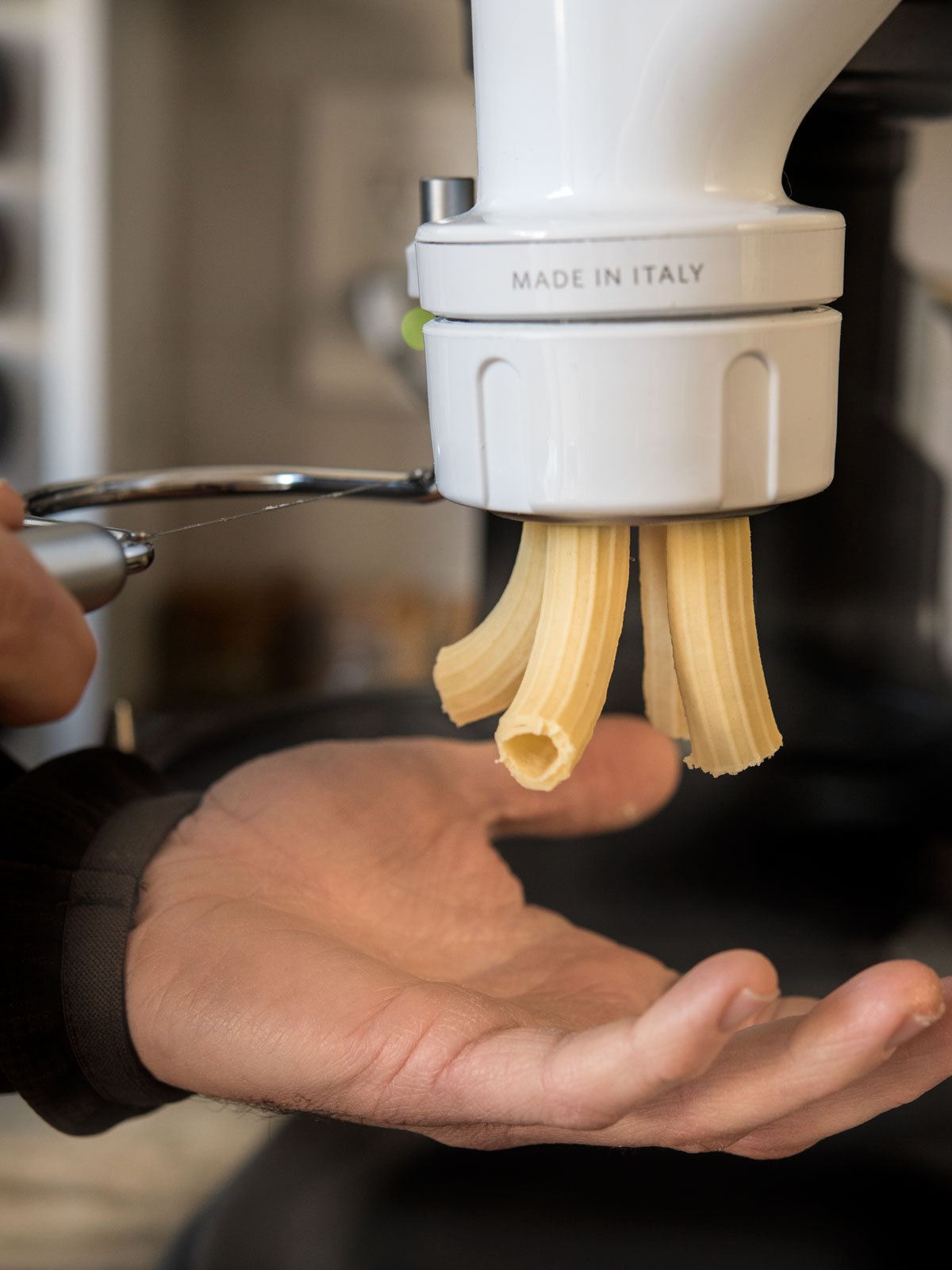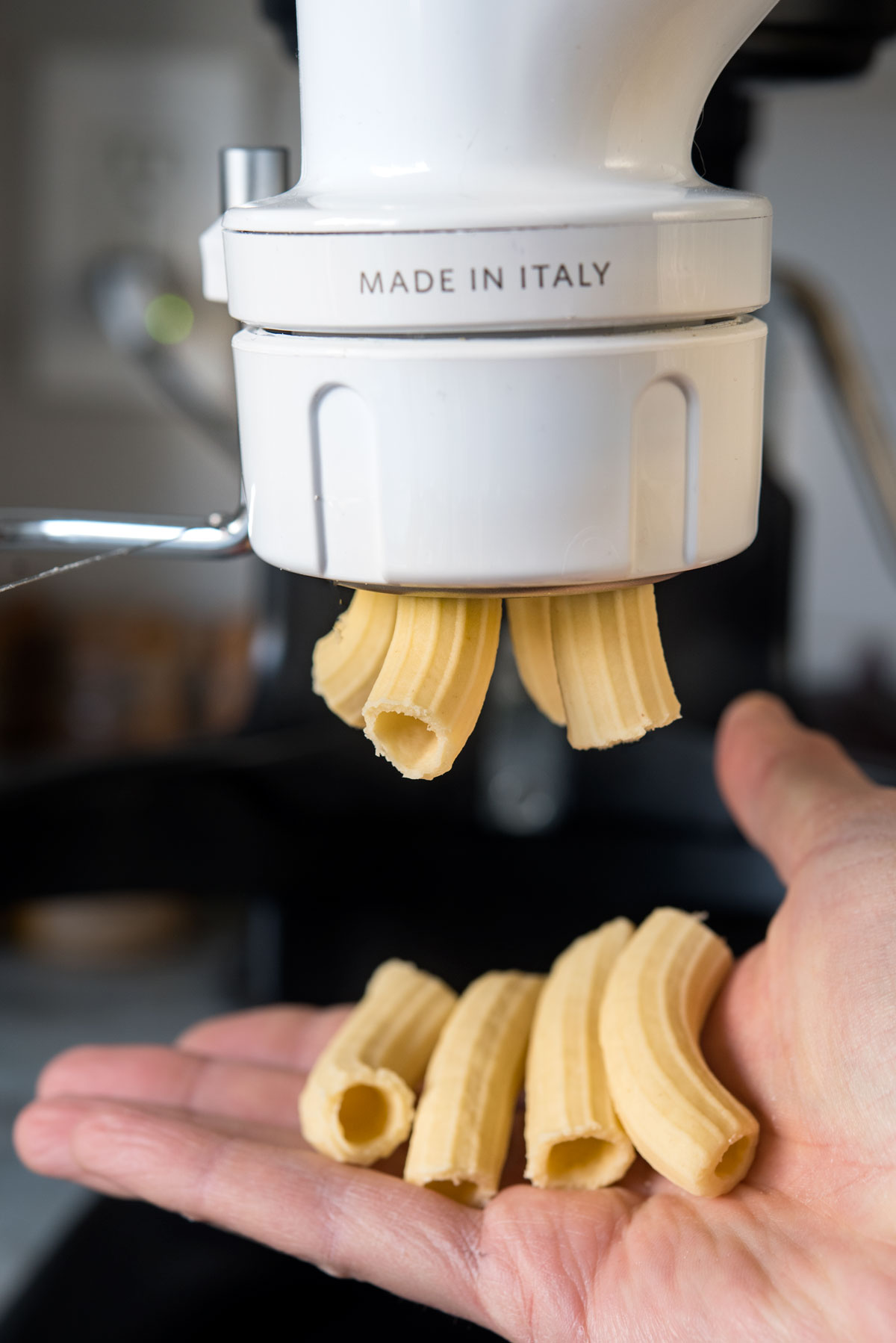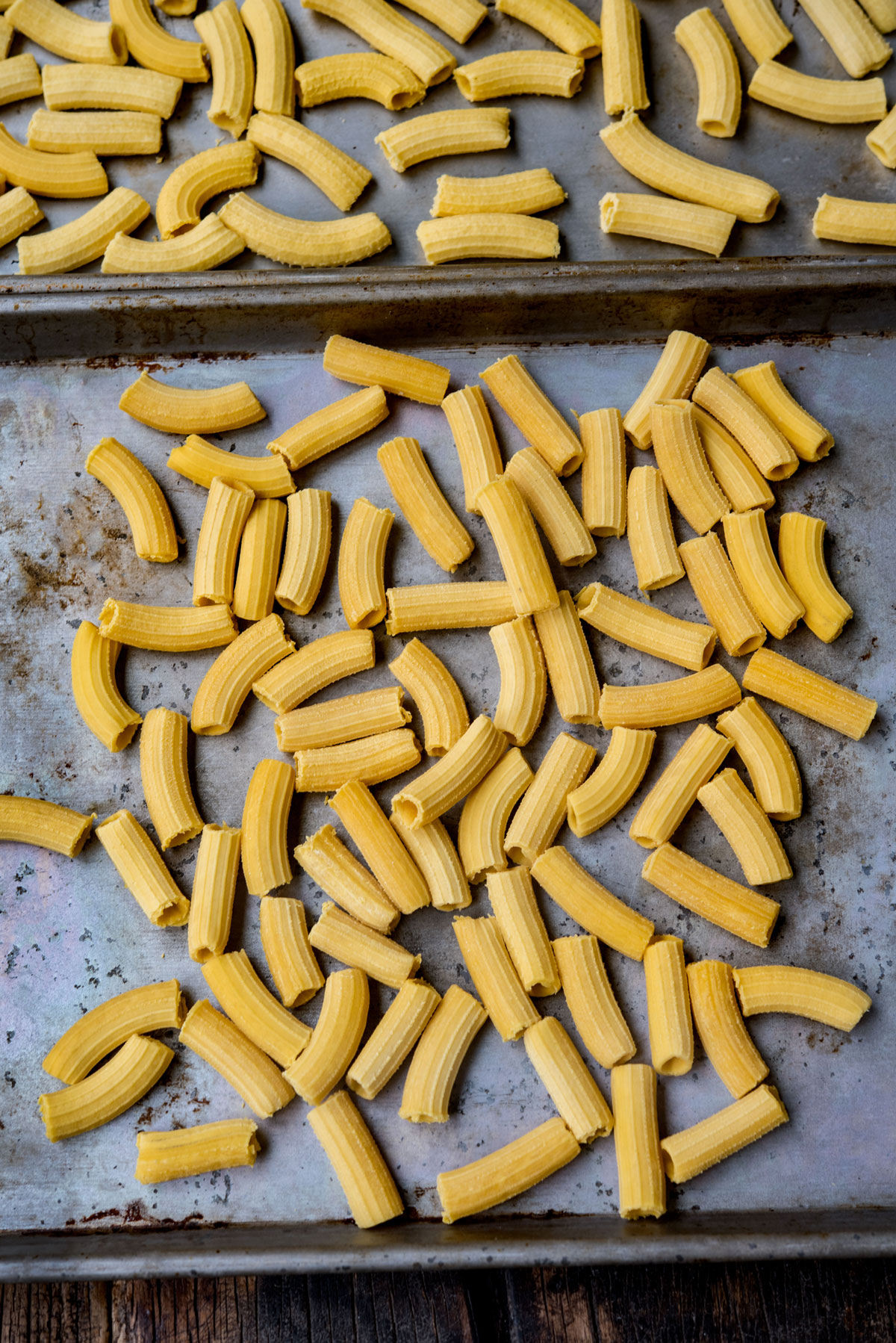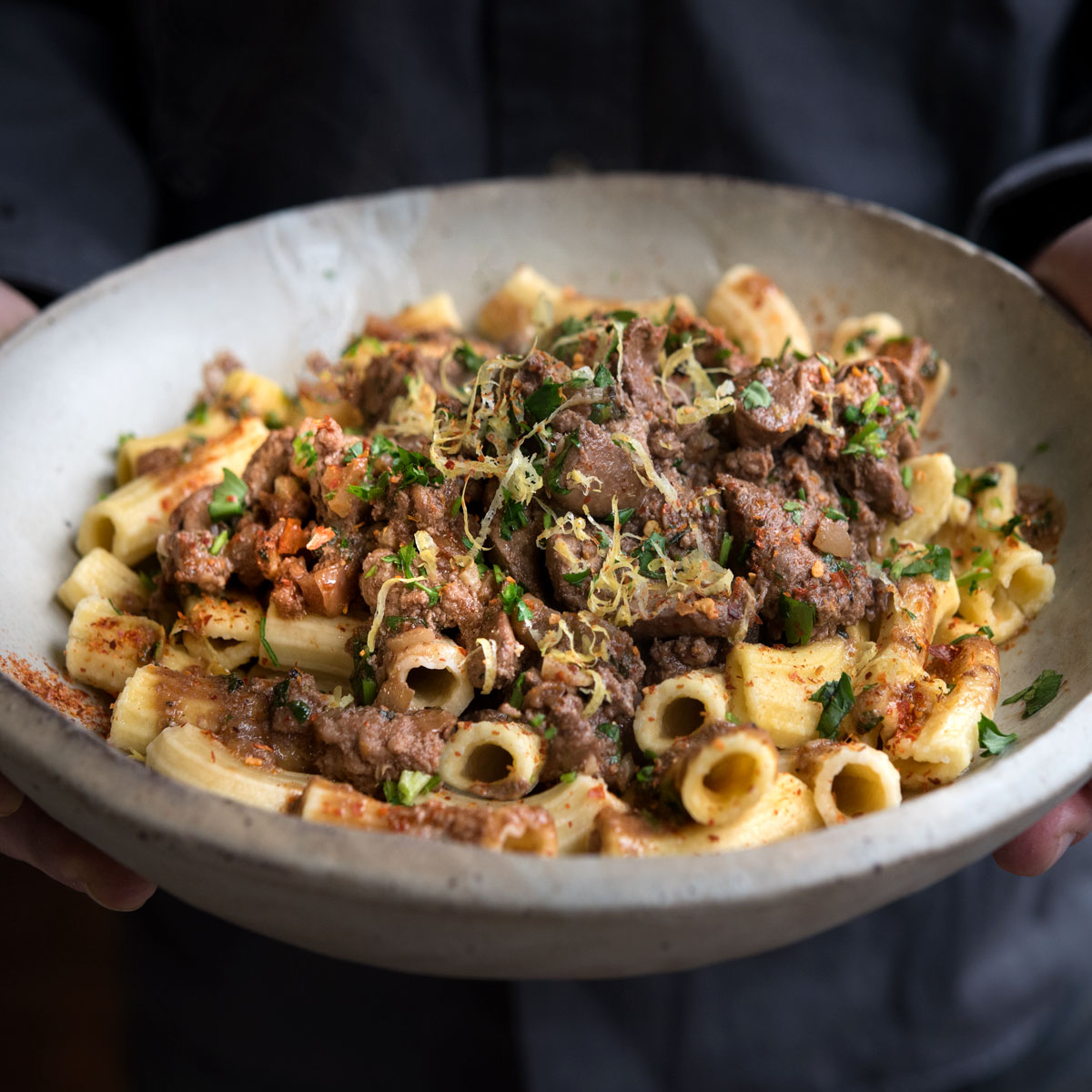 Homemade Extruded Rigatoni
1 3/4 cups 00 flour
2 whole large eggs
1 egg yolk
1/2 teaspoon salt
1 tablespoon water, little more if needed
Place the flour and salt into the KitchenAid stand mixer bowl. Using the paddle blade, turn speed to 2 and add eggs little by little along with 1 tablespoon water. Mix for 30 seconds.
Change to a dough hook and mix on speed 2 for 2 minutes.
Remove mixture and place onto a floured work surface, the dough may appear crumbly at first. Knead by hand until the dough is smooth, pliable, and holds together in a ball. Wrap in plastic and let rest for at least 30 minutes.
Install Pasta Extruder attachment onto the mixer stand. Form walnut size balls of dough, a few at a time, and place them into the hopper of the attachment, setting the speed on 4-6.
Chicken Liver Ragù

Serves 4
3/4 pound chicken livers
2 tbsp olive oil
2 tbsp butter
1/3 cup finely chopped onion
3 garlic cloves, minced
¼ cup diced pancetta
1 teaspoon chopped thyme
1 teaspoon chopped rosemary
1/3 pound ground lamb, pork or beef (used lamb)
Salt and pepper to taste
Red peper flakes to taste
1 heaped tablespoon tomato paste
1/3 cup dry sherry
1/2 cup chicken or beef stock
Chopped parsley for garnish
Lemon zest for garnish
Bring a pot of salted water to a boil.
Clean the chicken livers and dry them thoroughly on paper towels. Roughly chop into large pieces.
Heat oil and butter in a skillet. Add the onion and sauté over medium heat until translucent. Add the garlic and stir another minute. Add the pancetta and herbs. Sauté another minute. Add the ground meat, breaking it up with a wooden spoon. Sauté until it loses its red color. Season with salt and pepper and a pinch of chile flake. Turn up heat to medium-high. Add chicken livers and cook until they've lost their raw color. Add the tomato paste and stir to combine. Add the sherry, scraping any bits that stick to the bottom. Cook until the sherry has evaporated and the raw alcohol taste cooks off. Add the stock, decrease heat, and simmer another few minutes until the liver is just cooked through. Taste and adjust seasoning.
When the ragù is nearly done, drop the pasta into boiling water and boil until tender but al dente. Serve the ragu over the pasta, garnished with chopped parsley and lemon zest.