I just want to crawl up with a good book and a soul-warming, comforting bowl of dal, and hibernate until the weather turns warm. Something about Indian dal that is so appealing and soothing — the complex combination of spices, chiles, and herbs completely resonates with me.
This moong bean (split and hulled/skinned) dal recipe that I came across from native New Delhi-born chef, Suvir Saran, owner of American Masala Farm (upstate New York), has quickly become a favorite of mine. It's a hint richer than other dal I've encountered, though I tweaked it slightly, adding more garlic, chile, and lemon juice.
First off, you'll need to make the panch phoron (whole spice blend), which literally translates into "five spices" — in this case: 1) whole black mustard seeds, 2) cumin, 3) fennel, 4) fenugreek, and 5) nigella, which is also referred to as black caraway or black cumin [though not related to either] or kalonji. Of note, fenugreek seeds impart a mild bitterness, which serves as a nice counterpoint to the somewhat rich and creamy nature of today's dal. That being said, you can always cut down on the fenugreek in this mixture.
In Suvir's words, "The dal should be swimming in the water, not constrained or choked by it." Just add more water until you have a loose consistency; the age of the dal will determine how much water you need to add.
The last and most delicious part of this dal is the tempering oil. Some of the panch phoron is infused in simmering ghee until "jumping around in the pan" along with fresh garlic and ginger, paprika and cayenne, and then drizzled over the finished dal.
Stay warm and enjoy this delightful moong dal.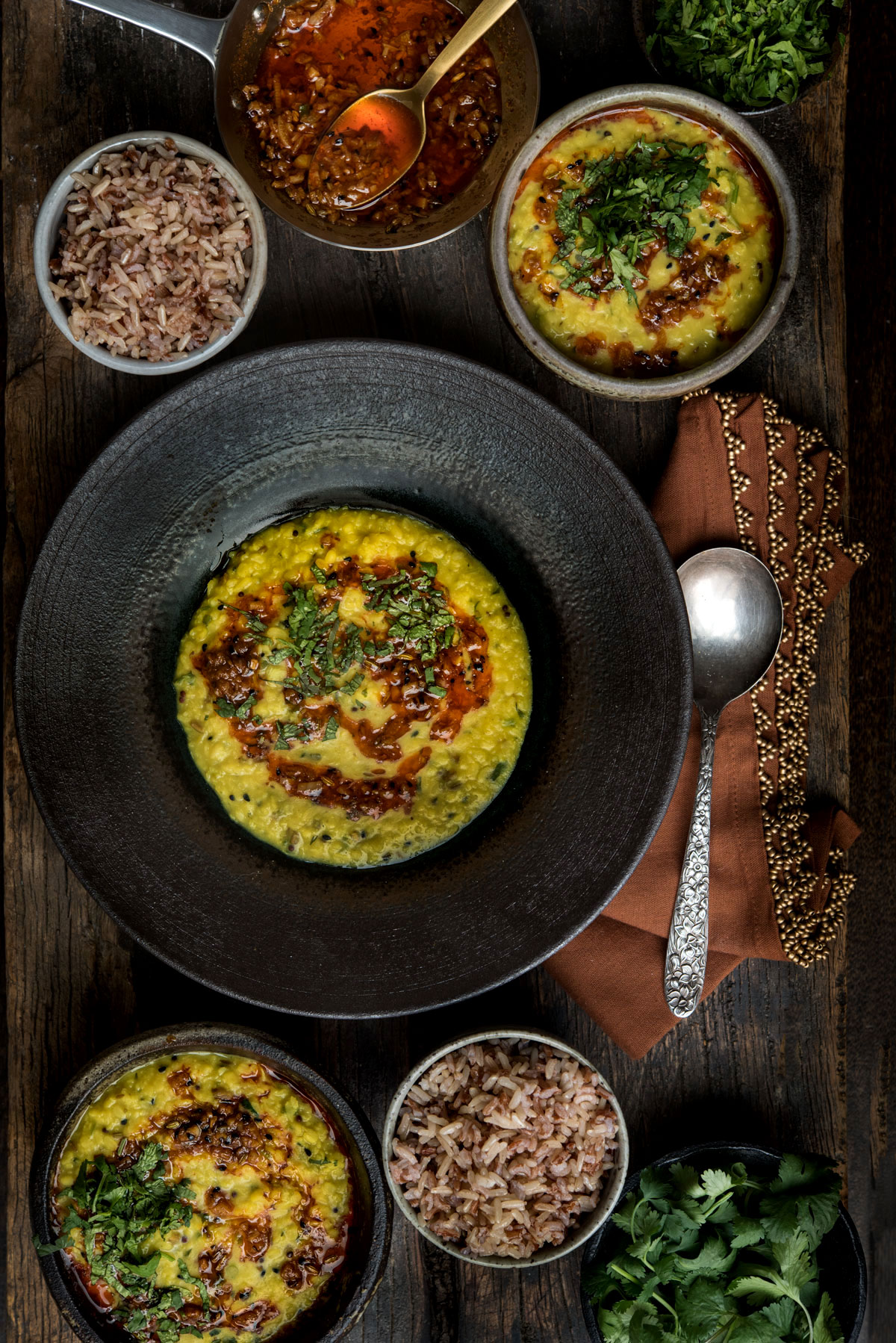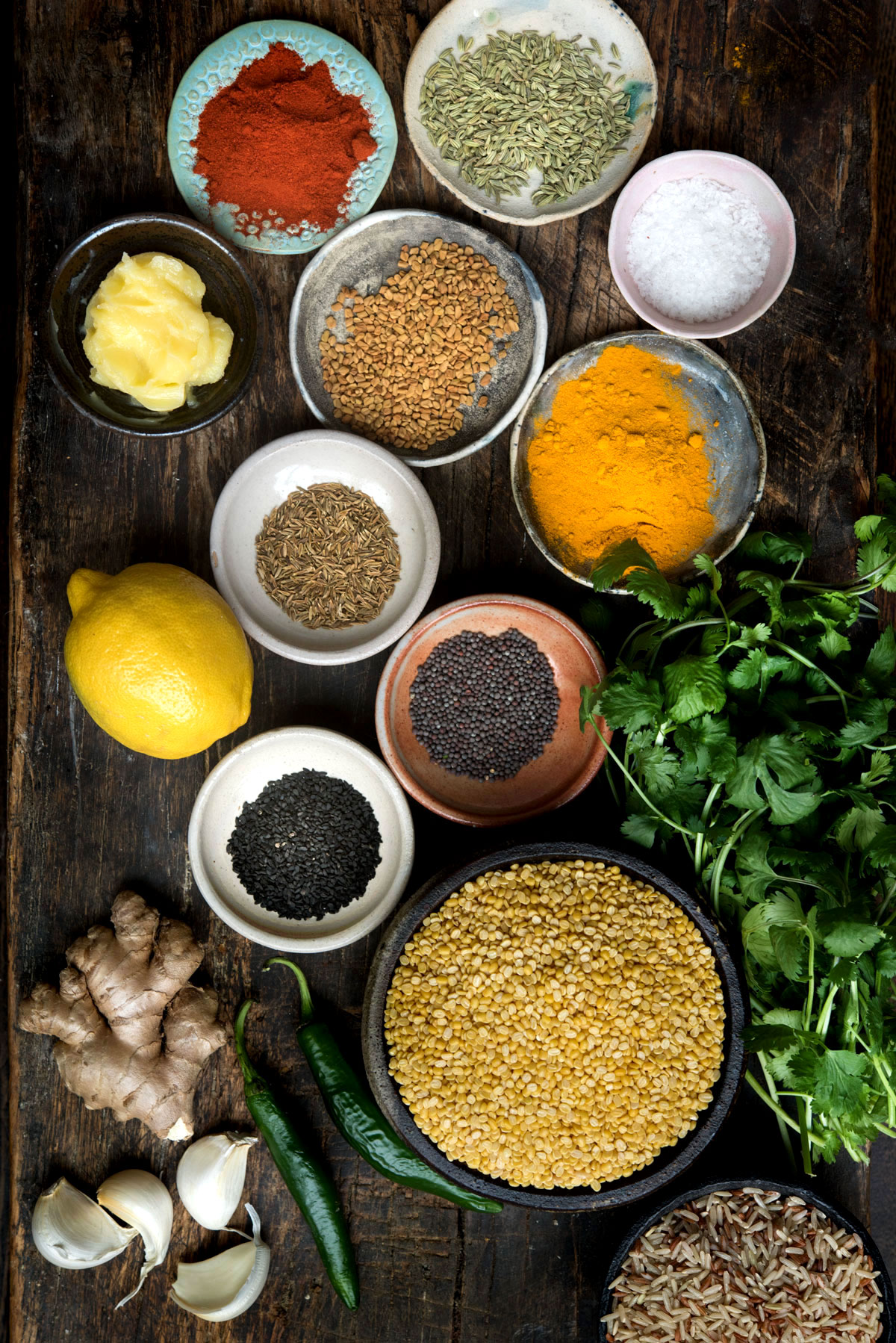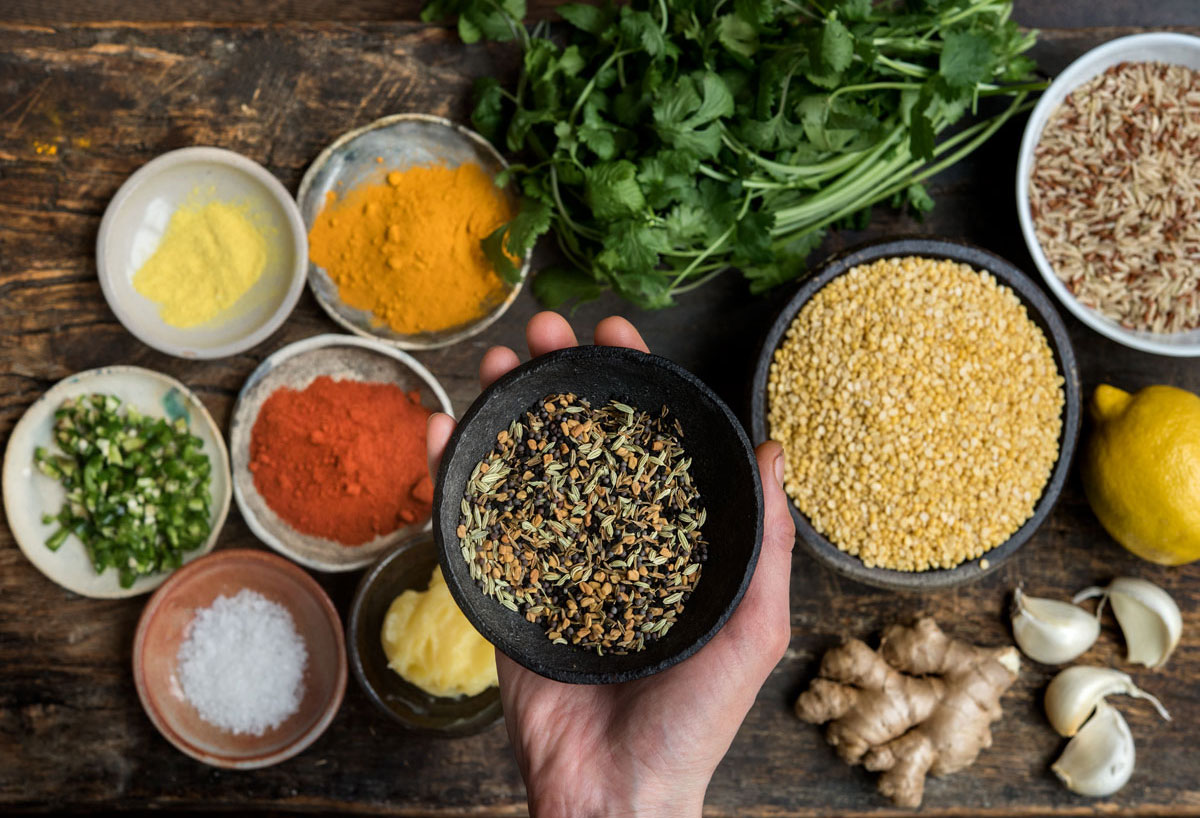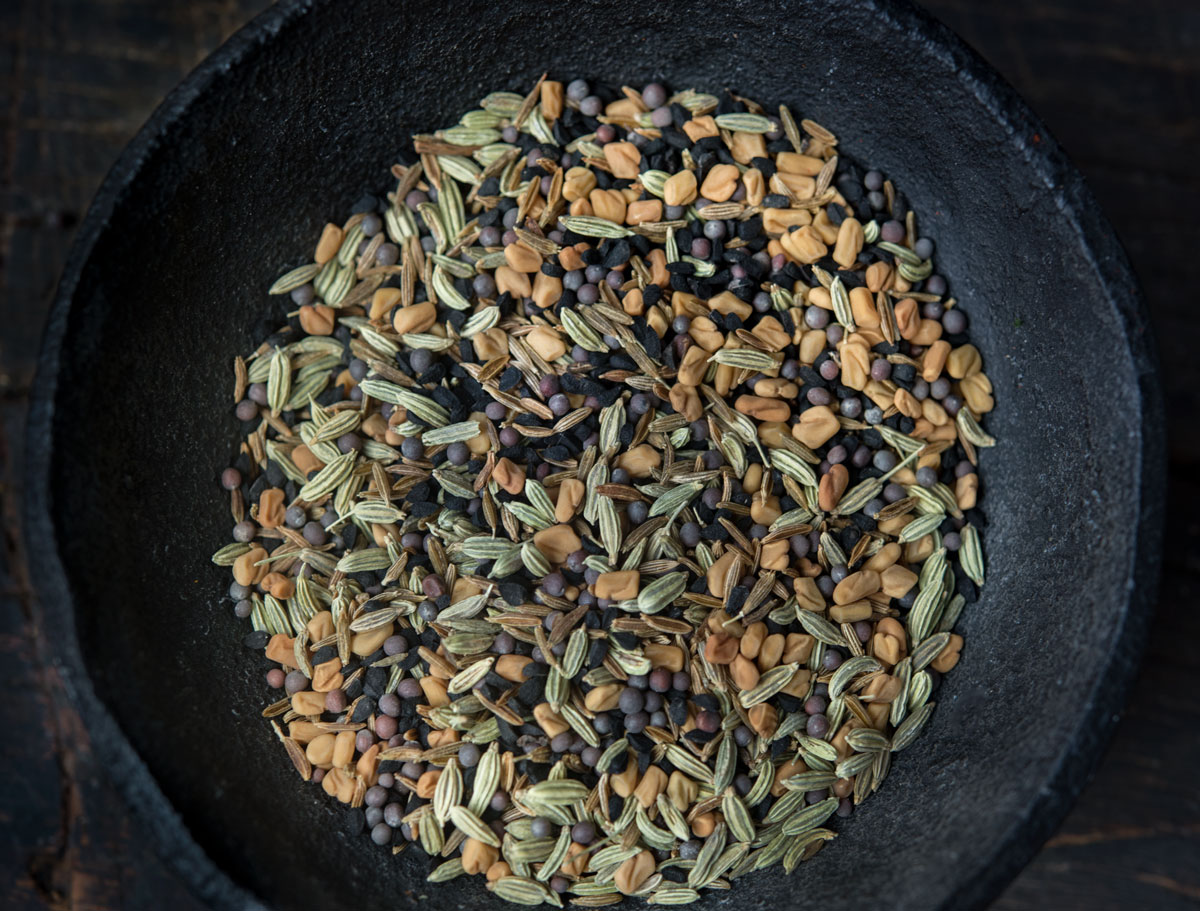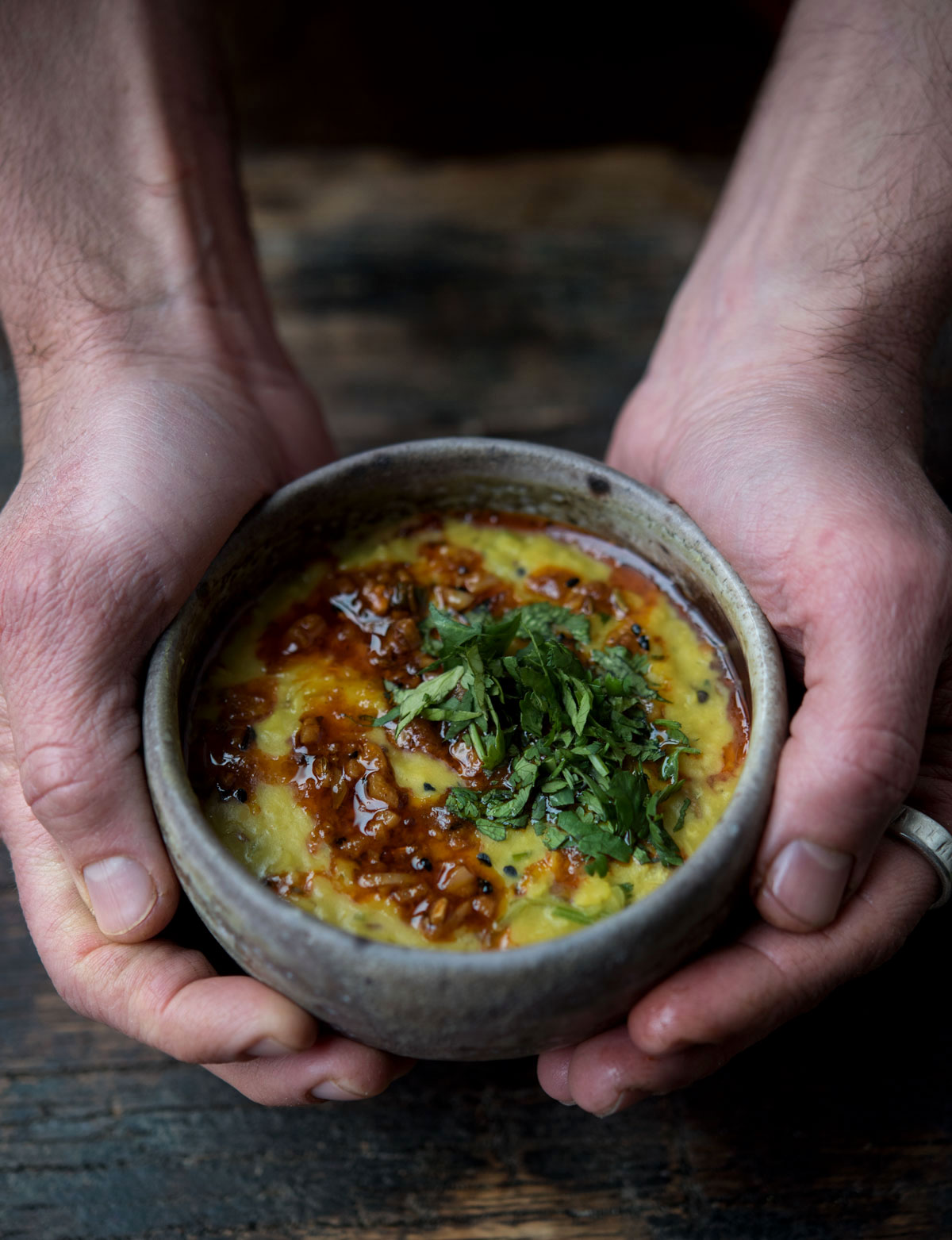 Moong Dal
2 cups yellow moong dal lentils (split and hulled moong beans)
4 cups water plus extra as needed
1/4 cup vegetable oil
4 tablespoons panch phoron (recipe below)
1/4 cup fresh chopped ginger
3 cloves of garlic, minced
1 teaspoon turmeric
1 green chile, such as Serrano, minced
1 teaspoon salt
1 cup cilantro, with stems, finely chopped
Juice of half a lemon, more to taste
Panch Phoron
Note: fenugreek seeds impart a mild bitter flavor, which I don't mind. That being said, you can always cut down on the fenugreek in this mixture.
1 tbsp nigella seeds
1 tbsp black mustard seeds
1 tbsp fenugreek seeds
1 tbsp fennel seeds
1 tbsp cumin seeds
Tempering Oil
2 tablespoon ghee or clarified butter
1 teaspoon panch phoron
1/4 teaspoon asafoetida
2 cloves of garlic, minced
1/2 teaspoon paprika
1/4 teaspoon cayenne
2 tablespoons water
Soak the dal in 4 cups of water. Meanwhile, in a saucepan over medium heat, add the oil and the panch phoron. Simmer until the spices are "jumping and dancing", about 1 to 2 minutes. Add the ginger, garlic, and turmeric, then turn off the heat and add the chile. Add the dal and water, and salt. Over medium heat, bring to a simmer, reduce heat to low, cover and simmer for 20 to 25 minutes, until the dal are buttery soft. As the dal cook, depending on how old they are, they may need more water (I always end of adding more water). The lentils should be swimming in the water, not constrained or choked by it.
While the dal is cooking, make the tempering oil. In a small saucepan over low heat, add the ghee. When hot, add the panch phoron and asafoetida. Cook until spices are "jumping and dancing," 1 to 2 minutes. Remove from the heat so the spices stop "blooming," then add the garlic, paprika, and cayenne. Place back on the for a brief minute, then remove from the heat and add the water and set aside.
When the dal are finished cooking, raise the heat so the liquid comes back to a boil. Taste to adjust the seasonings. Add 3/4 of the chopped cilantro (reserving 1/4 for garnish) and lemon juice, then stir. Reheat the tempering oil. Place the dal in bowls, spoon the hot tempering oil on top, and garnish with reserved cilantro.