I'm not usually this ahead of the game. Still a week out from Thanksgiving and am already menu planning. Typically, I'm trying to figure this out the day before or the day of. Organization is not my forte.
From a food standpoint, Thanksgiving is all about the turkey (and giving thanks, of course). For me, it's all about the side dishes.
Today, I have two solid Thanksgiving side dishes or, for that matter, sides fit for fall. First up, a wild rice salad with lots of nuts (pistachios and toasted almonds), fresh herbs (mint and dill), and, the kicker, fried onions scattered generously throughout (adapted from Yotam Ottolenghi). A few tidbits about wild rice…It's an aquatic grass that is native to North America. When cooked, it expands 3 to 4 times its original size. I have yet to try this, but recently read that you can pop wild rice just like popcorn. Just heat it in a little oil and shake the pan until the grains begin to pop.
Second, a hasselback butternut squash that is basted with a combo of butter, maple syrup, vinegar, and chile (adapted from Bon Appetit). Hasselback is a Swedish technique primarily used for preparing potatoes in which thin cuts are made into, but not all the way through (aka accordion potatoes), the potato. The tops and crevices are basted with fat (butter, olive oil, or duck fat) so that they become crispy. You can also stuff the crevices (with, perhaps, cheese and/or herbs). In this case, I've swapped out the potatoes for butternut squash.
What will be making its way onto your Thanksgiving Day table?
What are you thankful for?
It's been quite a year to say the least, but my hope is that we can put our differences aside for at least one day (if not longer) and share a meal. The sharing of food has always been part of the human story. "To break bread together," captures the power of a meal to forge relationships, bury anger, and provoke laughter.
Happy Thanksgiving!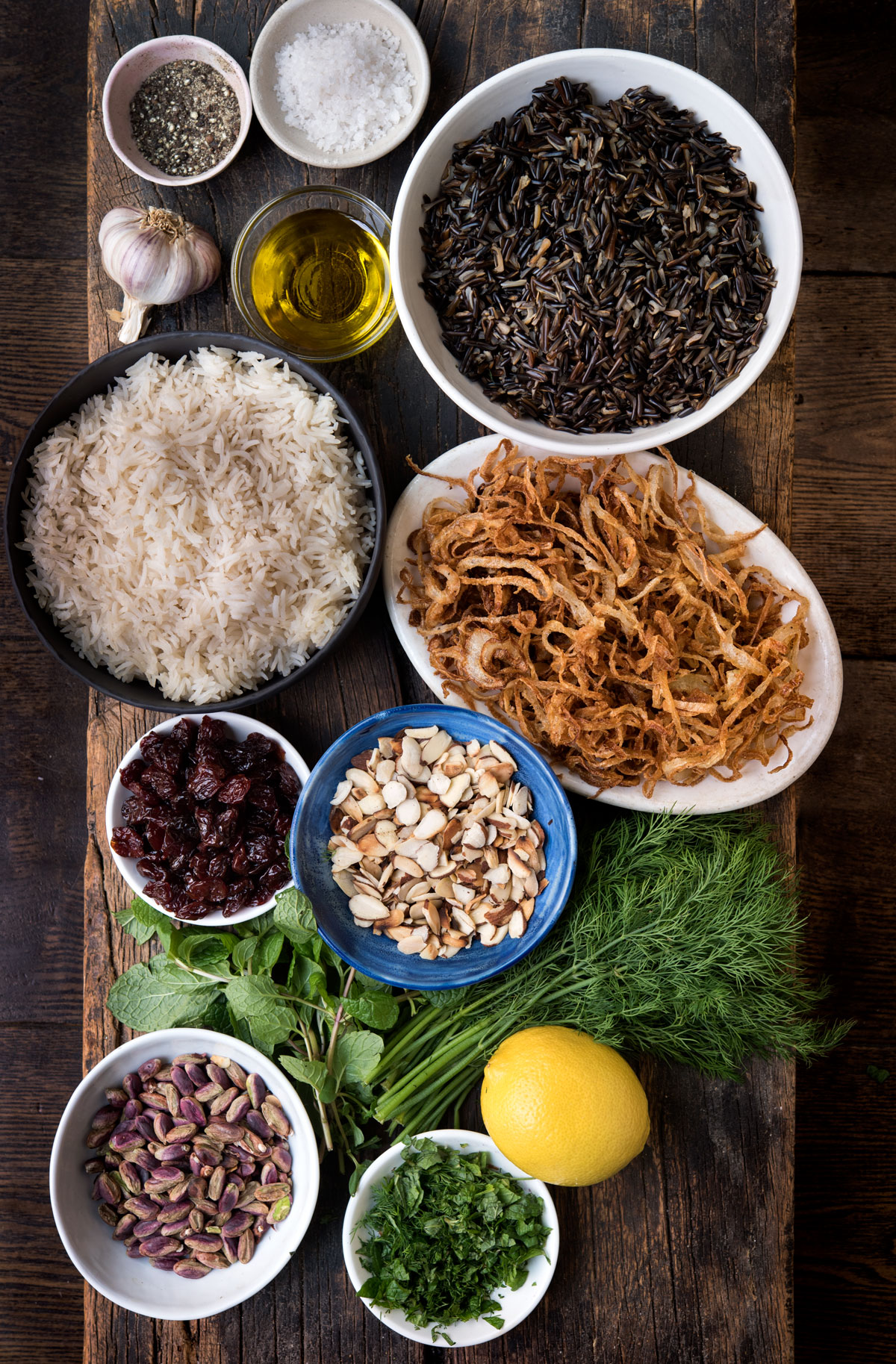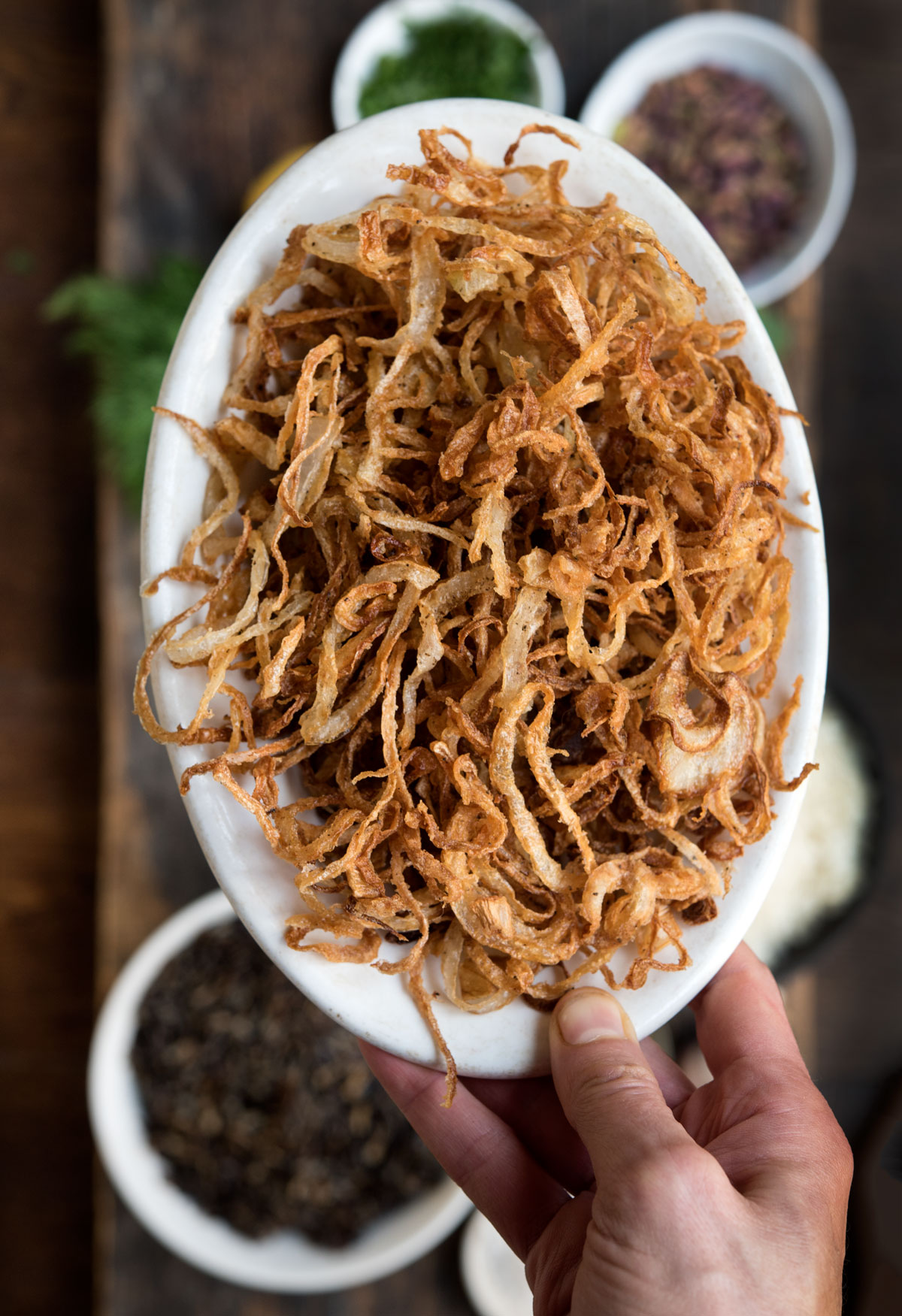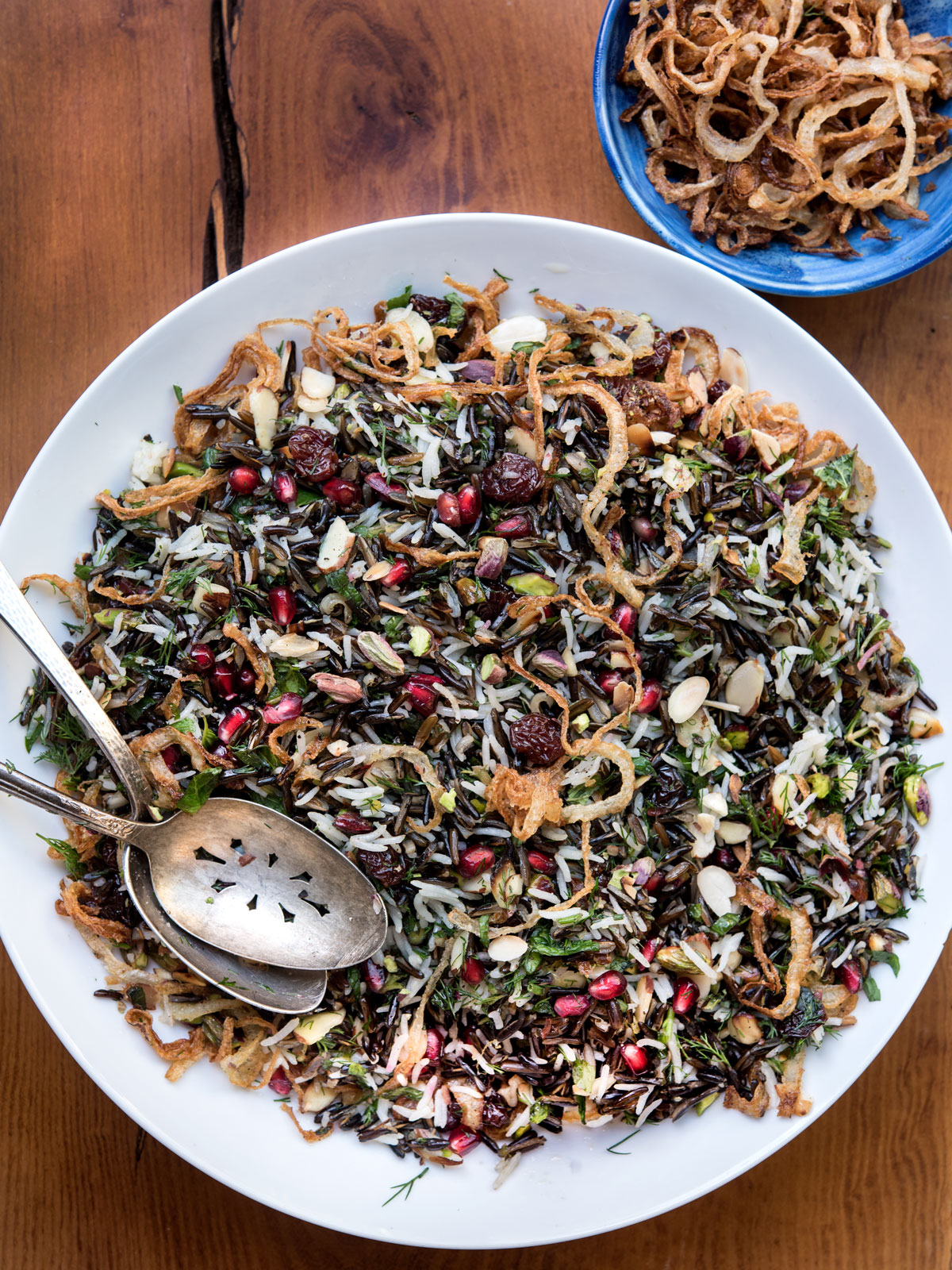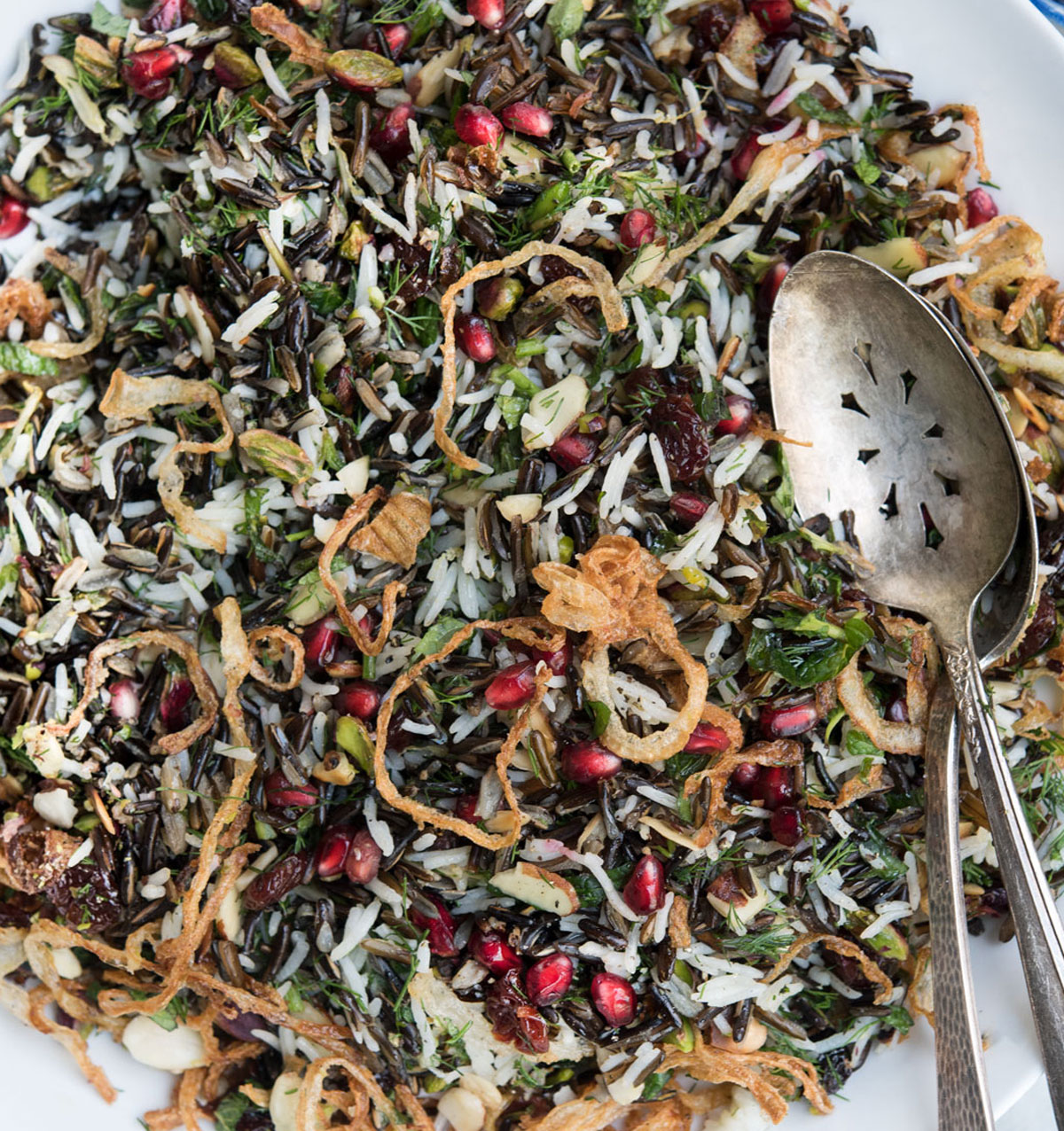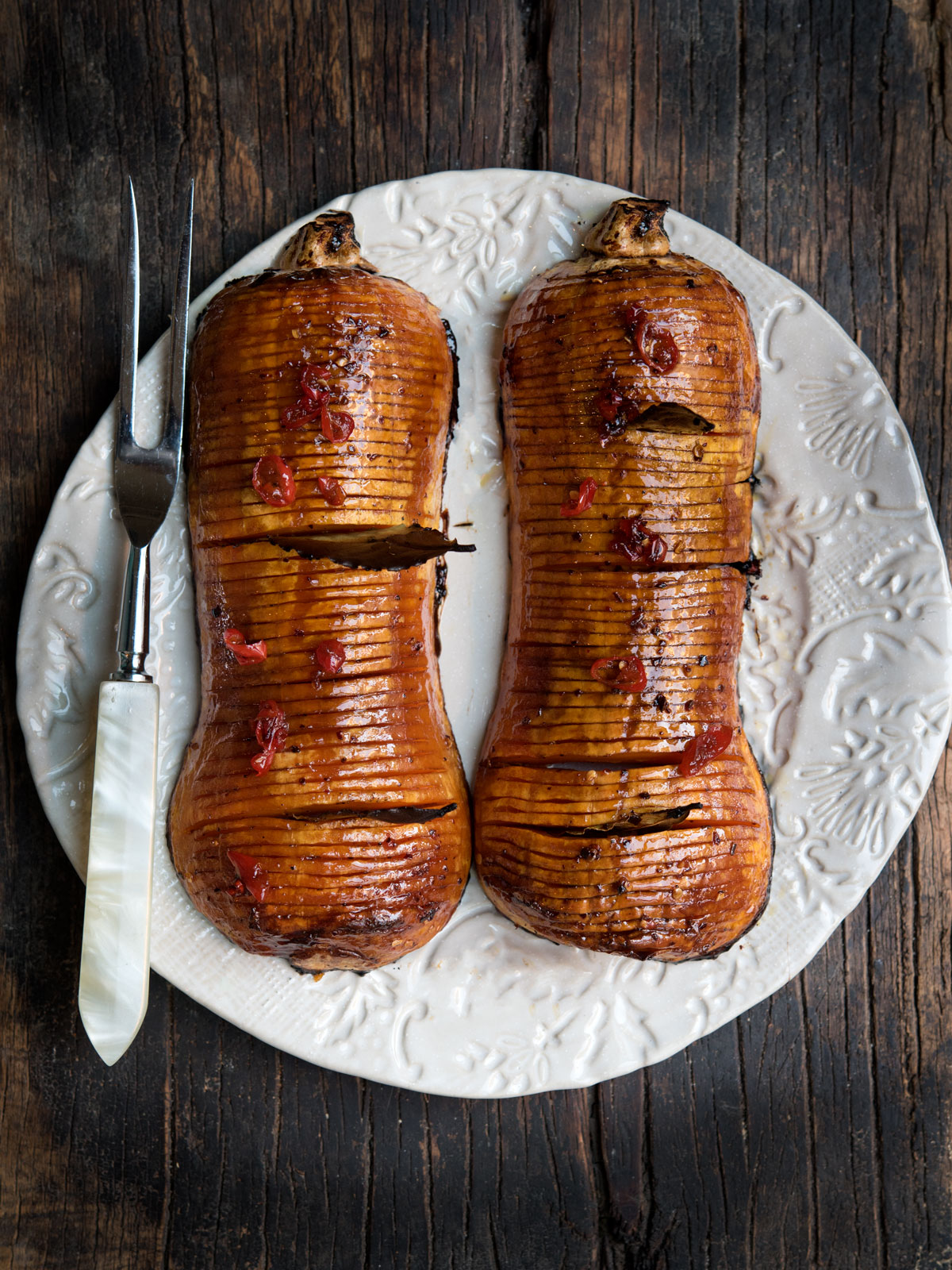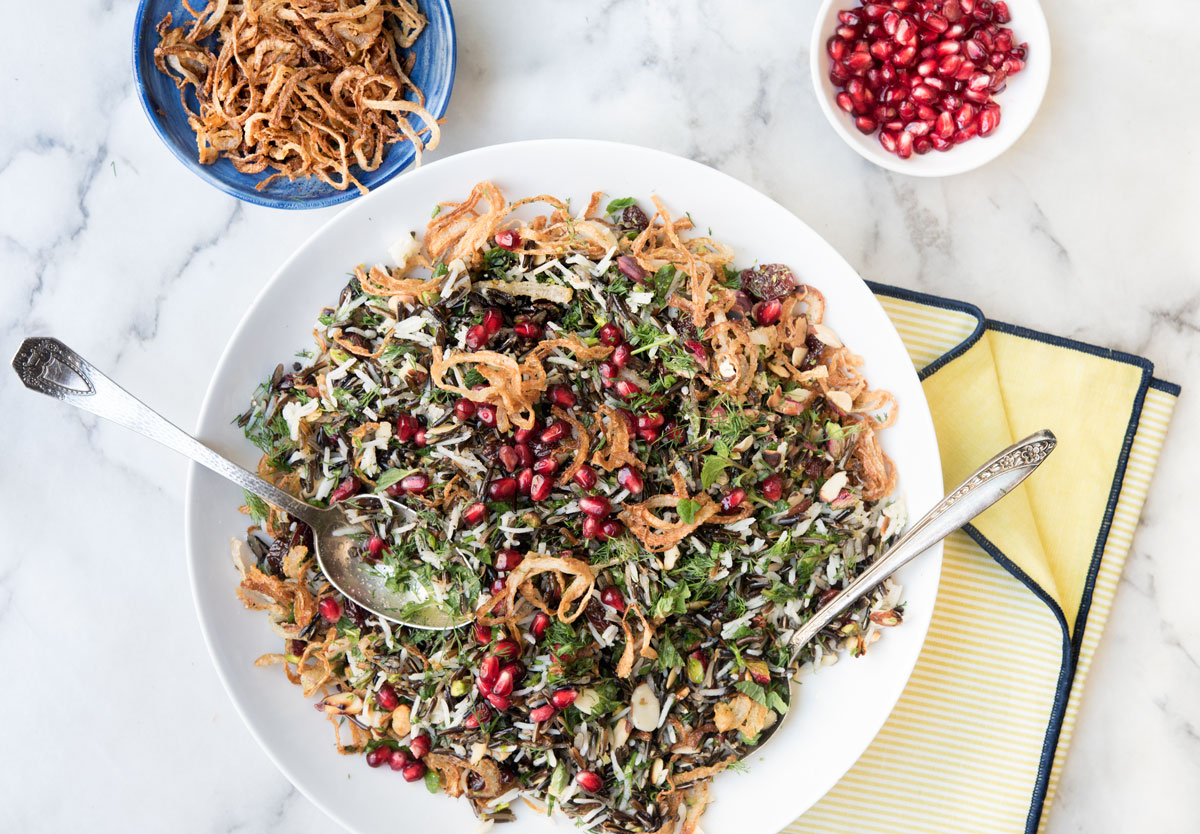 Wild Rice Salad with Almonds, Pistachios, and Mixed Herbs
1 cup wild rice
1/2 cup basmati rice
1 white onion, thinly sliced
Salt and pepper
All-purpose flour for dusting the onion slices
Vegetable oil for deep frying the onions
1/3 cup extra virgin olive oil
Juice of 1 1/2 lemons, more or less to taste
1 clove of garlic, crushed
Zest of 1 lemon
1/2 cup pomegranate seeds or dried sour cherries or dried cranberries (or a combination)
1/2 cup loosely packed fresh, chopped mint
1/2 cup loosely packed fresh, chopped dill
1/2 cup roasted pistachios, chopped
1/2 cup roasted flaked almonds
Add wild rice and 2 1/3 cups of water to a pot. Bring to a boil, cover, reduce heat, and simmer for 45 to 50 minutes until tender, but still retaining a slight bite. Remove from heat and let stand covered for 10 minutes. Spread onto a baking sheet to cool.
Add the basmati rice, plus 3/4 cup water + 2 tablespoons water, a pat of butter (optional), and a pinch of salt to a separate pot. Bring to a boil, cover, reduce heat, and simmer until tender, but still retaining a slight bite, about 15 minutes. Remove from heat and let stand covered 5 minutes. Spread onto a baking sheet to cool.
Lightly dust the onions with flour. Season with salt and pepper. Heat the vegetable oil in a deep saucepan. When the oil is sizzling, fry the onions in batches until golden brown. Remove with a slotted spoon. Drain on paper towels.
For the dressing, combine the olive oil, lemon juice, and crushed garlic in a bowl. Whisk to combine.
To assemble, combine the wild rice, basmati rice, lemon zest, and pomegranate seeds. Toss with the dressing. Before serving, add the herbs, pistachios, and almonds. Fold in half the fried onions. Toss well. Taste, adding more seasoning, lemon juice, and/or olive oil as necessary. Top with the remaining fried onions.
Hasselback Butternut Squash
1 large butternut squash, 2 1/2 to 3 pounds
1 tablespoon olive oil
Salt and freshly ground pepper
1 red chile (red Jalapeno or Fresno chile), thinly sliced
¼ cup pure maple syrup, preferably grade B
3 tablespoons unsalted butter
3 tablespoons vinegar (red wine, sherry, or apple cider vinegar)
6–8 dried bay leaves
Preheat oven to 425F. Halve squash lengthwise and scoop out the seeds. Using a peeler, remove skin and white flesh. Rub all over with olive oil. Season with salt and pepper. Roast on a baking sheet until squash begin to soften, about 15 minutes.
Meanwhile, bring chile, maple syrup, butter, and vinegar to a simmer in a small saucepan over medium-high, stirring occasionally, until just thick enough to coat spoon, 6–8 minutes. Reduce heat to very low and keep glaze warm.
Transfer squash to a cutting board and let cool slightly. Using a sharp knife, make crosswise cuts into squash halves, cutting as deep as possible but without cutting all the way through. Return squash to baking dish, scored sides up, and tuck bay leaves between a few of the slices. Season with salt and pepper.
Roast squash, basting with glaze every 10 minutes or so (a pastry brush works well) until tender and glaze forms a rich brown coating, 45–50 minutes. Serve topped with chiles.
Prepare Ahead: Squash can be roasted in advance. Let cool until just warm; cover and store at room temperature. Reheat before serving.