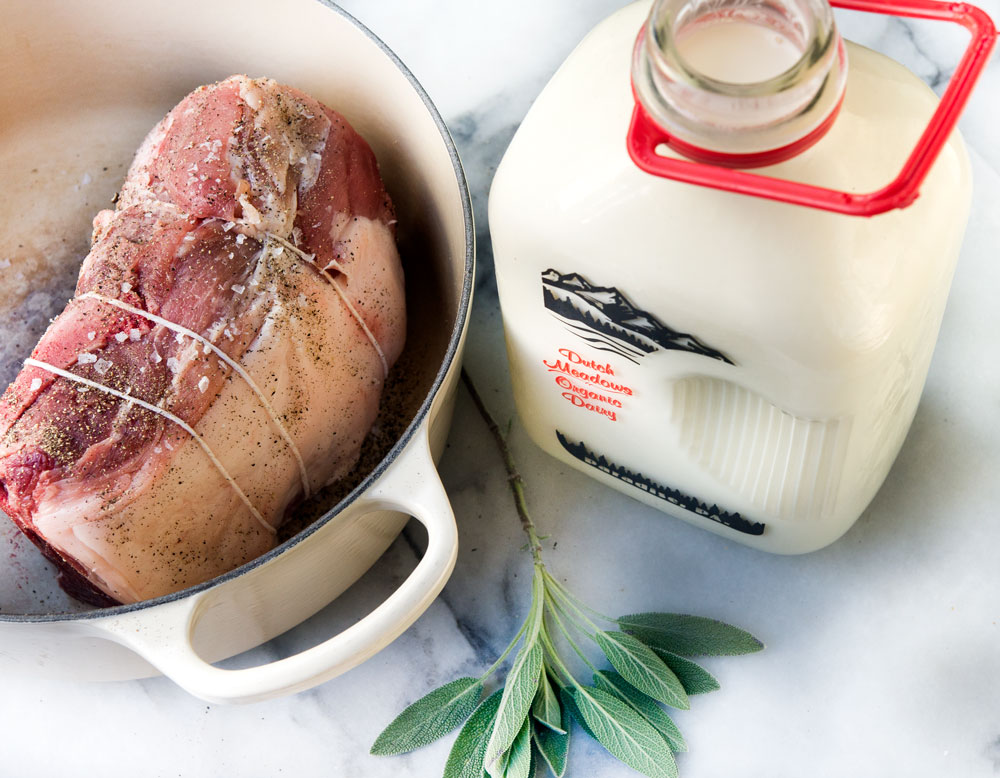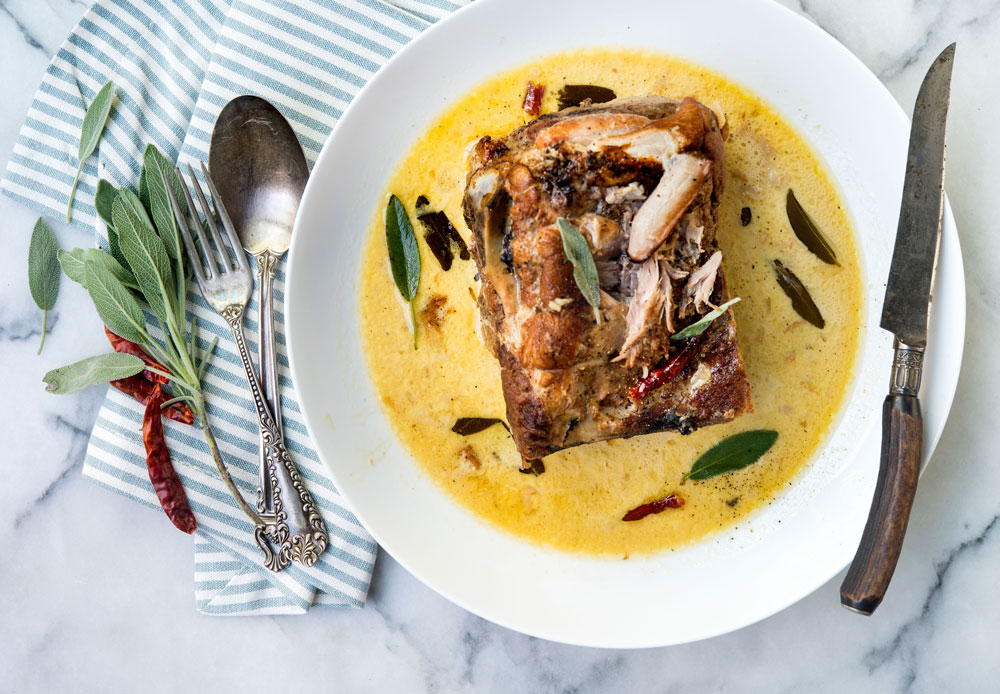 When the weather turns cool, I tend to embrace low-and-slow braised comfort food. My trusted and beloved Dutch Oven gets its fair share of use on such occasions. On those lazy days, I love to crawl up with a cook book or binge watch my favorite tv series, as the meat braises away, warming the house and producing he most pleasant aromas.
While braising meat in milk is by no means a novel method, it's also not a technique that I see very often. In fact, this technique was one that I first encountered several years ago on an extended trip (that lasted 4 months, long story) to Ireland of all places. Braising meat (such as pork shoulder) in milk is a traditional, old-school Italian cooking method originating in Bologna or Tuscany (its exact birthplace is still a matter of debate).
My biggest worries when it comes to cooking meat is always overcooking it, resulting in unpleasantly dry meat. A low and slow simmer in a flavorful braising liquid helps to lessen that degree of uncertainty, and the milk produces the most delectable sauce as it cooks down and concentrates.
At first glance, this braised pork recipe may look like any other braised meat method. You sear the meat on all sides, reduce the heat, add some liquid, and simmer for several hours until it's fall-off-the-bone tender. However, the key difference here is that the braising liquid features milk (along with white wine). The milk proteins help to tenderize the pork, which results in an utterly moist, buttery tender, succulent piece of meat. In all fair warning, I should mention that the milk/sauce might separate into curds. But don't be alarmed, this is perfectly normal and does not deter from the taste of the sauce.
The braising liquid is seasoned with lemon peel, dried chiles, whole cloves of garlic, and fresh sage. The lemon adds brightness and acidity, the dried chiles supply a faint pop of heat (I added a few extra chiles since I prefer my food spicy); and the fresh sage leaves contribute an earthy herbaceousness that goes hand and hand with pork.
When it comes to buying pork, seek out heritage breeds such as Large Black, Berkshire, Red Wattle, Tamworth, and Gloucestershire Old Spot, to name a few. Heritage pigs are prized for their juiciness, deep flavor, and tenderness. Their pink-hued meat is heavily marbled (so they have a high fat content), which makes them ideally suited for long, slow braises.
While there is a fair amount of cooking time involved (approximately three hours), it's mostly passive cooking time. So you can go about your business or just relax on a weekend afternoon as the pork slowly simmers away.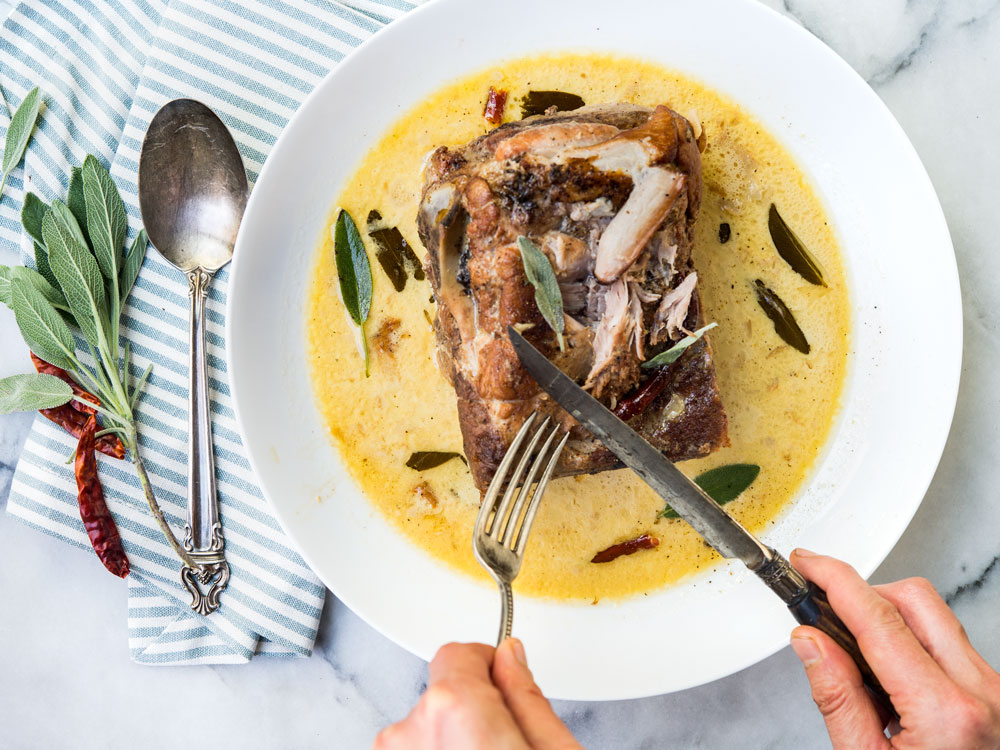 (Heritage) Pork Shoulder Braised in Milk
For this Italian braising method, all you need is handful of ingredients, a little bit of prep, and a Dutch oven. Three or so hours later, you will have created a flavorful, succulent pork shoulder that will be certain to fulfill your craving for comfort food.
1 tablespoon olive oil
3 pounds bone-in pork shoulder (heritage breed, highly recommended)
Salt and pepper
3 tablespoons of butter
12 sage leaves
Rind of 1/2 lemon, peeled with vegetable peeler
1-3 small dried red chiles (such as chile de arbol or Thai bird's eye chile), , more or less to taste
6 garlic cloves, crushed slightly with side of chef's knife
1 bottle dry white wine
2 cups whole milk
Heat olive oil in a thick-bottomed pot or Dutch oven big enough to accommodate pork shoulder. Season all sides of pork with salt and pepper. When oil is hot, place pork in pot and brown on all sides, searing the shoulder. Drain the oil.
Add butter, sage, lemon rind, chiles, and garlic. Continue to cook until garlic begins to color. Add the wine. Bring to a simmer, cover, and cook over low heat for 2 hours.
Add the milk and continue to cook for another hour. After 3 hours, the meat should be tender and pull away from the bone.