It's mid-October and the lure of fall (and pumpkin) is strong, but I'm not quite ready to bid farewell to some of my summer faves — eggplant, peppers, and tomatoes, the holy trinity of summer vegetables. They're still abundant at my local farmers' markets, so was eager to take advantage of them, as in a month or so I will be up to my ears in pumpkin and winter squash.
While there are many ways to prepare eggplant, my preferred method is to char the heck out of it over an oven flame until it's collapsed, completely tender, and and pleasantly smoky. The charred skin is peeled and discarded, but since eggplant is like a sponge, its flesh soaks up all those smoky notes. From there, it's just a matter of chopping the eggplant and combining it with thick, Greek-style (i.e., strained) yogurt, garlic, salt and a drizzle of peppery extra virgin olive oil. On its own, the eggplant dip is good eating — simply scooped up with some fresh pita — though the remaining accompaniments (lentils, tomatoes, peppers and chile-spiced butter) add layer upon layer of flavor.
Today's dish is loosely based upon the Turkish classic Alinazik, a specialty dish of the Gaziantep province of Turkey. Alinazik is typically topped with ground beef or lamb, but I decided to give it a vegetarian twist by utilizing black lentils. Am certain it would be lovely with lamb (something for my to-do list). I generally find lentils a tad bland or, maybe more accurately, a blank slate. But all the other flavors in the dish certainly jazz them up and elevate the humble lentil to a new level.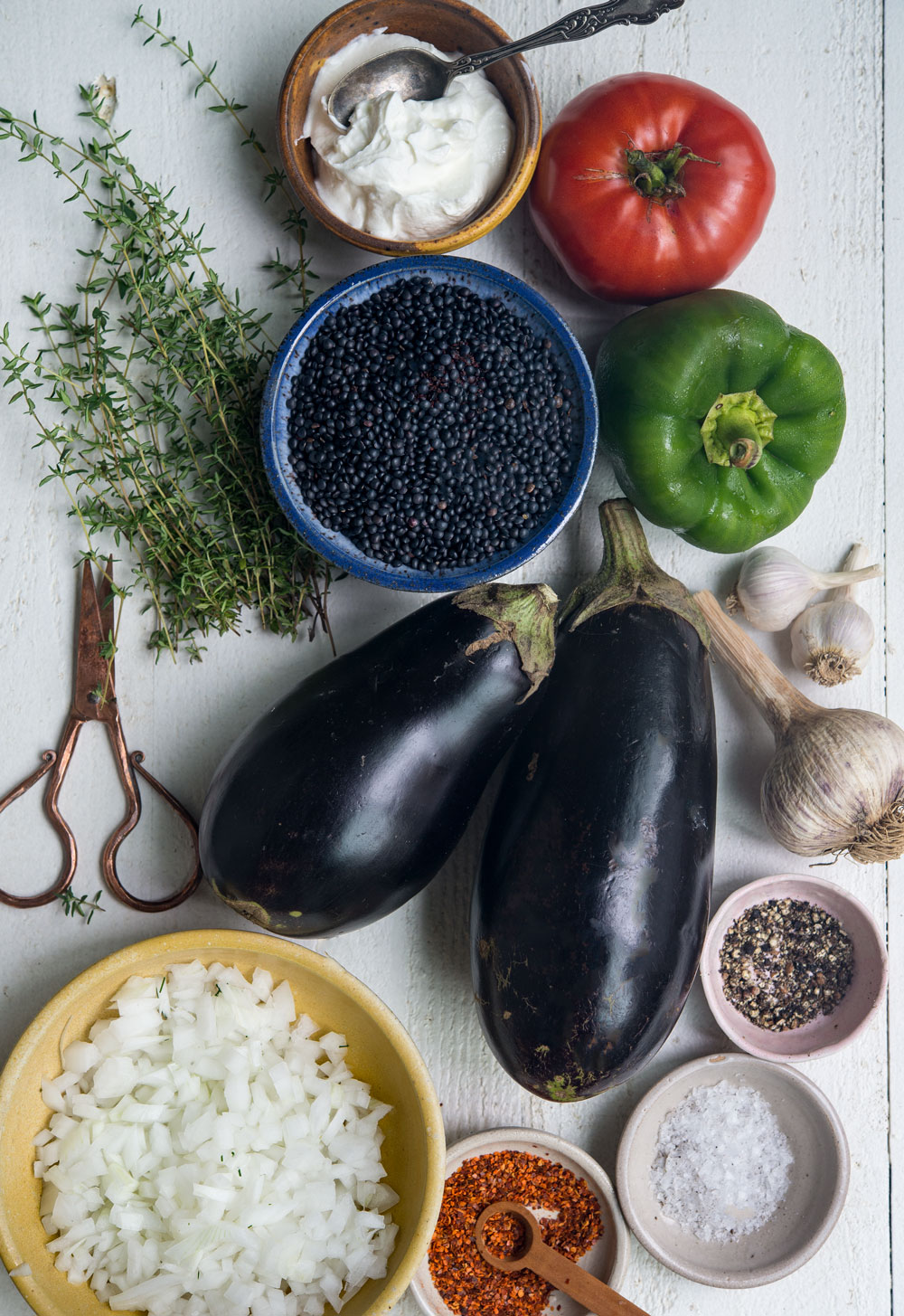 Here's a step-by-step of the eggplant-cooking process…
If you don't have a gas stovetop, you could grill the eggplant or roast them in the oven.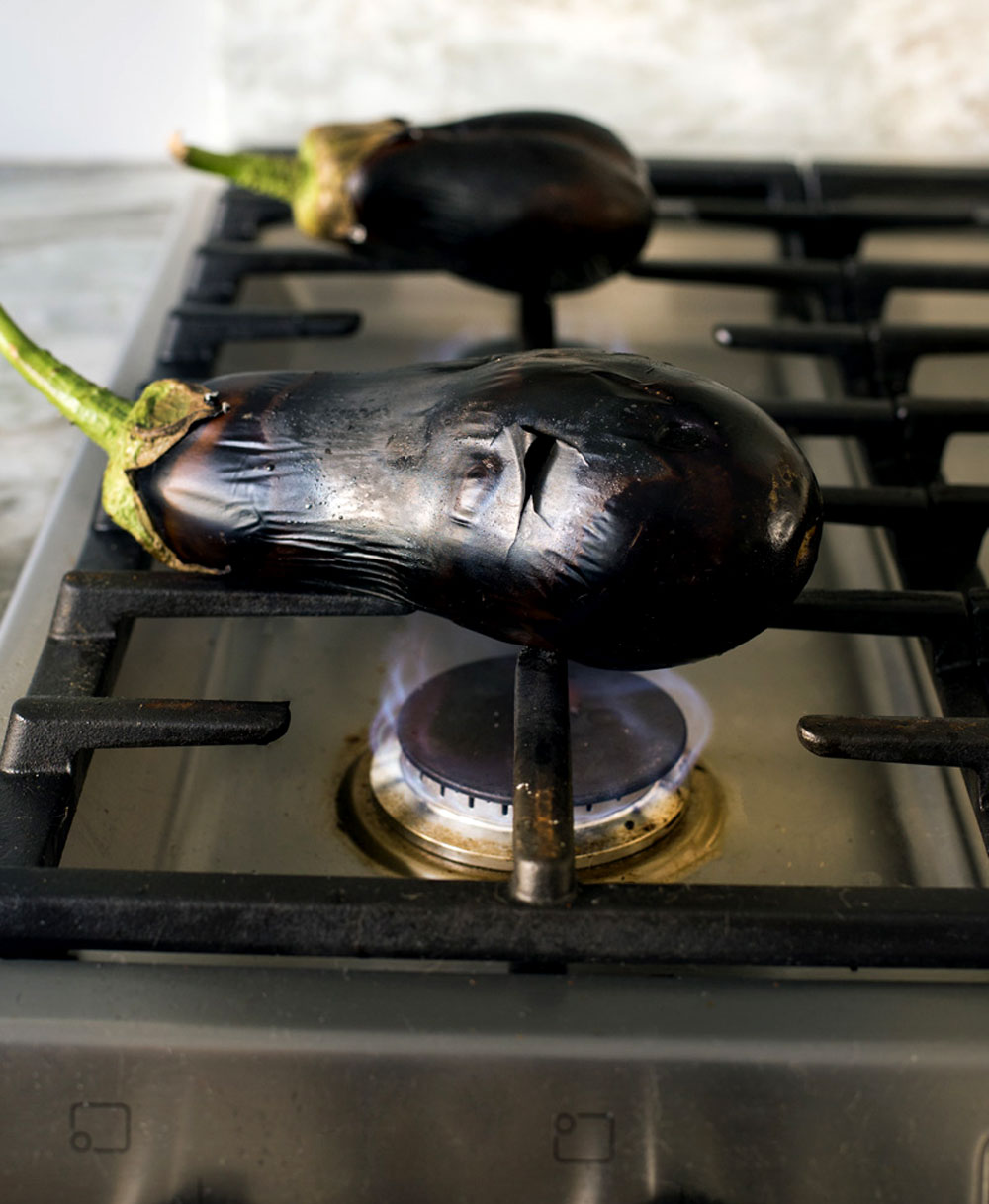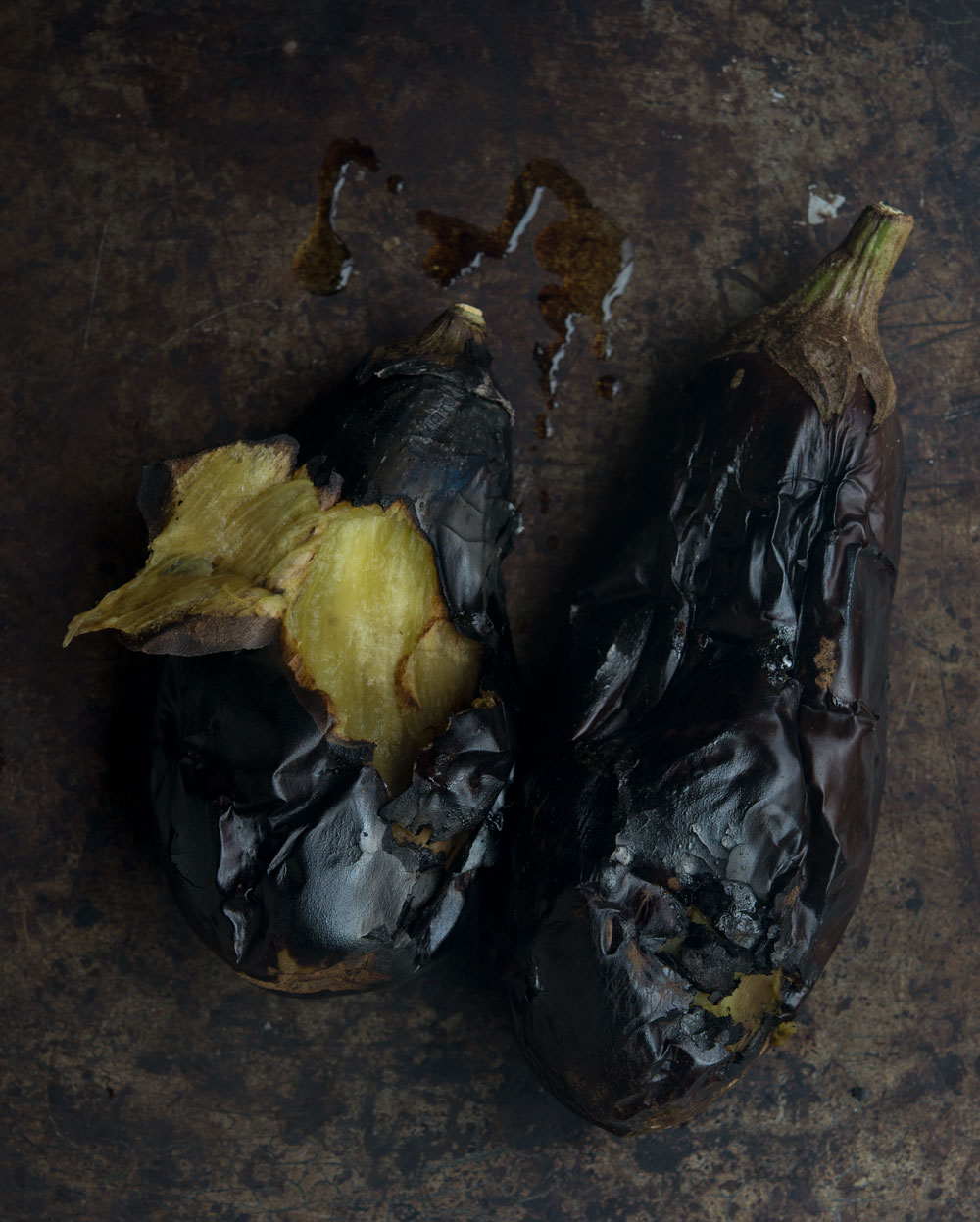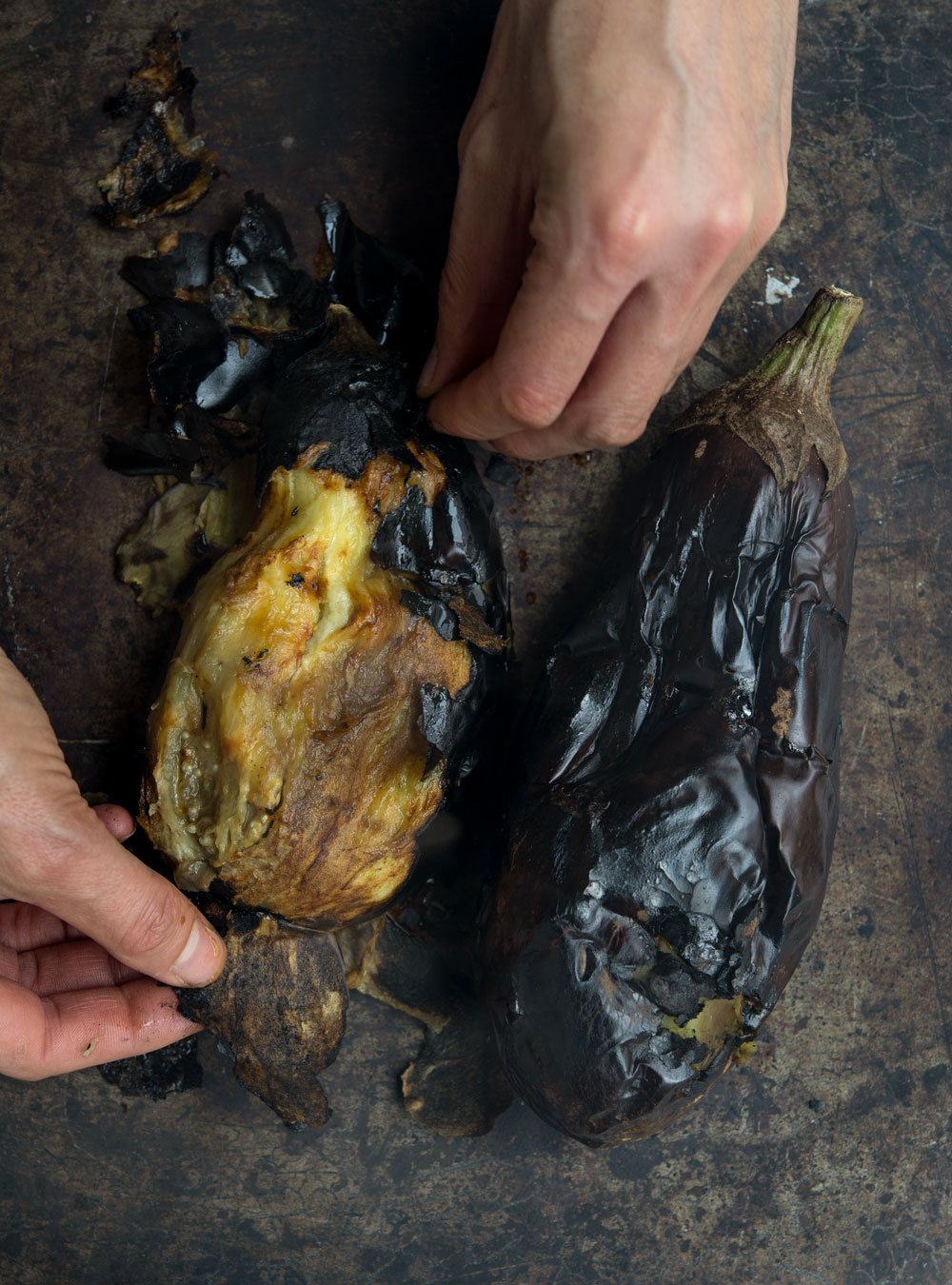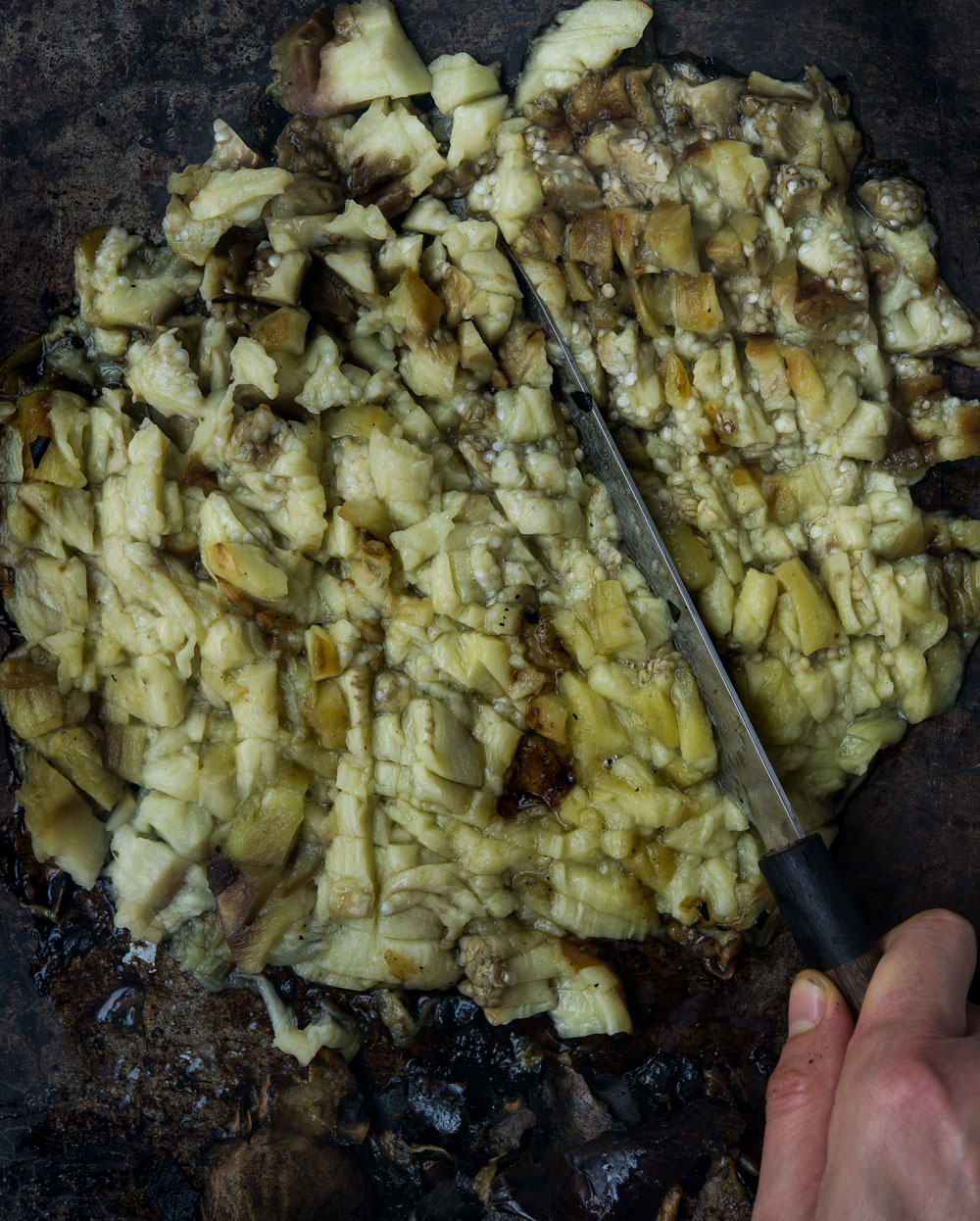 Grab some pita and dig in…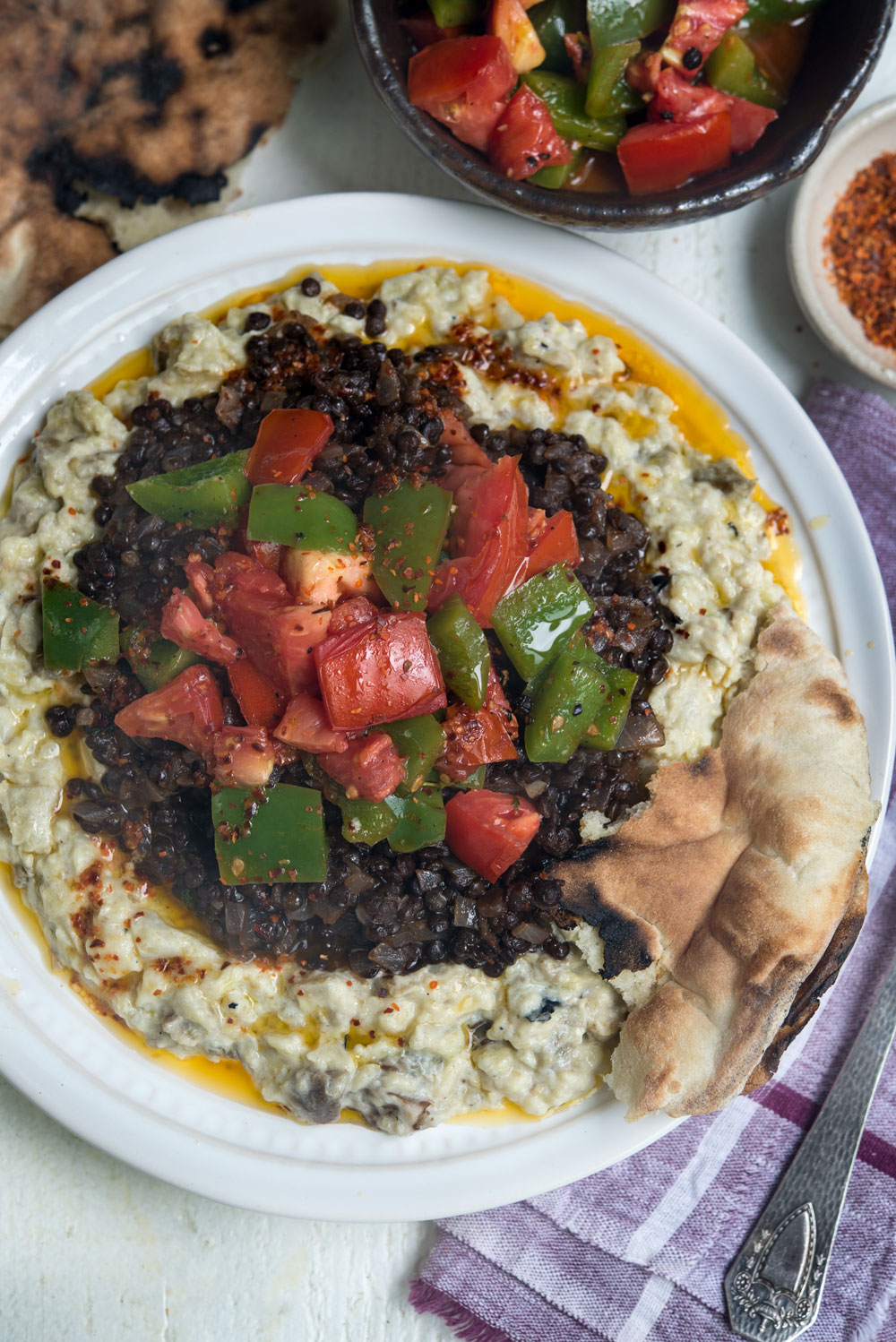 Smoky Eggplant Topped with Black Lentils, Tomatoes, Bell Peppers and Spiced-Chile Butter
Smoky Eggplant
2 medium to large eggplants
1/2 cup yogurt
3 garlic cloves, crushed to a paste
1 teaspoon olive oil
1/2 teaspoon salt
Pierce the eggplant all over with a fork. Place the eggplant over an open flame on your stovetop (if gas). Roast, turning from time to time, until completely charred  and soft, about 10 to 15 minutes, depending on the size of the eggplant. Cool enough to handle. Peel off the charred skin and discard. Chop the eggplant into chunks. Place in a bowl and mix with the yogurt, garlic, olive oil and salt.
Note: if you don't have a gas stovetop, you could certainly grill the eggplant. Or, you could roast them in the oven (475F for about 20 to 25 minutes), though you won't achieve that smoky flavor.
Black Lentils
2 tablespoons butter
1 medium onion, finely diced
2 teaspoons tomato paste
2 cups cooked lentils
1 teaspoon fresh thyme
Pinch of all-spice
Pinch of nutmeg
Salt to taste
In a large skillet, heat the butter over medium heat. Add the onion and saute until soft and translucent, about 5 to 7 minutes. Add the tomato paste and stir to combine. Add the cooked lentils, thyme, all-spice, nutmeg, salt, and 1 cup of water. Bring to a boil, decrease the heat, and simmer 10 minutes (adding a little bit of extra water as needed if it gets too dry). Remove from the heat.
For serving:
2 teaspoons olive oil
1 green bell pepper, seeded, chopped
1 large tomato, chopped
1 tablespoon butter
2 teaspoons chile flakes
Pita bread for serving
Heat a skillet with olive oil. Add the green pepper and stir a few minutes until soft but still crisp. Add the tomato and saute another minute. Remove and set aside.
Heat the butter until melted. Add the chile flakes and swirl to combine.
Layer the yogurt in a serving dish. Top with lentils, green peppers and tomatoes, and drizzle with chile butter. Serve with pita.