Tahini. Nothing more than sesame seeds that have been ground to form a smooth and velvety paste. Tahini seems to be everywhere these days, although there's nothing remotely novel or new about sesame seeds. Rather, it's an ancient food that has been cultivated in India since 5000 BC; references to sesame seeds have been found on cuneiforms from 3500 BC.
I really like the versatility of this herb tahini sauce. It's an addictive combo of cilantro, parsley, tahini, jalapeño, garlic, and lemon juice, spiced with cumin and fenugreek. If you've never had fenugreek, its flavor is a bit hard to describe — nutty and bitter, with a subtle sweetness. Fenugreek adds an interesting and essential little something to the sauce.
While I've paired this herbed sauce with roasted cauliflower, I envision it complementing all sorts of dishes — grilled or roasted chicken, pork, or fish; roasted winter squash, pumpkin, or root vegetables; eggplant; and grain bowls galore…and if I ever get around to making homemade falafel, this is what I'll be drizzling on top, along with spicy zhoug and/or harissa. A good sauce (or two) always elevates a meal.
The roasted cauliflower is boldly seasoned with a DIY shawarma spice blend (I recently reorganized my out-of-control spice cabinet and discovered several spices, which I had forgotten about, that went into the spice blend). You could just as easily use a store-bought Middle Eastern spice blend of your choosing. Slice the  cauliflower into 'steaks' or simply roughly chop into bite-sized florets.
I love when vegetables are the star of the show (or plate).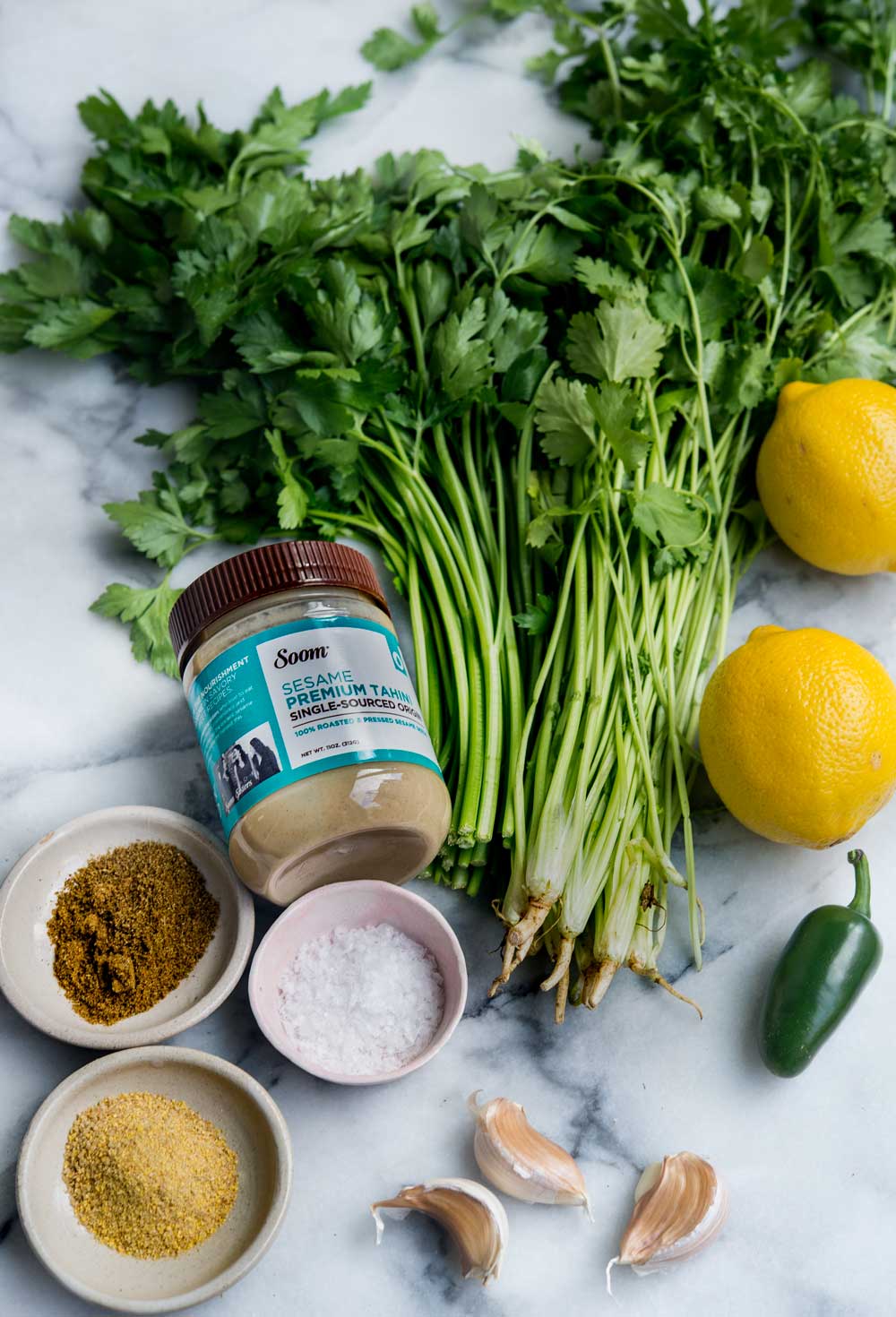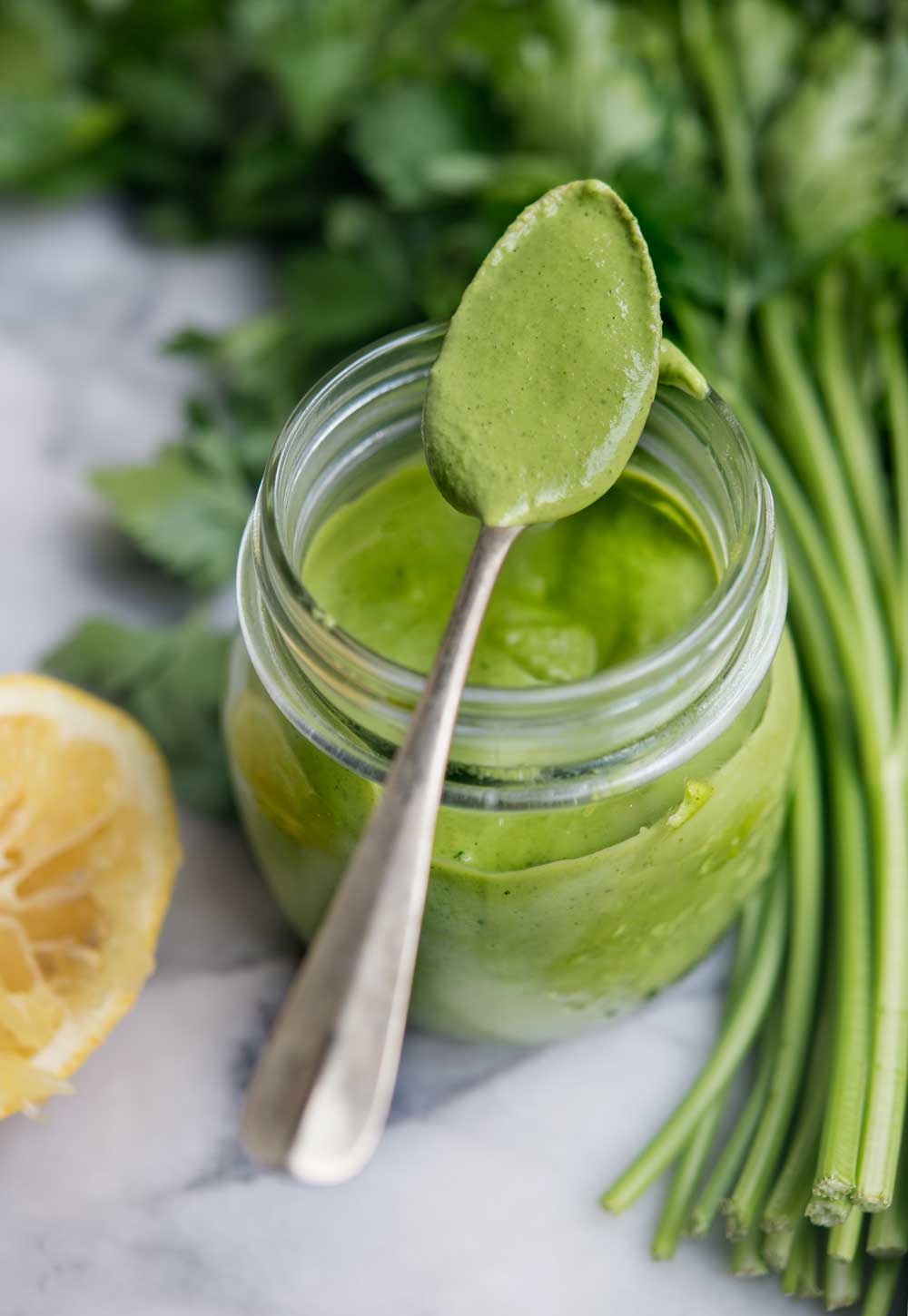 Homemade Shawarma Spice Blend = Cumin + Coriander + Garlic Powder + Paprika + Turmeric + Clove + Cayenne + Black Pepper + Cinnamon + Salt.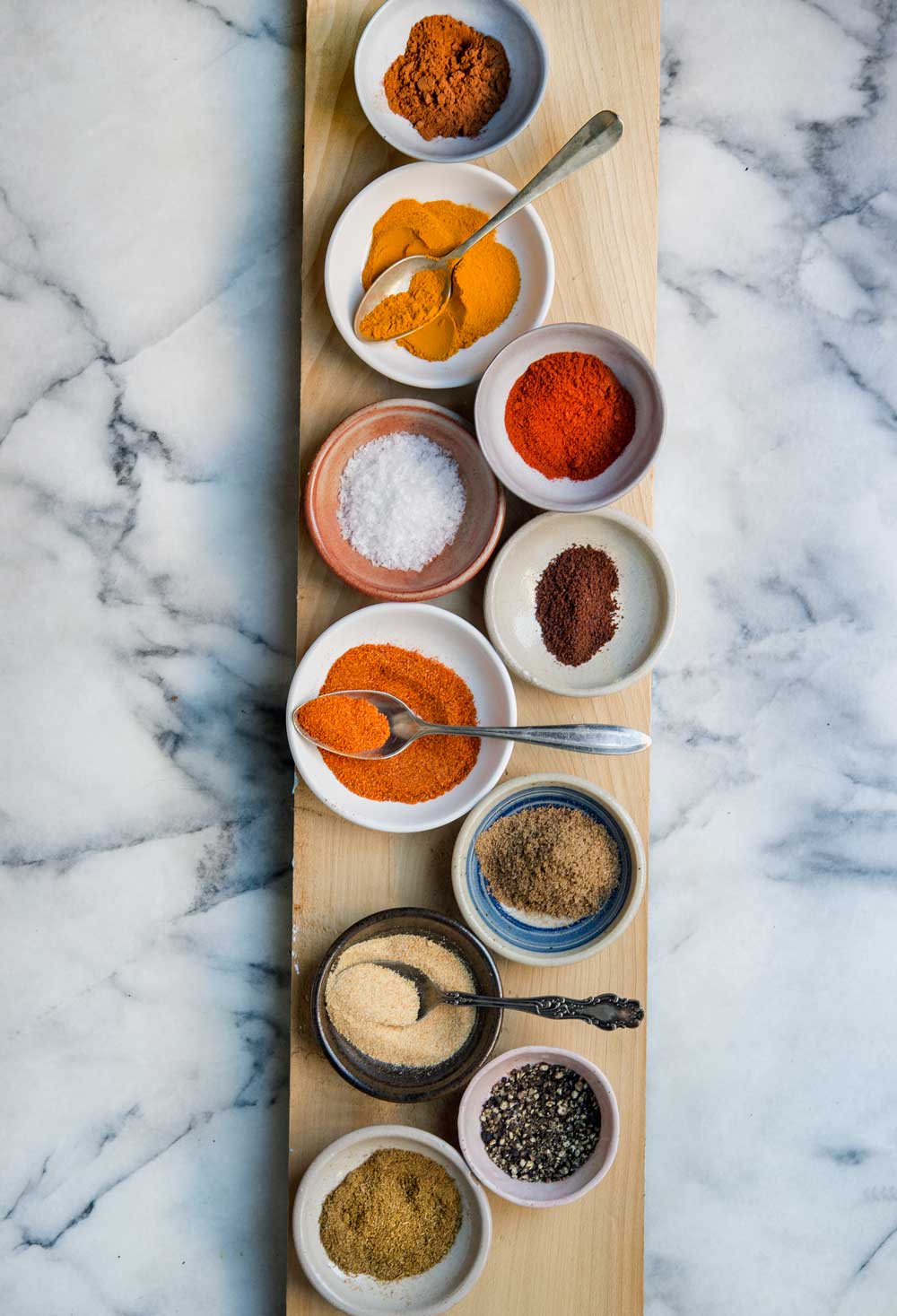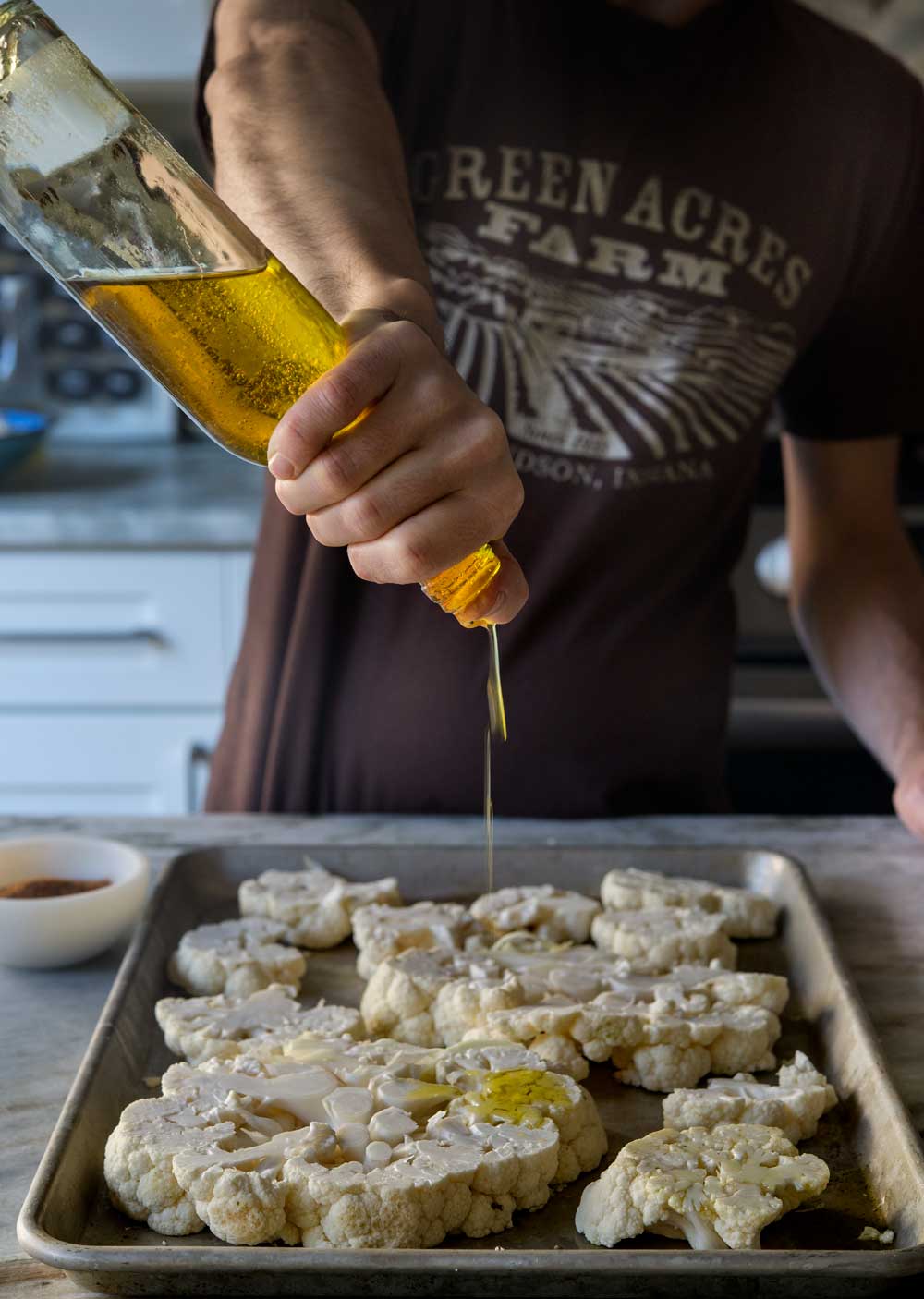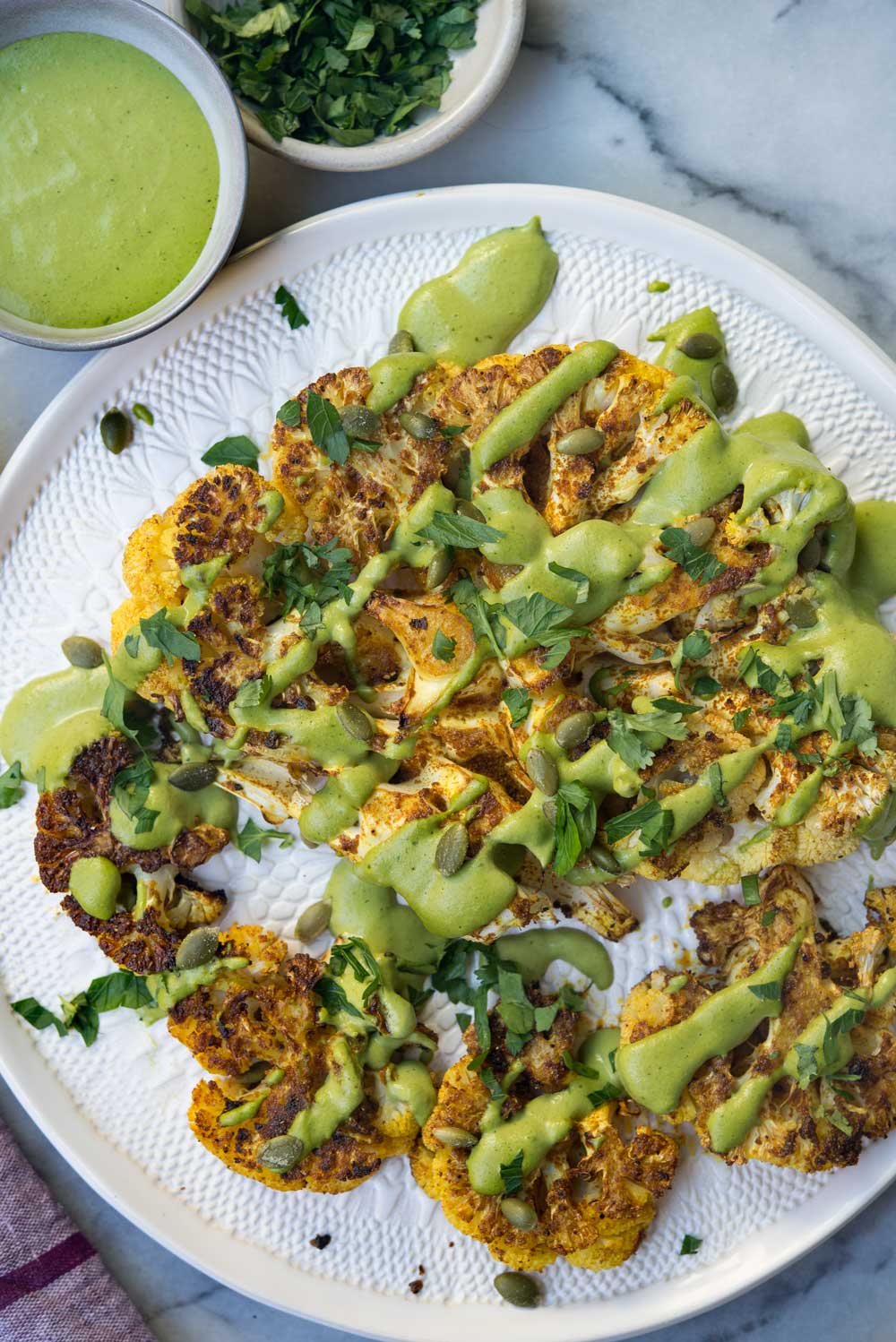 Shawarma Spiced Cauliflower Steaks with Herb Tahini Sauce
1 head of cauliflower
olive oil
Shawarma Spice Blend
Herbed Tahini Sauce
Toasted pumpkin seeds, for serving
Chopped cilantro, for serving
Preheat the oven to 400F. Slice the cauliflower into 3/4 to 1-inch steaks. Drizzle with olive oil to coat. Season liberally with the shawarma spice blend so that it coats the cauliflower well on both sides (as noted below, you won't need all of the spice blend).
Roast the cauliflower until browned and tender, about 40 minutes, flipping halfway through. Finish under the broiler, 4 to 5 minutes.
Drizzle with the herb tahini sauce. Garnish with toasted pumpkin seeds and chopped cilantro.
Herb Tahini Sauce
1/2 cup loosely packed cilantro
1/2 cup loosely packed parsley
1 to 2 garlic cloves, minced
1/2 to 1 jalapeno, seeded, roughly chopped (more or less to taste)
1/2 teaspoon ground cumin
1/2 teaspoon ground fenugreek seed
1/2 teaspoon sea salt
1/2 cup tahini
2 tablespoons lemon juice
Combine all the ingredients in a food processor. With the motor running, slowly drizzle in water, about 1/2 cup, until smooth.
Shawarma Spice Blend
This recipe will yield more than you need for today's dish. Store the remainder in an air-tight container.
1 tablespoon cumin
1 tablespoon coriander
2 teaspoons garlic powder
2 teaspoons paprika
1 teaspoon turmeric
3/4 teaspoon sea salt
1/2 teaspoon ground clove
1/2 teaspoon cinnamon
1/2 teaspoon black pepper
1/4 teaspoon cayenne
Combine all spices in a bowl. Mix until well combined.