I love big, bold flavors. Dishes with lots of spice. Am definitely not opposed to a touch of endorhpin-triggering heat (yeah, okay, I have a tendency to add hot sauce or chile oil to just about everything), though sometimes you just need to step back and appreciate something in its unadulterated state, as nature intended. This time of year, I just want to celebrate all of my favorite spring greens.
As you can see, lots of green in this batch of photos. We're talking fresh fava beans, asparagus, green garlic, spring peas, and chive blossoms. Let the good eating begin.
First off, fava bean puree on grilled multigrain, sourdough bread with homegrown daikon radish microgreens (thinly shaved radishes would be nice as well), shaved Pecorino, and finished with some quality extra virgin olive oil. I like to brush the bread with olive oil and then grill it on a grill pan or in a hot skillet. It adds a nice toasty element to the dish.
Yikes, it takes some work to peel all those fava beans (six pounds to be exact — I might have gone a bit overboard, as four pounds would have been plenty), but this time of year, when they're young and tender, I'm willing to put in the work. Later in the season, fava beans tend to become starchy and are not nearly as good. I photoshopped an extra set of hands into the below photo — needed some help shelling all those beans 🙂
Next, a shaved asparagus salad with shaved Parmesan, extra virgin olive oil, lemon, chive blossoms, chopped Marcona almonds, flaky sea salt, and black pepper. Again, simple and fresh and quintessentially spring.
Lastly, soy (or tamari) marinated eggs, which, while having nothing to do with spring, pair well with the aforementioned dishes. The soy lends a distinct umami quality to your ordinary boiled egg.
Happy spring!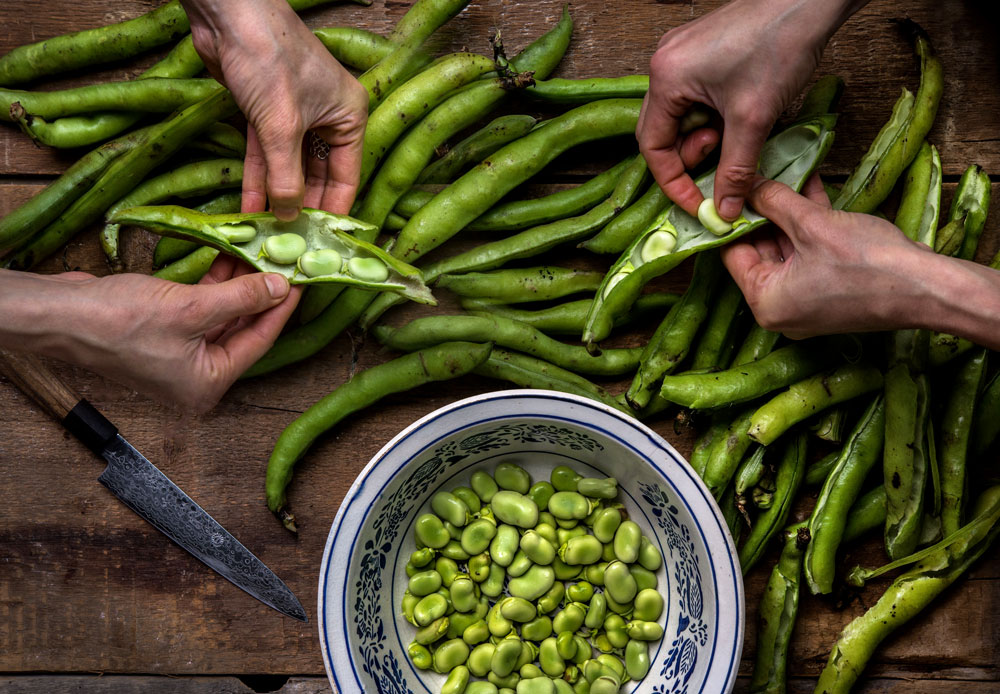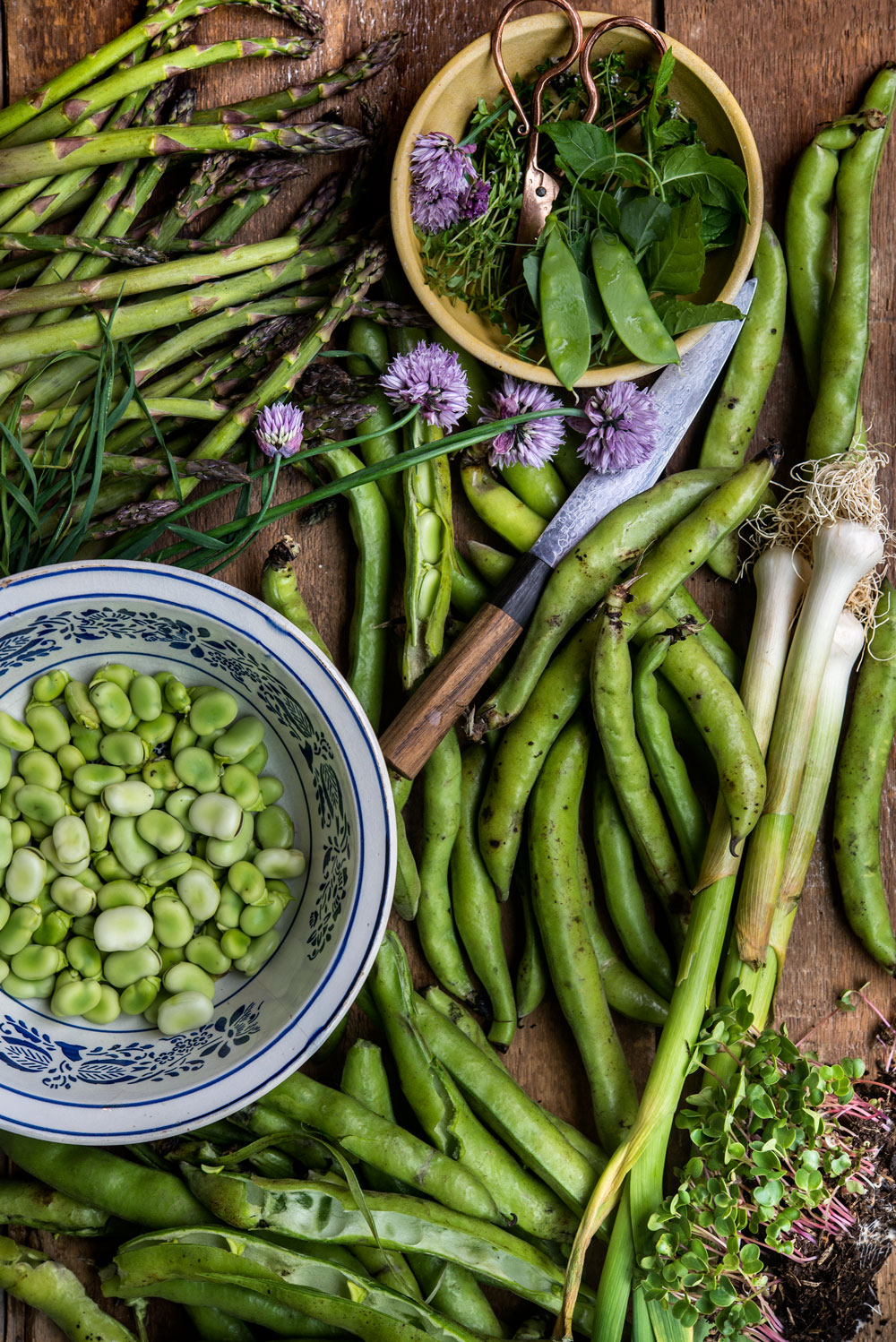 Shelling fava beans is a multi-step process: peel the fava beans from their outer pods, blanch, drain and immediately transfer to an ice bath, drain, and then peel the beans from their inner skins…
Voila…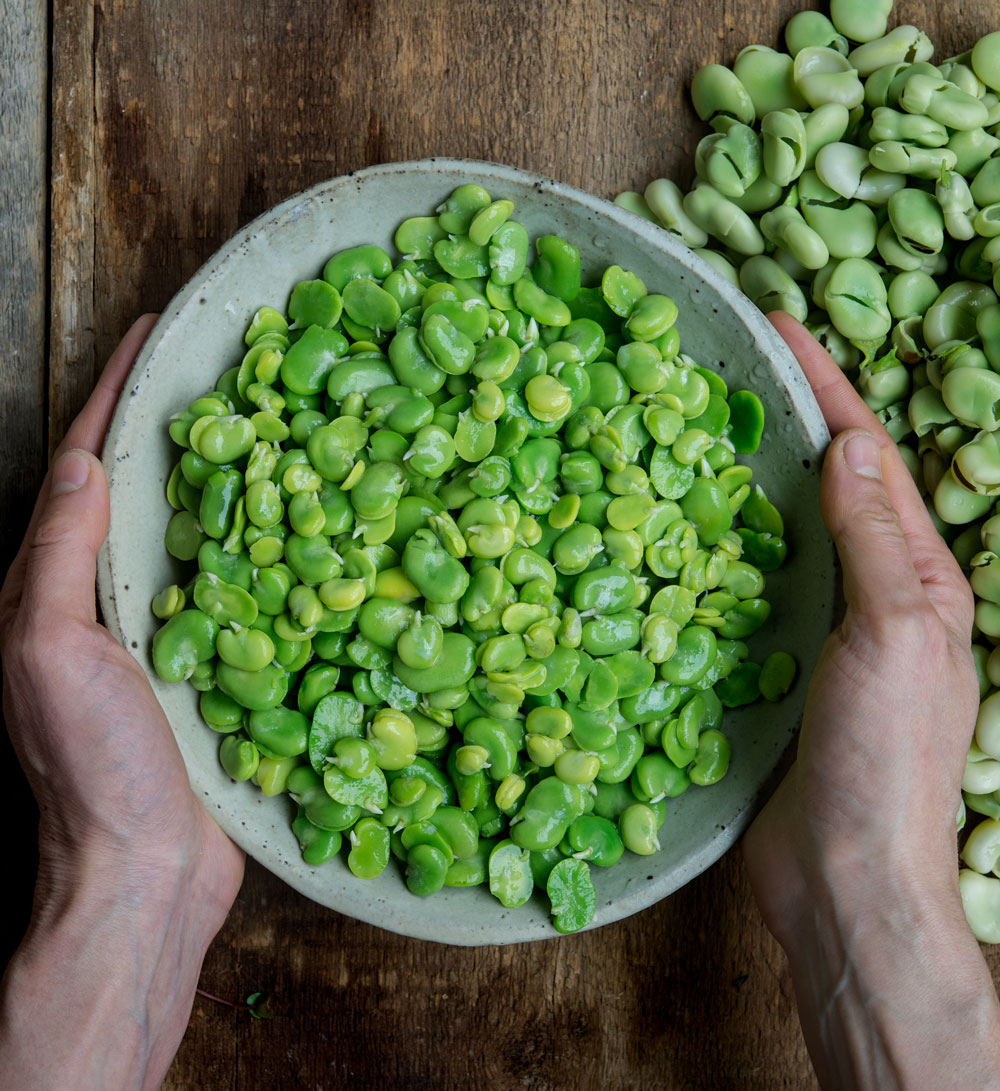 These are China Rose radish microgreens. They grow fast, about 7 to 10 days to get to this size…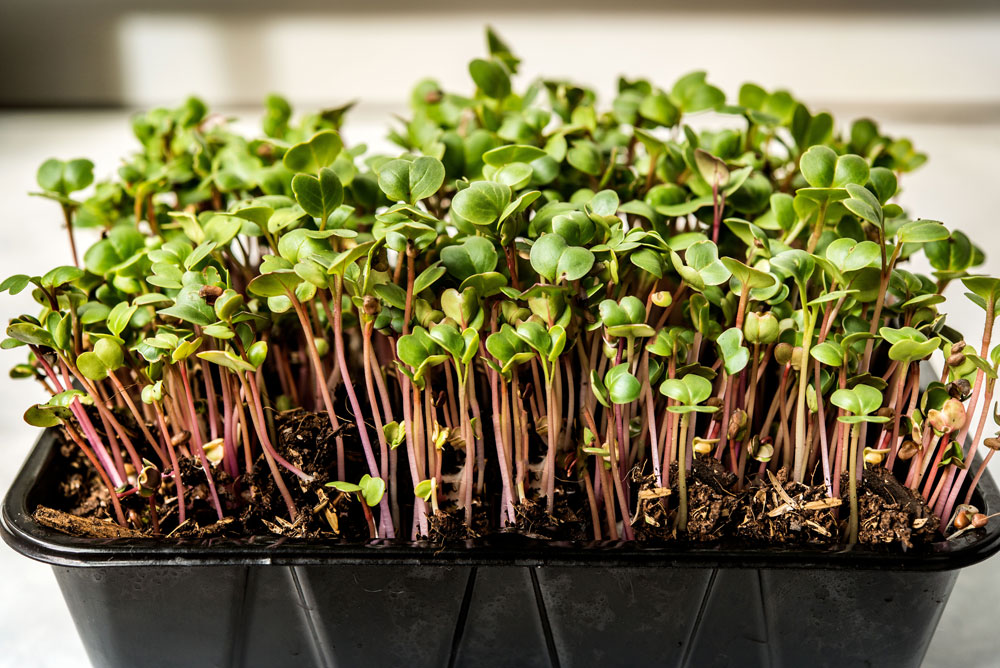 On the menu:  First, pureed fava on grilled bread…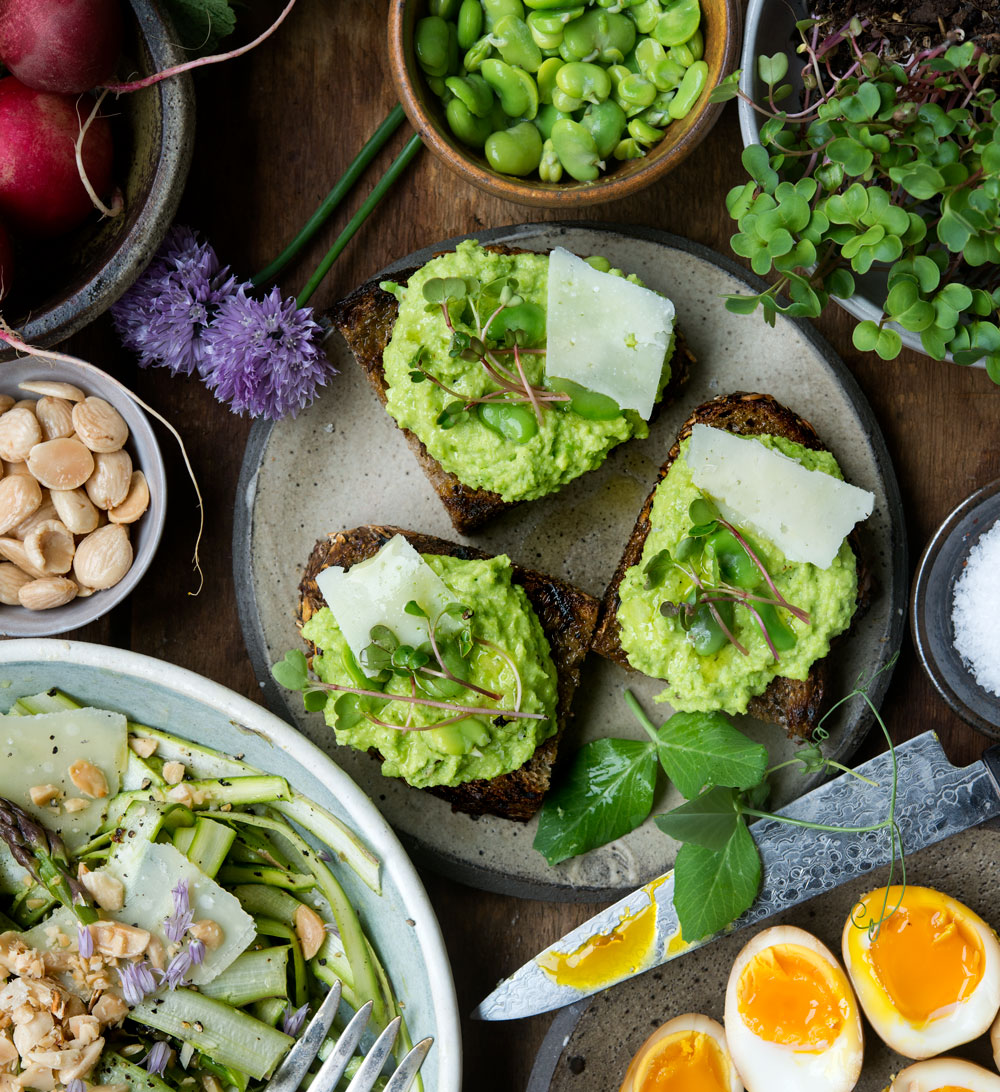 Next, shaved asparagus salad…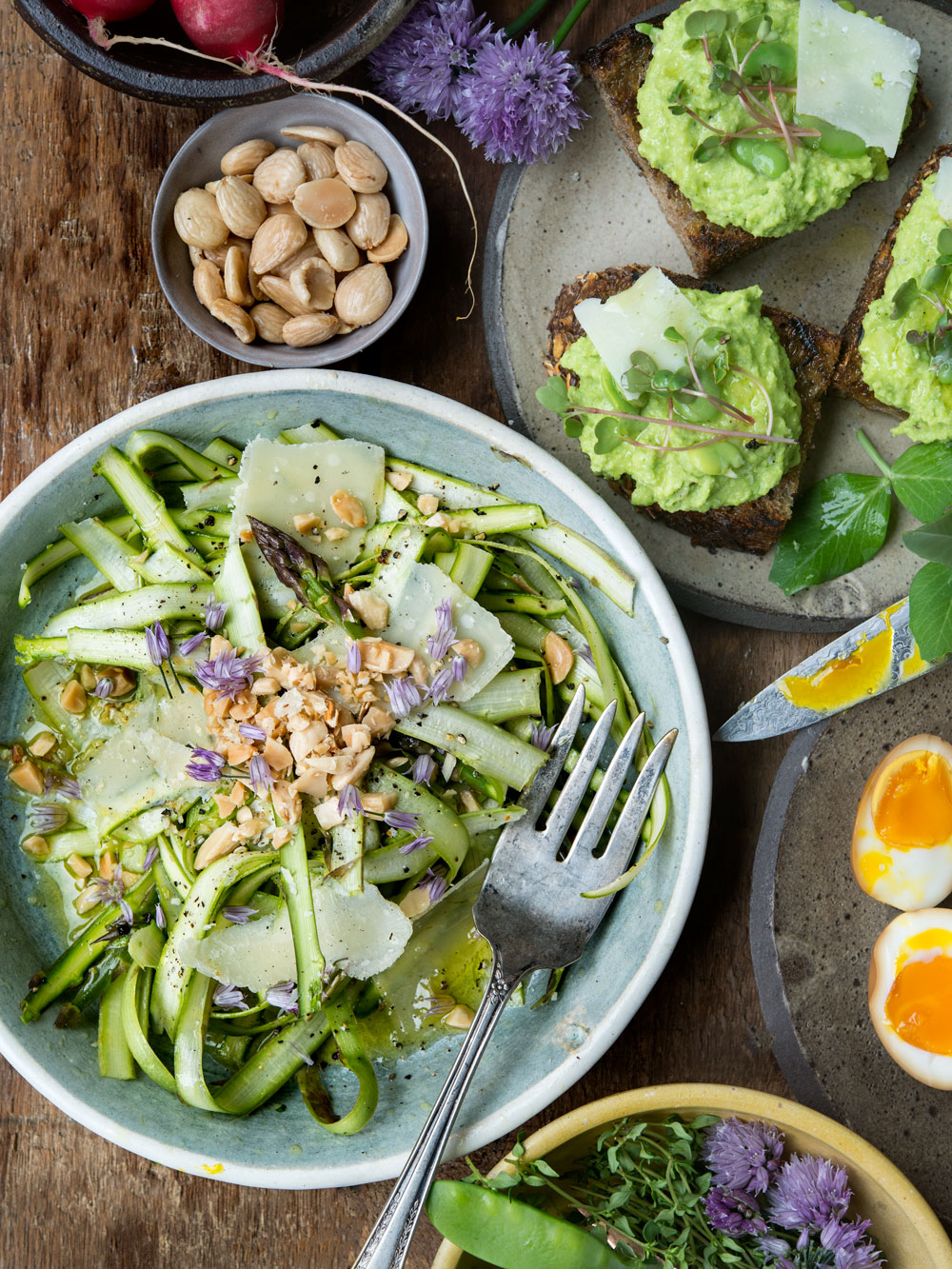 Last, soy marinated eggs (Shoya Tomago in Japanese). I marinated the eggs for four hours, but you can let them go for as long as 12 hours if you like.
Seven-minute boiled eggs — the whites are set with creamy, golden yolks…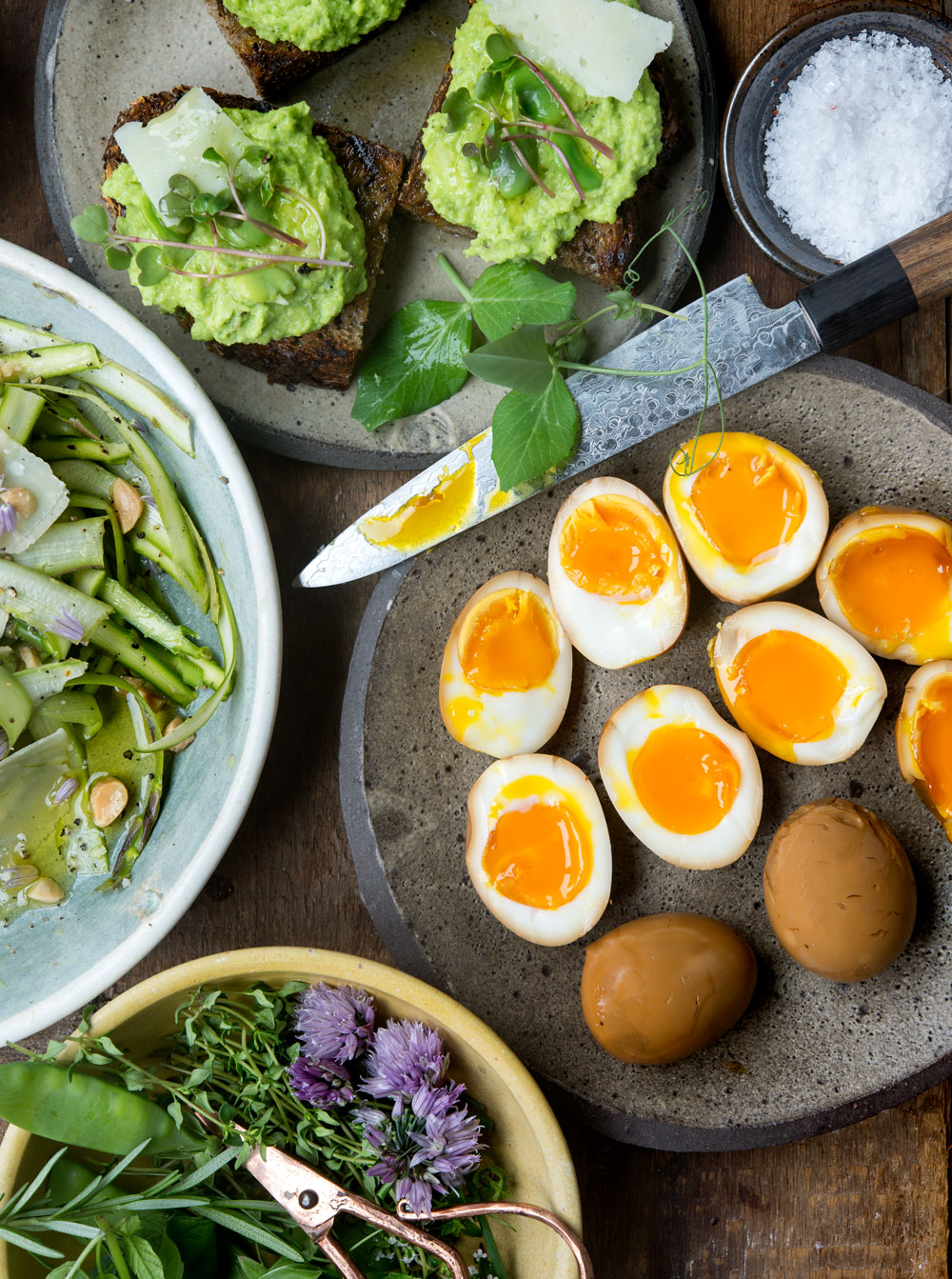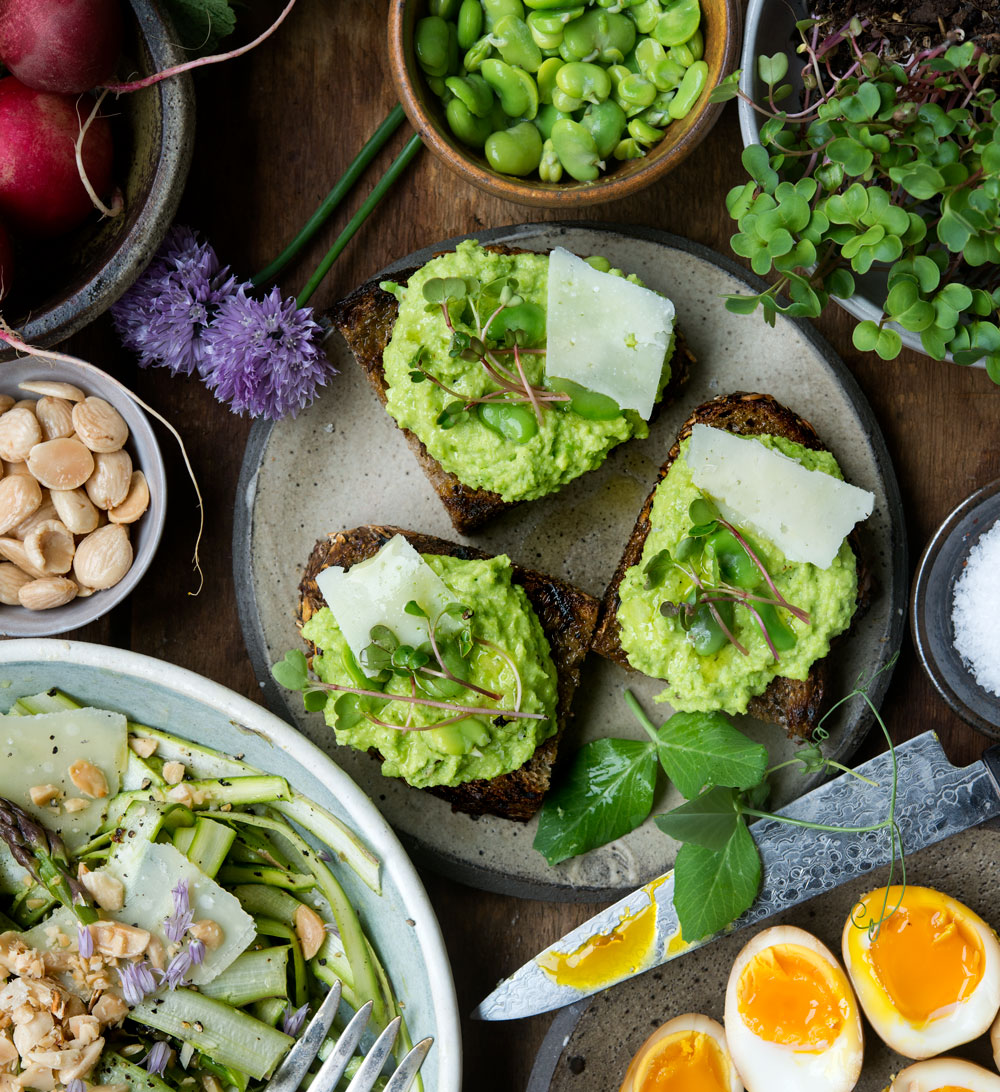 Fava Bean Puree
2 cups of shelled fava beans, from about 4 pounds unpeeled
1 large garlic clove, crushed to a paste with a little sea salt
1 teaspoon fresh rosemary, chopped
Squeeze of lemon
Salt and pepper
1/2 cup extra virgin olive oil
For serving:
Toasted/grilled bread, used multigrain sourdough, brushed with olive oil and toasted on a grill pan
Shaved Pecorino or Parmesan
Radish microgreens and/or thinly sliced radishes
Extra virgin olive oil
Bring a large pot of salted water to a boil. Drop in the fava beans and simmer for about 2 minutes. Drain and immediately transfer to an ice water bath. Drain. Peel the beans from their inner shell.
Place the peeled beans in a food processor, along with the crushed garlic and rosemary. Add a squeeze of lemon. Season with salt and pepper. Pulse a few times until you have a rough puree. With the motor running, slowly drizzle in the olive oil until smooth. Taste, adding more lemon juice or salt as needed.
Serve on toasted/grilled bread with thinly shaved Pecorino or Parmesan cheese and radish microgreens (or thin slices of radish). Finish with a drizzle of good quality extra virgin olive oil.
Shaved Asparagus Salad
1 bunch of asparagus, preferably fatter stalks
Extra virgin olive oil
Squeeze of lemon
Shaved Parmesan
Flaky sea salt and freshly ground black pepper
Marcona almonds (or toasted almonds), chopped
Chive blossom flowers (optional)
Trim the woody ends of the asparagus. With a vegetable peeler, slice the asparagus into long ribbons. Place in a bowl. Add olive oil, lemon juice, salt and pepper to taste. Toss to combine. Top with shaved Parmesan, toasted almonds, and chive blossom flowers.
Soy/Tamari Cured Eggs
6 tablespoons warm water
2 teaspoons brown sugar
2 tablespoons Sherry vinegar
3/4 cup low-sodium soy or tamari
6 large eggs
Whisk together the water, sugar, Sherry vinegar, soy/tamari in a bowl.
Bring a pot of water to a boil. Add the eggs, reduce heat and simmer for 7 minutes. Meanwhile, prepare an ice water bath. With a slotted spoon, transfer the eggs to an ice water bath. Peel the eggs.
Place the eggs in the bowl with the soy mixture. Make sure that the eggs are fully submerged. Place in the fridge and marinate for at least 4 hours (up to 12 hours). Remove from the marinade and serve. The soy mixture can be reused for another batch of eggs.