Now that we have fresh homemade tortillas, let's make some tacos.
I'm constantly searching for a tasty vegetarian taco. While I'm by no means a vegetarian, have never crossed paths with a vegetable I didn't like (well, with the exception of beets — despite years of trying to embrace them). I've even tried making beet tacos — and very quickly nixed that idea. However, if I were in Chicago, I would make a beeline for Birrieria Zaragoza to savor their goat tacos (goat is the only thing on their menu and they do it exceedingly well). While those goat tacos are absolutely delicious, all I want to do after eating them is take a big siesta. When I'm looking for something on the lighter side, but don't want to skimp on flavor, mushrooms are always at the top of my list.
The idea for this mushroom taco was inspired by an earlier post — nopales (or cactus paddle) tacos in a guajillo sauce — that in turn was inspired by a recipe from one of my favorite Chicago chefs, Rick Bayless. I took that same concept but swapped out the cactus for mushrooms and added a bit of smoky chipotle powder to the guajillo sauce.
Today I used cremini mushrooms because they are readily accessible and for their 'meaty' texture. However, there is a whole world of edible mushrooms out there — oyster, maitake (aka hen of the wood), shiitake, porcini, chanterelles, morel, trumpet (aka king oyster), beech, enoki, and my newest favorite, pom pom (aka lion's mane). So feel free to use any mushroom or, even better, combination of mushrooms you like. Mushrooms are not only vessels of umami-packed goodness, but apparently they can help save the world (which we really need right about now). Check out this fascinating TED talk by mycologist Paul Stamets on how mushrooms can save our lives and restore our ecosystems.
One of the best parts about tacos is all the options you have for toppings. I added toasted pumpkin seeds, crumbled feta, mixed microgreens, and an avocado 'chimichurri.' I use the term chimichurri loosely, as chimichurri is traditionally an Argentinian tangy, herbaceous sauce (a mixture of finely-chopped parsley, minced garlic, oil, oregano, and white vinegar) served with grilled meats. Mine is a combination of avocado, cilantro, vinegar, lime, serrano chile, and a few other ingredients, blended until smooth. I like the creamy tanginess of the avocado chimichurri in combination with the earthy, smokey guajillo sauce.
Because I am a chile fiend, I feel like these tacos need some type of spicy hot sauce, just a few drops. Perhaps something like this fruity habanero sauce?
Taco time…then again, every day is a good day for tacos.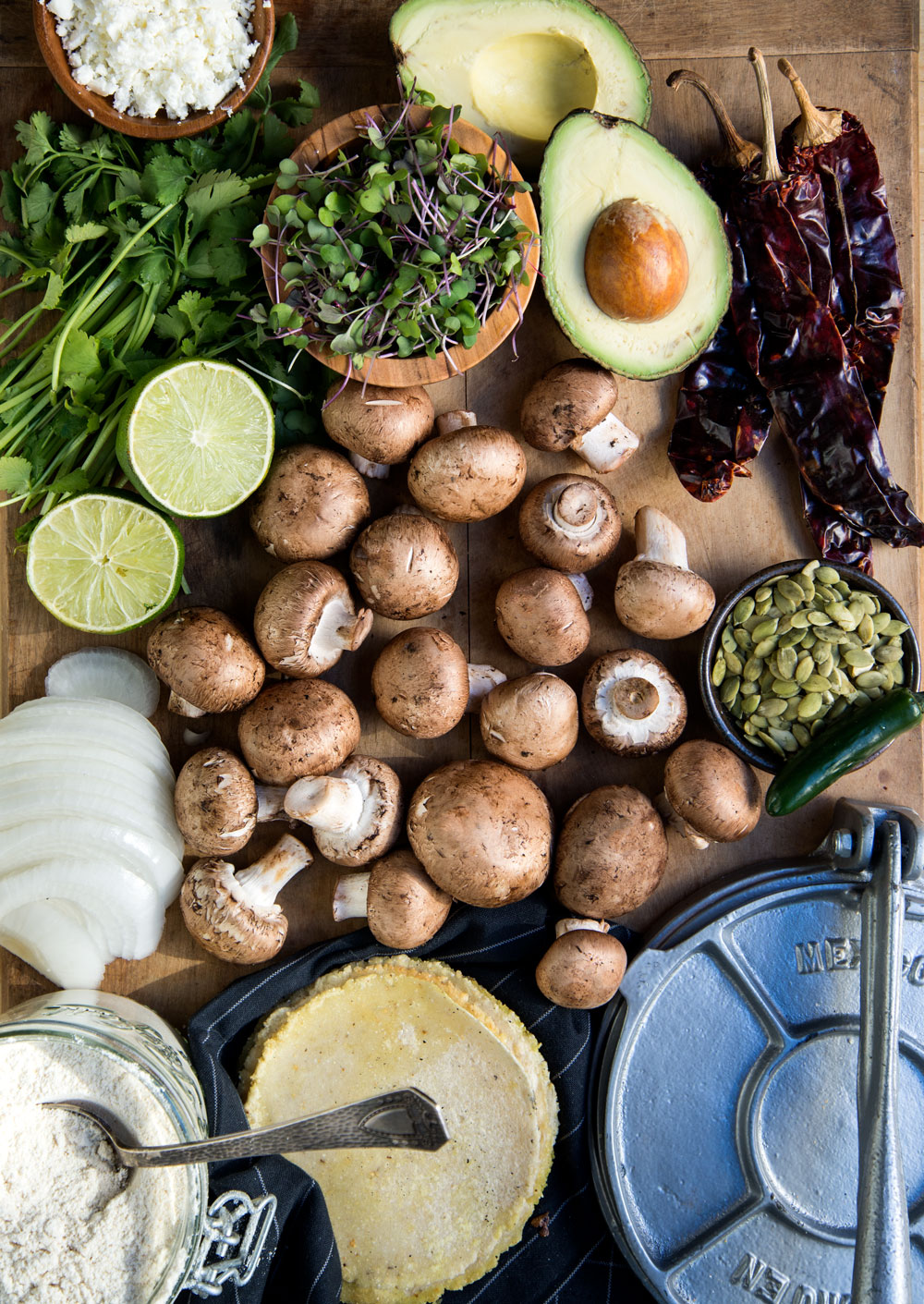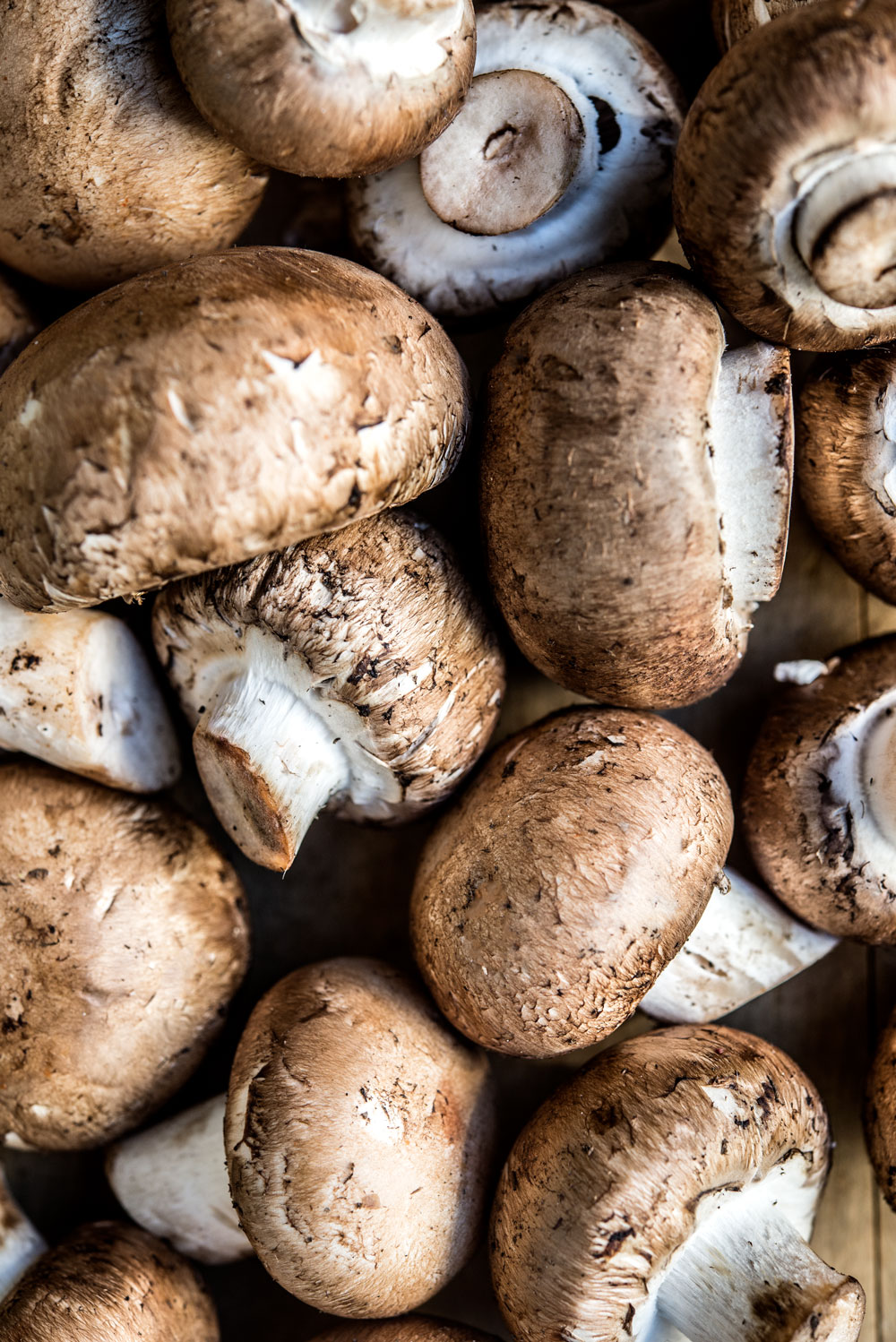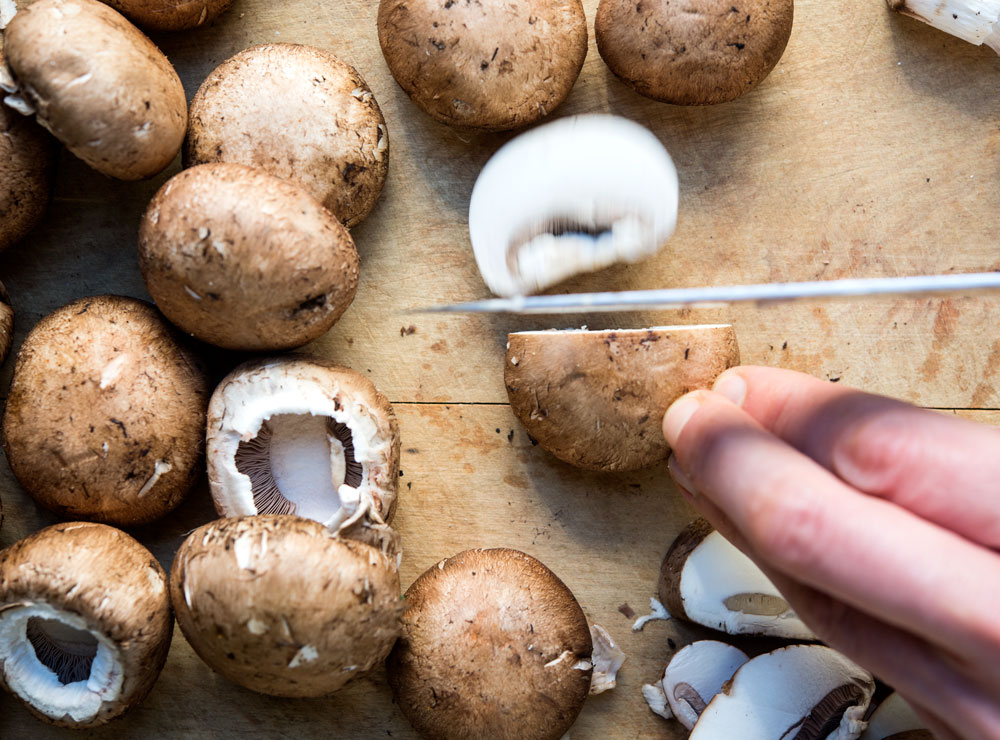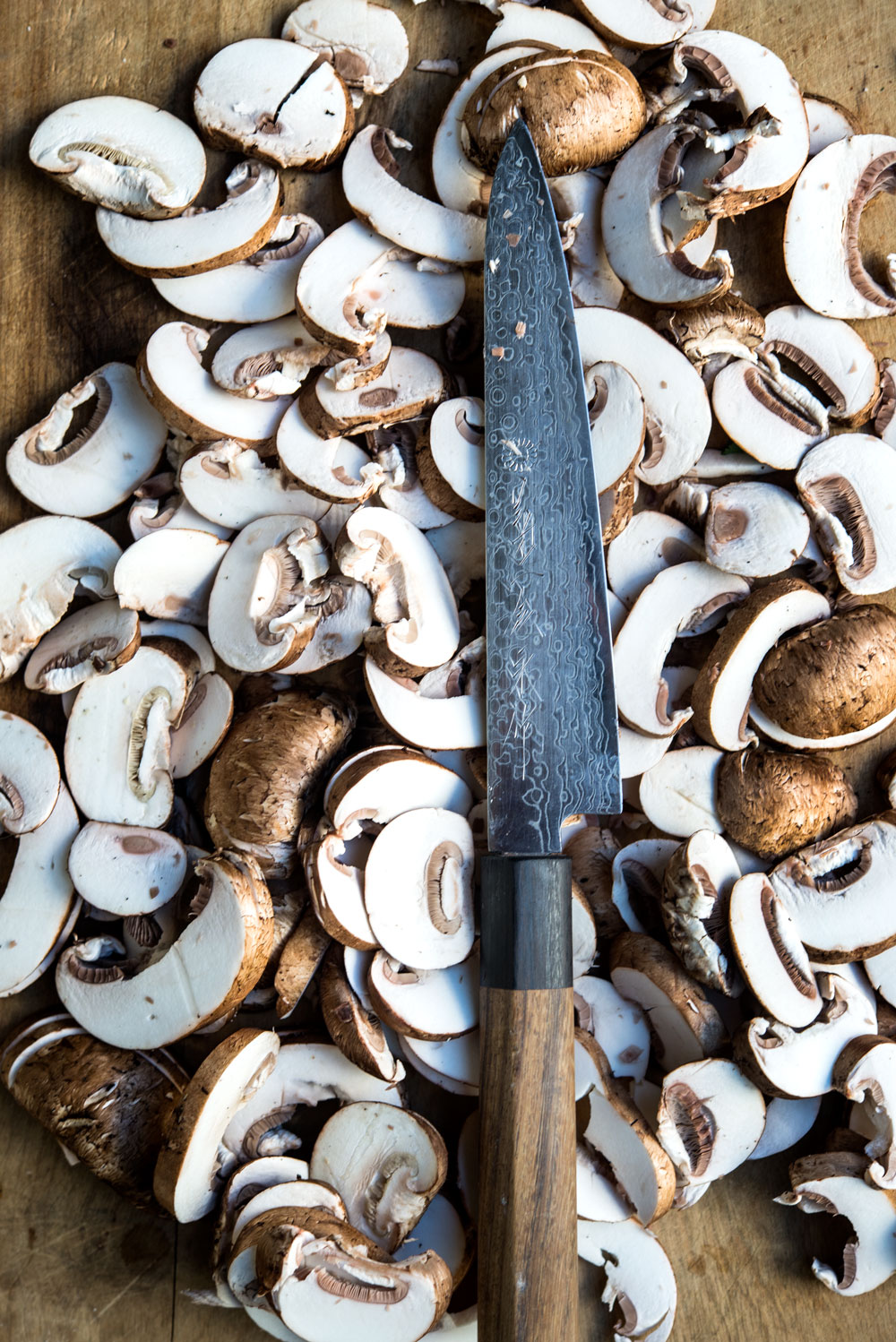 Want to make your own fresh corn tortillas? Refer to this post for instructions.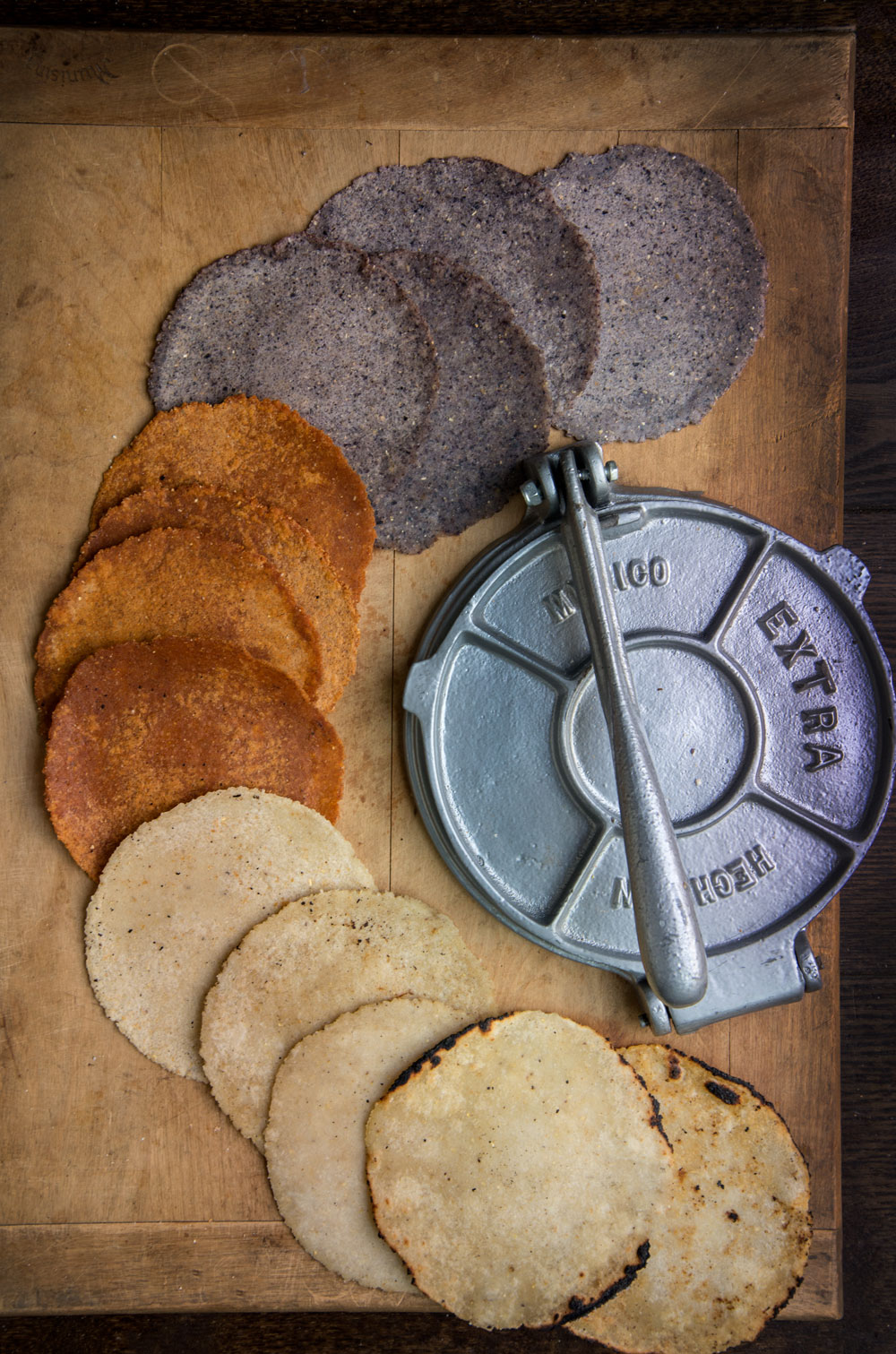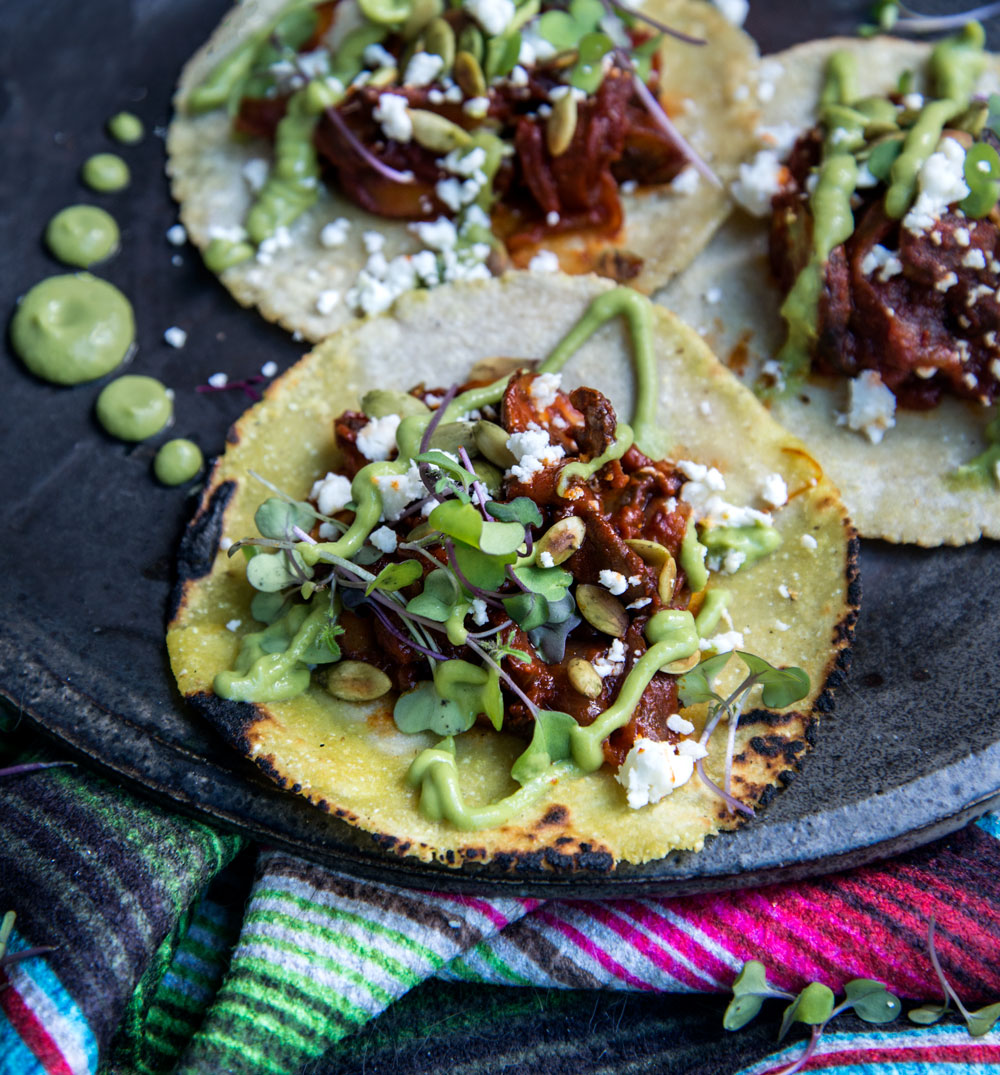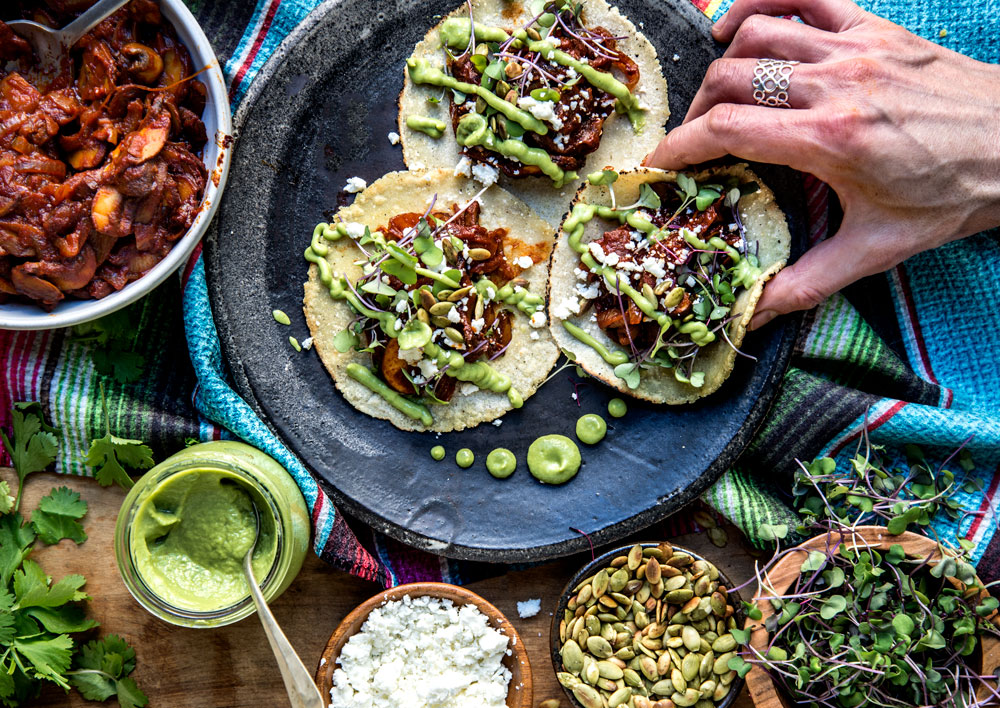 Mushroom Tacos with Avocado 'Chimichurri'
Fresh corn tortillas (recipe here)
Guajillo-Chipotle Mushrooms (recipe below)
Microgreens or chopped cilantro
Crumbled feta
Toasted pumpkin seeds
Avocado 'chimichurri' (recipe below)
Habanero hot sauce (optional; recipe here)
Guajillo-Chipotle Mushrooms
3 dried guajillo chiles, sliced open, seeded
3 garlic cloves, unpeeled
½ (14.5-ounce) can diced fire-roasted tomatoes
3 tablespoons olive oil
1 large white onion, sliced 1/4-inch thick
1 pound mushrooms (such as cremini), thinly sliced
¾ teaspoon ground chipotle powder, more or less to taste
salt
Heat a skillet over medium heat. Toast the chiles by using a metal spatula to press them flat against the hot surface for a few seconds, until very aromatic, then flipping and pressing the other side (make sure they don't burn, otherwise the sauce will be bitter). Remove and set aside.
Roast the unpeeled garlic in the hot skillet, turning from time to time, until soft, about 10 to 15 minutes. Cool and peel off their papery skin. Break the chiles into smaller pieces and combine in a blender jar with the garlic and the diced tomatoes (and their juices). Blend until very smooth. Strain through a fine mesh sieve.
Heat a large pan over medium heat. Add the oil and onions and cook, stirring regularly, until richly browned, about 10 minutes. Add the mushrooms and cook, stirring regularly for about 5 minutes. Add the strained chile-tomato mixture and the chipotle powder. Stir everything together and let it cook until the chile mixture has thickened to the consistency of tomato paste. Stir in ½ cup water, reduce the heat to medium-low, and simmer for 15 to 20 minutes. Taste and season with salt.
Avocado 'Chimichurri'
1 avocado
3/4 cup cilantro
2 small garlic cloves, minced
1 small shallot, minced
1 serrano chile, minced
1/4 cup lime juice
2 tablespoons red wine vinegar
1/2 teaspoon salt
Combine the avocado, cilantro, garlic, shallot, serrano, lime juice, vinegar, and salt in a blender jar. With the motor running, slowly add the water, about 1/4 cup, until you have a smooth puree.