Florentine lace cookies are wafer-thin, toffee-like, buttery treats. They're unique looking , by no means your average, run-of-the-mill cookie. As they bake, they spread out and form a delicate lace pattern, hence their name. And, I'll let you in on a little secret, these cookies are easy to make. The batter comes together in minutes; thereafter, just form into balls, place on parchment lined cookie sheets, and into the oven they go. They spread out quite a bit, so be sure to leave plenty of space between each ball.
Florentine lace cookies are also referred to as Florentines, as in Florence, the capital of the Italian region of Tuscany. Though, there is little in the history (cook) books that link these cookies to Italy. Their exact origin remains a mystery.
Nonetheless, Florentine lace cookies are a classic cookie that can be found in pastry shops across Europe. The batter consists of butter, cane sugar, light corn syrup (or honey or maple syrup), heavy cream, and butter that is heated until it forms a bubbly caramel, which is then poured into the dry ingredients. Traditionally, the dry ingredients are nothing more than sliced or chopped almonds. While flour is not necessary, it is often added to make the consistency a bit more cookie-like, and a little less brittle-like. Other add-ins include candied orange peel; dried cherries, cranberries, figs or apricots; or fresh citrus (orange, lemon) zest.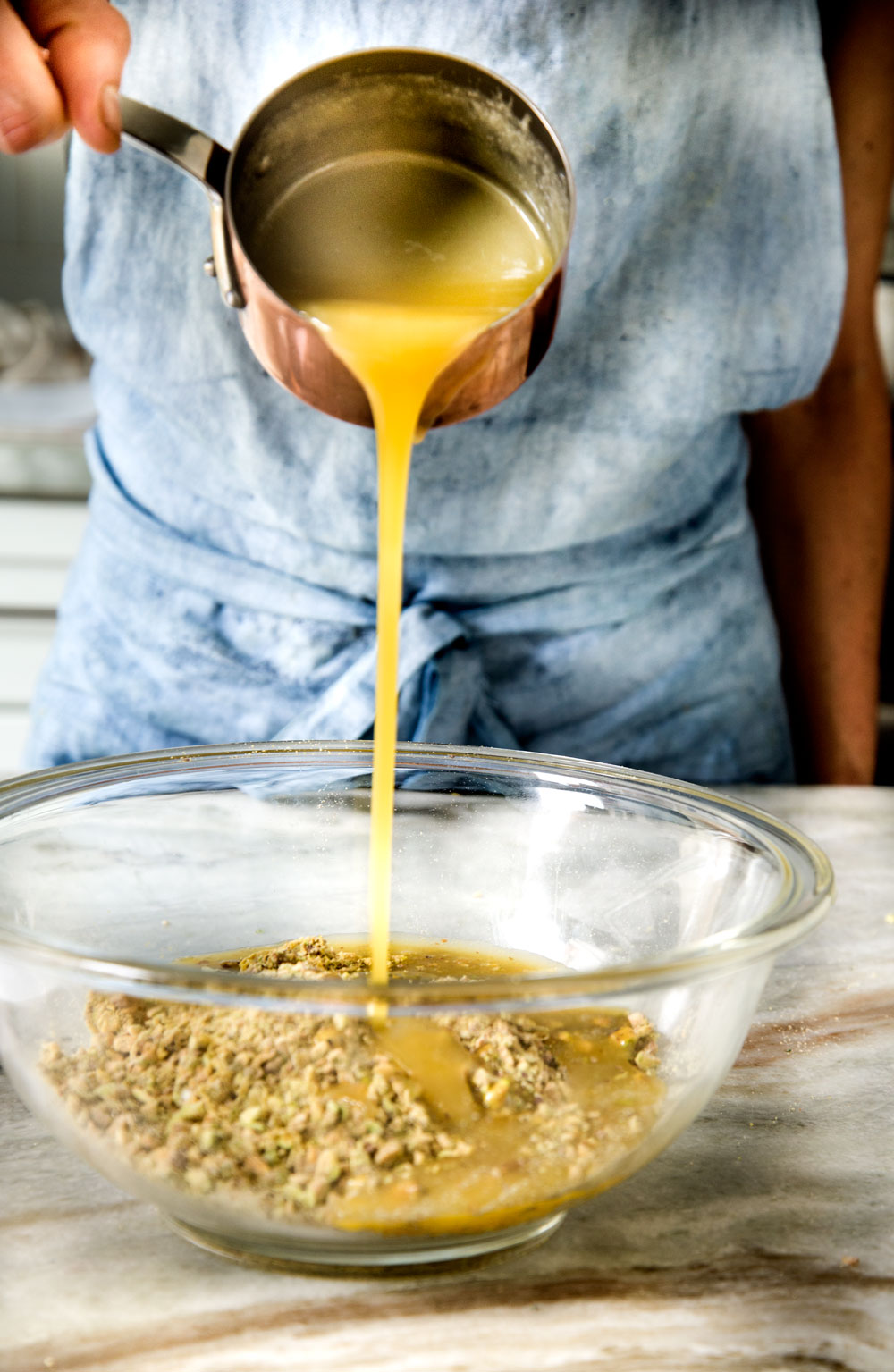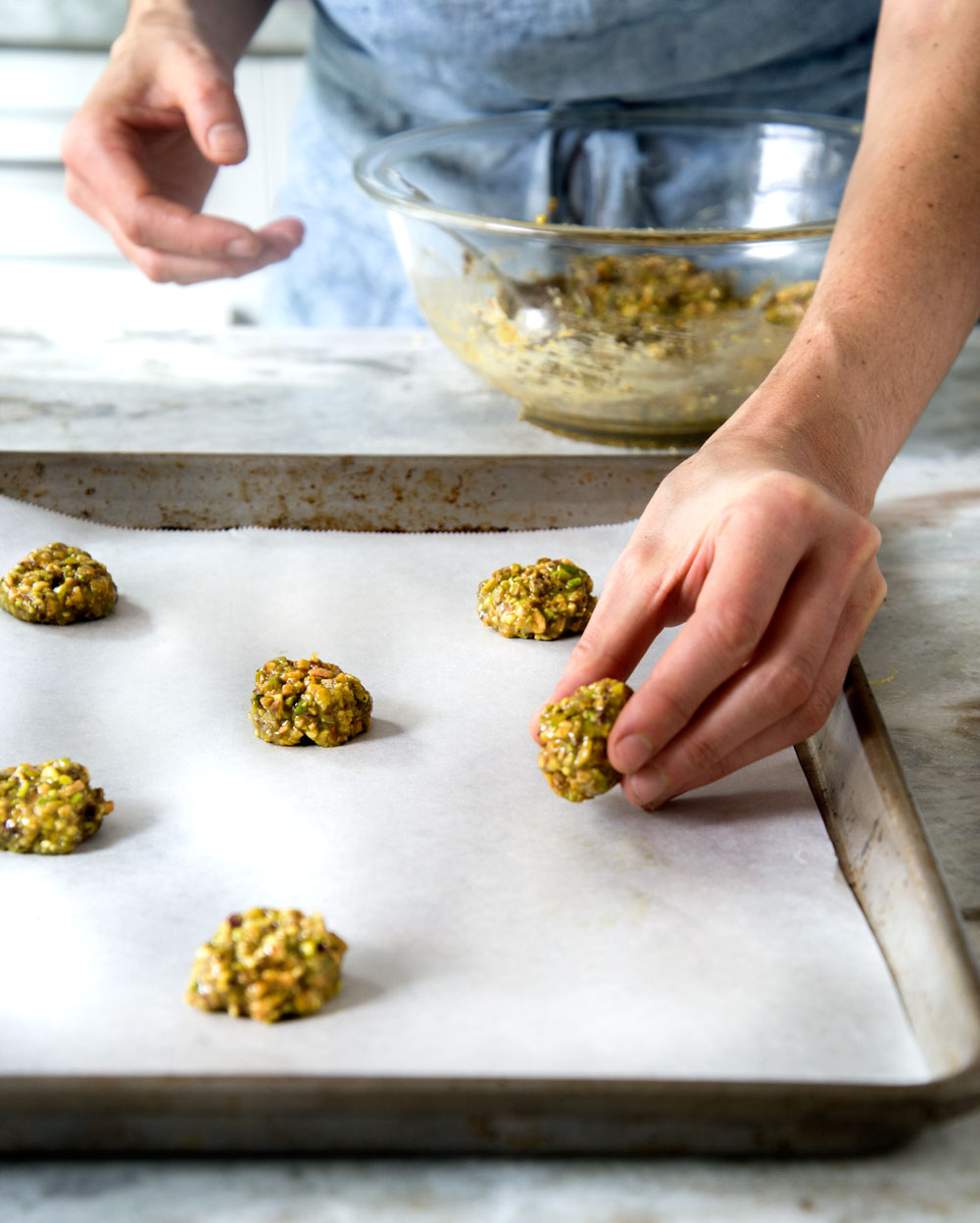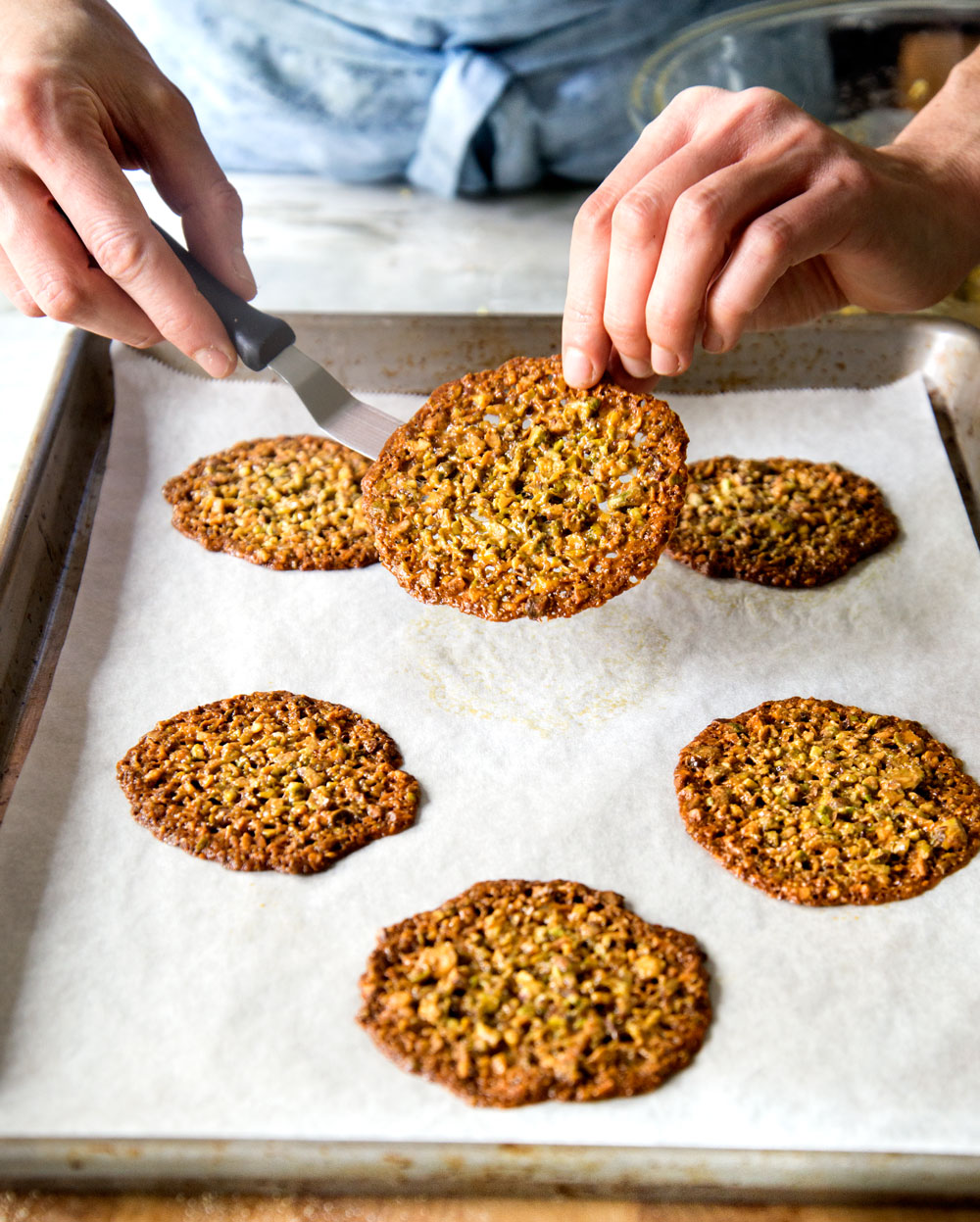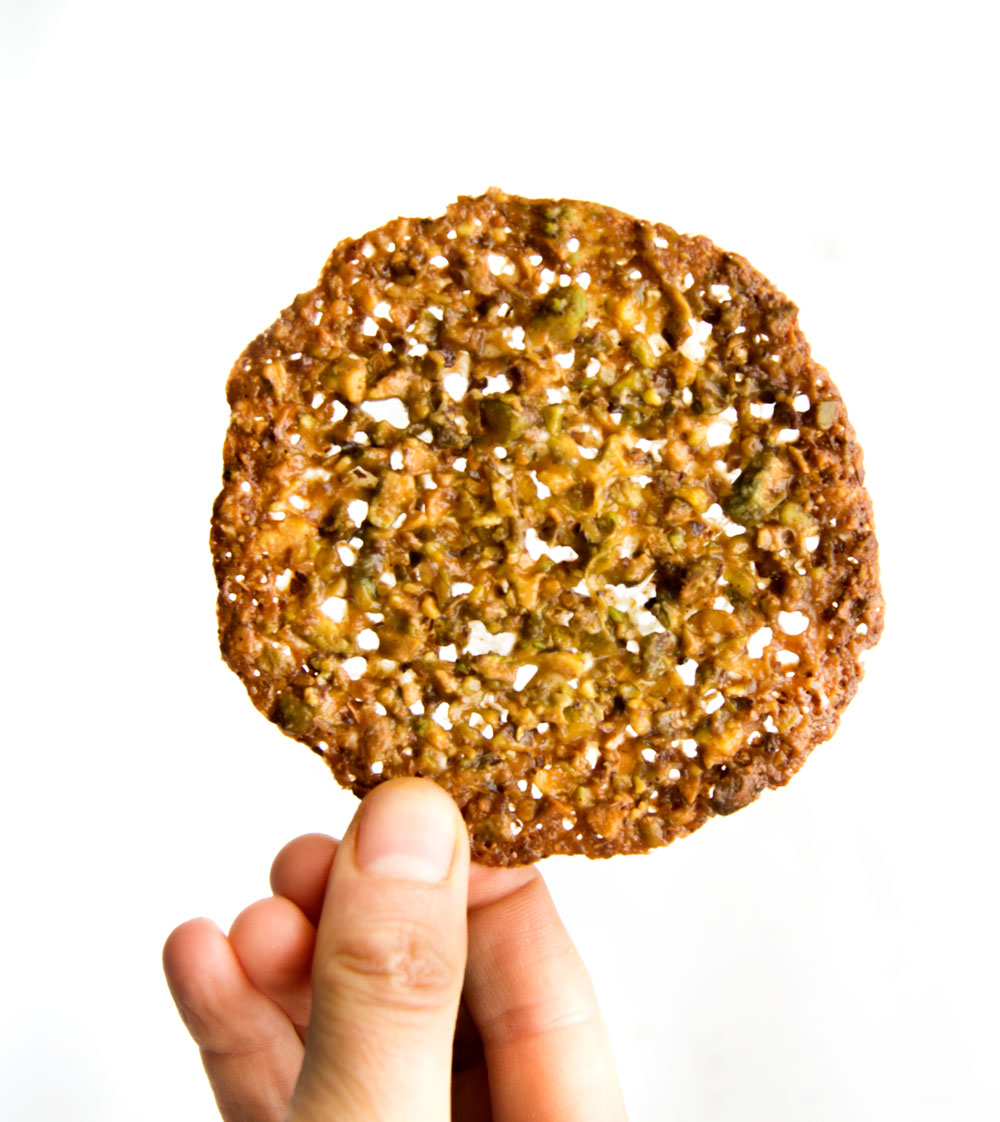 Florentines are malleable and can be shaped after they come out of the oven. You have a relatively short window to shape the cookies , as they harden quickly. During this fleeting period, you can drape them over a rolling pin or form them into cones, cups, or cigars. Often the back side is coated in chocolate with a wavy decorative pattern (that can be produced with the tines of a fork). You can also sandwich two Florentines between a layer of chocolate or simply drizzle some chocolate over the tops of the cookies. Or, forego the chocolate altogether and enjoy them as is. I did half with dark chocolate and half without. This way everyone is happy.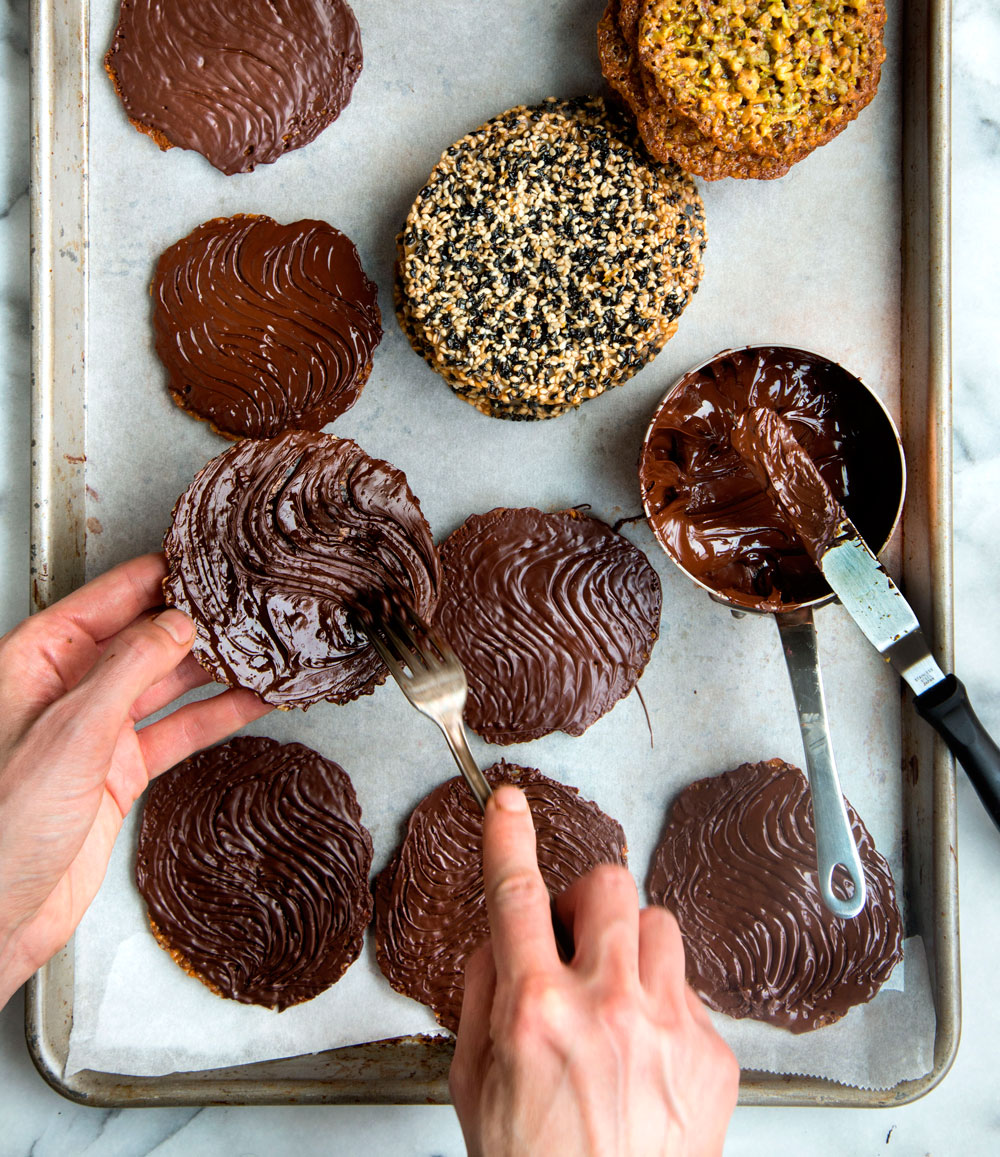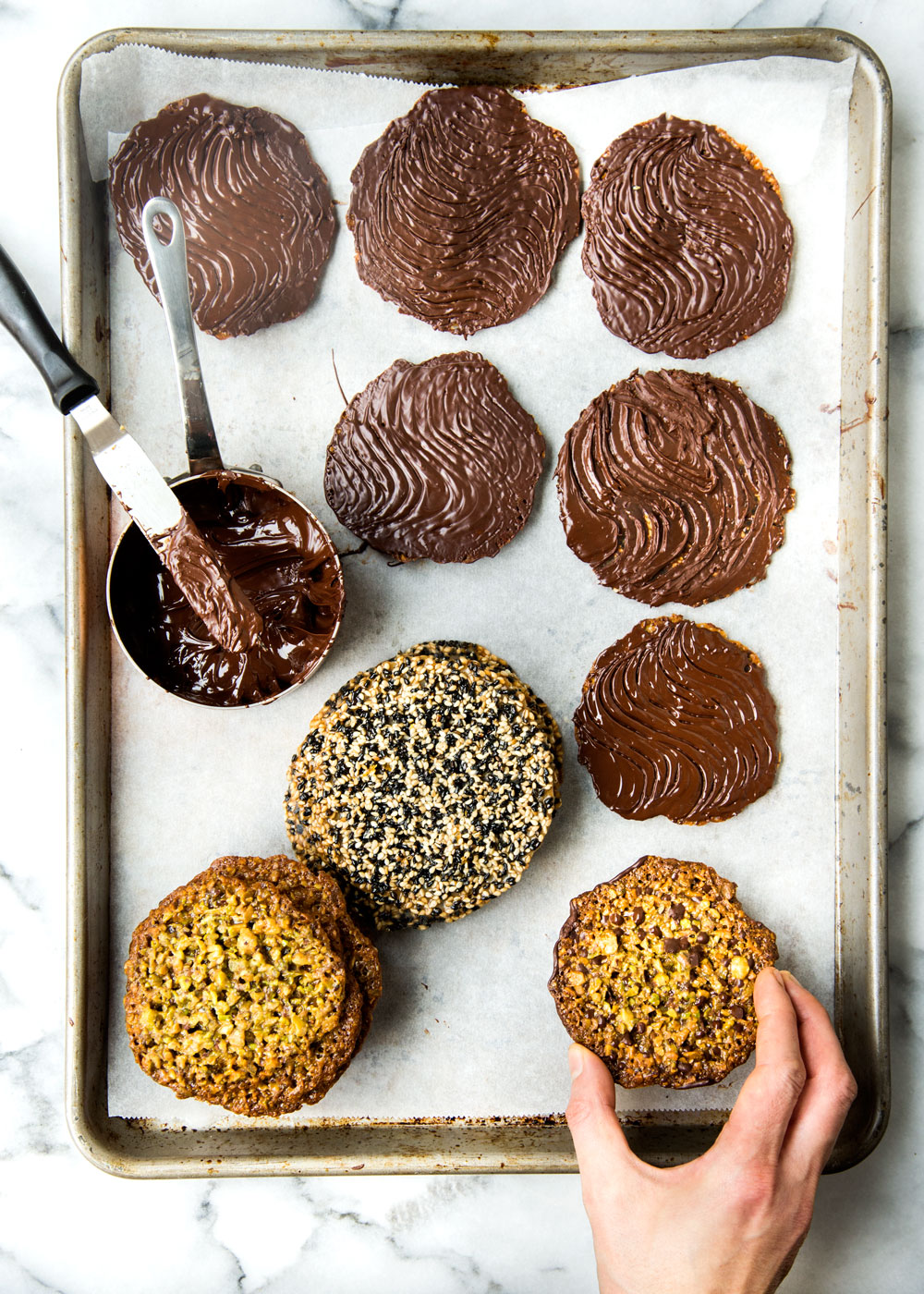 Beyond chocolate, I decided to try out a few variations of this cookie. First, I swapped out the almonds for pistachios and added lemon zest, although hazelnuts or even peanuts would be interesting. As for the next batch, I used sesame seeds, orange zest, and honey, the latter in place of corn syrup. While I particularly like the flavor combination of sesame seeds, honey, and orange zest (which reminds me of one of my favorite Greek sweets called pasteli), they were a bit crispier and thinner than the ones made with corn syrup, which were slightly chewy but still crisp in texture.
Florentine Lace Cookies with Dark Chocolate
makes about 2 ½ dozen (3 ½ to 4-inch) cookies
1 1/2 cups finely chopped nuts (such as pistachios, hazelnuts, or almonds) or try sesame seeds (1 cup, combination black and white)
3 tablespoons all-purpose flour
Zest of 1 lemon or orange
1/4 teaspoons salt
1/2  cup white sugar
2 tablespoons heavy cream
2 tablespoons (non-gmo) light corn syrup
5 tablespoons unsalted butter
1/2 teaspoon vanilla extract
10 ounces dark chocolate (used 70% cacao), finely chopped
Preheat the oven to 350F degrees. Line baking sheets with parchment paper.
Pulse nuts in a food processor until finely chopped (but not to a powder). Combine nuts, flour, zest, and salt in a bowl and set aside. In a small sauce pan, bring the sugar, cream, corn syrup (or honey) and butter to a boil, and continue to cook for an additional minute until the sugar is completely dissolved. Remove from the heat and stir in the vanilla.
Pour the hot sugar mixture over the nut-flour mixture and stir to combine. Set aside to cool, about 10 minutes.
Scoop the dough into rounded teaspoons. Place on a baking sheet about 3 to 4 inches apart (they will spread out quite a bit). Bake in the middle part of your oven until thin and golden, about 10 to 11 minutes, rotating the pans halfway through.
Cool the cookies on the baking sheet for 5 minutes. With a small offset spatula, release the cookies from the parchment and transfer to a cooling rack to cool completely (or they can be shaped at this time). Repeat with the remaining cookie batter.
For the chocolate: Create a double boiler. Add an inch or two of water to a pot and bring to a simmer. Place the chocolate in a heatproof bowl and place over the pot of simmering water (it should fit snuggly). Stir the chocolate with a spatula until it melts. Take off the heat and cool slightly, about 5 minutes.
With a small offset spatula, spread the chocolate on the smooth, backside of the Florentines. Let cool slightly and then, if you like, you can create a decorative pattern by taking a fork and creating a zigzag pattern across the chocolate. Leave to set, chocolate side up, on a cooling. Can be stored in an airtight container, in a cool, dry place, for several weeks.