I've been in a bit of a cooking rut as of late. Perhaps it's just a blah time of year, February and all. The selection at the few farmers' markets operating this time of year is, not surprisingly, relatively sparse (at least here in Philly) with the exception of root vegetables and hearty kale, which always seem to be available.
So roots it shall be. Beetroot to be exact.
As anyone who's handled beets knows, they stain your hands bright red, along with your countertops, cutting boards, and anything their vibrant juice comes into contact with (thanks to the reddish-violet betacyanin betalain pigment). When it comes to the orange-red hue of (wild sockeye or coho) salmon, the pigment in beets transforms it into a deep reddish-purple color. It gives the salmon a really interesting look, don't you think?
Gravlax or gravadlax has Scandinavian roots (grav meaning trench and lax meaning salmon) in Swedish for the practice of burying salmon in salt in a hole in the ground. Growing up in a Jewish-American household in Queens, NY, I consumed my fair share of lox and bagels. This quintessential and beloved combination originated in a NYC Jewish deli in the 1920s and has been a perfect pairing ever since.
The process of making gravlax is quite easy and costs a fraction of the price you would pay for it otherwise. The salmon is cured in salt, sugar, fresh, dill, spices if you like (such as peppercorn, dill seed, coriander seed, caraway seed, fennel seed, juniper berries, etc.), and, in this case, grated beetroot. The sugar and salt draw out moisture from the salmon, which in turn prevents spoilage from bacteria. The hardest part is figuring out the salt to sugar ratio. This is more a matter of preference than anything else. I went with equal parts salt and brown sugar, but you may want to play around with the ratio depending on your palate.
From there it's just a matter of burying the salmon in the curing mixture, wrapping it in plastic, weighting it down, and refrigerating it for 2 to 3 days until cured (the longer the salmon cures, the saltier and firmer the texture). I'd check after 2 days and see how it's doing (I let my salmon cure for 2 1/2 days).
Voila, you have gravlax.
Rub off the cure, grab a sharp knife, slice the salmon very thinly on a bias. Spread some cream cheese on a bagel or rye bread (I like Vollkornbrot) or Irish Soda Bread, pile high with your beet- cured gravlax, perhaps a few slices of onion, cucumber, radish, a few sprigs of dill, and a handful of capers. Nosh and enjoy.
All that's missing is another NYC classic, the egg cream.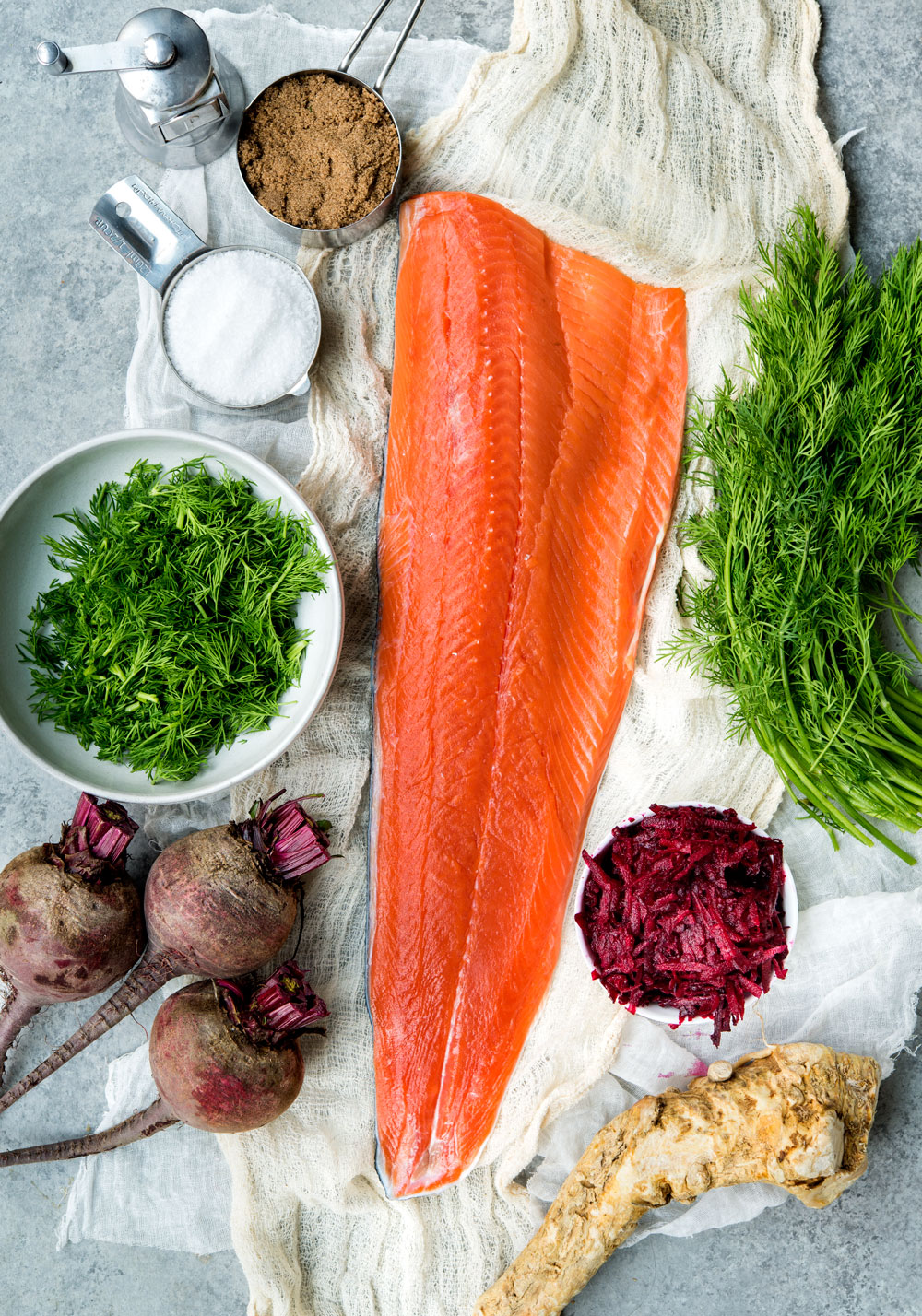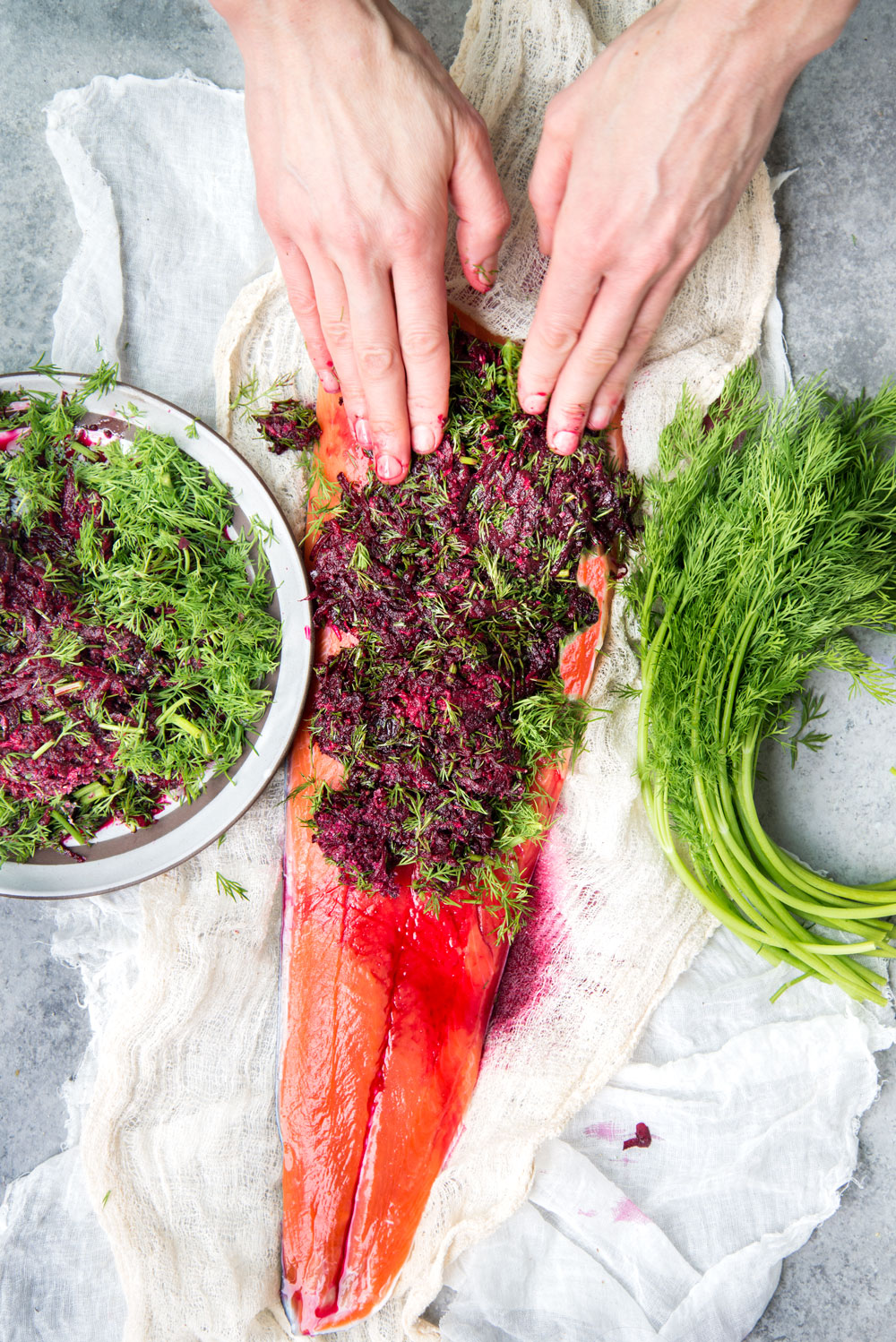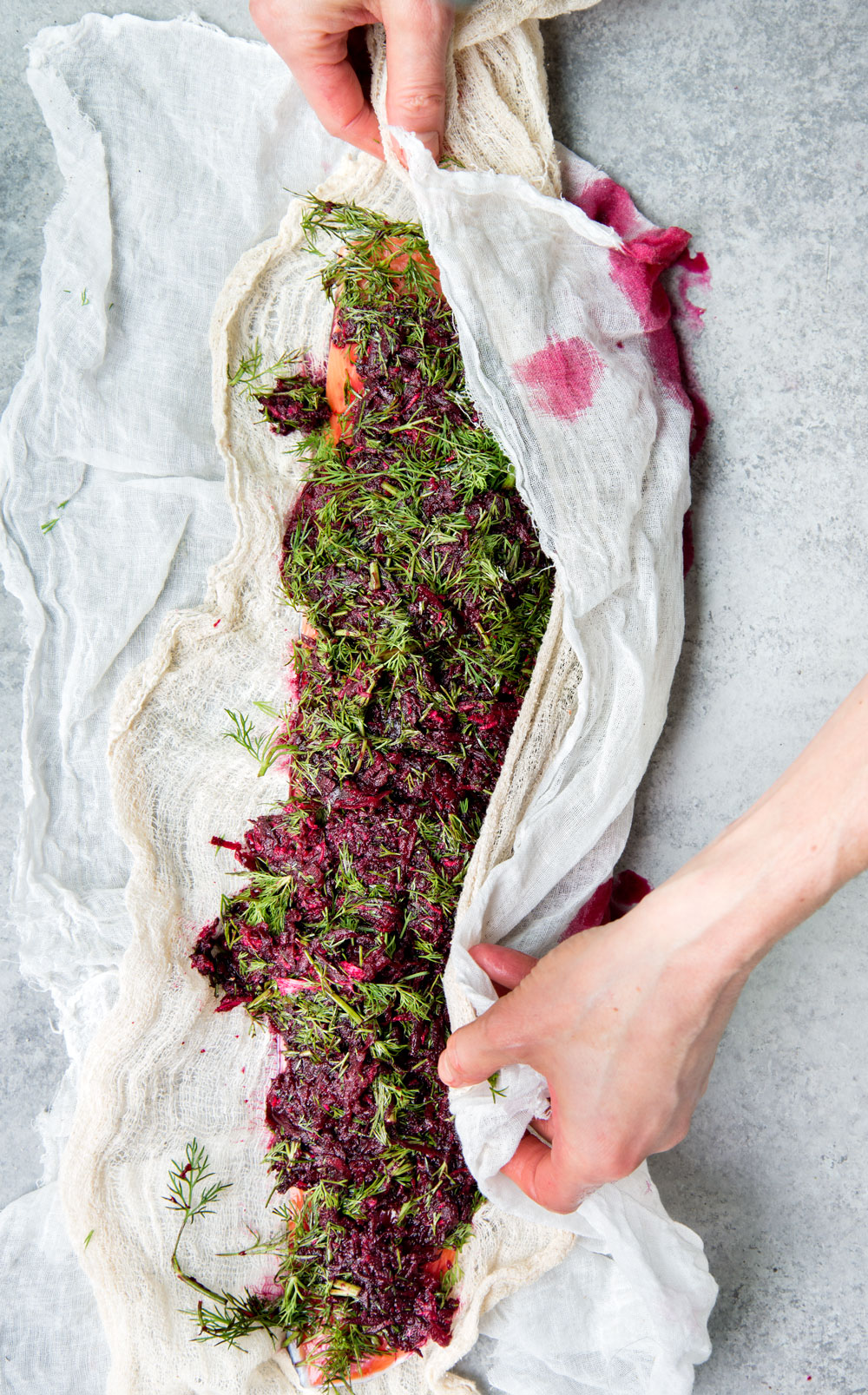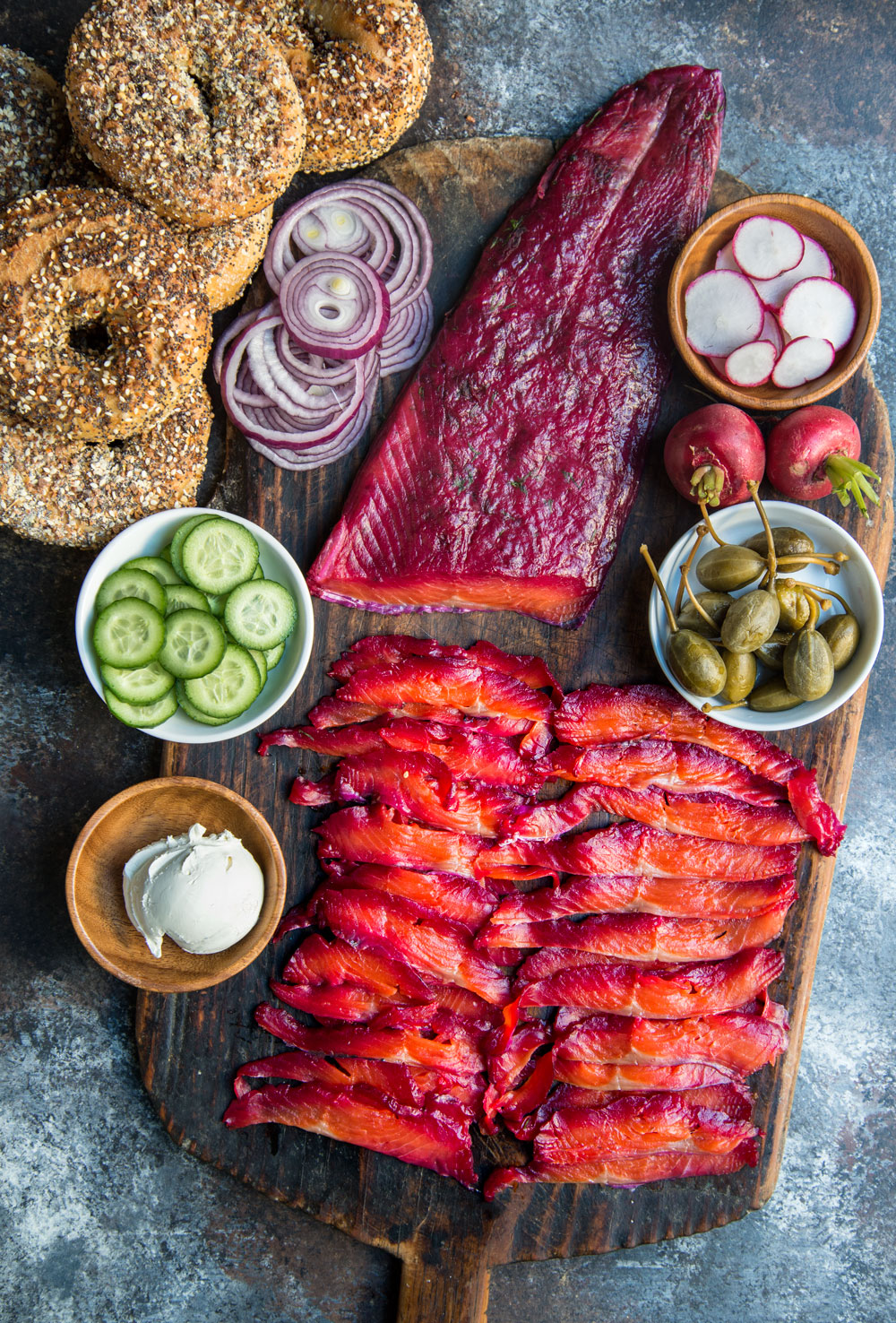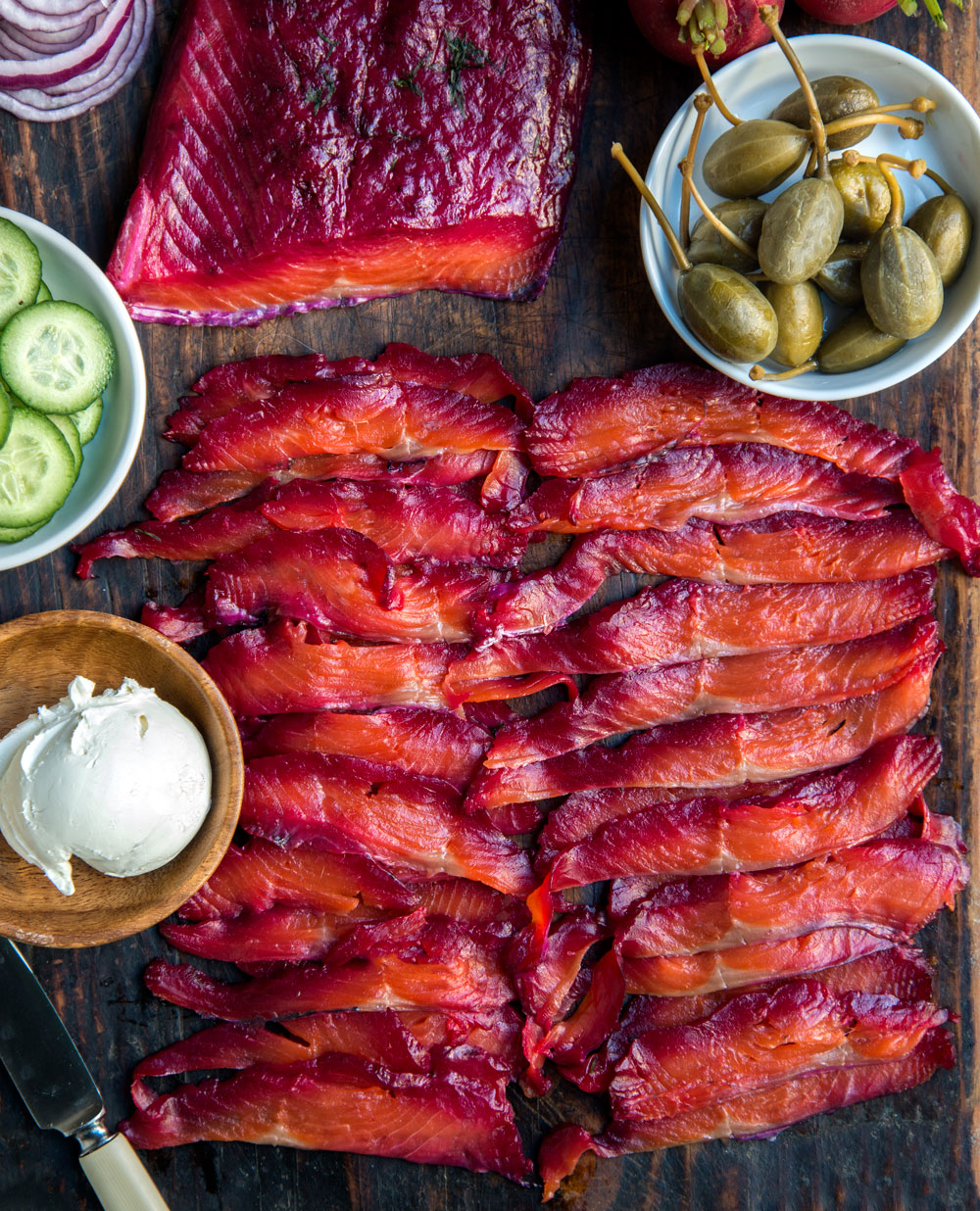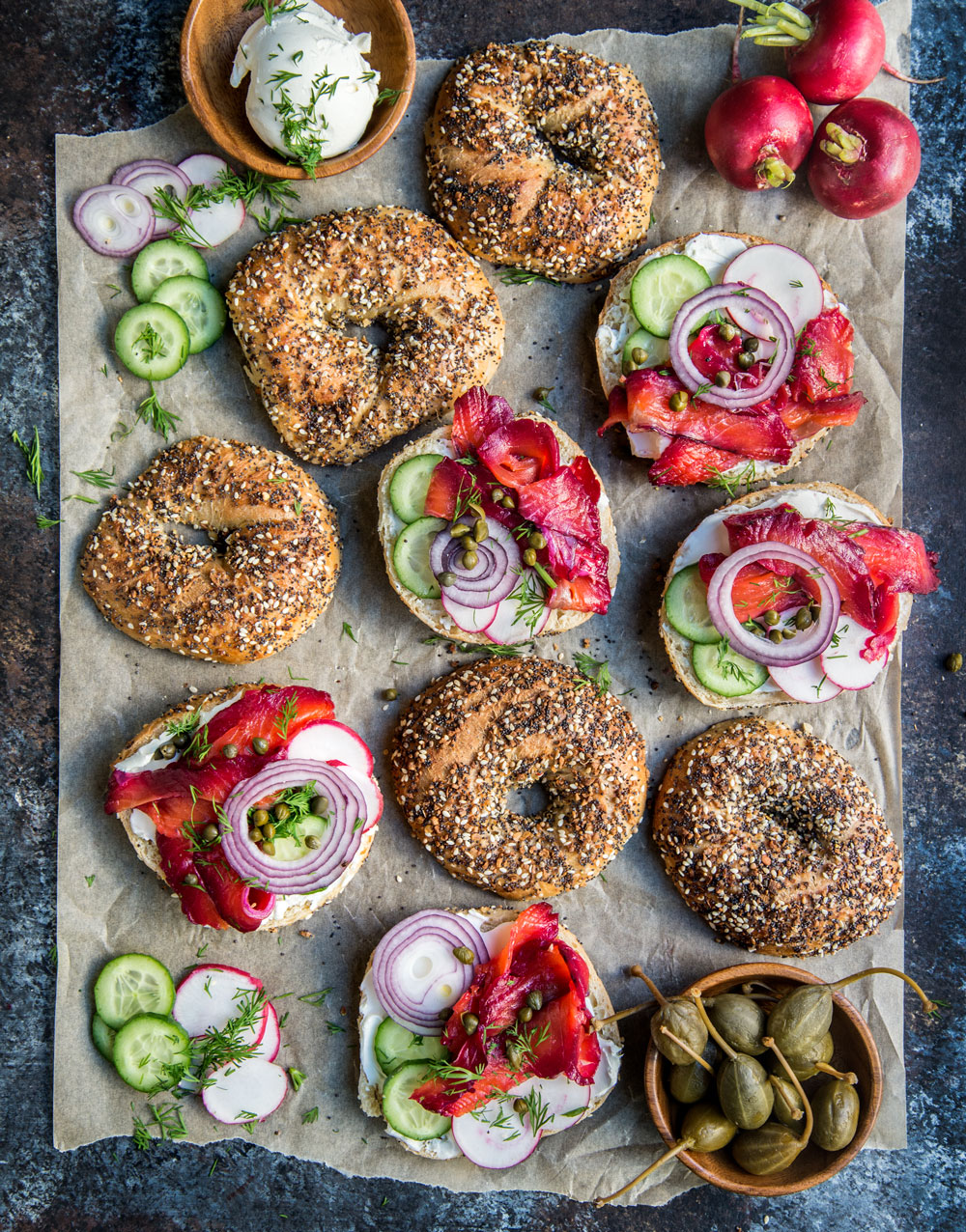 Stacked high on a Philly-style everything  bagel…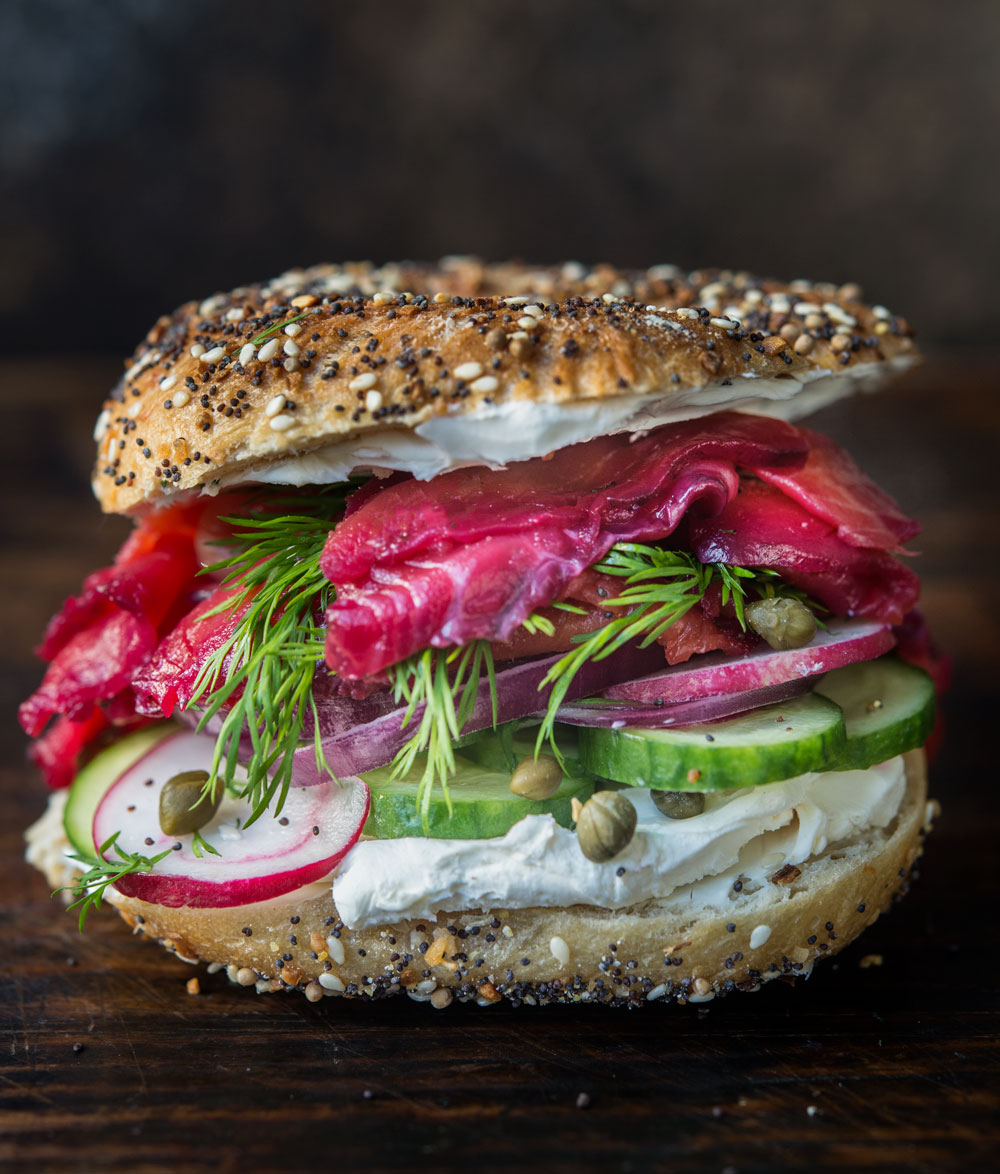 Beet Cured Gravlax
2 large or 3 small beets, grated
1/2 cup kosher salt
1/2 cup firmly packed brown sugar
1 bunch fresh dill, chopped
2-inch piece horseradish root, peeled, grated (optional)
freshly ground black pepper
2 pounds skin-on wild salmon (such as sockeye or coho), pin bones removed.
In a large bowl, combine the grated beets, salt, sugar, dill, horseradish, and several grinds black pepper.
Place salmon on a sheet pan. Line with plastic wrap. Place salmon on top of plastic wrap. Cover the flesh with the beet mixture. Wrap the salmon with plastic wrap. Place another pan on top and weight down with a few cans. Cure in the refrigerator for 2 to 3 days.
Gently scrape off the beet mixture and discard. With a sharp knife, slice the salmon very thinly on a bias.
Will keep in an airtight container for 1 week in the refrigerator.