What's not to love about pomegranate seeds? They're tart and subtly sweet. When you pop the seeds into your mouth they burst with flavor (nature's candy). And the color, when you get a really good one, is an intense shade of ruby red. We all need some color in our life this time of year when the winter days are short and gloomy. Pomegranate seeds undoubtedly make a great snack on their own, but I love to toss some into a salad for a little pizzazz.
This salad…it's my new favorite winter salad. Perhaps, it will soon be on your short list? It's quick and simple to prepare, but has a lot going on flavor-wise. It's not your traditional lettuce-oriented salad. Instead, used a mixture of fresh herbs — arugula, basil, mint, and tarragon (a lovely addition with its anise/licorice notes) — along with Greek feta, and, you guessed it, pomegranate seeds. As with any good salad, there has to be some crunch. In this case, toasted walnuts and sumac dusted pita crisps.
For the pita crisps, I simply brushed (whole wheat) Middle Eastern flat bread (or pita) with olive oil, sprinkled with sumac, sliced into strips, and baked in the oven, about 5 to 6 minutes per side until crispy.
Finally, this new fave was simply dressed with a balsamic vinaigrette (although a pomegranate molasses dressing would also be nice).
Who said salad has to be boring?
The season for pomegranates, at least here in the northern hemisphere, is from September to February. So be sure to enjoy them while they last!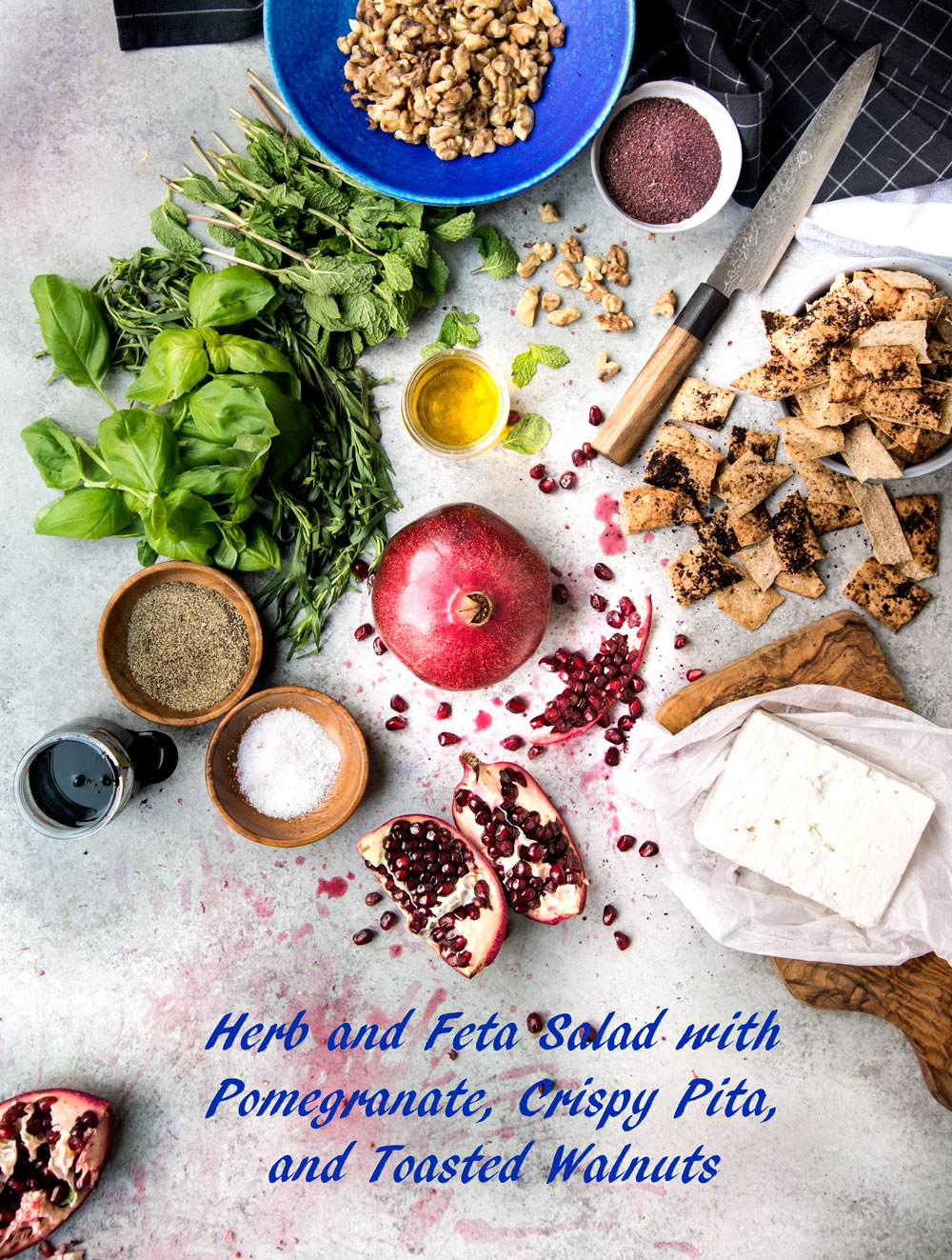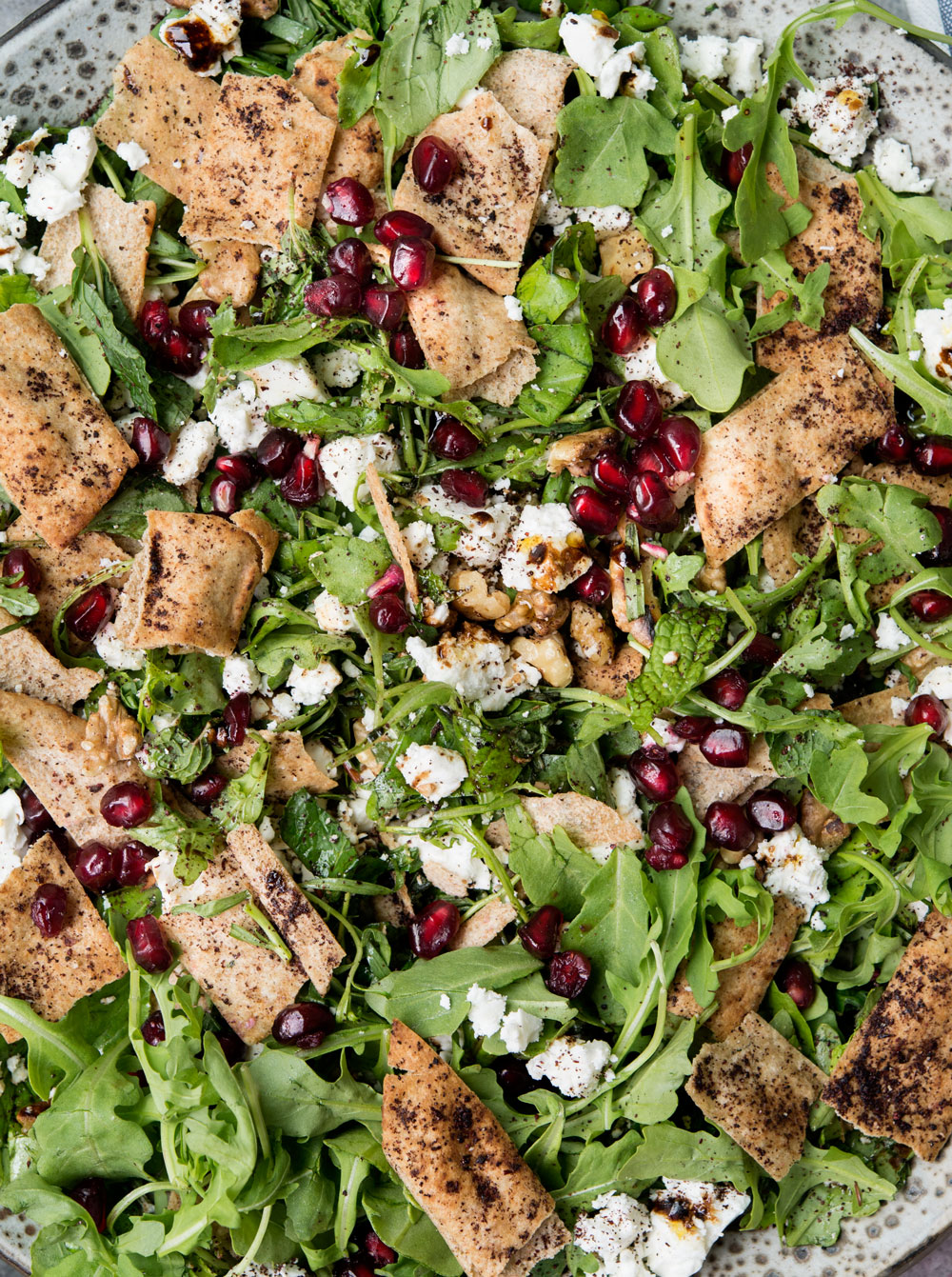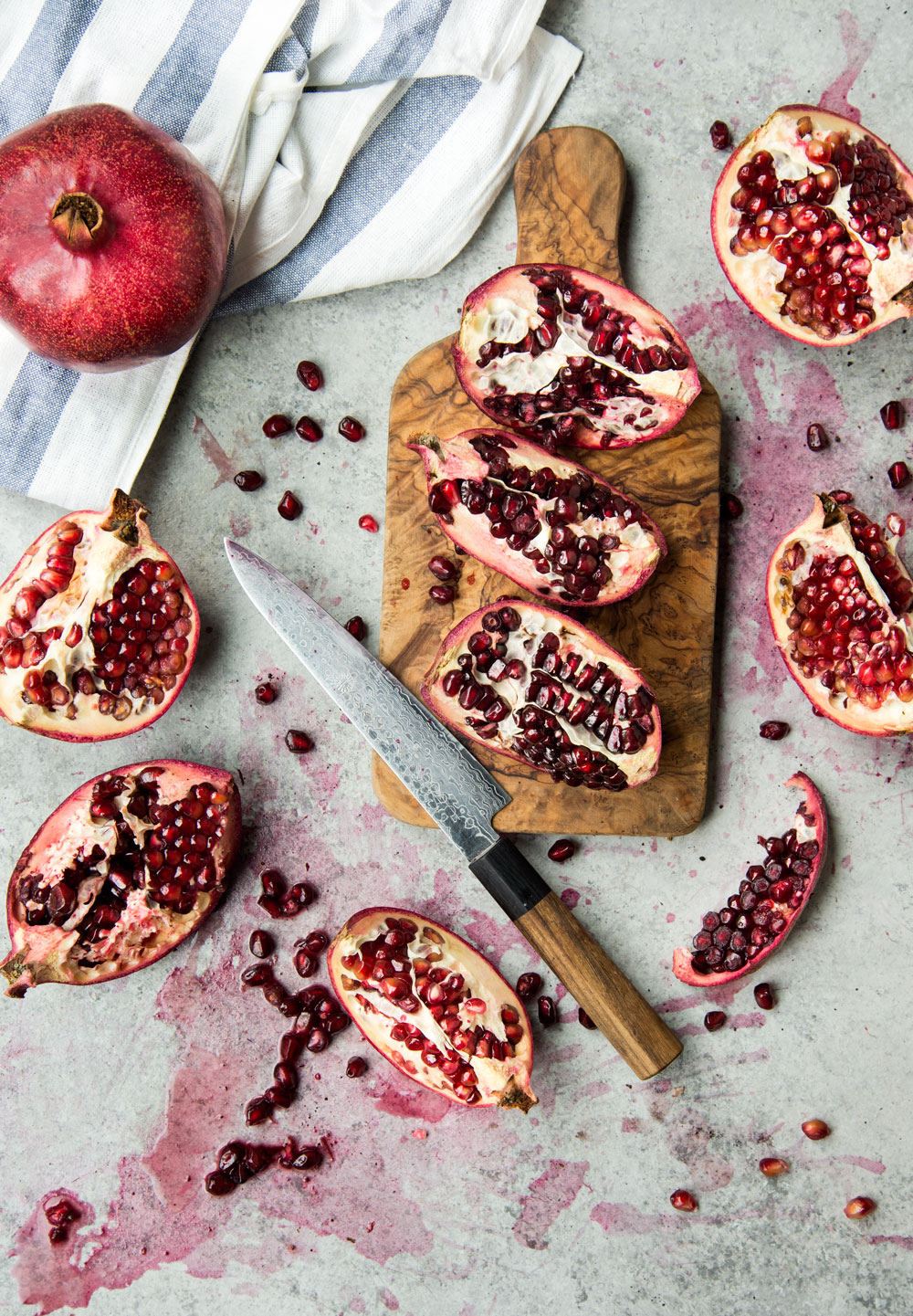 Sumac, which comes from the tart red fruit of a Middle Eastern shrub, is dried and ground to a coarse deep red powder. It has a tangy, tart-lemony flavor.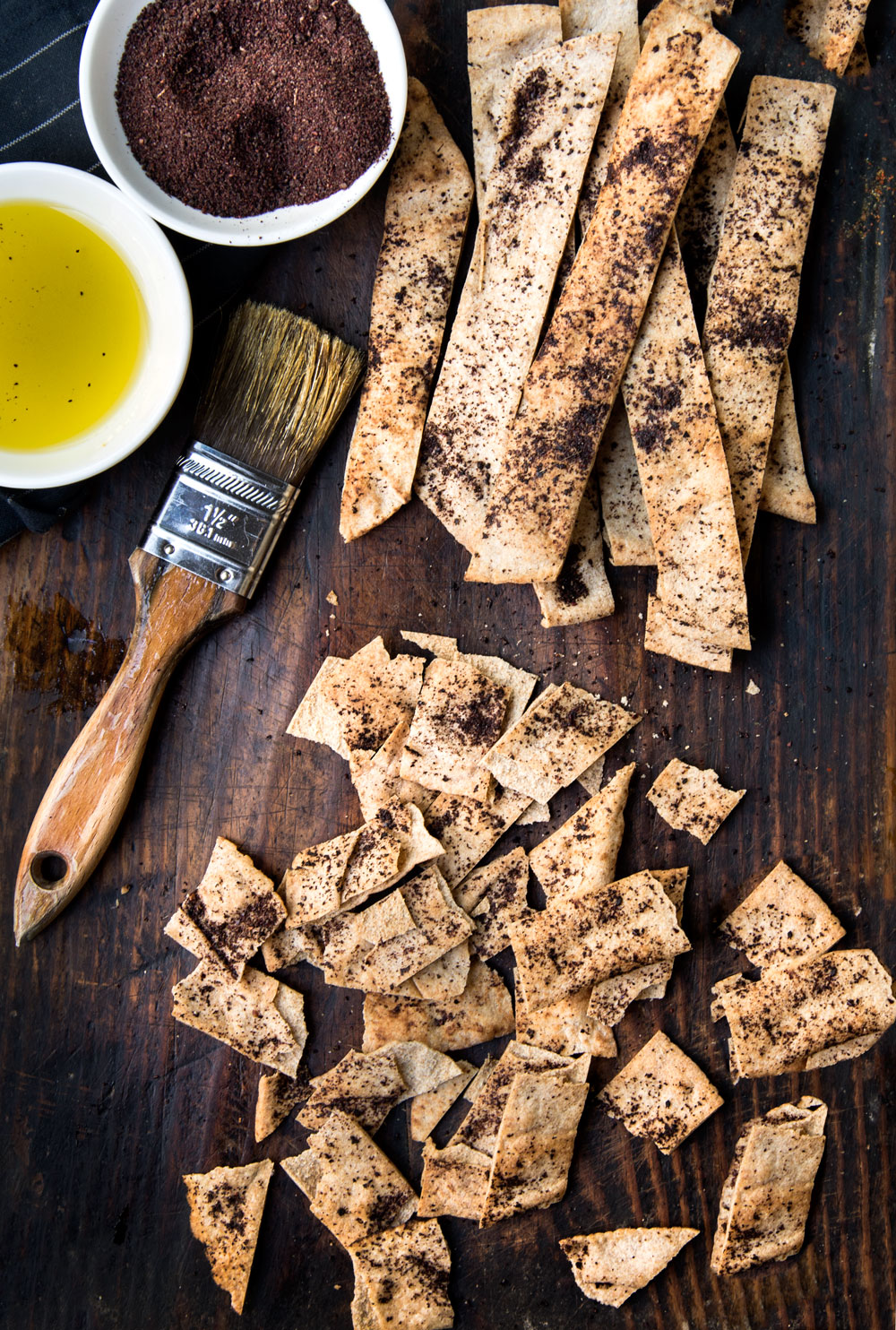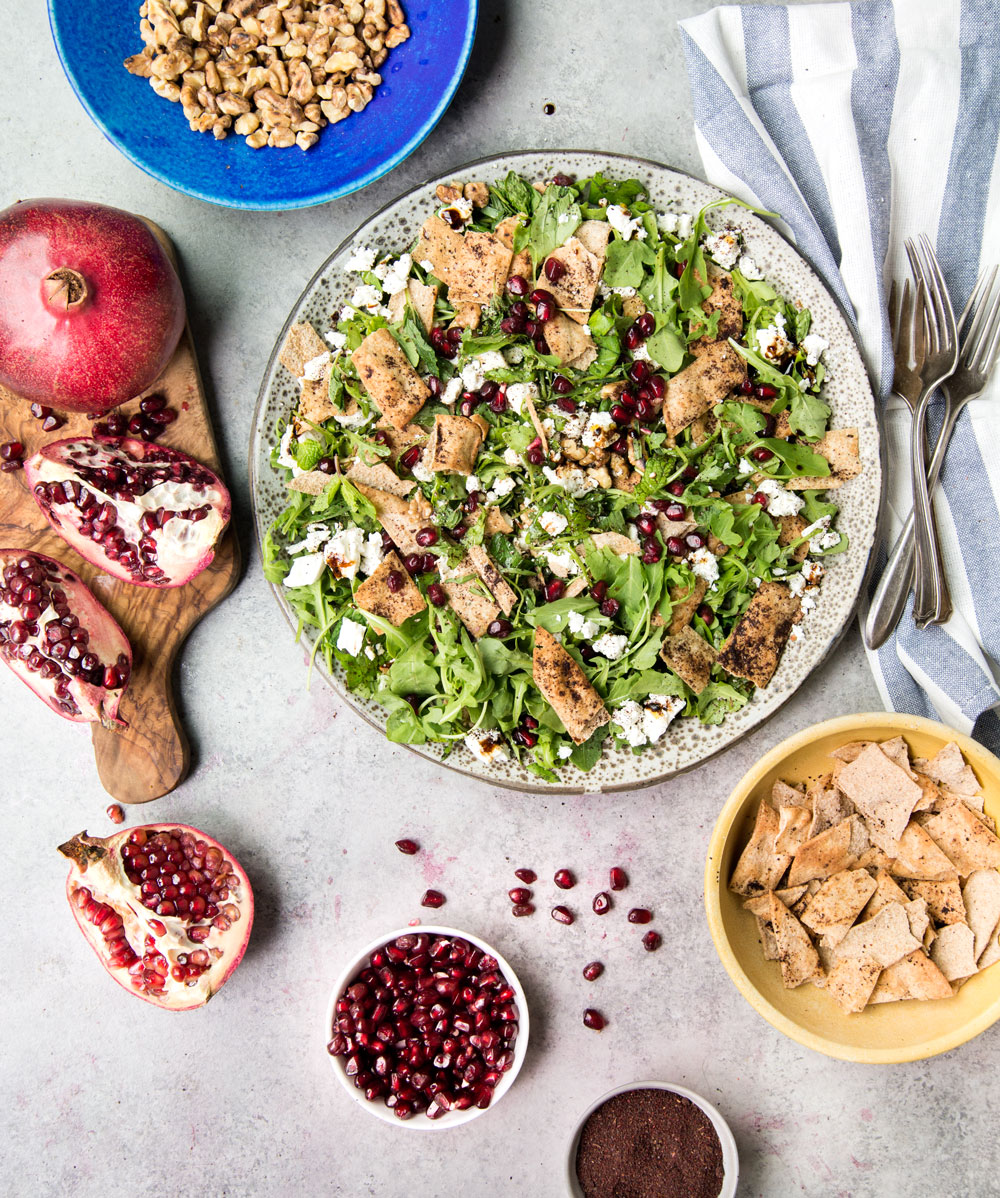 Mixed Herb and Feta Salad with Pomegranate, Crispy Pita, and Toasted Walnuts
Adapted from Saffron Tales
I doubled up on the herbs, added baby arugula, and made my own pita crisps with sumac.
2 1/2 ounces baby arugula
1 large bunch basil (about 1 1/2 ounces), roughly chopped
1 large bunch tarragon (about 1 1/2 ounces), roughly chopped
1 large bunch mint (about 1 1/2 ounces), roughly chopped
1/2 cup roughly chopped *toasted walnuts
1/2 cup pita crisps (directions below)
1/3 to 1/2 cup (3 to 4 ounces) Greek feta, crumbled
salt and pepper
handful of pomegranate seeds
sumac
Toss arugula, basil, tarragon, and mint in a bowl. Drizzle lightly with dressing. Place on a serving plate. Top with walnuts, pita crisp, crumbled feta. Season with salt and pepper. Lightly toss. Scatter pomegranate seeds on top. Sprinkle a little sumac over the salad if you like.
*To toast the walnuts. Heat a pan over medium heat. Add the walnuts to the hot, dry pan in a single layer. Cook, watching constantly and tossing/stirring frequently, until the walnuts start to lightly brown and they smell toasted, about 5 minutes (keep a close eye to ensure they don't burn).
Balsamic Dressing
4 tablespoons extra virgin olive oil
2 tablespoons balsamic vinegar
salt and pepper
Combine olive oil and balsamic in a bowl. Season with salt and pepper. Whisk to combine.
*Alternatively you can make a pomegranate molasses dressing (combine 5 tablespoons olive oil, 1 tablespoon lemon juice, 2 tablespoons pomegranate molasses, 1 small garlic clove crushed to a paste. You can add a little honey if it's too tart. Season with salt and pepper and whisk to combine).
Sumac-Dusted Pita Crisps
2 (~8-inch round) whole wheat flatbread or pita
olive oil
ground sumac
salt
Preheat the oven to 350F. Brush the tops of the pita with olive oil. Sprinkle with sumac and salt. Slice into 1-inch strips. Bake for 5 to 6 minutes until crispy. Flip and bake another 5 to 6 minutes until crispy on the flip side. Let cool. Break into bite-sized pieces.