Today, homemade pasta therapy  — a quick and much-needed respite from the craziness of the world.
There's something therapeutic about homemade pasta. Perhaps it's the joy of creating something by hand. Creating art in the form of food, thinking about how it will be presented on the plate (after all, we eat with our eyes first). Pondering science and how it relates to food (for instance, taking a step back and asking what exactly is gluten? how does it behave? what is its role in the pasta making process?).
While utilizing a food processor to make your pasta dough (totally acceptable) will alleviate the mess, for me, there's something rewarding about getting in the kitchen, rolling up my sleeves, and getting my hands dirty. I love the process of figuring things out. Perhaps your first or second (or third) attempt will not be perfect, but it's the insight you gain when you practice something over and over until you reach that point when everything falls into place. Success often comes in incremental steps.
Pasta making is actually a straight forward process. At its most basic, pasta is flour + water (eggs add richness, olive oil adds tenderness, and salt brings out flavor; all are optional). Pasta making takes a little time, practice (knowing how much moisture to add to the flour, just the right amount of liquid so it's not too wet, but not too dry and crumbly), and, lastly, patience. You'll need to set some time aside, perhaps a fun, hands-on weekend project. However, once your pasta is rolled out, you can either use it right away or freeze it for a later date (from there it can go straight from the freezer into a pot of salted boiling water), which then becomes the quickest of weeknight dinners (fresh pasta takes a mere few minutes to cook perfectly al dente).
Kabocha squash, tis the season and everyone loves pumpkin/winter squash, right? Along with sage, cheese — a combo of Parmesan (for its nuttiness) and Pecorino (for its sharp and salty flavor) — and 'nduja (my latest infatuation) went into the sauce. The 'nduja counterbalances the sweetness of the squash.
That brings me to 'nduja. Have you tried it?
'Nduja (pronounced eN-doo-ya) is a cured, spicy spreadable salumi that originated in Calabria (way down on the tip of Italy's boot). It's completely unique in that it's a spreadable mixture of pork, salt, and Calabrian chile that is encased and then slightly smoked. 'Nduja is pleasantly spicy, but not overwhelmingly so.
'Nduja is irresistible when simply spread on toasted bread. It's also splendid with fried eggs or eggs poached in a firery tomato sauce (eggs in purgatory or shakshuka). A couple tablespoons of 'ndjuja will liven up a pot of simmering pasta sauce. Incorporate 'ndjua into your favorite hamburger or meatloaf recipe or braised meat stews or bean soups. But you need not travel all the way to Italy to track down 'nduja. There are U.S.-based companies, such as La Quercia (Iowa), that produce high quality 'nduja from pigs that are raised humanely and sustainably. Look for 'nduja at Whole Foods as well as at Italian and specialty food shops such as Murray's or Zingerman's.
In this dish, the 'nduja dissolves into the simmering squash sauce, creating a slightly spicy, mildly smoky, deliciously porky combination.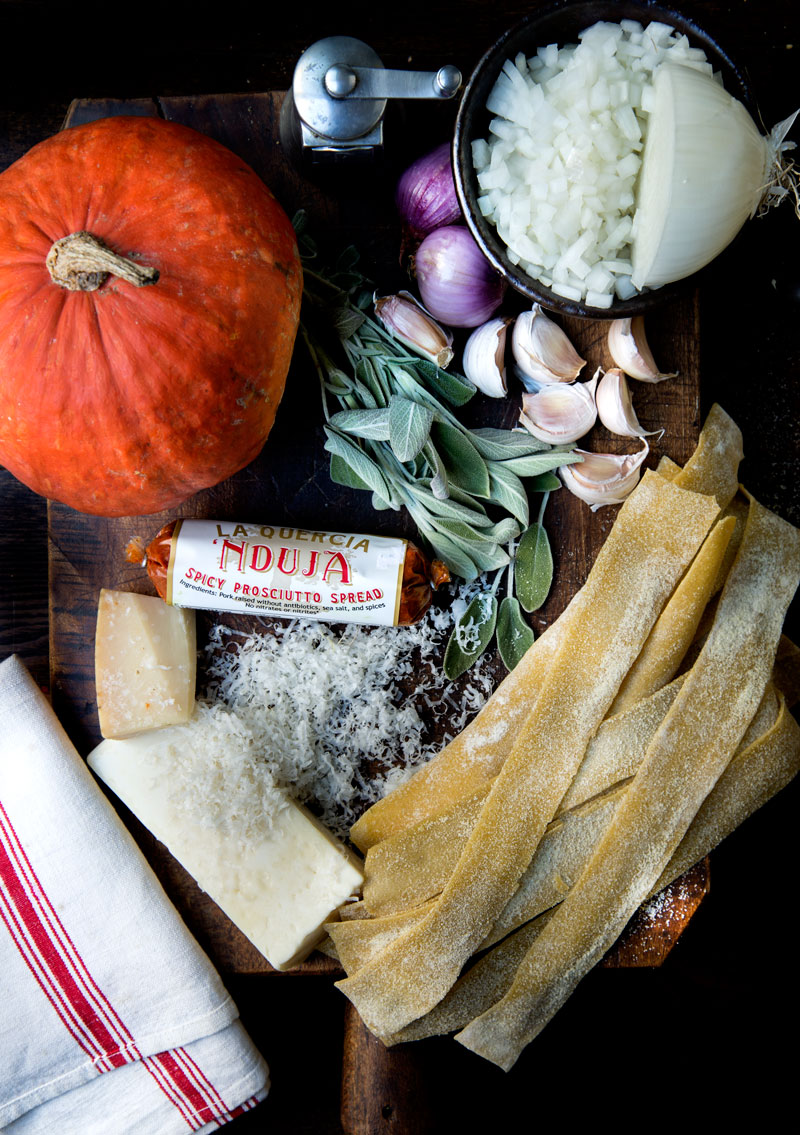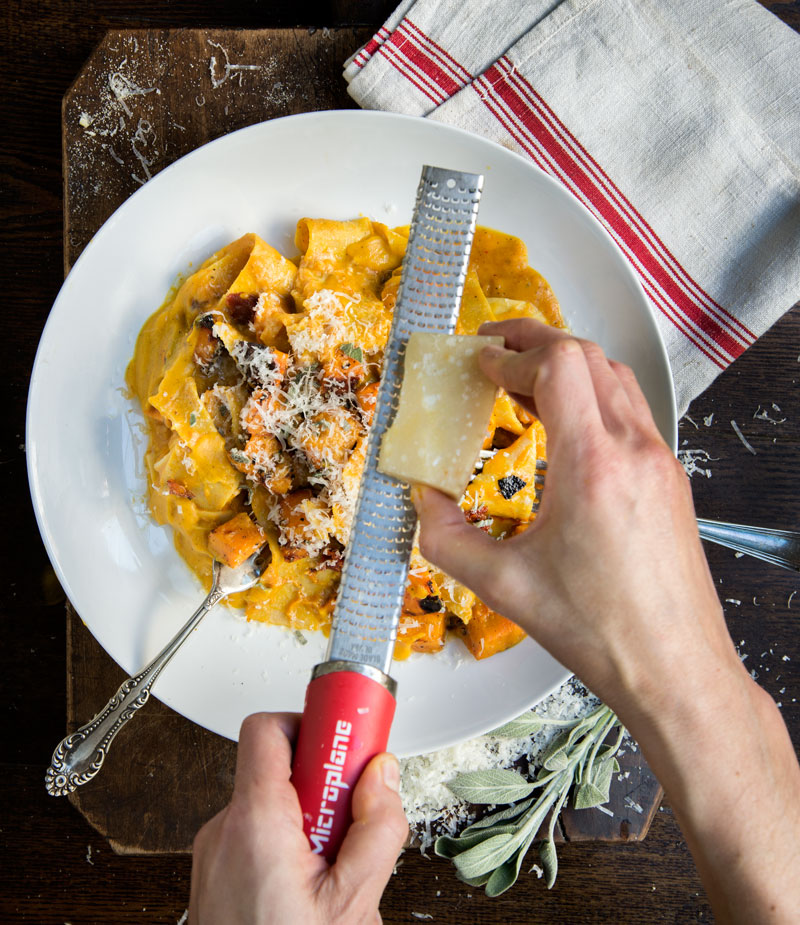 How to make pasta (in photos):
Mound the flours, make a well in the center, add the eggs and olive oil, sprinkle with salt, and slowly work the flour into the well…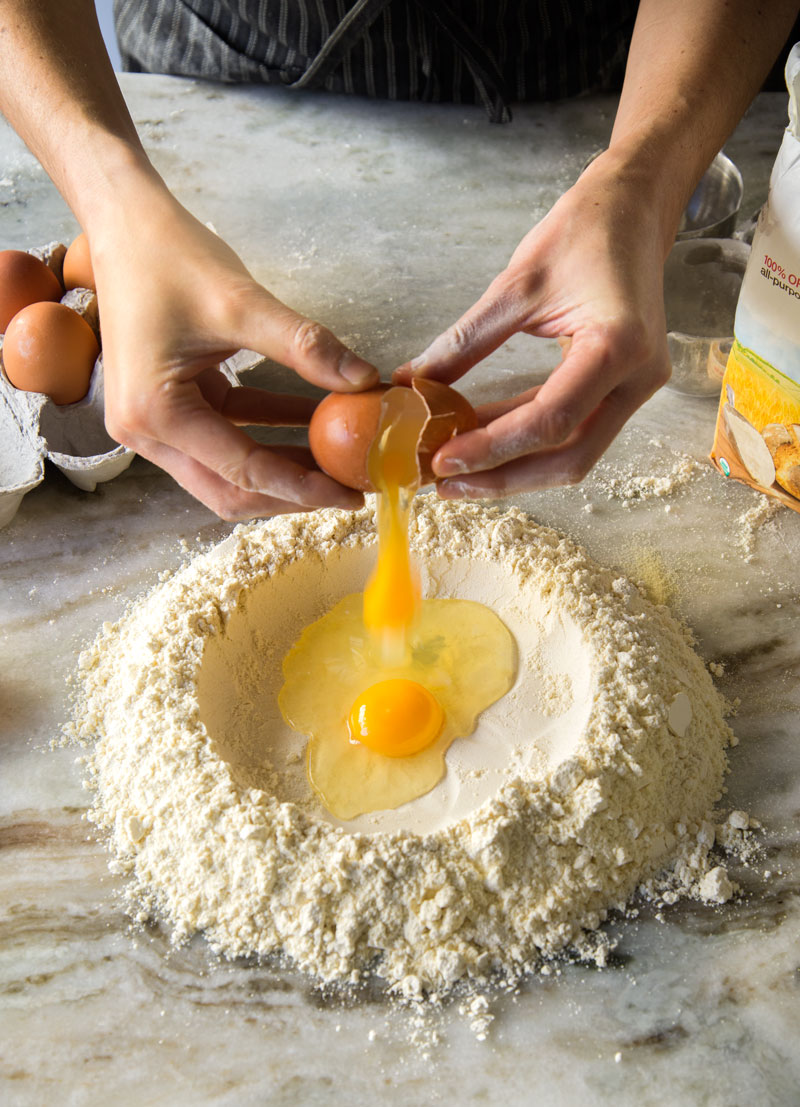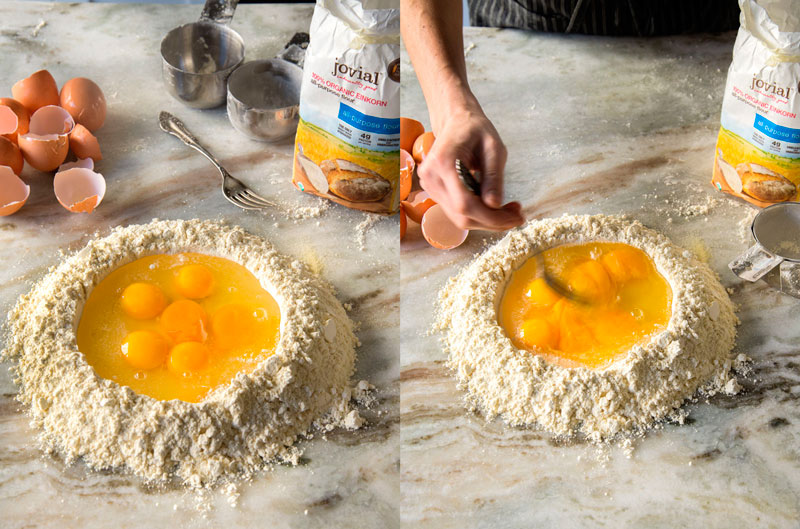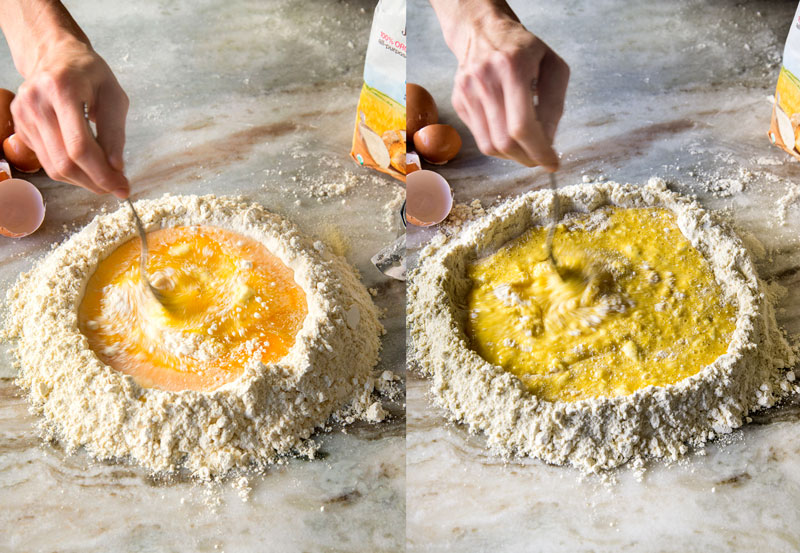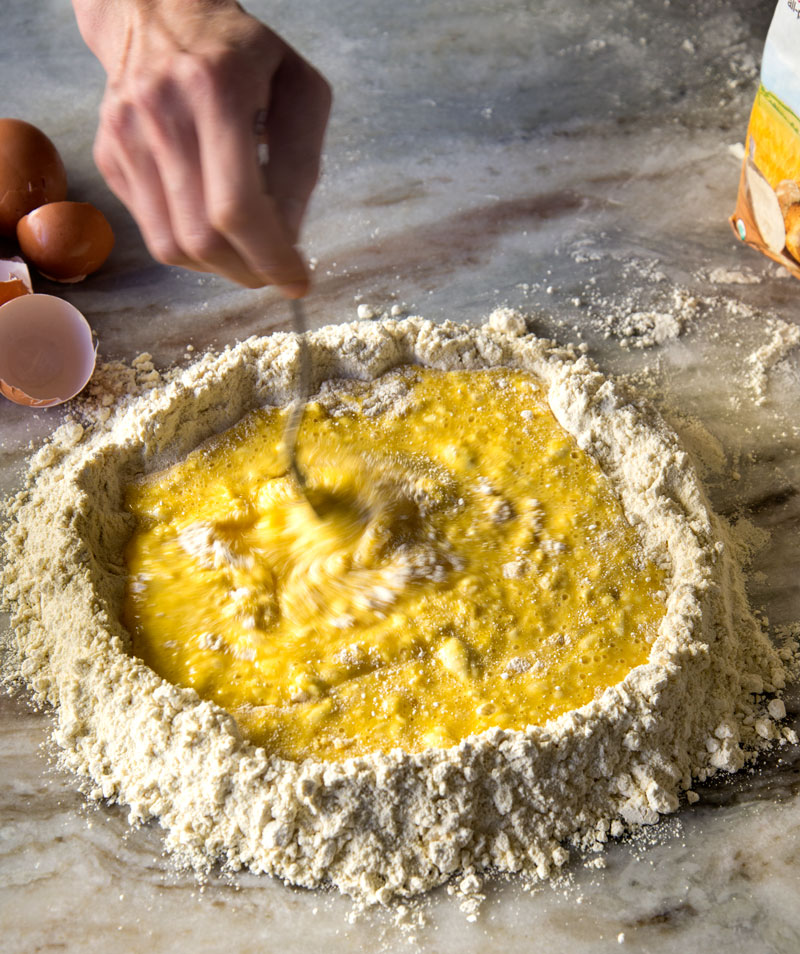 Gather the dough and knead by hand until smooth and elastic, and no longer sticky.
Cover and let rest 30 minutes to allow the gluten to relax….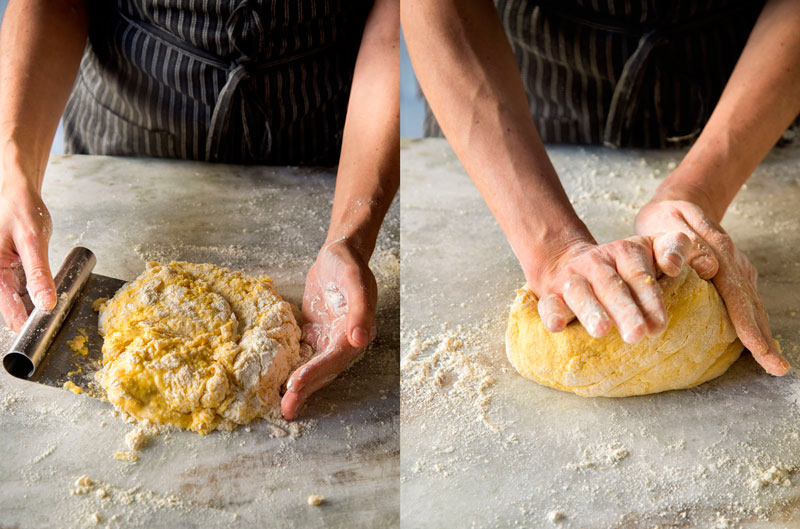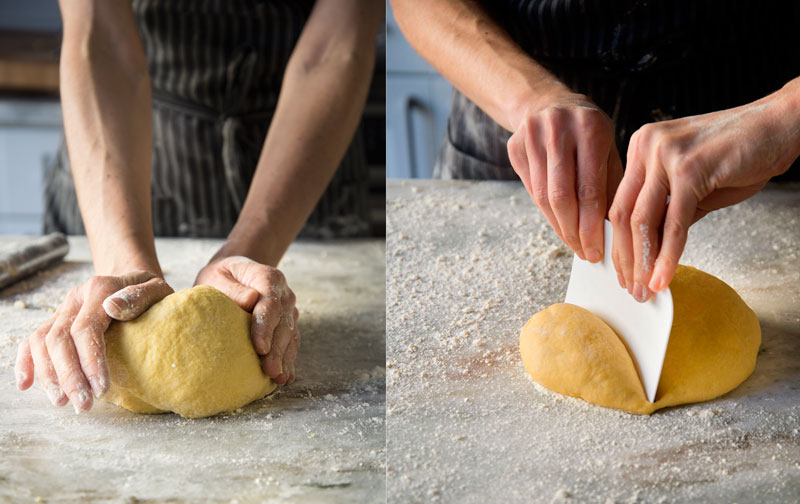 Roll out the dough and shape your pasta…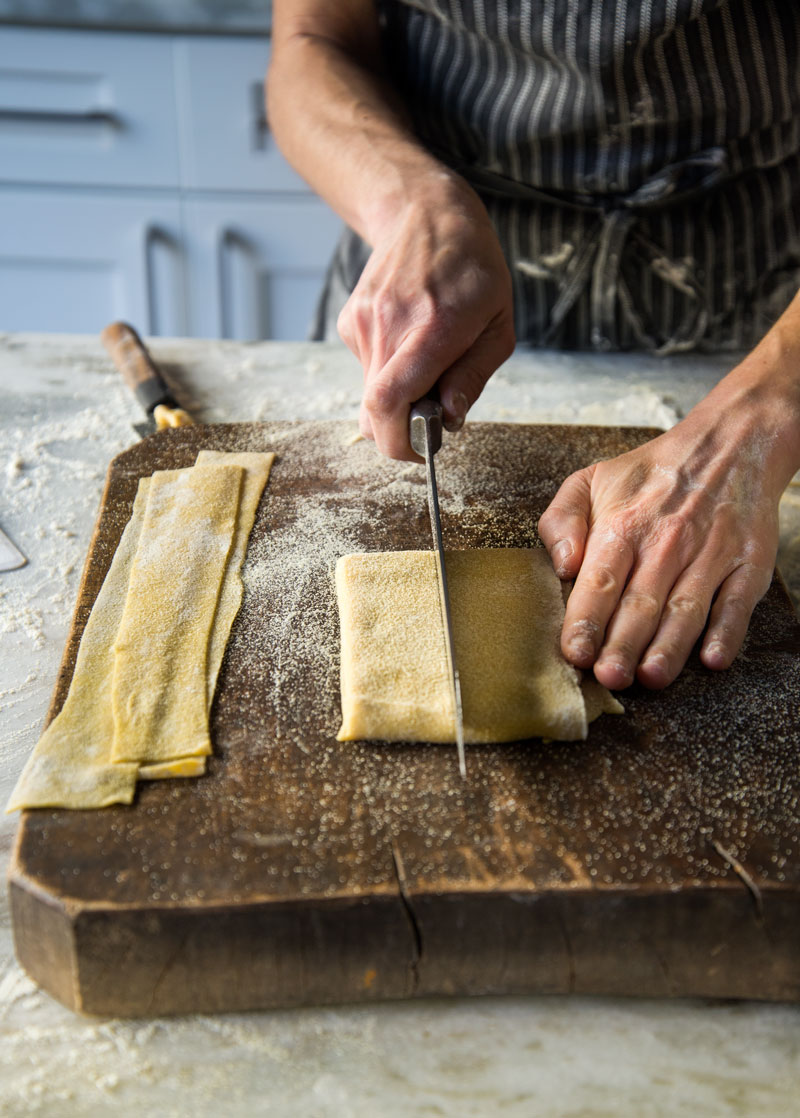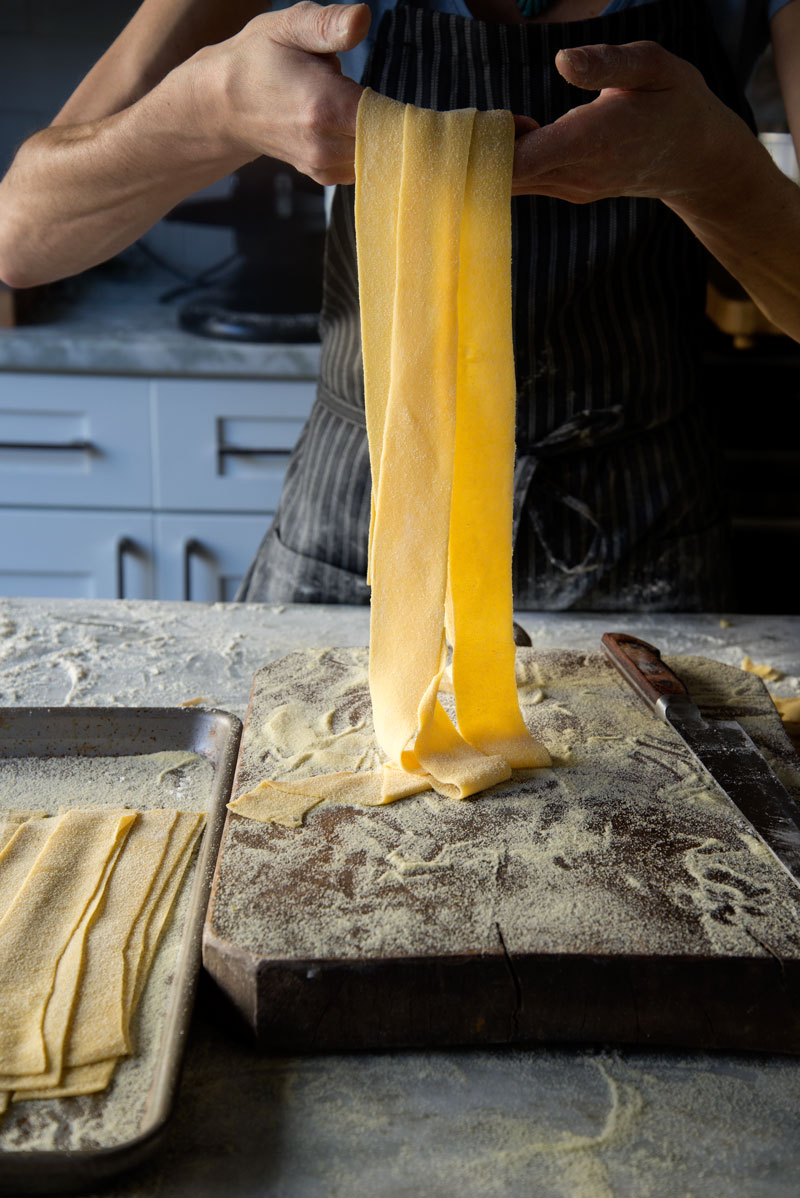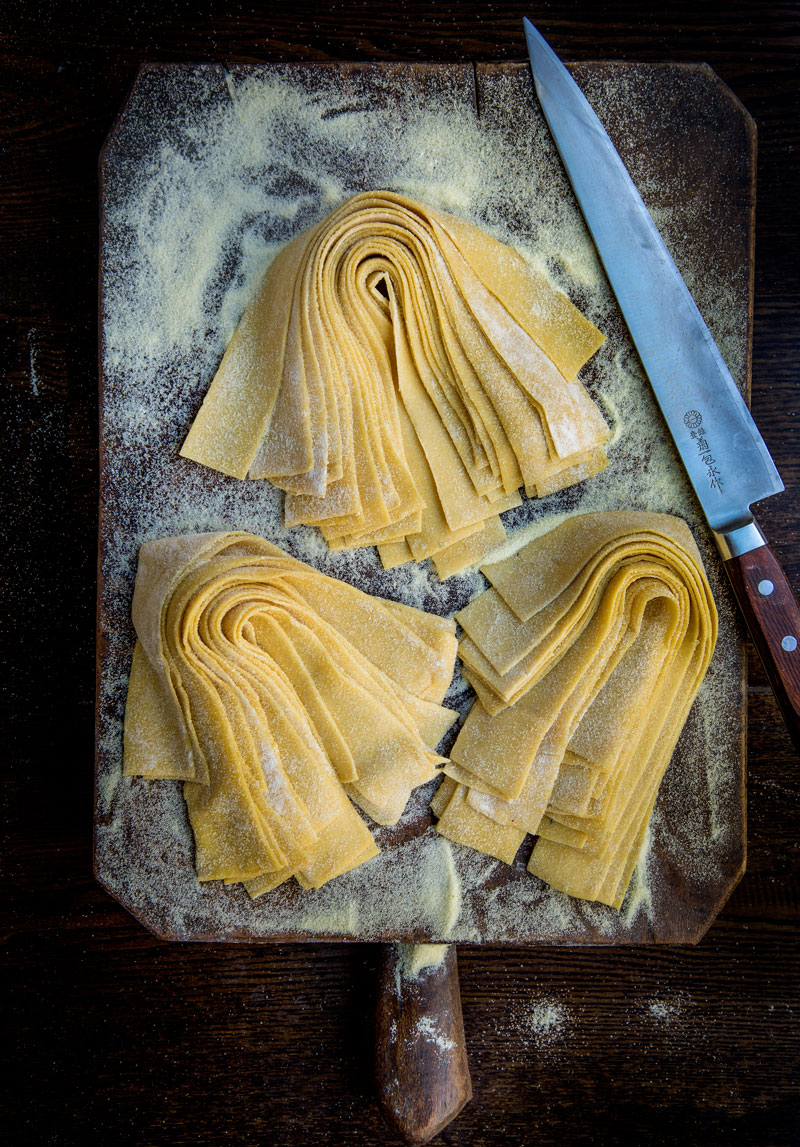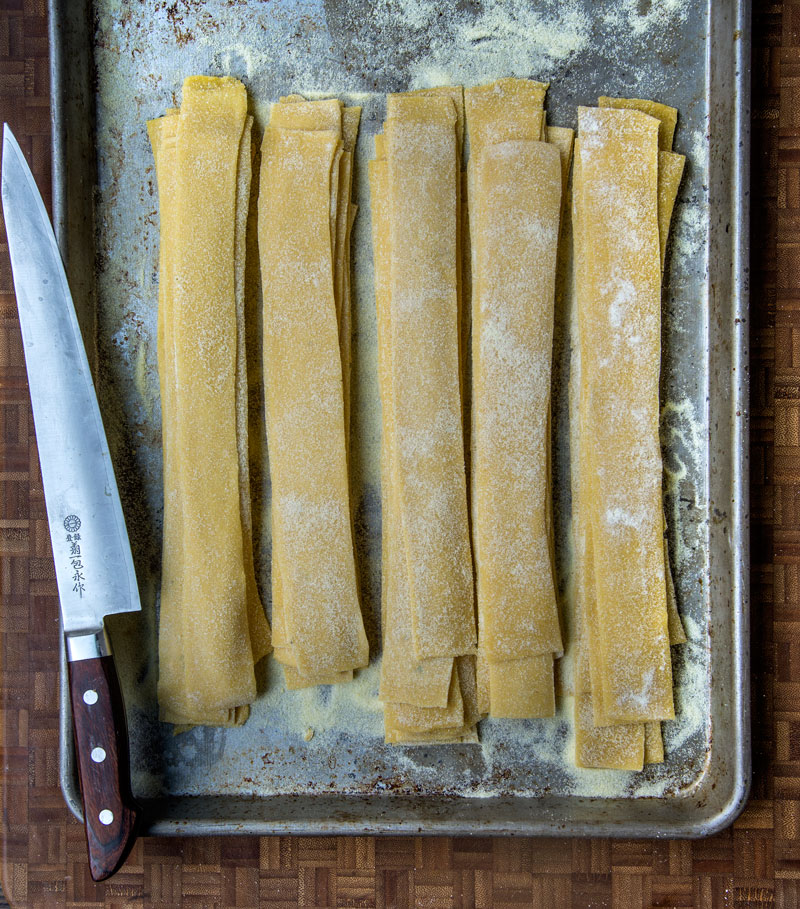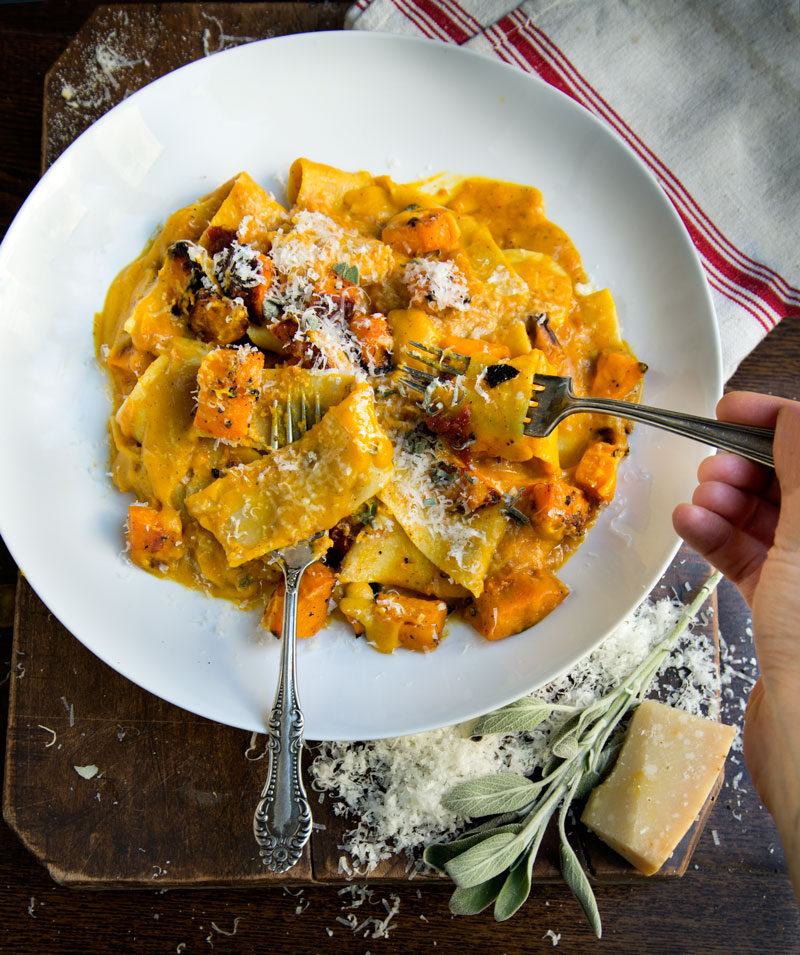 Homemade Pappardelle with Kabocha Squash Sauce, 'Nduja, and Sage
Serves 4
1 1/2 tablespoons butter or oil
1/2 large onion, finely diced
2 shallots, finely diced
salt and pepper
4 garlic cloves, minced
7 to 8 sage leaves, thinly sliced plus extra for garnish
1 (3-pound) pumpkin/winter squash (used Kabocha squash), peeled, seeded and chopped into 1/2-inch cubes (about 4 cups); *plus 2 cups (1-inch cubed) pumpkin squash for roasting (optional)
2 cups chicken or vegetable broth
12 ounces papardelle pasta (recipe below) or other favorite pasta shape
2 ounces 'nduja (more or less to taste),
Pecorino and/or Parmesan cheese, freshly grated
Heat the butter or oil in a large skillet over medium. Add the onion and shallot, season with salt and pepper, and saute until translucent, about 5 to 7 minutes. Add the garlic and sage and saute another minute. Add 4 cups of cubed kabocha squash and the broth to the skillet. Bring to a boil, reduce heat, cover, and simmer until the squash is soft, about 20 minutes. Transfer to a blender and purée until smooth. Taste and season with salt and pepper.
Bring a large pot of salted water to a boil. Drop in the pasta and cook until just al dente, 2 to 3 minutes.
Reheat the squash purée in a skillet over medium heat. Add the 'nduja, break up with a wooden spoon, and stir to combine. With a slotted spoon transfer the cooked pasta to the skillet along with ¼ cup of pasta cooking liquid, gently toss until the sauce coats the pasta, adding a little more pasta water if needed. Mix in ¼ cup cheese. Toss in the *roasted squash (if using). Taste and season with salt and pepper.
Serve with extra grated cheese and a chiffonade of sage if desired.
*Roasted Squash: I also roasted some of the kabocha squash (1-inch cubes) in the oven, which I added to the finished pasta. Simply tossed in olive oil, seasoned with salt and pepper, and roasted at 400F until browned on the outside and on the inside, about 30 minutes.
Homemade Pappardelle
2 cups all-purpose or OO flour, plus more for dusting (used Einkorn all-purpose flour)
1 cup fine (durum wheat) semolina flour, plus more for dusting
6 large eggs, at room temperature
1 tablespoon extra-virgin olive oil
Pinch of salt
Mix the two flours together. Mound the flours on a work surface. Make a well in the center of the flour and add the eggs, olive oil, and pinch of salt. Beat the eggs and oil with a fork until smooth. With the fork, gradually incorporate the flour from the inside walls of the well. When the dough starts to come together, begin to knead it with your hands, incorporating just enough of the flour to make a smooth ball of dough. You may not need all the flour.
Continue to knead the dough for about 5 minutes, adding flour as needed, until smooth and elastic and no longer tacky. Place the dough on a floured surface, cover with a bowl, and let rest for 30 minutes.
Cut the dough into quarters. Keep the rest of the dough covered to prevent drying out. Dust the top of the dough lightly with flour and run it through the pasta roller starting with the largest setting. Pass the dough through twice on each setting. Continue to roll through each subsequent smaller setting until desired thickness (I rolled to setting #4 on my KitchenAid pasta roller attachment).
Place the sheet of pasta on a lightly floured surface. Sprinkle with semolina flour and then roll-up the pasta length-wise into a cylinder. With a sharp knife, cut the past into 3/4 to 1–inch wide strips. Unroll the noodles and toss with semolina to prevent sticking (optional, if the noodles are really long, you can cut them in half).
Place the noodles on a sheet pan and cover with a tea towel until ready to cook (or let them dry a bit so they don't stick together and freeze in freezer bags for up to 2 months).