Cheese is my weakness. Cupcakes don't do it for me. Ditto for donuts. But give me a hunk of cheese and now we're talking. One of my favorite cheeses is a raw, Basque sheep's milk cheese, Ossau-Iraty, that I discovered at a farmers' market in Saint-Jean-Pied-de-Port, France (before the start of my Camino de Santiago last year). I've looked for it in the United States, but can only find pasteurized Ossau-Iraty, which doesn't taste nearly as flavorful as what I fondly remember.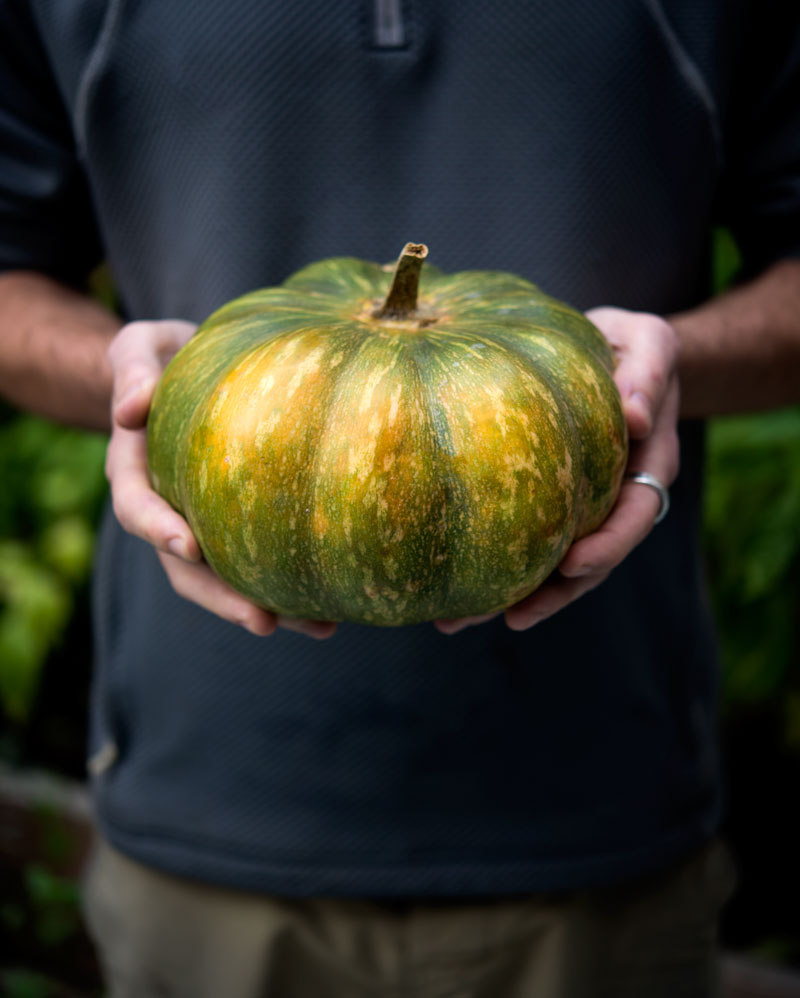 It all started with this pumpkin (pictured above). It often goes something like this…this rather unusual looking pumpkin caught my eye. I bought it and it sat on my counter all week. What shall I do with it? Pumpkin soup? Nah. Pumpkin ravioli? Um, maybe. Pumpkin mac and cheese? Getting closer. And that's when I came across the idea for fondue in a pumpkin. Can it be done? How will it taste?
Utterly delicious!!
What does one need to make this wickedly good creation you might ask?
First off, a pumpkin/winter squash. Around a 5-pound, wide, round, squat-ish pumpkin is what I used, specifically a French heirloom variety called Musqee de Provence (which in hindsight had too much water content and a bit of a stringy texture). Next time I would choose a kabocha squash (my go-to, all-time favorite winter squash — nutty and sweet with tender flesh) or perhaps a Queensland blue (blueish gray on the outside, but with a golden-orange flesh on the inside), Long Island Cheese Pumpkin, Cinderella Pumpkin…
And of course cheese, lots and lots of cheese. Actually only 12 ounces (for my 5-pound pumpkin). Used a combination of Gruyere, Gouda, Comte, and Challerhocker (a Swiss, cow's milk cheese with a nutty, butterscotch-y flavor that the cheesemonger recommended). You can use one cheese or a combination. Up to you. You just need a good melting cheese, preferably French or Swiss (in homage to fondue's origin).
Other than that, you simply need to allow the pumpkin some time to roast. It took two hours to roast this 5-pound pumpkin. Thereafter, I added the cheese and the rest of the ingredients (creme fraiche, shallot, garlic, white wine [or dry sherry], a few grinds of black pepper) to the pumpkin cavity and baked it for another 30 minutes until the fondue was piping hot and bubbly. Of course, the smaller the pumpkin, the less time it will take to cook (a 2 1/2-pound pumpkin will only need an hour or so, prior to adding the cheese).
Grab a crusty French baguette and dig in. The best part is when the tender, sweet pumpkin flesh combines with the melty cheese…heaven.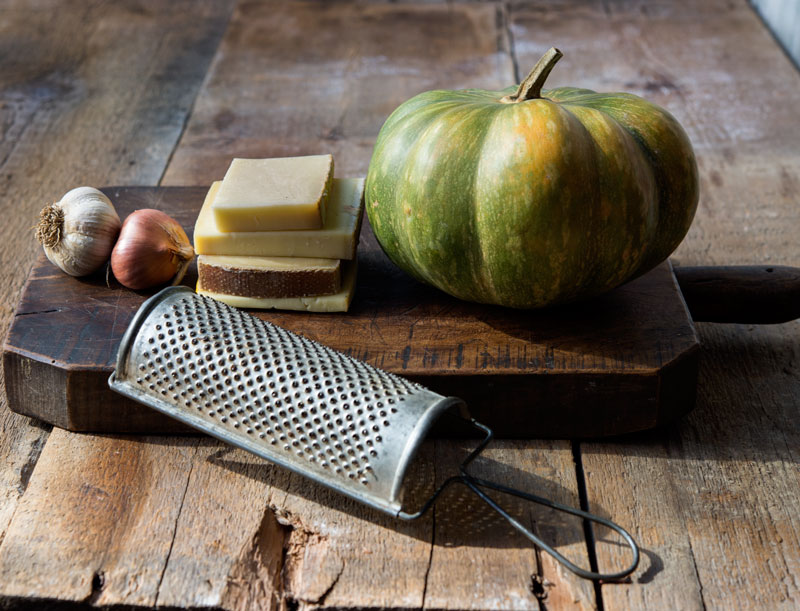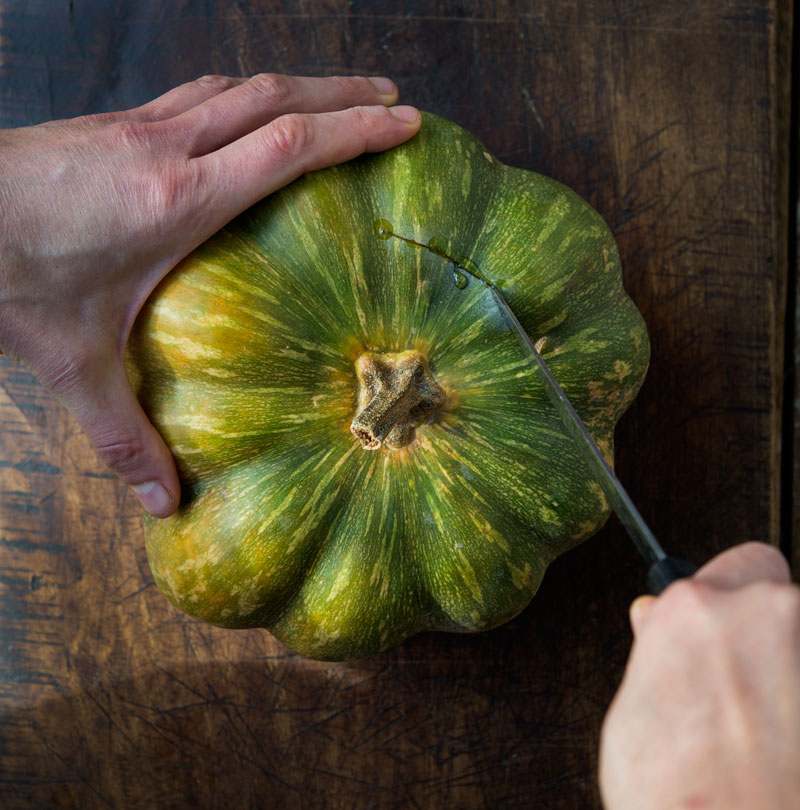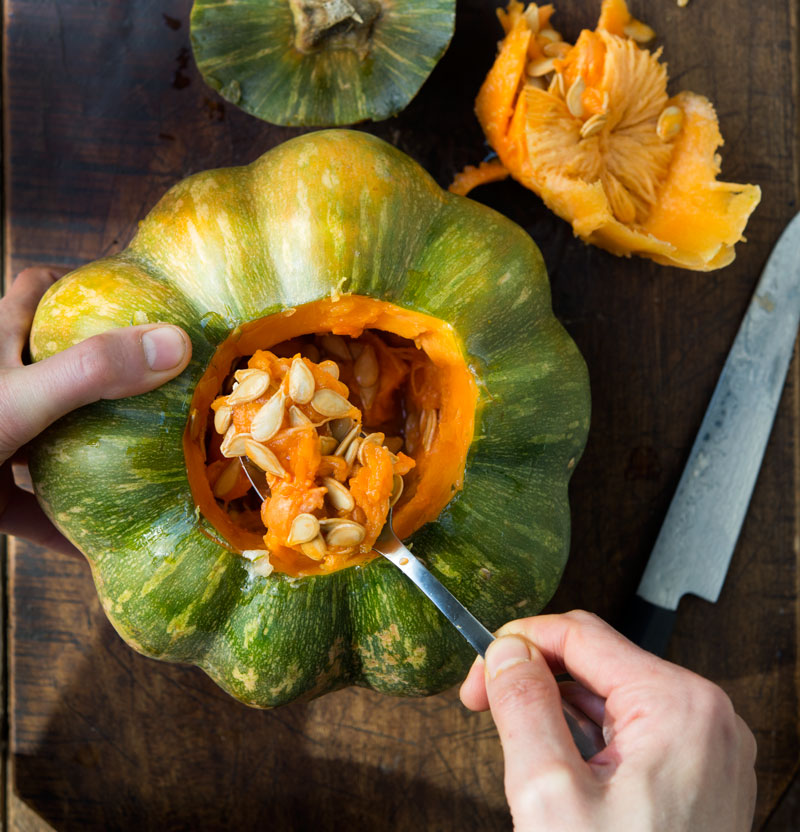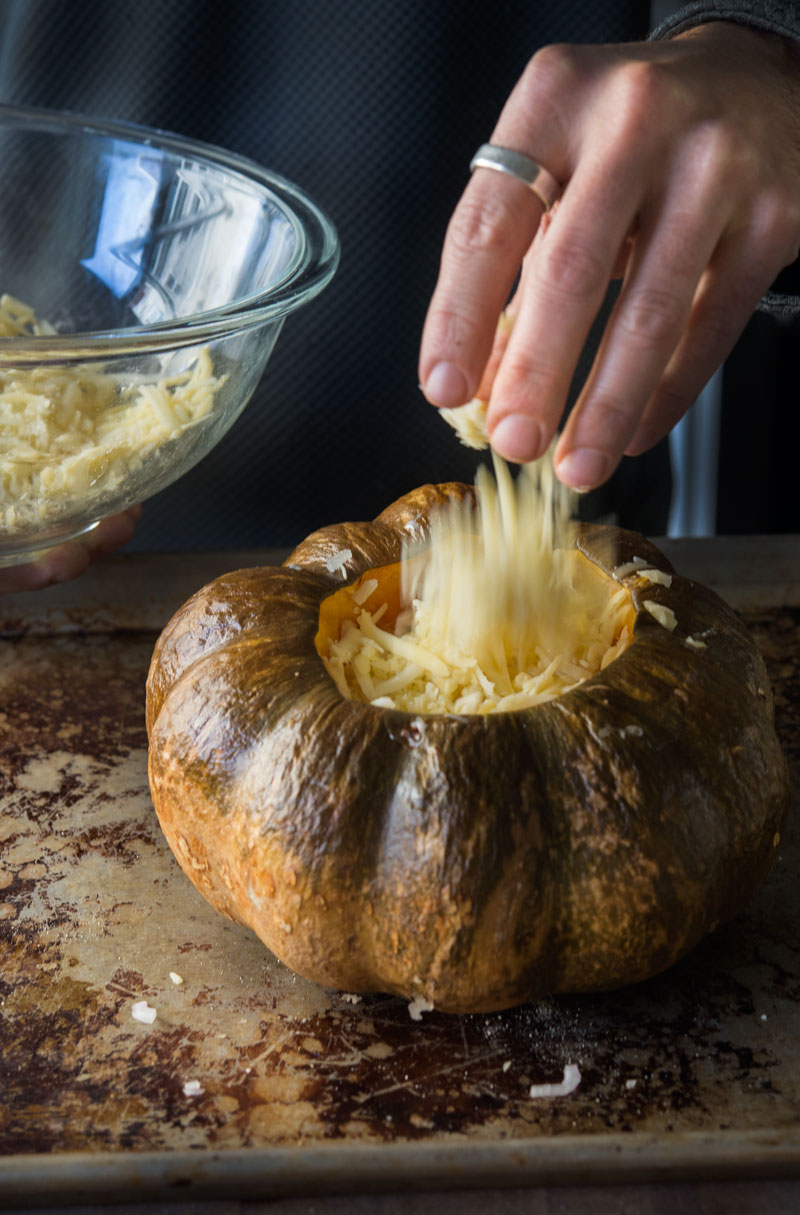 Eating out of the pumpkin makes it fun and festive…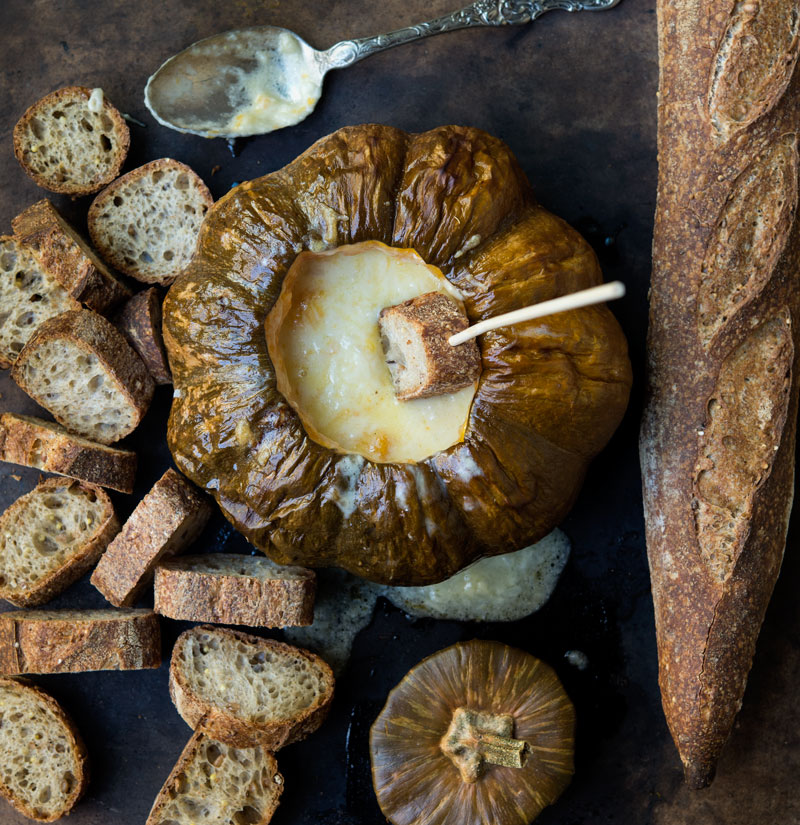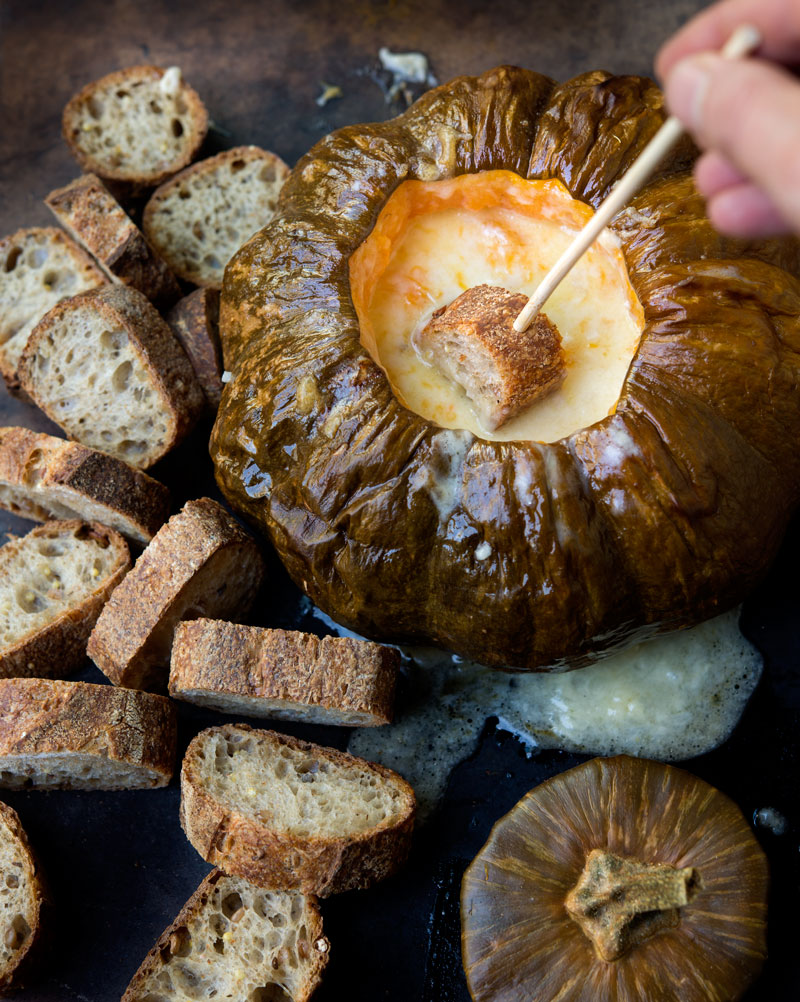 Pumpkin Fondue
1 (5-pound) wide, round, squat pumpkin or winter squash
12 ounces cheese, grated (used a combination of Gruyere, Gouda, Comte, and Challerhocker)
1 tablespoon corn starch
4 ounces crème fraiche
2 tablespoons dry white wine (or dry sherry)
2 tablespoons minced shallot
1 garlic clove, minced
few grinds of black pepper
Crusty sliced French baguette for serving
Preheat your oven to 350F.
Prep your pumpkin: With a sharp knife, cut off the lid and scoop out the seeds and membranes. Put the lid back on and place the pumpkin on a baking tray. Bake for 1 1/2 to 2 hours (for a 5-pound pumpkin), slightly more or less time depending on the size of your pumpkin. Just check it from time to time. When the pumpkin is tender, remove it from the oven and take off it's lid.
Increase the oven heat to 400F.
In a bowl, mix the grated cheeses with the cornflour until completely coated. Layer up the cheese, crème fraîche, white wine (or sherry), shallot, garlic, and black pepper inside the pumpkin. Return the pumpkin to the oven and bake for 30 mins or until the fondue is melted and bubbling.
Eat with spoons, scooping out chunks of soft, roasted pumpkin along with the melted cheese. Serve with a crusty French baguette.